Argumentative Essay on Banning Cigarettes: Do You Support It?
No more second-hand smoking!
It is a well-known fact that second-hand smoking is one of the cancer causes. Second-hand smokers receive the same amount of harmful nicotine and other chemicals as the real smokers. Once smoking is banned, the amount of people who suffer from second-hand smoking will be reduced. Make sure to support your viewpoint with the statement that second-hand smoking reduction will also minimize the risk of cancer.
Cigarettes banning will help smokers to quit
Each smoking ban leads to a decrease in the number of cigarettes. With every banning law more and more smokers make a decision to quit altogether. In accordance with the information provided by the Mayo Clinic Nicotine Dependence Center representatives, the number the brain receptors that are longing for nicotine increase from the inhalation of tobacco. Once the number of receptors begins to decrease the need to have "just one more cigarette" decreases too, which, in turn, results in no smoking. All the bans also give smokers one more reason to quit smoking for it is really inconvenient to spend hours searching for a place where smoking is allowed.
No more heart attacks!
In accordance with the Journal of the American Heart Association, the cities where smoking in public places is banned have less heart attacks in comparison with the areas where smoking is allowed everywhere. Make sure to give enough space for statistics within your essay. It is recommended to mention that almost 225 000 cases of heart attacks (per year) can be prevented by means of smoking bans. Provide real-life examples of the fact that smoking bans tend to lower the risk of heart attacks not only among smokers, but also among the people who do not have this habit.
Paper title: Argumentative Essay: "Learning To Save Energy"
Academic level: College (3-4)
Discipline: Sociology
Paper Format: APA
Paper title: Argumentative Essay: "The Problem of Consuming Resources"
Discipline: Environment
Paper Format: MLA
Paper title: Argumentative Essay: "Graduating University and Further Recruitment"
Discipline: Education
Our statistics
Should Cigarettes Be Banned? Essay
Introduction.
Arguments against the Issue
Arguments for the Issue
For the recognition of whether or why cigarettes should be banned, this essay should start with a bit of history.
Cigarettes are made from tobacco leaves. Their use started in Central America around 6,000 B.C. After 5,000 BC, the Mayan community started chewing and smoking tobacco leaves and used them for medicinal purposes like healing wounds. Later on, people invented pipe smoking, which was followed by the manufacturing of cigarettes in the mid-1800s (Smoking, 2010).
On this page, the author won't explore why smoking should be banned. The essay will evaluate arguments for and against cigarettes in particular. Many people smoke them to lighten up and enhance their concentration at places of work. Meanwhile, some claim that this relaxation method is too harmful to enjoy.
So, should cigarettes be banned? This essay attempts to find out.
Why Cigarettes Should Be Banned: Arguments against
Smoking cigarettes helps people to relax and get better concentration. Mental illness symptoms such as anxiety and Schizophrenia are alleviated by smoking (Russo, 2011); this has been medically proven. Smoking cigarettes helps in socialization as it sets the mood of a smoker into being jovial.
Governments obtain huge amount of money from cigarette manufacturing industries in form of taxes. These industries also create employment opportunities for many people. Banning of cigarette smoking would mean loss of thousands of jobs as well as revenue for the government (Fix, n.d.).
Smoking cigarettes helps in weight management due to the reduced appetite induced in the body by cigarettes. Therefore, smoking is a good and effective weight loss aid (Auctions, 2010).
Why Cigarettes Should Be Banned: Arguments for
Smoking cigarettes is one of the major causes of deaths. About 443, 000 people die out of cigarette smoking related illnesses in the U.S. every year (CDC, 2011 ). Cigarettes contain many harmful chemicals; it was found that cigarettes have more than 4,000 chemicals. Most of these components are known to cause cancer.
Smoking is known to cause lung cancer, bladder cancer, stomach Cancer, kidney cancer, cancer of oral cavity and cancer of the cervix. Ammonia, Tar and Carbon Monoxide are found in cigarettes and are very harmful to human body (Society, 2010).
Cigarette smoking has great effects on reproductive health. It is known to cause infertility, still births, low birth weight and sudden infant death syndrome (SIDS). In addition, it affects the bones by reducing their densities. Hip fractures in female cigarette smokers are higher than in female non smokers (CDC, 2011 ).
Banning of cigarette smoking would come with many benefits. First people's health would be improved. Health benefits of stopping to smoke are more than the emotional or psychological comfort that are brought by smoking. Banning cigarette smoking would be of great benefit to the young people.
Those in their thirties, in terms of age in years, would still benefit from the reduced risks caused by cigarettes. Old people who would wish stop smoking cigarettes would not be late to do so. Banning of cigarette smoking will be beneficial to all smokers regardless of their age (Society, 2010).
Many cigarette smokers are at higher risk of being infected with different types of cancer. These include: "Lung, Larynx, Oral cavity, Esophagus, Kidney, Cervix, Bladder, stomach among other cancers" (Society, 2010, p. 1).
Smoking induces stress. A research in London showed that a group of people who stopped smoking had reduced stress than those who had continued to smoke after one year; this was because those who continued to smoke greatly depended on cigarettes.
A smoker is more prone to be stressed if he/she is not in a position to quench a thirst for smoking therefore failure to smoke will subjected smokers to stress (Benson, 2010). Banning of cigarette smoking would therefore reduce stress levels in people. Peer groups will be made of non smokers. People will look for other ways to cope with stress and anxiety other than smoking.
Economic burden on countries will be reduced by banning of cigarette smoking: "in the year 2000, 8.6 million people in U.S suffered from at least one chronic disease that was associated with cigarette smoking" (CDC, 2011, p. 1). Majority of these people ailed from more than one of the diseases caused by cigarette smoking (Society, 2010).
Though smoking cigarettes creates employment and contributes to government's revenues, it causes more harm than good. The quality of life led by cigarette smokers is lowered. Furthermore, their quality of work is decreased because they might not attend to their duties regularly in extreme cases of being affected by ailments caused by cigarettes (Society, 2010).
Banning of cigarette smoking would eliminate exposure of the human body to harmful substances. Tar is carcinogenic. Nicotine is the addictive substance in cigarette that causes mental and emotional dependence on cigarettes (Society, 2010). Nicotine also elevates cholesterol levels in the body.
Carbon Monoxide takes oxygen from the body of the user and this may cause Chronic Obstructive Pulmonary Disorder (Netdoctor, 2005). Banning of cigarette smoking will reduce the above risks which are the main causes of poor health in cigarette smokers.
Reproductive health of people will to some extent be guaranteed by banning of cigarette smoking. Tobacco related infertility in women and impotence in men would be no more. Risks of miscarriage, premature births and still births would be reduced thus saving lives of babies (Society, 2010).
Cigarette smoking is a major health challenge. It causes many health problems including reproductive disorders, cancer, stress, heart diseases and stroke. Banning of cigarette smoking would largely benefit people's health.
Auctions, G. (2010). Advantages and Disadvantages of Smokinng . Web.
Benson, J. (2010). Smoking increases stress levels . Web.
CDC. (2011). Smoking and Tobacco Use . Web.
Fix, W. Should Smoking be Banned . Web.
Netdoctor. (2005). Smoking Health Risks . Web.
Russo, J. (2011). Health Benefits of Smoking Cigarettes . Web.
Smoking, H. (2010). The History of Smoking . Web.
Society, A. C. (2010). Cigarette Smoking . Web.
Chicago (A-D)
Chicago (N-B)
IvyPanda. (2023, October 28). Should Cigarettes Be Banned? Essay. https://ivypanda.com/essays/should-cigarette-smoking-be-banned/
"Should Cigarettes Be Banned? Essay." IvyPanda , 28 Oct. 2023, ivypanda.com/essays/should-cigarette-smoking-be-banned/.
IvyPanda . (2023) 'Should Cigarettes Be Banned? Essay'. 28 October.
IvyPanda . 2023. "Should Cigarettes Be Banned? Essay." October 28, 2023. https://ivypanda.com/essays/should-cigarette-smoking-be-banned/.
1. IvyPanda . "Should Cigarettes Be Banned? Essay." October 28, 2023. https://ivypanda.com/essays/should-cigarette-smoking-be-banned/.
Bibliography
IvyPanda . "Should Cigarettes Be Banned? Essay." October 28, 2023. https://ivypanda.com/essays/should-cigarette-smoking-be-banned/.
Discussion on Alberta Tar Sands
Smoking Cigarette Should Be Banned
Causes and Prevention of Infertility in Men
Preventing Infertility in Couples
How Smoking Cigarettes Effects Your Health
Conclusion of Smoking Should Be Banned on College Campuses Essay
Infertility Issue: Causes, Symptoms, and Treatment
Should Smoking Be Banned in Public Places?
Banning the use of Tobacco
Cigarette Smoking Side Effects
Importance of the Medical Records in Medicine
Community HIV/AIDS Mobilization Project (CHAMP)
A Worldwide Problem Shortage of Healthcare Professionals
Importance of the Documentation with Regards to Patient Care
Healthcare Information needs at Presbyterian Hospital
Home — Essay Samples — Nursing & Health — Smoking — Effect of Tobacco: Why Cigarette Smoking Should Be Banned

Effect of Tobacco: Why Cigarette Smoking Should Be Banned
Categories: Smoking Smoking Ban Tobacco
About this sample

Words: 1585 |
Published: Dec 3, 2020
Words: 1585 | Pages: 3 | 8 min read
Works Cited
Rezaei, S., Akbari, M. E., Hajizadeh, M., & Heydari, G. (2015). The financial burden imposed on healthcare system due to smoking-attributable diseases: A report from Iran. Global Journal of Health Science, 7(2), 1-9. https://doi.org/10.5539/gjhs.v7n2p1
World Health Organization. (2017). Tobacco. https://www.who.int/news-room/fact-sheets/detail/tobacco
Centers for Disease Control and Prevention. (2022). Smoking & tobacco use: Health effects. https://www.cdc.gov/tobacco/data_statistics/fact_sheets/health_effects/effects_cig_smoking/index.htm
Tobacco in Australia. (2021). Tobacco use in Australia. https://www.tobaccoinaustralia.org.au/chapter-1-prevalence/1-2-prevalence-of-smoking-adults
American Cancer Society. (2022). Lung cancer risk factors. https://www.cancer.org/cancer/lung-cancer/prevention-and-early-detection/risk-factors.html
National Institute on Drug Abuse. (2019). DrugFacts: Cigarettes and other tobacco products. https://www.drugabuse.gov/publications/drugfacts/cigarettes-other-tobacco-products
National Cancer Institute. (2022). Harms of smoking and health benefits of quitting. https://www.cancer.gov/about-cancer/causes-prevention/risk/tobacco/cessation-fact-sheet
U.S. Department of Health and Human Services. (2014). The health consequences of smoking—50 years of progress: A report of the Surgeon General. U.S. Department of Health and Human Services, Centers for Disease Control and Prevention, National Center for Chronic Disease Prevention and Health Promotion, Office on Smoking and Health.
Gao, B., Chapman, S., & Sun, S. (2019). The tipping point for tobacco control: Time to prohibit the sale of tobacco products?. Tobacco Control, 28(3), 349-353. https://doi.org/10.1136/tobaccocontrol-2017-054108
National Academies of Sciences, Engineering, and Medicine. (2018). Public health consequences of e-cigarettes. National Academies Press. https://doi.org/10.17226/24952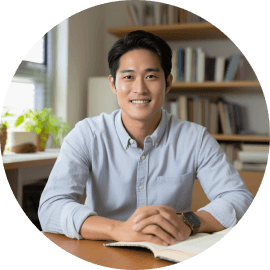 Cite this Essay
Let us write you an essay from scratch
450+ experts on 30 subjects ready to help
Custom essay delivered in as few as 3 hours
Get high-quality help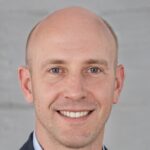 Prof. Kifaru
Verified writer
Expert in: Nursing & Health Law, Crime & Punishment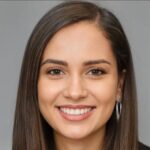 + 120 experts online
By clicking "Check Writers' Offers", you agree to our terms of service and privacy policy . We'll occasionally send you promo and account related email
No need to pay just yet!
Related Essays
1 pages / 611 words
3 pages / 1160 words
2 pages / 704 words
1 pages / 499 words
Remember! This is just a sample.
You can get your custom paper by one of our expert writers.
121 writers online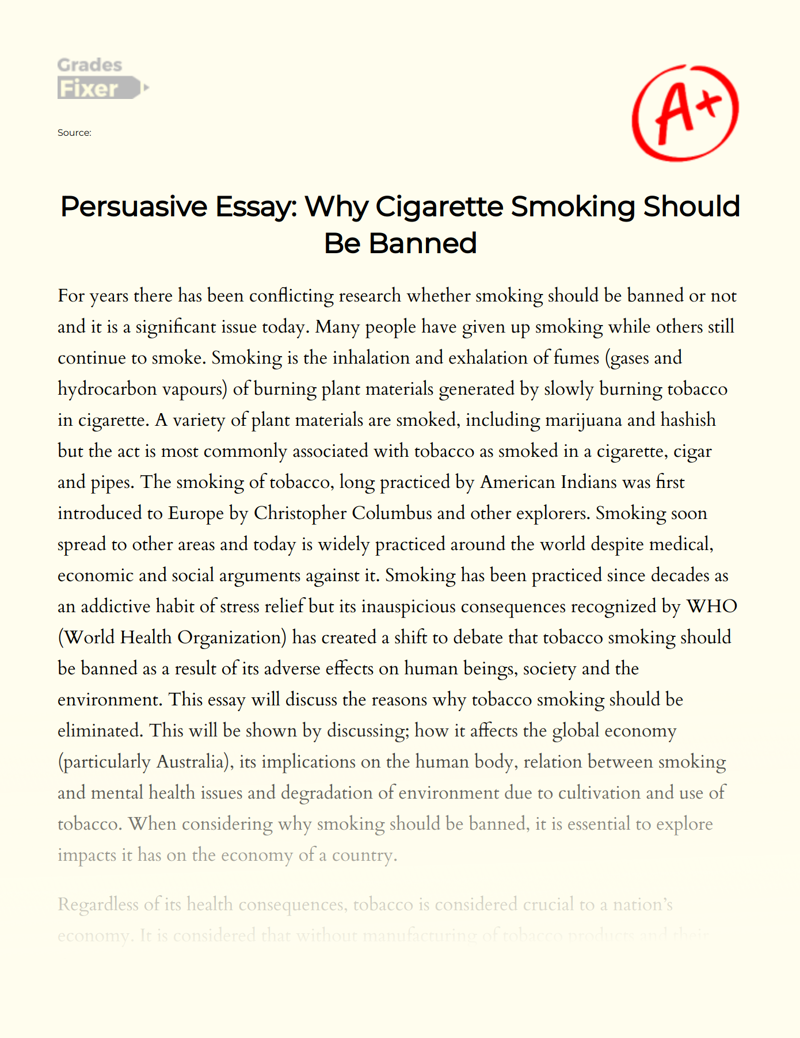 Still can't find what you need?
Browse our vast selection of original essay samples, each expertly formatted and styled
Related Essays on Smoking
Initial impressions of a person smoking Association of smoking with wealth and maturity Irony of anti-smoking education Relaxation and stress reduction Taking breaks and social interactions Life skills [...]
Startling Fact: In today's world, an increasing number of individuals, especially young people, are drawn into the world of vaping, often without a clear understanding of the potential consequences. Personal [...]
In the "should smoking be illegal argumentative" debate, one of the primary concerns is the well-known harmful effects of cigarettes on the human body. Many people are aware that smoking cigarettes is [...]
Vaping, once hailed as a safer alternative to traditional smoking, has now come under scrutiny due to its potential health risks and widespread usage among young people. This essay explores the various dangers associated with [...]
The Rise of Vapor: Step into the world of vaping and explore how this modern trend has taken the world by storm, reshaping the way people consume nicotine. Invisible Dangers: Uncover the hidden health [...]
Stop smoking it can cost you your life! What is smoking? How can something small cause so much harm to the world? Smoking is an addictive drug that can cause death or cancer it has caused, More than 10 times as many U.S. [...]
Related Topics
By clicking "Send", you agree to our Terms of service and Privacy statement . We will occasionally send you account related emails.
Where do you want us to send this sample?
By clicking "Continue", you agree to our terms of service and privacy policy.
Be careful. This essay is not unique
This essay was donated by a student and is likely to have been used and submitted before
Download this Sample
Free samples may contain mistakes and not unique parts
Sorry, we could not paraphrase this essay. Our professional writers can rewrite it and get you a unique paper.
Please check your inbox.
We can write you a custom essay that will follow your exact instructions and meet the deadlines. Let's fix your grades together!
Get Your Personalized Essay in 3 Hours or Less!
We use cookies to personalyze your web-site experience. By continuing we'll assume you board with our cookie policy .
Instructions Followed To The Letter
Deadlines Met At Every Stage
Unique And Plagiarism Free
Should Smoking Be Illegal?
Should smoking be banned? What are the pros and cons of banning cigarettes in public places? If you're writing an argumentative essay or persuasive speech on why smoking should be banned, check out this sample.
Smoking Should Be Banned: Essay Introduction
Reasons why smoking should be banned, why smoking should not be banned: essay arguments, why smoking should be banned essay conclusion.
Smoking involves burning a substance to take in its smoke into the lungs. These substances are commonly tobacco or cannabis. Combustion releases the active substances in them, like nicotine, which are absorbed through the lungs.
A widespread technique through which this is done is via smoking manufactured cigarettes or hand-rolling the tobacco ready for smoking. Almost 1 billion people in the majority of all human societies practice smoking. Complications directly associated with smoking claim the lives of half of all the persons involved in smoking tobacco or marijuana for a long time.
Smoking is an addiction because tobacco contains nicotine, which is very addictive. The nicotine makes it difficult for a smoker to quit. Therefore, a person will become used to nicotine such that he/she has to smoke to feel normal. Consequently, I think smoking should be banned for some reason.
One reason why smoking should be banned is that it has got several health effects. It harms almost every organ of the body. Cigarette smoking causes 87% of lung cancer deaths and is also responsible for many other cancer and health problems. 
Apart from this, infant deaths that occur in pregnant women are attributed to smoking. Similarly, people who stay near smokers become secondary smokers, who may breathe in the smoke and get the same health problems as smokers. Although not widely smoked, cannabis also has health problems, and withdrawal symptoms include depression, insomnia, frustration, anger, anxiety, concentration difficulties, and restlessness.
Besides causing emphysema, smoking also affects the digestive organs and the blood circulatory systems, especially heart arteries. Women have a higher risk of heart attack than men, exacerbating with time as one smokes. Smoking also affects the mouth, whereby the teeth become discolored, the lips blacken and always stay dry, and the breath smells bad.
Cigarette and tobacco products are costly. People who smoke are therefore forced to spend their money on these products, which badly wastes the income they would have otherwise spent on other things. Therefore, I think that smoking should be forbidden to reduce the costs of treating diseases related to smoking and the number of deaths caused by smoking-related illnesses.
However, tobacco and cigarette manufacturing nations would lose a lot if smoking was to be banned. I, therefore, think that it should not be banned. Some nations largely depend on exporting cigarettes and tobacco products to get revenue.
This revenue typically boosts the economy of such nations. If smoking were banned, they would incur significant losses since tobacco companies are multi-billion organizations. Apart from these, millions of people will be jobless due to the ban.
The process by which tobacco and cigarette products reach consumers is very complex, and it involves a chain process with several people involved in it. Banning smoking, therefore, means these people will lose their jobs, which most may depend on for their livelihoods.
In conclusion, the ban on smoking is a tough step to be undertaken, especially when the number of worldwide users is billions. Although it burdens nations enormously in treating smoking-related diseases, it may take a long time before a ban can work. Attempts by some nations to do this have often been met with failures.
Cite this paper
Chicago (N-B)
Chicago (A-D)
StudyCorgi. (2023, November 8). Should Smoking Be Illegal? Retrieved from https://studycorgi.com/should-smoking-be-banned/
StudyCorgi. (2023, November 8). Should Smoking Be Illegal? https://studycorgi.com/should-smoking-be-banned/
"Should Smoking Be Illegal?" StudyCorgi , 8 Nov. 2023, studycorgi.com/should-smoking-be-banned/.
1. StudyCorgi . "Should Smoking Be Illegal?" November 8, 2023. https://studycorgi.com/should-smoking-be-banned/.
Bibliography
StudyCorgi . "Should Smoking Be Illegal?" November 8, 2023. https://studycorgi.com/should-smoking-be-banned/.
StudyCorgi . 2023. "Should Smoking Be Illegal?" November 8, 2023. https://studycorgi.com/should-smoking-be-banned/.
StudyCorgi . (2023) 'Should Smoking Be Illegal'. 8 November.
This paper, "Should Smoking Be Illegal?", was written and voluntary submitted to our free essay database by a straight-A student. Please ensure you properly reference the paper if you're using it to write your assignment.
Before publication, the StudyCorgi editorial team proofread and checked the paper to make sure it meets the highest standards in terms of grammar, punctuation, style, fact accuracy, copyright issues, and inclusive language.
If you are the author of this paper and no longer wish to have it published on StudyCorgi, request the removal . Please use the " Donate your paper " form to submit an essay.

Question: Should We Ban Cigarettes?
Readers Question: Using data and your economic knowledge assess the case for and against a government completely banning the sale and consumption of cigarettes. AQA (15)
1. Cigarettes are a demerit good. People underestimate the costs of smoking, e.g. lower life expectancy. It has been suggested that the true cost of a packet of cigarettes is over $200. Therefore, the government is justified to try and stop people consuming goods which harm them.
2. Cigarettes have negative externalities on the rest of society. For example, it creates health problems of passive smoking. This leads to over consumption and is another justification for banning smoking.
3. Tax is insufficient for reducing consumption of cigarettes. Demand is very price inelastic because people become addicted. Therefore, banning cigarettes may be the only way to reduce consumption.
Problems of Banning Cigarette Sales and Consumption
1. It would encourage the black market. People are addicted so they would find a way to keep smoking. This would encourage criminal activity which the government would need to try and police. The potential profits for criminals would be very high. It could be a similar situation to prohibition in the 1920s and 30s in the US. Banning alcohol led to big rise in organised crime.
2. The government would lose all tax revenue. This amounts to over £7 billion. It would require other taxes to be increased.
3. It would cause unemployment amongst cigarette companies. However, South Korea is suggesting to bring the complete ban after 10 years. This gives people the chance to change their habits.
4. There are several alternative measures for discouraging cigarette sales. For example, banning cigarettes in public spaces has been quite effective in reducing consumption and discouraging people from starting to smoke. Also advertising to make people aware of the dangers of smoking (e.g. putting warnings on packets of cigarettes)
Cigarettes are definitely harmful to health. In some ways they are more likely to kill than other drugs which are criminalised. However, because cigarette use is so widespread, banning cigarettes completely would lead to very large black market and lose the government substantial tax revenues. It would make many ordinary people more likely to commit a crime to feed their habit. See also:
Should Taxes on Cigarettes be Increased? 
6 thoughts on "Question: Should We Ban Cigarettes?"
cigarettes are harmful at certain stages. e cigarettes have given the right solution for it.
Both of them are deadly for health. There isn't one better than the other.
how would you bring elasticity into this type of question ?
You could say the govt could use a tax to reduce demand for cigarettes. However, demand is very inelastic therefore a tax is insufficient. Therefore, banning it may be only solution to prevent people consuming this demerit good.
Do you people not see the bigger picture here. It's about control and telling you what you can and cannot do. They won't stop at cigarettes. Think about it you idiots.
The government gave our war veterans cigarettes to help with stress now they are telling us it is unhealthy and we are forced to give up. We are living in a communist country where we are not allowed to make our own decisions about our health or lifestyle. I have smoked all my life, worked hard paid huge amounts of tax and the way you have discriminated against smokers and treated us like leper's is very degrading and I am not proud to say your a fair government if you thought of how smokers felt at all it would have been more acceptable but as per usual you treat the average workers as mere specks of dust
Leave a comment Cancel reply

EssayBasics.com
Pay For Essay
Write My Essay
Homework Writing Help
Essay Editing Service
Thesis Writing Help
Write My College Essay
Do My Essay
Term Paper Writing Service
Coursework Writing Service
Write My Research Paper
Assignment Writing Help
Essay Writing Help
Call Now! (USA) Login Order now
EssayBasics.com Call Now! (USA) Order now
Writing Guides
Should Cigarette Smoking Be Banned? (Argumentative Essay Sample)
Should cigarette smoking be banned.
How do you feel as a nonsmoker when you happen to pass beside a smoker on a cigarette and get the smoke? Well, you will agree that the act of smoking should be prohibited. Laws have been put in place to ban tobacco use in most states of the USA. These countries have their unique regulations regarding cigarette smoking and its allowance such as an increase in taxation on cigarettes, promotion of cessation, expansion of the smoke-free space in public among others.  Public outcry is on the rise regarding due to the impacts of cigarette smoking that encompasses the health of the smoker and the public as well as rising costs of mitigating its effects felt by the public. Irrespective of such impacts, some states allow smoking of cigarettes in bars and clubs as well as setting smoking zones for the addicted smokers. However, the question that rings the mind? Do all these laws help in regulating cigarette smoking and its impacts to the public? Yes, for instance, there have been bans on cigarette smoking in flights and advertisement on televisions with reduced outlets for smoking to help the public. Cigarette smoking should be banned.
Cigarette smoking has led to increased health concerns even to the nonsmokers.  Smoking affects the health of the smokers besides controlling the addict's habits and expenditures. On the same note, the public health concern is on the rise due to cigarette smoking.  It is supported by the evidence that has been released in the public domain by the surgeons on the impacts and the diseases related to smoking. The public continuously inhales the secondhand smoke which is dangerous.  The banning of cigarette smoking is the best option even though it is against the smokers' rights to do whatever is good for them. However, a right for a person to do any activity is provided so long as that right does not bring harm other people. Therefore, the nearby smokers' rights are infringed since it puts them at risk without their consents hence making them contact diseases such as lung cancer, throat diseases, and emphysema and breathing problems among others. Furthermore, children are at greater risks due to increased exposure to secondhand smoke hence they are at higher risk of infant death syndrome, middle ear infection, asthma bronchitis, and pneumonia that make their health poor.
Secondly, the public is financially burdened due to cigarette smoking.  The financial burden continues to rise with more than $ 193 billion spent on an annual basis in the USA alone.  Enterprises with the USA are on continuously losing lots of money concerning reduced productivity due to sick employees who are directly or indirectly affected by the cigarette smoke. Furthermore, costs are incurred due to cigarette smoking problems which include healthcare costs, and counseling costs, reduced wages due to increased youth exposure to cigarette smoking among others.
Even though smoking cigarette is still at high levels, it is unethical in the public domain to claim a right to a tobacco cigarette, and yet the actions cause disturbance to the public. Besides, lots of lives have been lost due to diseases such as lung cancers, bronchitis, and pneumonia among others while these kinds of infections are preventable. Thus, banning of the habit of cigarette smoking is the best ways to minimize such problems.
In conclusion, cigarette smoking should be prohibited since it is the primary cause of preventable diseases as well as premature deaths all over the world.  The cigarette smokers suffer the impacts of such acts due to their choice. However, the cost incurred by the public as well as the nonsmokers who suffer due to secondhand smoke should not be the case as these activities can be done away.
Cigarette Smoking Should Be Banned Argumentative Essay
Each year, nearly half a million Americans die prematurely of smoking as well as exposure to secondhand smoke. Another 16 million live with a serious illness caused by smoking . The reason why smoking cigarettes are so hard to stop is because the substance contains nicotine, which is very addictive. People use this as their way of feeling normal, and it's really taking a toll on their bodys and their general health. I believe that cigarette smoking should be banned because it causes too many health concerns for both smokers and nonsmokers.
Smoking is one of the worst possible actions an individual can do to their body. One little six inch object of tobacco is one of the deadliest objects in our world today. Thousands of chemicals are inserted into your lungs after smoking. Now picture that 10 times a day, everyday, for the rest of your life. People are basically poisoning themselves to an early death. The tragic fact about smoking is that tobacco use can actually cause cancer anywhere in the body. This is the leading cause of lung cancer as well as many other cancers and diseases. One third of all cancer deaths in the U.S are related to smoking. If nobody smoked, one of every three cancer deaths in the United States would not happen.
There is no reason to continue to allow the use of a product that is killing so many people. Smoking kills thousands of people a year and at this rate, this is a number that will grow before it shrinks. Millions of people even live with a serious illness which is caused by smoking. I believe that as a nation we are doing good with helping stop this problem, but were not doing good enough. More people should talk about this problem because it's only getting worse, especially with young people. More teens are using nicotine everyday and don't truly understand what they're doing to their bodys. As we all know smoking causes the lungs to turn completely black, like a chimney. Schools should definitely try to prevent their young students from stopping now while they can, before it gets bad.
Most smokers don't even enjoy their habit. The problem isn't that they don't know it's a bad habit, it's that they are addicted to nicotine. This is mainly the reason why individuals cant stop smoking. If one were to try to stop, the symptoms of withdrawal include cravings, anxiety, depression and cognitive/ attention deficits. The symptoms can begin within a few hours; driving the smoker to have another cigarette. There are a lot of positive things to come if one were to stop smoking. Quitting smoking cuts cardiovascular risks. Just 1 year after quitting smoking, your risk for a heart attack drops tremendously.
Another reason why cigarette smoking should be banned is because of how much money people are wasting for these tobacco products. Tobacco companies are getting richer by the day, and are swimming in pools of cash while tobacco users are gradually dying. The cost of cigarettes is already high and what people don't think about is how much more money they're going to spend later on in life for life insurance.
Cigarette smoking has led to many health concerns even for those who are right next to the smoker. Everyone is at risk because the general public is often exposed to secondhand smoke. This can be dangerous to those who have no intention to smoke at all. The sad reality of our world is that even the people making the right decision by not smoking, are still being exposed to secondhand smoke. Secondhand smoke causes stroke, lung cancer, and heart disease in adults. Children who are exposed to secondhand smoke are at increased risk for sudden infant death syndrome, acute respiratory infections, middle ear disease, more severe asthma, respiratory symptoms, and slowed lung growth.
Even a person who inhales second hand smoke without consent is in harm of dangerous diseases and cancers. This is an ongoing problem, especially with young children. Parents who smoke are allowing their children to receive poisons everyday. It's a horrible fact especially understanding that children's organs are a lot more sensitive than the average adult. Therefore, children are prone to become addicted a lot faster, and this means that they are most likely to continue that habit when they are older. There's no reason or excuse to why people who try to avoid smoking are the ones being affected by this issue. Cigarette smoking should be banned in public areas because it is an exposure to secondhand smoke, causes cancer, and premature deaths among people who do not smoke.
In conclusion, Cigarettes should be banned because of the ongoing number of premature deaths, many health concerns and the wasted money spent on cigarettes alone. Millions of people are dying each year because of cigarette smoking and in all reality we are doing nothing to fix this problem except giving our money away to these tobacco companies. Unfortunately, many people are at risk of losing their lives at a young age if we don't come together and help stop this issue.
Related Samples
The Problems of Child Labour Essay Example
Social Media Menace Essay Example
Gun Control Argumentative Essay
Video Games and Violence Research Paper
The Impact of African American Women on Society
Women's Rights in The Great Gatsby Essay Sample
Essay Sample on Gender
Essay Sample about Abortion
Essay Sample on Mexico-U.S. Migration
Does Social Media Do Better Or Harm To Society?
Didn't find the perfect sample?
You can order a custom paper by our expert writers
An official website of the United States government
The .gov means it's official. Federal government websites often end in .gov or .mil. Before sharing sensitive information, make sure you're on a federal government site.
The site is secure. The https:// ensures that you are connecting to the official website and that any information you provide is encrypted and transmitted securely.
Publications
Account settings
Advanced Search
Journal List
BMJ Open Access
Why ban the sale of cigarettes? The case for abolition
The cigarette is the deadliest artefact in the history of human civilisation. Most of the richer countries of the globe, however, are making progress in reducing both smoking rates and overall consumption. Many different methods have been proposed to steepen this downward slope, including increased taxation, bans on advertising, promotion of cessation, and expansion of smoke-free spaces. One option that deserves more attention is the enactment of local or national bans on the sale of cigarettes. There are precedents: 15 US states enacted bans on the sale of cigarettes from 1890 to 1927, for instance, and such laws are still fully within the power of local communities and state governments. Apart from reducing human suffering, abolishing the sale of cigarettes would result in savings in the realm of healthcare costs, increased labour productivity, lessened harms from fires, reduced consumption of scarce physical resources, and a smaller global carbon footprint. Abolition would also put a halt to one of the principal sources of corruption in modern civilisation, and would effectively eliminate one of the historical forces behind global warming denial and environmental obfuscation. The primary reason for abolition, however, is that smokers themselves dislike the fact they smoke. Smoking is not a recreational drug, and abolishing cigarettes would therefore enlarge rather than restrict human liberties. Abolition would also help cigarette makers fulfil their repeated promises to 'cease production' if cigarettes were ever found to be causing harm.
Six reasons to ban
The cigarette is the deadliest object in the history of human civilisation. Cigarettes kill about 6 million people every year, a number that will grow before it shrinks. Smoking in the twentieth century killed only 100 million people, whereas a billion could perish in our century unless we reverse course. 1 Even if present rates of consumption drop steadily to zero by 2100, we will still have about 300 million tobacco deaths this century.
The cigarette is also a defective product, meaning not just dangerous but unreasonably dangerous, killing half its long-term users. And addictive by design. It is fully within the power of the Food and Drug Administration in the US, for instance, to require that the nicotine in cigarettes be reduced to subcompensable, subaddictive levels. 2 3 This is not hard from a manufacturing point of view: the nicotine alkaloid is water soluble, and denicotinised cigarettes were already being made in the 19th century. 4 Philip Morris in the 1980s set up an entire factory to make its Next brand cigarettes, using supercritical fluid extraction techniques to achieve a 97% reduction in nicotine content, which is what would be required for a 0.1% nicotine cigarette, down from present values of about 2%. 5 Keep in mind that we're talking about nicotine content in the rod as opposed to deliveries measured by the 'FTC method', which cannot capture how people actually smoke. 5
Cigarettes are also defective because they have been engineered to produce an inhalable smoke. Tobacco smoke was rarely inhaled prior to the nineteenth century; it was too harsh, too alkaline. Smoke first became inhalable with the invention of flue curing , a technique by which the tobacco leaf is heated during fermentation, preserving the sugars naturally present in the unprocessed leaf. Sugars when they burn produce acids, which lower the pH of the resulting smoke, making it less harsh, more inhalable. There is a certain irony here, since these 'milder' cigarettes were actually far more deadly, allowing smoke to be drawn deep into the lungs. The world's present epidemic of lung cancer is almost entirely due to the use of low pH flue-cured tobacco in cigarettes, an industry-wide practice that could be reversed at any time. Regulatory agencies should mandate a significant reduction in rod-content nicotine, but they should also require that no cigarette be sold with a smoke pH lower than 8. Those two mandates alone would do more for public health than any previous law in history. 5
Death and product defect are two reasons to abolish the sale of cigarettes, but there are others. A third is the financial burden on public and private treasuries, principally from the costs of treating illnesses due to smoking. Cigarette use also results in financial losses from diminished labor productivity, and in many parts of the world makes the poor even poorer. 6
A fourth reason is that the cigarette industry is a powerful corrupting force in human civilisation. Big tobacco has corrupted science by sponsoring 'decoy' or 'distraction research', 5 but it has also corrupted popular media, insofar as newspapers and magazines dependent on tobacco advertising for revenues have been reluctant to publish critiques of cigarettes. 7 The industry has corrupted even the information environment of its own workforce, as when Philip Morris paid its insurance provider (CIGNA) to censor the health information sent to corporate employees. 8 Tobacco companies have bullied, corrupted or exploited countless other institutions: the American Medical Association, the American Law Institute, sports organisations, fire-fighting bodies, Hollywood, the US Congress—even the US presidency and US military. President Lyndon Johnson refused to endorse the 1964 Surgeon General's report, for instance, fearing alienation of the tobacco-friendly South. Cigarette makers managed even to thwart the US Navy's efforts to go smoke-free. In 1986, the Navy had announced a goal of creating a smoke-free Navy by the year 2000; tobacco-friendly congressmen were pressured to thwart that plan, and a law was passed requiring that all ships sell cigarettes and allow smoking. The result: American submarines were not smoke-free until 2011. 9  
Cigarettes are also, though, a significant cause of harm to the natural environment. Cigarette manufacturing consumes scarce resources in growing, curing, rolling, flavouring, packaging, transport, advertising and legal defence, but also causes harms from massive pesticide use and deforestation. Many Manhattans of savannah woodlands are lost every year to obtain the charcoal used for flue curing. Cigarette manufacturing also produces non-trivial greenhouse gas emissions, principally from the fossil fuels used for curing and transport, fires from careless disposal of butts, and increased medical costs from maladies caused by smoking 5 (China produces 40 percent of the world's cigarettes, for example, and uses mainly coal to cure its tobacco leaf). And cigarette makers have provided substantial funding and institutional support for global climate change deniers, causing further harm. 10 Cigarettes are not sustainable in a world of global warming; indeed they are one of its overlooked and easily preventable causes.
But the sixth and most important reason for abolition is the fact that smokers themselves do not like their habit. This is a key point: smoking is not a recreational drug; most smokers do not like the fact they smoke and wish they could quit. This means that cigarettes are very different from alcohol or even marijuana. Only about 10–15% of people who drink liquor ever become alcoholics, versus addiction rates of 80% or 90% for people who smoke. 11 As an influential Canadian tobacco executive once confessed: smoking is not like drinking, it is rather like being an alcoholic. 12
The spectre of prohibition
An objection commonly raised is: Hasn't prohibition already been tried and failed? Won't this just encourage smuggling, organised crime, and yet another failed war on drugs? That has been the argument of the industry for decades; bans are ridiculed as impractical or tyrannical. (First they come for your cigarettes.…) 13
The freedom objection is weak, however, given how people actually experience addiction. Most smokers 'enjoy' smoking only in the sense that it relieves the pains of withdrawal; they need nicotine to feel normal. People who say they enjoy cigarettes are rather rare—so rare that the industry used to call them 'enjoyers'. 14 Surveys show that most smokers want to quit but cannot; they also regret having started. 15 Tobacco industry executives have long grasped the point: Imperial Tobacco's Robert Bexon in 1984 confided to his Canadian cotobacconists that 'If our product was not addictive we would not sell a cigarette next week'. 12 American cigarette makers have been quietly celebrating addiction since the 1950s, when one expressed how 'fortunate for us' it was that cigarettes 'are a habit they can't break'. 16
Another objection commonly raised to any call for a ban is that this will encourage smuggling, or even organised crime. But that is rather like blaming theft on fat wallets. Smuggling is already rampant in the cigarette world, as a result of pricing disparities and the tolerance of contraband or even its encouragement by cigarette manufacturers. Luk Joossens and Rob Cunningham have shown how cigarette manufacturers have used smuggling to undermine monopolies or gain entry into new markets or evade taxation. 17 18 And demand for contraband should diminish, once the addicted overcome their addiction—a situation very different from prohibition of alcohol, where drinking was a more recreational drug. And of course, even a ban on the sale of cigarettes will not eliminate all smoking—nor should that be our goal, since people should still be free to grow their own for personal use. Possession should not be criminalised; the goal should only be a ban on sales. Enforcement, therefore, should be a trivial matter, as is proper in a liberal society.
Cigarette smoking itself, though, is less an expression of freedom than the robbery of it. And so long as we allow the companies to cast themselves as defenders of liberty, the table is unfairly tilted. We have to recognise that smoking compromises freedom, and that retiring cigarettes would enlarge human liberties.
Of course it could well be that product regulation, combined with taxation, denormalisation, and 'smoke-free' legislation, will be enough to dramatically lower or even eliminate cigarette use—over some period of decades. Here, though, I think we fail to realise how much power governments already have to act more decisively. From 1890 to 1927 the sale of cigarettes was banned virtually overnight in 15 different US states; and in Austin v. Tennessee (1900) the US Supreme Court upheld the right of states to enact such bans. 19 Those laws all eventually disappeared from industry pressure and the lure of tax revenues. 20 None was deemed unconstitutional, however, and some localities retained bans into the 1930s, just as some counties still today ban the sale of alcohol. Bhutan in 2004 became the first nation recently to ban the sale of cigarettes, and we may see other countries taking this step, especially once smoking prevalence rates start dropping into single digits.
Helping the industry fulfil its promises
One last rationale for a ban: abolition would fulfil a promise made repeatedly by the industry itself. Time and again, cigarette makers have insisted that if cigarettes were ever found to be causing harm they would stop making them:
In March 1954, George Weissman, head of marketing at Philip Morris, announced that his company would 'stop business tomorrow' if 'we had any thought or knowledge that in any way we were selling a product harmful to consumers'. 21
In 1972, James C Bowling, vice president for public relations at Philip Morris, asserted publicly, and in no uncertain terms, that 'If our product is harmful…we'll stop making it'. 22
Helmut Wakeham, vice president for research at Philip Morris, in 1976 stated publicly that 'if the company as a whole believed that cigarettes were really harmful, we would not be in the business. We are a very moralistic company'. 23
RJ Reynolds president Gerald H Long, in a 1986 interview asserted that if he ever 'saw or thought there were any evidence whatsoever that conclusively proved that, in some way, tobacco was harmful to people, and I believed it in my heart and my soul, then I would get out of the business'. 24
Philip Morris CEO Geoffrey Bible in 1997, when asked (under oath) what he would do with his company if cigarettes were ever found to be causing cancer, said: 'I'd probably…shut it down instantly to get a better hold on things'. 25 Bible was asked about this in Minnesota v. Philip Morris (2 March 1998) and reaffirmed that if even one person were ever found to have died from smoking he would 'reassess' his duties as CEO. 26
The clearest expression of such an opinion, however, was by Lorillard's president, Curtis H Judge, in an April 1984 deposition, where he was asked why he regarded Lorillard's position on smoking and health as important:
A: Because if we are marketing a product that we know causes cancer, I'd get out of the business…I wouldn't be associated with marketing a product like that.
A: If cigarettes caused cancer, I wouldn't be involved with them…I wouldn't sell a product that caused cancer.
Q: …Because you don't want to kill people? … Is that the reason?
Q: …If it was proven to you that cigarette smoking caused lung cancer, do you think cigarettes should be marketed?
A: No…No one should sell a product that is a proven cause of lung cancer. 27
Note that these are all public assurances , including several made under oath. All follow a script drawn up by the industry's public relations advisors during the earliest stages of the conspiracy: On 14 December 1953, Hill and Knowlton had proposed to RJ Reynolds that the cigarette maker reassure the public that it 'would never market a product which is in any way harmful'. Reynolds was also advised to make it clear that
If the Company felt that its product were now causing cancer or any other disease, it would immediately cease production of it. 28
To this recommendation was added 'Until such time as these charges or irresponsible statements are ever proven, the Company will continue to produce and market cigarettes'.
What is remarkable is that we never find the companies saying privately that they would stop making cigarettes—with two significant exceptions. In August 1947, in an internal document outlining plans to study 'vascular and cardiac effects' of smoking, Philip Morris's director of research, Willard Greenwald, made precisely this claim: 'We certainly do not want any person to smoke if it is dangerous to his health'. 29 Greenwald had made a similar statement in 1939, reassuring his president, OH Chalkley, that 'under no circumstances would we want anyone to smoke Philip Morris cigarettes were smoking definitely deleterious to his health'. 30 There is no reason to believe he was lying: he is writing long before Wynder's mouse painting experiments of 1953, and prior even to the epidemiology of 1950. Prior to obtaining proof of harm, Philip Morris seems honestly not to have wanted to sell a deadly product.
Abolition is not such a radical idea; it would really just help the industry fulfil its long-standing promises to the public. The cigarette, as presently constituted, is simply too dangerous—and destructive and unloved—to be sold.
Summary points
The cigarette is the deadliest object in the history of human civilisation. It is also a defective product, a financial burden on cash-strapped societies, an important source of political and scientific corruption, and a cause of both global warming and global warming denial.
Tobacco manufacturers have a long history of promising to stop the production of cigarettes, should they ever be proven harmful.
The most important reason to ban the sale of cigarettes, however, is that most smokers do not even like the fact they smoke; cigarettes are not a recreational drug.
It is not in principle difficult to end the sale of cigarettes; most communities–even small towns–could do this virtually overnight. We actually have more power than we realize to put an end this, the world's leading cause of death and disease.
Competing interests: The author has served as an expert witness for plaintiffs in tobacco litigation.
Provenance and peer review: Not commissioned; externally peer reviewed.
Open Access: This is an Open Access article distributed in accordance with the Creative Commons Attribution Non Commercial (CC BY-NC 3.0) license, which permits others to distribute, remix, adapt, build upon this work non-commercially, and license their derivative works on different terms, provided the original work is properly cited and the use is non-commercial. See: http://creativecommons.org/licenses/by-nc/3.0/
We use cookies to enhance our website for you. Proceed if you agree to this policy or learn more about it.
Essay Database >
Essay Examples >
Essays Topics >
Essay on Law
Argumentative Essay On Should Cigarette Smoking Be Banned In Public
Type of paper: Argumentative Essay
Topic: Law , Cigarettes , Smoking , Countries , Tobacco , Events , Medicine , Health
Words: 1100
Published: 02/14/2020
ORDER PAPER LIKE THIS
Over the last few years, people tend to notice an increasing number of "no smoking" signs in public places. Many countries the world over have imposed public policies, laws and regulations that ban smoking in public places and workplaces. Indicatively, smoking on public transport has been prohibited in South Australia in 1994 (Drug and Alcohol Services for South Australia) and gradually the rest of the world's countries have enacted similar laws, while countries like England and Wales are considering a pilot ban of smoking within prisons, for 2014 (BBC News UK). Ireland was the first country to ban smoking in both public areas, including dinning facilities and bars, and all workplaces, in March, 2004 (WHO 110). In the U.S, it all started with a surgeon general's report, back in 1964, where he stressed the disastrous effects of smoking (Committee on Secondhand Smoke Exposure and Acute Coronary Events; Institute of Medicine 109). Within the first year, the government passed the Cigarette Labeling and Advertising Act of 1965 that obliged tobacco companies to label their cigarette packages with health-related warnings (Committee on Secondhand Smoke Exposure and Acute Coronary Events & Institute of Medicine 109). However, it was not until 1973 when Arizona became the first state to prohibit smoking is selected public areas, followed by Civil Aeronautics Board that created smoking and non-smoking sections in their commercial flights (Committee on Secondhand Smoke Exposure and Acute Coronary Events & Institute of Medicine 110). Those opposed support that prohibiting smoking in public places violate individuals' right to be free to decide and it does not prevent people from smoking, as believed. Adults tend to smoke to reduce stress, due to economic, personal or familial problems (Jacobs). Smoking gives a speedy nicotine hit after only 10 seconds after nicotine enters the human body that makes people who smoke feel feelings of pleasure (Cancer Research UK). That is why people want to smoke at their workplace to relax in between breaks, or when they go out to have some fun and forget about their problems. After all, since purchasing and selling cigarettes is not banned, why should smoking them be? On the other hand, people claim economies are negatively affected by banning smoking in public areas, where most people spend practically all their day. Studies have shown that prohibiting smoking in restaurants and bars affect their profitability, based on basic economic logic (Tomlin). People that usually smoke to relax and those that have linked smoking to having fun will most likely order less drinks, while out in a bar, and the same probably applies to restaurants, since smoking is also connected with eating and enjoying oneself. The reason for prohibiting smoking in public places is mainly to protect public health, particularly in relation to passive smoking. It is widely accepted that the health consequences and risks deriving from "involuntary exposure to environmental tobacco smoke emphasizes the need for stronger regulation to protect nonsmokers, particularly children" (WHO 38). Furthermore, smoke-free legislation is proven to be beneficial to current smokers, as it has helped them to reduce the annual tobacco consumption, if not completely stop smoking (WHO 38). Surveys conducted on staff working in public places portray a big success of the imposed smoke-ban measures, which admittedly were not as difficult to enforce as initially thought, especially in places where separate non-smoking areas have been created (WHO 125). The air is cleaner too. Research has shown that air quality has improved significantly, ever since the enact of the smoke-free law, with carbon dioxide levels reducing by 45%, and up to 98% in non-smoking bars and workplaces respectively (WHO 112). People have also reacted very positively towards the new smoke ban laws, by 54%, while health care givers report reduced rates of people with respiratory problems (WHO 125). However, the major concerns in implementing the prohibition of smoking in public places Whether cigarette smoking should be banned in public places or not remains a controversial issue that will most likely concern years to come. Being allowed to smoke in public gives people the freedom to choose, which is their right. On the other hand, prohibiting smoking in public places gives non-smokers the right to have clean air without having to suffer passive-smoking-related health problems. So, all in all, it is a rights issue that will need further research as to how, and if, opposing views could be bridged. However, recent facts and statistics from research and studies are encouraging. It appears that 93% of the population consider the smoke-ban law is just and good (WHO 112). What is even more encouraging is the fact that 80% of smokers also agree that the law is actually good and almost a full 100% , both smokers and non-smokers, think that workplaces are healthier now,(WHO 112). In regards those that claim economies suffer a shock from the tobacco money that are lots, it might be better to consider public health and common good on top of everything else.
Works Cited:
BBC News UK (2013). "Smoking ban considered for prisons". Web. Sep. 19, 2013. <http://www.bbc.co.uk/news/uk-24170235> Cancer Research UK (n.d). "Smoking and cancer: Why do people smoke?". Web. Sep. 18, 2013. < http://www.cancerresearchuk.org/cancer-info/healthyliving/smokingandtobacco/whydopeoplesmoke/smoking-and-cancer-why-do-people-smoke> Committee on Secondhand Smoke Exposure and Acute Coronary Events & Institute of Medicine (2010). "Secondhand Smoke Exposure and Cardiovascular Effects: Making Sense of the Evidence". The National Academies Press. <http://www.nap.edu/openbook.php?record_id=12649&page=110 > Drug and Alcohol Services for South Australia. "Tobacco and the Law". Page Last Modified: 24 Sep 2012. Web. Sept.19, 2013. < http://www.dassa.sa.gov.au/site/page.cfm?u=120> Jacobs Marjorie (1995). "From the First to the Last Ash: The History, Economics & Hazards of Tobacco, A comprehensive Adult Basic Education Curriculum". Unit 3. Web. Sep. 19, 2013. <http://healthliteracy.worlded.org/docs/tobacco/Unit3/1why_people_smoke.html> Tomlin Jonathan (2009). "The Economic Impact of Smoking Ban". Forbes Magazine. Web. Sep. 18, 2013. < http://www.forbes.com/2009/06/04/economic-impact-bars-restaurants-opinions-contributors-smoking-ban.html> World Health Organization (2007). "THE EUROPEAN TOBACCO CONTROL REPORT 2007». Book. ISBN 978-92-890-2193-7 <http://www.euro.who.int/__data/assets/pdf_file/0005/68117/E89842.pdf>

Cite this page
Share with friends using:
Removal Request

Finished papers: 2060
This paper is created by writer with
ID 287037316
If you want your paper to be:
Well-researched, fact-checked, and accurate
Original, fresh, based on current data
Eloquently written and immaculately formatted
275 words = 1 page double-spaced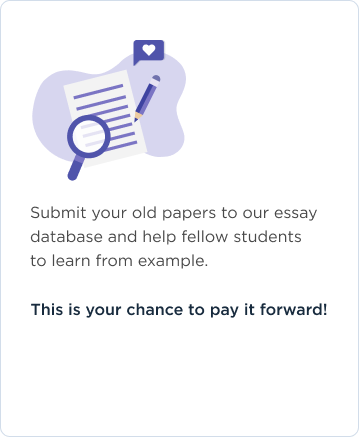 Get your papers done by pros!
Other Pages
Good example of essay on conservation biology, his 201 history of the united states research paper example, good business plan on building a meditation pool platform project management, example of ethics and sustainability in organization environment essay, does the sex registry improve security against sex crimes essay example, free essay on governmental and nonprofit organization accounting, asherman essays, franks essays, the creature essays, judgmental essays, job experience essays, hartman college essays.
Password recovery email has been sent to [email protected]
Use your new password to log in
You are not register!
By clicking Register, you agree to our Terms of Service and that you have read our Privacy Policy .
Now you can download documents directly to your device!
Check your email! An email with your password has already been sent to you! Now you can download documents directly to your device.
or Use the QR code to Save this Paper to Your Phone
The sample is NOT original!
Short on a deadline?
Don't waste time. Get help with 11% off using code - GETWOWED
No, thanks! I'm fine with missing my deadline
Persuasive Essay On Banning Cigarettes
There are many people who smoke cigarettes and other tobacco products every day. Do you think they really know all the dangers associated with smoking tobacco products? There are so many resources out there that inform people of all the dangers. There are many negative effects associated with the consumption of tobacco, from difficulty breathing and damage to the lungs to being the main risk factor for lung cancer. The only way to help people is by completely banning cigarettes and tobacco products because they do more harm than good.
The use of tobacco products is increasing, especially among young people. Many feel that it is a stress reliever or simply enjoy the feeling. In 2014, the electronic cigarette became the most used tobacco product among Middle school and high school students in the US, surpassing the traditional cigarette. During 2002-2012, the number of youth and young adults who tried smoking cigarettes for the first time rose from 1. 9 to 2. 3 million during the last year. There are many risks associated with smoking cigarettes and other tobacco products.
It impairs breathing and our lungs and takes part in chronic obstructive pulmonary disease. Every cigarette harms breathing and the lungs. Chronic obstructive pulmonary disease is a disease that worsens over time and causes wheezing, breathlessness, chest tightness and other symptoms. According to the United States Department of Health and Human Services, smoking also causes emphysema, which is a condition in which the walls between the air sacs in the lungs lose their ability to stretch and shrink. Then, lung tissue is destroyed and breathing becomes difficult or impossible.
Chronic bronchitis is also caused by smoking. Chronic bronchitis causes inflammation of the lining of the bronchi. When that happens, less air flows to and from the lungs, again, making it very difficult to breathe. Smoking also affects people who have asthma, tuberculosis and pneumonia. Smoking definitely causes lung damage and impairs breathing. Aside from the damages of tobacco on breathing, it also contains carcinogens. According to the American Cancer Society, tobacco smoke consists of more than 7,000 chemicals, including over 70 known to cause cancer.
Some of the chemicals in tobacco smoke include: cyanide, ammonia, nicotine, carbon monoxide, nitrogen oxide, arsenic and many more. Cigarette smoking is the main risk factor for lung cancer which is the leading cause of cancer death in the United States for both men and women, but is also the most preventable cancer in the world. Unfortunately, in 2014, there were an estimated 159. 260 deaths from lung cancer. Although tobacco is not the only cause of lung cancer, it would be better for their health if people stopped inhaling these chemicals.
It is amazing how many people inhale all those toxic substances. For a while, when I was younger, I thought that people were completely oblivious to what they were putting into their bodies, but then I realized that's not always the case. My cousin had a time in which he smoked cigarettes every day. He bought box after box and we all told him it was very bad for his health, but still, he continued to smoke. I realized that he continued to smoke, not because he didn't know what cigarettes contain, but because he could not stop.
He had become addicted to cigarettes, the nicotine, and that is the case with many people. According to the Department of Health and Human Services of the US, when you use tobacco products, nicotine is rapidly absorbed into the bloodstream. Within 10 seconds of entering the body, nicotine reaches the brain and causes the brain to release adrenaline, creating a dizziness of pleasure and energy. The dizziness fades quickly and leaves you tired, a little depressed, and eager for that dizziness again. That feeling is what makes one light up the next cigarette.
Banning cigarettes and other tobacco products would be a great idea due to the harmful side effects and causes tobacco does for the health. Tax increase would help to ban the product. According to the Cancer Council of Australia, it has been one of the most effective control strategies of tobacco in Australia, and globally. If there were a tax increase the cost of cigarettes and other tobacco products would be more expensive, and therefore could re luce the number er of people willing to buy cigarettes and other products.
Then that would cause a reduction in the need to make more cigarettes, and finally, such products could be banned or eliminated. Educating people of all the damages that tobacco causes through brochures and seminars would open many people's eyes to see how bad tobacco is. Graphic images of damaged lungs and graphic videos of chronic smokers tend to leave a negative image in the mind that is associated with smoking. There are many commercials that shows a skinny, bald, sick man in a wheelchair. The man stated he could not stop smoking despite doctor's recommendations, and because of his smoking habit, he was now breathing through a tube.
This was very graphic, but it was realistic and opened people's eyes, so it would do the same for many more. I think there are many strong arguments for why snuff products, such as cigarettes should be banned. Such products are extremely harmful to one's health and should not be sold to humans. It is understandable that not everyone shares the same opinion, but really, it is the best way to go because, tobacco products do more harm than good and people should do all that they can to keep these products out of our stores.
More Essays
Smoking Should Be Banned In Campus Essay
The Harmful Effects of Nicotine
Pros And Cons Of The Banning Of Tobacco Advertising Research Paper
Dangers of smoking
Tobacco and Western Culture
Mainstream Cigarette Smoking Essay
Tobacco Advertising Pros And Cons Essay
The Effects of Smoking on Non-Smokers
Anti-Smoking Advertising Essay
Essay On Banning Animal Testing