Essay Topic Generator
Summary Generator
Thesis Maker Academic
Sentence Rephraser
Read My Paper
Hypothesis Generator
Cover Page Generator
Text Compactor
Essay Scrambler
Essay Plagiarism Checker
Hook Generator
AI Writing Checker
Notes Maker
Overnight Essay Writing
Topic Ideas
Writing Tips
Essay Writing (by Genre)
Essay Writing (by Topic)
8th Grade Essay: Examples, Topics, & Writing Tips

If you find yourself on this page, you are probably going to another level of your education – the final year of Middle school!
Isn't it exciting?
One of the most common assignments in the 8th grade is an essay. Indeed, it gains new features. An eighth-grade essay is not the same as the sixth or seventh-grade one. It has more requirements and needs a deeper level of analysis.
How to write an 8th-grade essay? How many paragraphs should it contain? What is a standard 8th-grade essay format? On this page, you'll find the answers to these and other questions that might arise. We've prepared creative 8th-grade essay topics, examples, and tips to write an A+ informative, narrative, or persuasive essay.
🧩 8th Grade Essay 101
📑 8th-Grade Essay Types
💾 Topics for the 8 th -Graders
🍎 8th Grade Essay Examples
🧩 8th-grade essay format explained.
Once again: the 8th-grade essay format is a bit different from that of the previous years.
Below, we thoroughly explain how long an 8th-grade essay should be and how to write it. We guarantee you'll have no questions about the format and assessment of this type of work.
What Is the 8 th Grade Essay Format?
In this section, you'll know which parts comprise any 8th-grade essay.
The first thing to remember: you've got onto an entirely new level. So, your writing isn't as simple and short as it used to be in the previous school years.
Let's start with the structure. The fundamental parts are the same as in any type of essay:

8th Grade Essay: How to Write & Typical Mistakes
With the help of this section, you'll get to know the most straightforward and helpful tips for 8th-grade essay writing.
These are the things that any 8th grader should know!
8 th Grade Essay Do's
Look for reliable sources to find arguments and evidence.
Try to arouse eagerness for writing: it surely will ease the whole process for you.
Choose the topic that is interesting for you if you have such an option.
Use academic language, special terms, consistent phrases, and correct grammar.
Use good quotations from reputable sources to solidify your ideas.
8 th Grade Essay Don'ts
Don't write dully: an essay is a story. It should be exciting and consistent.
Don't make all your examples too similar: diversity is of the essence.
Don't let your text look like an unreadable pile of words: use graphic tools to highlight the most critical points.
Don't use unreliable sources and websites for citation.
Don't be afraid of honest self-expression. Your identity and thoughts are what make your 8th-grade essay unique.
Don't forget to revise your text after you've finished writing it.
8th Grade Essay Rubric
Meet the assessment strategies for 8th-grade writing. Here you'll also find some prompts that improve your essay and lead you to a higher score.
So, the assessment pattern of a written piece comprises several main points. These are the things that assessors pay attention to:
📑 Eighth Grade Essay Types
We suppose that you come across different types of assignments during middle school. Among them, there indeed were descriptive and narrative essays.
However, now you are to face other exciting formats of writing. In the section below, you'll get to know a few new types.
8th Grade Argumentative Essay
An argumentative essay is a piece of writing where you make a claim and prove your point of view with solid arguments. Your aim at this point is to make readers nod in contempt while reading and share your opinion.
The structure may be pretty familiar to you: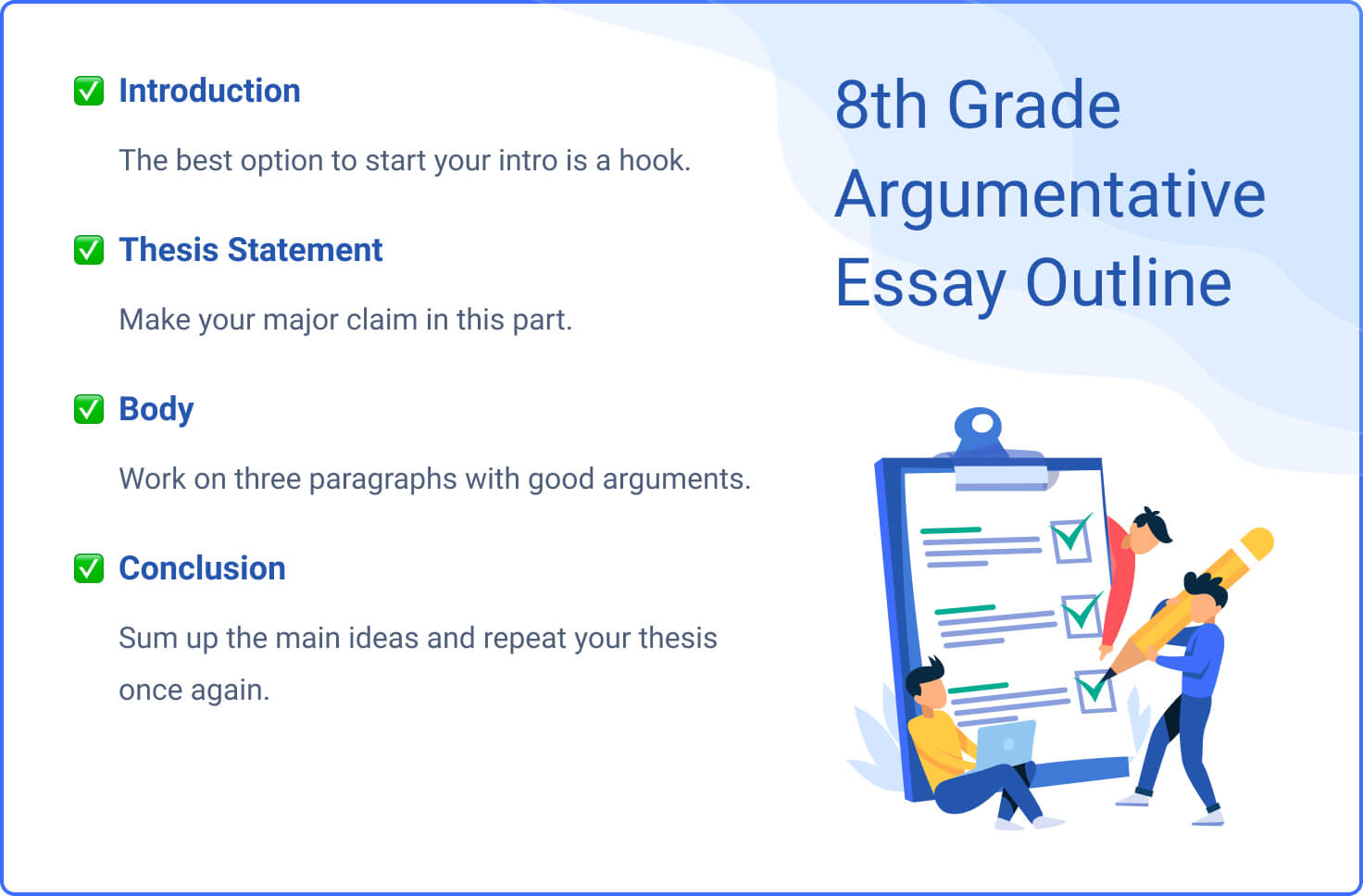 In your argumentative essay, you should back up your opinion with some exact data: statistics, figures, research studies, and polls.
To solidify your claim, you can use three types of arguments:
Aristotelian . The classical way – you make a statement and try to persuade the audience that it is the one that is fair and right.
Rogerian . First, you display an issue, then present the opposing view. After that, reveal your own opinion and start convincing readers why they should take up your point.
Toulmin . Present your thesis statement, then provide the audience with the grounds to support it. The final touch is to connect these parts.
PRO TIP: Explain why you disagree with the opposing point of view on your issue.
8th Grade Persuasive Essay
A persuasive essay is very similar to argumentative writing. There you have to pick up a mainly burning issue and establish a firm opinion towards it. The primary goal is the same as in the argumentative essay: to make your readers believe you.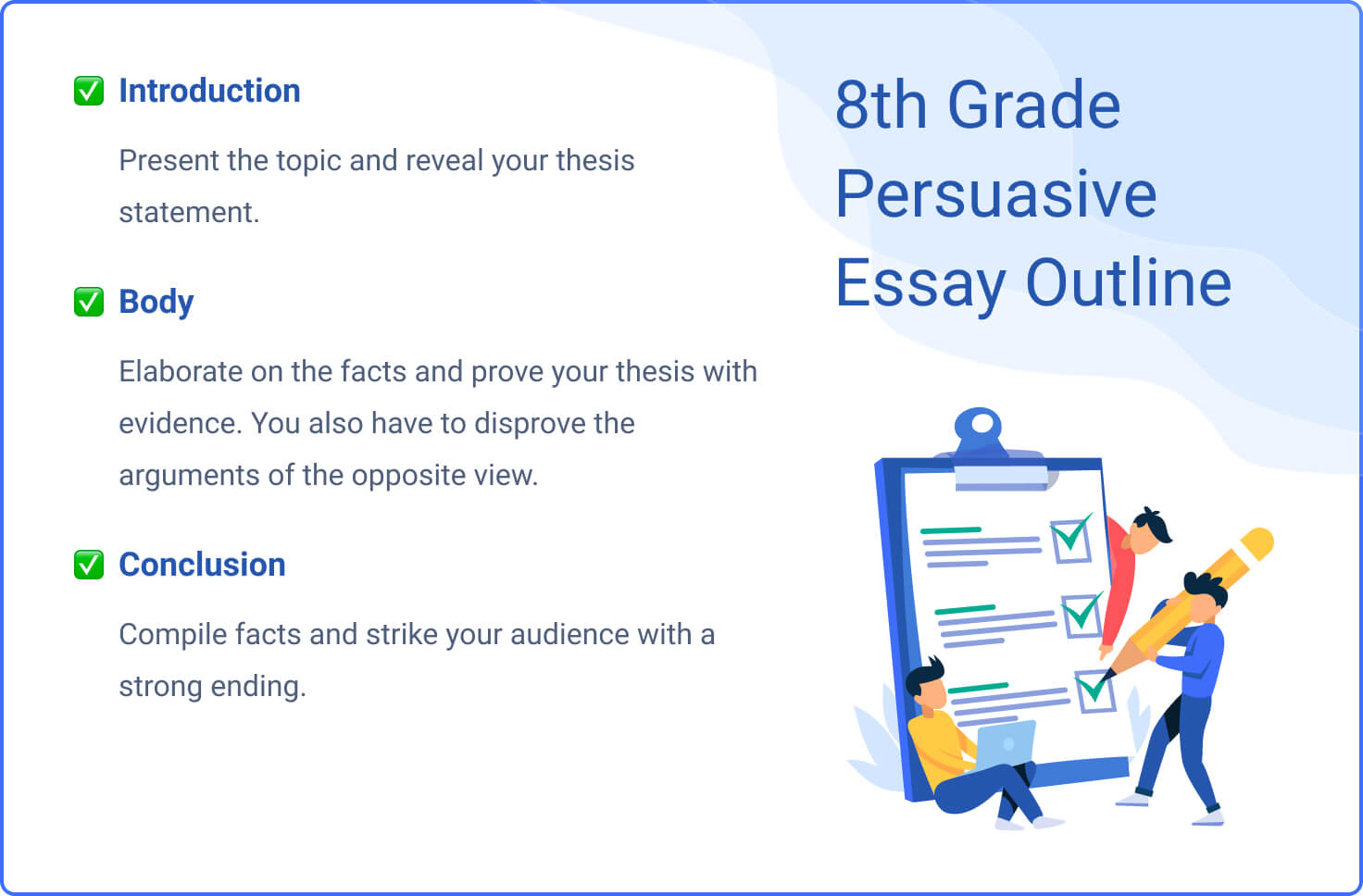 Remember the three essentials of persuasive writing:
Logos appeals to logic, which is apparent. Deliver your thoughts cohesively and reasonably.
Ethos is about persuading the readers, appealing to their sense of ethics and morality.
Pathos helps you convince through emotions.
8th Grade Essay – Informative
An expository essay brings concepts to complete understanding. In other words, you explain something to give a clue about the subject in question. Successful expository writing makes the audience get the whole picture, leaving no questions or misunderstandings.
To familiarize yourself with expository essay structure, check our recently updated guide on writing an expository essay .
And briefly look at six major types of expository essays: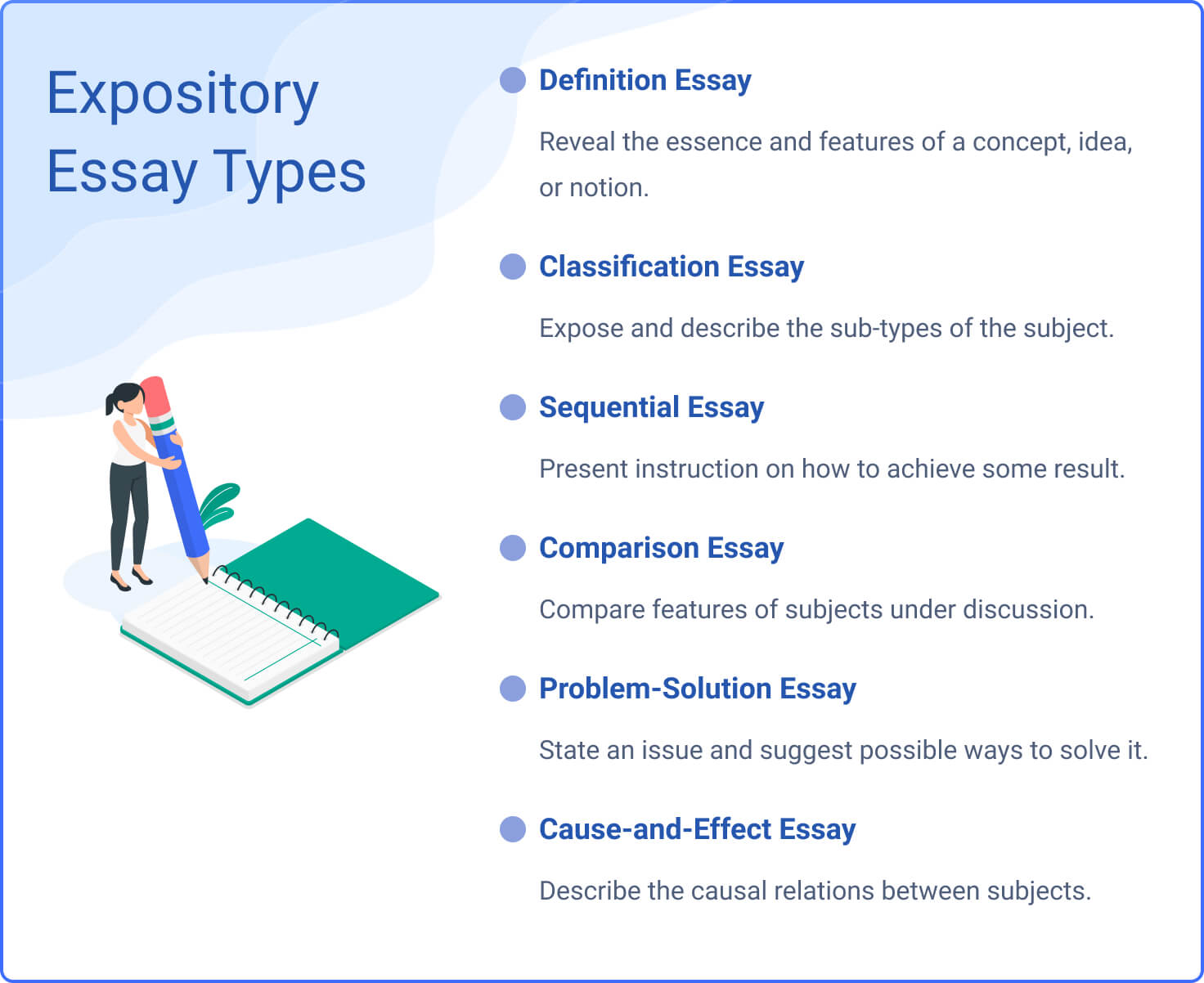 💾 8th Grade Essay Topics
8th grade argumentative essay topics.
What is the main challenge you've ever met?
What was the happiest moment of your childhood?
Tell about the accomplishment you're most proud of.
What are the personal qualities you like most?
Write about an inspiring celebrity.
What does emotional intelligence mean?
Write about the largest challenge of getting older.
How is adolescence different from childhood?
Read the list of topics we've prepared for an 8th-grade essay. Choose your favorite or use our Free Essay Topics Generator to find the best one.
Persuasive Essay Topics for 8th Grade
Would limited screen time be beneficial for health?
Will the global use of electric vehicles save us from the ecological crisis?
The government should provide citizens with more qualified psychological help.
What are the pros and cons of buying a pet for a child?
Should people use paper and textile bags instead of plastic ones?
Is it necessary to attend PE classes in school?
Is it ethical to use smartphones during the lesson?
Should parents forbid their children from watching TikTok?
Pros and cons of cheating on exams: immoral or beneficial?
Should there be only healthy snack vending machines at schools?
Is it acceptable for a teacher to raise the voice at a student?
Should modern rappers' songs be put through censorship?
Is it ethical for students to discuss their teachers?
Should all cosmetic products become cruelty-free?
Should we stop the overconsumption of sugar for the sake of our health?
Should zoos and circuses be banned forever?
8th Grade Informative Essay Topics
Compare and contrast the environmental policies of the USA and Europe.
What are the harmful effects of CO 2 emissions on the environment?
How is the concept of freedom reflected in 20th-century literature?
Reveal the details of the famous friendship of Hemingway and Fitzgerald.
Brush off or fight: how to act when you come across bullying at school?
What are the most significant challenges school attendees usually face?
How to overcome your fears without getting traumatized?
How to prepare for the exam period and overcome anxiety?
Freedom or despair: the history and concept of trailer parks in the USA.
Explain the concept of sustainability and what benefits it has.
Provide a classification of American lifestyles based on location.
A reasonable person: describe the concept and the features.
Look at our 8th grade essay examples. These are mostly just excerpts, but we included the most significant parts. Approach us in case you need a similar paper or have any questions.
8th Grade Argumentative Essay Example (#1)
The most notorious substance in the ecological discourse: is CO 2 really that bad?
Did you know that it's better for the earth if you work out or jog with your mouth tightly shut? It's not common knowledge, but professionals know: we need a considerable amount of CO 2 in our blood. In some terms, it's even more vital than oxygen. Undoubtedly, there has to be a proper balance, and here is the point: CO 2 can be beneficial.
Though what good does it make to nature and the environment?
It's all the same as with our body: CO 2 is not evil on earth, but there must be a proper balance. Now, this balance is critical, and we must make serious efforts to change the situation.
According to last year's research, the USA is in the second place among countries producing the most significant part of CO 2 in the whole world. The website statista.com published striking figures. 4.57 million metric tons of carbon dioxide emissions were produced in 2020 by the energy consumption sphere in the United States.
Besides, a recently published report from the IEA agency reveals another piece of statistics. Compared to the previous year, the amount of CO 2 emissions will rise to 5% in 2021. This year we're facing 33 billion tons of this greenhouse gas.
These figures mean nothing without context. Here you are: nature suffers greatly from CO 2 influence. Due to the greenhouse effect caused by an excess of CO 2 , the water temperature in oceans and seas is rising. This process is not positive at all because the natural habitat for sea creatures is altering. The changes are dramatic and lead to the extinction of many species.
In conclusion, we need to find an efficient way to improve the ecological situation regarding CO 2 emissions. The key is global social and individual awareness and consciousness. Each and every inhabitant of the Earth has to understand the meaning of CO 2 for global warming clearly. So, try to jog with your lips closed and choose a bike instead of a car.
Example #2: 8th Grade Persuasive Essay
Is it essential to stay away from social media for the sake of mental health?
Nielsen Company conducted research that says that the average US adult spends more than 10 hours interacting with social media each day. Indeed, social media plays a very considerable role in the life of a modern person. Most of us are more likely to spend time watching short videos than reading a good book. But is it harmful to our mental health to the extent that we have to quit using social media platforms?
To my mind, we are greatly dependent on our Instagram and TikTok accounts, and the content posted there. It certainly has a negative impact, too. However, the complete cancellation of social media is not a way out. The key to good mental condition is in the skill of managing your relations with them.
One of the recent surveys by the Lancet reports that Facebook users who scroll the newsfeed before sleep tend to be more depressed. Apparently, the deprivation of sleep affects mental well-being to a great extent.
FInancesOnline has recently posted the results of the research. According to this data, Facebook constitutes 72% of people's FOMO and anxiety. Posts about traveling and active social life create most of these feelings.
At the same time, healthy rivalry can motivate development and growth. There's a reasonable quotation saying that one should compare themselves yesterday instead of comparing to others. The best thing one can do to take care of their mental health is to take a digital detox for a while.
Thus, it is vital to trace your obsessions with social media and negative feelings caused by comparison with others on the Internet. Try to get more aware of it, take your time to rest from social media, and plunge into real life.
5 Paragraph Essay Example for 8th Grade (#3)
The Financier and American Tragedy : compare and contrast two main characters of Dreiser's novels.
Do you know that Theodore Dreiser is sometimes called an American Fyodor Dostoevsky? Both writers touched upon the most sensitive social and existential issues. However, the subject of this paper is not the comparison of the authors but two famous Dreiser characters: Clyde Griffiths and Frank Cowperwood.
Both of these young American men were striving to reach financial and social success in a world of brutal struggle and hardships.
Clyde Griffiths represents the desperate strive for American Dream. Born in a poor and religious family, he grows greedy for money and status. In his blind obsession with gaining a high social position, he doesn't notice his spiritual degradation. He is smart enough to struggle his way into high society but not so witty to solidify his standing with decent means. He cheats, lies, and finally commits a murder: Clyde seems to be already born guilty at times. On reading the story, there doesn't appear any sympathy toward him. On the contrary, he provokes feelings of abomination and disgust.
Frank Cowperwood also aims to become wealthy and socially firm. He wants to improve his family's life quality. Still, his ways and means astonish. Frank is a natural-born predator and strategist. His sophistication and sharp wit show up in him since his very childhood. He isn't a man of high moral standards: Frank doesn't mind cheating on his wife and manipulating city treasure money. However, he's a passionate man, honest and open in his heart urges and impulses. That is the reason why fortune favors him.
However, having similar goals but different personalities and mindsets, Griffiths and Cowperwood reach completely different destination points.
How to Write an Essay in 8th Grade?
– You should pick up a good topic and formulate your attitude to the problem. – Write an outline. – Make a clear and brief thesis statement. – Think of at least 3 firm arguments if the essay type demands it. – Impress your readers with a firm conclusion. Voila! Do not forget to proofread!
How Long Is an Essay in 8th Grade?
The length of the 8th-grade essay slightly depends on the format and the particular type of writing. However, it varies from approximately 500 to 800 words. Within this framework, you have to make yourself clear and deliver all necessary points.
How Many Sentences Are in a Paragraph for 8th Grade?
The size of a paragraph in the 8th-grade essay has to be not less than 8 sentences in each. Besides that, mind that the sentences are primarily compound or complex, error-free, and coherent. Also, remember to connect the sentences and paragraphs with particular language means.
How to Write an Argumentative Essay in 8th Grade?
Choose an exciting and acute topic. Make up a thesis statement out of the problem. Draft an outline or a brief plan. Explore some reliable sources for the evidence and arguments for your essay. Organize the facts and information into a cohesive structure.
I'm an 8th grade student at a private school, and my teacher assigns us up to 4-6 pages most to write. First of all we get other essays on top of this, and usually have nearly to a week to finish. Me and my classmates struggle with this. Do you guys think this is too much for an average 8th grade student?
i am writin apaper right now and it is averreding and its about the changes we woud make to our cafeteria it has to be 5 paragraphs long
Thanks for stopping by at our blog. We would be happy to help you with your paper. You can be interested in some other posts on this blog (https://overnightessay.com/blog/category/essay-tips/) or contact our friendly Support Team to get professional writign help from experienced writers. Good luck with your paper! Best regards,
8th grade writing
by: Hank Pellissier | Updated: August 4, 2022
Print article
Verbal has a double meaning for eighth grade writing: it refers to the oral presentations the kids will do and to this year's focus on grammar — gerunds, participles, and infinitives.
Argument essays
Written in formal language, argument essays should start with an introduction that clearly presents the writer's position and flows into a well-organized, research-backed argument that advocates for their position and argues against opposing claims. Your child's writing should exhibit a profound understanding of the topic. Arguments should be logical and fueled by evidence from credible sources. Papers should end with a persuasive conclusion that summarizes the viewpoint and declares the topic resolved. Topics will vary, but you'll often see teen issues such as: Are video games harmful to mental health? Should our school have uniforms? Should bullies be suspended or given a chance to make amends?
Informative and explanatory writing
In their informative and explanatory papers , students use formal language to explain complex topics with relevant data, precise ideas, and logical analyses. Kids should start with an intriguing introduction that previews the subject matter. Next, they present well-organized information that's backed by evidence from credible sources. Eighth graders should use a variety of "strategy tools," including:
Classifying information.
Defining terms.
Using subject-specific, academic , and transition vocabulary words.
Quoting sources.
Incorporating factual details.
Making comparisons.
Contrasting different situations.
Explaining cause-and-effect relationships.
Including graphics (charts, tables, images) and multimedia.
Using formatting (headings, bullet points).
Finally, the concluding paragraph should provide a synopsis of the main point of the essay. Your child's papers are likely to cover topics that students are familiar with — but still need to research in order to answer, like If there is a drought, how can we save water? Or Explain how a specific invention has changed your life .
Narrative writing
Eighth graders write narratives or stories that describe events in their lives (personal histories, memoirs) or imagined scenarios (fiction, fantasy). Junior J.K. Rowlings learn effective storytelling techniques, such as introducing the narrator and characters, establishing context for the setting, and conveying a point of view. Students practice letting the sequence of events unfold, giving characters depth, and developing the plot through actions, dialogue, and reflection. Your future F. Scott Fitzgerald should use transition words to guide readers from one place and time to another. For example: Four hours later, Jack opened his locker to discover a shocking surprise . Or, Returning to the cafeteria, Tinsley saw the cute new boy sitting with her best friend, Amanda . Remember that even narratives have a conclusion, hopefully one that helps readers ponder the meaning of the story.
Changes and more changes
Grit. Concentration. Determination. Eighth graders strengthen their literary skills by revising their papers over and over again, following advice from teachers and classmates to re-imagine, re-outline, redraft, re-edit, rewrite, and try new approaches. Is this just a form of perfectionistic punishment? No, the practice helps teens learn to tighten their prose, pick stronger verbs, use more accurate descriptors, and organize their writing in the most effective and interesting ways.
Internet interaction
Your eighth grader will likely need the internet to create, type, and share their work, which will often have links to web sources and include graphics and multimedia. Also, these are typically typed. Your child should be tying about 40 words per minute. (Wisconsin's Department of Public Instruction recommends a typing speed 5 times your grade . If your child needs practice, there are free typing classes for middle schoolers available online .)
It's increasingly common for kids to be required to collaborate on projects online, often in Google Docs or Slides. What's more, drafts and completed assignments are often turned in via email or by uploading to an online portal. So if your child's technical skills aren't up to snuff, think about getting your child a little extra help so these requirements don't hold him back.
Evaluating their sources
Eighth graders do short projects that require research from multiple sources. Teens learn to evaluate the credibility of their sources. For example, Is Saturday Night Live as reliable as National Public Radio? No. Kids need to be careful about how they present information, paraphrasing information or using quotes to avoid plagiarizing, which Merriam-Webster defines as "to use the words or ideas of another person as if they were your own words or ideas." The standard way to end all research projects? A bibliography, formatted correctly, of course, that shows both the quality and quantity of their sources.
Student critiques
Students get to do the critiquing this year — whether it's a book or their classmate's essay. Eighth graders analyze how modern fiction uses the plot, themes, and characters. Students look for connections and explain how a contemporary text borrows from, comments on, or changes the old foundation. For example, How does The Hunger Games trilogy use the Greek myth of Theseus and the Minotaur?
Students also evaluate the evidence their peers use in essays and to back up arguments. It helps them become more skilled at determining fact from fiction, legitimate truth from biased propaganda, scientific theories from fraudulent nonsense.
Eighth graders learn to identify verb voice. If the subject in a sentence does the action, then the verb is in the active voice, like this: The whale ate the shrimp. However, if the subject in a sentence is the target of the action, then the verb is in the passive voice, like this: The shrimp was eaten by the whale .
Presenting their work
Expect quite a few oral reports in eighth grade. In these presentations, kids need to deliver their arguments and the results of their investigations to the class. Key skills for a solid presentation include:
using formal language;
making eye contact;
pronouncing things clearly and loudly enough for all to hear.
Your child's presentations should be coherent, organized, logical, supported by evidence, and, in many cases, jazzed up with costumes, props, maps, music, sound effects, charts, and visual projection. Teens (and adults) often suffer from sweaty, knee-knocking stage fright. Inform your adolescent that this is totally normal; remind them to breathe and enjoy the attention.
Here's a preview of the presentation skills required in high school.
6 ways to improve a college essay
Quick writing tips for every age
Writing on the wall
Why parents must teach writing
Yes! Sign me up for updates relevant to my child's grade.
Please enter a valid email address
Thank you for signing up!
Server Issue: Please try again later. Sorry for the inconvenience
All Formats
Resource types, all resource types, free 8th grade writing-essays outlines.
Rating Count
Price (Ascending)
Price (Descending)
Most Recent
Daily Language Practice BUNDLE Grammar Spiral Review Worksheets PDF Version Only
ECR Essentials - Extended Constructed Response Writing Resource and Lesson Bank
Phonics Long Vowel Teams | Sound Spellings Practice Worksheets BUNDLED
Writing Units Bundle Narrative Opinion Persuasive Biography Informative
Phenomenon Movie Listening Comprehension
The Hubble (im*x documentary) - Listening Comprehension (20 questions)
Opinion Writing Toolkit
On This Day in History Yearlong AUGUST to MAY Bell Ringer Bundle
FREE Five Paragraph Essay Outline
Persuasive Writing Graphic Organizer FREE
Digital Persuasive Essay Outline - Graphic Organizer for Google Docs OLC4O OSSLT
Paragraph Writing Graphic Organizers (Color Coding Strategy for Essay Writing)
Venn Diagram Template with Lines
Opinion Writing Graphic Organizer
Essay Checklist Explanatory/Informative Essay
Informational Pre-Writing Organizers
Response to Literature Essay Frame
Argumentative Essay Graphic Organizer Rubrics FREE
Argument Essay Outline - Anchor Chart
Essay Writing Organizer
Four Square Writing Graphic Organizer
"How to Write a Paragraph" Cheat Sheet
Persuasive Speech Planners [FREEBIE!]
Argumentative Essay Template with Sentence Starters (Middle School)
Self & Peer Editing Checklist for Argumentative/Persuasive Writing
Argument Writing Step-by-Step Brainstorming
Argumentative Essay Outline
R.A.C.E.S. Paragraph Writing Student Bookmarks FREE
Persuasive or Opinion Essay Graphic Organizer
Essay Planning Template
5-Paragraph Argumentative Essay Template
FREE Winter Holiday/Christmas Essay Outline
We're hiring
Help & FAQ
Privacy policy
Student privacy
Terms of service
carlamathers.net
Custom Writing
A collection of year 6 essay questions
Expository essay ideas to write about
Prompts for a rhetorical analysis essay
Youth crime argument essay questions
Grade 10 research project ideas
University expository essay questions
Asylum seekers: argument essay ideas
Neutral expository essay prompts
Ideas for an essay: To Kill A Mockingbird
Basic hints on choosing essay questions
Essay topics on music
Prompts for a microeconomics essay
The Great Gatsby: extended essay ideas
To Kill A Mockingbird: essay questions
Easy writing ideas for your essay
Questions on a Harper Lee's book
High school argument essay topics
Self-reflective essays: a quick guide
Organ donation persuasive essay writing
An essay on jealousy: crafting a title
Template literature synthesis essays
Writing on Hills Like White Elephants
Crafting a process analysis paper
Deciding on an essay format
MLA formatting fundamentals
Seeking professional assistance
How to handle a leadership paper
Getting help free of charge
Free essay examples
Literature paper sample
Finding APA format essay example
Creating best essay topics
Finding essay writing agency
In search of powerful essays
Becoming an A student
Persuasive essay samples
Looking for proper templates
Thesis statement of an explanatory essay
Selecting an es say writer
A collection of argument essay prompts
Cause & effect essay ideas
Argumentative essay ideas
To Kill A Mockingbird: fresh ideas
Process essay topics
Prompts for ESL students
Crafting an English paper
Persuasive essay topic suggestions
Topics on Indian movement
Picking topics in civil rights
Argumentative essay variants
Persuasive essay topics
4th grade essay ideas
Choosing an argument essay topic
Essay topics on obesity
East African Community essay sample
Topics for psychology informative paper
Animals: persuasive essay prompts
Choosing a Business essay topic
Informative essay prompts on medicine
Boosting essay writing abilities
Looking for a professional essay writer
Searching for good essay companies
Tips on essay cover letters
Creating a text response essay
Tips on personal response essays
Getting top-notch essays for sale
A great method to hire a writer
Writing a grade eight essay fast
Paper tips: dieting results
Getting sample narrative papers
Essay formatting tips
Cause-and-effect paper: global warming
A guide to thesis statement writing
Custom writing agencies
A 5-paragraph paper sample
Composing comparative essay ideas
Writing a definition essay
Looking for a paper example on smoking
A Brief Guide On How To Write An 8th Grade Essay In 30 Minutes
Eighth grade is when you begin to write a number of essays. The assignments are preparing you for high school and beyond. It is important that you can do these articles quickly because you will probably be doing quite a few of them. The more you do, the easier they get, especially if you follow the same format. Here is a brief guide on how to write an 8th grade essay in 30 minutes.
Research your topic thoroughly but don't overdo it. You are writing an essay, not a research paper so get the main points of your essay and don't spend too much time researching more than that.
Create an outline. This may seem like it wastes time but it will actually save time in the long run. Once you have completed the outline, writing the essay is simple. All you have to do is follow the road map you created and you will be done. Your outline should consist of 5 sections coded with Roman numerals. Section I will be the Introduction. Here you will state your thesis statement and try to write another sentence getting your audience excited about what they are going to read. Section II, III, and IV will be the paragraphs that substantiate your thesis statement. Section V is your Conclusion. This is where you restate your thesis statement and also give your audience something to think about.
If you put all of this in an outline, all you need to do is put the information into complete sentences and you are done. Create a rough draft doing exactly this. Your outline will prevent any important information from being forgotten as well as keep your information organized so your essay flows nicely. Remember follow your outline and the rest will be easy. Ask someone to review your essay quickly to see if anything should be added and if they understand what you have written.
Make any changes that were suggested and check your work for spelling and grammar problems. Create your final draft and be proud when you hand in your work.
If you create your essays using the above process, you will be able to create your work quickly and easily. If you want to get quick assistance, go to this website and they will help you with whatever writing issues you may have.
Recent Posts
Psychology essay prompts
Essay topics on genetics
MBA essay examples
US-Colombia Business sample
Persuasive essay writing
The color purple essay sample
Globalization essay example
Writing Help
© CarlaMathers.net. All rights reserved. | Writing Assignments Are Done So Quick You Won't Even Notice.
How to write a perfect essay
Need to write an essay? Does the assignment feel as big as climbing Mount Everest? Fear not. You're up to the challenge! The following step-by step tips from the Nat Geo Kids Almanac will help you with this monumental task.
Sometimes the subject matter of your essay is assigned to you, sometimes it's not. Either way, you have to decide what you want to say. Start by brainstorming some ideas, writing down any thoughts you have about the subject. Then read over everything you've come up with and consider which idea you think is the strongest. Ask yourself what you want to write about the most. Keep in mind the goal of your essay. Can you achieve the goal of the assignment with this topic? If so, you're good to go.
WRITE A TOPIC SENTENCE
This is the main idea of your essay, a statement of your thoughts on the subject. Again, consider the goal of your essay. Think of the topic sentence as an introduction that tells your reader what the rest of your essay will be about.
OUTLINE YOUR IDEAS
Once you have a good topic sentence, you then need to support that main idea with more detailed information, facts, thoughts, and examples. These supporting points answer one question about your topic sentence—"Why?" This is where research and perhaps more brainstorming come in. Then organize these points in the way you think makes the most sense, probably in order of importance. Now you have an outline for your essay.
ON YOUR MARK, GET SET, WRITE!
Follow your outline, using each of your supporting points as the topic sentence of its own paragraph. Use descriptive words to get your ideas across to the reader. Go into detail, using specific information to tell your story or make your point. Stay on track, making sure that everything you include is somehow related to the main idea of your essay. Use transitions to make your writing flow.
Finish your essay with a conclusion that summarizes your entire essay and 5 restates your main idea.
PROOFREAD AND REVISE
Check for errors in spelling, capitalization, punctuation, and grammar. Look for ways to make your writing clear, understandable, and interesting. Use descriptive verbs, adjectives, or adverbs when possible. It also helps to have someone else read your work to point out things you might have missed. Then make the necessary corrections and changes in a second draft. Repeat this revision process once more to make your final draft as good as you can.
Download the pdf .
Homework help
Science lab, (ad) national geographic kids almanac.
Terms of Use
Privacy Policy
Your California Privacy Rights
Children's Online Privacy Policy
Interest-Based Ads
About Nielsen Measurement
Do Not Sell My Info
National Geographic
National Geographic Education
Shop Nat Geo
Customer Service
Manage Your Subscription
Copyright © 1996-2015 National Geographic Society Copyright © 2015-2023 National Geographic Partners, LLC. All rights reserved
Find a Store
Classroom Decorations
How To Write An Essay Grades 6 8
How to Write an Essay, Grades 6-8 [Standard E-book]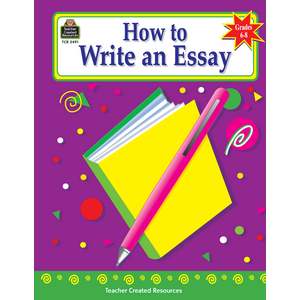 6th - 8th Grades
Product ID: TCR2491
Sample Pages
Write a Review
Available Formats
Description
Inspiring activities help students learn the "how to's" of language arts skills. Busy teachers appreciate the variety of activities, hands-on experiences, and independent learning opportunities presented in the book.
ISBN: 9781420622188 UPC:
Related Products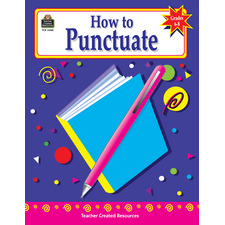 Quick Links
Common Core Standards
Subscribe To Our Newsletter
Search 400+ Lessons!
Daily Brain Tickler
Weekly Writing Prompt
Monthly Spotlight
Free Activities
Monthly Calendars
Privacy Policy
Cookie Options
Return Policy
© 2023 Teacher Created Resources. All Rights Reserved.