100+ Useful Words and Phrases to Write a Great Essay
By: Author Sophia
Posted on Last updated: October 25, 2023
Sharing is caring!
How to Write a Great Essay in English! This lesson provides 100+ useful words, transition words and expressions used in writing an essay. Let's take a look!
The secret to a successful essay doesn't just lie in the clever things you talk about and the way you structure your points.
Useful Words and Phrases to Write a Great Essay
Overview of an essay.
Useful Phrases for Proficiency Essays
Developing the argument
The first aspect to point out is that…
Let us start by considering the facts.
The novel portrays, deals with, revolves around…
Central to the novel is…
The character of xxx embodies/ epitomizes…
The other side of the argument
It would also be interesting to see…
One should, nevertheless, consider the problem from another angle.
Equally relevant to the issue are the questions of…
The arguments we have presented… suggest that…/ prove that…/ would indicate that…
From these arguments one must…/ could…/ might… conclude that…
All of this points to the conclusion that…
To conclude…
Ordering elements
Firstly,…/ Secondly,…/ Finally,… (note the comma after all these introductory words.)
As a final point…
On the one hand, …. on the other hand…
If on the one hand it can be said that… the same is not true for…
The first argument suggests that… whilst the second suggests that…
There are at least xxx points to highlight.
Adding elements
Furthermore, one should not forget that…
In addition to…
Moreover…
It is important to add that…
Accepting other points of view
Nevertheless, one should accept that…
However, we also agree that…
Personal opinion
We/I personally believe that…
Our/My own point of view is that…
It is my contention that…
I am convinced that…
My own opinion is…
Others' opinions
According to some critics… Critics:
believe that
suggest that
are convinced that
point out that
emphasize that
contend that
go as far as to say that
argue for this
Introducing examples
For example…
For instance…
To illustrate this point…
Introducing facts
It is… true that…/ clear that…/ noticeable that…
One should note here that…
Saying what you think is true
This leads us to believe that…
It is very possible that…
In view of these facts, it is quite likely that…
Doubtless,…
One cannot deny that…
It is (very) clear from these observations that…
All the same, it is possible that…
It is difficult to believe that…
Accepting other points to a certain degree
One can agree up to a certain point with…
Certainly,… However,…
It cannot be denied that…
Emphasizing particular points
The last example highlights the fact that…
Not only… but also…
We would even go so far as to say that…
Moderating, agreeing, disagreeing
By and large…
Perhaps we should also point out the fact that…
It would be unfair not to mention the fact that…
One must admit that…
We cannot ignore the fact that…
One cannot possibly accept the fact that…
Consequences
From these facts, one may conclude that…
That is why, in our opinion, …
Which seems to confirm the idea that…
Thus,…/ Therefore,…
Some critics suggest…, whereas others…
Compared to…
On the one hand, there is the firm belief that… On the other hand, many people are convinced that…
How to Write a Great Essay | Image 1
How to Write a Great Essay | Image 2
Phrases For Balanced Arguments
Introduction
It is often said that…
It is undeniable that…
It is a well-known fact that…
One of the most striking features of this text is…
The first thing that needs to be said is…
First of all, let us try to analyze…
One argument in support of…
We must distinguish carefully between…
The second reason for…
An important aspect of the text is…
It is worth stating at this point that…
On the other hand, we can observe that…
The other side of the coin is, however, that…
Another way of looking at this question is to…
What conclusions can be drawn from all this?
The most satisfactory conclusion that we can come to is…
To sum up… we are convinced that…/ …we believe that…/ …we have to accept that…
How to Write a Great Essay | Image 3
Recent Posts
Plural of Process in the English Grammar - October 3, 2023
Best Kahoot Names: Get Creative with These Fun Ideas! - October 2, 2023
List of Homophones for English Learners - September 30, 2023
Related posts:
How to Write a Formal Letter | Useful Phrases with ESL Image
50+ Questions to Start a Conversation with Anyone in English
Useful English Greetings and Expressions for English Learners
Asking for Help, Asking for Opinions and Asking for Approval
Nur Syuhadah Zainuddin
Friday 19th of August 2022
thank u so much its really usefull
12thSeahorse
Wednesday 3rd of August 2022
He or she who masters the English language rules the world!
Friday 25th of March 2022
Thank you so so much, this helped me in my essays with A+
Theophilus Muzvidziwa
Friday 11th of March 2022
Monday 21st of February 2022
Powerful words and Phrases to use in Essays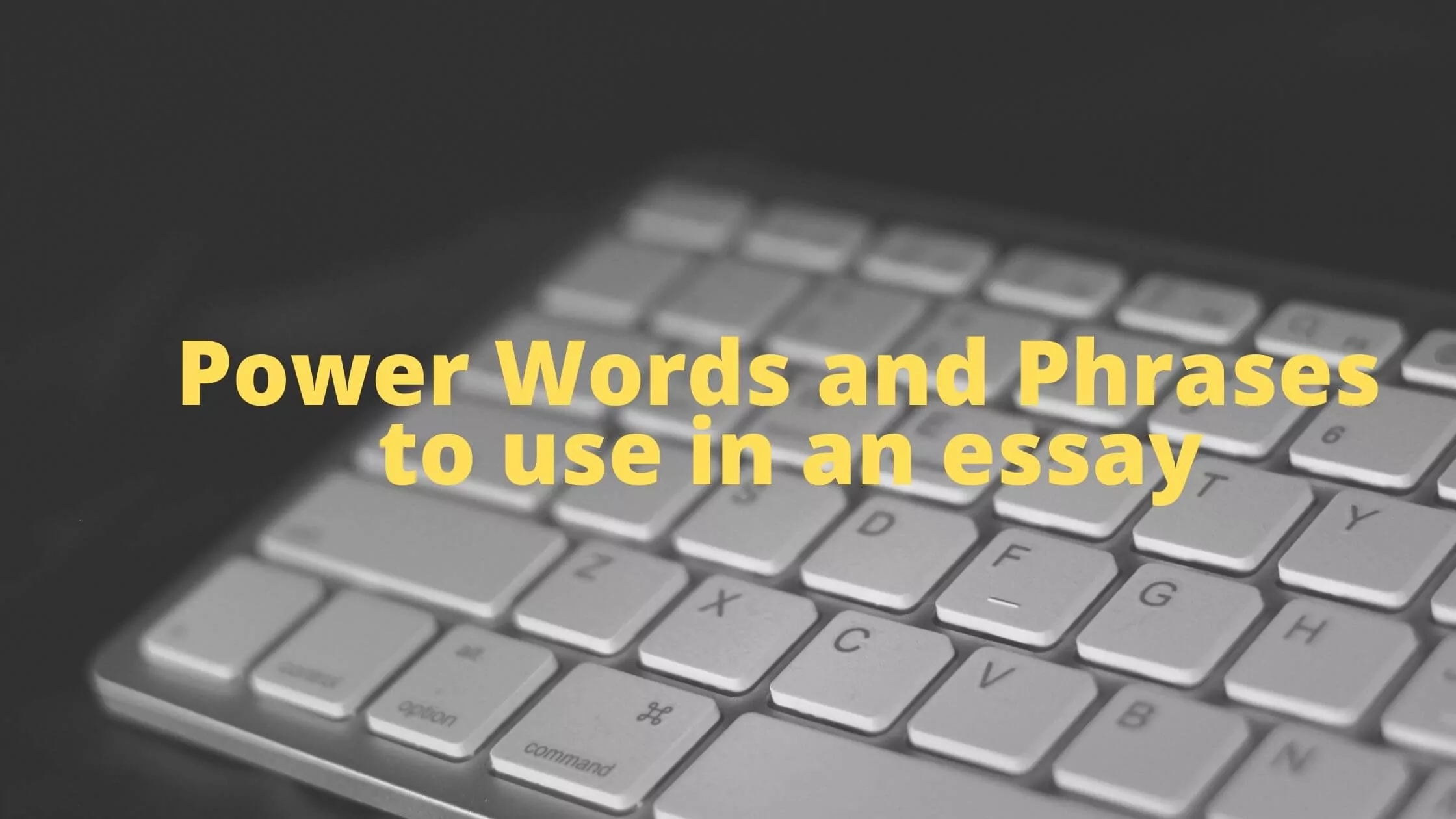 Although many might consider essay writing an easy task, it is not always the case with most students. Writing academic papers (essays, term papers, research papers, dissertations, theses, proposals, reports, and other assignments) requires students to hone and practice continuously. Thus, mastering writing at the academic level takes time and much practice, after which most students begin to be confident writing essays. For some, this confidence comes towards the end of the undergraduate course, while some master the art a few months or a week into their undergrad level studies.
This might sound like you, and you do not have to feel sorry about it. We have a list of academic writing power words that you can use when writing academic assignments. These words and phrases to use in your essay and other papers will help you avoid the dead words that probably deny you the top grade. Together with our team of experts in best essay writing, we have listed essential academic words that you can use in your introduction, body, and conclusion for all your essays and research papers .
Although you might have arguments and ideas that might attract the best grade, using the words we have listed could help you articulate, expound, and present the ideas effectively. Consequently, you will end up with a standard academic paper that any professional can grade, or that attracts your reader's attention and keeps them glued to the end.
After all, academic writing is a formal practice that disdains cliches or dead words such as colloquial expressions, controversial phrases, or casual words/slang. This means that the words you use when texting your friends, such as LOL, OMG, TIA, and the rest, should only end in the messages and not on the PDF or Word document you are typing your essay. As we have mentioned, formal academic writing is very delicate; it requires in-depth skills.
We hope that as you plan, write, and polish your essay, you will consider using the words we have listed here for inspiration and to hone your professional writing skills.
Words to Spice up your Introduction
Crafting a perfect introduction is arguably the most challenging part of academic writing. Whether you write the introduction first or last, it is always the invitation point for your readers to enjoy what is in the body. So, naturally, with adequate planning and structuring, you need to ensure that the introduction counts.
To begin an essay, you need to mind that your reader is uninformed about your arguments and topic, which means that the very first sentence has to summarize the central argument and the topic.
Although there is no preserved set of words to use in your essay introduction, you use the following words and phrases to explain what your essay is discussing (its scope) without losing the formality of your academic writing.
For decades
Over the years
Challenging
Significance
Complex problem
To begin with
As far as is proven in the literature
From the statistics presented by studies
The main objective
This topic resonates
This list of phrases is not complete; you can use the other phrases and words we will cover in the following sections of this guide. As long as you have a good reason to use a phrase, do not feel limited : use it for the glory of excellent grades.
General Explanations
When providing general explanations, both in the body, introduction, and conclusion of your essays, either for complex or easy points, you can use these phrases:
In order to
In other words
To that end
In another way
That is to say
We will see (in the course of this guideline) how else you can use the exact phrases in your essay.
Giving Examples in your essay
Any standard piece of academic writing must include examples. For instance, when presenting an argument in an argumentative or persuasive essay, you must illustrate your essay with examples to make the arguments stand out. Examples help clarify explanations, which makes it easy for the reader to connect the dots. Besides, they create an ideal picture in the mind of the reader. Instead of repeating for example when introducing illustrations in your essay, here are other phrases, transitions, and words that you can use in their place.
To illustrate
As evidence
To elucidate
To exemplify
On this occasion
As in the case of
Take the case of
In this sense
In this situation
In another case
In this case
As a demonstration
As a testament
To demonstrate
As an example,
For instance
For example
To give an illustration
Academic essays that receive top scores always have well-kit paragraphs that entail the topic sentence, arguments, examples (illustration), and closing sentences with the relevant transition words. These academic phrases are helpful when introducing examples. You can ideally use them in any academic piece, including theses, proposals, and dissertations. They help you avoid repeating similar phrases, which facilities readability and smooth flow in your essays.
Showing importance of arguments in an essay
When writing academic essays, it is vital to demonstrate that a given argument or point is fundamental. You can highlight this in your essay writing by using the following phrases:
In particular
Specifically
Importantly
Significantly
Fundamentally
These words can comfortably be used interchangeably when demonstrating significant ideas that are critical to understanding a topic.
Arguing based on facts from other authors
You can use phrases that acknowledge what others have said concerning a topic at the beginning of your essay. When you begin your essay with such phrases, you are posing your argument based on the authors' findings or a general interest/concern in your area of research. You can use such phrases when the evidence supports or refutes your arguments. Here are the essay phrases to use when acknowledging authors:
Considering
In light of
Taking into consideration
On account of
All things considered
On the whole
Insomuch as
Inasmuch as
Forasmuch as
Introducing the views of an author who is an authority in your area of interest or topic is critical in academic essay writing. For example, when you include a quote but do not want to use parenthetical citation or the exact words, you can use academic phrases such as:
According to X
X contends that
Referring to the views of
Drawing from X
As argued by Y
Findings by Y
As hypothesized by X
As proposed/shown/demonstrated/suggested by X
Studies by X
A recent study by X
Although you are referencing a quote here, it is not always advisable to use direct quotes at the start of your essay unless directed by your instructor. This means that using the above phrases can help spice up your essay introduction.
Laying Emphasis
When writing an essay, whether it be an English class essay or any essay, you must emphasize the main argument. The idea behind this is to create coherence within your essay. You can use the transition words below to emphasize your paragraphs. This list of academic essay words can be used in the introduction, body, and even conclusion.
In any case
Some other words include unquestionably, without a doubt, certainly, undeniably, without reservation, naturally, surprisingly, always, forever, perennially, eternally, never, emphatically,
Showing some sequence
When describing ideas or presenting arguments in sequence within an essay, here are the proven phrases and words that can earn you the best grades in school.
First, second, third
First, secondly, thirdly
Following this
At this point
Before this
Consequently
Subsequently
At this time
It would help if you were extra careful when introducing ideas because each paragraph only has one idea. They are also ideal when giving a list of examples.
You can also show the order of events using the phrases below:
Furthermore
In the meantime
Simultaneously
In the first place
First of all
For the time being
With this in mind
These phrases come in handy when writing about a linear event or a sequential occurrence of facts. They further help to maintain a good flow, clarity, and coherence.
Creating Flow and providing further information
Essays, even the short ones, should be as informative as possible. Knowing how to present arguments, points, and facts concisely and helps you avoid bluff in the essay. As the flow of your essay matters to the reader and for your grades, we recommend that you use these phrases or words that denote more information or flow. These words will help you to chronologically and structurally present your arguments and ideas
In addition
What's more
Additionally
These are academic phrases that help you expand your argument; add a point you have made without interrupting the flow of your essay. You can also use them when beginning new paragraphs.
The next set of essay words are a great choice when you want to add a piece of information that corroborates the argument or point you just mentioned. When writing academic essays and papers, it is critical to concur with your arguments. Doing so not only helps you to keep your readers glued but also helps you to contextualize your research. They also help you avoid repeating also many times. Repetitions are a sure way to score poor grades in your essay : they make your writing predictive and boring. Here are some words to save you grades and embracement.
Another key thing to remember
Not only but also ( use this when establishing similarity in your arguments- it makes the argument stand out)
Coupled with
Firstly, secondly, thirdly
You can also use the essay phrases below when stating your claim or introducing your claim. When your essay requires you to prove how you will achieve a goal- as is with a problem-solution essay or proposal argument essay , you can use these sentences to expand your points.
You can also use the academic phrases below to improve continuity in your essay write-up. These essay phrases explain a point that you already made but differently. Avoid repetition when elaborating specific points or arguments in your essay by using the phrases below
To put it in another way
To put it more simply
The phrases above can also be used when rounding up a point that came before the sentence that you begin.
An Example: He was already abusive to both the mother and the kids. In other words, it was a long-term domestic violence case.
Comparing and Contrasting Points
In academic essays, there are instances when you are required to include information that proves or refutes a point. For instance, when writing an argumentative essay, you have to include a counterargument. To show the views of the researchers that disagree with your main argument or point of view, you can use these words to introduce alternative arguments:
Nevertheless
On the contrary
On the other hand
Even though
These phrases are a seamless way to include an alternative perspective.
An Example: While 35% of the population appears to be living below the poverty line, the remaining 65% seem to be doing well.
You can also use phrases that show contrast, present uncertainty, and compare facts associated with your significant arguments. Here are some of the phrases:
The phrases above demonstrate expertise in your topic, authority in writing and help you convince your readers.
When you intend to demonstrate a positive aspect of your subject matter, you can use these phrases in your academic piece:
Despite this
Provided that
Nonetheless
Example : Provided that there is a red flag in a relationship, it is only safe that the victim acts or seeks help.
To add contrast, you can also highlight the relevance of an opinion, argument, point, or fact as regards your research. Here are some academic words that can help you introduce paragraphs or sentences that have big ideas in your essay:
Perfect words to conclude your essay
An essay conclusion carries as much weight as the introduction. Therefore, you must ensure that you have concluding words for your essay good enough to wrap up your arguments. In addition, considering that your conclusion should have a summary of the main ideas, your final statement and road plan to the conclusion must be evident. Here is a list of categorized phrases to use to conclude an essay effectively:
In conclusion
To summarize
In the final analysis
On close analysis
As can be seen from the argument above
The most compelling finding
The outstanding idea
The most persuasive point
This suggests that
It can be seen that
The consequence is
Subsequent to
Most significantly
It should be noted
It is worth noting
These are essay phrases that you use when articulating your reasons in the essay. Some of them summarize the relevant ideas or arguments, while others emphasize the relevant arguments.
Parting Shot
We have explored the list of useful phrases for writing great essays. When coupled with the correct vocabulary words, an essay easily scores the top grade in a rubric. When you use the words above, you automatically sound smart.
Whether you are writing a narrative, argumentative, or descriptive essay, these are words that you can use to convince your readers. They help you maintain a good flow, play around with other vocabularies, present authors' views, and finalize your essay in a bang.
We hope that these words will transform your essays from better to best. So, stay confident while articulating points, arguments, and ideas in your essays.
If writing an essay is not your thing, and these academic words and phrases sound Greek to you, you can hire an essay writer. Sourcing essay writing help from Gradecrest guarantees you a sample academic essay that is well-formatted. In addition, we have writers who specialize in writing different essays and can deliver within the shortest turnaround time.

Gradecrest is a professional writing service that provides original model papers. We offer personalized services along with research materials for assistance purposes only. All the materials from our website should be used with proper references. See our Terms of Use Page for proper details.


How to Write Better Essays: 5 Practical Tips
For many such students, each essay brings with it the challenge of making it that little bit better than the last one. The problem is that when you write essays regularly, it's easy to get stuck in a rut of repeating the same formula each time – particularly when you already receive good feedback from the teachers who read them. So how do you take your essays to the next level and go from great to brilliant? Here are some practical tips and techniques that will help you write consistently impressive essays, especially if you're considering attending an Oxford summer school .
1. Read other people's essays
Just as the books you read subconsciously help mould your own writing style , so reading other people's essays can help you develop and build on your own essay-writing style. Try to read a range of other essays, including those of your peers and of academics. Read essays on a wide variety of subjects, not necessarily just those that you're studying; different disciplines might apply different kinds of arguments or styles, so the wider you read, the more possible techniques there are for you to pick up and use in essays of your own. As you read other people's essays, don't just take them at face value. Be critical: what do you like about them? What don't you like about them? How persuasive do you think they are? Is the argument a balanced one, with points adequately supported with evidence? Has the writer used any techniques you've not seen before? Another good source of essays is the broadsheet newspapers . Read the opinion pieces and dissect how the writer has supported their points with evidence, and again, be critical; note where they've left things out to try to persuade you to a particular opinion. Essays should be balanced, so you can learn from the best of these writers and pick up some techniques to help you shape a balanced piece.
2. Build your vocabulary and use it properly
A good vocabulary will allow you to express exactly what you mean, as clearly and concisely as possible. Economy with words is a characteristic of all good essays, because readers (and essay-markers) don't like having their time wasted with long, rambling points that could have been expressed in half the number of words. One way of ensuring that you can communicate clearly and to the point is through accurate and effective use of advanced vocabulary. A good essay writer should never rest on their laurels when it comes to vocabulary; it's something you should be working on continually, as there are always new words to learn that could help convey a point more effectively. What's more, deploying a good vocabulary displays intelligence and allows you to be more persuasive in your essay-writing. Here are some ways in which you can build your vocabulary: – Subscribe to a 'word a day' email (such as this one from Merriam-Webster). Create a folder in your email account for new word emails, so that you can file each email away and have them all in one place ready to flick through and learn from in an idle moment. – Read widely, and refer to a dictionary for words you don't know as you go along; this way, you'll learn the new word as well as seeing it in context so you know how to use it properly. Read different genres of fiction, and non-fiction covering a range of topics, and you'll have the added bonus of widening your general knowledge as well as your vocabulary. – Use a thesaurus – if you find yourself using the same words over and over again, add variety to your language by looking up those words in a thesaurus and finding other words that mean the same thing. A word of warning: words you find in a thesaurus can't always be used interchangeably; even words with similar meanings can differ subtly in a way that makes them inappropriate in certain contexts, so find examples of a word used correctly before you use a new word for the first time. – Learn prefixes, suffixes and roots – it sounds boring, but this shortcut will help you learn a great many more words. Many roots come from Latin and Greek words, such as "bene" in Latin, meaning "good", which gives rise to words such as "benefactor", "benevolent" and "benefit". It's often possible to deduce the meaning of a new word if you know its root and read it in context. Prefixes are added to the beginning of a word to change the meaning, such as "semi" or "ante", while suffixes are added to the end, such as "-able" or "-ance". – Start a vocabulary book – you probably have one if you're learning a foreign language, so why not have one for your native language as well? Buy yourself a nice notepad and use it to collect new words and their meanings. The act of writing down the definition will help you remember it, and you could include an example of how the word is used to increase your chances of memorising it for use in essays. It may help to have different sections for words on particular themes; you could have a general section, and then further parts of the notebook could be dedicated to words of use in history essays, science essays and so on.
3. Elevator pitching your essays
We've probably all had it hammered into us that we should write an essay plan before we start writing, but before you even do that, you need to know what the argument you're going to make actually is. Only then can you start writing the structure for an essay that builds up to your overall conclusion. To condense what you're trying to say into a short, snappy summary for you to work from, try making an 'Elevator Pitch' style summary of what you intend to write and why readers should be interested in it. The Elevator Pitch is a technique used by salespeople when condensing the arguments for buying a product into the shortest possible summary of why a customer should consider a purchase. The salesperson is told to imagine themselves in a lift; in the time it takes for that lift to reach the desired floor, they should have given a compelling argument in favour of that product that would result in the customer buying it, or at least wanting to know more. Your Elevator Pitch for your essay should sell the idea of it to a reader, leaving them wanting to read the essay in question. This is quite a tough exercise, as it forces you to be ruthlessly concise in your thinking and choice of words; but you can use this summary to help you write your introduction, and it'll help you achieve clarity in what you're trying to say.
4. Tell the reader what other people say
We've mentioned this on a previous article on essay writing, but it seems pertinent to mention it here too. Essays are a chance for you to show off how widely read you are, so make sure you quote other people's opinions, and original sources , on what you're writing about. For example, if you were to write a history essay on early religious practices in Britain, you could quote original texts on that topic (such as Bede's Ecclesiastical History of the English People) and also mention what a range of modern scholars have to say about the topic. Contrasting views should be sought; it's unlikely that everyone agrees on the topic, so show you've looked at all the possible angles. For each of the subjects you're studying, start a page in a notebook for important people in that field, with a summary of when they lived and what their views are. That way, you'll have something to refer to when you're writing an essay and want to consult appropriate scholars or other writers whose opinions you might wish to include. Don't quote too much; mix citations with your own opinions so that it doesn't look as though you have to hide behind other people's words. It's fine to disagree with a scholar you quote, provided you can give evidence and reasoning for doing so. This shows that you have thought about it and made your own mind up, rather than blindly accepting what that scholar has said; this demonstrates strong critical reasoning skills, one of the hallmarks of brilliant students.
5. Syntax, punctuation and tone of voice
You may not consciously realise it when you're reading, but sophisticated sentence structures make the world of difference to how intelligent you sound. As we've already said, the most important consideration when you're writing is making yourself easy for readers to understand; but you can still do this and utilise a range of interesting syntax at the same time. Employ a variety of sentence structures, long and short, but don't let your sentences become too long and rambling, or they become difficult to read. Effective punctuation is vital in conveying your arguments persuasively; the last thing a teacher or lecturer wants to read is an essay riddled with poor grammar. What's more, the reader shouldn't have to read a sentence more than once to understand it. You probably already have a tone of voice you use for writing essays, but is it interesting and engaging? Read through some of your old essays and ask yourself honestly whether you find them absorbing. If they're not, it could well be because you've not established the right tone of voice. Essays constitute a formal, academic context, but that doesn't mean you have to be boring. A confident tone of voice will help show the reader that you know what you're talking about and reassure them that they're in safe hands. Writing in the active rather than the passive voice is a well-known trick of the trade that writers use to give their writing a sense of immediacy and make it more compelling; you too can deploy this technique in your essays by steering clear of the passive voice (for example, rather than writing "Much work is being done to…", say "Scholars are putting a great deal of effort into…"). Over the course of an entire essay, you'd be surprised what a difference this makes to your tone.
We hope you've found these tips and techniques useful and that they help you take your essay-writing to new heights. If you would like to improve your writing skills even further, then why not sign up to our Creative Writing summer school .
If you have any tips you'd like to share with us, do let us know by leaving a comment below!
Images: sleeping student , dictionary .
2 responses to "How to Write Better Essays: 5 Practical Tips"
Heya i am for the first time here. I found this board and I find It truly helpful & it helped me out a lot. I hope to offer one thing again and help others like you aided me.
Howdy! I'm at work surfing around your blog from my new iphone 3gs! Just wanted to say I love reading your blog and look forward to all your posts! Carry on the outstanding work!
Leave a Reply Cancel reply
Your email address will not be published. Required fields are marked *
Save my name, email, and website in this browser for the next time I comment.
8 Tips to Write Better Essays in English
Learning a foreign language is an overwhelming experience, especially if it's one of the most widely spoken languages in the world – English.
Many people are under the impression that learning to read and speak in English is enough without realizing that written English skills are an equally vital asset to have.
From improving academics to boosting career prospects – the ability to write in English not only lets you communicate and express yourself better in today's globalized world but also makes you more confident.
An effective way to improve your writing skills is to write essays. Wondering where to begin? We bring you eight useful tips to write better essays in English.
1. Keep a Vocabulary Notebook
Using the right vocabulary is an essential element of writing essays. When you make efforts to expand your vocabulary, you will be able to pick accurate words to take your writing to the next level.
Instead of coming across new words and forgetting about them, it's a good idea to make a note of them in your vocabulary notebook. Doing this helps you remember the meanings of new words and you can also refer to it while writing essays.
So, give yourself a target to learn at least ten new words every day, which you can jot down in your diary and take baby steps in building a strong vocabulary.
2. Refer to Credible Sources
Research forms the first step in writing any kind of essay. The stronger your research, the better is the quality of your essay.
At a time when we have access to a wide range of data, it's important to evaluate research sources carefully and only refer to credible ones. For example, Wikipedia is not a reliable source and should not be attributed to while writing essays.
Take the effort to read through published journals, research studies, scholarly papers, academic databases, and encyclopedias published within the last 10-15 years. It's also important to assess the credibility of the author while evaluating the source.
3. Draft a Basic Outline
Once you've done your research, don't rush to write. Take a moment to draft a basic outline for your essay and organize your research and findings.
"Is that necessary," you ask? Very much.
Working on an outline lets you approach the essay in an organized manner. It serves as the skeleton of your paper while ensuring you're not missing out on any information and that your points flow logically.
Most essays are categorized into – introduction, body, and conclusion.
The introduction is where you introduce the topic and give context. The body paragraphs need to include your arguments and research methodology (if any). The conclusion needs to reiterate the thesis statement and tie all the points together.
4. Hook the Reader
With attention spans getting shorter with time, it's become all the more important to start with a bang and hook the reader from the beginning to ensure they are invested in your writing.
Essay hooks refer to the first one or two sentences of your essay which have the power to make or break the reader's interest. The key is to write a hook that grabs the reader's attention and reels them in.
From an alarming statistic and relevant quote to using humor and asking a rhetoric question – there are various tactics you can employ to keep the reader engaged.
If you're unable to think of an impactful essay hook, don't waste too much time on it. Finish the rest of your essay and come back to write a compelling hook later.
5. Use the Pomodoro Technique
It's not easy to write an essay in one go, especially if it's not in your first language.
A smart way to approach essay writing is to use the Pomodoro technique. This technique asks you to set a timer for 25 minutes to finish your task in question and then take a 5-minute break. After four cycles of repeating this, you get to take an extended 20-minute break.
So, start with breaking down the assignment into smaller tasks such as research, outlining, writing the different paragraphs, citing references and proofreading. You can then set the timer, start working on the essay as per the technique and track your progress.
Using this technique keeps distractions at bay and helps you stay more focused.
6. Pay Attention to Grammar Rules
You may raise interesting points in your essay, but poor grammar disrupts the reading experience and should be avoided at all costs.
Be careful when adding punctuations, check your sentence formations, avoid passive voice as much as possible and know the difference between adjectives, adverbs, nouns and verbs.
So  abide by grammar rules to deliver a well-written and cohesive essay.
7. Write with Clarity
You might be tempted to use complex metaphors and jargons to impress the reader, but the truth is, none of that guarantees "good" writing.
One of the most important ingredients of effective writing is clarity. You don't want to leave the reader confused and puzzled after reading your essay. So, use simple words, stop beating around the bush and explain concepts with the help of examples because clear writing always wins.
8. Reread the Essay
Finally, make it a point to proofread your essay (multiple times) to ensure you have covered all the aspects, cited references accurately and not made any silly errors.
It's a good idea to read your essay out loud so you're able to identify errors and awkwardly formed sentences with ease. You should also get a friend or family member to read your essay, to spot mistakes or discrepancies that you may have overlooked.
You may also like:
I don't understand, do you?
Simple English Videos
Listen&Learn: The Berlin Wall
34 comments
Thank a lot dear EnglishClub, it's help me a lot
I think it is very good site for learn essay writing
As a teacher trainer this contribution is helpful
Thanks for the tips! I'll have an essay tomorrow and this will surlely prepare me!
Thank you so much
Thanks Please I will like to know more
thank you so much for your amazing informations
encyclopedias
encyclopaedias
Nice one but I don't understand yet
Knowledge supporter is who u are, keep d good work nd ur reward is from God nd thanks.
thanks alot for your tips…your tips will help me alot while examss!!!
Thank you so much for information ☺️
Thank you ☺️
Thank you 💯💯💯💯💯💯
My hobby is home garden
ur intentinon and thoughts was very nce its useful to somny pepole to learn english tysomuch adela belin
Thanks you for helping
This did help a lot! Thank you very much 🥰
Good tips, I should give it a try, after all, we all improve by exercising hard so I'll just do the same thing, but right now I gotta focus on what matters, and what I need now is to read as much as I can to know how to spell the words right. Is grammar so important in this task, I mean can't I just pick the things up because of my experience in listening skill ?
Thanks for the information!
This is a nice explanation ,,,,,proud of you!
Is very interesting for me I really apreicete you help
Thanks so much for these useful tips!! Now, I need to start preparing my essay ("starting" has been always the stone on my way :$)
Please, what is the difference between an essay and an article?
Are they same?
Thanks in advance,
Thanks & best regards English Club
Helpful updated tips to share with our students!! thankssss
I want to know if it is only at the University or if we may take the course online.
Thank you verry much for important advices
thank for your key points, this is really helpful
Thank you and best wishes,
Very pragmatic and helpful essay. Thank so much English club
Leave a comment
Email * (not published)
Business Enquiries
Still not convinced check out the best features of our service:.
Diane M. Omalley
Viola V. Madsen
You are using an outdated browser. Please upgrade your browser or activate Google Chrome Frame to improve your experience.
Baby Steps: 10 Proven Tips to Write Better Essays in English
If writing an essay sounds a little bit scary, just think of it as a chance to improve your writing skills .
Nobody expects your first essay to be perfect. Just make sure you learn something new every time you write an essay, and you will  grow your abilities.
We're going to help you out with ten tips for writing better essays while you're learning English .
1. Create a Word Bank
2. act like a reporter, 3. create topic sentences, 4. argue both sides, 5. read backwards, 6. use an online thesaurus and a dictionary, 7. combine and separate sentences, 8. have a native english speaker edit your essay, 9. review the whole essay with your friend, then rewrite it, 10. use online apps, and one more thing....
Download: This blog post is available as a convenient and portable PDF that you can take anywhere. Click here to get a copy. (Download)
This is an interesting approach to writing your essay. First, choose a topic and write a thesis . A thesis is the main argument of your essay. For instance, if your topic is reading, your thesis might be "Reading makes you smarter."
Once you have a thesis, think about your main topic and find words that relate to it in different ways. Then, branch out (broaden, diversify) your list to words that aren't as closely related to your main topic.
For the example above, your primary list might include words like "books," "reading" and "intelligent." Your other "branched out" list might include "Harry Potter," "reading by a fire" or "test scores."
This process will help expand your vocabulary over time. Using these words when you write will also make your essay more vibrant (energetic, colorful).
When you are first assigned the topic, go ahead and really explore the possible options for your thesis. Ask questions. Get curious. The more questions you ask before you start writing, the more information you will have to use in the essay.
A strong essay is one that covers a lot of content in a succinct (short, to-the-point) way. This process of acting like a reporter will give you valuable quotes, resources and vocabulary to begin the writing process.
For instance, if you're writing about a new diet plan , you might ask questions like, "Who is the best candidate for this diet plan?," "How can someone get started?" and "What is the hardest part of this plan?"
A topic sentence is the first sentence in a paragraph, and it summarizes the rest of the paragraph. You can create them first to help you stay on track when writing your essay.
For the thesis "Reading makes you smarter," one paragraph's topic sentence might be, "Newspapers make you more aware of current events." Another paragraph's topic sentence could be, "Reading plays and classic literature will make you more cultured."
If you're writing about the three main issues facing writers today, you could write three full sentences that each address one main issue. Set these aside. Then, when you start writing the essay, refer to your topic sentences to create a solid structure that begins at point A and ends at point C.
If you have to write a longer or more complex essay, it might help to outline both sides of the argument before you start writing. When you write the essay, you will need to choose one side to focus on. But as you prepare, having a side-by-side list of points can be helpful in developing your thesis.
Also, by arguing for the opposite side of your opinion, you will learn which points you need to better address in your essay. You will learn more about the topic, and you will gain more vocabulary words to enrich the essay.
As an example, you might be writing an essay arguing that people should drink less coffee. To argue both sides, you'll need to consider the opposite side: the benefits of coffee. How will people quit if they are addicted? What about the antioxidants in coffee? Aren't those good for you? Really explore the entire concept (both sides of the argument) before you write.
Proper grammar is difficult for even the most fluent English speakers. Because you are learning English, you actually have an advantage. Many native speakers learned improper grammar from the start. It's difficult to undo the damage caused by a lifetime of writing improperly.
As you learn the English language, make a serious effort to practice your grammar and sentence structure. One way to spot improper grammar in your own English writing is to read each sentence backwards (start with the last word and end with the first). This way, you won't be fooled by how the words sound when you read them in your head.
Is everything in the correct tense (past, present, future, etc.)? If you're writing about plurals, are the possessive nouns plural? Are the apostrophes in the right places? Does every sentence end with a punctuation mark (period, question mark, exclamation point)? Reading the text backwards makes you focus on the rules of grammar instead of the flow of the sentence.
You might have learned a large number of fancy words when studying for an entrance exam. But before you start using them in academic essays, be very sure you know what they mean in the context of your essay. This is where the dictionary can come in handy .
A thesaurus is another valuable tool when writing an essay. A thesaurus tells you synonyms, or words that have the same or a similar meaning to the word you look up. It's important because it can add some volume to your essay and increase the impact of your words.
For example, if you're writing about cooking, the words "stir" and "add" might come up a lot. This repetition is boring for a reader.
So instead of constantly saying, "Add the tomato" and "add the eggs," a thesaurus will teach you to say things like "whisk in the eggs" or "gently fold in the tomatoes." See? It sounds a lot better and adds interest to your essay.
Visual Thesaurus is a resource that works just like a regular thesaurus, but it also shows you the connections between the words. For example, if you type in the word "stir," you'll immediately see a whole circle of other words connected to "stir" with lines. From there, you can click on any of the words in the circle (like "move," in this case) and then see all the words related to that word. This helps you find and learn new words quickly, and it's also fun!
Once the essay is written, go back through the writing to find any sentences that seem too long or wordy. Break these into two or more sentences.
For example, the following sentence is too long, which makes it unclear:
If you want to write in another language, you need to practice writing in creative ways, like writing on a blog, writing fun poems or texting a friend who speaks the language you're learning every day.
Instead, you could write it as two clearer sentences (with less repetition of the word "writing"):
If you want to write in another language, you need to practice in creative ways every day. For example, you could start a blog, create fun poems or text a friend.
Do the opposite with sentences you find too short.
Also, look for sentences that are very closely related to one another. If two sentences seem like the thoughts are connected, you can combine them with a semicolon ( ; ).
For example, the following sentences are very closely related:
Learning to write in another language can be really difficult, especially when you're first getting started. That's why it helps to practice every day.
That's why you could write it this way:
Learning to write in another language can be really difficult, especially when you're first getting started; daily practice is helpful.
Meet up with a friend who is fluent in English (or, at least, more fluent than you). This friend can edit your essay and point out any repetitive errors.
If they find mistakes that you make often, you will be able to watch more closely for that error as you write future essays. This friend will also be able to point out grammatical or spelling errors that you might have missed.
If you don't have any friends who are fluent in English, you can use a website like Conversation Exchange . This is a free site where native English speakers will correct your writing. In exchange, you correct the writing of someone learning your native language.
Once you and your friend have both reviewed your essay and marked any mistakes, rewrite the whole thing. This step is important. Just noting that you made some mistakes will not help you learn how to avoid them in the future.
By rewriting the essay with the corrections in mind, you will teach yourself how to write those sections properly. You will create a memory of using proper grammar or spelling a word correctly. So, you will be more likely to write it correctly next time.
Lastly, there are some fantastic online resources that can help improve your writing. For instance,  Hemingway Editor  can review your document to find any confusing or wordy sentences. You can rewrite these to make them easier to understand.
You could also head over to  Essay Punch  to find resources, tools and support that can help improve your writing skills.  Grammar Book  is a great resource for practicing proper grammar and spelling.
FluentU takes authentic videos—like music videos, movie trailers, news and inspiring talks—and turns them into personalized language learning lessons.
You can try FluentU for free for 2 weeks. Click here to check out the website or download the iOS app or Android app.
Try FluentU for FREE!
Since many online resources are readily accessible, feel free to experiment with your options. Try to find the ones that cater best to your learning habits and needs.
The advice in this post is mainly for improving your essay writing over time. However, if you want a more professional opinion for an important essay, you can also use Scribendi . Scribendi is an online essay editing resource that helps with academic and admissions essays. If you're applying to a school or are writing an important paper, you may want to consider their services to make sure your essay is the best it can be.
Learning a new language is certainly an ambitious (challenging) task. There are so many small details to learn, and the process takes a lot of time and commitment. But with practice and study, you will improve.
It takes even more effort to become a strong writer in a new language, but these tips will help you get started.
Hopefully, you were able to find one or two tips that you believe will help you improve your essay writing abilities. Over time, try to use all of these strategies (or at least more than one) in your writing routine. Good luck!
If you like learning English through movies and online media, you should also check out FluentU. FluentU lets you learn English from popular talk shows, catchy music videos and funny commercials , as you can see here:
If you want to watch it, the FluentU app has probably got it.
The FluentU app and website makes it really easy to watch English videos. There are captions that are interactive. That means you can tap on any word to see an image, definition, and useful examples.
FluentU lets you learn engaging content with world famous celebrities.
For example, when you tap on the word "searching," you see this:
FluentU lets you tap to look up any word.
Learn all the vocabulary in any video with quizzes. Swipe left or right to see more examples for the word you're learning.
FluentU helps you learn fast with useful questions and multiple examples. Learn more.
The best part? FluentU remembers the vocabulary that you're learning. It gives you extra practice with difficult words—and reminds you when it's time to review what you've learned. You have a truly personalized experience.
Start using FluentU on the website with your computer or tablet or, better yet, download the FluentU app from the iTunes or from the Google Play store .
Enter your e-mail address to get your free PDF!
We hate SPAM and promise to keep your email address safe
Main Content
Our family is growing.
Post University welcomes the addition of American Sentinel's fully online advanced nursing and healthcare programs to our current portfolio of program offerings as the American Sentinel College of Nursing & Health Sciences at Post University.
"The addition of American Sentinel's programs, administration, faculty and infrastructure as a division of Post University will allow the leveraging of strengths and talents to create additional educational opportunities for current and future students. We feel there are already so many great synergies such as affordability, a commitment to innovation in online education and technology, as well as offering unmatched personalized student support. We are excited for the future." – CEO & President, John L. Hopkins
College of Education
SUGGESTED TOPICS
The Magazine
Newsletters
Managing Yourself
Managing Teams
Work-life Balance
The Big Idea
Data & Visuals
Reading Lists
Case Selections
HBR Learning
Topic Feeds
Account Settings
Email Preferences
A (Very) Simple Way to Improve Your Writing
It's called the "one-idea rule" — and any level of writer can use it.
The "one idea" rule is a simple concept that can help you sharpen your writing, persuade others by presenting your argument in a clear, concise, and engaging way. What exactly does the rule say?
Every component of a successful piece of writing should express only one idea.
In persuasive writing, your "one idea" is often the argument or belief you are presenting to the reader. Once you identify what that argument is, the "one-idea rule" can help you develop, revise, and connect the various components of your writing.
For instance, let's say you're writing an essay. There are three components you will be working with throughout your piece: the title, the paragraphs, and the sentences.
Each of these parts should be dedicated to just one idea. The ideas are not identical, of course, but they're all related. If done correctly, the smaller ideas (in sentences) all build (in paragraphs) to support the main point (suggested in the title).
Where your work meets your life. See more from Ascend here .
Most advice about writing looks like a long laundry list of "do's and don'ts." These lists can be helpful from time to time, but they're hard to remember … and, therefore, hard to depend on when you're having trouble putting your thoughts to paper. During my time in academia, teaching composition at the undergraduate and graduate levels, I saw many people struggle with this.
MR Mark Rennella is Associate Editor at HBP and has published two books, Entrepreneurs, Managers, and Leaders and The Boston Cosmopolitans .  
Partner Center
How to Write a Great College Essay
You've researched potential schools , applied for financial aid , and filled out your applications, but the college essay deadline looms over you. Your blank screen may intimidate you, but you're closer to writing an amazing essay than you think. 
If you're wondering how to write a great college essay, consult these tips.
1. Choose Your Topic Wisely
Choosing what to write about can feel like half the battle of writing a college essay. 
The essay serves as a picture of who you are to the admissions staff, so the topics you care about deeply work the best. Your passions, convictions, and meaningful experiences are all great places to start.
To generate ideas, imagine someone who knows you well had to describe you to a stranger. What's crucial to include? What stories would they tell? What hobbies and interests would they mention? To take the exercise a step further, ask a close relative or friend the same questions.
Take a close look at the essay prompts, too. Though you can usually write about whatever topic you'd like, the suggested prompts may help you narrow your focus if you have a general idea in mind.
2. Stand Out
A few common topics saturate the hundreds of essays that admissions staff read every year. Some of these include academic setbacks and successes, sports injuries and victories, experiences of loss, immigration and relocation, and travel.
Though you may have powerful stories that fall under these topics, their universality puts you at a disadvantage. It's extremely difficult to provide a fresh perspective on subjects that thousands of other students have written about. So if you pick one of these topics, know that you risk blending in with the crowd. Consider giving a unique story or unconventional interest the spotlight.
No matter what subject you choose, write in a way that allows you to stand out. Include the details only you can write, describing them in the way only you would.
3. Develop Your Voice
The college essay calls for mature and skillful writing. Many students, wanting to demonstrate that they know how to write a college essay, use unnecessarily complicated language. This only results in a dense and confusing paper.
You risk sounding ingenuine when you use words and expressions that you never would in real life. Your best writing allows your authentic voice to shine through. The admissions officers care more about whether you're capable of writing clearly and concisely, not about how many academic, multi-syllabic words you know. 
Have trouble sounding like yourself while writing? Read your writing aloud. You'll catch unnatural wording and awkward phrasing.
Consider freewriting as well. Freewriting entails writing whatever comes to mind without pausing, erasing or editing your work. To get started, set a timer for 10-20 minutes and write until it goes off. 
After a couple of sessions, you'll feel more comfortable putting the pen to the page (or fingers to the keyboard!). You'll also get to practice putting complex feelings and ideas into words, a valuable skill when understanding how to write a great college essay.
4. Highlight Your Growth
Everyone knows that the power of a good story lies in the details. So when writing a college essay, many students focus more on what happened than how they developed as a person through it.
While you want to write descriptively, your essay should emphasize your growth and development more than the external circumstances. Describing what you did on a trip doesn't illustrate much about you as a person. But exploring how it sparked a passion in you, changed your view about an issue, or challenged you to reexamine your faith makes for a more meaningful essay.
Many students also believe their essay should function as a resume, listing out their strengths and achievements. Your essay may indeed demonstrate a positive quality or achievement of yours. But when you restate details already on your application, you waste the opportunity to venture beyond facts and figures and into who you are as a person. Outlining your noble deeds and impressive accolades won't resonate with the admissions staff, but sincere, vulnerable writing will. 
If you're wondering how to write a great college essay, highlight your growth and your passions. Don't select a story simply because it paints you in a good light.
5. Tell a Good Story
Great college essays use compelling narratives to highlight growth. A good story speaks to us in ways other types of writing cannot.
Most college essays follow a narrative sequence, taking the reader through an event chronologically. Because of its simplicity and clarity, this format lends itself well to college essays. Some essays also follow a topical order, describing multiple scenes that revolve around a common theme.
No matter how you structure your essay, use rich, descriptive writing. Specific, powerful language immerses your reader in your story. You can only achieve this kind of writing by putting time and effort into your college essay. Don't settle on one draft! Play around with sentence structure. Try out multiple words before choosing one. Your college essay is brief, so make sure every word conveys exactly what you intend it to mean.
Wonder no longer how to write a great college essay. With these tips in mind, you can write with power and meaning, giving admissions staff a clear picture of what makes you, you.
Looking for a college that doesn't require an essay? Consider Grace College. The Lancer application is free and takes only five minutes to complete.
Explore Grace College Admissions and read this blog about Grace's admissions process here.
Previous Post
Grace College Worship Arts Professor Dr. Wally Brath Releases Album on the Psalms
be_ixf; php_sdk; php_sdk_1.4.26
https://www.grace.edu/how-to-write-a-great-college-essay/
Get 50% OFF Yearly and Lifetime Subscriptions this Black Friday
Features for Creative Writers
Features for Work
Features for Higher Education
Features for Teachers
Features for Non-Native Speakers
Learn Blog Grammar Guide Community Academy FAQ
Grammar Guide
How to Make Your Essay Better: 7 Tips for Stronger Essays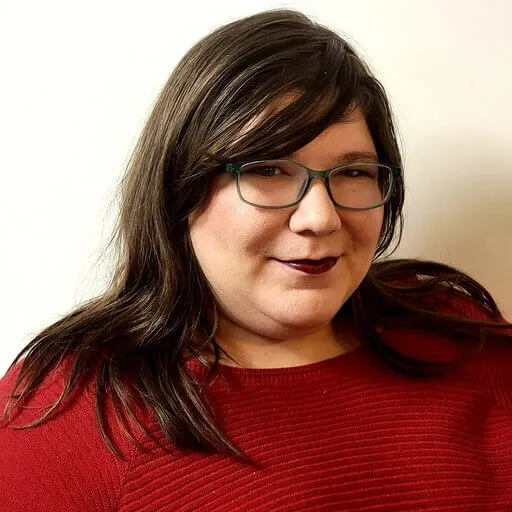 Krystal N. Craiker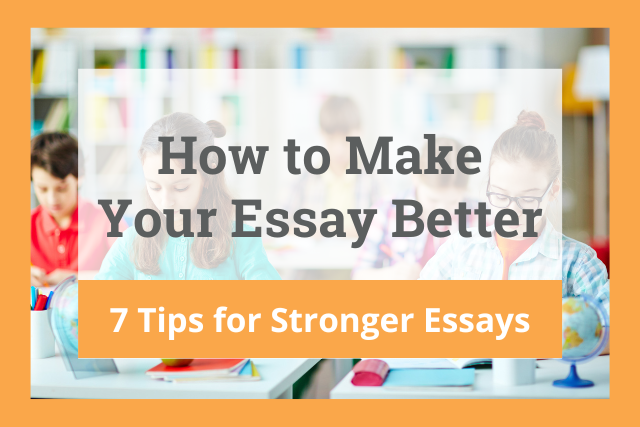 Essay writing doesn't have to be intimidating. With a few tips, you can improve your writing skills for any type of academic essay.
How to Write Better Essays
7 tips on how to make your essay better, how to become a better essay writer.
The best way to sum up how to write better essays is, "Make sure you're answering the question."
This sounds obvious, but you would be surprised how many students struggle with this.
From not understanding the prompt to poor research skills to off-topic body paragraphs, it's easy for an essay to derail.
We've got seven tips for writing better essays that will help you avoid common mistakes and craft the best essays possible.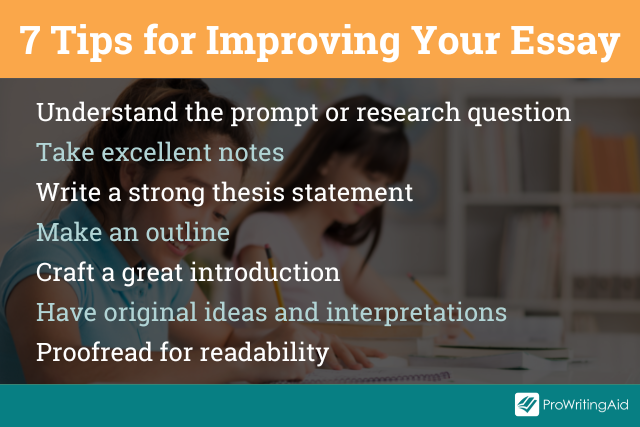 Here are our top tips for improving your essay writing skills.
Understand the Prompt or Research Question
The first step in your writing process is to fully understand the essay topic. If your professor gave you a prompt for your academic essay, spend some time analyzing it.
First, take note of whether you're writing an expository or persuasive essay. The tone, structure, and word choice will differ between essay types.
Pay close attention to the wording of the prompt.
If your teacher wants you to "analyze" the effects of new technology in World War I, but you turn in a descriptive overview of the technology, you are not answering the question.
If they have given you a topic but no prompt, you'll need to create a guiding question for your research.
Be specific in what you are trying to research, or you'll end up overwhelmed with a topic that is too big in scope.
"Symbolism in modern literature" is too broad for a term paper, but "How does F. Scott Fitzgerald use symbolism in The Great Gatsby ?" is an achievable topic.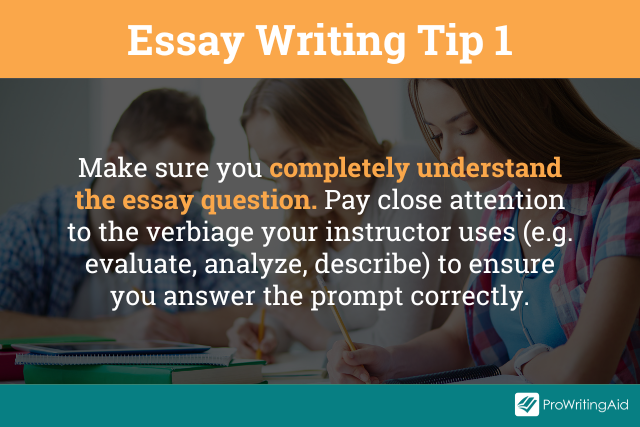 Take Excellent Notes
Once you understand exactly what your essay is about, you can begin the research phase. Create a strong note-taking system.
Write down any idea or quote you might want to use. Cite every note properly to save time on your citations and to avoid accidental plagiarism.
Once you have gathered your research, organize your notes into categories. This will help you plan the structure of your essay.
You'll likely find that some of your research doesn't fit into your essay once you start writing. That's okay—it's better to have too much information to support your argument than too little.
Write a Strong Thesis Statement
Possibly the most important step in essay writing is to craft a strong thesis statement. A thesis statement is a brief—usually single-sentence—explanation of what your essay is about.
The thesis statement guides the entire essay: every point you make should support your thesis.
A strong thesis is specific and long enough to address the major points of your essay.
In a persuasive or argumentative essay, your thesis should clearly establish the argument you are making.
Make an Outline
Once you have all your research, it's easy to get overwhelmed. How do you turn the information into a cohesive essay?
Rather than writing an essay with no roadmap, an outline will keep you on track. An outline helps you organize your thoughts, plan your arguments, and sort your research.
A good outline saves you time, too! You can compile the relevant evidence in your notes before writing, so you don't have to find that specific quote in the middle of essay writing.
An outline will also stop you from reading your finished essay and realizing you went completely off track.
With an outline, you can avoid finding paragraphs that don't support your thesis right before you submit the essay.
Craft a Great Introduction
An academic essay needs a strong introductory paragraph.
The introduction is the first impression of your essay. It prepares the reader for what's coming and gets them excited to read your paper.
A good introduction has three things:
A hook (e.g. insightful statement, quote, interesting fact)
Brief background information about the topic
A thesis statement
Using this formula will help you write a strong introduction for your essay.
Have Original Ideas and Interpretations
The best academic writing advice a professor ever gave me was, "You've shown me what other people have said about the topic. I want to know what you think about the topic."
Even a fact-heavy or data-heavy essay needs original ideas and interpretations. For every piece of information you cite, whether you quote or paraphrase it , offer original commentary.
Focus on insights, new interpretations, or even questions that you have. These are all ways to provide original ideas in your essay.
Proofread for Readability
A good essay is a proofread essay.
Readability, or how easy something is to read, has many factors. Spelling and grammar are important, but so is sentence structure, word choice , and other stylistic features.
Academic essays should be readable without being too simple. In general, aim for a readability score that is close to your grade level in school.
There are several ways to check readability scores, including using ProWritingAid's Readability Report.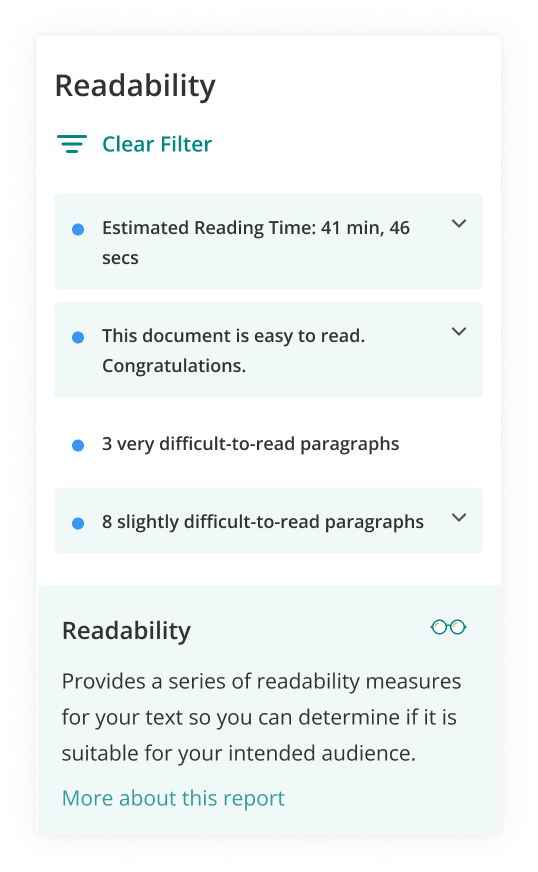 The quickest way to increase readability is to fix grammar and spelling mistakes . You can also raise the readability score by using more complex and compound-complex sentences.
ProWritingAid can offer suggestions on how to improve your essay and take it to the next level.
Our free essay checker will check for spelling and grammar errors, plus several other types of writing mistakes.
The essay checker will offer you suggestions on sentence length and passive voice.
It will help you trim the excess words that bog down your writing by analyzing your sticky sentences and overused words.
The essay checker is here to help you turn in an error-free essay.
Want to improve your essay writing skills?
Use prowritingaid.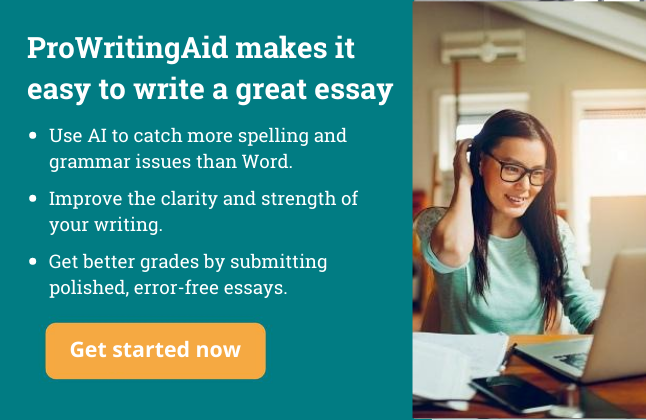 Be confident about grammar
Check every email, essay, or story for grammar mistakes. Fix them before you press send.
Krystal N. Craiker is the Writing Pirate, an indie romance author and blog manager at ProWritingAid. She sails the seven internet seas, breaking tropes and bending genres. She has a background in anthropology and education, which brings fresh perspectives to her romance novels. When she's not daydreaming about her next book or article, you can find her cooking gourmet gluten-free cuisine, laughing at memes, and playing board games. Krystal lives in Dallas, Texas with her husband, child, and basset hound.
Get started with ProWritingAid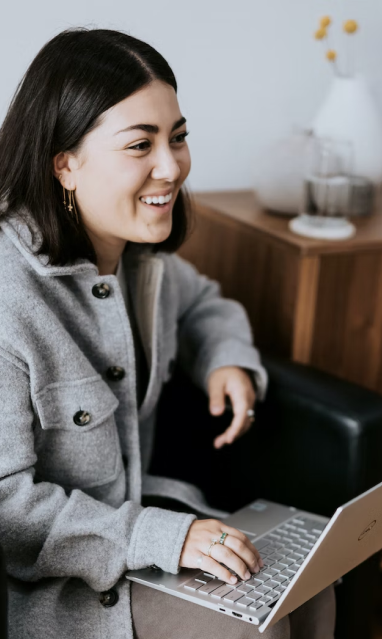 Drop us a line or let's stay in touch via :
200 Powerful Words List: Jumpstart Your Writing Fast
Any writing with a marketing edge needs to use powerful words, and this powerful words list will help you capture them in your works.
If you want your social media posts, blog posts, copywriting and even your email subject lines to be as effective as possible, you must master power words. These words make every piece of writing you create, from a simple letter to an important landing page, work better, increasing conversion rates and making people want to take action.
So what are power words? This powerful words list will help you understand these persuasive words and how you can use them to boost conversions, create a best-selling novel or otherwise improve your writing.
Powerful Words List: Discovering the Impact of Powerful Words
200 power words you need to know, happiness power words , prestige, beauty and lust power words, pride and embarrassment power words, trust power words, newness power words, fear and anger power words, sloth power words, humor and curiosity power words, greed power words, mind-blowing power words, sensory power words, safety power words, exclusivity power words, excitement power words, how to use power words to boost your sales, a final word on powerful words list, what are some powerful words, how can you use power words.
Before delving into a power words list, first, you must understand what powerful words are and why you need them. With just one word, many English phrases become incredibly powerful, sparking people to action.
Power works encourage people to take action by triggering an emotional response. They can also work by triggering curiosity. These two actions make them very helpful in e-commerce and marketing situations.
The best way to increase your use of power words is to know what they are. This cheat sheet has a list of popular words that can help you create powerful, effective marketing pieces.
As you work on your content marketing, consider these power words:
Human nature means people want to be happy, and these words make them feel happy or expect happiness from what you're offering:
3. Astonishing
4. Breathtaking
5. Brilliant
7. Exciting
8. Fascinating
10. Heartwarming
11. Incredible
13. Inspiring
14. Legendary
16. Profound
17. Thrilling
18. Unstoppable
People appreciate beautiful things, and humans tend to want seductive items as well. If you are looking to increase conversions and want to tap these emotions, consider these words:
19. Adorable
20. Breathtaking
21. Charming
22. Delicious
23. Elite
24. Expensive
25. Glamorous
26. Gorgeous
27. Heavenly
29. Luxurius
30. Priceless
31. Spellbinding
If people fear that they will get embarrassed, they will be more likely to take action. These words tap into a person's sense of pride or fear of embarrassment:
32. Achieve
33. Blunder
34. Clueless
35. Cringeworthy
38. Mediocre
39. Obvious
40. Rejection
42. Senseless
43. Shame/shameful
44. Triggers
45. Unknowingly
This list of power words makes the reader trust what you are writing. Use them in blog post headlines and popup ads to get people to click through and read your content because the words build trust.
47. Absolute
48. Authentic
49. Authority
50. Captivate
51. Case study
53. Ensured
54. Foolproof
55. Guaranteed
56. Guilt-free
57. Lifetime
58. Memorable
60. Moneyback
62. Reliable
63. Studies
65. Testimonials
Human nature means people like to be on the cutting-edge, and these words will make them think that you are giving them new or novel information.
66. Challenge
67. Discover
68. Extraordinary
71. Life-changing
72. Miracle
74. Novel/novelty
75. Sneak peek
If you want to grab the reader's attention and get them to take action quickly, you may need to tap their fear center. Whether it is the fear of missing out or the shock of something happening in the world, these words evoke fear and anger responses.
76. Agonizing
78. Awkward
79. Catastrophe
80. Censored
81. Cover-up
82. Dangerous
84. Disgusting
85. Epidemic
86. Eye-opening
87. Failure
88. Heartbreaking
89. Horrifying
90. Jaw-dropping
91. Limited
92. Revolting
93. Shocking
94. Strange
95. Terrifying
96. Unpopular
97. Vicious
98. Violent
Trigger words that evoke feelings of rest and relaxation can actually be quite effective in your email marketing. Sloth is not necessarily bad when it is at the right time, and tapping someone's desire to relax can help you get the right action out of your target audience. These words work well:
101. All-inclusive
103. Child's play
104. Efficient
105. Effortless
106. Formula
108. Jumpstart
111. Minimalist
112. Speedy
113. Simple
114. Tricks
115. Tweaks
116. Uncomplicated
Sometimes getting someone to laugh a little can help put them in a good mindset to change. Eliciting feelings of curiosity will make them want to click a link. These words can do that:
117. Breaking
119. Diagnosed
120. Discover
121. Emergency
122. Extraordinary
123. Funniest
124. Hilarious
125. Insane
126. Intriguing
128. Little-known
130. Revolutionary
131. Ridiculous
132. Strange
133. Unexpected
People like to have money. People fear not having money. These words tap into the emotions surrounding greed and the fear of scarcity:
134. Affordable
136. Budget
138. Efficient
140. Lucrative
142. Unlimited
People like having their minds blown about something surprising and shocking. These power words work well to do just that:
143. Alluring
144. Amazing
145. Astonishing
146. Awe-inspiring
147. Catapult
148. Defying
149. Explosive
150. Greatness
151. Incredible
152. Mesmerizing
153. Mouth-watering
154. Polarizing
155. Triumph
156. Turbocharge
157. Unbelievable
Sensory power words make you think about one of your five senses. By including those senses, you are able to imagine yourself using the product more thoroughly. Some sensory power words include:
158. Appetizing
159. Dazzling
160. Delectable
161. Fragrant
162. Tantalizing
Read our full list of sensory words .
Like trust, people want to feel safe. These power words make them either fear for their safety or trust that you are giving them safety.
164. Accuse
165. Assault
166. Beware
167. Caution
168. Danger
169. Ethical
170. Fierce
172. Jeopardy
173. Protect
177. Sure-fire
179. Validate
You can create strong feelings if you use words that give the reader a feeling of exclusivity. These power words work well:
180. Confession
181. Divulge
182. Emerging
183. Insider
184. Little-known
185. Release
186. Secret
187. Special
190. Unconventional
191. Uncovered
192. Unique
194. Untapped
Finally, don't forget to create a sense of excitement. If you're launching a new webinar and want viewers, you need to make it sound exciting. Use words like these:
196. Fascinating
197. Riveting
198. Tempting
199. Thrilling
200. Transform
Power phrases and words make your links to your sales pages and landing pages more effective. They are enticing and get people to click to read more.
You can also incorporate these words into your email marketing strategy to encourage more click-throughs to your landing pages. On the pages themselves, use the words appropriately in headings, subheads and other parts of your template to increase the number of people who follow through to become customers or make a purchase.
With the use of power word, bloggers, online marketers and business owners usually see their sales figures go up. Tapping into common emotions is a key way to get people to take action and do business with your company. That said, remember to constrain your use of filler words in sales copy. You might also find our list of pronouns useful.
Keep this powerful words list handy for writing, copywriting and marketing. You'll want to refer to it regularly as you plan marketing content.
Remember, emotions create actions, and words create emotion. This is why power words work. Learn to wield them well, and you will see your writing become more powerful.
Like this? Check out our list of transition words for essays .
FAQs About Powerful Words List
Words that evoke emotional responses in the reader are powerful words. Some words that are quite powerful include: Discover Awe-inspiring Breathtaking Hack Latest Undeniable
Use power words to draw attention, make a written piece stand out and encourage your reader to take action. Use them to evoke emotional responses in the reader, get more click-throughs on online marketing ads or make your piece jump out when there are many things the reader is reading, such as when creating a cover letter or resume for a high-demand position.
Nicole Harms has been writing professionally since 2006. She specializes in education content and real estate writing but enjoys a wide gamut of topics. Her goal is to connect with the reader in an engaging, but informative way. Her work has been featured on USA Today, and she ghostwrites for many high-profile companies. As a former teacher, she is passionate about both research and grammar, giving her clients the quality they demand in today's online marketing world.
View all posts
Our Services
Additional Services
Free Essays
Finished Papers
Once I Hire a Writer to Write My Essay, Is It Possible for Me to Monitor Their Progress?
Absolutely! Make an order to write my essay for me, and we will get an experienced paper writer to take on your task. When you set a deadline, some people choose to simply wait until the task is complete, but others choose a more hands-on process, utilizing the encrypted chat to contact their writer and ask for a draft or a progress update. On some occasions, your writer will be in contact with you if a detail from your order needs to be clarified. Good communication and monitoring is the key to making sure your work is as you expected, so don't be afraid to use the chat when you get someone to write my essay!
Make the required payment
After submitting the order, the payment page will open in front of you. Make the required payment via debit/ credit card, wallet balance or Paypal.
26158766f7f76c0d163cbc4d15ae3f59
Questions about Expos?
Writing Support for Instructors
Strategies for Essay Writing
Tips for Reading an Assignment Prompt
Asking Analytical Questions
Introductions
What Do Introductions Across the Disciplines Have in Common?
Anatomy of a Body Paragraph
Transitions
Tips for Organizing Your Essay
Counterargument
Conclusions
Strategies for Essay Writing: Downloadable PDFs
Brief Guides to Writing in the Disciplines
Quick Links
Schedule an Appointment
English Grammar and Language Tutor
Drop-in hours
Harvard Guide to Using Sources
Departmental Writing Fellows
Writing Advice: The Harvard Writing Tutor Blog
Related Words and Phrases
Bottom_desktop desktop:[300x250].