FREE EDITABLE PARAGRAPH RUBRIC? YES, PLEASE!
How to Teach Paragraph Writing – Topic Sentences in Paragraph Writing
I've always loved writing, so it makes sense that I also love to teach writing.
Teaching writing though is not always easy. What seems so intuitive to us, does not always seem natural to our students.
So, when I teach paragraph writing, I like to teach paragraph writing as if it were a recipe…First, you add this kind of sentence, then you do that… While at first glance, we may think true writing is not based on a recipe, but I think it provides an awesome start.
Think about a child learning to read… we start with letters and sounds, not novels, right? How about learning to play an instrument, we start with single notes and not symphonies.
In the same way, I like to teach writing by starting at a very basic level, with the idea that as students master the paragraph's components, they are eventually able to use those as a springboard to beautifully written, creatively thought-out pieces.
When they have a solid foundation for writing, they can augment the recipe like a master chef might change a recipe in the kitchen.
So, what exactly do I do in my classroom to teach paragraph writing? I decided to write a series of four blog posts, to explain it in more detail. 
1. introduce the parts of a paragraph: color code and outline.
Once I introduce each part of the paragraph, I have students color-code a great deal, using paragraphs I've created or ones that previous students have crafted successfully. The example above shows a typical half-sheet paragraph, ready for color coding and outlining.
I like to place my copy on the document projector, while my students each have their own half-sheet. We go through the whole paragraph as a class, discussing each sentence and then color-coding it together.
The colors we use are: Topic Sentences and Conclusion Sentences are highlighted in green, Supporting Ideas are yellow and Details are pink.
To highlight sentences, I let students use markers, colored pencils, or crayons so they can grab something quickly. Really, though, I prefer markers as they work the best to highlight papers. The one disadvantage to using markers is that they do tend to bleed through to the back of the paper where we do a reverse outline of the paragraph.
I really love the introductory color coding. It not only reinforces the concept of a paragraph and gives them a basic "recipe" for it, but these paragraphs serve as good writing models for students to follow.
Once we've finished color coding a paragraph, we flip our paper over and make a t-chart (words, not sentences) on the back in pencil. This reverse outlining reinforces the idea that every paragraph should have a certain organization and this is how the author organized his/her paragraph.
Here's one of the T-Chart templates we use so you get a better idea of how students can create their own. The lightbulbs are for each of the supporting ideas (reasons that add proof to the topic sentence), and the numbers on the right are the details that provide examples and explanations that support each supporting idea.
Of course, you can make your own paragraphs and materials for this but I do have a print and go resource to target these skills.
2. Introduce Different Types of Topic Sentences
When I was in school, I know we never were taught that there were different types of topic sentences, that each could be identified and named, so this was a really new idea to me but one I have since fallen in love with. I purposefully teach students five different ways to create a topic sentence, and we spend a few days working on each type.
It's my feeling that if students in grades 3 – 6 (and even higher) can master a basic set of five topic sentences and use them with ease, this puts them in good stead as growing writers. We go over examples together, students write a sentence on their whiteboards as I give them a topic, and we discuss how there are lots of "right" answers when it comes to writing, but also some choices that are better than others.
Briefly, here are each of the five topic sentences I introduce:
1. list statements:.
A List Statement tells the reader exactly what the paragraph will be about by listing the three supporting ideas. For example: My favorite sports include soccer, football, and basketball.
2. Number Words:
Number Words do not tell the readers each of the supporting ideas but use number words (many, few, a number of, four…) to present the general topic. For example: There are several things you can do to become a better writer.
3. Two Nouns and Two Commas:
Two Nouns and Two Commas topic sentences always start with a noun (a person, place, or thing), describe it, and then make a statement about it (an appositive). The description part of the sentence is surrounded by commas (one before the description, and one after it). For example: Roald Amundsen, an explorer, was the first to find the Northwest Passage.
4. Occasion Position:
Occasion Position topic sentences start with an occasion (a dependent clause) and use words like when, whenever, although, even though. They end with the writer's position on the topic (an independent clause). For example: Whenever we celebrate the holidays, we always include some special traditions.
5. Get Their Attention:
These topic sentences try to grab the reader's attention by making a statement that is thought-provoking, controversial, or interesting. For example: The Italian Deli serves the best pastrami sandwiches downtown!
My Topic Sentence Resource  explains each sentence type with lots more detail and has practice pages for each type as well.
3. Review All Five Topic Sentence Types
Once students have a pretty good handle on the five types of topic sentences, I love to do this really fun chocolate chip cookie review lesson. I start by telling the story of how chocolate chip cookies were invented by accident (a copy of the story is included in the Topic Sentence packet).
Then we do the handout that has lots of different kinds of topic sentences that all deal with chocolate chip cookies. When we finish correcting together, I used to love to pass out cookies for the kids to share…until the Health and Wellness policy changed at our school, and it became a no-no…grrr.
We also love to play a sorting game (in the Topic Sentence packet) that has students working in pairs to match up the topic sentences with their sentence type. Once "official" review activities are finished, I keep right on reviewing as we work on writing throughout the year.
For example, sometimes we might be writing a paragraph for an essay and one student will give me a topic sentence example, I might ask the class what kind of topic sentence it was. Or I'll say, our topic is __ . Who can make up an Occasion Position topic sentence for this topic?
Also, if you'd like the convenience of having all of the paragraph writing materials at your fingertips, you might want to take a peek at this deeply discounted bundle. It includes BOTH print AND digital formats!
Click here to take a look!
If you'd like to get more teaching ideas for paragraph writing, here are a few posts you might like:
Supporting Ideas and Details
Transitions
Conclusions
5 Tips for More Effective Paragraph Writing
Read more about: Writing & Grammar
You might also like...
Unlocking Student Writing Success: The Power of Explicit Writing Instruction
As upper elementary teachers, our goal is to create strong writers. However, the lack of Explicit Writing Instruction has caused students in the US to
The Major Problem with Writing Instruction and How to Fix It
Writing instruction at the elementary level needs an overhaul. The last time the National Assessment of Education Progress (NAEP) measured 8th-grade students' writing proficiency in
How to Optimize Grammar Instruction in 15 Minutes a Day
As elementary school teachers, we are always thinking about how to integrate subjects. History content and nonfiction text features. A science equation and a math
Hi, I'm Jenn, CEO and owner of The Teacher Next Door!
I know that you strive to be an effective upper elementary teacher while maintaining a healthy work-life balance.
In order to do that, you need resources that are impactful, yet simple .
The problem is that most resources and curriculums out there are far from simple. The pages upon pages of daily lesson plans are just plain overwhelming .
At TTND, we believe teachers should be living their lives outside of the classroom, and not spend hours lesson planning and searching for resources.
We understand that now, more than ever, teachers need space to be themselves which is why we create and support teachers with timesaving tips and standards-aligned resources.
Want access to TTND's Free Resource Library? Sign up for our newsletter and we'll email you the exclusive password!
Trending posts.
SEARCH BY TOPIC
Classroom Ideas
Holidays and Seasonal
Mentor Texts
Reading Workshop
Uncategorized
Writing & Grammar
POPULAR RESOURCES
JOIN MY NEWSLETTER
Gain access to a library of FREE resources for upper elementary grades!
Facebook Group
Teachers Pay Teachers
Free Resource Library
💌 Contact Us
Disclosures
Privacy Policy
Refund Policy
Purchase Orders
Your Downloads
Reward Points
©  The Teacher Next Door, LLC. All rights reserved.
* Please note: If your school has strong email filters, you may wish to use your personal email to ensure access.
Share on Facebook
Tweet This Resource
Pin This Resource
Topic Sentence
This topic sentence lesson plan also includes:.
Join to access all included materials
Fourth graders identify the main idea of a sentence using the topic sentence and details of the paragraph. In this main idea lesson plan, 4th graders read paragraphs in the passage Hawaii Quakes, Then Shakes.
Start Your Free Trial
Save time and discover engaging curriculum for your classroom. Reviewed and rated by trusted, credentialed teachers.
Collection Types
Activities & Projects
Assessments
Graphics & Images
Handouts & References
Interactives
Lab Resources
Learning Games
Lesson Plans
Presentations
Primary Sources
Printables & Templates
Professional Documents
Study Guides
Instructional Videos
Performance Tasks
Graphic Organizers
Writing Prompts
Constructed Response Items
AP Test Preps
Lesson Planet Articles
Online Courses
Interactive Whiteboards
Home Letters
Unknown Types
Stock Footages
All Resource Types
See similar resources:
Topic, main idea, supporting detail, and theme, identifying the main idea in fiction, find the main idea: the wonderful wizard of oz, main idea worksheet 4, meet the nonfiction main idea challenge, i can infer the main idea when i read, paragraph structure, recognizing the main idea, the best main idea.
Topic Sentences Worksheets
Related ela standard: w.4-6.1.a.
Constructing a well written and thought out topic sentence is paramount to a having a well crafted paragraph. This sentence organizes the entire paragraph and basically states the goal of the entire paragraph. The supporting sentences that follow all try to provide some form of evidence to validate the thoughts offered by the topic sentences. It is often helpful to reflect back to your topic sentences as you complete the entire paragraph. The reason these entries are so critical is because they act as the glue for your work. They will connect thoughts and concepts across all the paragraphs. Topic sentences are often positioned early in the body paragraph. You will often find them in the first or second paragraph of the work. These worksheets will help you develop topic sentence that serve as a foundation of any paragraph that you are writing.
Topic Sentence Worksheets:
Types of Topic Sentences - It is usually the first sentence, but it doesn't have to be.
What's the Topic? - Read each sentence. What is the purpose of it? Is it general (G), clueing (C), or specific (S)? Write your answer on the line.
Identify Them - The topic sentence of a paragraph gives you the concept of the paragraph, and a general idea about how it is going to be discussed.
True or False - Read each topic sentence. Write what you think the each sentence is going to be about.
Start with a Word - Given a single word, expand your horizons ten fold.
Wheeling It Out There - You will need to be very creative here.
Clueing Topic Sentence - For each topic write an original clueing sentence that uses a clue word.
Zero It In - For each clue word provided, write a topic sentence. Choose any thing that interests you.
Writing Topic Sentences - Write a topic sentence to go with each picture. Use the picture for inspiration.
Putting Some Work In - Write a topic sentence for each group of detail sentences provided.
Write the Topic Sentence - Make each sentence unique and not connected to the same theme or sequence.
It Backfires - Take a position on each of the thoughts below. Write a topic sentence that clearly indicates what your paragraph would be about.
Sentence Maps - There are three types of topic sentences: General sentences, Clueing sentences, and Specific sentences.
The Writeoff - Does anyone really know what a writeoff is anyway?
Start Well - Test what you have learned about topic sentences by answering the following questions. Circle true or false.
How to Write Topic Sentences?
A topic sentence is used to identify the purpose of each paragraph in writing. Here are some tips to keep in mind while writing topic sentences.
Start with The Idea
One of the best ways to write a topic sentence is to start with the idea. It is used to let the readers know what the entire content is going to be based on. It is best to give a clear cut view of your idea in the topic sentence. You can do so by questioning yourself the reason for your paper. The answer to that, organized in good words and structure, could be your topic sentence. It is important to make your topic sentence as good and understandable as possible, so that readers will know exactly about your thoughts and ideas. It is always a good option to start directly with the main point without wasting time in details.
Explain the Content
Another important tip to keep in mind while writing the topic sentence is to explain the content in the topic sentence. The topic sentence should contain characteristics of the entire text. It is important to mention some necessary details in the topic sentence so that the readers can have a better understanding of the topic. They will know if it is something of their interest or not. It will also provide them with the basic knowledge of the topic ahead. They will be able to predict the content better this way.
Use Transitioning
An important purpose of the topic sentence is to provide a transition from the previous paragraph to the next. It helps as a linking sentence between two different types of texts. Keep in mind the methods of transitioning while writing the topic sentences.
Teachers: Upgrade Now
Print all 25,000+ worksheets
All grade levels and topics
Save endless hours of your time...
Answers to everything too!
Get FREE English Worksheets In Your Email
How We Are Aligned To The Common Core
Educator Resources
Privacy Policy
Newsletters
© English Worksheets Land . All rights reserved.

Subscribe |
Newsletter Index |
Daily Dose |
Site Map
Home |
SAT/ACT |
Common Core |
Online Practice |
Printables |
Grade Level Help |
Links PreK-12 |
Tech |
Assessment
4th Grade - Topic Sentence
advertisement
Develop a topic sentence with supporting details and a concluding sentence to form a paragraph. 0401.3.11 Links verified on 10/25/2011 Graphic Organizer Template - print this for class use in practicing supporting details Identify the Topic Sentence and Information that Does not Belong - print the page and follow directions [This expired link is available through the Wayback Machine Internet Archive. If the page doesn't load quickly click on Impatient? at the bottom right of the page.] Supporting Details - [designed for grade 3] lesson and practice Supporting sentences - [designed for grade 2] lesson Take Notes - students evaluate what items should be included in the opening paragraph of a news story Techniques for Writing: Writing Topic Sentences for Paragraphs - lesson and practice. The Topic Sentence: lab activity - Select the description that best fits the topic sentence given. Topic Sentences: Exercise 1.1 - Identify the topic sentences in the exercise Topic Sentences: Exercise 1.2 - Read the paragraphs carefully, then select the most appropriate topic sentence for each of the paragraphs from the choices provided. Topic Sentences: Exercise 1.3 - The topic sentence of each of the paragraphs in this exercise has been omitted. After a careful reading, write your own topic sentence for each Topic Sentences: Exercise 1.4 - In this exercise you will be given topic sentences and two key points to include to support the topic sentence. Suggest two further points for each of the paragraphs. Think about the types of detail the reader would expect. Try to address the questions readers are likely to develop in their minds when reading the topic sentence. Topic Sentence Quiz - quiz on topic sentence knowledge Topic Sentences - Online lesson, then quiz. Topic Sentence Activities - a collection of resources at Internet4Classrooms site for teachers | PowerPoint show | Acrobat document | Word document | whiteboard resource | sound | video format | interactive lesson | a quiz | lesson plan | to print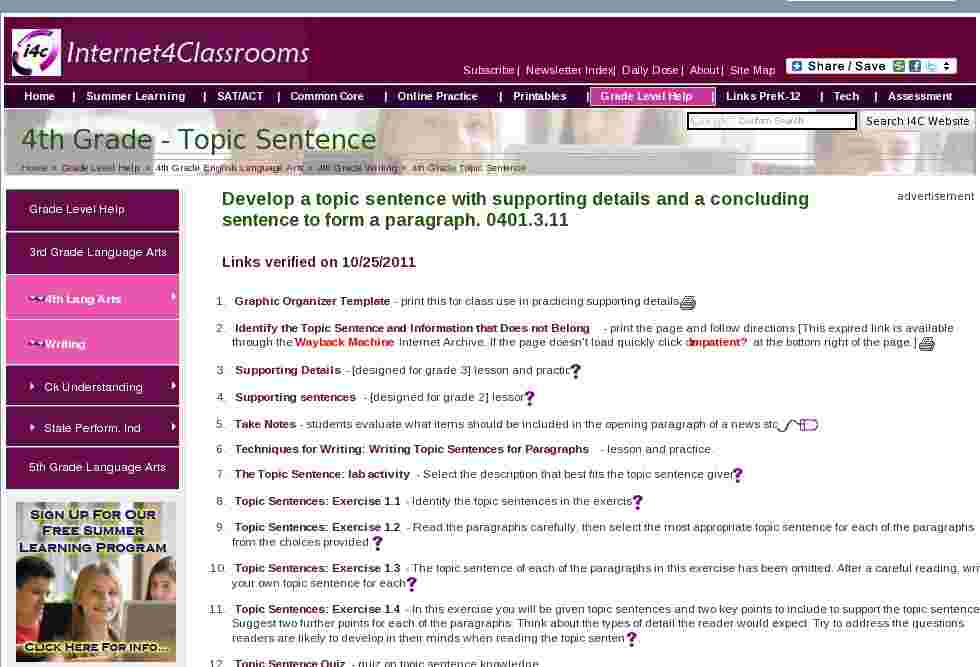 Search Internet4Classrooms
Internet4classrooms is a collaborative effort by Susan Brooks and Bill Byles.

Technology Skills |
Site Map |
About Us |
Teacher Training |
Make Internet4Classrooms.com your home page. |
Copyright © 2000-2021 Internet4Classrooms, LLC All rights reserved.
Use of this Web site constitutes acceptance of our Terms of Service and Privacy Policy .
Grades 6-12
School Leaders
Make Math Class EPIC With This Giveaway!
101 Exciting 4th Grade Writing Prompts for 2023 (Free Printable!)
Use them for journal writing, essay topics, and more!
Fourth grade is a time for students to continue to hone their writing chops as they put to use the skills they've learned and gain confidence in their abilities. We've collected this list of fourth grade writing prompts—including opinion, persuasive, informational, and narrative—to spur your students' imaginations and get them writing!
You can get 50 of these fourth grade writing prompts in a free PowerPoint slideshow bundle! They make it easy to share these writing ideas with your students.  Grab your free PowerPoint bundle by submitting your email here .
Persuasive and Opinion Writing Prompts
Descriptive and Expository Writing Prompts
Narrative and Personal Writing Prompts
Creative Writing Prompts
Current Events Writing Prompts
Persuasive and Opinion 4th Grade Writing Prompts
Would you rather be good at sports or good in school? Why?
Would you rather have lots of money or lots of friends? Why?
What is your favorite subject in school? Why?
Are fourth graders ready to stay home alone? Why or why not?
Name two characters from different books that you think might be good friends. Why?
Which is more important for success, skill or luck?
Should kids be paid an allowance to do chores around the house? Why or why not?
Why are classroom rules important?
If you had a time machine, what era of history would you visit?
Why is math important?
Why is science important?
Should fourth graders have cell phones? Why or why not?
If you could open a store, what type of store would it be and why?
Which would you rather read: a scary story that gives you goosebumps or a funny story that cracks you up? Why?
What is the hardest thing about being a fourth grader?
If I were the ruler of the world, the first law I would pass would be … because …
If you found a backpack filled with dollar bills, what would you do?
Is it ever OK to tell secrets? Why or why not?
What animal makes the best pet? Why?
Is it better to spend an hour a day reading or an hour a day exercising? Why?
Descriptive and Expository 4th Grade Writing Prompts
If you had a YouTube channel, what would you talk about?
What's the best book you've read recently? What was it all about?
If you won a million dollars, how would you spend the money?
Describe what you think of as perfect weather.
Describe how to build a birdhouse step by step.
Write five rules for staying organized.
What is the worst book you ever read?
Describe the physical appearance of someone in your family in detail.
Imagine you are in a hot-air balloon above your house. Describe everything you can see.
Describe how to play your favorite board game.
There's an old saying: "The squeaky wheel gets the grease." What do you think this saying means?
Describe your perfect day.
One of your little cousins is very nervous about starting kindergarten. What would you tell them to make them feel better?
Imagine you are an adult and describe your dream job.
Explain your morning routine in detail, from waking up to arriving at school.
Describe the perfect meal, including what you'd eat and where you'd dine.
Share what you do on a typical non-school day.
Explain the right way to do one of your household chores, like making your bed or cleaning your room.
Describe your favorite room at home in detail.
How do you prepare for a big test? Describe the ways you study or practice.
Narrative and Personal 4th Grade Writing Prompts
Share one of the stories your family has told you about when you were a baby.
What is the funniest thing that has ever happened to you?
Write about an adult you look up to.
What's the nicest thing anybody has ever done for you?
If you could change one thing about yourself, what would it be?
Write about a time you felt like quitting but didn't. How did you keep yourself going?
Do you like nonfiction books or fiction books better? Why?
What makes your family unique?
What would you say is your greatest strength? Greatest weakness?
Are you a patient person? Why or why not?
What is something you've never done that you would like to try?
What is the weirdest thing that has ever happened to you?
Write about a time you tried something new and how you felt before, during, and after.
What is your earliest memory?
What's your favorite holiday? What makes it so special?
Write about a time when you felt proud of yourself.
Tell the story of your favorite field trip of all time.
If you could relive any day in your life, what would it be? Would you want it to be the same or different?
What holiday is important to your family? Describe how you celebrate it together.
What's the best gift you've ever gotten? How did it make you feel?
Creative 4th Grade Writing Prompts
If you met an alien, what three questions would you ask them?
Pretend you drank a magic potion that made you as tiny as an ant. Where would you go and what would you do?
Pretend you ate a magic pill that made you as tall as a redwood tree. Where would you go and what would you do?
Write a story that includes these five words: keys, spaghetti, uncle, jellyfish, spaceship.
What would the world be like if dinosaurs still existed?
If you could invent something new the world really needs, what would it be? How would it work?
Retell a classic story, making the villain the hero instead.
Imagine that one day you woke up and found everyone in the world could no longer talk. What would happen next?
Write a new chapter of your favorite book, with yourself as a new character.
Imagine you woke up one morning with a superpower, like invisibility or the ability to fly. Describe your experiences learning how to use that power.
Use these words to start a story: "When I opened the box that came in the mail, I never expected to find …"
Describe a world where it rains fruit juice and snows M&Ms.
Come up with the most ridiculous excuse possible for why you are unable to turn in your homework today.
Describe a world where all the adults are robots, but kids are still human kids.
Imagine a conversation between yourself and a talking animal.
Describe the kind of creature you'd create if you were a mad scientist. Would it be scary and mean? Nice and friendly?
Invent a new kind of candy. Give it a name, and write a commercial jingle for it.
Write about a day where kids are in charge instead of grown-ups.
Imagine you're lost in a haunted wood, and tell the story of your escape.
Tell a story that ends with these words: "… and that's how we all learned to fly."
Describe a night in the life of the tooth fairy.
Current Events 4th Grade Writing Prompts
If you made a time capsule for this year, what would you put in it?
Describe something that you saw in the news recently and how it made you feel.
Tell about an event that happened recently at your school or in your town.
What do you think is one of the world's biggest problems right now, and how would you solve it?
Read a news story about something happening in another country and summarize it.
Write a news article about something important that happened to you this week.
Create a poem about something in the local news right now.
Write a letter to the editor about a current issue, explaining your opinion.
Find a "good news" story, and share why it makes you happy.
What living famous person do you most admire and why?
What do you think kids today can do about climate change and global warming?
Learn about an endangered animal, and describe what we can do to help it.
What does the word "racism" mean to you?
What is one thing you would do to make your school or town a better place?
Choose an upcoming sports event, and explain who you think will win.
Describe a current fashion trend or something that's very popular in your school right now, and how you feel about it.
What can we do to help people with different opinions get along with one another better?
Interview a grown-up you know, and write a news article about them.
What do you think is the best new song right now? The worst? Why?
Describe an event that's happening in the world right now that you don't understand. What questions would you ask a grown-up about it?
How do you use writing prompts with your students? Come share your ideas and ask for advice in the We Are Teachers HELPLINE group on Facebook .
Also check out 57 awesome 4th grade books you'll want to share with students ..
Copyright © 2023. All rights reserved. 5335 Gate Parkway, Jacksonville, FL 32256
Middle School Stuff
Get Your Message Across
Something great is coming soon..
Something great is coming soon!
Biglearners.com