Essay on Volleyball
Students are often asked to write an essay on Volleyball in their schools and colleges. And if you're also looking for the same, we have created 100-word, 250-word, and 500-word essays on the topic.
Let's take a look…
100 Words Essay on Volleyball
Introduction to volleyball.
Volleyball is a popular team sport where two teams of six players each try to score points by hitting a ball onto the other team's court.
The Game's Origin
Invented in 1895 by William G. Morgan, an American, volleyball was initially called 'mintonette'. It was designed to be a blend of basketball, baseball, tennis, and handball.
Rules and Play
Each team can touch the ball up to three times, but individual players cannot touch it twice consecutively. Points are scored when the ball hits the opposing team's court.
Volleyball's Impact
Volleyball fosters teamwork and physical fitness, making it a wonderful sport for all ages. It's played worldwide and is an Olympic sport.
A collection of top essays on
great personalities
science & technology
society & social issues
sports & education
environment, ecology & climate
Also check:
250 Words Essay on Volleyball
Volleyball, a popular team sport, offers a unique blend of physical exertion, strategic gameplay, and cooperative team dynamics. Its origins trace back to 1895, when William G. Morgan, a YMCA physical education director, created the game as a less strenuous alternative to basketball.
Essential Elements of Volleyball
Volleyball revolves around two teams, each consisting of six players, who are separated by a net. The primary objective is to land the ball in the opponent's court using a variety of techniques such as serving, passing, setting, attacking, blocking, and digging. A team can touch the ball up to three times before it must cross the net.
The Strategic Depth of Volleyball
Despite its seemingly simple rules, volleyball requires a high level of strategic thinking. Players must continuously adapt their tactics based on the evolving game situation. This includes adjusting positions, predicting opponents' moves, and coordinating attacks and defenses.
Volleyball's Impact on Physical and Social Health
Volleyball offers significant health benefits, including improved hand-eye coordination, upper body strength, agility, and cardiovascular fitness. Additionally, the sport fosters teamwork, communication, and leadership skills, contributing to overall social well-being.
Volleyball, with its combination of physical activity, strategy, and team cooperation, is more than just a game. It is a testament to human ingenuity and the pursuit of enjoyable physical activity, offering both physical and social benefits to its participants. Its enduring popularity worldwide is a testament to its universal appeal and the joy it brings to players and spectators alike.
Packed in 152 Informative Pages
500 Words Essay on Volleyball
Volleyball, a sport that captivates millions worldwide, is a dynamic game that demands both physical prowess and strategic acumen. Originating in the late 19th century, it has grown into a global phenomenon, with different versions of the game catering to various skill levels and environments.
The Evolution of Volleyball
The game was invented in 1895 by William G. Morgan, a YMCA physical education director, as a less strenuous alternative to basketball for his older students. Initially, the game incorporated elements from tennis, baseball, and handball. Over time, volleyball evolved, with the establishment of standardized rules and the introduction of key elements like the three-hit rule and the concept of rotation.
Rules and Gameplay
Volleyball is played between two teams of six players each, separated by a high net. The objective is to land the ball in the opposing team's court without being returned. Each team is allowed three touches before the ball must cross over the net. Players must rotate positions each time they win a point when serving. The game is won by the team that first scores 25 points, with a minimum lead of two points.
Skills and Techniques
Volleyball requires a unique set of skills, each contributing to the team's performance. Serving initiates play and can be done either underhand or overhand. Passing, typically performed using a forearm pass or bump, is crucial for setting up attacks. Setting involves accurately positioning the ball for an attack, usually a spike. The spike, a forceful hit of the ball over the net, is the primary offensive action in volleyball. Blocking, the first line of defense, attempts to stop the ball at the net.
Volleyball's Global Influence
Volleyball's popularity has grown exponentially since its inception. It was introduced to the Olympic Games in 1964, and the less conventional beach volleyball was added in 1996. The sport's global governing body, Fédération Internationale de Volleyball (FIVB), oversees international competitions, including the prestigious World Championship and World Cup.
Lessons from Volleyball
Beyond physical fitness, volleyball imparts valuable life lessons. It fosters teamwork and cooperation, as success relies on the coordinated efforts of all team members. It also teaches resilience and adaptability, as players must constantly adjust to the evolving dynamics of the game.
Volleyball is more than just a sport; it is a blend of physicality, strategy, and camaraderie. Its appeal lies in its simplicity and the skills it develops, both on and off the court. As a testament to human innovation, volleyball continues to evolve, captivating audiences and players alike with its unique blend of competitive excitement and cooperative play. It's a game that truly embodies the spirit of sportsmanship and continues to contribute positively to the global sports culture.
That's it! I hope the essay helped you.
If you're looking for more, here are essays on other interesting topics:
Essay on Violence
Essay on Video Games
Essay on Veterans Day
Apart from these, you can look at all the essays by clicking here .
Happy studying!
Leave a Reply Cancel reply
Your email address will not be published. Required fields are marked *
Save my name, email, and website in this browser for the next time I comment.
Volleyball Essay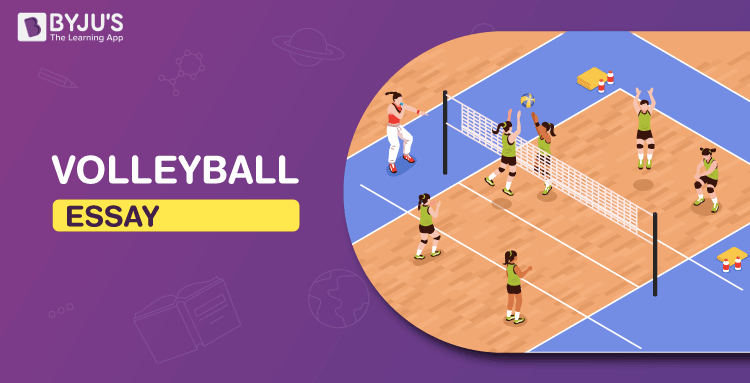 Introduction
We are blessed to have a healthy life. To keep ourselves fit and active, we must follow healthy food habits and engage in physical sports or activities regularly. In schools, there are physical education hours for children to participate in a variety of games and sports. If they have a passion for any sport, we must encourage and support them. In this volleyball essay, we will be discussing one such sport that is played with a ball in two teams.
Volleyball is a popular game played in different parts of the world. There will be two teams of 6 members each who play on either side of the net. The players throw the ball with their hands or arms over the net, and they score when the ball hits the ground of the other team. Through this volleyball essay in English, we can make our children aware of the rules and benefits of playing the game.
Rules of Volleyball
Volleyball is a fun game to play, and we will see some basic rules associated with it in this essay about volleyball experience. Without these rules, volleyball will be like passing the ball with no excitement or joy. So, let us understand how volleyball is played through this volleyball essay in English.
In a volleyball game, a player from one team throws the ball to the opposite team from the boundary line of the court without touching the net. The players of the other team must receive the ball and pass it back by stopping it from falling to the ground. Instead of catching and throwing, the ball is passed continuously in volleyball.
The volleyball essay also points out how a player could only touch the ball once before passing. On the other hand, within a team, a ball can be passed to team members a maximum of 3 times before passing. The team scores a point when the ball touches the ground of the other team, or the ball touches the net when the opposing team throws the ball. Whichever team gets the highest score wins the game.
Benefits of Playing Volleyball
There is a sense of togetherness and determination while playing volleyball, and this is highlighted in the essay about volleyball experience. As volleyball involves physical activity, this game will keep our children healthy and fit. We will be discussing other benefits of the game in this volleyball essay in English.
Since volleyball is played in teams, it would enhance children's leadership , teamwork and social skills. As they coordinate with other members and plan strategies, the game will teach them perseverance and hard work. Moreover, there are many mental benefits of playing volleyball. The game is perfect for relieving stress and improving the focus of children. Thus, the volleyball essay concludes that the game is rewarding and rejuvenating for all. For more such interesting essays for kids, check out our website.
Frequently Asked Questions on Volleyball Essay
How can children write an essay about volleyball.
Children can refer to the sample provided on BYJU'S website to write an essay on volleyball. They can mention how the game is played and the benefits of playing it in their essay.
Can children play volleyball?
Volleyball can be played by both children and adults alike. Since it is fun for children, they will surely like to play volleyball. By playing volleyball, they can develop their social skills as well as focus on their physical and mental health.
Leave a Comment Cancel reply
Your Mobile number and Email id will not be published. Required fields are marked *
Request OTP on Voice Call
Post My Comment

Register with BYJU'S & Download Free PDFs
Register with byju's & watch live videos.
Essay on Volleyball
English , Essays 3
Volleyball is a team game played by 6 members on each side of the net.
The score is based on the set of rules that decide the ball throws within the court.
Players must throw and catch balls using hand or arm and pass it on to the opposite team over the net.
There are variations in volleyball game and can be played both indoors and outdoors.
Volleyball is a good physical exercise.
Short essay:
Volleyball is a team game in which six players play on either side of the volleyball net. There are a set of rules that determine the score for each team. Players should start throwing the ball to the opponent using hands or arm and the other side has to receive the ball on the court to score points. There are also faults that gives score to the opponent according to the rules. Teams change sides in the middle of the play. The ball is served over the net for the opponent to continue the game. If the receiving end misses to catch and throw the ball back, the serving team scores. Volleyball is played both indoor and outdoor. There are also several variations of the game in different countries. Beach volleyball is a famous outdoor game played in many countries. Volleyball is also a good physical exercise that strengthens your stamina.
Long essay:
Volleyball is a team game played worldwide. It has usually six players on either side of the team. The players' count varies depending on the game. Volleyball is played both indoors and outdoors. Outdoor volleyball played in beachside is beach volleyball. It is played with even 2 players on each side. It is a great outdoor activity in many countries.
There are a set of rules laid down to determine the score. Each team starts with serving a ball to the opponent and if the ball hits the ground or the other team misses to render the ball back, the serving team gets a score. Players are required to throw ball to the other team over the net using their hands or arm. There are also points for the opponent when a team faults a rule or serve. Teams change sides when a serve is won and players move for a clockwise rotation to the other side. During the play, the ball is not supposed to touch the ground. Players are also not allowed to touch the net, double hit the ball, push the ball or move out of the court. Blocking, passing, and spiking are some of the defense strategies in the game.
Volleyball is said to be evolved from Philippines and was adopted by United States and Canada. Summer Olympics included the Beach Volleyball played on sand.
Related Worksheets and Exercises
Hard Work Vs Smart Work (2022)
The Aim of My life is to Become a Successful Entrepreneur (2022)
My Favorite Teacher (2022)
How to write informal letters
The Importance of Reading Comprehension
Essay on Politeness
Life of a student – Essay
Essay on Traveling – a valuable education
Essay on Female Education
Water scarcity
Good Essay … We can have good knowledge after reading this…
Thank you so much for your comment.
Learned a lot today! Keep up writing some more of this very beneficial content.
Leave a Reply Cancel reply
Your email address will not be published. Required fields are marked *
Request another
Follow class ace :.