Essay writing: Introductions
Introductions
Conclusions
Analysing questions
Planning & drafting
Revising & editing
Proofreading
Essay writing videos
Jump to content on this page:
"A relevant and coherent beginning is perhaps your best single guarantee that the essay as a whole will achieve its object." Gordon Taylor, A Student's Writing Guide
Your introduction is the first thing your marker will read and should be approximately 10% of your word count. Within the first minute they should know if your essay is going to be a good one or not. An introduction has several components but the most important of these are the last two we give here. You need to show the reader what your position is and how you are going to argue the case to get there so that the essay becomes your answer to the question rather than just an answer.
What an introduction should include:
A little basic background about the key subject area (just enough to put your essay into context, no more or you'll bore the reader).
Explanation of how you are defining any key terms . Confusion on this could be your undoing.
A road-map of how your essay will answer the question. What is your overall argument and how will you develop it?
A confirmation of your position .
Background information
It is good to start with a statement that fixes your essay topic and focus in a wider context so that the reader is sure of where they are within the field. This is a very small part of the introduction though - do not fall into the trap of writing a whole paragraph that is nothing but background information.
Beware though, this only has to be a little bit wider, not completely universal. That is, do not start with something like "In the whole field of nursing...." or "Since man could write, he has always...". Instead, simply situate the area that you are writing about within a slightly bigger area. For example, you could start with a general statement about a topic, outlining some key issues but explain that your essay will focus on only one. Here is an example:
The ability to communicate effectively and compassionately is a key skill within nursing. Communication is about more than being able to speak confidently and clearly, it is about effective listening (Singh, 2019), the use of gesture, body language and tone (Adebe et al., 2016) and the ability to tailor language and messaging to particular situations (Smith & Jones, 2015). This essay will explore the importance of non-verbal communication ...
The example introduction at the bottom of this page also starts with similar, short background information.
Defining key terms
This does not mean quoting dictionary definitions - we all have access to dictionary.com with a click or two. There are many words we use in academic work that can have multiple or nuanced definitions. You have to write about how you are defining any potentially ambiguous terms in relation to your essay topic. This is really important for your reader, as it will inform them how you are using such words in the context of your essay and prevent confusion or misunderstanding.
Stating your case (road mapping)
The main thing an introduction will do is...introduce your essay! That means you need to tell the reader what your conclusion is and how you will get there.
There is no need to worry about *SPOILER ALERTS* - this is not a detective novel you can give away the ending! Sorry, but building up suspense is just going to irritate the reader rather than eventually satisfy. Simply outline how your main arguments (give them in order) lead to your conclusion. In American essay guides you will see something described as the 'thesis statement' - although we don't use this terminology in the UK, it is still necessary to state in your introduction what the over-arching argument of your essay will be. Think of it as the mega-argument , to distinguish it from the mini-arguments you make in each paragraph. Look at the example introduction at the bottom of this page which includes both of these elements.
Confirming your position
To some extent, this is covered in your roadmap (above), but it is so important, it deserves some additional attention here. Setting out your position is an essential component of all essays. Brick et al. (2016:143) even suggest
"The purpose of an essay is to present a clear position and defend it"
It is, however, very difficult to defend a position if you have not made it clear in the first place. This is where your introduction comes in. In stating your position, you are ultimately outlining the answer to the question. You can then make the rest of your essay about providing the evidence that supports your answer. As such, if you make your position clear, you will find all subsequent paragraphs in your essay easier to write and join together. As you have already told your reader where the essay is going, you can be explicit in how each paragraph contributes to your mega-argument.
In establishing your position and defending it, you are ultimately engaging in scholarly debate. This is because your positions are supported by academic evidence and analysis. It is in your analysis of the academic evidence that should lead your reader to understand your position. Once again - this is only possible if your introduction has explained your position in the first place.
An example introduction
(Essay title = Evaluate the role of stories as pedagogical tools in higher education)
Stories have been an essential communication technique for thousands of years and although teachers and parents still think they are important for educating younger children, they have been restricted to the role of entertainment for most of us since our teenage years. This essay will claim that stories make ideal pedagogical tools, whatever the age of the student, due to their unique position in cultural and cognitive development. To argue this, it will consider three main areas: firstly, the prevalence of stories across time and cultures and how the similarity of story structure suggests an inherent understanding of their form which could be of use to academics teaching multicultural cohorts when organising lecture material; secondly, the power of stories to enable listeners to personally relate to the content and how this increases the likelihood of changing thoughts, behaviours and decisions - a concept that has not gone unnoticed in some fields, both professional and academic; and finally, the way that different areas of the brain are activated when reading, listening to or watching a story unfold, which suggests that both understanding and ease of recall, two key components of learning, are both likely to be increased . Each of these alone could make a reasoned argument for including more stories within higher education teaching – taken together, this argument is even more compelling.
Key: Background information (scene setting) Stating the case (r oad map) Confirming a position (in two places). Note in this introduction there was no need to define key terms.
Brick, J., Herke, M., and Wong, D., (2016) Academic Culture, A students guide to studying at university, 3rd edition. Victoria, Australia: Palgrave Macmillan.
<< Previous: Home
Next: Main body >>
Last Updated: Nov 3, 2023 3:17 PM
URL: https://libguides.hull.ac.uk/essays
Login to LibApps
Library websites Privacy Policy
University of Hull privacy policy & cookies
Website terms and conditions
Accessibility
Report a problem
How to write an essay: Introduction
What's in this guide
Introduction
Essay structure
Additional resources
The Introduction
An in troduction generally does three things. The first part is usually a general comment that shows the reader why the topic is important, gets their interest, and leads them into the topic. It isn't actually part of your argument. The next part of the introduction is the thesis statement . This is your response to the question; your final answer. It is probably the most important part of the introduction. Finally, the introduction tells the reader what they can expect in the essay body. This is where you briefly outline your arguments .
Here is an example of the introduction to the question - Discuss how media can influence children. Use specific examples to support your view.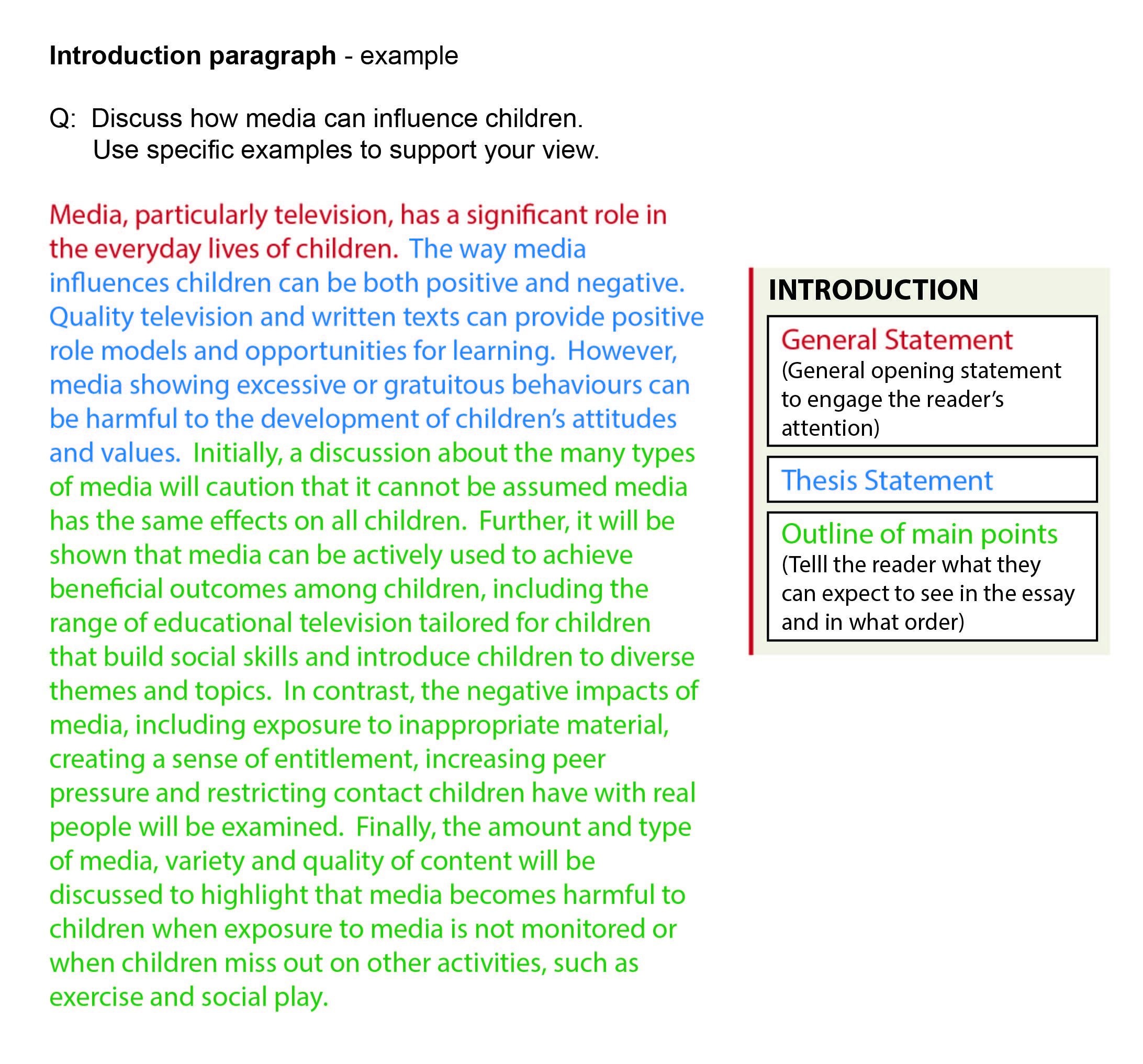 Pathways and Academic Learning Support
<< Previous: Essay structure
Next: Body >>
Last Updated: Apr 27, 2023 4:28 PM
URL: https://libguides.newcastle.edu.au/how-to-write-an-essay
26158766f7f76c0d163cbc4d15ae3f59
Questions about Expos?
Writing Support for Instructors
Introductions
The introduction to an academic essay will generally present an analytical question or problem and then offer an answer to that question (the thesis).
Your introduction is also your opportunity to explain to your readers what your essay is about and why they should be interested in reading it. You don't have to "hook" your readers with a dramatic promise (every other discussion of the topic you're writing about is completely wrong!) or an exciting fact (the moon can reach 127 degrees Celsius!). Instead, you should use your introduction to explain to your readers why your essay is going to be interesting to read. To do this, you'll need to frame the question or problem that you're writing about and explain why this question or problem is important. If you make a convincing case for why your question or problem is worth solving, your readers will be interested in reading on.
While some of the conventions for writing an introduction vary by discipline, a strong introduction for any paper will contain some common elements. You can see these common elements in the sample introductions on this page . In general, your introductions should contain the following elements:
Orienting Information When you're writing an essay, it's helpful to think about what your reader needs to know in order to follow your argument. Your introduction should include enough information so that readers can understand the context for your thesis. For example, if you are analyzing someone else's argument, you will need to identify that argument and possibly summarize its key points. If you are joining a scholarly conversation about education reform, you will need to provide context for this conversation before explaining what your essay adds to the discussion. But you don't necessarily have to summarize your sources in detail in your introduction; that information may fit in better later in your essay. When you're deciding how much context or background information to provide, it can be helpful to think about that information in relation to your thesis. You don't have to tell readers everything they will need to know to understand your entire essay right away. You just need to give them enough information to be able to understand and appreciate your thesis. For some assignments, you'll be able to assume that your audience has also read the sources you are analyzing. But even in those cases, you should still offer enough information for readers to know which parts of a source you are talking about. When you're writing a paper based on your own research, you will need to provide more context about the sources you're going to discuss. If you're not sure how much you can assume your audience knows, you should consult your instructor.
An explanation of what's at stake in your essay, or why anyone would need to read an essay that argues this thesis You will know why your essay is worth writing if you are trying to answer a question that doesn't have an obvious answer; to propose a solution to a problem without one obvious solution; or to point out something that others may not have noticed that changes the way we consider a phenomenon, source, or idea. In all of these cases, you will be trying to understand something that you think is valuable to understand. But it's not enough that you know why your essay is worth reading; you also need to explain to your readers why they should care about reading an essay that argues your thesis.
Your thesis This is what you're arguing in your essay.  
Tips for writing introductions  
If you are writing in a new discipline, you should always make sure to ask about conventions and expectations for introductions, just as you would for any other aspect of the essay. For example, while it may be acceptable to write a two-paragraph (or longer) introduction for your papers in some courses, instructors in other disciplines, such as those in some Government courses, may expect a shorter introduction that includes a preview of the argument that will follow .  
In some disciplines (Government, Economics, and others), it's common to offer an overview in the introduction of what points you will make in your essay. In other disciplines, you will not be expected to provide this overview in your introduction.  
Avoid writing a very general opening sentence. While it may be true that "Since the dawn of time, people have been telling love stories," it won't help you explain what's interesting about your topic.  
Avoid writing a "funnel" introduction in which you begin with a very broad statement about a topic and move to a narrow statement about that topic. Broad generalizations about a topic will not add to your readers' understanding of your specific essay topic.  
Avoid beginning with a dictionary definition of a term or concept you will be writing about. If the concept is complicated or unfamiliar to your readers, you will need to define it in detail later in your essay. If it's not complicated, you can assume your readers already know the definition.  
Avoid offering too much detail in your introduction that a reader could better understand later in the paper.
Tips for Reading an Assignment Prompt
Asking Analytical Questions
What Do Introductions Across the Disciplines Have in Common?
Anatomy of a Body Paragraph
Transitions
Tips for Organizing Your Essay
Counterargument
Conclusions
Strategies for Essay Writing: Downloadable PDFs
Brief Guides to Writing in the Disciplines
Quick Links
Schedule an Appointment
English Grammar and Language Tutor
Drop-in hours
Harvard Guide to Using Sources
Departmental Writing Fellows
Writing Advice: The Harvard Writing Tutor Blog
Introductions
What this handout is about.
This handout will explain the functions of introductions, offer strategies for creating effective introductions, and provide some examples of less effective introductions to avoid.
The role of introductions
Introductions and conclusions can be the most difficult parts of papers to write. Usually when you sit down to respond to an assignment, you have at least some sense of what you want to say in the body of your paper. You might have chosen a few examples you want to use or have an idea that will help you answer the main question of your assignment; these sections, therefore, may not be as hard to write. And it's fine to write them first! But in your final draft, these middle parts of the paper can't just come out of thin air; they need to be introduced and concluded in a way that makes sense to your reader.
Your introduction and conclusion act as bridges that transport your readers from their own lives into the "place" of your analysis. If your readers pick up your paper about education in the autobiography of Frederick Douglass, for example, they need a transition to help them leave behind the world of Chapel Hill, television, e-mail, and The Daily Tar Heel and to help them temporarily enter the world of nineteenth-century American slavery. By providing an introduction that helps your readers make a transition between their own world and the issues you will be writing about, you give your readers the tools they need to get into your topic and care about what you are saying. Similarly, once you've hooked your readers with the introduction and offered evidence to prove your thesis, your conclusion can provide a bridge to help your readers make the transition back to their daily lives. (See our handout on conclusions .)
Note that what constitutes a good introduction may vary widely based on the kind of paper you are writing and the academic discipline in which you are writing it. If you are uncertain what kind of introduction is expected, ask your instructor.
Why bother writing a good introduction?
You never get a second chance to make a first impression. The opening paragraph of your paper will provide your readers with their initial impressions of your argument, your writing style, and the overall quality of your work. A vague, disorganized, error-filled, off-the-wall, or boring introduction will probably create a negative impression. On the other hand, a concise, engaging, and well-written introduction will start your readers off thinking highly of you, your analytical skills, your writing, and your paper.
Your introduction is an important road map for the rest of your paper. Your introduction conveys a lot of information to your readers. You can let them know what your topic is, why it is important, and how you plan to proceed with your discussion. In many academic disciplines, your introduction should contain a thesis that will assert your main argument. Your introduction should also give the reader a sense of the kinds of information you will use to make that argument and the general organization of the paragraphs and pages that will follow. After reading your introduction, your readers should not have any major surprises in store when they read the main body of your paper.
Ideally, your introduction will make your readers want to read your paper. The introduction should capture your readers' interest, making them want to read the rest of your paper. Opening with a compelling story, an interesting question, or a vivid example can get your readers to see why your topic matters and serve as an invitation for them to join you for an engaging intellectual conversation (remember, though, that these strategies may not be suitable for all papers and disciplines).
Strategies for writing an effective introduction
Start by thinking about the question (or questions) you are trying to answer. Your entire essay will be a response to this question, and your introduction is the first step toward that end. Your direct answer to the assigned question will be your thesis, and your thesis will likely be included in your introduction, so it is a good idea to use the question as a jumping off point. Imagine that you are assigned the following question:
Drawing on the Narrative of the Life of Frederick Douglass , discuss the relationship between education and slavery in 19th-century America. Consider the following: How did white control of education reinforce slavery? How did Douglass and other enslaved African Americans view education while they endured slavery? And what role did education play in the acquisition of freedom? Most importantly, consider the degree to which education was or was not a major force for social change with regard to slavery.
You will probably refer back to your assignment extensively as you prepare your complete essay, and the prompt itself can also give you some clues about how to approach the introduction. Notice that it starts with a broad statement and then narrows to focus on specific questions from the book. One strategy might be to use a similar model in your own introduction—start off with a big picture sentence or two and then focus in on the details of your argument about Douglass. Of course, a different approach could also be very successful, but looking at the way the professor set up the question can sometimes give you some ideas for how you might answer it. (See our handout on understanding assignments for additional information on the hidden clues in assignments.)
Decide how general or broad your opening should be. Keep in mind that even a "big picture" opening needs to be clearly related to your topic; an opening sentence that said "Human beings, more than any other creatures on earth, are capable of learning" would be too broad for our sample assignment about slavery and education. If you have ever used Google Maps or similar programs, that experience can provide a helpful way of thinking about how broad your opening should be. Imagine that you're researching Chapel Hill. If what you want to find out is whether Chapel Hill is at roughly the same latitude as Rome, it might make sense to hit that little "minus" sign on the online map until it has zoomed all the way out and you can see the whole globe. If you're trying to figure out how to get from Chapel Hill to Wrightsville Beach, it might make more sense to zoom in to the level where you can see most of North Carolina (but not the rest of the world, or even the rest of the United States). And if you are looking for the intersection of Ridge Road and Manning Drive so that you can find the Writing Center's main office, you may need to zoom all the way in. The question you are asking determines how "broad" your view should be. In the sample assignment above, the questions are probably at the "state" or "city" level of generality. When writing, you need to place your ideas in context—but that context doesn't generally have to be as big as the whole galaxy!
Try writing your introduction last. You may think that you have to write your introduction first, but that isn't necessarily true, and it isn't always the most effective way to craft a good introduction. You may find that you don't know precisely what you are going to argue at the beginning of the writing process. It is perfectly fine to start out thinking that you want to argue a particular point but wind up arguing something slightly or even dramatically different by the time you've written most of the paper. The writing process can be an important way to organize your ideas, think through complicated issues, refine your thoughts, and develop a sophisticated argument. However, an introduction written at the beginning of that discovery process will not necessarily reflect what you wind up with at the end. You will need to revise your paper to make sure that the introduction, all of the evidence, and the conclusion reflect the argument you intend. Sometimes it's easiest to just write up all of your evidence first and then write the introduction last—that way you can be sure that the introduction will match the body of the paper.
Don't be afraid to write a tentative introduction first and then change it later. Some people find that they need to write some kind of introduction in order to get the writing process started. That's fine, but if you are one of those people, be sure to return to your initial introduction later and rewrite if necessary.
Open with something that will draw readers in. Consider these options (remembering that they may not be suitable for all kinds of papers):
an intriguing example —for example, Douglass writes about a mistress who initially teaches him but then ceases her instruction as she learns more about slavery.
a provocative quotation that is closely related to your argument —for example, Douglass writes that "education and slavery were incompatible with each other." (Quotes from famous people, inspirational quotes, etc. may not work well for an academic paper; in this example, the quote is from the author himself.)
a puzzling scenario —for example, Frederick Douglass says of slaves that "[N]othing has been left undone to cripple their intellects, darken their minds, debase their moral nature, obliterate all traces of their relationship to mankind; and yet how wonderfully they have sustained the mighty load of a most frightful bondage, under which they have been groaning for centuries!" Douglass clearly asserts that slave owners went to great lengths to destroy the mental capacities of slaves, yet his own life story proves that these efforts could be unsuccessful.
a vivid and perhaps unexpected anecdote —for example, "Learning about slavery in the American history course at Frederick Douglass High School, students studied the work slaves did, the impact of slavery on their families, and the rules that governed their lives. We didn't discuss education, however, until one student, Mary, raised her hand and asked, 'But when did they go to school?' That modern high school students could not conceive of an American childhood devoid of formal education speaks volumes about the centrality of education to American youth today and also suggests the significance of the deprivation of education in past generations."
a thought-provoking question —for example, given all of the freedoms that were denied enslaved individuals in the American South, why does Frederick Douglass focus his attentions so squarely on education and literacy?
Pay special attention to your first sentence. Start off on the right foot with your readers by making sure that the first sentence actually says something useful and that it does so in an interesting and polished way.
How to evaluate your introduction draft
Ask a friend to read your introduction and then tell you what he or she expects the paper will discuss, what kinds of evidence the paper will use, and what the tone of the paper will be. If your friend is able to predict the rest of your paper accurately, you probably have a good introduction.
Five kinds of less effective introductions
1. The placeholder introduction. When you don't have much to say on a given topic, it is easy to create this kind of introduction. Essentially, this kind of weaker introduction contains several sentences that are vague and don't really say much. They exist just to take up the "introduction space" in your paper. If you had something more effective to say, you would probably say it, but in the meantime this paragraph is just a place holder.
Example: Slavery was one of the greatest tragedies in American history. There were many different aspects of slavery. Each created different kinds of problems for enslaved people.
2. The restated question introduction. Restating the question can sometimes be an effective strategy, but it can be easy to stop at JUST restating the question instead of offering a more specific, interesting introduction to your paper. The professor or teaching assistant wrote your question and will be reading many essays in response to it—he or she does not need to read a whole paragraph that simply restates the question.
Example: The Narrative of the Life of Frederick Douglass discusses the relationship between education and slavery in 19th century America, showing how white control of education reinforced slavery and how Douglass and other enslaved African Americans viewed education while they endured. Moreover, the book discusses the role that education played in the acquisition of freedom. Education was a major force for social change with regard to slavery.
3. The Webster's Dictionary introduction. This introduction begins by giving the dictionary definition of one or more of the words in the assigned question. Anyone can look a word up in the dictionary and copy down what Webster says. If you want to open with a discussion of an important term, it may be far more interesting for you (and your reader) if you develop your own definition of the term in the specific context of your class and assignment. You may also be able to use a definition from one of the sources you've been reading for class. Also recognize that the dictionary is also not a particularly authoritative work—it doesn't take into account the context of your course and doesn't offer particularly detailed information. If you feel that you must seek out an authority, try to find one that is very relevant and specific. Perhaps a quotation from a source reading might prove better? Dictionary introductions are also ineffective simply because they are so overused. Instructors may see a great many papers that begin in this way, greatly decreasing the dramatic impact that any one of those papers will have.
Example: Webster's dictionary defines slavery as "the state of being a slave," as "the practice of owning slaves," and as "a condition of hard work and subjection."
4. The "dawn of man" introduction. This kind of introduction generally makes broad, sweeping statements about the relevance of this topic since the beginning of time, throughout the world, etc. It is usually very general (similar to the placeholder introduction) and fails to connect to the thesis. It may employ cliches—the phrases "the dawn of man" and "throughout human history" are examples, and it's hard to imagine a time when starting with one of these would work. Instructors often find them extremely annoying.
Example: Since the dawn of man, slavery has been a problem in human history.
5. The book report introduction. This introduction is what you had to do for your elementary school book reports. It gives the name and author of the book you are writing about, tells what the book is about, and offers other basic facts about the book. You might resort to this sort of introduction when you are trying to fill space because it's a familiar, comfortable format. It is ineffective because it offers details that your reader probably already knows and that are irrelevant to the thesis.
Example: Frederick Douglass wrote his autobiography, Narrative of the Life of Frederick Douglass, An American Slave , in the 1840s. It was published in 1986 by Penguin Books. In it, he tells the story of his life.
And now for the conclusion…
Writing an effective introduction can be tough. Try playing around with several different options and choose the one that ends up sounding best to you!
Just as your introduction helps readers make the transition to your topic, your conclusion needs to help them return to their daily lives–but with a lasting sense of how what they have just read is useful or meaningful. Check out our handout on  conclusions for tips on ending your paper as effectively as you began it!
Works consulted
We consulted these works while writing this handout. This is not a comprehensive list of resources on the handout's topic, and we encourage you to do your own research to find additional publications. Please do not use this list as a model for the format of your own reference list, as it may not match the citation style you are using. For guidance on formatting citations, please see the UNC Libraries citation tutorial . We revise these tips periodically and welcome feedback.
Douglass, Frederick. 1995. Narrative of the Life of Frederick Douglass, an American Slave, Written by Himself . New York: Dover.
Make a Gift
U.S. Locations
UMGC Europe
Learn Online
Find Answers
855-655-8682
Current Students
Essay Introductions
Explore more of umgc.
Contact The Effective Writing Center
E-mail:  writingcenter@umgc.edu
Write an introduction that interests the reader and effectively outlines your arguments.
Every essay or assignment you write must begin with an introduction. It might be helpful to think of the introduction as an inverted pyramid. In such a pyramid, you begin by presenting a broad introduction to the topic and end by making a more focused point about that topic in your thesis statement. The introduction has three essential parts, each of which serves a particular purpose.
The first part is the "attention-grabber." You need to interest your reader in your topic so that they will want to continue reading. You also want to do that in a way that is fresh and original. For example, although it may be tempting to begin your essay with a dictionary definition, this technique is stale  because it has been widely overused. Instead, you might try one of the following techniques:
Offer a surprising statistic that conveys something about the problem to be addressed in the paper.
Perhaps you can find an interesting quote that nicely sums up your argument.
Use rhetorical questions that place your readers in a different situation in order to get them thinking about your topic in a new way.
If you have a personal connection to the topic, you might use an anecdote or story to get your readers emotionally involved.
For example, if you were writing a paper about drunk drivers, you might begin with a compelling story about someone whose life was forever altered by a drunk driver: "At eighteen, Michelle had a lifetime of promise in front of her. Attending college on a track scholarship, she was earning good grades and making lots of friends. Then one night her life was forever altered…"
From this attention grabbing opener, you would need to move to the next part of the introduction, in which you offer some relevant background on the specific purpose of the essay. This section helps the reader see why you are focusing on this topic and makes the transition to the main point of your paper. For this reason, this is sometimes called the "transitional" part of the introduction.
In the example above, the anecdote about Michelle might capture the reader's attention, but the essay is not really about Michelle. The attention grabber might get the reader thinking about how drunk driving can destroy people's lives, but it doesn't introduce the topic of the need for stricter drunk driving penalties (or whatever the real focus of the paper might be).
Therefore, you need to bridge the gap between your attention-grabber and your thesis with some transitional discussion. In this part of your introduction, you narrow your focus of the topic and explain why the attention-grabber is relevant to the specific area you will be discussing. You should introduce your specific topic and provide any necessary background information that the reader would need in order to understand the problem that you are presenting in the paper. You can also define any key terms the reader might not know.
Continuing with the example above, we might move from the narrative about Michelle to a short discussion of the scope of the problem of drunk drivers. We might say, for example: "Michelle's story is not isolated. Each year XX (number) of lives are lost due to drunk-driving accidents." You could follow this with a short discussion of how serious the problem is and why the reader should care about this problem. This effectively moves the reader from the story about Michelle to your real topic, which might be the need for stricter penalties for drinking and driving.
Finally, the introduction must conclude with a clear statement of the overall point you want to make in the paper. This is called your "thesis statement." It is the narrowest part of your inverted pyramid, and it states exactly what your essay will be arguing.
In this scenario, your thesis would be the point you are trying to make about drunk driving. You might be arguing for better enforcement of existing laws, enactment of stricter penalties, or funding for education about drinking and driving. Whatever the case, your thesis would clearly state the main point your paper is trying to make. Here's an example: "Drunk driving laws need to include stricter penalties for those convicted of drinking under the influence of alcohol." Your essay would then go on to support this thesis with the reasons why stricter penalties are needed.
In addition to your thesis, your introduction can often include a "road map" that explains how you will defend your thesis. This gives the reader a general sense of how you will organize the different points that follow throughout the essay. Sometimes the "map" is incorporated right into the thesis statement, and sometimes it is a separate sentence. Below is an example of a thesis with a "map."
"Because drunk driving can result in unnecessary and premature deaths, permanent injury for survivors, and billions of dollars spent on medical expenses,  drunk drivers should face stricter penalties for driving under the influence." The underlined words here are the "map" that show your reader the main points of support you will present in the essay. They also serve to set up the paper's arrangement because they tell the order in which you will present these topics.
In constructing an introduction, make sure the introduction clearly reflects the goal or purpose of the assignment and that the thesis presents not only the topic to be discussed but also states a clear position about that topic that you will support and develop throughout the paper. In shorter papers, the introduction is usually only one or two paragraphs, but it can be several paragraphs in a longer paper.
For Longer Papers
Although for short essays the introduction is usually just one paragraph, longer argument or research papers may require a more substantial introduction. The first paragraph might consist of just the attention grabber and some narrative about the problem. Then you might have one or more paragraphs that provide background on the main topics of the paper and present the overall argument, concluding with your thesis statement.
Below is a sample of an introduction that is less effective because it doesn't apply the principles discussed above.
An Ineffective Introduction
Everyone uses math during their entire lives. Some people use math on the job as adults, and others used math when they were kids. The topic I have chosen to write about for this paper is how I use math in my life both as a child and as an adult. I use math to balance my checkbook and to budget my monthly expenses as an adult. When I was a child, I used math to run a lemonade stand. I will be talking more about these things in my paper.
In the introduction above, the opening line does not serve to grab the reader's attention. Instead, it is a statement of an obvious and mundane fact. The second sentence is also not very specific. A more effective attention grabber may point out a specific, and perhaps surprising, instance when adults use math in their daily lives, in order to show the reader why this is such as important topic to consider.
Next the writer "announces" her topic by stating, "The topic I have chosen to write about…" Although it is necessary to introduce your specific topic, you want to avoid making generic announcements that reference your assignment. What you have chosen to write about will be evident as your reader moves through the writing. Instead, you might try to make the reader see why this is such an important topic to discuss.
Finally, this sample introduction is lacking a clear thesis statement. The writer concludes with a vague statement: "I will be talking more about these things in my paper."  This kind of statement may be referred to as a "purpose statement," in which the writer states the topics that will be discussed. However, it is not yet working as a thesis statement because it fails to make an argument or claim about those topics. A thesis statement for this essay would clearly tell the reader what "things" you will be discussing and what point you will make about them.
Now let's look at how the above principles can be incorporated more effectively into an introduction.
A More Effective Introduction
"A penny saved is a penny earned," the well-known quote by Ben Franklin, is an expression I have never quite understood, because to me it seems that any penny—whether saved or spent—is still earned no matter what is done with it. My earliest memories of earning and spending money are when I was ten years old when I would sell Dixie cups of too-sweet lemonade and bags of salty popcorn to the neighborhood kids. From that early age, I learned the importance of money management and the math skills involved. I learned that there were four quarters in a dollar, and if I bought a non-food item—like a handful of balloons—that I was going to need to come up with six cents for every dollar I spent. I also knew that Kool-Aid packets were 25 cents each or that I could save money and get five of them for a dollar. Today, however, money management involves knowing more than which combinations of 10-cent, five-cent, and one-penny candies I can get for a dollar. Proper money management today involves knowing interest rates, balancing checkbooks, paying taxes, estimating my paycheck, and budgeting to make ends meet from month-to-month.
In the first line the writer uses a well-known quotation to introduce her topic.
The writer follows this "attention-grabber" with specific examples of earning and spending money. Compare how the specific details of the second example paint a better picture for the reader about what the writer learned about money as a child, rather than this general statement: "As a child, I used math to run a lemonade stand." In the first introduction, this statement leaves the reader to guess how the writer used math, but in the second introduction we can actually see what the child did and what she learned.
Notice, too, how the reader makes the transition from the lessons of childhood to the real focus of her paper in this sentence: "Today, however, money management involves knowing…."
This transition sentence effectively connects the opening narrative to the main point of the essay, her thesis: "Proper money management today involves knowing  interest rates, balancing checkbooks, paying taxes, estimating my paycheck, and budgeting to make ends meet from month-to-month ." This thesis also maps out for the reader the main points (underlined here) that will be discussed in the essay.
Our helpful admissions advisors can help you choose an academic program to fit your career goals, estimate your transfer credits, and develop a plan for your education costs that fits your budget. If you're a current UMGC student, please visit the Help Center .
Personal Information
Contact information, additional information.
By submitting this form, you are giving your express written consent without obligation for UMGC to contact you regarding our educational programs and services using e-mail, phone, or text, including automated technology for calls and/or texts to the mobile number(s) provided. For more details, including how to opt out, read our privacy policy or contact an admissions advisor .
Please wait, your form is being submitted.
By using our website you agree to our use of cookies. Learn more about how we use cookies by reading our  Privacy Policy .
PRO Courses Guides New Tech Help Pro Expert Videos About wikiHow Pro Upgrade Sign In
EDIT Edit this Article
EXPLORE Tech Help Pro About Us Random Article Quizzes Request a New Article Community Dashboard This Or That Game Popular Categories Arts and Entertainment Artwork Books Movies Computers and Electronics Computers Phone Skills Technology Hacks Health Men's Health Mental Health Women's Health Relationships Dating Love Relationship Issues Hobbies and Crafts Crafts Drawing Games Education & Communication Communication Skills Personal Development Studying Personal Care and Style Fashion Hair Care Personal Hygiene Youth Personal Care School Stuff Dating All Categories Arts and Entertainment Finance and Business Home and Garden Relationship Quizzes Cars & Other Vehicles Food and Entertaining Personal Care and Style Sports and Fitness Computers and Electronics Health Pets and Animals Travel Education & Communication Hobbies and Crafts Philosophy and Religion Work World Family Life Holidays and Traditions Relationships Youth
Browse Articles
Learn Something New
Quizzes Hot
This Or That Game New
Train Your Brain
Explore More
Support wikiHow
About wikiHow
Log in / Sign up
Education and Communications
College University and Postgraduate
Academic Writing
How to Write an Essay Introduction
Last Updated: August 2, 2023 Fact Checked
This article was co-authored by Jake Adams and by wikiHow staff writer, Jennifer Mueller, JD . Jake Adams is an academic tutor and the owner of Simplifi EDU, a Santa Monica, California based online tutoring business offering learning resources and online tutors for academic subjects K-College, SAT & ACT prep, and college admissions applications. With over 14 years of professional tutoring experience, Jake is dedicated to providing his clients the very best online tutoring experience and access to a network of excellent undergraduate and graduate-level tutors from top colleges all over the nation. Jake holds a BS in International Business and Marketing from Pepperdine University. There are 12 references cited in this article, which can be found at the bottom of the page. This article has been fact-checked, ensuring the accuracy of any cited facts and confirming the authority of its sources. This article has been viewed 4,221,642 times.
The introduction of your essay serves two important purposes. First, it gets your reader interested in the topic and encourages them to read what you have to say about it. Second, it gives your reader a roadmap of what you're going to say and the overarching point you're going to make – your thesis statement. A powerful introduction grabs your reader's attention and keeps them reading.
Sample Essay Hooks & Introductions
Hooking Your Reader
If you're writing a paper for a class, don't automatically assume your instructor is your audience. If you write directly to your instructor, you'll end up glossing over some information that is necessary to show that you properly understand the subject of your essay.
It can be helpful to reverse-engineer your audience based on the subject matter of your essay. For example, if you're writing an essay about a women's health issue for a women's studies class, you might identify your audience as young women within the age range most affected by the issue.
For this hook to be effective, your fact needs to be sufficiently surprising. If you're not sure, test it on a few friends. If they react by expressing shock or surprise, you know you've got something good.
Use a fact or statistic that sets up your essay, not something you'll be using as evidence to prove your thesis statement. Facts or statistics that demonstrate why your topic is important (or should be important) to your audience typically make good hooks.
For example, if you were writing an essay proposing a change to drunk driving laws, you might open with a story of how the life of a victim was changed forever after they were hit by a drunk driver.
For example, if you're writing an essay about a public figure, you might include an anecdote about an odd personal habit that cleverly relates back to your thesis statement.
Particularly with less formal papers or personal essays, humorous anecdotes can be particularly effective hooks.
For example: "What would you do if you could play God for a day? That's exactly what the leaders of the tiny island nation of Guam tried to answer."
If your essay prompt was a question, don't just repeat it in your paper. Make sure to come up with your own intriguing question.
Broad, sweeping generalizations may ring false with some readers and alienate them from the start. For example, "everyone wants someone to love" would alienate someone who identified as aromantic or asexual.
Creating Your Context
Use an appropriate transitional word or phrase, such as "however" or "similarly," to move from your specific anecdote back out to a broader scope.
For example, if you related a story about one individual, but your essay isn't about them, you can relate the hook back to the larger topic with a sentence like "Tommy wasn't alone, however. There were more than 200,000 dockworkers affected by that union strike."
For example, if your thesis relates to how blackface was used as a means of enforcing racial segregation, your introduction would describe what blackface performances were, and where and when they occurred.
If you are writing an argumentative paper, make sure to explain both sides of the argument in a neutral or objective manner.
Definitions would be particularly important if your essay is discussing a scientific topic, where some scientific terminology might not be understood by the average layperson.
Definitions also come in handy in legal or political essays, where a term may have different meanings depending on the context in which they are used.
If you're using 2 or 3 sentences to describe the context for your thesis, try to make each sentence a bit more specific than the one before it. Draw your reader in gradually.
For example, if you're writing an essay about drunk driving fatalities, you might start with an anecdote about a particular victim. Then you could provide national statistics, then narrow it down further to statistics for a particular gender or age group.
Presenting Your Thesis
For example, a thesis for an essay on blackface performance might be "Because of its humiliating and demoralizing effect on African American slaves, blackface was used less as a comedy routine and more as a way of enforcing racial segregation."
Be assertive and confident in your writing. Avoid including fluff such as "In this essay, I will attempt to show...." Instead, dive right in and make your claim, bold and proud.
Your outline should be specific, unique, and provable. Through your essay, you'll make points that will show that your thesis statement is true – or at least persuade your readers that it's most likely true.
If you've created an outline for your essay, this sentence is essentially the main subjects of each paragraph of the body of your essay.
For example, if you're writing an essay about the unification of Italy, you might list 3 obstacles to unification. In the body of your essay, you would discuss details about how each of those obstacles was addressed or overcome.
Instead of just listing all of your supporting points, sum them up by stating "how" or "why" your thesis is true. For example, instead of saying, "Phones should be banned from classrooms because they distract students, promote cheating, and make too much noise," you might say "Phones should be banned from classrooms because they act as an obstacle to learning."
To figure out if you need a transition sentence, read the introduction and the first paragraph out loud. If you find yourself pausing or stumbling between the paragraphs, work in a transition to make the move smoother.
You can also have friends or family members read your easy. If they feel it's choppy or jumps from the introduction into the essay, see what you can do to smooth it out.
Bringing It All Together
If you're writing your essay for a class assignment, ask your instructor for examples of well-written essays that you can look at. Take note of conventions that are commonly used by writers in that discipline.
Make a brief outline of the essay based on the information presented in the introduction. Then look at that outline as you read the essay to see how the essay follows it to prove the writer's thesis statement.
For shorter essays under 1,000 words, keep your introduction to 1 paragraph, between 100 and 200 words.
Always follow your instructor's guidelines for length. These rules can vary at times based on genre or form of writing.
As you write your essay, you may want to jot down things you want to include in your introduction. For example, you may realize that you're using a particular term that you need to define in your introduction.
Delete any filler or unnecessary language. Given the shortness of the introduction, every sentence should be essential to your reader's understanding of your essay.
The first sentence or two should be your hook, designed to grab your reader's attention and get them interested in reading your essay.
The next couple of sentences create a bridge between your hook and the overall topic of the rest of your essay.
End your introduction with your thesis statement and a list of the points you will make in your essay to support or prove your thesis statement.
Expert Q&A
Video . By using this service, some information may be shared with YouTube.
If you are answering or responding to an assigned question, make sure you've interpreted the question correctly. The quality of your writing is irrelevant if your essay doesn't answer the question. Thanks Helpful 7 Not Helpful 1
Have friends or family members read your essay and provide you with feedback. If you're writing for a class, you might want to exchange essays with another classmate and give each other feedback on your work. Thanks Helpful 3 Not Helpful 1
You Might Also Like
↑ https://writingcenter.unc.edu/tips-and-tools/audience/
↑ http://advice.writing.utoronto.ca/planning/intros-and-conclusions/
↑ https://www.grammarly.com/blog/how-to-write-an-introduction/
↑ https://www.esu.edu/writing-studio/guides/hook.cfm
↑ https://writingcenter.unc.edu/tips-and-tools/introductions/
↑ https://writingcenter.unc.edu/tips-and-tools/cliches/
↑ Jake Adams. Academic Tutor & Test Prep Specialist. Expert Interview. 20 May 2020.
↑ https://library.sacredheart.edu/c.php?g=29803&p=185917
↑ https://writingcenter.uagc.edu/introductions-conclusions
↑ https://lsa.umich.edu/sweetland/undergraduates/writing-guides/how-do-i-write-an-intro--conclusion----body-paragraph.html
↑ https://writingcenter.unc.edu/tips-and-tools/transitions/
↑ https://advice.writing.utoronto.ca/planning/intros-and-conclusions/
About This Article
Start your introduction with a relevant story, fact, or quote that will engage readers. Then, add 2-3 sentences of background information to give your essay context, and include important dates, locations, or historical moments where applicable. Finally, include your thesis statement, which is a specific, arguable, and provable statement that answers a question about your essay topic. For example, your thesis might read: "In the modern age, online dating apps like Tinder provide a wider variety of romantic options than young people have ever had before." For more tips and examples on how to craft your thesis and put your introduction together, read on! Did this summary help you? Yes No
Reader Success Stories
Dec 11, 2016
Did this article help you?
Jul 11, 2020
Teighan Vickrey
Mar 18, 2018
Apr 27, 2017
Arturo Rueda
Mar 21, 2016
Featured Articles
Trending Articles
Watch Articles
Terms of Use
Privacy Policy
Do Not Sell or Share My Info
Not Selling Info
wikiHow Tech Help Pro:
Develop the tech skills you need for work and life
Essay Writing Guide
Writing An Essay Introduction

A Complete Essay Introduction Writing Guide With Examples
15 min read
Published on: Feb 24, 2023
Last updated on: Oct 19, 2023
People also read
An Easy Guide to Writing an Essay
Learn How to Write An Essay in Simple Steps
A Complete 500 Word Essay Writing Guide
A Catalog of 500+ Essay Topics for Students
Explore Different Types of Essays, their Purpose, and Sub-types
Essay Format: A Basic Guide With Examples
Learn How to Create a Perfect Essay Outline
How to Start an Essay- A Step-by-Step Guide
200+ Hook Examples to Grab Reader's Attention
The Ultimate Guide to Writing Powerful Thesis Statement
20+ Thesis Statement Examples for Different Types of Essays?
How to Write a Topic Sentence: Purpose, Tips & Examples
Learn How to Write a Conclusion in Simple Steps
Transition Words For Essays - The Ultimate List
4 Types of Sentences - Definition & Examples
Writing Conventions - Definition, Tips & Examples
Essay Writing Problems - 5 Most Paralyzing Problems
How to Make an Essay Longer: 14 Easy Ways
How to Title an Essay - A Step-by-Step Guide
1000 Word Essay - A Simple Guide With Examples
Share this article
Essay introductions are the first impression that your reader will have of your paper.
You want to draw in your readers with an interesting opening that sets the tone for the rest of your work. So, it's important to make sure they're well-written and engaging.
In this blog, you will learn how to write an effective introduction to grab your reader's attention from the very beginning. With the help of tips and examples below, you can craft an incredible essay introduction to set the tone for a powerful paper.
So let's begin!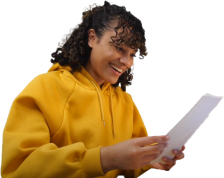 Tough Essay Due? Hire Tough Writers
On This Page On This Page
What is an Essay Introduction?
An essay introduction is the first paragraph of your It provides a roadmap for the rest of your paper and tells the reader what to expect from your work.
Purpose of the Essay Introduction
The main purpose of an essay introduction is to set the stage for what the reader can expect from your essay. It aims to catch the readers' interest, provide necessary background information, and introduce them to the central argument.
How To Write An Essay Introduction?
Now that you know what an introduction is supposed to be, let's move on to how to write an effective one.
There are four essential elements of an effective introduction:
Engaging Hook
Context and Background Information
Overview of the Main Points and Essay Structure
Thesis Statement
Let's go over them step by step:
Step 1: Start With a Hook
Start your essay introduction with an interesting hook statement that grabs your readers' attention. The goal of the hook is to make your reader interested in reading your essay and keep them engaged until the end.
Hooks can have several different forms; it can be a quote, an anecdote, or an interesting fact. Here are some types of hooks you can use:
Anecdote: Share a relevant and interesting story or personal experience related to your topic.
Rhetorical Question: Pose a thought-provoking question that encourages readers to think about the subject.
Quotation: Begin with a compelling quote from a reputable source or a well-known figure.
Surprising Fact or Statistic: Present a surprising or startling piece of information that relates to your topic.
Vivid Description: Use descriptive language to paint a vivid picture that draws the reader into your essay.
The key to a successful hook is relevance. Ensure that your hook relates directly to the topic of your essay and sets the stage for what follows. You can also refer to other catchy hook examples for writing a captivating start.
Step 2: Discuss Context Background Information
After grabbing your reader's attention with a hook, it's crucial to provide context and background information about your topic.
This can include facts, definitions, and historical information. Knowing this information, your reader will be better equipped to understand the rest of your essay.
Depending on your topic, you can include these aspects to establish context:
Historical Context: Explain the historical significance or evolution of the topic if relevant.
Definitions: Provide a clear definition of key terms or concepts central to your essay.
Explain Relevant Developments: Briefly mention important facts or developments related to your topic.
Why It Matters: Explain why the topic is important or relevant to your readers or the society at large.
Here's an example:
Step 3: Overview of the Main Points and Essay Structure
Once you've engaged your reader and provided the necessary context, it's time to introduce the topic and overall argument. This part of the introduction serves as a preview of what to expect in the body of the essay.
You can achieve this by outlining the main points or arguments you will discuss and briefly mentioning the structure of the essay. This helps your reader navigate the content and understand the logical flow of your ideas.
Here's a demonstration of it.
Step 4: Write the Thesis Statement
The last part of the introduction is the thesis statement. The thesis statement is the central point or argument of your essay. It conveys the main idea you will explore and defend in the following paragraphs.
A well-constructed thesis statement is specifically debatable and provides a road map for the entire essay. The thesis statement is written at the end of the introduction paragraph.
Here's a thesis statement example:
Now, if we put all these elements together step-by-step, we will have an excellent essay introduction. Here's an example of a strong introduction:
The Essay Introduction Structure
The structure of an essay introduction includes a hook, contextual information, and a thesis statement. In other words, the introduction moves from the general to the specific.
Check out these essay introduction samples that demonstrate the structure of an introduction.
Essay Introduction Outline
Essay Introduction Sample
Essay Introduction Examples
Here are some interesting introduction examples for different types of essays . Read these examples to understand what a powerful start looks like for various kinds of essays.
Argumentative Essay Introduction Example
An argumentative essay is a genre of academic writing where the author takes a stance on a particular issue, presents arguments to support that stance, and aims to persuade the reader of the validity of their viewpoint.
To write an effective argumentative essay introduction, you should hook the reader's attention, provide context, present your thesis statement, and outline your main arguments.
Here is an example for you to understand how to write an argumentative essay introduction.
Persuasive Essay Introduction Example
A persuasive essay is a type of academic writing that seeks to convince the reader to adopt a particular point of view or take a specific action. The writing process of a persuasive essay introduction is similar to what is described above.
Below is a perfect example of a persuasive essay introduction.
Compare and Contrast Essay Introduction Example
The compare and contrast essay analyzes the similarities and differences between two or more subjects. A compare and contrast essay introduction has to introduce two elements. Otherwise, it has a similar structure to introductions in general.
The following is a great introduction for a compare and contrast essay that you can refer to.
Synthesis Essay Introduction Example
A synthesis essay is a form of writing that challenges you to explore information from multiple sources to form a coherent and original perspective on a given topic.
Here is a good essay introduction example for a synthesis essay.
Narrative Essay Introduction Example
A narrative essay is a unique form of storytelling that allows writers to share personal experiences, memories, or events in a creative and engaging way.
The content of narrative essay introductions is a bit different. They require you to set the scene, introduce the protagonist, and present the upcoming conflict. Here is an example:
Expository Essay Introduction Example
An expository essay is a common type of academic writing that aims to provide a clear and concise explanation or analysis of a specific topic, concept, or idea.
Here's an example of how you can start an expository essay.
Abortion Essay Introduction Example
The abortion debate remains one of the most controversial topics in modern society.
Pro-choice and pro-life advocates have been debating this issue for decades, with no end in sight. Writing an essay on this topic requires thoughtful research and a clear understanding of both sides.
Here's an example of how to write an abortion essay introduction.
Tips for Writing Better Essay Introductions
Crafting an effective essay introduction is an art that can significantly influence how readers engage with your writing. Here are some valuable tips to help you create engaging and impactful introductions.
Be Clear and Concise: Keep your introduction clear and concise. Avoid unnecessary jargon or complex language that might confuse your readers. Present your ideas in a straightforward way.
State Your Thesis Clearly: Your thesis statement is the core of your introduction. Clearly state your main argument or the purpose of your essay. It should be specific and debatable, giving readers a roadmap of what to expect in the essay.
Transition Smoothly: Ensure a smooth transition from your introduction to the body of the essay. Your introduction should provide a logical segue into the main points or arguments you will explore.
Avoid Clichés and Overused Phrases: Try to avoid clichés or overused phrases in your introduction. Readers appreciate fresh and original language that piques their interest.
Tailor the Introduction to the Essay Type: Consider the type of essay you're writing (e.g., persuasive, expository, narrative) and adapt your introduction accordingly. Each type may require a different approach to engage the reader effectively.
Revise and Edit: Don't hesitate to revise and edit your introduction as needed. It's often helpful to write the introduction after completing the rest of the essay, as this allows you to better align it with the content.
Consider the Audience: Think about your target audience and their expectations. Tailor your introduction to resonate with your specific readership.
Seek Feedback: Before finalizing your introduction, seek feedback from peers, professors, or writing tutors. Fresh perspectives can help you refine your introduction for maximum impact.
Common Mistakes to Avoid in Essay Introductions
Here are some common mistakes that you should avoid to write compelling introductions:
Try to avoid writing a vague introduction of irrelevant details about the topic.
Do not provide too much information and facts in the introduction. Simply present the topic with sufficient information for the reader's understanding.
Avoid using informal language or slang terms in the introduction. Essay introductions should be written in formal and academic language.
Do not make assumptions about the reader's knowledge of the topic. Provide only basic background information to fill any gaps in understanding.
Finally, do not introduce any new information in the introduction. The introduction should only provide an overview of what will be discussed in the essay, not dive into details.
By avoiding these mistakes, you can ensure that your essay introduction is clear and concise. It will help readers easily understand the topic and follow your argument throughout the paper.
Moreover, you can watch this video that introduces an easy method and helpful method for writing effective introductions.
To conclude,
By using the steps and tips discussed above, you can become a skilled essayist who leaves a lasting impression, one introduction at a time.
Just remember that writing is a process of constant refinement, and your introductions will evolve as your skills grow. So, the next time you sit down to write, take the time to craft it with care, for it holds the promise of what lies ahead.
However, if you are struggling to make your essay introduction engaging, don't stress over it. MyPerfectWords.com is here to back you up!
You can get help from our online essay writing service . Our experienced and skilled writers can provide you with a perfect introduction and write a compelling story from start to finish!
Nova A. (Marketing)
Nova Allison is a Digital Content Strategist with over eight years of experience. Nova has also worked as a technical and scientific writer. She is majorly involved in developing and reviewing online content plans that engage and resonate with audiences. Nova has a passion for writing that engages and informs her readers.
Paper Due? Why Suffer? That's our Job!
Keep reading
We value your privacy
We use cookies to improve your experience and give you personalized content. Do you agree to our cookie policy?
Website Data Collection
We use data collected by cookies and JavaScript libraries.
Are you sure you want to cancel?
Your preferences have not been saved.
Awesome Guide on How to Write an Essay Introduction
'I'd like to recall the day I nearly burned myself in flames in my automobile while going 250 mph and escaping the police'. – Thankfully, we don't have a story like that to relate to, but we bet we piqued your interest.
That's what we refer to as an efficient hook. Fundamentally, it's an attention-grabbing first sentence that piques an audience's interest and encourages them to keep reading. While writing an essay, a strong hook in essay introductions is essential.
Delve into the article if you're wondering how to start an essay with a strong introduction. This is the ultimate guide for writing the parts of a introduction paragraph from our custom dissertation writing service to engage your readers.
Introduction Definition
The introduction paragraph, to put it simply, is the first section of an essay. Thus, when reading your essay, the reader will notice it right away. What is the goal of an opening paragraph? There are two things that an excellent introduction achieves. It initially informs the reader on the subject of your work; in other words, it should describe the essay's topic and provide some background information for its main point. It must also spark readers' interest and persuade them to read the remainder of your article.
To provide you with essay writing services , we only need your paper requirements to create a plagiarism-free paper on time.
How Long Should an Introduction Be
Typically, there are no strict restrictions on how long an opening paragraph should be. Professional essay writers often shape the size of it with the paper's total length in mind. For instance, if you wonder how to make introduction in essay with five paragraphs, keep your introductory sentence brief and fit it inside a single section. But, if you're writing a longer paper, let's say one that's 40 pages, your introduction could need many paragraphs or even be pages long.
Although there are no specific requirements, seasoned writers advise that your introduction paragraph should account for 8% to 9% of your essay's overall word length.
And, if you place an order on our coursework writing services , we will certainly comply with your introduction length requirements.
What Makes a Good Introduction
All of the following criteria should be fulfilled by a strong opening sentence:
Start your introduction on an essay with a catchy sentence that draws the reader in.
It needs to include baseline information about your subject.
This should give readers a sense of the main argument(s) that your essay will address.
It must include all necessary information on the setting, locations, and chronological events.
By the end of your introduction, make a precise remark that serves as your essay's thesis.
What Are the 3 Parts of an Introduction Paragraph
So, what should be in a introduction paragraph? The introduction format essay has three sections: a hook, connections, and a thesis statement. Let's examine each component in more depth.
Part 1: Essay Hook
A hook is among the most effective parts of a introduction paragraph to start an essay. A strong hook will always engage the reader in only one sentence. In other words, it is a selling point.
Let's now address the query, 'how to make an essay introduction hook interesting?'. Well, to create a powerful hook, you can employ a variety of techniques:
A shocking fact
An anecdote 
A short summary
And here is what to avoid when using a hook:
Dictionary definitions
Generalizations
Sweeping statements that include words like 'everywhere,' 'always,' etc.
Once you've established a strong hook, you should give a general outline of your major point and some background information on the subject of your paper. If you're unsure how to write an introduction opening, the ideal approach is to describe your issue briefly before directing readers to particular areas. Simply put, you need to give some context before gradually getting more specific with your opinions.
The 5 Types of Hooks for Writing
Apart from the strategies mentioned above, there are even more types of hooks that can be used:
A Common Misconception — a good trick, to begin with, to claim that something your readers believe in is false.
Example: 'Although many falsely believe that people working from home are less productive – employees who get such work-life benefits generally work harder.'
Statistics — Statistical facts may provide a great hook for argumentative essays and serious subjects focusing on statistics.
Example: 'A recent study showed that people who are satisfied with their work-life balance work 21% harder and are 33% more likely to stay at the same company.'
Personal Story — sometimes, personal stories can be an appropriate hook, but only if they fit into a few brief sentences (for example, in narrative essays).
Example: 'When I had my first work-from-home experience, I suddenly realized the importance of having a good work-life balance; I saw plenty of the benefits it can provide.'
Scenes — this type of hook requires making the readers imagine the things you are writing about. It is most suitable when used in descriptive and narrative essays.
Example: 'Imagine you could have as much free time as you wish by working or studying from home—and spend more time with your loved ones.'
Thesis Statement — when unsure how to do an essay introduction, some writers start directly with their thesis statement. The main trick here is that there is no trick.
Example: 'I strongly believe there is a direct correlation between a healthy work-life balance and productivity in school or at work.'
Part 2: Connections
Give readers a clearer sense of what you will discuss throughout your article once you have given a hook and relevant background information about your essay topic. Briefly mentioning your main points in the same sequence in which you will address them in your body paragraphs can help your readers progressively arrive at your thesis statement.
In this section of your introduction, you should primarily address the following questions:
You may make sure that you are giving your readers all the information they need to understand the subject of your essay by responding to each of these questions in two to three lines. Be careful to make these statements brief and to the point, though.
Your main goal is gradually moving from general to specific facts about your subject or thesis statement. Visualize your introduction as an upside-down triangle to simplify the essay writing process. The attention-grabbing element is at the top of this triangle, followed by a more detailed description of the subject and concluding with a highly precise claim. Here is some quick advice on how to use the 'upside-down triangle' structure to compose an essay introduction:
Ensure that each subsequent line in your introduction is more focused and precise. This simple method will help you progressively introduce the main material of your piece to your audience.
Consider that you are writing a paper on the value of maintaining a healthy work-life balance. In this situation, you may start with a query like, 'Have you ever considered how a healthy work-life balance can affect other areas of your life?' or a similar hook. Next, you could proceed by giving broad factual information. Finally, you could focus your topic on fitting your thesis statement.
Part 3: The Thesis Statement
If you're unsure of the ideal method to create an introduction, you should be particularly attentive to how you phrase your thesis statement.
The thesis of your work is, without a doubt, the most crucial section. Given that the thesis statement of your piece serves as the foundation for the entire essay, it must be presented in the introduction. A thesis statement provides readers with a brief summary of the article's key point. Your main assertion is what you'll be defending or disputing in the body of your essay. An effective thesis statement is often one sentence long, accurate, exact, unambiguous, and focused. Your thesis should often be provided at the end of your introduction.
Here is an example thesis statement for an essay about the value of a proper work-life balance to help you gain a better understanding of what a good thesis should be:
Thesis Statement Example: 'Creating flexible and pleasant work schedules for employees can help them have a better work-life balance while also increasing overall performance.'
Catchy Introductions for Different Essay Types
Although opening paragraphs typically have a fixed form, their language may vary. In terms of academic essays, students are often expected to produce four primary intro to essay examples. They include articles that are analytical, argumentative, personal, and narrative. It is assumed that different information should appear in these beginning paragraphs since the goals of each sort of essay change. A thorough overview of the various paper kinds is provided below, along with some good essay introduction samples from our argumentative essay writers:
Narrative Introduction
The writer of a narrative essay must convey a story in this style of writing. Such essays communicate a story, which distinguishes them from other essay types in a big way.
Such a paper's hook will often be an enticing glimpse into a specific scene that only loosely links to the thesis statement. Additionally, when writing such an essay, a writer should ensure that every claim included in the introduction relates to some important moments that have significantly impacted the story's outcome.
The thesis in narrative writing is usually the theme or main lesson learned from the story.
Narrative introduction example: 'My phone rang, and my mother told me that Dad had suffered a heart attack. I suddenly experienced a sense of being lifted out from under me by this immaculately carpeted flooring. After making it through, Dad left me with a sizable collection of lessons. Here are three principles that I know dad would have wanted me to uphold...'
Still Can't Think of a Perfect Intro?
When assigned to write an essay, students end up with a ton of questions, including 'How to structure an essay?', 'How to choose a good topic?'. Here at EssayPro, we employ only the best essay writers who are committed to students' success.
Analytical Introduction
Analytical essay introduction format is another popular type. In contrast to a narrative paper, an analytical paper seeks to explore an idea and educate the reader about a topic.
Three important facts that support the analytical premise should be included in the middle section of the introduction.
A well-researched and well-thought-out claim will form a wonderful thesis because the main goal of this paper is to study the topic and educate readers. It's crucial to remember that this assertion shouldn't initially have any real weight. Although it will still be theoretical, it has to be articulated practically.
Analytical introduction example: "... Hence even though presidents, CEOs, and generals still have their daily schedules full of economic crises and military conflicts, on the cosmic scale of history humankind can lift its eyes up and start looking towards new horizons. If we bring famine, plague, and war under control, what will replace them at the top of the human agenda? Like firefighters in a world without fire, so humankind in the twenty-first century needs to ask itself an unprecedented question: what are we going to do with ourselves? What will demand our attention and ingenuity in a healthy, prosperous, and harmonious world? In a healthy, prosperous, and harmonious world, what will demand our attention and ingenuity? This question becomes doubly urgent given the immense new powers that biotechnology and information technology are providing us with. What will we do with all that power? ..." Homo Deus: A Brief History of Tomorrow, Yuval Noah Harari
Persuasive Introduction
To persuade readers of anything is the sole goal of persuasive essay writing. This may be accomplished using persuasive strategies like ethos, pathos, and logos.
A hook statement for this paper may be anything from a fascinating fact to even comedy. You can use whatever technique you choose. The most crucial advice is to ensure your hook is in line with your thesis and that it can bolster further justifications.
Generally speaking, a persuasive essay must include three supporting facts. Hence, to gradually lead readers to the major topic of your paper, add a quick summary of your three arguments in your introduction.
Last, the thesis statement should be the main claim you will be disputing in this paper. It should be a brief, carefully thought-out, and confident statement of your essay's major argument.
Persuasive introduction example: 'Recycling waste helps to protect the climate. Besides cleaning the environment, it uses waste materials to create valuable items. Recycling initiatives must be running all around the world. ...'
Personal Introduction
The final sort of academic writing that students frequently encounter is a personal essay. In principle, this essay style is creative nonfiction and requires the author to reflect on personal experiences. The goals of such a paper may be to convey a story, discuss the lessons that certain incidents have taught you, etc. This type of writing is unique since it is the most personal.
Whatever topic you choose can serve as the hook for such an essay. A pertinent remark, query, joke, or fact about the primary plot or anything else will be acceptable. The backdrop of your narrative should then be briefly explained after that. Lastly, a thesis statement can describe the impact of particular experiences on you and what you learned.
Personal introduction example: 'My parents always pushed me to excel in school and pursue new interests like playing the saxophone and other instruments. I felt obligated to lead my life in a way that met their standards. Success was always expected on the route they had set out for me. Yet eight years after my parents' separation, this course was diverted when my dad relocated to California...'
Tips for Writing a Winning Introduction Paragraph
You now understand how to do introduction and have specific intro example for essays to help you get going. Let's quickly examine what you should and shouldn't do during the writing process.
Keep the assignment's purpose in mind when you write your introduction, and ensure it complies with your instructor's requirements.
Use a compelling and relevant hook to grab the reader's attention immediately.
Make sure your readers understand your perspective to make it apparent.
If necessary, establish key terms related to your subject.
Show off your expertise on the subject.
Provide a symbolic road map to help readers understand what you discuss throughout the post.
Be brief; it's recommended that your introduction make up no more than 8 to 9 percent of the entire text (for example, 200 words for a 2500 words essay).
Construct a strong thesis statement.
Create some intrigue.
Make sure there is a clear and smooth transition from your introduction to the body of your piece.
If you're looking for a custom writer , request assistance from the EssayPro team. We know how to write a term paper along with many other types of essays.
Don'ts
Provide too much background information.
Use sentences that are off-topic or unnecessary.
Make your opening paragraph excessively long.
Keep some information a secret and reveal it later in conclusion.
Employ overused phrases or generalizations.
Using quotation marks excessively
Now that you know what is in the introduction of an essay, we recommend reading the information on how to critique an article to gain more academic insight.
If you are still struggling with that, keep in mind that you can always send us your request to get professional assistance from our law essay writing service .
Get Help With Your ESSAY INTRO!
Address to our professional writers to get help with your homework.
Related Articles
How to Write an Essay Introduction
Reviewer & Writer
www.bestcolleges.com is an advertising-supported site. Featured or trusted partner programs and all school search, finder, or match results are for schools that compensate us. This compensation does not influence our school rankings, resource guides, or other editorially-independent information published on this site.
Turn Your Dreams Into Reality
Take our quiz and we'll do the homework for you! Compare your school matches and apply to your top choice today.
A good essay introduction sets up the rest of your paper and grabs your reader's attention.
All introductions should include a hook, a thesis, and an organizational plan.
Knowing the rhetorical situation can help you write an effective introduction and thesis.
The computer screen remains blank, and my mind freezes every time I return to my philosophy 201 assignment: "Discuss the ethics of stealing." I know I'll need a great introduction for my paper, but where should I start? What should I include?
Writing a college essay shouldn't be scary, but getting started can often feel overwhelming and even intimidating at times. If you divide the essay-writing process into clearly defined steps, though, you'll find that it's a relatively straightforward process.
This might come as a surprise, but introductions are often crafted last, after you've written the main content of your essay. Even expert essayists expect to have to reframe their claims and essay organization as they write the bodies of their essays.
This article will go over how to write an effective college essay introduction and set you on the path to producing excellent and engaging papers.
General Guidelines for Writing an Essay Introduction
Before you begin writing your essay, read the instructions carefully to determine the assignment's expectations. You should also take some time to determine the essay's genre and what kind of thesis statement it requires. For example, will you have to make a strong argument for something using evidence? Or will you just need to explain a theory or concept?
Once you've done this, you can start to draft a very rough introduction to act as a general guide for the rest of your essay.
As you conduct research and work on your rough introduction, review what you know about the subject to start developing a thesis statement, i.e., the essay's main driving claim. Don't worry about sticking to this exactly — your thesis will likely change slightly with the more research and writing you do.
Basic Steps for Writing an Essay Introduction
Determine the essay's genre and what type of thesis it requires
Write a rough introduction
Come up with a rough thesis statement
Use your introduction to lay out how your essay will be organized
Adapt your thesis and organizational plan as needed as you write your essay
Add a hook to your introduction
Edit and proofread
Next, come up with one or two potential organizational plans. You'll want to have a clear idea of the topics your essay will discuss to prove your thesis statement, as well as the order in which these points will appear.
As you write your essay, return to your rough introduction so you can adapt your thesis and organizational plan to reflect any alterations you might have made as you researched and wrote the body of your essay. It's recommended that you allow the content of your paper to influence your rough thesis; a more developed thesis will lead to a stronger essay.
Once you've finished writing your essay, return to your introduction to polish it off. Add a hook — something that captures the reader's attention — to engage your reader and make your paper more compelling. Finally, don't forget to proofread your entire essay, including your introduction, before submitting it.
The Rhetorical Situation and Why It's Useful
The term "rhetorical situation" refers to the relationship the writer wishes to strike with their reader. Understanding the rhetorical situation is key because it should undergird your essay. To have mastery over this relationship, the writer must understand their message or text, its purpose, and the setting in which they're writing.
The usual defaults for college writing are that the writer is a budding scholar in the field (you) and the reader is an established expert (e.g., your professor), unless the assignment expressly states otherwise.
Understanding the rhetorical situation is key because it should undergird your essay.
The message or text (your claim and the essay) will vary with each assignment. The purpose (why the essay is important) is normally to improve your knowledge and skills, and the setting (the context in which you're writing) is the field of study.
In the case of my philosophy 201 essay prompt, "Discuss the ethics of stealing," the target reader is someone who understands the process of philosophizing about moral dilemmas. The writer could be the real me or a different persona, so long as my arguments are consistent with one another.
The message of this essay is how our society functions or how it could or should function. The purpose is to demonstrate to my professor my understanding of how ethics and ethical thought work. Finally, the setting is college-level thinking and philosophizing. Knowing this information equips me to construct a successful introduction and thesis.
The 3 Major Types of College Essays
Before drafting your introduction, you should figure out what type of essay you've been assigned and the skills this paper is meant to evaluate. There are several kinds of essays, but most fall into one of three major categories: report, exploratory, or argumentative.
Check Circle Summary: Requires you to extract and condense content from a larger piece of writing
Check Circle Lab Report/Lesson Plan: Shows whether you are informed about the protocols that are required by your discipline and whether you can follow them appropriately
Check Circle Descriptive: Requires you to convey evocative ideas about a topic and choose the most effective vocabularies for them
Exploratory Essay
Check Circle Exploratory: Requires you to explore a topic in depth and examine possibilities without necessarily taking a position
Check Circle Analytical: Determines whether you're able to perceive patterns, understand symbols and symbolism, and recognize allusions to arrive at a justifiable conclusion
Check Circle Explanatory: Highlights your ability to explain something in a precise and direct way, choose relevant information, and organize this information in an easy-to-follow manner
Argumentative Essay
Check Circle Expository: Adds debate to the exploratory paper and reveals whether you're able to choose effective and relevant information, logically organize and develop this information, pick a side, and offer justification for your choice
Check Circle Position: Determines whether you're able to select a position many may disagree with, successfully present your opinion, argue for it using solid evidence, and convince the reader your position is better than the other option
Check Circle Argument: Adds research to the expository essay and shows whether you're able to defend a claim, offer convincing evidence to support your claim, and acknowledge and dispel potential counterarguments
Writing Your Essay's Thesis Statement
Armed with the knowledge of what kind of essay you must write, you can now start to draft your thesis statement and determine the organization for the body of your essay. The thesis answers the following question for readers: "What will this essay prove?" The organizational plan explains how and in what order the essay will prove this claim.
Generally speaking, the thesis statement should appear near the end of your introduction. As for organizing your essay, try to lay out in the introduction the main points you'll be discussing in the order in which they'll appear in the body of your paper. This will facilitate not only your writing process but also your audience's reading experience.
Get more tips on how to write an effective thesis statement in our complete guide.
Why Every Essay Needs a Hook
All that remains now is grabbing your reader's attention. A strong introduction builds affinity with the reader and eases them into your essay.
The hook is the first thing (after the title, of course) your audience will read. It's a small scrap of informal writing that's relevant to your topic and that your reader will recognize easily. It has one foot in the real world, where the reader is, and the other in your essay, and works by convincing the reader to shift from one foot to the other willingly.
For your hook, you can tell a story, crack a joke, or quote something from a book or movie. Mention an anecdote or an incident from sports, recite lyrics or poetry, refer to history, or remark on a controversy. Use pop, high, or low culture. It can be personal or universal. Just remember to insert a clear transition between your hook and your thesis statement.
Here's an example of a good essay introduction with a memorable hook:
Perhaps when you were a child, your parents, like mine, urged you to share your toys or clothes with your younger sibling. And perhaps, like me, you thought it was extremely unfair because you were older. Yet it seems as if the seventh-century civilization of XXX knew what your parents and mine were trying to teach us: that sharing ensures survival much better than the exploitation of weaker or lower classes.
The hook here is the first two sentences about shared childhood, and part of the third sentence. Note the repeated use of the second-person pronouns "you" and "your." Its function is to build camaraderie between the reader and the writer. The writer further solidifies this connection with the first-person pronouns "me" and "us."
The hook also reminds the reader of simpler, happy times. The final sentence begins as the transition from childhood and sharing to the essay's main argument: how sharing was critical to the survival of the XXX civilization. After the colon, the introduction drops the hook entirely and becomes a full-fledged thesis statement.
The Value of Writing a Stellar Essay Introduction
Go back to the beginning of this article and look for the hook, the transition, the thesis statement, and how I establish the rhetorical situation. Consider as well the genre of this article and how I set up the organization of it.
Seasoned academic writers know a strong introduction can go a long way toward producing an effective and compelling paper. No matter what you choose to write about, you should always follow these basic rules. Not only will you earn better grades on your essays, but you'll also become a more efficient and confident writer.
Explore More College Resources
Strategies for writing a compelling thesis statement, how to write a body paragraph for a college essay.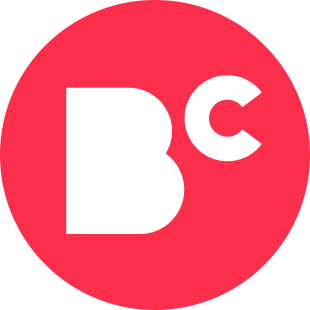 How to Write a Conclusion Paragraph for an Essay
BestColleges.com is an advertising-supported site. Featured or trusted partner programs and all school search, finder, or match results are for schools that compensate us. This compensation does not influence our school rankings, resource guides, or other editorially-independent information published on this site.
Compare Your School Options
View the most relevant schools for your interests and compare them by tuition, programs, acceptance rate, and other factors important to finding your college home.
Have a language expert improve your writing
Run a free plagiarism check in 10 minutes, generate accurate citations for free.
Knowledge Base
Research paper
Writing a Research Paper Introduction | Step-by-Step Guide
Published on September 24, 2022 by Jack Caulfield . Revised on March 27, 2023.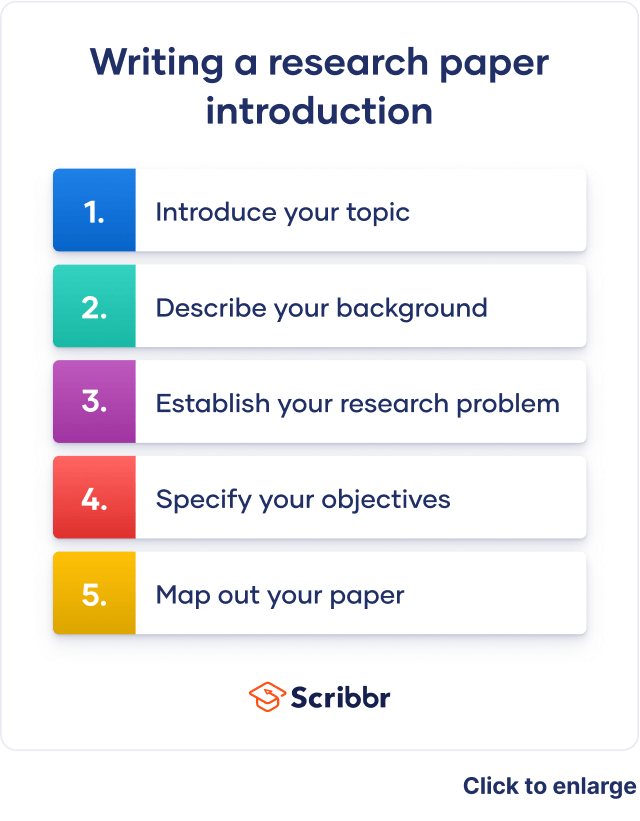 The introduction to a research paper is where you set up your topic and approach for the reader. It has several key goals:
Present your topic and get the reader interested
Provide background or summarize existing research
Position your own approach
Detail your specific research problem and problem statement
Give an overview of the paper's structure
The introduction looks slightly different depending on whether your paper presents the results of original empirical research or constructs an argument by engaging with a variety of sources.
Table of contents
Step 1: introduce your topic, step 2: describe the background, step 3: establish your research problem, step 4: specify your objective(s), step 5: map out your paper, research paper introduction examples, frequently asked questions about the research paper introduction.
The first job of the introduction is to tell the reader what your topic is and why it's interesting or important. This is generally accomplished with a strong opening hook.
The hook is a striking opening sentence that clearly conveys the relevance of your topic. Think of an interesting fact or statistic, a strong statement, a question, or a brief anecdote that will get the reader wondering about your topic.
For example, the following could be an effective hook for an argumentative paper about the environmental impact of cattle farming:
A more empirical paper investigating the relationship of Instagram use with body image issues in adolescent girls might use the following hook:
Don't feel that your hook necessarily has to be deeply impressive or creative. Clarity and relevance are still more important than catchiness. The key thing is to guide the reader into your topic and situate your ideas.
Receive feedback on language, structure, and formatting
Professional editors proofread and edit your paper by focusing on:
Academic style
Vague sentences
Style consistency
See an example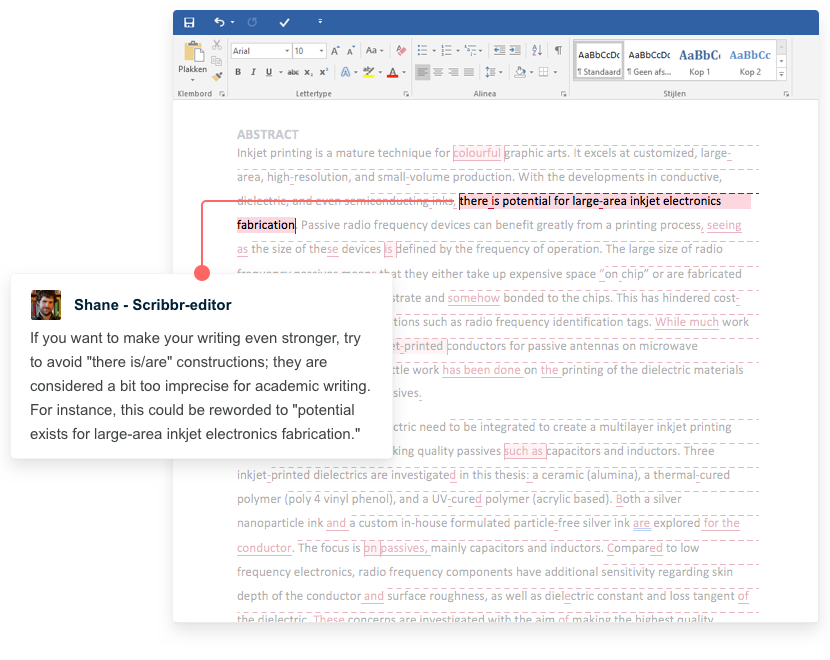 This part of the introduction differs depending on what approach your paper is taking.
In a more argumentative paper, you'll explore some general background here. In a more empirical paper, this is the place to review previous research and establish how yours fits in.
Argumentative paper: Background information
After you've caught your reader's attention, specify a bit more, providing context and narrowing down your topic.
Provide only the most relevant background information. The introduction isn't the place to get too in-depth; if more background is essential to your paper, it can appear in the body .
Empirical paper: Describing previous research
For a paper describing original research, you'll instead provide an overview of the most relevant research that has already been conducted. This is a sort of miniature literature review —a sketch of the current state of research into your topic, boiled down to a few sentences.
This should be informed by genuine engagement with the literature. Your search can be less extensive than in a full literature review, but a clear sense of the relevant research is crucial to inform your own work.
Begin by establishing the kinds of research that have been done, and end with limitations or gaps in the research that you intend to respond to.
The next step is to clarify how your own research fits in and what problem it addresses.
Argumentative paper: Emphasize importance
In an argumentative research paper, you can simply state the problem you intend to discuss, and what is original or important about your argument.
Empirical paper: Relate to the literature
In an empirical research paper, try to lead into the problem on the basis of your discussion of the literature. Think in terms of these questions:
What research gap is your work intended to fill?
What limitations in previous work does it address?
What contribution to knowledge does it make?
You can make the connection between your problem and the existing research using phrases like the following.
Now you'll get into the specifics of what you intend to find out or express in your research paper.
The way you frame your research objectives varies. An argumentative paper presents a thesis statement, while an empirical paper generally poses a research question (sometimes with a hypothesis as to the answer).
Argumentative paper: Thesis statement
The thesis statement expresses the position that the rest of the paper will present evidence and arguments for. It can be presented in one or two sentences, and should state your position clearly and directly, without providing specific arguments for it at this point.
Empirical paper: Research question and hypothesis
The research question is the question you want to answer in an empirical research paper.
Present your research question clearly and directly, with a minimum of discussion at this point. The rest of the paper will be taken up with discussing and investigating this question; here you just need to express it.
A research question can be framed either directly or indirectly.
This study set out to answer the following question: What effects does daily use of Instagram have on the prevalence of body image issues among adolescent girls?
We investigated the effects of daily Instagram use on the prevalence of body image issues among adolescent girls.
If your research involved testing hypotheses , these should be stated along with your research question. They are usually presented in the past tense, since the hypothesis will already have been tested by the time you are writing up your paper.
For example, the following hypothesis might respond to the research question above:
Here's why students love Scribbr's proofreading services
Discover proofreading & editing
The final part of the introduction is often dedicated to a brief overview of the rest of the paper.
In a paper structured using the standard scientific "introduction, methods, results, discussion" format, this isn't always necessary. But if your paper is structured in a less predictable way, it's important to describe the shape of it for the reader.
If included, the overview should be concise, direct, and written in the present tense.
This paper will first discuss several examples of survey-based research into adolescent social media use, then will go on to …
This paper first discusses several examples of survey-based research into adolescent social media use, then goes on to …
Full examples of research paper introductions are shown in the tabs below: one for an argumentative paper, the other for an empirical paper.
Argumentative paper
Empirical paper
Are cows responsible for climate change? A recent study (RIVM, 2019) shows that cattle farmers account for two thirds of agricultural nitrogen emissions in the Netherlands. These emissions result from nitrogen in manure, which can degrade into ammonia and enter the atmosphere. The study's calculations show that agriculture is the main source of nitrogen pollution, accounting for 46% of the country's total emissions. By comparison, road traffic and households are responsible for 6.1% each, the industrial sector for 1%. While efforts are being made to mitigate these emissions, policymakers are reluctant to reckon with the scale of the problem. The approach presented here is a radical one, but commensurate with the issue. This paper argues that the Dutch government must stimulate and subsidize livestock farmers, especially cattle farmers, to transition to sustainable vegetable farming. It first establishes the inadequacy of current mitigation measures, then discusses the various advantages of the results proposed, and finally addresses potential objections to the plan on economic grounds.
The rise of social media has been accompanied by a sharp increase in the prevalence of body image issues among women and girls. This correlation has received significant academic attention: Various empirical studies have been conducted into Facebook usage among adolescent girls (Tiggermann & Slater, 2013; Meier & Gray, 2014). These studies have consistently found that the visual and interactive aspects of the platform have the greatest influence on body image issues. Despite this, highly visual social media (HVSM) such as Instagram have yet to be robustly researched. This paper sets out to address this research gap. We investigated the effects of daily Instagram use on the prevalence of body image issues among adolescent girls. It was hypothesized that daily Instagram use would be associated with an increase in body image concerns and a decrease in self-esteem ratings.
The introduction of a research paper includes several key elements:
A hook to catch the reader's interest
Relevant background on the topic
Details of your research problem
and your problem statement
A thesis statement or research question
Sometimes an overview of the paper
Don't feel that you have to write the introduction first. The introduction is often one of the last parts of the research paper you'll write, along with the conclusion.
This is because it can be easier to introduce your paper once you've already written the body ; you may not have the clearest idea of your arguments until you've written them, and things can change during the writing process .
The way you present your research problem in your introduction varies depending on the nature of your research paper . A research paper that presents a sustained argument will usually encapsulate this argument in a thesis statement .
A research paper designed to present the results of empirical research tends to present a research question that it seeks to answer. It may also include a hypothesis —a prediction that will be confirmed or disproved by your research.
Cite this Scribbr article
If you want to cite this source, you can copy and paste the citation or click the "Cite this Scribbr article" button to automatically add the citation to our free Citation Generator.
Caulfield, J. (2023, March 27). Writing a Research Paper Introduction | Step-by-Step Guide. Scribbr. Retrieved November 3, 2023, from https://www.scribbr.com/research-paper/research-paper-introduction/
Is this article helpful?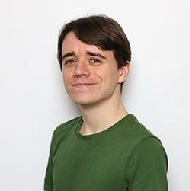 Jack Caulfield
Other students also liked, writing strong research questions | criteria & examples, writing a research paper conclusion | step-by-step guide, research paper format | apa, mla, & chicago templates, what is your plagiarism score.