How to Approach Your Personal Statement: Dos and Don'ts
By Sammi Scarola
May 6, 2021
Medical Student , Pre-med
Medical School Application , Personal Statement
Like many premed students, you are diligently working hard on applications, getting transcripts, asking for letters of recommendation , and choosing how to approach your personal statement. Writing your personal statement is a daunting and, in some cases, painful experience, but it doesn't have to be. It can be motivating to recall the events and influences that have led you to this point in your life—applying to medical school.
Learn from the many, many premeds who have been down this road before. Our list of personal statement Dos and Don'ts will help you make the most of the experience and ensure you don't make any of the usual mistakes.
Read our free Step-by-Step Guide: How to Write a Medical School Personal Statement for tips on getting started, what to include, and common mistakes to avoid.
The Purpose of a Personal Statement
Medical school admissions committees want to see what inspired you and prepared you to go to medical school. They want to know if you truly have a passion for medicine and are ready for the rigor of medical education.
Medical school is challenging, stressful, expensive, and only the beginning of a much longer journey. Medical schools want to ensure they are accepting students that are equipped for the journey and have a genuine desire to practice medicine. This saves both the school and the student time and money.
|| 6 Common Medical School Application Mistakes – Pre-Meds Be Warned ||
The Personal Statement is an Opportunity
Instead of looking at the personal statement as yet another hurdle to jump through when applying to medical school, view it as an opportunity. All of the other aspects of your application are pretty standard. They see your MCAT score , your college GPA and course performance, your volunteer hours, and your listed clinical experiences. What they don't see is who you are underneath your accomplishments.
This is what the personal statement allows you to demonstrate. Admissions committees already have your CV and transcripts, so the personal statement should show a more multifaceted view of who you are.
This is your chance to convey your personality, character traits, and personal narrative. Your personal statement is what helps you to stand out among thousands of similar applicants. Be sure to share meaningful information and help the readers feel a personal connection with you. Tell your story.
Getting Started
Many students find getting started is the hardest part of writing a personal statement. Writing your personal statement requires ample time for reflection. To get started, brainstorm some of your best qualities and character traits and list them on paper. Ask yourself: " What character traits do I want admissions committees to focus on? "
Then, brainstorm some of the events and experiences in your past that best portray these qualities. For example, avoid telling the admissions committee that you are " motivated, empathetic, and compassionate ." Instead, SHOW them that you're motivated, empathetic, and compassionate by telling a story that exemplifies these characteristics. It is important that your personal statement is a narrative rather than a list of your accolades and qualifications.
For more on how to begin your process, read: How to Start the Medical School Personal Statement .
Writing your Personal Statement
Once you've identified the personal traits and experiences you want to convey to the admissions committee, writing your personal statement will come much more easily. Remember to share moments of your life that mattered. The experiences you choose to share must have played an active role in shaping who you are as a person and influenced your desire to pursue medicine.
When writing about your experiences, ensure they showcase your passion for medicine and be sure to include your own reflections and lessons learned. These experiences are not required to be medical in nature but should portray why your journey through medical school will be successful.
With so many career paths relating to science and the medical field, it is imperative that you portray why being a physician is the only path for you and why it's a good fit for who you are as a person. Show them why you would be a good physician and what unique gifts you will bring to the field to help your patients. Remember to share information that makes you memorable and unique so that you stand out among many similar applicants.
Don't forget that during your interviews , the admissions committee will certainly ask you about the experiences or traits expressed in your personal statement, so share information you want to be asked about and can elaborate on in person.
Learn more in The Anatomy of a Medical School Personal Statement .
How to Approach Your Personal Statement: Dos and Don'ts
DO organize your personal statement . It should have a clear introduction, body paragraphs, and conclusion that flow into each other.
DO start writing as soon as possible. Don't wait until the perfect idea magically pops into your head. Do some brainstorming and get writing as soon as possible. Your first draft won't be anywhere near perfect so the sooner you begin, the more time you will have to edit, refine, or start over again with a better idea.
DO have a theme. Ensure that the theme is present throughout the entire personal statement.
DO use transition sentences. Transition sentences highlight the logical relationship between paragraphs and sections of a text. They provide greater cohesion and make explicitly clear how ideas are related to one another. Think of a transition sentence as a bridge between one idea and the next.
DO follow the requirements: 5300 character limit for MD applications. Remember that if you are applying to DO schools your personal statement must address why you want to become an osteopath specifically, and if you are applying through TMDSAS, there's a 5000 character limit. ( AMCAS vs. AACOMAS vs. TMDSAS Application Differences )
DO put significant effort into editing your essay. Read your essay over and over again for proper grammar and sneaky typos. Use editing apps such as Grammarly and Hemingway Editor , but don't rely on bots alone.
DO consult experts : You don't have to go it alone. Seek out help and personal statement editing from professionals who have years of experience reviewing personal statements and serving on admissions committees. Ask mentors, or anyone else you know, with intimate experience in the medical school admissions process. If you don't have anyone in your own network, Med School Insiders has top advisors who have admissions committee experience as well as extensive experience editing thousands of successful Personal Statements.
DON'T use clichés. It's great that you like science, but I can assure you that all applicants like science. It is important that you want to help people, but so do all of the other applicants. Avoid stating the obvious. Instead, try to be unique.
DON'T make careless grammatical errors. This can be the difference between an interview offer and a rejection . Grammatical errors suggest that you are either careless or don't really care about entering medical school. Attention to detail is important in medicine, so exhibit that skill while writing your personal statement.
DON'T lie or fabricate stories or information . Just don't do it. You do not want to get caught in a lie in the middle of an interview, and it is simply unprofessional. Remember that your personal statement is your only chance to demonstrate who you are , so tell your story truthfully.
DON'T make excuses for poor grades or MCAT scores. This is definitely not the place for that. Focus on sharing your story and expressing the personal qualities you're most proud of. If there was an event that played a large role in your journey, feel free to write about it, but do not simply make excuses for weak parts of your application.
DON'T speak negatively about a physician or healthcare professional. You may have had negative interactions with a physician and feel compelled to discuss how those negative encounters shaped your desire to become a physician, but leave this out of your statement. These experiences may have strongly impacted you, but admissions committees may be deterred by your cynicism towards the healthcare profession.
DON'T overuse the word I. Doing so makes you more likely to state your accomplishments instead of telling a story.
DON'T use flowery language or words you found in a thesaurus. Be respectful and thoughtful with your language, but focus on using words that come naturally to you.
DON'T list your accomplishments or rehash your CV and extracurriculars. They already have access to those aspects of your application. Use the personal statement as an opportunity to provide a deeper insight into who you are as a person and prospective physician.
DON'T beg for an interview or acceptance. This is unprofessional and not at all the purpose of your personal statement.
DON'T explain to a physician what medicine is all about. Talk about yourself and your experiences; the admissions committee already understands medicine.
DON'T procrastinate. Get started on your personal statement as soon as you can. Set time aside every day to reflect on the moments in your life that have shaped your desire to become a physician.
DON'T edit your personal statement by yourself. You should get outside opinions and have others edit your essay to ensure there's nothing you missed. Having strong writers edit your essay is helpful, but it's best to have physicians and those who have served on admissions committees as editors. They can edit beyond spelling or grammar to provide an insider's perspective on what will impress medical schools. Med School Insiders offers a range of personal statement editing packages , from general editing to unlimited, in-depth editing with a physician.
Learn more about our Comprehensive Medical School Admissions Packages and follow our blog for the latest premed advice, study strategies, and more.
|| Guide to Understanding the Medical School Application Process ||
Sammi Scarola
Guide to the Medical School Interview Tell Me About Yourself Question
The broad nature of the medical school interview "tell me about yourself" question can be intimidating. Learn how to best answer this common interview question.
How to Get Into Medical School With a Low GPA
If you have a low GPA and want to be a doctor, all hope is not lost. Here's how you can get accepted to medical school with a low GPA.
Medical School Secondary Application FAQ (9 Questions Answered)
We compiled a list of medical school secondary application FAQs to answer the questions we hear most often, including costs, due dates, and what to expect.
Leave a Reply Cancel reply
Join the insider newsletter.
Join our mailing list to receive MSI exclusives, news, and updates. No spam. One-click unsubscribe.
You have Successfully Subscribed!
Receive regular exclusive MSI content, news, and updates! No spam. One-click unsubscribe.
US South Carolina
Recently viewed courses
Recently viewed.
Find Your Dream School
COVID-19 Update: To help students through this crisis, The Princeton Review will continue our "Enroll with Confidence" refund policies. For full details, please click here.
Enter your email to unlock an extra $50 off any MCAT program!
By submitting my email address. i certify that i am 13 years of age or older, agree to recieve marketing email messages from the princeton review, and agree to terms of use., 15 tips for your medical school personal statement.
Don't underestimate the power of the medical school personal statement to make a strong, positive impression on an admissions committee. Combined with your interview performance, your personal statement can account for 60% (or more) of your total admissions score!
Medical schools want to enroll bright, empathetic, communicative people. Here's how to write a compelling med school personal statement that shows schools who you are and what you're capable of.
Personal Statement Topics
Your medical school personal statement is a component of your primary application submitted via, TMDSAS (for Texas applications), or AACOMAS (NB: If you are applying to medical school in Canada, confirm the application process with your school, as not all application components may be submitted through AMCAS).
These applications offer broad topics to consider, and many essay approaches are acceptable. For example, you could write about:
an experience that challenged or changed your perspective about medicine
a relationship with a mentor or another inspiring individual
a challenging personal experience
unique hardships, challenges, or obstacles that may have influenced your educational pursuits
your motivation to seek a career in medicine
You'll write an additional essay (or two) when you submit secondary applications to individual schools. These essays require you to respond to a specific question. Admissions committees will review your entire application, so choose subject matter that complements your original essay .
Read More: Strategies for Secondary Applications
How to Write a Personal Statement for Medical School
Follow these personal statement tips to help the admissions committee better understand you as a candidate.
1. Write, re-write, let it sit, and write again!
Allow yourself 6 months of writing and revision to get your essay in submission-ready shape. This gives you the time to take your first pass, set your draft aside (for a minimum of 24 hours), review what you've written, and re-work your draft.
2. Stay focused.
Your personal statement should highlight interesting aspects of your journey—not tell your entire life story. Choose a theme, stick to it, and support it with specific examples.
3. Back off the cliches.
Loving science and wanting to help people might be your sincere passions, but they are also what everyone else is writing about. Instead, be personal and specific.
4. Find your unique angle.
What can you say about yourself that no one else can? Remember, everyone has trials, successes and failures. What's important and unique is how you reacted to those incidents. Bring your own voice and perspective to your personal statement to give it a truly memorable flavor.
5. Be interesting.
Start with a "catch" that will create intrigue before launching into the story of who you are. Make the admissions committee want to read on!
6. Show don't tell.
Instead of telling the admissions committee about your unique qualities (like compassion, empathy, and organization), show them through the stories you tell about yourself. Don't just say it—actually prove it.
7. Embrace the 5-point essay format.
Here's a trusty format that you can make your own:
1st paragraph: These four or five sentences should "catch" the reader's attention.
3-4 body paragraphs: Use these paragraphs to reveal who you are. Ideally, one of these paragraphs will reflect clinical understanding and one will reflect service.
Concluding paragraph: The strongest conclusion reflects the beginning of your essay, gives a brief summary of you are, and ends with a challenge for the future.
8. Good writing is simple writing.
Good medical students—and good doctors—use clear, direct language. Your essays should not be a struggle to comprehend.
9. Be thoughtful about transitions.
Be sure to vary your sentence structure. You don't want your essay to be boring! Pay attention to how your paragraphs connect to each other.
Free MCAT Practice Tests & Events
Evaluate and improve your MCAT score.
10. Stick to the rules.
Watch your word count. That's 5,300 characters (including spaces) for AMCAS applications, 5,000 characters for TMDSAS, and 4,500 characters for AACOMAS.
11. Stay on topic.
Rambling not only uses up your precious character limit, but it also causes confusion! Think about the three to five "sound bytes" you want admissions committee to know and remember you by.
12. Don't overdo it.
Beware of being too self-congratulatory or too self-deprecating.
13. Seek multiple opinions.
Before you hit "submit," ask several people you trust for feedback on your personal statement. The more time you have spent writing your statement, the less likely you are to spot any errors. A professor or friend whose judgment and writing skills you trust is invaluable.
Read More: 12 Smart Tips for Your AMCAS Application
14. Double-check the details.
Always check for grammar, spelling, and punctuation errors. This goes for the rest of your application (like your activities list), too. A common oversight is referencing the wrong school in your statement! Give yourself (and your proofreaders) the time this task truly requires.
15. Consult the experts about your personal statement strategy.
Our med school admissions counselors can diagnose the "health" of your overall application, including your personal statement. Get expert help and guidance to write an effective personal statement that showcases not only your accomplishments, but your passion and your journey.
Want to get an edge over the crowd?
Our admissions experts know what it takes it get into med school. Get the customized strategy and guidance you need to help achieve your goals.
Med School Admission Counseling
Explore Graduate Programs for You
Explore our featured graduate schools & programs to find those that both match your interests and are looking for students like you.
Best Law Schools
Check out our complete list of 168 law schools, based on surveys of school administrators and over 17,000 students.
Search for Medical Schools
Visit our Med School Hub to explore med schools with our 'Find Your Med School' filtered search or visit our Med School Advice pages for info about good MCAT scores or interview question prep.
Find MBA Programs Matched to Your Interests
Explore our featured business schools to find those that are looking for students like you.
MCAT Prep Courses
510+ course, ultimate course, summer immersion, more mcat articles, free mcat practice test & events, 1-800-2review, free mcat biology course take our biology class at no cost, what would you score on the mcat today.
Thank you! Look for the MCAT Review Guide in your inbox.
I already know my score.
Enrollment Advisor
1-800-2REVIEW (800-273-8439) ext. 1
1-877-LEARN-30
Student Support
1-800-2REVIEW (800-273-8439) ext. 2
Partnerships
College Readiness
International
Advertising
Affiliate/Other
Enrollment Terms & Conditions
Accessibility
Cigna Medical Transparency in Coverage
Register Book
Mon-Fri 9AM-10PM ET
Sat-Sun 9AM-8PM ET
Local Offices: Mon-Fri 9AM-6PM
Mon-Fri 9AM-9PM ET
Sat-Sun 8:30AM-5PM ET
Academic Subjects
Find the Right College
College Rankings
College Advice
Applying to College
Financial Aid
School & District Partnerships
Professional Development
Advice Articles
Private Tutoring
Mobile Apps
Local Offices
International Offices
Work for Us
Affiliate Program
Partner with Us
Advertise with Us
International Partnerships
Our Guarantees
Accessibility – Canada
Privacy Policy | CA Privacy Notice | Do Not Sell or Share My Personal Information | Your Opt-Out Rights | Terms of Use | Site Map
©2023 TPR Education IP Holdings, LLC. All Rights Reserved. The Princeton Review is not affiliated with Princeton University
TPR Education, LLC (doing business as "The Princeton Review") is controlled by Primavera Holdings Limited, a firm owned by Chinese nationals with a principal place of business in Hong Kong, China.
What NOT to do in your personal statement for medical schools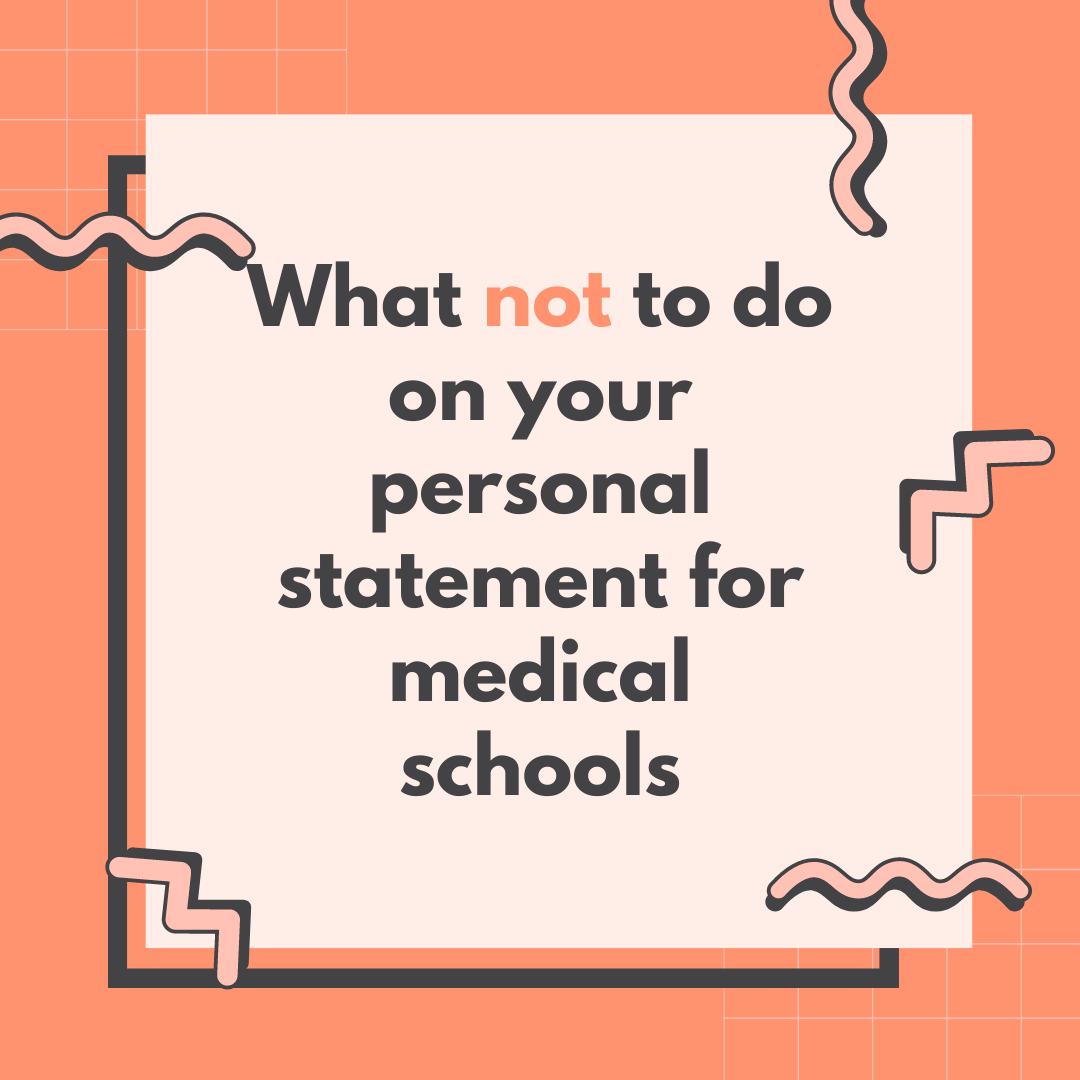 "Snowflake."
"Entitled."
When I worked on my own personal statement, I took care to select experiences and to phrase things in a way that would highlight maturity, steering away from anything that might cause an admissions committee to apply those words to me. In some ways, this is an unreasonable task: most medical school applicants are young, still acquiring the life experience that they are supposed to be writing about. Still, there are ways to write a persuasive personal statement that highlights a mature and thoughtful adult ready to take on medical school.
Who am I to say that a given personal statement is reading as immature? Unlike the applicants who figured things out early, I took my time finding my way to a career in medicine. I spent 6 years serving in the U.S. Air Force and was in my thirties by the time I applied to medical school. As such, I've developed a sharp awareness for writing that lands as immature. I've used my unique perspective to help applicants emphasize their strengths and avoid common missteps. Based on my experience, here are nine things you should NOT do in your personal statement:
1. "I always wanted to be a doctor."
My trusted mentor (who used to serve on an admissions committee herself) said that this statement is a red flag. A young child barely knows what a doctor is - how did they decide to be one? They didn't; their parents decided. This is concerning to anyone evaluating applications - a student who was pushed into medicine is a less compelling candidate than a student who freely chose medicine.
But having pushy parents is not a disqualification! I advise applicants in this position to think about moments they had as a young adult that solidified their pursuit of medicine. When did the journey become your journey? This focuses your response on your growth and maturity, as answering this question makes you reflect on your experiences as a young adult.
2. The hook highlights an early childhood incident.
While this hook can be done well, it frequently can backfire. First, it focuses on the applicant as a child, rather than on the young adult who is going to attend medical school. Secondly, it can raise concerns about the applicant's life experience: were there no other substantial experiences that happened to the applicant since childhood? For a life or death incident, this can make sense. For anything else, it can look like the applicant is very sheltered.
The fix: talk about a more recent story! And if the childhood event truly played a pivotal role, go ahead and mention it, but make sure to connect it to more recent reflections and experiences as you progress through your statement.
3. The parents get too much attention.
Parents are a huge part of our lives. But part of growing up is branching out and forming an adult identity that is separate from them. A number of personal statements I have read focus on the parents so much that it left me questioning whether that process of growing and differentiating occurred for the applicant. An excessive presence of parents in a story can make the applicant read as immature and dependent.
It's okay to mention parents (since they are the starting point of your journey), but make sure they don't take center stage. Are you the focus in key locations in your statement? The hook and the conclusion, in particular, should be about you . And the bulk of the story should focus on your experiences and actions.
An editing trick to check for this issue is to highlight the text of your personal statement - how much is your parent's story and how much is your story? You'll quickly see if the ratio is off.
4. The hook is about a quirk.
This strategy may seem like a fun way to start off, but it can hurt applicants in several ways. First, readers only have so much attention to give, and the hook is their first impression - so don't waste the hook on an icebreaker fact! Use this key part of the essay to talk about something more meaningful, like your years of preparation or a moment of personal growth.
If I gave you ten seconds to blurt out one thing that makes you stand out from other applicants and shows you are ready for medical school, what is it? If your hook doesn't include this information, it isn't serving you as well as it could be.
5. Using long words.
I have yet to edit a personal statement and not encourage the applicant to use simple, clear language. First, many applicants don't use more complicated words correctly - don't be that person. Second, long words make an applicant seem like they're only invested in sounding smart. This can read as insecure or insincere, which paints a less than flattering portrait. Third, longer words quickly eat into the precious character count. And for what? Your grades and your MCAT score already highlight your mind and your aptitude - don't waste the character count on sounding smart when that information is present elsewhere.
The fix: short words are better words! One technique I employed for my personal statement was to write my statement in my second language. I don't have the vocabulary to dance around the things I'm trying to say when writing in my second language. For anyone who speaks another language, this can be a tool to help you get to the point.
6. Using quotes from big thinkers.
Including lofty quotes is a strategy that can work well for college essays (nothing like a little Marcus Aurelius to add some polish). But I have yet to see this done well for a med school application. Bringing in sophisticated thinkers can make it seem like the applicant lacks confidence in their own ideas. Keep your statement focused on your own ideas and beliefs!
7. Overblowing a small event.
Lavishing description for a small or routine event can raise questions about the quality of an applicant's perspective. Additionally, dramatizing events can detract from the heart of the story being told. Make sure you're telling your stories and sharing your experiences as truthfully as possible - added drama will only get in the way of what you're saying.
8. Neglecting to show results (of the small event).
Still, if a small event truly was important to your growth, make sure you fully explain the results and impact of that event! I see applicants miss this particular opportunity to show maturity and growth over and over again. The key is to always show the results of every experience you write about. What did you make of it? How did this event change you or change your assessment of the world? No matter how small or average the incident, showing exactly how an event was a catalyst for reflection and growth is a powerful narrative. Furthermore, it is a narrative that shows you will make the most of every opportunity in medical school. You don't deserve an interview or acceptance because of who you are now, but because of who you have the capacity to become.
Consider a scenario where a butterfly flaps its wings and causes a storm - the flapping is small and routine; the storm it creates is anything but. If I want to convince you of the importance of this event, should I spend my time describing the up/down motion of the butterfly's wings in excruciating detail? Or, should I just say it flapped and spend most of my time describing the storm? The latter option will be a more compelling, persuasive, and rewarding essay.
An example from my own application is the shadowing I did in an HIV clinic. I did not shadow for a remarkable length of time, and nothing inherently dramatic occurred while I was there. Nonetheless, I was deeply impressed by the care shown to the patients there. Now, it's easy for an admissions committee to toss off a statement like "I was deeply impressed," so I made sure my essay focused on what I did after the clinic. I spent most of my essay describing how I went on to do more shadowing related to infectious diseases and how I spent my gap year doing HIV research. I didn't make the case that the initial HIV clinic was an important experience for me by waxing poetic on one patient's problems, but rather I offered evidence regarding how I changed based on this experience. An event does not need to be huge and dramatic in itself to be deeply important to you.
9. Only friends and family read the statement before submitting.
Many applicants have only their family, close friends, or trusted mentors read their personal statement. These are people who already know and love the applicant, and this personal bias can allow these people to subconsciously give the applicant the benefit of the doubt if a story doesn't land quite right. It's important to test your statement against a slightly less sympathetic audience (like a tutor!) to make sure that you are submitting the strongest pieces with the clearest messages.
If you can avoid the nine common mistakes I've described here, you will be well on your way to crafting a mature and authentic personal statement for medical schools. I wish you all the best as you work on your applications!
Related Content
Inspira Advantage
Sign up to our newsletter, what to avoid in a medical school personal statement.
Reviewed by:
Rohan Jotwani
Former Chief Resident in Anesthesiology, Weill Cornell Medicine, & Admissions Officer, Columbia University
Reviewed: 1/30/23
If you're completing your med school application, and are stuck on your personal statement, read on to learn more about what to avoid in medical school personal statements. 
Since medical school personal statements typically have a two-page limit, it can be difficult to figure out what to write in this limited amount of space. 
The list of possible topics you could write about in your personal statement is endless. If written well, almost any topic can be unique and reflective of your experiences. 
However, there are certain topics and tropes you should stay clear of. This guide will go over bad medical school personal statement examples and tell you exactly what to avoid to ensure you write a stellar personal statement!
Get The Ultimate Guide on Writing an Unforgettable Personal Statement
There are six common types of medical personal statements you should avoid:
The Medical History Buff
Even if you think you have a wealth of medical knowledge that you'd like to show off to impress the admissions committee, writing a personal statement detailing your medical history, or a family member's, is risky and borders on oversharing. 
Remember, you're writing to a committee of medical professionals who have been in the field for years and have several qualifications. You have a high chance of relaying incorrect or outdated information if you choose to write a technical personal statement.
The Overachiever
There are several ways you may be perceived as an overachiever in your personal statement. One way would be to grossly exaggerate or even make up a story just to make yourself the hero. For instance, saying you saved someone's life as a pre-med student is bound to raise eyebrows.
Bragging about achievements and putting down your fellow classmates or colleagues is also a surefire way to make the judges think you're pretentious.
Doctors must be able to collaborate well with other healthcare professionals in order to provide the best care to their patients. If your entire personal statement places you on a pedestal, and other pre-med students below you, it's clear you are not a team player.
The last way to be considered an overachiever is by using flowery language. Your writing should be clear and concise, not poetic. By trying to use vocabulary you are not familiar with, you risk using these words incorrectly, which will reflect poorly on your writing skills.
The Underachiever
While you don't want to spend your entire personal statement bragging, you also don't want to completely avoid mentioning significant achievements. You need to still impress the committee through your personal statement, so refrain from portraying yourself as the underdog, the overlooked, or the one that was always in last place. 
Medical school is highly competitive, and admission committees are only looking for the best and brightest. If you paint yourself as the opposite, you'll be hurting your chances of getting accepted into your top choices . 
The Repeater
You want to focus on important achievements but don't want to repeat what's already on your application. Don't treat your personal statement like a resume or cover letter.
The committee will already have access to this information, so use this space to tell them something new! 
You want the committee to read your personal statement and remember it as they go through other applicants' statements. If you rely on cliches, the committee will have a hard time remembering your statement.
One common cliche is telling the committee you've wanted to pursue medicine for as long as you can remember. While it's a nice sentiment, it's overused. Focus less on how long you've wanted to become a physician and more on why you chose this career path. 
The Careless Writer
Lastly, you want to ensure you proofread your personal statement multiple times before submitting it. If you have typos, punctuation errors, or spelling mistakes, the committee will think you are careless. 
Considering how competitive medical school is, committees expect you to bring your A game to your applications. Having avoidable writing errors in your personal statement tells the committee you aren't as dedicated as other students who took the time to revise their statements.
Medical School Personal Statement Topics To Avoid
Although we've covered the general types of personal statements to avoid, you may be wondering which topics are inappropriate to write about. Here are the six topics you should absolutely avoid in your medical school personal statement:
Selective Niches 
Students participate in various extracurriculars to diversify their med school applications. Many students play school sports as part of their extracurriculars, and use their favorite sports-related metaphors and sayings in their statements.
There is no guarantee that the entire admissions committee will understand these references. To give yourself the best chance of impressing the committee, ensure you choose a topic that is universally understood. 
Early Childhood Memories
A common way students introduce their medical school personal statements is "I knew I wanted to be a doctor when I was three, four, or five years old." The truth is, almost every child wants to be a doctor at some point! They also want to be astronauts, princesses, and firefighters.
Your childhood career ambitions mean nothing to the admissions committee, and it's unlikely you even remember much from that age, anyway.
Rather than mentioning that your favorite childhood game was playing "doctor" with your siblings, focus on your motivation to pursue medicine when you were old enough to understand the time and effort it would require.
Incriminating Adversity
Using adversity you faced to prove your resilience and dedication to medicine can be an excellent topic for your personal statement. However, if this adversity involves criminal activity or academic misconduct, it's best to leave it in the rough drafts. 
Highly Personal Information
You want to make your statement personal, but not too personal. Avoid sharing information that you would only tell your therapist or best friend. 
Fake Stories
While the majority of students exaggerate their personal statements a little, you shouldn't make up stories. You'll likely be asked to elaborate on your personal statement during your interview . One lie will turn into many, which isn't a good way to start off your medical career.
Low MCAT or GPA Scores
Don't use your personal statement to provide excuses for low MCAT scores or a low GPA . While you may talk about adversity that created obstacles in your med school journey, excuses will only make you seem like you can't take accountability for your actions.
FAQs: What To Avoid In a Med School Personal Statement
For any remaining questions about what to avoid in medical school personal statements, read on to find your answers.
1. What Should I Not Write About in a Personal Statement for Medical School?
You should avoid writing about complex medical terminology, focusing solely on your accomplishments, mentioning none of your accomplishments, or sharing highly personal information.
Ensure you also avoid using clichés, false stories, or excuses.
2. Should I Mention Illness in a Personal Statement for Medical School?
You should only mention your own major illnesses if they presented challenges you had to overcome to get to where you are today. However, you should be very cautious and ensure you don't make any medical mistakes, overshare, evoke pity, or make excuses.
3. What Is an Example of a Bad Medical School Statement?
Common medical school personal statement mistakes include statements that use selective metaphors and sayings, overshare, rely on clichés, or use complex and misused vocabulary.
Statements that share incriminating information, that are obviously false, that play the underdog card, or make excuses should also be avoided.
Final Thoughts
By knowing what to avoid in your medical school personal statement, writing one should be less intimidating. 
Remember, your personal statement gives the committee direct insight into who you are and what you value. If you read your personal statement, and it doesn't capture your essence, it may be time to go back to the drawing board or reach out to our admissions experts who know exactly how to write a winning personal statement!
Schedule A Free Consultation
You may also like.
How to Become an Endodontist
Best Pre-Med Schools in New York
Caution! Medical School Personal Statement Don'ts
By: Ryan Kelly
Sometimes it's more about what you don't say than what you do.
Google "Personal Statement Don'ts" and you'll get a host of obvious advice: "Don't have any typos" or "Don't discuss political topics like abortion."
This article aims to go deeper. We'll focus on specific mistakes that plague average personal statements. Steer clear of these pitfalls:
PERSONAL STATEMENT DON'TS
Don't #1 - narrating your resume.
Why do pre-meds do this?
Because they think it's what medical schools want. They want to show the schools that they've accumulated the thousands of clinical and volunteering hours needed to be a doctor.
But it's not what medical schools want to read about in the personal statement.
By the time the admissions committees read your personal statement, they will have already read your entire work and activities list, including three most meaningful essays about those activities. They'll be familiar with your resume, so repeating it will leave them unimpressed.
Many pre-meds take this route because they want to make sure the committee considers all of their many accomplishments. They don't realize that the more you try to include, the less impact and depth your personal statement can convey.  
DON'T #2 - WRITING ABOUT YOUR CHILDHOOD
They treat the personal statement too much like an autobiography. When considering their backgrounds, they think logically and start at the beginning.
But chances are, the things you'll say about your five-, six-, or 10-year-old self won't be that impactful. Medical schools are much more interested in what you've done recently, since that's most relevant.
Spare them the narratives about you playing with your Fisher Price stethoscope or band-aiding your friends' boo-boos on the playground. These angles are overdone and uninspired. The exception to this rule is if your childhood contains a story that continues to shape the person you are. In that case, be sure to relate what happened in your childhood to your present motivations for the field.
DON'T #3 - WRITING ABOUT DOCTORS YOU ADMIRE
Doctors are their primary mentors and role models. Shadowing is often their deepest exposure to medicine, so they feel inclined to share the inspiring things they've seen doctors say or do.
But there's a problem with this approach in the personal statement: it reveals little about you, the writer.
For example, my own father is a doctor, and I admire him a great deal. I could even list his specific qualities that I find admirable, or share stories of how he's helped people. But in the end, that would say nothing about me as a person or candidate.
It's particularly lame to write about Dr. Parent:
The 5 Most Overused Sentences in Personal Statements
Doctors and shadowing experiences can have a place in the personal statement, but they should not be the focus. Medical schools prefer to hear about YOUR OWN patient interactions and healthcare contributions.      
DON'T #4 - "THEORIZING" ABOUT MEDICINE
They find medicine fascinating. They want to impress medical schools with ruminations about this noble career calling.
The problem: the admissions reader probably knows more about medicine than you do. Either it's a faculty at the medical school, a current medical student, or a career admissions officer, who reads about medicine all day, every day. By trying to tell the reader how you think medicine SHOULD be, you run the risk of sounding naive.  
Medical schools don't expect you to have all the answers, and they certainly don't want to read long paragraphs about medicine being the "ultimate trichotomy of science, ethics, and humanitarianism." No need for fancy, high-falutin discourse (see what I did there?). Try to tell your story in an engaging, accessible way.      
DON'T #5 - UNNECESSARY NEGATIVITY
Many pre-meds have ambivalent feelings towards the medical system. Others have witnessed doctors make inappropriate comments or take questionable courses of action. These negative interactions have helped drive them towards medicine, to do better for their own patients than their doctors did for them.
Most of the time, these stories will rub admissions committees the wrong way. Regardless of the injustices or unethical behavior you've seen, it's not your place to be overly critical towards a long-established system or professionals with decades of experience.
Plus, even if you make a valid point, what does that accomplish? You'll end up wasting space that you could have dedicated towards building the case for YOUR candidacy. Remember that you're the one being assessed, not the people who are already working in the field.
These aren't the only 5 things to avoid, but they're probably the most important.
Look around online and you'll find all kinds of advice about personal statements. Read these pieces of advice, but do so with a grain of salt.  
You can't please everyone, and that shouldn't be your goal in the personal statement. Sure, you want your essay to be as palatable as possible, but not at the expense of your individual voice and distinct qualities. Present yourself in the way that feels most personally authentic.
Don't drown in the sea of opinions. Grow wings and fly above the choppy waters. I really mean it when I tell my students to "celebrate yourself" (stolen from Walt Whitman). If you can't, why should anyone else?
Upcoming Online Classes
SUBSCRIBE AND GET YOUR FREE ADMISSIONS TIMELINE
Learn to be Savvy! Get creative pre-med strategies delivered right to your inbox. FREE Medical School Application Timeline when you subscribe.
We follow the email Golden Rule: we will never send you anything without your permission.
All work on this site is our own. The content for the Savvy med school search was found on the webpages of the respective medical schools.
Write once, proof twice
Personal statement do's and don'ts: avoid clichés, trust your own voice, you want a personal statement that isn't just like everyone else's. these 10 tips can transform your essay from cookie-cutter to captivating..
When you submit a personal statement for medical school or residency, you're going up against applicants who are smart, driven and deeply passionate about medicine—just like you. To craft a personal statement that's truly unique, it's best to weave in compelling life experiences that speak to your goals and skills, and avoid oft-used essay tropes.
Here are the key do's and don'ts of creating an engaging personal statement , according to emergency medicine residency program director William Fraser, DO; emergency medicine resident Janine Curcio, DO; and Elizabeth McClain, PhD, MPH, associate dean for academic affairs at the William Carey University College of Osteopathic Medicine (WCUCOM) in Hattiesburg, Mississippi.
Personal statement pitfalls: 5 things to avoid
Cliché #1.
"Your personal statement should only include elements that are still relevant today," advises Dr. Fraser.
Cliché #2
"When you're writing your personal statement, think back to a experience where you wanted time to stand still so you could take it all in," says Dr. McClain. "Those one-of-a-kind stories are the ones you want to include."
Cliché #3
"I don't want to see quotes from historical figures or philosophers—I'd rather hear the applicant's own voice," says Dr. Fraser. "What drew you to this specialty, or to medical school, and what motivates you and keeps you going when things are tough?"
Cliché #4
"The single biggest mistake you can make is to submit a generic personal statement—you want to highlight what makes you unique," says Dr. Curcio, whose essay on her experiences in the Navy earned praise from residency program directors during interviews last year.
Cliché #5
"As an emergency medicine physician, I already know why emergency medicine is a great career," says Dr. Fraser. "I want to know why you think so, and what unique skills you have that would make you a good fit."
5 steps to creating a personal statement that's distinctively yours
"Build your personal statement around experiences you'll be excited to discuss during an interview," Dr. McClain advises.
"Ask yourself, what life experiences have you had that set you apart from anyone else who's applying?" Dr. Curcio advises.
"You don't want to sound arrogant or boastful, but you do want to sound confident," says Dr. Fraser. If you're unsure how your essay reads, try asking an honest friend or relative for their take.
"If you're targeting your residency search by region, it's definitely not harmful to include in your personal statement, and it's helpful information for some review committees," says Dr. Fraser.
Though you should ask several people to review your statement and offer suggestions, the finished product should be 100% your writing. "Nobody is better equipped to write about you than you," Dr. McClain says.
For more personal statement guidance, see The DO's recent article on how to write a compelling personal statement .
Workforce trends
Fewer physicians are pursuing emergency medicine, medical education, learning anatomy in med school: is it still necessary to work with cadavers, a life in medicine, in memoriam: nov. 1, 2023, patient-focused, the do book club, november 2023: 'the peter principle,' 'how to improve doctor-patient connection,' 'aging optimally' and 'this to me', professional recognition, 2 osteopathic organizations win 2023 outstanding affiliate awards, related article.
Lights, camera, action: How to write a compelling personal statement
Envisioning your essay as a movie trailer and avoiding common storytelling pitfalls can help your writing stand out, experts say.
More in Training
OMED23 highlights: Get the lowdown on main stage speakers, specialty tracks and Orlando magic
The osteopathic medical profession's premier education and networking event, OMED, has something for everyone. Virtual access is available through December.
Imposter syndrome in medical school
Many medical students experience imposter syndrome. Changing your outlook is not easy, but doing so can help you overcome feelings of self-doubt.
Previous article
Next article, leave a comment cancel reply please see our comment policy.
Which program are you applying to?
Accepted Admissions Blog
Everything you need to know to get Accepted
July 11, 2022
13 Essential Do's and Don'ts for Your Residency Personal Statement
Residency applicants can submit applications via ERAS (Electronic Residency Application Service) starting September 7th. Don't wait until the last minute – get cracking on those residency essays now!
Why is your residency essay so important?
Your personal statement is a vital part of your residency application ; it's where you'll explain why you've chosen your specialty and show the committee why you're the best candidate for training. And unlike other pieces of your application (such as your letters of recommendation or your medical school transcript), your personal statement is something that you have complete control over. 
For a knockout personal statement, heed these do's and don'ts!
DON'T reuse your med school personal statement When you applied to medical school, you had to demonstrate an interest in medicine and demonstrate that you had the potential to become a successful doctor. At this point in your education, you are a doctor – or about to be one. Unless your premed school career is very relevant to your specialty choice, there's no need to explain why you originally pursued medicine. And if you reuse your med school personal statement, your specialty decision could come across as unformed or immature.
DO explain why you have chosen your specialty Your decision to pursue a certain specialty is a personal one, and program directors want to hear about it. Did you have a mentor who helped you see dermatology in a new way or did you love your time in the pathology lab? What is it about delivering babies that thrills you more than caring for them after they're born? Use specific examples to illustrate your story and your distinctive experiences and perspectives. Most importantly, where do you see yourself in the future? Make your choice unambiguous and your commitment undeniable.
DON'T offer superficial or generic explanations for choosing your specialty "Internal medicine is like solving a puzzle." "GPs serve as gatekeepers." "The OR just feels like home." Cliches like these – without the proper care – can be the death knell for personal statements. But what if you do love diagnostic puzzles, or enjoy helping patients navigate the healthcare system? What if you really do feel most comfortable in a surgical environment?
DO bring out your unique experiences and perspectives Sharing the very specific details of your experiences and supporting your explanation can elevate your reasons from a generic cliche to a specific, and personal insight. Use anecdotes to illustrate your story and bring your unique experiences and perspectives to life. To explain why you like the fast-paced energy of the emergency room, share a particular experience you had there, how your people skills and your ability to stay calm under pressure came into play, and how you felt a sense of accomplishment in helping patients in distress. To explain why pain medicine appeals to you, you might mention how you connected with an anesthesiologist who opened your eyes to the potential of this field. The more examples you can give about why this specialty is the specialty for you, the better.
DON'T sound pompous or self-important When describing your skills, be mindful of the line between confidence and smugness. You want to sound enthusiastic and confident, but never arrogant or boastful . For example, it can be very off-putting to a reader if you talk about how work was too easy for you, making it sound like you think you're more accomplished than everyone you worked with. After all, your readers are considering you as a potential colleague.
DO emphasize your strengths with tact and grace You've gained some valuable technical skills and exposure to clinical practice, but so have all your classmates. Which of your unique qualities will make your #1 residency program rank you as their #1 choice? Your personal experiences, both in medical school and outside, reveal more about you than your CV and USMLE Step exams. A good way to think about this is in the context of what's needed for that specialty. Will the listening skills you developed through mentoring premeds help you as a family practitioner? Have quick reflexes, honed through years of playing piano, prepared you for the technical dexterity you'll need in surgery? Will teamwork skills developed at the student-run clinic help you contribute to an obstetrics team? Select specific examples that demonstrate your strengths and make your essay come alive.
DON'T send the same personal statement to every program You're probably applying to many residency programs and the thought of tailoring each one is daunting. Yet each program has certain distinctions that make it unique. If your personal statement talks about how much you love research and hope to continue that pursuit during your residency training, program directors in community-based programs might not think you're a good fit for them. On the other hand, a completely generic statement of what you're looking for in residency won't appeal to anyone. How can you show your interest in specific programs without getting overwhelmed?
DO create multiple interchangeable versions of your personal statement While it's unreasonable to suggest writing a different essay for every school, tailoring certain features in a limited number of essays can be a useful strategy. You might have one version for academic programs that emphasizes your future research interests, while your version for community-based programs leaves that line out and focuses on clinical opportunities. Or you might have a version for rural programs vs. urban, or for programs in your preferred geographic location vs. the rest of the country. ERAS allows you to save multiple versions that you can upload to certain schools – just be sure you give each one a unique name to keep them straight.
DO tailor your essay to your top program Do you have a dream program, one where you're sure you'd be able to excel? If so, it's well worth the extra time and effort to detail exactly why you want to rank it #1. This may sound like a lot of work, but it really doesn't take long to identify why you want to work with a specific researcher or continue learning where you had a great externship. Don't underestimate the bonus points you can get for this approach. Tailoring your essay to their specific offerings demonstrates that you've done your homework and are genuinely interested.
DON'T use all 28,000 characters for your personal statement ERAS permits 28,000 characters for your essay – around 7,000 words! – but no residency director wants to read even close to that much. Instead, stick to a one-page essay – usually 600-800 words – that addresses your key points. Your essay will be more effective if you're more to the point and concise. In order to do that well, 
DO keep your purpose in mind As you write, remember that you're trying to land an interview, not detail every aspect of your medical school training. If you throw in everything but the kitchen sink, your story will be generic and lack any impact. Instead, select the key experiences that led you to your chosen specialty, the details that will demonstrate your fit for it, and where you see your future contributions in this field.
DON'T submit without proofreading In their rush to submit, some applicants skip this step, only to later find a typo they're unable to correct. To avoid this, take a break from writing – at least a few hours, or better yet, a day – before carefully proofreading your essay. Try reading aloud as you go along. Since your ear often picks up what your eye misses on the screen, you'll be more likely to catch awkward phrases, repetitive sentences or ideas, or other glitches.
DO have someone else also read your essay Even after you've done your own quality control, your own writing is so familiar that it's all too easy to miss a typo. You also want to ensure that the entire essay reads well, hitting the high points that are most important, and striking the right tone. Getting the all-clear from another reader will give you confidence that you are ready to submit!
You've worked so hard to get to this point in your journey. Now that you're ready for your next achievement, make sure you know how to present yourself to maximum advantage in your residency applications. In a hotly competitive season, you'll want a member of Team Accepted in your corner, guiding you with expertise tailored specifically for you. Check out our flexible consulting packages today!
Related Resources:
From Example to Exemplary , a free guide to writing outstanding application essays
All You Need to Know About Residency Applications and Matching
M3 Journaling: How to Do it and How it Can Help Your Residency Application
About Us Press Room Contact Us Podcast Accepted Blog Privacy Policy Website Terms of Use Disclaimer Client Terms of Service
Accepted 1171 S. Robertson Blvd. #140 Los Angeles CA 90035 +1 (310) 815-9553 © 2022 Accepted
Medical School Application
AMCAS Personal Statement: Tips From Former Adcom in
Key tips and outstanding amcas personal statement examples.
Your AMCAS personal statement is one of the most important components of your AMCAS application. This is your best chance to share information about yourself with the admissions committee that they might not learn from reading the other sections of your application. It's one of your first opportunities to set yourself apart from the competition, which you'll need to do if you want to hear back from medical schools for interviews . But your AMCAS personal statement won't write itself, and synthesizing all your ideas, experience, and background into about 5,300 characters is no easy feat.
Fortunately, we've done the research for you and collected some of the best tips for writing an outstanding AMCAS personal statement, along with excellent AMCAS medical school personal statement examples that will inspire you to write your own.
>> Want us to help you get accepted? Schedule a free strategy call here . <<
Listen to the blog!
Article Contents 18 min read
Although you may later need to further clarify your motivations and school interests in medical school secondary essays , the first major admissions essay you are likely to encounter is the AMCAS personal statement if you are applying to allopathic medical schools in the US . If you are applying to DO schools (osteopathic medical schools), then you will need to submit an AACOMAS personal statement .
Consider the following AMCAS personal statement example to get a good idea of what's expected. Then, read over our 6 Expert Tips and solid suggestions to prepare to write your own essay.
AMCAS Personal Statement Example #1
916 words (5,181 of the maximum 5,300 characters with spaces)
My mother grew up as one of 14 children in a very poor home in rural Ontario, where both parents, while loving and warm, suffered from alcoholism. She and her siblings experienced significant childhood adversity, the legacy of which still looms large. Later, as the matriarch of her own family, she ran a small business, supported my aunts, uncles, and cousins, and provided stability for all of us. She modelled, and I internalized, compassion for my loved ones as they lived through uncertainty, conflict, illness, and loss.
You might wonder why I tell my mother's story, rather than my own. I could say that my mother inspired me to go into medicine and leave it at that. However, to call it inspiration would be a discredit to the profound influence my mother has had on my life and the lives of everyone around us.
They say, "it takes a village," but my family basically made up half the village where I lived. I'm exaggerating, but it's almost true. In such an isolated place, the few families that existed formed a close, interdependent community. When someone fell ill, it was often the family who stepped in, since the nearest clinic was 40 minutes away.
That is not to say we were completely helpless. We had a doctor who actually did house calls for many years. It wasn't always the same doctor, but the service was set up to come to us. These doctors in my family's story buffered the effects of poverty and social exclusion. For example, when my uncle Elvin was dying of liver cancer, our family doctor regularly stopped by our house to manage his palliative care, even as he continued to drink alcohol. I still recall how the doctor treated him with such humanity and with full recognition of his life arc.
You will have noticed that I said, "our house," which is where my mother comes in again. Indeed, when her brother got sick, there was no question of where he would stay or who would look after him. He was not alone; my mother was already looking after her ailing father and several young children. Moreover, before my uncle Elvin arrived, she had offered our neighbor's son, who was studying to be a nurse, a job. She didn't stop there. Those of us siblings who were old enough to take on greater responsibility were assigned new tasks: more cleaning, more cooking, more laundry.
Your AMCAS personal statement should NOT be a recitation of your medical student CV . Your CV is just data: it does not tell the story of why you want to become a doctor, or why you are particularly suited to medicine. As the above sample shows, structuring your personal statement around a narrative can be an effective approach.
5 Dos & Don'ts for Writing Your AMCAS Personal Statement
Be interesting. "}]'>
What Makes Example #1 an Effective AMCAS Personal Statement?
It articulates the applicant's own point of view about their background influences, the traits they value, their core sense of empathy, and what they will bring to medicine.
It is clearly their story. This is their voice. Their family, friends, and colleagues will likely recognize them in this statement, and that needs to be true of what you write as well. Finding your own voice will become easier if you allow yourself sufficient time to work on your AMCAS personal statement.
You don't need particularly fancy language to craft a compelling story about what brought you here, to medicine. But each sentence must serve a purpose and have a role in the statement. You need to make each sentence count. That's how you work with 5,300 characters.
It's always easier to write an essay if someone assigns you the topic. For instance, maybe you had to research diversity and inclusion in medical education at some point and think you know the "secret" to writing an excellent diversity secondary essay . But what do you do when there is no prompt – or the topic is you? Where do you start? How do you choose? What do medical schools want to hear? How do you come across as unique when the purpose of the essay is so generic?
The fact is, there is no one like you, and if you are applying to medical school, chances are you're already pretty fantastic. All you need to do is reach back into your experiences and identify a moment that really defined your view of medicine and your potential place in the profession.
As mentioned, building your narrative on your personal background can produce an eloquent AMCAS personal statement that evokes who you are as a person and why medicine resonates with you. However, you can also drill down on experiences that are directly connected to your academic and professional journey, as follows.
Focus on an actual event that stuck with you and that you recall in great detail. For example, think back to one of the first times you interacted with a patient and ask yourself the following questions:
In which department were you volunteering?
Do you remember a patient vividly?
Did you assist that patient, through conversation or just by helping her find her glasses?
What does this experience mean in the larger picture of why you want to become a doctor?
It\u2019s all the more important to find relevant activities in all domains of your life that illustrate why you will make a great medical student and doctor. ","label":"If you don\u2019t have much on your medical student CV yet:","title":"If you don\u2019t have much on your medical student CV yet:"}]' code='tab1' template='BlogArticle'>
Do you want to know how to make your medical application stand out… without perfect stats? Check out this video:
Tip #3: Get an Early Start!
While American medical schools usually have a rolling admissions process, applicants who make it into the pool early have a better chance at both interviewing and acceptance. When the AMCAS application service opens in May, your brain will be overloaded with lists upon lists of requirements and data to collect, such as medical school recommendation letters , verifiers, contact information, and transcripts. Depending on when you decide to start studying for the MCAT , you'll likely also be thinking about the ideal MCAT study schedule in the months leading up to your application to medical school while completing all the medical school requirements for your chosen schools.
It's a lot, which is why it's an effective strategy to start early on as many components of your application as possible. This will allow you to put the proper thought into building documents, such as your medical school resume , and engaging in the best extracurriculars for medical school . Students who plan to go from high school to medical school have an advantage here because they will have already started to prepare and may be comfortable with their medical school application timeline , but the beauty of the AMCAS personal statement is that anyone can use it to stand out and make a great impression on admissions committees. Non-traditional medical school applicants , in particular, will be able to use their personal statement to shed light on their unconventional path to medicine. There's bound to be something wonderful in your background that makes you a unique and worthy candidate to be a doctor.
So, get to work soon on your essay draft and have it ready for upload when application season opens. You should allow yourself about eight weeks to reflect on and write your AMCAS personal statement. It's not a task that should be rushed, and you'll be glad you took the time to prepare it properly, to effectively convey why you want to go into medicine.
According to AMCAS, " distance traveled is how admissions officers and prehealth advisors refer to those life challenges you've faced and conquered," so let this metaphor inspire how you contextualize any setbacks you've experienced.
Basically, your essay is meant to be an authentic expression of you as a person – and as the saying goes, bad things happen to good people. One student might lose their parents in their second year of university. Another might get injured in varsity sports. Still others might see their grades fall drastically after they migrate during high school to escape war and famine.
If you experienced any event that negatively impacted your GPA, AMCAS expects you to mention it before it is raised as a red flag or becomes one of the 5 mistakes to avoid while writing your medical school personal statement . And this may seem like a huge challenge. You want admissions committees to know that you are strong, capable, and resilient. You want them to consider all that you have come through when they note that your GPA is less than 3.8. But you don't want them to take pity on you or think you're asking for favors.
Take heart, because adequately addressing setbacks in your AMCAS personal statement may well be the path to how to get into medical school with a low GPA. By making it an integral part of your Personal Comments, AMCAS is, in a sense, ensuring that less than stellar academics will not take over your application and drag you down – because each admissions officer will be made aware of your situation in your personal statement.
Do you want to know how to avoid the most common med school personal statement mistakes? Watch this video:
What's the Best Way to Address Setbacks in the AMCAS Personal Statement?
First, remember what the instructions say: "you may wish to include information such as…." Unless your challenges have had a tangible effect on your past academic performance, you are not obliged to mention them.
Next, " including " the information does not mean making the whole essay about your problems. Recall that most of the AMCAS personal statement should center on: Why have you selected the field of medicine? What motivates you to learn more about medicine?
How you tell the story matters. When talking about your family, for example, no matter how complicated, you would not discuss how it may have disadvantaged you to come from the middle of nowhere and be among the first in your family to attend university. Don't beg for special consideration because of all the hard things. Rather, talk about how your family experience lent you traits that are in great demand in medicine today. Someone interested in public health might mention, for instance, that they are equity-focused, conscious of how poverty affects health, nuanced when it comes to addiction, and so on. Concentrate on what you bring to the table and why.
Show discretion in your disclosure. If your experience is something like sexual assault, remember that discussion of these kinds of crimes remains quite conservative, despite their very real consequences, including those faced by your GPA. It can even be re-traumatizing to have to think about and write on such an experience. Further, if you have been named publicly in a criminal proceeding, this isn't something you want to lead with when trying to get into medical school.
There's no way around it; how effective your AMCAS personal statement is comes down to writing skills. In fact, you could have almost any background and a good writer would find ways to convey the perfect combination of hook, narrative, detail, emotion, context, and motivation to convince an admissions committee of your competence. Knowing how to write a compelling introduction & opening sentence for a medical school personal statement is a skill that can be learned. It's really as simple as that. Become a good – even great – writer in the process of applying to medical school, and you can rest easy that you've given this particular part of your application your best shot.
Getting behind the idea of creative writing may not appeal to science majors, but believe us, it's a skill that will serve you in medicine in more ways than you can imagine. However, at this stage, right before applying, it may seem like just another chore to get out of the way. If that's your mindset, you should change it – because your AMCAS personal statement is a real opportunity to reflect on and distill your passion for medicine. Whatever else we say or advice we give, if you know how to answer the medical school personal statement and interview question: "Why do you want to become a doctor?" with clarity, conviction, and confidence, that's half the task of applying to medical school.
Great resources on writer's craft include Phillip Lopate's The Art of the Personal Essay and To Show and To Tell , as well as Stephen King's On Writing . For a fulfilling experience and a break from reading, listen to the latter on audiobook.
And why not take advantage of our free offer to acquire BeMo's Ultimate Guide to Medical School Personal Statements & Secondary Essays? This 300-page guide with tips, strategies, and sample successful personal statements promises to "help you learn to write captivating essays, even if you are not a natural writer."
Get an expert second set of eyes to look at your AMCAS personal statement draft and provide you with objective feedback. That means your mom is probably not the best person to ask (even if she's an accomplished writer) because your family and friends cannot remain objective and will be afraid of hurting your feelings.
The reality is that every great writer has an editor, and you will need one. Given the importance of the AMCAS personal statement, there's really no reason not to consider medical school personal statement editing services to help you out. In addition, these editing services offer far more than simply proofreading and language enhancement. Because our specialists who edit medical school personal statements are admissions experts who are intimately familiar with the application procedure for medical schools, they can also advise you on content, structure, and what schools look for in your AMCAS personal statement. There's no question that a medical school application tutor is worth it to radically improve your personal statement and other components that can highly influence your admission chances.
Still have questions about writing your AMCAS personal statement? Read on for more information.
Purpose, Content, Structure, and Time Required
What is the purpose of the amcas personal statement.
The AMCAS personal statement is referred to as the Personal Comments Essay and constitutes Section 8 of the AMCAS form , which is part of the "primary" application to many medical schools in the US. It has a limit of 5,300 characters (including spaces) with the following instructions from AMCAS:
"Use the Personal Comments essay as an opportunity to distinguish yourself from other applicants. Consider and write your Personal Comments carefully; many admission committees place significant weight on this section."
Pay special attention to this prompt. Note that it's not a prompt that helps you understand the topic of the essay – it's a reminder that your AMCAS personal statement is your chance to make your medical school application stand out . Before the committee reads your statement, they only know you as a collection of numbers, and maybe experiences, but they do not know why you chose to pursue medicine. What they truly want to know is why you want to be a doctor. What motivated you, shaped you, and made you suitable to pursue this career. So, as you prepare to write your AMCAS personal statement, be sure to keep this one question in mind: "why do you want to be a doctor?" Let this question guide you in choosing what experiences and events you will cover in your essay.
The AMCAS Applicant Guide suggests that the Personal Comments Essay include the following (*note that if AMCAS is saying it, you should find a way to cover most or all these elements):
Why have you selected the field of medicine?
What motivates you to learn more about medicine?
What do you want medical schools to know about you that hasn't been disclosed in other sections of the application?
In addition, you may wish to include information such as:
Special hardships, challenges, or obstacles that may have influenced your educational pursuits.
Commentary on significant fluctuations in your academic record that are not explained elsewhere in your application.
This is a tall order, and it isn't enough to just fill the space you have for your essay with 5,300 characters, which is the limit for this part of your application. You can think of your personal statement in different ways – as your voice on paper or as a way for you to step off the page and let the admissions committee see who you really are.
AMCAS Personal Statement Structure
Make sure to follow the academic essay format, with an introduction, body paragraphs, and conclusion. You may remember from writing your college essay introductions that this is really what makes or breaks your essay, so spend some time brainstorming a way to capture the reader's attention. It would be ideal if your conclusion resonates with your introduction, or somehow gives closure to the opening of your personal statement. This way, the essay will seem complete and satisfying. However, keep in mind that your personal statement should leave the reader wanting more. Your intro and conclusion are really important, so while you should definitely spend time choosing the experiences you will include and detail in the body paragraphs, do not dismiss the intro and conclusion.
Why? You have a limited number of characters, and every sentence has to count. The key here is to tell an in-depth story of why you are pursuing medicine. If you stretch your narrative to more than 3 experiences, you will not get the chance to really show the committee why these events influenced your decision to become a doctor, but if you stick to 1\u20133 talking points, you will be able to delve deeper into the meaningfulness of these experiences and how they shaped your decision. ","label":"Cover 1 to 3 experiences or events \u2013 and no more than 3!","title":"Cover 1 to 3 experiences or events \u2013 and no more than 3!"}]' code='tab2' template='BlogArticle'>
A huge advantage of the AMCAS personal statement is that you have unlimited time to brainstorm, draft, and complete it. Once you are sent the medical school secondary essay prompts, you may have as little as two weeks to consult medical school secondary essay examples and write your own, but you can start working on your AMCAS personal statement as soon as you decide you want to attend medical school. Ideally, you might spend a few months reflecting on what you want to include, and how you want to say it. We suggest giving yourself at least 8 weeks to work on your personal statement.
A note on MD vs MD-PhD: if you're only applying to MD programs, you have a single personal statement to write, but if you're applying to MD-PhD programs , you also have to write an MD-PhD Essay and a Significant Research Experience Essay. The MD-PhD Essay is a 3,000-character essay on your reasons for pursuing the combined program. The Significant Research Experience Essay is a 10,000-character essay on your previous research experience, which must include a lot of detail about the project(s) and your contributions to the work.
Do you want to learn more about medical secondary essays with examples? Watch this video:
The Last Word
Note: You must enter all information directly into the various sections of the AMCAS form. You cannot make any changes to your personal statement after submitting your application to the AMCAS program. You can't run a spell check either, so proofread all your texts carefully before entering them into the forms.
The following are some reminders from AMCAS:
Use US English characters; others may not be recognized.
Use normal writing practices: avoid using all uppercase or all lowercase letters.
Don't repeat information added elsewhere on your application.
Your personal statement will be sent to all the medical schools you apply to.
Plagiarism or misrepresentations will result in an investigation.
Remember: You are allotted 5,300 characters, or about one page, for your AMCAS personal statement. It's not necessary to use every word you are allowed but do show that you have enough to say to fill a few paragraphs (about 1 page).
Is there an ultimate guide to AMCAS? Look no further:
Check out two more great samples here:
Amcas personal statement example #2, amcas personal statement example #3.
AMCAS stands for American Medical College Application Service. Most medical schools in the US use this centralized application service.
You have 5,300 characters, including spaces, to work with.
Generally speaking, you would not discuss your MCAT score or academics in your personal statement, but if you have used an MCAT score calculator and found that you fall short or have had to retake the MCAT , you may want to address the issue in your personal statement to explain how your grades and/or other achievements offset your lower score and why you remain an excellent candidate for medical school.
We recommend giving yourself about 8 weeks to brainstorm, draft, polish, and revise. Don't hesitate to get medical school application help if you are struggling with any aspect of admissions.
If you're applying to medical schools in Texas, you will use TDMSAS , and if you are applying to medical schools in Canada , you might use OMSAS . Moreover, certain medical schools may have their own distinct application procedures, so be sure to research the specific requirements for the schools to which you are applying. Basically, while you can certainly re-use some content from your AMCAS personal statement in other applications, you will prepare it differently to meet these specific requirements.
Yes, we recommend a standard academic essay structure with an eye-catching introduction, three body paragraphs, and compelling conclusion.
With medical school acceptance rates being so competitive, learning how to prepare for your medical school application will certainly be beneficial. Writing skills are a big part of producing any application essay, but what you include and why are just as important. Admissions advisors can guide you with their advanced knowledge of medical school application processes.
No, your AMCAS personal statement will be sent to all the schools you apply to, so it should focus on you and your interest in pursuing medicine, not the specific schools that interest you.
Want more free tips? Subscribe to our channels for more free and useful content!
Apple Podcasts
Like our blog? Write for us ! >>
Have a question ask our admissions experts below and we'll answer your questions.
Nadia mourtada
Thanks for providing us with some good ideas on how to write a good statement. That helped with my personal statement, however, I have a question: Do they really read our personal statement? Please let me. Thanks
BeMo Academic Consulting
Hello Nadia! Thanks for your comment. Yes, admissions committees do read your personal statements. After your grades and MCAT score meet the requirements, your personal statement is usually one of the most influential components of the application. It can really help you get the interview invite, so we strongly recommend spending time and effort on it!
Get Started Now
Talk to one of our admissions experts
Our site uses cookies. By using our website, you agree with our cookie policy .
FREE Training Webinar: How To Make Your Med School Application Stand Out
(and avoid the top 5 reasons that get 90% of applicants rejected).
Time Sensitive. Limited Spots Available:
We guarantee your acceptance to med school or you don't pay.
Swipe up to see a great offer!
Username or email *
Password *
Forgotten password?
[email protected]
+44 (0)20 8834 4579
10-Step Checklist For Your Medicine Personal Statement
Follow this 10-step checklist to make sure your Medicine Personal Statement is the best that it can be.
Get your Medicine Personal Statement ready for submission with this checklist to make sure it meets all the criteria.
1. Does your opening paragraph give an insight into why YOU want to do Medicine?
The first paragraph of your Medicine Personal Statement should give Admissions Tutors an insight into why you want to study Medicine and become a Doctor. Try to avoid giving a generic or clichéd reason that lots of other applicants might give. Be specific about what sparked your interest in Medicine – was it a particular experience you had, or something you observed during work experience or volunteering ?
2. Have you reflected on what you learned from work experience and/or volunteering?
When writing about work experience and/or volunteering in your Personal Statement, it's vital that you reflect on what you learned from these experiences. Don't just write a list of what you did, because Medical Schools are a lot more interested in your reflections. What did you learn? What skills did you develop? What did the experience teach you about a career in Medicine?
3. Does it include your extracurricular activities?
You might have forgotten about your extracurricular activities, or assumed they weren't relevant, but they're an important part of your Personal Statement. Medical School can be stressful, so Admissions Tutors want to know that you have ways to relax and will not burn out under pressure. Hobbies and outside-of-Medicine interests also show that you are a well-rounded individual and will make a valuable contribution to the university as a whole.
Make Sure You Stand Out
Get The Best Personal Statement Advice
4. Is all of your grammar correct?
This might seem obvious, but it doesn't hurt to double-check your grammar before the final submission. Printing out your Personal Statement and reading it on paper will help you to see it through new eyes – and you might spot mistakes that you didn't notice before. Reading it out loud can also be an useful exercise. It's a good idea to get it checked by someone else too, because they might pick up on things that you missed.
5. Do you demonstrate (with examples) that you have the qualities required to be a Doctor?
Think about the qualities that are needed to be a Doctor ( empathy , ability to work as part of team, etc) and make sure your Personal Statement demonstrates that you have these qualities. Don't just simply list the qualities, or state that you possess them without providing any evidence. Use specific examples from your work experience, volunteering experience, extracurricular activities or other areas of your life to back up what you claim.
6. Are you able to elaborate on and justify everything that you've written?
Some Medical Schools will use your Personal Statement to formulate interview questions. This means you should never write about something in your PS (e.g. a book/article you've read or an area of Medicine you're interested in) that you would struggle to talk about at interview. You don't want to get stuck or caught out! To check that your PS is interview-proof , try giving a copy to someone like a friend or family member and get them to ask you questions about it.
The Ultimate UCAS Support
Make Your Application Amazing
7. Does each sentence 'add something' to your Personal Statement?
Go through your Personal Statement and think about what each sentence is conveying. Does it tell the reader something about you, or about something you have learned? If not, consider taking it out. For example, there's no point in writing 'I observed the GP in a consultation where she referred a patient with diabetes to a specialist at the hospital' without then following it up with something that this experience taught you.
8. Do you demonstrate that you know what the realities of being a Doctor really are?
In your Personal Statement, you should acknowledge that a career in Medicine is a challenging one. This will show Admissions Tutors that you are well-informed, have done your research, and are not pursuing Medicine with unrealistic expectations.
9. Does your final paragraph sum up why you think you are well suited to the course and the career?
Your final paragraph/conclusion should sum up why you think you're a good candidate for the course and why you would be suited to a career in Medicine. Try not to include any new examples here – summarise and refer back to what you've already written previously.
10. How would you rate your Personal Statement?
To be as objective as possible, read through your PS three times and each time think about one of these three key things that it needs to demonstrate:
Motivation: Why do you want to study Medicine?
Exploration: What have you done to learn about Medicine?
Suitability: Why are you a good fit for Medicine?
Try scoring your PS out of 5 for how it shows Motivation, then Exploration, then Suitability. Be critical and make changes where you think they are necessary.
Check out these real Medicine Personal Statement examples to get some inspiration.
Prep Packages
Get the best prep at the best price. Save up to 25% with prep packages for UCAT, BMAT, Interview - or all three. Plus a new range of exciting medical experiences.
Trusted Courses
Our courses are trusted by world-leading schools and thousands of aspiring medics every year. 5*-rated UCAT, BMAT and Interview Courses are available in person or live online.
1-2-1 Tutoring
Need one-to-one help? Our Doctor-trained Medicine tutors are ready to help you boost your UCAT and BMAT scores, nail your interviews and get you into Medical School.
Join Our Newsletter
Join our mailing list for weekly updates and tips on how to get into Medicine.
PREVIOUS ARTICLE
5 Books to Read Before Writing Your Personal Statement
Loading More Content