AI Content Shield
AI KW Research
AI Assistant
SEO Optimizer
AI KW Clustering
Customer reviews
The NLO Revolution
Press Center
Help Center
Content Resources
Facebook Group
Ultimate Guide: Outline for Three Paragraph Essay
Table of Contents
Creating an outline for three paragraph essay is more effective than instinctively writing. This is especially true if you're comparing and contrasting two ideas.
An outline for three-paragraph essay helps to organize your ideas into three separate parts, including an introduction, body, and conclusion.
This article will cover the basic principles of mapping an outline and what you need to know to create a perfect structure. Read on!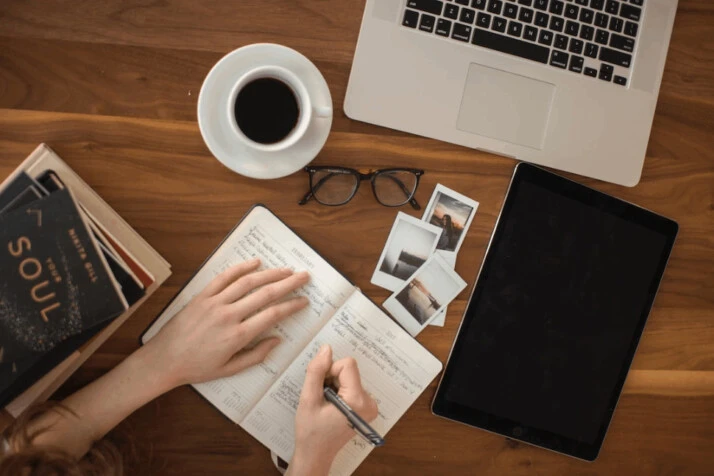 What is a three-Paragraph Essay?
Writing a 3-paragraph essay is different from writing other sorts of essays. This is because of the structure and short body content (only one paragraph).
In a three-paragraph essay, there are no more or less than three main points in its structure.
Start a three-paragraph essay with the following:
An introductory sentence that introduces the topic
A sentence that delivers the essay's core idea
Concluding paragraph that restates the essay's main ideas.
Now, how does this essay deviate from the standard essay format? Traditional five-paragraph essays have three body paragraphs in which students present their arguments and evidence to an audience.
Mapping out an Outline for Three Paragraph Essay
An essay outline is a way of planning the structure of your essay before you start writing . The following structure could make writing a three-paragraph essay less challenging:
1. Have a Visual Map
An essay plan is developed, detailing the three sections that make up a complete essay. You should have your attention grabber and thesis statement in the opening.
The essay's body provides supporting evidence for the argument made in the introduction. The conclusion should end with a thought-provoking reminder of the entire piece and a call to action for the reader.
2. Write Down Your Thoughts
An outline involves writing quick summary sentences or phrases for every point you will cover in each paragraph. It gives you a picture of how your argument will unfold .
Make your outline easy to follow by assigning Roman numerals to each section as you go.
For example,
Section I should be the introduction, section II the body, and section III the conclusion.
Separate subsections containing the elements in each section should be established. Jot down two potential issues of discussion for each section.
The ideal way to wrap up your essay is with whatever sentences appropriately summarize your work.
3. Create a Solid Argumentative Thesis
The thesis statement explains the author's position and serves as an introduction to the body of the paper. If you write about dogs, for instance, you should first consider what you want to say about them.
Either you talk about what to look for in a pet dog or why it's good to save a dog that got stuck.
Having a topic in mind makes building a thesis statement and subsequent arguments in the essay's body simpler.
4. Get Started on the Actual Essay
You should begin with an opening line, followed by three to five body paragraphs. Ensure detailed descriptions of each topic in the essay's body.
Finally, you should compose a conclusion that restates the theory and summarizes the most important ideas. Close with a thought-provoking comment that departs significantly from the essay's main points.
5. Correct Typos and Polish the Text
Proofreading your work before submitting it allows you to catch any grammatical or spelling errors you may have missed.
Avoid using jargon and complex terms that could confuse your readers in favor of simpler alternatives. Spell and grammar check.
Check each sentence to see if your word choice is crystal clear and if each point is made without ambiguity. Having a peer reviewer check your work is an excellent approach to closing your project.
Guidelines for Writing a Three-Paragraph Essay
An essay's outline is created before the first word is written. This outline will serve as a roadmap for the development of your article.
An outline for a three-paragraph essay follows an introduction, body, and conclusion.
Therefore, what guidelines should an outline for a three-paragraph essay have? Consider the following.
Choose an appropriate header or topic to get started.
When writing an essay, it's much easier to know what to write about if the topic is easy to grasp.
Examine how it's shaping up, and adjust your drafts.
There should be uniformity in the subject matter covered by successive paragraphs.
Do your best to avoid ambiguity. Essay clarity aids in making points and guiding the reader through the work.
Use a variety of instances to argue in your favor. Ensure every part of your thesis is supported.
It would help if you also injected your writing with energy. This technique ensures that the reader gives your entire article their undivided attention.
The first sentence of your introduction should be a focused, topic-making remark. After the introduction, your paper's body should have sentences that support your primary claims in sequence.
The main text follows the introduction. The three-paragraph essay only allows one body paragraph, unlike the five-paragraph essay. This implies you should launch right into your main argument and then introduce the secondary points that will back up your statements.
Finish up with a satisfying conclusion. Your topic sentence should effectively summarize the entire argument. It can start with a sentence that clarifies to the reader that you are drawing to a close.
To improve your writing, reread what you've written and try rewriting it using different terms.
The three-paragraph essay is easy and efficient to write, but always remember to map out your ideas and watch how they develop.
If you have a complex topic, it might be a good idea to break it down into a visual map. This will help your thoughts become more organized and easy to follow.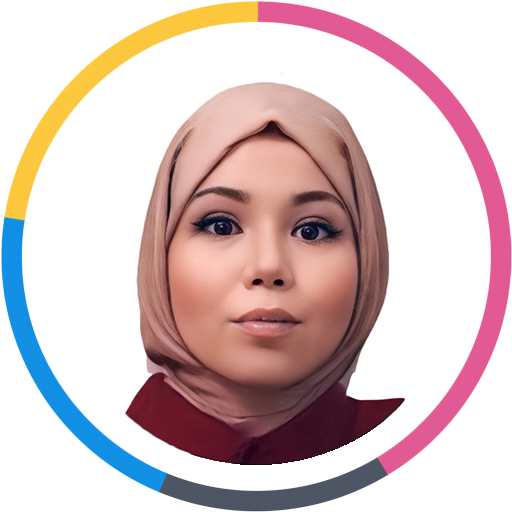 Abir Ghenaiet
Abir is a data analyst and researcher. Among her interests are artificial intelligence, machine learning, and natural language processing. As a humanitarian and educator, she actively supports women in tech and promotes diversity.
Explore All Essay Outline Tool Articles
How to write a synthesis essay outline.
One of the most interesting assignments you could have is writing a synthesis essay. For a college or university student,…
Learning the Structure of an Informational Essay
Academic writing assignments, primarily essays, are required of all college and university students. That's because they think it will aid…
The Correct Way to Structure an Article
Writing non-fiction has a set format that can be followed, which makes it not all that different from writing fiction.…
Exploring the Structure of a Response Essay
You will typically be expected to write in a formal and impersonal voice when you are given the assignment of…
Writing a Persuasive Essay? Use This Structure!
Writing essays is a requirement of your academic program as a college student. Whether you love them or loathe them,…
Writing a Proposal Essay? Read This!
Are you writing a proposal essay? To write it correctly, we have to know what a proposal essay actually is.…
Purdue Online Writing Lab Purdue OWL® College of Liberal Arts
Types of Outlines and Samples

Welcome to the Purdue OWL
This page is brought to you by the OWL at Purdue University. When printing this page, you must include the entire legal notice.
Copyright ©1995-2018 by The Writing Lab & The OWL at Purdue and Purdue University. All rights reserved. This material may not be published, reproduced, broadcast, rewritten, or redistributed without permission. Use of this site constitutes acceptance of our terms and conditions of fair use.
This resource is enhanced by a PowerPoint file. If you have a Microsoft Account, you can view this file with   PowerPoint Online .
Alphanumeric Outlines
This is the most common type of outline and usually instantly recognizable to most people. The formatting follows these characters, in this order:
Roman Numerals
Capitalized Letters
Arabic Numerals
Lowercase Letters
If the outline needs to subdivide beyond these divisions, use Arabic numerals inside parentheses and then lowercase letters inside parentheses. Select the "Sample Outlines" PDF in the Media Box above to download the sample of this outline.
The sample PDF in the Media Box above is an example of an outline that a student might create before writing an essay. In order to organize her thoughts and make sure that she has not forgotten any key points that she wants to address, she creates the outline as a framework for her essay.
What is the assignment?
Your instructor asks the class to write an expository (explanatory) essay on the typical steps a high school student would follow in order to apply to college.
What is the purpose of this essay?
To explain the process for applying to college
Who is the intended audience for this essay?
High school students intending to apply to college and their parents
What is the essay's thesis statement?
When applying to college, a student follows a certain process which includes choosing the right schools and preparing the application materials.
Full Sentence Outlines
The full sentence outline format is essentially the same as the Alphanumeric outline. The main difference (as the title suggests) is that full sentences are required at each level of the outline. This outline is most often used when preparing a traditional essay. Select the "Sample Outlines" PDF in the Media Box above to download the sample of this outline.
Decimal Outlines
The decimal outline is similar in format to the alphanumeric outline. The added benefit is a system of decimal notation that clearly shows how every level of the outline relates to the larger whole. Select the "Sample Outlines" PDF in the Media Box above to download the sample of this outline.
Posted on 13th October 2017
Writing a Three-Paragraph Essay
By Elise Barbeau
Sally Baggett holds a master's in literature. She enjoys inspiring students, cooking with her family, and helping others achieve their dreams.
Just like there is more than one way to skin a cat (or so they say), there is more than one way to write an essay. One is not required to produce a perfectly formatted five-paragraph essay every time one composes a piece of writing. There is another type of essay you can write that may just be simpler than the traditional style: the three-paragraph essay. This type of essay might be beneficial for beginning writers as it offers the organizational structure of a longer essay without requiring the length. It also offers a challenge to more advanced writers to condense their points.
The Parts of the Essay and Its Benefits
As with most essays, the three-paragraph essay has three parts: an introduction, a body, and a conclusion. Yet with this type of essay–unlike its five-paragraph counterpart–each one of these sections has only one paragraph. The three-paragraph essay, therefore, might be ideal for young writers or those who are currently mastering the English language.
Another benefit to the three-paragraph essay could be that it requires you to condense your supporting points into just one, which can be a good exercise. If you had to choose only one point to convince a reader to agree with you, what would it be?
After performing some light prewriting, such as brainstorming or writing an outline, students can move right into composing the essay. While this process is similar across the board for writing academic papers, the three-paragraph essay is unique in that the body will take up less space in the finished product.
An outline for this essay might look like this :
Background Points
Thesis Statement
Supporting fact 1
Supporting fact 2
Transition Sentence
Re-statement of Thesis
Summary of Main Point
Challenge to the Reader
Paragraph One: Introduction
As with most formal essays, the three-paragraph essay begins with an introduction paragraph. Such paragraphs must, obviously, introduce the reader to your idea and, in most cases, convince the reader that this essay is worth reading. To craft a strong introduction, be sure to open with a solid hook. You want to draw in readers so they are compelled to engage with your writing.
A hook can be something compelling such as a question, a powerful quote, or an interesting fact. Introduction paragraphs also usually contain background information that assists the reader in understanding your topic, perhaps defining it or explaining an important part. Finally, you want to include a thesis statement. Even though your essay only has three paragraphs, there still needs to be a purpose to the writing.
You could structure your introduction paragraph according to this outline :
Hook: Is there no solution for dumping waste in the ocean?
Explain why trash is dumped in the ocean
Statistics about dumping trash in the ocean
Thesis Statement: Dumping waste in the ocean is a problem because it spells disaster for the ecosystem, leading to problems on land.
This structure is not mandatory, though it might be useful in the long run for organizing your thoughts.
Paragraph Two: Body
The second paragraph, as we have discussed, is the one and only body paragraph. This paragraph bears the burden of communicating support for the thesis statement all on its own. As such, it may take more than one rough draft to get this paragraph to communicate everything you want it to.
Your body paragraph needs to underscore the thesis statement. Create a topic sentence for this body paragraph that communicates this and also transitions from the introduction into the body. For example, your body paragraph topic sentence based on the outline above could be:
One of those problems might play itself out as food scarcity where humans live.
This topic sentence reiterates the thesis and moves the reader into a body paragraph that contains a supporting point: that damage to the ocean's ecosystem could lead to food scarcity. Within the body paragraph, you can quote different sources that support this point.
Again, this paragraph does not have room to contain everything that a full five-paragraph essay might. But that doesn't mean you can't fit in some strong evidence to convince your reader to see your perspective, such as is accomplished through quotes and analysis. Don't forget to end with a strong transition sentence to move the reader seamlessly into the conclusion.
Paragraph Three: Conclusion
The final paragraph in an essay is usually the conclusion. The three-paragraph essay is no exception. In this essay, the conclusion can be just as long as the other two paragraphs, and it can drive home the point made in the thesis statement and body paragraph. As with most conclusion paragraphs, this paragraph ought to restate the thesis in different words. It should then summarize what was stated in the body paragraph before challenging the reader in some way, whether in thought or action.
Editing Before Turning It In
One thing to be sure of in this type of essay (as in any other) is to polish it. Make it flow well. In other words, revise it!
Before beginning the revision process, take a break from your writing so that you can look at it with fresh eyes. Once you start revising, hunt not only for grammar and punctuation errors but for ways to make the writing flow better. Take a look at the sentences at the beginning and end of each paragraph. Do these sentences contain transition words? Do these paragraphs link to each other? Transition words or phrases like "Likewise," "In spite of," or "In addition to" can ensure that your paragraphs are coherent. There are also other services that will automatically proofread you paper.
If you used any sources (i.e. websites, books, videos, etc.) to help support your points and write your paper, you need to cite them! Most teachers will ask you to create a bibliography in MLA format . Others may have you one in APA format , or create references in Chicago style. Ask your teacher for guidance on what citation style they prefer.
Final Thoughts
Don't forget that you aren't limited to using this type of essay for just persuasion. You can also use it to relate a narrative tale, using the three parts as the beginning, middle, and end of a story. You can use this to craft an informative essay. See if other types of essays–such as a process analysis or an evaluation–will fit inside the three-paragraph essay format.
In many ways, the three-paragraph essay is similar to the five-paragraph essay. They both make a solid point using an introduction, body, and conclusion. This simpler essay only requires that you condense your points into one body paragraph, perhaps only one supporting point, before reaching a conclusion. Again, this can make a good exercise for beginning English writers, but can also make a challenge for a more advanced writer to select their strongest supporting points.
Have a language expert improve your writing
Run a free plagiarism check in 10 minutes, generate accurate citations for free.
Knowledge Base
How to structure an essay: Templates and tips
How to Structure an Essay | Tips & Templates
Published on September 18, 2020 by Jack Caulfield . Revised on July 23, 2023.
The basic structure of an essay always consists of an introduction , a body , and a conclusion . But for many students, the most difficult part of structuring an essay is deciding how to organize information within the body.
Table of contents
The basics of essay structure, chronological structure, compare-and-contrast structure, problems-methods-solutions structure, signposting to clarify your structure, other interesting articles, frequently asked questions about essay structure.
There are two main things to keep in mind when working on your essay structure: making sure to include the right information in each part, and deciding how you'll organize the information within the body.
Parts of an essay
The three parts that make up all essays are described in the table below.
Order of information
You'll also have to consider how to present information within the body. There are a few general principles that can guide you here.
The first is that your argument should move from the simplest claim to the most complex . The body of a good argumentative essay often begins with simple and widely accepted claims, and then moves towards more complex and contentious ones.
For example, you might begin by describing a generally accepted philosophical concept, and then apply it to a new topic. The grounding in the general concept will allow the reader to understand your unique application of it.
The second principle is that background information should appear towards the beginning of your essay . General background is presented in the introduction. If you have additional background to present, this information will usually come at the start of the body.
The third principle is that everything in your essay should be relevant to the thesis . Ask yourself whether each piece of information advances your argument or provides necessary background. And make sure that the text clearly expresses each piece of information's relevance.
The sections below present several organizational templates for essays: the chronological approach, the compare-and-contrast approach, and the problems-methods-solutions approach.
Receive feedback on language, structure, and formatting
Professional editors proofread and edit your paper by focusing on:
Academic style
Vague sentences
Style consistency
See an example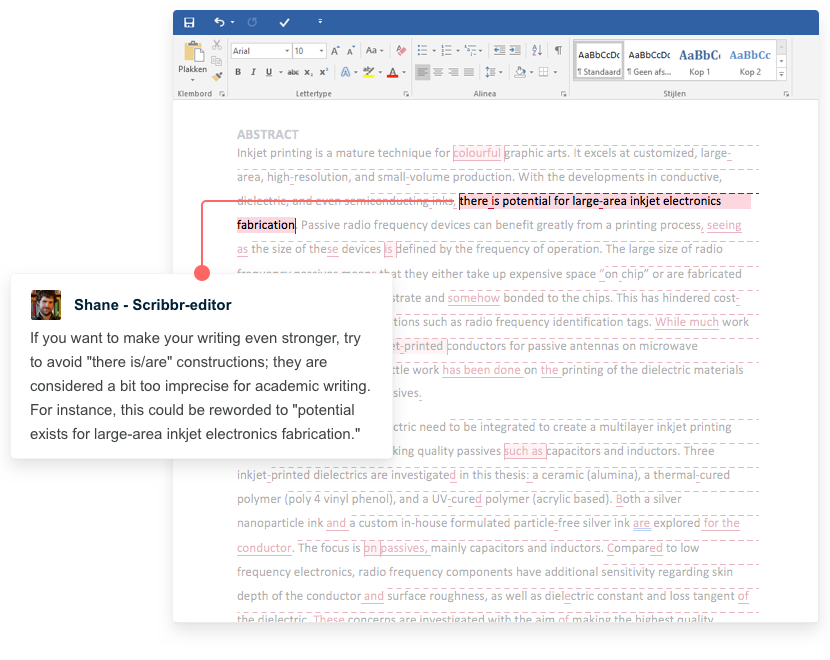 The chronological approach (sometimes called the cause-and-effect approach) is probably the simplest way to structure an essay. It just means discussing events in the order in which they occurred, discussing how they are related (i.e. the cause and effect involved) as you go.
A chronological approach can be useful when your essay is about a series of events. Don't rule out other approaches, though—even when the chronological approach is the obvious one, you might be able to bring out more with a different structure.
Explore the tabs below to see a general template and a specific example outline from an essay on the invention of the printing press.
Thesis statement
Discussion of event/period
Consequences
Importance of topic
Strong closing statement
Claim that the printing press marks the end of the Middle Ages
Background on the low levels of literacy before the printing press
Thesis statement: The invention of the printing press increased circulation of information in Europe, paving the way for the Reformation
High levels of illiteracy in medieval Europe
Literacy and thus knowledge and education were mainly the domain of religious and political elites
Consequence: this discouraged political and religious change
Invention of the printing press in 1440 by Johannes Gutenberg
Implications of the new technology for book production
Consequence: Rapid spread of the technology and the printing of the Gutenberg Bible
Trend for translating the Bible into vernacular languages during the years following the printing press's invention
Luther's own translation of the Bible during the Reformation
Consequence: The large-scale effects the Reformation would have on religion and politics
Summarize the history described
Stress the significance of the printing press to the events of this period
Essays with two or more main subjects are often structured around comparing and contrasting . For example, a literary analysis essay might compare two different texts, and an argumentative essay might compare the strengths of different arguments.
There are two main ways of structuring a compare-and-contrast essay: the alternating method, and the block method.
Alternating
In the alternating method, each paragraph compares your subjects in terms of a specific point of comparison. These points of comparison are therefore what defines each paragraph.
The tabs below show a general template for this structure, and a specific example for an essay comparing and contrasting distance learning with traditional classroom learning.
Synthesis of arguments
Topical relevance of distance learning in lockdown
Increasing prevalence of distance learning over the last decade
Thesis statement: While distance learning has certain advantages, it introduces multiple new accessibility issues that must be addressed for it to be as effective as classroom learning
Classroom learning: Ease of identifying difficulties and privately discussing them
Distance learning: Difficulty of noticing and unobtrusively helping
Classroom learning: Difficulties accessing the classroom (disability, distance travelled from home)
Distance learning: Difficulties with online work (lack of tech literacy, unreliable connection, distractions)
Classroom learning: Tends to encourage personal engagement among students and with teacher, more relaxed social environment
Distance learning: Greater ability to reach out to teacher privately
Sum up, emphasize that distance learning introduces more difficulties than it solves
Stress the importance of addressing issues with distance learning as it becomes increasingly common
Distance learning may prove to be the future, but it still has a long way to go
In the block method, each subject is covered all in one go, potentially across multiple paragraphs. For example, you might write two paragraphs about your first subject and then two about your second subject, making comparisons back to the first.
The tabs again show a general template, followed by another essay on distance learning, this time with the body structured in blocks.
Point 1 (compare)
Point 2 (compare)
Point 3 (compare)
Point 4 (compare)
Advantages: Flexibility, accessibility
Disadvantages: Discomfort, challenges for those with poor internet or tech literacy
Advantages: Potential for teacher to discuss issues with a student in a separate private call
Disadvantages: Difficulty of identifying struggling students and aiding them unobtrusively, lack of personal interaction among students
Advantages: More accessible to those with low tech literacy, equality of all sharing one learning environment
Disadvantages: Students must live close enough to attend, commutes may vary, classrooms not always accessible for disabled students
Advantages: Ease of picking up on signs a student is struggling, more personal interaction among students
Disadvantages: May be harder for students to approach teacher privately in person to raise issues
An essay that concerns a specific problem (practical or theoretical) may be structured according to the problems-methods-solutions approach.
This is just what it sounds like: You define the problem, characterize a method or theory that may solve it, and finally analyze the problem, using this method or theory to arrive at a solution. If the problem is theoretical, the solution might be the analysis you present in the essay itself; otherwise, you might just present a proposed solution.
The tabs below show a template for this structure and an example outline for an essay about the problem of fake news.
Introduce the problem
Provide background
Describe your approach to solving it
Define the problem precisely
Describe why it's important
Indicate previous approaches to the problem
Present your new approach, and why it's better
Apply the new method or theory to the problem
Indicate the solution you arrive at by doing so
Assess (potential or actual) effectiveness of solution
Describe the implications
Problem: The growth of "fake news" online
Prevalence of polarized/conspiracy-focused news sources online
Thesis statement: Rather than attempting to stamp out online fake news through social media moderation, an effective approach to combating it must work with educational institutions to improve media literacy
Definition: Deliberate disinformation designed to spread virally online
Popularization of the term, growth of the phenomenon
Previous approaches: Labeling and moderation on social media platforms
Critique: This approach feeds conspiracies; the real solution is to improve media literacy so users can better identify fake news
Greater emphasis should be placed on media literacy education in schools
This allows people to assess news sources independently, rather than just being told which ones to trust
This is a long-term solution but could be highly effective
It would require significant organization and investment, but would equip people to judge news sources more effectively
Rather than trying to contain the spread of fake news, we must teach the next generation not to fall for it
Signposting means guiding the reader through your essay with language that describes or hints at the structure of what follows.  It can help you clarify your structure for yourself as well as helping your reader follow your ideas.
The essay overview
In longer essays whose body is split into multiple named sections, the introduction often ends with an overview of the rest of the essay. This gives a brief description of the main idea or argument of each section.
The overview allows the reader to immediately understand what will be covered in the essay and in what order. Though it describes what  comes later in the text, it is generally written in the present tense . The following example is from a literary analysis essay on Mary Shelley's Frankenstein .
Transitions
Transition words and phrases are used throughout all good essays to link together different ideas. They help guide the reader through your text, and an essay that uses them effectively will be much easier to follow.
Various different relationships can be expressed by transition words, as shown in this example.
Because Hitler failed to respond to the British ultimatum, France and the UK declared war on Germany. Although it was an outcome the Allies had hoped to avoid, they were prepared to back up their ultimatum in order to combat the existential threat posed by the Third Reich.
Transition sentences may be included to transition between different paragraphs or sections of an essay. A good transition sentence moves the reader on to the next topic while indicating how it relates to the previous one.
… Distance learning, then, seems to improve accessibility in some ways while representing a step backwards in others.
However , considering the issue of personal interaction among students presents a different picture.
If you want to know more about AI tools , college essays , or fallacies make sure to check out some of our other articles with explanations and examples or go directly to our tools!
Ad hominem fallacy
Post hoc fallacy
Appeal to authority fallacy
False cause fallacy
Sunk cost fallacy
College essays
Choosing Essay Topic
Write a College Essay
Write a Diversity Essay
College Essay Format & Structure
Comparing and Contrasting in an Essay
 (AI) Tools
Grammar Checker
Paraphrasing Tool
Text Summarizer
AI Detector
Plagiarism Checker
Citation Generator
The structure of an essay is divided into an introduction that presents your topic and thesis statement , a body containing your in-depth analysis and arguments, and a conclusion wrapping up your ideas.
The structure of the body is flexible, but you should always spend some time thinking about how you can organize your essay to best serve your ideas.
An essay isn't just a loose collection of facts and ideas. Instead, it should be centered on an overarching argument (summarized in your thesis statement ) that every part of the essay relates to.
The way you structure your essay is crucial to presenting your argument coherently. A well-structured essay helps your reader follow the logic of your ideas and understand your overall point.
Comparisons in essays are generally structured in one of two ways:
The alternating method, where you compare your subjects side by side according to one specific aspect at a time.
The block method, where you cover each subject separately in its entirety.
It's also possible to combine both methods, for example by writing a full paragraph on each of your topics and then a final paragraph contrasting the two according to a specific metric.
You should try to follow your outline as you write your essay . However, if your ideas change or it becomes clear that your structure could be better, it's okay to depart from your essay outline . Just make sure you know why you're doing so.
Cite this Scribbr article
If you want to cite this source, you can copy and paste the citation or click the "Cite this Scribbr article" button to automatically add the citation to our free Citation Generator.
Caulfield, J. (2023, July 23). How to Structure an Essay | Tips & Templates. Scribbr. Retrieved November 3, 2023, from https://www.scribbr.com/academic-essay/essay-structure/
Is this article helpful?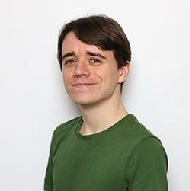 Jack Caulfield
Other students also liked, comparing and contrasting in an essay | tips & examples, how to write the body of an essay | drafting & redrafting, transition sentences | tips & examples for clear writing, what is your plagiarism score.

Free Worksheets and More Since 2001
Three Paragraph Essay Outline
by Admin · 11 December, 2013
This outline provides a framework for the 3-paragraph essay. Each part of the introduction, body paragraph, and conclusion is represented. After completing this worksheet, students will be prepared write the rough draft and begin refining the language.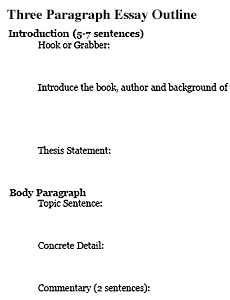 Tags: Brainstorming Compare and Contrast Details Organizers Paragraphs
Next post Four Paragraph Essay Outline
Previous post 10 Quotes to Inspire and Encourage Teachers
Privacy Policy
Awards and Certificates
Back to School
Classroom Signs
Coloring Pages
Environment
Fun and Games
Journal Topics
Teacher Forms
Telling Time
Worksheet Creator
Coffee Fund

This is a fantastic site! As I prep for the new year and am looking at teaching new subjects the range of free forms and tools is tremendous!
How to Write an Essay Outline with Examples
Download for free!
Why write an essay outline.
An essay outline will help you organize your main ideas and determine the order in which you are going to write about them. In some cases, a decimal outline may allow you to organize your details better. Writing an outline with an alphanumeric structure is another very effective way to think through how you will organize and present the information in your essay. It also helps you develop a strong argumentative essay.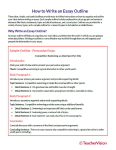 Looking for a printable list of essay outline examples?
Our printable PDF features essay outline examples and templates that your students can use as examples when writing research papers, or as a supplement for an essay-writing unit.
Sample Outline - Persuasive Essay
Competitive Swimming, an Ideal Sport for Kids
Introduction
Start your argumentative essay outline by stating your point of view and/or present your persuasive argument.
Thesis: Competitive swimming is a great alternative to other youth sports.
Body Paragraph 1
Introduce your primary persuasive argument and provide supporting details in your argumentative essay outline.
Topic Sentence:   Competitive swimming provides the same benefits as other sports.
Detail Sentence 1:   It is good exercise and builds muscular strength.
Detail Sentence 2:   It promotes cooperation among team members, especially in relays.
Body Paragraph 2
Introduce a secondary argument and provide supporting details.
Topic Sentence:   Competitive swimming provides some unique additional benefits.
Detail Sentence 1:   Swimming is an important skill that can be used forever.
Detail Sentence 2:  Swimming poses a reduced risk of injury.
Detail Sentence 3:   Each swimmer can easily chart his or her own progress.
Conclude your essay writing with a summary of the thesis and persuasive arguments. Brainstorming details that support your point-of-view is a great way to start before creating your outline and first draft.
Concluding Sentence:   There are many reasons why competitive swimming is a great alternative to other youth sports, including...
Sample Outline - Narrative Essay
How Losing a Swim Meet Made Me a Better Swimmer
Introduce the subject of your narrative essay using a thesis statement and a plan of development (POD).
Thesis: The first time I participated in a competitive swim meet, I finished in last place. With more focused training and coaching, I was able to finish 2nd in the State Championship meet.
Plan of development:   I was very disappointed in my results from the first meet, so I improved my training and fitness. This helped me swim better and faster, which helped me to greatly improve my results.
Set the scene and provide supporting details. Again, start by brainstorming different ways to begin; then go ahead and craft an outline and a first draft.
Topic Sentence:   I was embarrassed at finishing last in my first competitive swim meet, so I began working on ways to improve my performance.
Detail Sentence 1:   I spent extra time with my coach and the team captains learning how to improve my technique.
Detail Sentence 2:   I started running and lifting weights to increase my overall fitness level.
Provide additional supporting details, descriptions, and experiences to develop your general idea in your essay writing.
Topic Sentence:   Over time, my results began to improve and I was able to qualify for the state championship meet.
Detail Sentence 1:   My technique and fitness level made me faster and able to swim longer distances.
Detail Sentence 2:  I steadily got better, and I began winning or placing in the top 3 at most of my meets.
Detail Sentence 3:  My results improved to the point that I was able to qualify for the state championship meet.
Body Paragraph 3
The next step in the writing process is to provide additional supporting details, descriptions, and experiences. You can then divide them up under different headings.
Topic Sentence:   With my new confidence, techniques, and fitness level, I was able to finish 2nd at the state championship meet.
Detail Sentence 1:   I was able to swim well against a higher level of competition due to my training and technique.
Detail Sentence 2:  I was no longer embarrassed about my last-place finish, and was able to use it as motivation!
Conclude the narrative essay with a recap of the events described or a reflection on the lesson learned in the story. Briefly summarize the details you included under each heading.
Concluding Sentence:   I used my last-place finish in my first competitive swim meet as motivation to improve my performance.
Sample Outline - Descriptive Essay
Visiting the Hockey Hall of Fame
Introduce the subject of your descriptive essay with a thesis statement covering the person, place, object, etc. you are writing about.
Thesis: The Hockey Hall of Fame is full of sights, sounds, and experiences that will delight hockey fans of all ages.
Set the scene and provide factual details.
Topic Sentence:   The Hockey Hall of Fame is located in Toronto, Canada and features exhibits from amateur and professional hockey.
Detail Sentence 1:   The Hall is located in downtown Toronto and is visited by 1 million people every year.
Detail Sentence 2:   You can see exhibits ranging from the early beginnings of the sport to the modern NHL and Olympics.
Provide additional sensory details, descriptions, and experiences.
Topic Sentence:   There are many types of exhibits and shows, including activities you can participate in.
Detail Sentence 1:  Player statues, plaques, and jerseys decorate the walls in every room of the Hall.
Detail Sentence 2:  Many of the exhibits have movies and multimedia activities that make you feel like you're part of the game.
Detail Sentence 3:  You can even practice shooting pucks on virtual versions of some of the game's greatest goalies!
Conclude the essay with a paragraph that restates the thesis and recaps the descriptive and sensory details.
Concluding Sentence:   The Hockey Hall of Fame is an experience that combines the best sights, sounds and history of the game in Toronto.
Sample Outline - Expository Essay
Why The School Year Should be Shorter
Introduce the primary argument or main point of an expository essay, or other types of academic writing, using a thesis statement and context.
Thesis: The school year is too long, and should be shortened to benefit students and teachers, save districts money, and improve test scores and academic results. Other countries have shorter school years, and achieve better results.
Describe the primary argument and provide supporting details and evidence.
Topic Sentence:   A shorter school year would benefit students and teachers by giving them more time off.
Detail Sentence 1:   Students and teachers would be able to spend more time with their families.
Detail Sentence 2:  Teachers would be refreshed and rejuvenated and able to teach more effectively.
Provide additional supporting details and evidence, as in this essay outline example.
Topic Sentence:  A shorter school year would save school districts millions of dollars per year.
Detail Sentence 1:   Districts could save money on energy costs by keeping schools closed longer.
Detail Sentence 2:  A shorter school year means much lower supply and transportation costs.
Detail Sentence 3:  Well-rested and happy students would help improve test scores.
Provide additional or supplemental supporting details, evidence, and analysis, as in the essay outline example.
Topic Sentence:   Shortening the school year would also provide many benefits for parents and caregivers.
Detail Sentence 1:   A shorter school year would mean less stress and running around for parents.
Detail Sentence 2:  Caregivers would have more balance in their lives with fewer days in the school year.
Conclude the essay with an overview of the main argument, and highlight the importance of your evidence and conclusion.
Concluding Sentence:   Shortening the school year would be a great way to improve the quality of life for students, teachers, and parents while saving money for districts and improving academic results.
Sample Research Paper Outline
The Conquest of Mt. Everest
Location of Mt. Everest
Geography of the Surrounding Area
Height of the mountain
Jomolungma (Tibetan name)
Sagarmatha (Nepalese name)
The number of people who have climbed Everest to date
First to reach the summit (1953)
Led a team of experienced mountain climbers who worked together
Norgay was an experienced climber and guide who accompanied Hillary
Sherpas still used to guide expeditions
Leader of the failed 1996 expedition
Led group of (mainly) tourists with little mountain climbing experience
Loss of trees due to high demand for wood for cooking and heating for tourists.
Piles of trash left by climbing expeditions
Expedition fees provide income for the country
Expeditions provide work for the Sherpas, contributing to the local economy.
Introduction of motor vehicles
Introduction of electricity
The Everest essay outline template is based on a research paper submitted by Alexandra Ferber, grade 9.
Featured High School Resources
Related Resources
About the author.
TeacherVision Editorial Staff
The TeacherVision editorial team is comprised of teachers, experts, and content professionals dedicated to bringing you the most accurate and relevant information in the teaching space.

Custom Assignments
Custom College Papers
Buy Dissertation
Buy Research Papers
Custom Term Papers
Custom Courseworks
Custom Thesis Papers
Custom Argumentative Essays
Custom Expository Essays
Custom Plagiarism Check
How It Works
Essay Samples
Essay Topics
Research Topics
Writing Tips
How to Write a 3-Paragraph Essay Outline
August 10, 2017
Writing and submitting essays has become integral to evaluating a prospective candidate in academics, scholarships, employment, etc.
A lot depends on an individual's writing skills in certain academic fields or jobs. Organizing one's thoughts and expressing and comprehending one's knowledge through written words is an essential skill one must develop in their early years.
Two Common Basic Types of Formats
1. 3-paragraph essay – This format must contain only three parts; the first is dedicated to the introduction, the second is to the body of the composition, and the third is to the conclusion.
2. 5-paragraph essay – Each of the five parts serves a particular purpose in this format. The first and last paragraphs serve the same purpose as the 3 paragraph essay format, i.e., the first is for the introduction, and the last is for the conclusion.
The second, third, and fourth passages will collectively constitute the body of the composition, where each will address a specific argument or point.
Write my essay? Or research papers ? We can help you!
Pointers as to How to Proceed With a 3-Paragraph Essay:
– This is a very short type of writing, and because of the space constraints, one needs to get to the point from the first sentence. The first sentence should reflect the main theme of the composition.
The following sentence can be a factual one that supports the first sentence. The next sentence should highlight the important aspects one will elaborate on in the body.
– The important aspects must be supported by one or more brief statements that validate these main aspects of the essay. It would be a wise decision to write down only two or three of the best arguments one has on the particular topic.
This is because these kinds of compositions shouldn't be lengthy.
– The conclusion of one's essay will be the part that will enclose its very essence. It should reflect on the thesis or the topic statement of the composition. This part is similar in size to the introduction. It will help if it gives the reader something to ponder on. That will create a lasting impression on the reader's mind.
With a custom writing service in the USA , it's easy! Ask support for help.
Sociology Research Topics Ideas
Importance of Computer in Nursing Practice Essay
History Research Paper Topics For Students
By clicking "Continue", you agree to our terms of service and privacy policy. We'll occasionally send you promo and account related emails.
Latest Articles
What is a Deductive Essay A deductive essay, as the name suggests, is an essay type where the writer forms...
Components of a Thesis Paper Citation Properly citing a thesis paper is essential to give credit to the author and...
The purpose of the thesis in a compare and contrast essay is to clearly establish the main point or argument...
I want to feel as happy, as your customers do, so I'd better order now
Privacy Overview
Home / Guides / Writing Guides / Parts of a Paper / How to Write an Essay Outline
How to Write an Essay Outline
It's 11 p.m., your paper is due tomorrow, and you're only about halfway done. You're typing along and when you realize that, wait…you're actually not a huge fan of your argument or the supporting examples you're using. Your options are to haphazardly keep writing or to backtrack and rehash what you've already done. Ugh. Unsurprisingly, both options aren't great.
This scenario is scary, but totally avoidable! Though it's tempting to just start writing, one of the best steps you can take before you type a single word is to create an outline for your paper. By taking the time to write a paper outline, you can prevent the scenario above and make your writing process a cinch!
Guide Overview
What is a paper outline, why it's worth writing an outline.
Step 1: gather your relevant materials
Step 2: create your thesis
Step 3: find examples
Step 4: analyze your examples
Step 5: arrange your examples
A paper outline is a skeletal version of your paper. Another way to think about an outline is to view it as a roadmap. An outline helps you organize and streamline your thoughts ahead of time. By front loading this work, you allow the eventual writing process to be much easier: instead of having to backtrack and see if your paper makes sense, you can refer to your outline and be rest assured that you're on the right track.
It's understandable if you think it's not worth the time to write an outline. After all, writing a paper in itself is a lot of work – why add an extra step?
Here's the secret: creating an outline and then writing your paper takes about the same amount of time as jumping straight into writing your paper. Why? By immediately writing, you run the risk of having to go back and see if the flow of your paper makes sense. Backtracking takes up a lot of time: having to go back and revise your paper because you missed a point can be a pain.
Taking the time to outline your paper gives you the space to see what arguments work, which examples to include, and more. Doing this prep work ahead of time prevents you from having to do it while in the middle of your paper. Your completed outline serves as a solid reference as you write your assignment. In an ideal world, your outline should be so thorough that the writing process is essentially just you converting your bullet points into sentences that flow together!
How to outline a paper
Step 1: gather your relevant materials.
The first step to take when outlining a paper is to gather all your relevant materials. If you're writing a paper about a book you're reading in class, start thinking about which passages from the book are relevant to your prompt. If you're writing a paper about a broader topic, identify what sources you'll need to construct your argument.
Pro tip: Avoid plagiarism and keep track of the sources you're using at EasyBib.com! Easily create an APA or MLA format citation , try out our Chicago citation generator , and find help for other citation styles.
Step 2: Create your thesis
After you've compiled your materials, start thinking about your thesis statement. Revisit your assignment prompt, peruse your materials, and determine what your viewpoint is regarding the prompt.
Step 3: Find examples
Once you have your thesis, come up with ways to support it. Identify the quotes you need or the arguments you want to utilize in order to bolster your thesis.
Step 4: Analyze Your Examples
Write 3-4 bullet points connecting your examples to your thesis. The analysis part of your paper is the meat of your paper, so feel free to take as much time as you want during this step.
Step 5: Arrange Your Examples
Now that you have your examples and analysis, arrange them in a logical way that helps you develop and support your thesis. This is the step in which you can start copying and pasting your notes into an outline that mimics the flow of your paper. By the end of this step, you should have a solid outline!
Here's a template for a five paragraph essay you can use for your papers moving forward: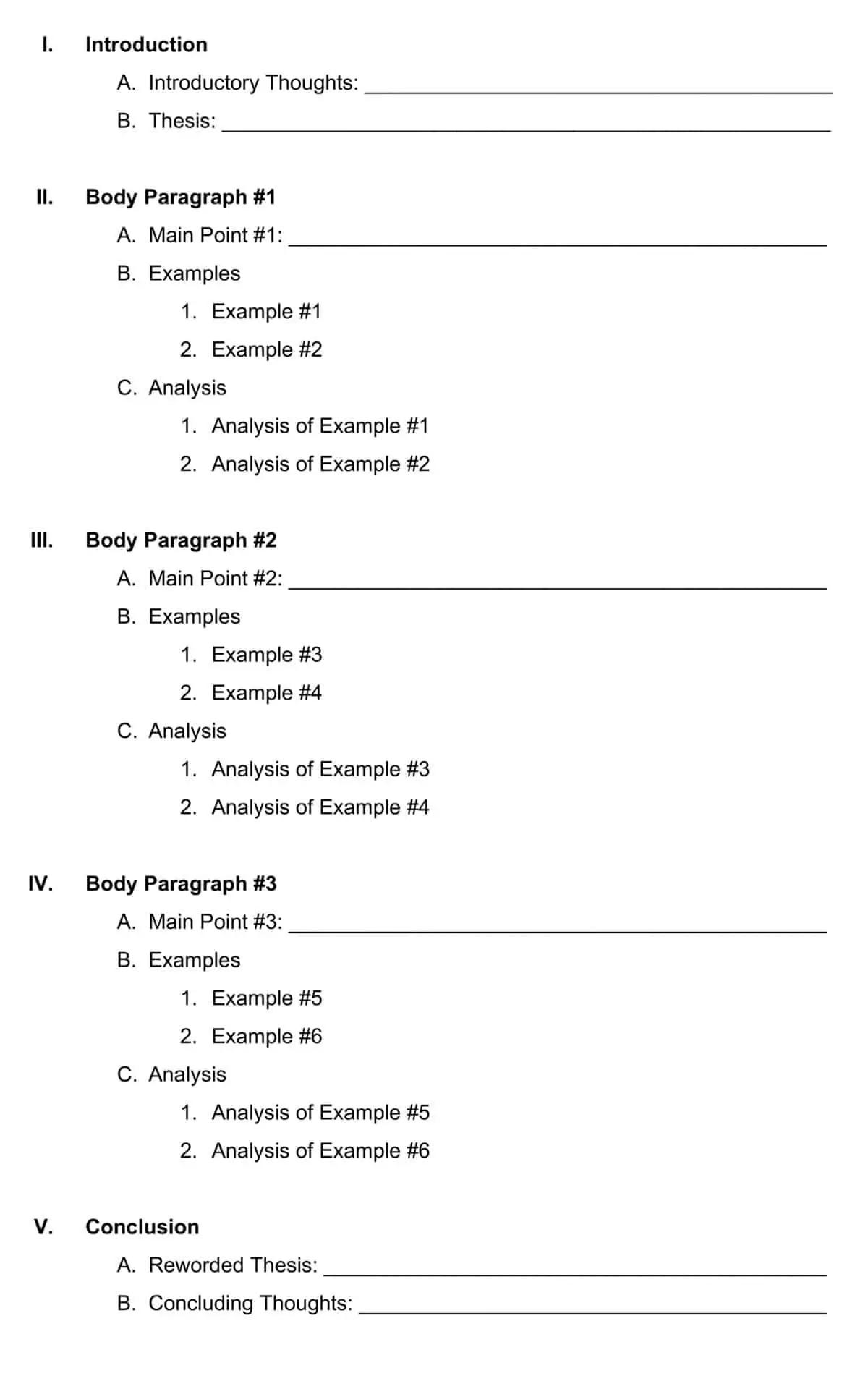 Before you jump into writing your paper, it might pay to take a quick look at our EasyBib grammar guides . Discover what an abstract noun is, read a determiner definition , see the difference between regular and irregular verbs , and get familiar with other parts of speech.
EasyBib Writing Resources
Writing a paper.
Academic Essay
Argumentative Essay
College Admissions Essay
Expository Essay
Persuasive Essay
Research Paper
Thesis Statement
Writing a Conclusion
Writing an Introduction
Writing an Outline
Writing a Summary
EasyBib Plus Features
Citation Generator
Essay Checker
Expert Check Proofreader
Grammar Checker
Paraphrasing Tools
Plagiarism Checker
How useful was this post?
Click on a star to rate it!
We are sorry that this post was not useful for you!
Let us improve this post!
Tell us how we can improve this post?
Grammar and Plagiarism Checkers
Grammar Basics
Plagiarism Basics
Writing Basics
Upload a paper to check for plagiarism against billions of sources and get advanced writing suggestions for clarity and style.
Get Started

Three Paragraph Essay Outline
A three-paragraph essay is suitable for beginner writers since it provides the organizational structure of a long essay without requiring more paragraphs. It is ideal for young writers who are currently learning how to write essays.
Three Paragraph Paper Outline 3 Grade
The following is a three-paragraph essay outline:
1. Paragraph 1: Introduction.
A three-paragraph essay starts with an introduction just like any other formal essay. The introduction paragraph should introduce the reader to your essay's topic and convince them that the essay is worth reading. Start out your introduction by writing an attention-catching hook. This ensures that you attract readers to engage in your writing.
The introduction consists of:
Hook . Your hook can be an interesting fact or phrase, a powerful quote or a compelling question.
Background information. You should provide some background information on your topic to help the reader understand it.
Thesis statement. Your thesis statement explains your purpose of writing the essay.
2. Paragraph 2: Body Paragraph
The second paragraph in a three-paragraph essay is the body paragraph. This part provides support for the thesis statement. You should provide main ideas that explain your topic and explanations to support your main ideas. Write a topic sentence that will emphasize the thesis statement and transitions from the introduction into the body. The topic sentence should restate the thesis statement and move the reader into a body paragraph that contains a supporting idea.
You should quote different sources that support the idea within the body paragraph. You can also fit in some strong evidence to convince your reader of your point of view. You can accomplish this through quotes and analysis. Finish off your body paragraph by writing a strong transition sentence and lead the reader to your conclusion.
3. Paragraph 3: Conclusion
The final paragraph in a three-paragraph essay should be the conclusion. Your conclusion can be just as long as the other two paragraphs and it can drive home the point made in the thesis statement and body paragraph. Your conclusion should restate the thesis in different words. It should then summarize what was stated in the body paragraph before challenging the reader in some way, whether in thought or action.
The conclusion should:
Restate your introduction paragraph. However, it should not talk about the same exact thing as your introduction.
Tell your readers why they should care about the item you have described in your essay.
Serve as your essay's climax.
Restate your thesis statement.
Briefly summarize each main point that you included in your body paragraph.
End with a strong statement. The statement could be an appropriate, meaningful final statement that ties the whole point of the essay together.
Summarize the points and evidence that you have provided to support your thesis statement.
Recent Posts
A Sample Essay on Birds 21-08-2023 0 Comments
Is Homeschooling an Ideal Way... 21-08-2023 0 Comments
Essay Sample on Man 14-08-2023 0 Comments
Academic Writing(23)
Admission Essay(172)
Book Summaries(165)
College Tips(312)
Content Writing Services(1)
Essay Help(517)
Essay Writing Help(76)
Essays Blog(0)
Example(337)
Infographics(2)
Letter Writing(1)
Outlines(137)
Photo Essay Assignment(4)
Resume Writing Tips(62)
Samples Essays(315)
Writing Jobs(2)
Guide on How to Write a 5 Paragraph Essay Effortlessly
Defining What Is a 5 Paragraph Essay
Have you ever been assigned a five-paragraph essay and wondered what exactly it means? Don't worry; we all have been there. A five-paragraph essay is a standard academic writing format consisting of an introduction, three body paragraphs, and a conclusion.
In the introduction, you present your thesis statement, which is the main idea or argument you will discuss in your essay. The three body paragraphs present a separate supporting argument, while the conclusion summarizes the main points and restates the thesis differently.
While the five-paragraph essay is a tried and true format for many academic assignments, it's important to note that it's not the only way to write an essay. In fact, some educators argue that strict adherence to this format can stifle creativity and limit the development of more complex ideas.
However, mastering the five-paragraph essay is a valuable skill for any student, as it teaches the importance of structure and organization in writing. Also, it enables you to communicate your thoughts clearly and eloquently, which is crucial for effective communication in any area. So the next time you're faced with a five-paragraph essay assignment, embrace the challenge and use it as an opportunity to hone your writing skills.
And if you find it difficult to put your ideas into 5 paragraphs, ask our professional writing service - 'please write my essay ,' and consider it done.
How to Write a 5 Paragraph Essay: General Tips
If you are struggling with how to write a 5 paragraph essay, don't worry! It's a common format that many students learn in their academic careers. Here are some tips from our admission essay writing service to help you write a successful five paragraph essay example:
Start with a strong thesis statement : Among the 5 parts of essay, the thesis statement can be the most important. It presents the major topic you will debate throughout your essay while being explicit and simple.
Use topic sentences to introduce each paragraph : The major idea you will address in each of the three body paragraphs should be established in a concise subject sentence.
Use evidence to support your arguments : The evidence you present in your body paragraphs should back up your thesis. This can include facts, statistics, or examples from your research or personal experience.
Include transitions: Use transitional words and phrases to make the flow of your essay easier. Words like 'although,' 'in addition,' and 'on the other hand' are examples of these.
Write a strong conclusion: In addition to restating your thesis statement in a new way, your conclusion should highlight the key ideas of your essay. You might also leave the reader with a closing idea or query to reflect on.
Edit and proofread: When you've completed writing your essay, thoroughly revise and proofread it. Make sure your thoughts are brief and clear and proofread your writing for grammatical and spelling mistakes.
By following these tips, you can write strong and effective five paragraph essays examples that will impress your teacher or professor.
5 Paragraph Essay Format
Let's readdress the five-paragraph essay format and explain it in more detail. So, as already mentioned, it is a widely-used writing structure taught in many schools and universities. A five-paragraph essay comprises an introduction, three body paragraphs, and a conclusion, each playing a significant role in creating a well-structured and coherent essay.
The introduction serves as the opening paragraph of the essay and sets the tone for the entire piece. It should captivate the reader's attention, provide relevant background information, and include a clear and concise thesis statement that presents the primary argument of the essay. For example, if the essay topic is about the benefits of exercise, the introduction may look something like this:
'Regular exercise provides numerous health benefits, including increased energy levels, improved mental health, and reduced risk of chronic diseases.'
The body paragraphs are the meat of the essay and should provide evidence and examples to support the thesis statement. Each body paragraph should begin with a subject sentence that states the major idea of the paragraph. Then, the writer should provide evidence to support the topic sentence. This evidence can be in the form of statistics, facts, or examples. For instance, if the essay is discussing the health benefits of exercise, a body paragraph might look like this:
'One of the key benefits of exercise is improved mental health. Regular exercise has been demonstrated in studies to lessen depressive and anxious symptoms and enhance mood.'
The essay's final paragraph, the conclusion, should repeat the thesis statement and summarize the essay's important ideas. A concluding idea or query might be included to give the reader something to ponder. For example, a conclusion for an essay on the benefits of exercise might look like this:
'In conclusion, exercise provides numerous health benefits, from increased energy levels to reduced risk of chronic diseases. We may enhance both our physical and emotional health and enjoy happier, more satisfying lives by including exercise into our daily routines.'
Overall, the 5 paragraph essay format is useful for organizing thoughts and ideas clearly and concisely. By following this format, writers can present their arguments logically and effectively, which is easy for the reader to follow.
Types of 5 Paragraph Essay 
There are several types of five-paragraph essays, each with a slightly different focus or purpose. Here are some of the most common types of five-paragraph essays:
Narrative essay : A narrative essay tells a story or recounts a personal experience. It typically includes a clear introductory paragraph, body sections that provide details about the story, and a conclusion that wraps up the narrative.
Descriptive essay: A descriptive essay uses sensory language to describe a person, place, or thing. It often includes a clear thesis statement that identifies the subject of the description and body paragraphs that provide specific details to support the thesis.
Expository essay: An expository essay offers details or clarifies a subject. It usually starts with a concise introduction that introduces the subject, is followed by body paragraphs that provide evidence and examples to back up the thesis, and ends with a summary of the key points.
Persuasive essay: A persuasive essay argues for a particular viewpoint or position. It has a thesis statement that is clear, body paragraphs that give evidence and arguments in favor of it, and a conclusion that summarizes the important ideas and restates the thesis.
Compare and contrast essay: An essay that compares and contrasts two or more subjects and looks at their similarities and differences. It usually starts out simply by introducing the topics being contrasted or compared, followed by body paragraphs that go into more depth on the similarities and differences, and a concluding paragraph that restates the important points.
Each type of five-paragraph essay has its own unique characteristics and requirements. When unsure how to write five paragraph essay, writers can choose the most appropriate structure for their topic by understanding the differences between these types.
5 Paragraph Essay Example Topics
Here are some potential topics for a 5 paragraph essay example. These essay topics are just a starting point and can be expanded upon to fit a wide range of writing essays and prompts.
The benefits of regular exercise
The impact of social media on relationships
The advantages and disadvantages of online learning
The importance of a healthy diet
The effects of climate change on the planet
The role of technology in modern society
The impact of video games on children and teenagers
The value of a college education
The causes and effects of stress
The role of art in society
The effects of smoking on health
The benefits of volunteering in the community
The importance of time management skills
The impact of music on mood and emotions
The causes and effects of bullying in schools
The significance of cultural diversity in society
The role of sports in promoting physical and mental health
The effects of sleep deprivation on the body and mind
The importance of financial literacy skills
The impact of travel on personal growth and development
Don't Let Essay Writing Stress You Out!
Order a high-quality, custom-written paper from our professional writing service and take the first step towards academic success!
General Grading Rubric for a 5 Paragraph Essay
The following is a general grading rubric that can be used to evaluate a five-paragraph essay:
Content (40%)
A thesis statement is clear and specific
The main points are well-developed and supported by evidence
Ideas are organized logically and coherently
Evidence and examples are relevant and support the main points
The essay demonstrates a strong understanding of the topic
Organization (20%)
The introduction effectively introduces the topic and thesis statement
Body paragraphs are well-structured and have clear topic sentences
Transitions between paragraphs are smooth and effective
The concluding sentence effectively summarizes the main points and restates the thesis statement
Language and Style (20%)
Writing is clear, concise, and easy to understand
Language is appropriate for the audience and purpose
Vocabulary is varied and appropriate
Grammar, spelling, and punctuation are correct
Critical Thinking (20%)
Student demonstrate an understanding of the topic beyond surface-level knowledge
Student present a unique perspective or argument
Student show evidence of critical thinking and analysis
Students write well-supported conclusions
Considering the above, the paper should demonstrate a thorough understanding of the topic, clear organization, strong essay writing skills, and critical thinking. By using this grading rubric, the teacher can evaluate the essay holistically and provide detailed feedback to the student on areas of strength and areas for improvement.
Five Paragraph Essay Examples
Wrapping up: things to remember.
In conclusion, writing a five paragraph essay example can seem daunting at first, but it doesn't have to be a difficult task. Following these simple steps and tips, you can break down the process into manageable parts and create a clear, concise, and well-organized essay.
Remember to start with a strong thesis statement, use topic sentences to guide your paragraphs, and provide evidence and analysis to support your ideas. Don't forget to revise and proofread your work to make sure it is error-free and coherent. With time and practice, you'll be able to write a 5 paragraph essay with ease and assurance. Whether you're writing for school, work, or personal projects, these skills will serve you well and help you to communicate your ideas effectively.
Meanwhile, you can save time and reduce the stress associated with academic assignments by trusting our research paper writing services to handle the writing for you. So go ahead, buy an essay , and see how easy it can be to meet all of your professors' complex requirements!
Ready to Take the Stress Out of Essay Writing? 
Order your 5 paragraph essay today and enjoy a high-quality, custom-written paper delivered promptly
Related Articles
The Tech Edvocate
Advertisement
Home Page Five (No Sidebar)
Home Page Four
Home Page Three
Home Page Two
Icons [No Sidebar]
Left Sidbear Page
Lynch Educational Consulting
My Speaking Page
Newsletter Sign Up Confirmation
Newsletter Unsubscription
Page Example
Privacy Policy
Protected Content
Request a Product Review
Shortcodes Examples
Terms and Conditions
The Edvocate
The Tech Edvocate Product Guide
Write For Us
Dr. Lynch's Personal Website
The Edvocate Podcast
Assistive Technology
Child Development Tech
Early Childhood & K-12 EdTech
EdTech Futures
EdTech News
EdTech Policy & Reform
EdTech Startups & Businesses
Higher Education EdTech
Online Learning & eLearning
Parent & Family Tech
Personalized Learning
Product Reviews
Tech Edvocate Awards
School Ratings
Best Gin and Tonic Pickles Recipe – How to Make Gin and Tonic Pickles
Best perfect poutine recipe – how to make perfect poutine, best apple jam recipe – how to make apple jam, 25+ christmas bark recipes: easy chocolate barks for a festive treat, best chocolate covered oreos recipe – how to make chocolate covered oreos, best s'mores brownies recipe – how to make s'mores brownies, best whiskey lemonade punch recipe – how to make whiskey lemonade punch, 38 best quesadilla recipes – how to make easy quesadillas, best breakfast stuffed portobellos recipe – how to make breakfast stuffed portobellos, grilled leeks with leek tomato salad and citrus dressing recipe, 3 ways to write an essay outline.
An essay outline is a crucial component of any well-structured and coherent essay. It serves as a roadmap that guides you, points you in the right direction, and ensures that you stay on course throughout your writing process. An essay outline helps in organizing and prioritizing information, leading to a better flow of ideas and an overall more successful essay. There are several methods for creating an essay outline; however, this article will focus on three popular approaches: the traditional outline, the mind map, and the Harvard outline.
1. The Traditional Outline
The traditional outline is a sequential method where you list your main topics, subtopics, and supporting points using roman numerals, capital letters, and numbers. This method provides a clear hierarchical structure for your essay. Here's a step-by-step guide:
a) Introduction: Start your traditional outline by listing the introduction section with a roman numeral (I). Underneath it, include a short objective or description of what your introduction will entail.
b) Body: Begin using roman numerals to denote each subsequent paragraph (II, III, IV…). Under each numeral, write a letter (A) describing the main point of that specific paragraph followed by sub-points (1, 2, 3…) that further explain or illustrate the main point.
c) Conclusion: Use a final roman numeral to label your conclusion section (V) and briefly summarize its main points.
2. The Mind Map
A mind map is a visual way to represent ideas and connect them more abstractly in an organized manner. This method stimulates creative thinking and assists with information recall effectively. To create a mind map:
a) Central Idea: At the center of your page, write down your essay's main theme or idea within a circle or bubble.
b) Main Points: Around this central theme, draw branches indicating your key arguments or observations pertinent to the topic.
c) Supporting Information: Add further branches, extending from the main points that detail supporting ideas or examples.
d) Organize: You can label, color-code, or use symbols to systematically organize your mind map for better readability and comprehension.
3. The Harvard Outline
The Harvard outline consists of headings, subheadings, and text organized in a hierarchical structure. This method is useful for maintaining a clear sense of organization and depth, especially in longer essays. Here's how to create a Harvard outline:
a) Introduction: Identify your essay's objective and write it down using a level-one heading (I. Introduction). Underneath it, highlight key subtopics using level-two headings (A. Background Information; B. Thesis Statement).
b) Body: List each main point with level-one headings (II. First Main Point; III. Second Main Point). Under these headings, use level-two headings for sub-points related to each topic (A. Supporting Evidence; B. Examples).
4. Conclusion
End your Harvard outline with a conclusive level-one heading (IV. Conclusion) that wraps up the entire essay with an effective summary.
In conclusion, choosing the right method for you — traditional outline, mind map, or Harvard outline — can significantly impact your essay writing experience and final product. By outlining thoroughly before you begin writing, you'll improve the coherence and structure of your essay, ensuring a smooth-flowing work that effectively communicates your ideas.
Best Reese's Chip Cookies Recipe: How to ...
24 easy buttermilk recipes – best ways ....
Matthew Lynch
Related articles more from author.
3 Ways to Paint a High Ceiling over Stairs
3 Ways to Make a Movie With One Person
Simple Ways to Clean Bones: 15 Steps
How to Clean Timberland Boots
How to Crochet Fitted Hand Warmers
How to Adhere Fabric to Wood: 10 Steps

Plan for College and Career
Take the ACT
School and District Assessment
Career-Ready Solutions
News & Blog
Students & Parents
Open Search Form
Open Notifications
ACT Non-U.S.
MyACT Sign In
The ACT Test

Registration
Test Center Locator
High School Codes Lookup
Photo Submission Requirements
Standby Testing
Accommodations and Supports
Test Prep *
Free ACT Test Prep
Official ACT Subject Guides
The Official ACT Prep Guide
ACT Kaplan Test Prep Suite
Rescheduled Test Centers
CAS Calculator FAQ
Understanding Your Scores
College Codes Lookup
How to Send Scores
Request a Copy of Your Questions and Answers
How Schools Use Scores
When to Take the ACT
Other ACT Services and Products
Limited Time Offer - BOGO - Buy One ACT Test, Get One Free!
Act test prep, delivered by the experts, designed to fit your study preferences and your budget., when it comes to test prep, we've got you covered, the official act live online class, powered by kaplan.
A team of top-rated teachers show students what to study and how to study during a series of engaging live classes. Get all of your questions answered in real time. Learn more about ACT Live Online .
Want to try before you buy? Sign up for a FREE class!
(You will be asked to sign in or create an account to purchase this product.)
The Official ACT Self-Paced Course, Powered by Kaplan
Learn anywhere, anytime with on-demand tutorials. These bite-sized lessons offer the perfect mix of structure and flexibility. Learn more about ACT Self-Paced Course .
(You will be asked to log in or create an account to purchase this product.)
The Official ACT Tutoring, Powered by Kaplan 
Learn test content and test-day strategies in individual tutoring sessions led by an expert from Kaplan, who will adapt to your needs in real time, answer your questions, and provide you with personalized recommendations. Learn more about ACT Tutoring.
The Official ACT Prep and Subject Guides 2023-2024 Complete Set
Get everything you need to do your best on the ACT test with The Official ACT Prep & Subject Guides 2023-2024 Complete Set. The only study resource including official practice questions and full explanations covering all sections of the ACT, this set delivers maximum practice in one convenient package—and helps you save big on prep.
The Official ACT Prep Guide 2023-2024 Edition
The ACT Official Prep Guide offers 8 full-length practice tests, 400+ digital flashcards, and helpful tips and tools to help you do your best on the ACT. Learn more about the Prep Guide .
ACT Official Subject Guides – 2nd Edition
The Official ACT Subject Guides are individual prep books perfect for students who want to practice a specific subject to improve their test scores. With 200 new questions and explanations in each subject! Learn more about the Subject Guides.
ACT Test Guide 2023-2024
Maybe you've been planning your future for years. Maybe you're ready to start exploring opportunities. Wherever life takes you, ACT will help you get there.
This guide was designed to make understanding all things ACT as simple as possible. With information about ACT test dates, fee waivers, and test prep, you'll find everything you need to succeed on test day.
*The dates in this document are subject to change. The most up-to-date information is available through your MyACT account.
Get the FREE ACT Test ® Guide for 2023-2024
Want free act test prep.
Elevate your test prep with more official ACT test prep resources!
This action will open a new window. Do you want to proceed?
Welcome to ACT
If you are accessing this site from outside the United States, Puerto Rico, or U.S. Territories, please proceed to the non-U.S. version of our website.