An excursion to Olumo Rock in Nigeria
From Inspiration Travel Writing Contest March 29th, 2014
By From Inspiration Travel Writing Contest
There was so much excitement in the air amongst which is our attire. It was so amazing that we dressed appropriately in jeans, boots and sneakers, caps, T-shirts of various shapes, colours and designs (looking as if we were mountaineers). I'd wish you were there to see my outfit. Our lunch packs and water bottles were tucked into bags which was then strapped into or backs. We were indeed a sight to behold.
After we had left the school compound with our school bus, we began to forecast the exact picture of the rock and the landscape of our destination because Abeokuta in our native language literarily means "under the rock". In fact, I told a colleague of mine -John- who sat beside me while inside the school bus that "hope the rocks would not fall on us", then he laughed sparingly at me. Majority of us were either eager or sacred of the adventure ahead (particularly my humble self).
We went through Igando town in Lagos State, along the Cement Refinery Plant, and then we entered a village at the outskirt of Abeokuta called Ijebu-Igbo. A little distance into Ijebu-Igbo, Mister Lawrence pointed to a big, ugly-looking tree whose width and height were simply unbelievable. To our surprise, he said that "the tree was much revered in the village to the extent that some villagers worship it". Waw! What a misnomer! That was very weird to me and made me to be profusely irritated by their erroneous believe.
On arriving Olumo town (where the rock is situated or our destination), we parked our bus to one side of the road and greeted all the villagers sitting around our car park (just for respect). Suddenly, a riot of laughter evolved amidst us because of a crown-like rock we saw at a distance of about 60 meters away from Olumo rock. Aftermath, we all walked up to the security personnel or "gate-man" in our local dialect. To call a spade a spade, dozens of tourist attraction are naturally installed in Olumo. A colleague of mine whose name is Kehinde made me scared before our geography teacher explained some geographical features endowed in Olumo town. Guess what he did? He pointed a house which was built on a slanting rock to me.
At the foot of the rock, we looked up the rock with formidable heights. Many hearts must have missed a beat and not a few among us would have wondered to themselves "are we really going to climb to the top of this rock?" but there was no time to waste as the Guides (Care-takers) led the way (stair-case) for us to follow. Up the rock we went. Some of us rushed eagerly enjoying the refreshing breeze blowing down the rock. However, that does not last long because the surface of the rock was dark and wrinkled (Igneous rock).
At last, we were on top of Olumo rock but we were very frightened (particularly my humble self) simply because, we saw a shrine on top of the rock which was unveiled to us before we climbed it. It was an exhilarating experience as we all felt triumphant. Surprisingly to us, Kehinde (the comedian) waved his white T-shirt just as the twin sister that blade the trail by climbing mountain Everest. I was very disturb for Kehinde to had pulled off his T-shirt albeit, the frigid atmospheric condition. Simultaneously, we all gave kudos to Kehinde.
From the top of the rock, we looked down and saw that Olumo town was quiet small. After we all had took some rest, catching our breath, the Guides reminded us that it was getting late and that we had better begin to go down the rock when there was still daylight. We humble obeyed them however; some of us hurriedly scribbled their names on the rock with stones before they came down.
At the end of the day, everyone was jubilating as it was obvious that we had enjoyed ourselves. To hit the nail on its head, it was a salutary experience as we all gained that everything is possible with strong determination. Isn't it my dear reader? I believe you've enjoyed reading this piece of mine!
About the Author : Issa Ridwan is a freelance writer with a vested interest in researches which are germane in nation building.He was the Best graduating Student in Geography from the prestigious school(Command Day Secondary School in Lagos;Nigeria) and also a second class graduate from consecutive Best University in Africa(The University of Ilorin).
Thank you for reading and commenting. Please enter our next Travel Writing competition and tell your story.
Please comment below and enjoy these related articles
From Inspiration Travel Writing Contest
We hope you enjoyed this entry in the We Said Go Travel Inspiration Travel Writing Contest. Please visit our Travel Writing Contest page: Click here to learn more and share your story. Thank you for reading the article and please participate by leaving a comment below.
18 responses to " An excursion to Olumo Rock in Nigeria "
This was amazing it helped me a lot
I love this
Amazing narration
The story is one in a million I really enjoyed it and for the fact that it even inspired me to be honest. Waaw keep it up it was so nice
This story was interesting and amazable
Thank you Hsve been able to complete my essay with the help of yours
Thank you! I love this post. Ola
Thank you! Oye Ope
Thanks it helped me a lot
What a wow and wonderful essay! Thank you. Henry
Interesting
Thanks alot
Wow.. what a write up.. it really help me in my essays… keep it up.. nice work
Nice write up keep it up
Gooooooooood
This is so amazing it really helped me in my studies thanks a lot
Leave a Reply Cancel reply
Your email address will not be published. Required fields are marked *
Save my name, email, and website in this browser for the next time I comment.
404 Not found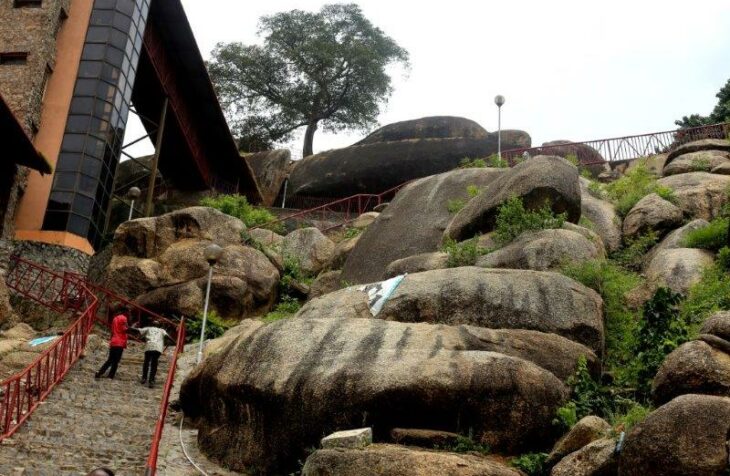 Olumo Rock – My only day trip
This was my only excursion from Lagos. The rock is situated in the city of Abeokuta which in the local Yoruba language appropriately means "under the rock". It's about an hours drive from Lagos. I spent the day with my super guide Ray from Tripzapp.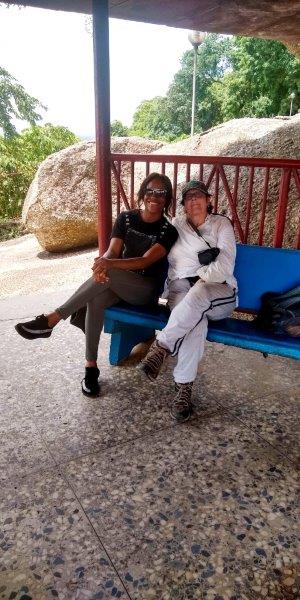 The original inhabitants of the rock were the Egba's who strategically used the rock as a vantage point to view any potential incoming threats from their enemies. Their triumph lead to the growth of the town.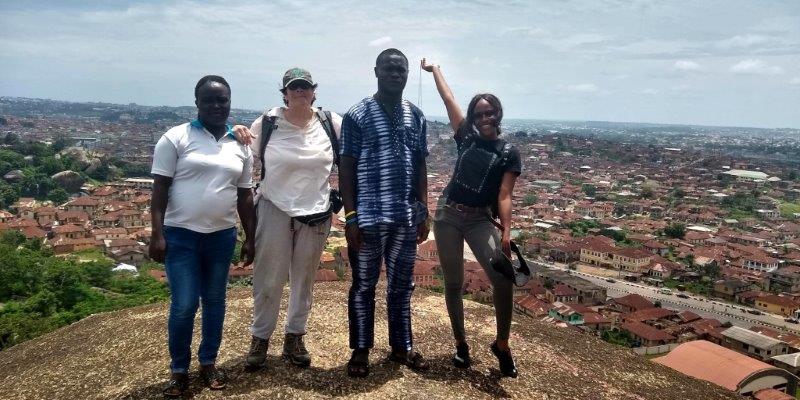 The rock with its many nooks and crannies went on to act as an ideal fortress during the inter tribal warfare which took place in the 19th century.
A trip to the rock will involve climbing some stairs carved into the rock, followed by a little rock climbing. Nothing to get to worried about if you are in fairly good shape. Look out for some interesting carvings along the way.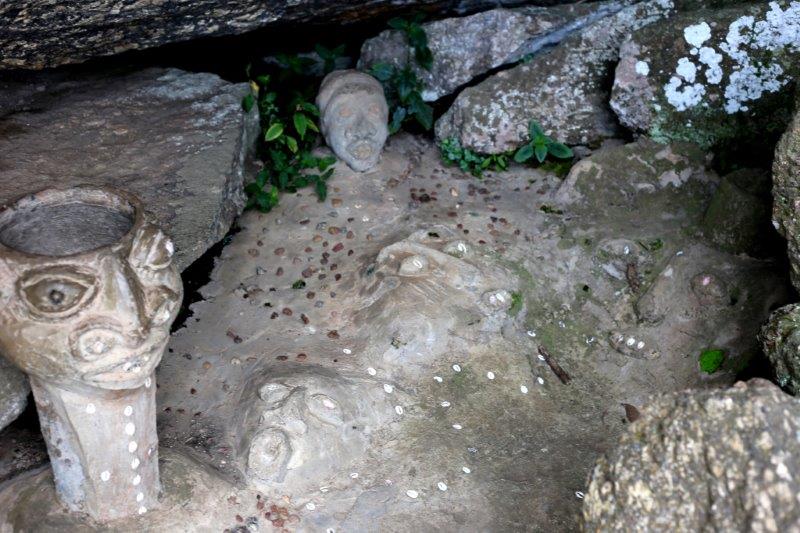 When you get to the top you will be greatly rewarded by some stunning views of the town and surrounding area.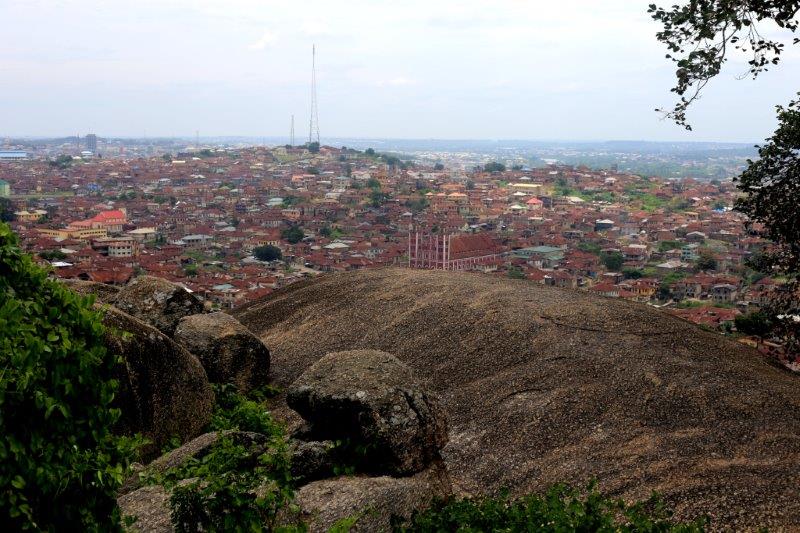 Today the rock is much revered and is a popular tourist destination. The one place that aroused my curiosity was a small locked door. According to the guide the door is only opened once a year by the high priest and the village chief. No further details were upcoming and no one knows what is behind the door, however it seems to this day sacrifices are performed on an annual basis.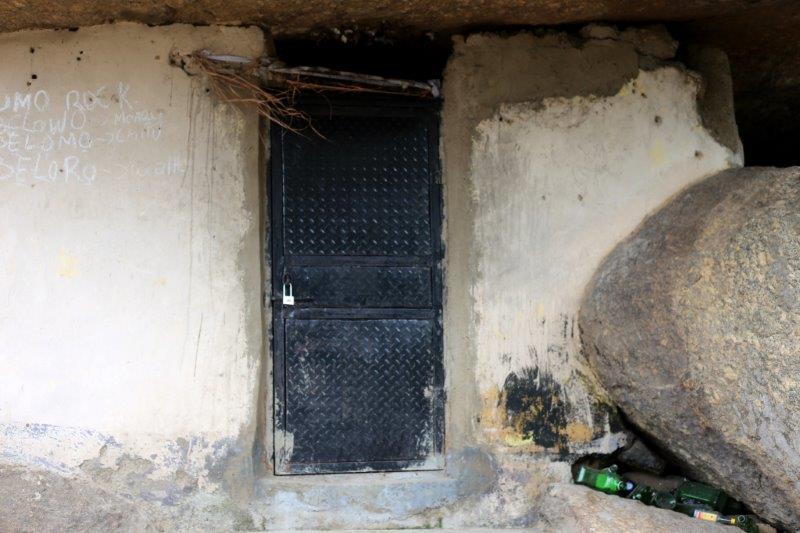 Tinyteddy's feedback : "Look lets get something straight here. I'm only 3 inches tall with a leg span of just over an inch. Those sort of statistics don't get you very far when it comes to climibing. I enjoyed the view. That was enough for me thank you very much"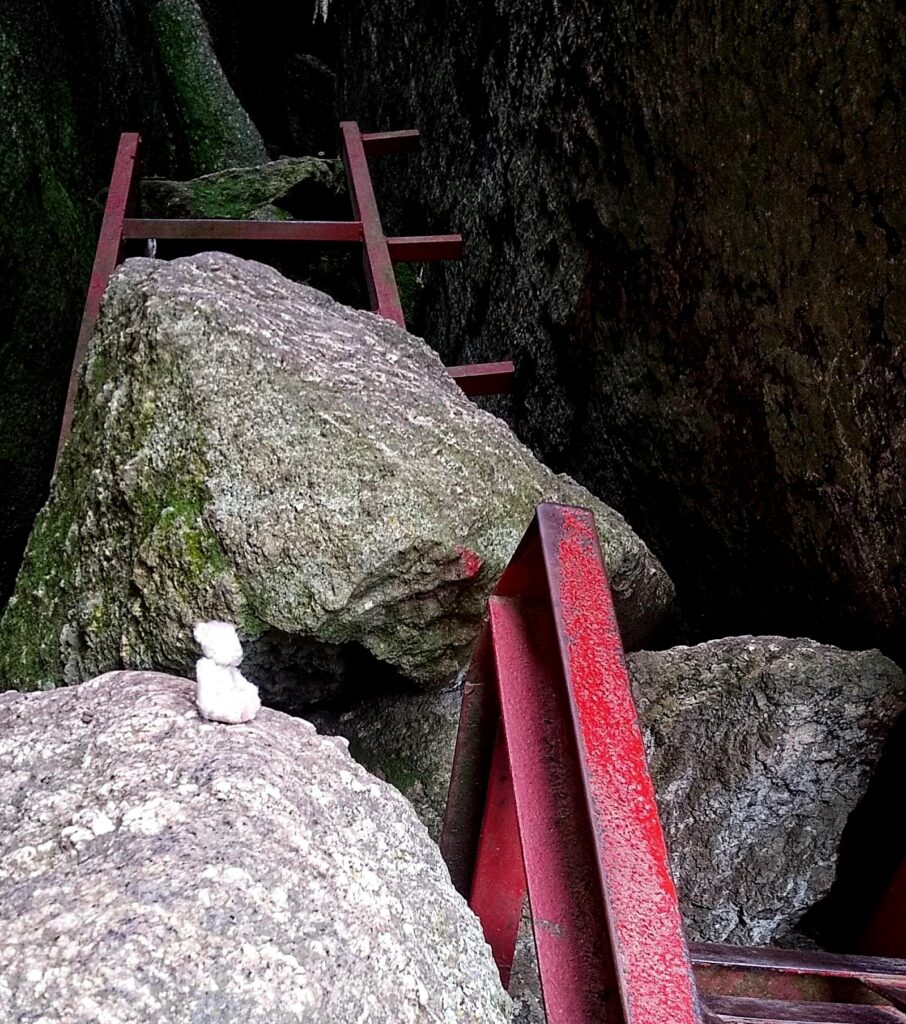 A Selection of Great Travel Quotes
Angietravels – Africa
Angietravels – Asia
Angietravels – Australia
Angietravels – Europe
Angietravels – New York
Angietravels – Pacific
Angietravels – South America
Argentina – Buenos Dias
Dark Tourism
Floralis Genérica – So much for the sunset!
Casada Rosa (The Pink House) – The most famous house in Argentina!
El Ateneo Gran Splendid – literally the most beautiful bookshop in the world.
San Telmo – A Sunday Market on steroids.
Obelisco (Obelisk) de Buenos Aires and the pink condom
February 2020
January 2020
December 2019
November 2019
October 2019
September 2019

A Day Trip To The Olumo Rock + 3 Other Notable Places To Visit In Abeokuta.
For me, It was just an opportunity to finally get on a train in Nigeria (The train that runs from Lagos through Abeokuta down to Kano). Though, for some reason, the two times we made it down to the train station the train didn't show up.
Every now and then, I get random reminders of time past and memories created from my Facebook and Google photos. I live for these reminders.
The other day, a picture popped up notifying me that it was exactly one year ago that my friends & I made the decision to visit Abeokuta and climb the Olumo rock. I was reminded yet again of the fact that I hadn't shared that adventure with you guys here.
Related – Exploring The Ngwo Pine Forest, Cave, And Waterfall (What No One Tells You)
Majorly because I think the Olumo rock is a bit played out and everyone who's even vaguely interested in travel/exploring Nigeria already has a post on their trip to the Olumo rock.
But hey! Different folks, Different experiences, right? So here goes.
P.S – Abeokuta is the largest city/state capital of Ogun State in southwest Nigeria.  It houses the Olumo rock, which is one of the most popular tourist destinations in the ancient city of Abeokuta.
After the last train ride disappointment, we made up our minds to make operation " day trip to Olumo rock " happen regardless. Several calls later, a Taxi was booked and we were on our merry way to Abeokuta. About 2 hours later, we made it into the city.
The first thing that caught my eyes was the landscape. The roads sloped endlessly and gave off this rustic vibes that appealed to my creative eyes. I loved it instantly.
1. The Central Mosque Abeokuta.
We had to take off our shoes to get into the mosque..
Our first stop was this impressive work of Architecture – the Ikija central Mosque that we encountered on our way to the Olumo rock. It was a sight for sore eyes and we couldn't ignore it.
My friend spoke to a man who led us into the mosque and showed us around. Although I couldn't get the history or much about the mosque because the man could only communicate in Yoruba, it was still worth it!
2. The Olumo Rock.
The site was renovated in 2006 to include an elevator, a water fountain, museum, and restaurants.
3. The Alake's Palace.
Our next stop was the Alake's palace, which is home to the traditional ruler of the Egba land. I personally expected someone to stop us or ask us what business we had there but nothing of the sort happened.
We were free to roam the large compound but also confused as we weren't sure where to go but eventually met an elderly man that showed us around. He mentioned that the palace houses the first bible in Nigeria brought by the missionaries.
We were restricted to the grounds alone and not allowed to go into the palace/chambers so it was a pretty quick stop.
4. The Centenary Hall.
I actually had a good time in Abeokuta and it was a pretty stress-free journey. We went on a weekday and got back to Lagos before 8 pm.
Have you ever been to Abeokuta? What was your experience like?
 As always, please leave me your thoughts, comments, suggestions etc! And let's connect! 
 P.S: YOU MAY HAVE MISSED THESE!
–   Experiencing Ghana In 48 hrs – My Top 7 Things To Do In Accra. –  Chasing Waterfalls || My Road Trip From Lagos To Experience The Erin Ijesha Waterfall. – A Weekend Lake House Adventure In Ouidah, Benin Republic –  Three Days In The 'Buj For The Dunes Experience. –  #TravelNigeria : 5 Places I Want To Visit In Nigeria This Year.  
Author: Cassie Daves
Leave a comment cancel reply.
Your email address will not be published. Required fields are marked *
Comment * -->
Notify me of follow-up comments by email.
6 comments on " A Day Trip To The Olumo Rock + 3 Other Notable Places To Visit In Abeokuta. "
Beautiful! Thanks for sharing Cassie! Enjoyed reading it and the pictures are 😍😍😍
Thank you so much Ada!
Never been to Abeokuta but you make me want to visit. Your pictures are so beautiful, you really do bring oui the beauty in everything.
Nive one, keep up the good work, Olumo Rock is truely a beauty to behold. It's highly recommended
I have also visited olumo rock. Although, I spent a major part of my life in Abeokuta, I never knew other nice place existed like the Alake palace. Thanks for sharing.
Wow! What a nice post. I have visited Abeokuta before, including the Olumo Rock, but not all the other places mentioned. The next time I am privileged to visit, I know where to go now. Thank you
Back to top

Search Content...
Published by Abubakar Oladimeji on 15th August, 2020
Last Updated 26th April, 2022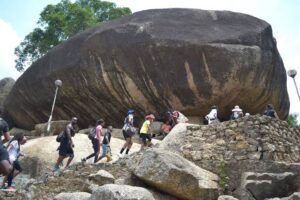 History of Olumo Rock
Olumo rock, is one of the major tourist attractions in Nigeria with a captivating embodiment. Olumo rock is located in Abeokuta is a classic that stands out among other tourist attractions in Ogun state. With its surrounding lush history, Olumo rock will never cease to bring tourists to wonder at how rocks can tell stories on their own.
One thing stands out in particular; the blessings of nature. It cannot be faulted that at least every state in the country, including the F.C.T, has something naturally distinct about it. It is in this light, Ogun state, one of the six states in the southwest geo-political zone is unique for its own beautiful piece of nature strategically located in the state capital, Abeokuta.
The state capital Abeokuta, translated into English means "Under The Rock", is known for this beautiful piece of nature standing at a height of 137metres and strategically located at the centre of the state capital – Olumo Rock.
From History, Olumo Rock was discovered by a hunter by the name Adagba, who used the rock as means of a fortress during the intertribal war in the 19th Century. The Egbas were part of the Oyo Empire before the empire collapsed. The rock also served as a vantage point for the inhabitants at the time as it enabled them have a clear view of enemy's advancement in a war they eventually triumphed.
The name "Olumo" is the combination of two words – "Olu" (God) and "Mo" (Moulded), the combination of these words is translated as "God has ended our troubles and sufferings". Olumo Rock was turned into a tourist site in 1976 and commissioned on the 3rd of February 2006 by the former president of the country, Olusegun Obasanjo.
The rock comprises of statutes of Egba past heroes and different symbols of the Egba warriors like Ilesha Abi Agbongbakala, Agaba – the great hunter, Okonkenu – the first paramount ruler in Egba land, and Jagun Jagun – the sharp shooter and general in command.
During the rainy season, it was noted that Olumo Rock produced water that could be used by herbalists to cure diseases and sicknesses. However, it stopped producing water over 50 years ago and beside this point is the tomb of a chief called Sonni Osi-Toko who died at 122years old on the 3rd of January, 1956.
Factors To Consider When Renting an Apartment
Another fascinating fact about the rock is the presence of a tree that is claimed to be over 200 years old. This tree neither sheds its leaf throughout the year as it flourishes in dry and rainy season.
A woman Chief Mrs. Sinatu Aduke Sanni, popularly called Iya Orisa has lived almost all her 133years on earth dwelling in the rock. She has witnessed the coronation of four kings of Egba Land – Alake of Egba land. She believes the god of the rock protects them and gives them everything they ask for.
In recent times, the tourist attraction has been renovated and an elevator has been added for those who do not wish to climb the stairs between the rocks to get to the summit, it also has a museum, an eatery, market where different types of tie and dye clothing materials are sold to visitors, and also a water fountain as side attractions.
The Height of Olumo Rock
As mentioned earlier, Olumo Rock stands at a height of 137metres above sea level which is almost half the height of the Eiffel Tower, Paris which stands at 300metres. Also the height of Olumo Rock cannot be compared to Zuma Rock in the state capital, Abuja which stands at 725metres above sea level.
One of the attractive thing about Olumo Rock however is the fact that it is easy to climb. Even before the recent renovations, Olumo Rock had stairs carved into it for easy climbing. For those who do not wish to go through climbing through the rocks can use staircases or elevators to reach the summit.
At the top of the rock is a beauty to behold. One will be able to see the view of Abeokuta all covered in red corrugated roofs paralleled by thick green forests that melts into the horizon. Some distinct monument one will see includes the First Church of Nigeria, the central mosque, the family of house late Moshood Abiola (M.K.O), the River Ogun and Baptist Boys High School.
Location of Olumo Rock
Olumo Rock is located at the heart of Abeokuta, the Ogun State capital at exactly the intersection between Ijemo-Alape Road and Ita-Bayinbo Street in Ikija area, under Abeokuta North local government of the state.
Driving to Olumo Rock from Lagos will take approximately 1 hour 45 minutes if you use the A5 route through Papalanto.
For those who want to visit using public transport can get a cab from Kuto Motor Park all the way to Ikija, Olumo Rock for about #100 – #150. Or get a cab to Sapon or Itoku and then another to Ikija for a total of the same price.
Gate Fee at Olumo Rock
Olumo Rock generates its revenue from tourists. Prices range from 700 naira for adults and 500 naira for children. However, the prices go as high as 2000 naira if you want to use the elevator. There is also a fee to use the car park for those who drive for as low as 300 naira.
Get a Tourist guide at Olumo rock
On arrival at Olumo Rock, you are faced with the beautiful water fountain and sweet sensation eatery to your right as you approach the stairs. For those interested in history, there are very friendly locals who are always ready to take you on a journey and tell you all you need to know about the amazing piece of nature. They even have other shortcuts that take you to the summit faster than the visible stair cases. They are ready to tell the stories of the caves, tombs and shrines all scattered at the base of the rock.
Most of them do not charge you but will tell you to tip them as you deem fit.
When a landlord should increase house rent
Climbing Tips
Try wearing a fitted trouser if you wish to maneuver the rocks and stairs to get to the top. As mentioned earlier, even an agbada clothing would not be an issue as long as you are using the artificial stairs or elevators.
Do not wear slippery footwear to climb the rocks. It is said that no one has ever died climbing the rocks since it became a tourist destination. Do not be the first.
Go with a bottle of water either in a small backpack or side strap. You will need it at the top.
Do not forget your camera.
Accommodation at Olumo rock
There are several hotels for those who want to lodge upon visiting. They include Daktad Suites, Off Quarry Road, about 20minutes drive from Olumo Rock, Dusmar Hotel, Kuto beside June 12 cultural centre, which is approximately 10 – 15 minutes drive from Olumo Rock.
JOIN NB ON SOCIAL MEDIA
Don't miss a thing! Get notifications for important news & events right in your mail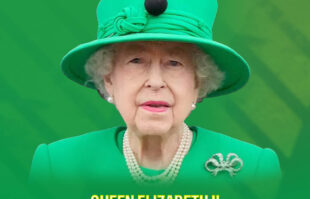 Queen Elizabeth; How Nigeria was sold for £865k
The question of how Nigeria became an independent country, which in recent times has been regarded as the "Giant of…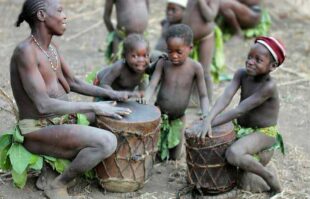 History of Kambari; Nigeria's Naked Tribe
One might wonder if, truly, there is still a tribe or nation in this modern world that does not wear…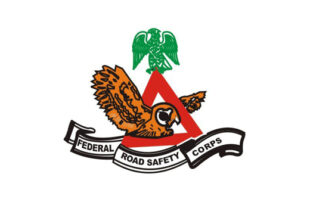 Brief History of FRSC in Nigeria
The Federal Road Safety Corps is the government agency with statutory responsibilities for road safety administration in Nigeria. The Federal…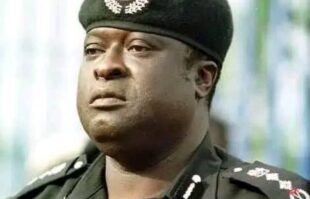 The Story Behind Tafa Balogun's Forced Retirement
Mustafa Adebayo Balogun was the 11th Inspector General of the Nigeria Police Force. He joined the police force in May…
Drop a comment Cancel reply
Post Comment
A Tour into Southern Nigeria's Tourist Centre: Olumo Rock.
Let's have a bit of an exercise. Take a minute to think about this. How often have you considered going on a vacation or having fun out?
How many of those times did coming to Nigeria ever cross your mind? I know, right! It probably never did. Some might believe Nigeria does not have exciting Tourist Centres, Conservations, or Parks. You may have been correct many years ago, but the narrative has changed.
Nigeria has many beautiful and exciting places to create beautiful memories with friends and loved ones. At come-to-Nigeria, we have compiled a list of these places and will review them one after another. Today's article will be focused on the very revered Olumo Rock. Ready for the ride? Get your seat belts on, and let's roll.
History of Olumo Rock
Olumo Rock was discovered in the Nineteenth-century by a hunter who sorts refuge in the Rock during an intertribal conflict. At the time, the Oyo Empire was disintegrating, and this hunter, a leader of the Egba refugees, was on the run and found refuge beneath the Rock.
Olumo Rock is located in Abeokuta, Ogun state. Its name is coined from combining two words, "Olu", which means deity, and "Mo", which means moulded. The Egba clan believed that the Rock provided protection and defence for them during the conflict; this is why the Olumo Rock is highly esteemed by this clan, as it gave them a clear view of their approaching enemies during war and helped the Egba people gain victory. On the 3rd of February, 1976, Olumo Rock was commissioned as a tourist centre by former Nigeria President Olusegun Obasanjo.
The exciting experience is beyond staring at the Rock. There are facilities around the tourist centre that will make your experience worthwhile. Would you like to find out? Then, read on.
What you'd find at the Olumo Rock Tourist Centre
Over the years, many facilities have been implemented to make the Olumo Rock tourism experience exciting. The Olumo Rock is as high as 137 metres. Even though not so high compared to the Zuma Rock in Abuja, an elevator has been mounted for those who want to skip the fun part of climbing the stairs.
1.      Caves and Tunnels:
At the Olumo Rock tourist centre, there are caves and tunnels that you might want to explore right at the base of the Rock. One of the caves is called " Iya Orisa ", which means Mother of the Gods. The people believe that this deity dwells in that cave.
2.      Shrine:
The indigenes of Egba built a shrine where they worship the deity and make sacrifices to it. Some shrines are specific for healing practices, while others are for more diabolic and spiritual exercises like sacrificing to the deity and paying due homage.
While you are on tourism, it would be wise to stay away from the shrine as acting in ignorance could bring inevitable consequences that you may not be able to bear.
3.      Museum:
The Museum is one place you should not miss out on while exploring. The Olumo Rock Museum has a record of all the old things that happened around and in Olumo Rock and Abeokuta in general.
You will find an exhibition of crafted images, photographs, and everything on the history and culture of Abeokuta.
4.      Cable Car:
If you want a stress-free tour, you prefer to sit and watch; a cable car is available to drive you from the base of the Rock to its top. All you need to do is, sit pretty and enjoy the view.
5.      Garden:
Remember that proposal you've been planning? The garden would be an excellent place to make it. With beautiful and colourful flowers, which could make it almost impossible for your proposal to go wrong.
6.      Picnic spot:
If you decide to have homemade meals while you connect with your family, friends, or team members, the Picnic spot is a good space, with excellent views around to make your hangout private in a public place.
7.      Restaurants:
You probably are like me, who does not like to travel with so much luggage. That's Ok. You do not need to worry about your feeding because, at Olumo Rock tourist centre, various restaurants have various meals to suit your cravings.
8.      Convenience Rooms:
There are convenience rooms around the tourist centre. If you need to make yourself convenient, you don't need to worry about finding toilets and bathrooms.
9.      Hotels:
You probably intend to experience every beauty that Olumo Rock offers, and you might be unable to cover all these in a day. There are affordable hotels where you can lodge for as long as you intend.
10.  Theatre:
Last but not the least on this list. It has an outdoor theatre where cultural activities, music concerts, and performances are held.
You have gone through this ride with us, and I'm sure you had your seat belt on the entire time. One beautiful thing about a visit to Olumo Rock is that it gives you a "want to be back again" experience at a very affordable price.
So, if you ever decide to come to Nigeria, you might want to stop by Abeokuta, Ogun state, to visit the Rock.
I hope this was helpful. Thank you for reading. Remember to engage this article and always click on  Come to Nigeria  for articles on exciting places to visit in Nigeria.
Now, you may take off your seatbelt.
Ann Okoroafor
Related articles.
National Mosque Abuja
THE SWEET TASTE OF "ABACHA" IGBO TRADITIONAL FOOD (African Salad)
Lagos Travel Guide
Hermitage Garden Resort
Privacy Overview
Temmie writes
A sneak into my head,  travel post||olumo rock.
Hello lovelies, Hope you're enjoying your weekend?
So, I once said I want to travel round the world in my Bucket travel list here …( So help me God, please help say Amen). I decided to start from Nigeria,though I've visited some places in Nigeria but I happen to travel to Abeokuta and I visited the Famous Olumo Rock, all expenses paid by my Best friend. We got Tickets at the entrance of the tourist complex (I don't know how much it costs as bestie paid, can't thank you enough, Bes. ) Thereafter, the tour began with people around to guide and explain things to us when needs be.
The Rock is a great Monument that served as shelter and fortress to the people of Egba (that is what Abeokuta people are called) during the intercity war in 1830. The Town's name is culled from this : Abeokuta – under the Rock . Olumo Rock has a infrastructure of an escalator for people with mountain climbing phobias, museum, a restaurant and a water fountain.
Already have a WordPress.com account? Log in now.
Follow Following
Copy shortlink
Report this content
View post in Reader
Manage subscriptions
Collapse this bar
Olumo Rock: All You Need to Know About the Olumo Rock
February 21, 2022
No comments
Olumo Rock: If you pay a visit to Abeokuta without seeing the prestigious "Olumo Rock," which is described as the fortress of the land, that means your visit is incomplete.
The record has it that since the 19th century, this rock called "Olumo Rock" has long served as a rock of offense and a fortress for the people of Egba Land.
You will get to see many interesting things and activities to do when you visit the Olumo Rock, such as natural tunnels, unusual trees, natural cantilevers, gardens on the rock, broken pathways, monuments of the belief system of the rock's primeval settlers, e.t.c.
The rock is a bit easy to climb because it stands at a height of 137 meters above sea level, making it less than Zuma Rock, which stands at 725 meters.
There are many ways in which a visitor can use to climb the rock, such as using the, in fact, human-made stairs carved or using the elevator if you want to get to the zenith of the rock.
NOTE : Using any of these methods to climb will cost you a token
When you are at the top of the rock, you will be able to see other tourist places in the city such as the Central Mosque, the River Ogu, the First Church of Nigeria, and the family house of the late Moshood Abiola.
However, if you want to visit the Olumo rock, you will have to know that there is an entrance fee of 700 Naira for those who would be climbing the stairs, while those would be using the elevator would pay 2000 Naira.
You will also pay a camera fee of 200 Naira if you want to snap pictures and a parking fee of 200 Naira if you come with your car.
What You Can Do at the Olumo Rock
There are a lot of interesting activities to do at the olumo rock center. The first interesting thing you can engage yourself in is to climb the human-made carved stairs in the rock. Climbing the rock may seem somehow hard coz it will leave you breathless as you are climbing it, and that's why there are benches under the tree where you can sit down for a while and enjoy the direct hair from heaven.
Another thing to do is take a tour of the new museum and relax at the recreational park, which is at the rock's foot.
Take a look at the beautiful environments, and you can take pictures by going to the taking a peek at the Ogun River flowing down the rock as the water will caress your skin with the soft therapy of Mother Nature.
If you feel hungry or want to see how the place looks, you can visit the fast-food restaurant located at the base of Olumo Rock.
In addition to the first activity, we listed here that you can do at Olumo rock and climb the uneven sized rocks on the narrow corridors leading to the rock's peak. While climbing up the rock, enjoy the sight of the cowrie studded statues, the carvings on the rock, and bid greetings to the 131-year old priestesses (Iya Orisa) living under the rock.
Forgetting to visit the ancient Itoku market, which lies outside the Olumo Rock, will be the last thing you should forget to see.
It would also be an exciting thing for you to see how the local artisans and traders at the tye-and-dye (Adire) market will overprice with customers, who are always looking to buy goods at the lowest price. I believe you'd love to behold such a sight.
Best Season to Visit Olumo Rock
The best time anyone should consider visiting the Olumo rock is during the dry season (March).
What makes Olumo Rock so unique?
Olumo Rock is by far the most striking element of Egba nationality. It is a unique monument that is associated with their courage and independence. As a result, Olumo rock represents togetherness and independence for all Abeokuta citizens, not only the Egbas.
Who discovered Olumo Rock?
According to legend, Olumo Rock was found by a warrior named Adagba, who utilized it as a fortification during the 19th century inter – tribal fighting. Before the Oyo Empire fell apart, the Egbas were a part of it.
Is olumo a kind of rock?
That is one of the most common questions asked about the Olumo Rock in Abeokuta, Ogun State. Olumo Rock is a large protrusion of prehistoric granite boulders that lent Abeokuta, the capital of Ogun State, its name. The maximum height on the Olumo rock is approximately 137 meters above the rock's base.
What are the major rocks in Nigeria?
From fascinating caves and swift rivers to massive mountains, the country has a long list of tourist sites to see. People who enjoy mountains would enjoy exploring Nigeria's rocks, as some of these tourist attractions are bigger than Egypt's famed pyramids!
The following are the top five major rocks in Nigeria:
What is Nigeria's tallest structure?
Chappal Waddi is a hill in Nigeria that is the country's tallest structure at 2,419 meters (7,936 feet).
It is sited on the Mambilla Plateau in Taraba State, close to the border with Cameroon, in the Gashaka Gumti Nature Reserve and Gashaka-Gumti National Forest.
It is a portion of Nigeria's and Cameroon's Bamenda-Adamawa-Mandara Mountain chain.
Tips for Climbing Olumo Rock
Before you climb, jog or do some cardio..
This is a good way to prepare your body for the steep climb by conditioning it and increasing your endurance. This is particularly crucial if you don't regularly exercise because you do not want to distress your body with the strain it will be subjected to.
In the weeks preceding your climb, exercise a few times.
Carry two litres of water with you.
The climb must not cause you to become exhausted. You might experience weariness, headaches, and even disorientation as a result of dehydration. It will also be difficult to locate a supply of fresh, pure water.
Carry along your own water and ensure you get enough to drink. If you start to feel wobbly because to dehydration, you don't wish to be a nuisance to your fellow hikers!
Bring carbohydrates and protein-rich snacks.
It's important to remember that carbohydrate is the primary fuel source for physical activity. In order to complete your climb without exhaustion, you'll need to consume plenty of carbohydrates and lipids, so try not to cut down too much.
To maximize your performance, make sure you're getting enough carbs in your body. Bring party stuff, nuts, sweets, bread, and other snacks.
Leave a Reply Cancel reply
Your email address will not be published. Required fields are marked *
Best Rated Construction Companies in Nigeria and Their Websites
College of education akwanga courses, school fees, cut off mark and how to apply, you may also like, full list of inspector general of police in nigeria from 1964 till date.
Nollywood Audition Form 2023: Registration, Tips and Guide
Best International social work degree
Chiropractic Schools in Florida
What is a 2.4 l Engine
Courier Plus Outlets in Lagos and Other Parts of Nigeria
This site is protected by reCAPTCHA and the Google Privacy Policy and Terms of Service apply.
Global site navigation
Celebrities
Celebrity biographies
Messages - Wishes - Quotes
TV-shows and movies
Fashion and style
Capital Market
Family and Relationships
Local editions
Legit Nigeria News
Legit Hausa News
Legit Spanish News
Legit French News
Abeokuta's Olumo rock: Its captivating history and contemporary relevance
As a name and phenomenon, Olumo rock is known to be a tourist attraction that has caught the eyes of many people at home and in the Diaspora. However, beyond the fact that it is well visited by many, not many people know the history behind this beautiful place. This is what this article hopes to redress.
True enough, in the year 1976, Olumo rock was made into a tourist site and then was later commissioned by Olusegun Obasanjo on February 3, 2006. But before then, it was a mass of rock that had (and still has) strong spiritual essence for the people of Egba in Abeokuta who lay claim to it.
The past spiritual significance of Olumo was so great in so much that the people interlaced it into the name of the city where it is located. In light of this, Abeokuta means 'under the rock'. Even the name Olumo is very significant. It means 'all the troubles and sufferings were over.'
Back when wars were prevalent, Olumo rock used to act as a shelter and refuge camp for those wanting to escape the throes and woes of the catastrophic wars that hit the city. There are holes in the rocks which many believe are the places where the refugees used to pound their staples.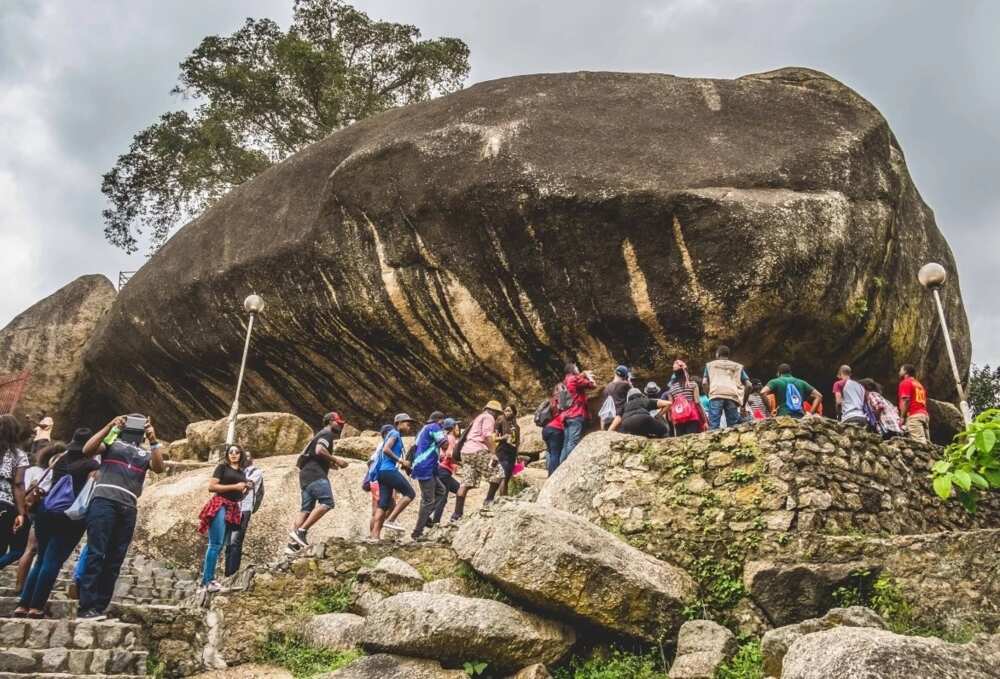 READ ALSO: Major rocks in Nigeria and their location
Beyond this, it is believed that Olumo rock possessed some healing powers that connoted something spiritual for the residents of Ogun. In fact, traditional healers used to go all the way to Olumo rock to fetch the water that flows from the top of the rock to its very base.
According to these traditionalists, the water had some potent healing elements that could cure several illnesses and diseases. It was said that Olumo rock usually produced this healing water used by local herbalist to cure sickness and diseases only during the raining season.
However, it has reportedly stopped producing the water 50 years ago.. The stoppage was very near a tomb behind the house of a chief called Sonni Osi-Toko who died on January 23, 1956, at age 122.
READ ALSO: NAIJ.com upgrades to Legit.ng: a letter from our Editor-in-Chief Bayo Olupohunda
Furthermore, the mass of rock in Olumo bears statutes that are used to symbolise the past heroes of the Egba people. Some of these Egba warriors are 'Iliesha Abi Agbongbakala', 'Agagba' the great hunter' and 'Okonkenu' who was the first paramount ruler in Egba land.
Another warrior whose symbol is also inscribed in Olumo rock is 'Jagun Jagun' who was regarded as the sharp shooter and a powerful commander. To represent these warriors, symbols like 'cowries' which stood for the money spent at that period of time are also used.
PAY ATTENTION: Get your daily relationship tips and advice on Africa Love Aid group
Even more, the apex of Olumo rock also stands as the location of the very first church in Nigeria. The church whose name is Saint Peters Cathedral is still well known. As if that is not enough, the base of Olumo rock also serves as the location of several landmark sites.
Some of them include NTA Abeokuta, Baptist Boys High School, the family house of late M.K.O Abiola, the Central Mosque, Sanatan, River Ogun. In addition, there is an iroko tree that is said to be over 200 years old. According to the natives around the area, the tree does not shed its leaves neither does it wither. It stays fresh and strong all through the year (even during dry seasons).
PAY ATTENTION: Read best news on Nigeria's #1 news app
Indeed, the history of Olumo rock is one that is both powerful and interesting. However, this site is not just one with a glorious past, it is also of contemporary relevance. For one, Olumo rock is still revered among the Egba people of Abeokuta. They consider it to be a symbol of unity and protection.
Talking about protection, it has been said that since the rock was discovered and turned into a tourist attraction, no one has ever lost his or her life while climbing its hard and steep surfaces. Because of the fact that it once served as shelter to past refugees, many people home and abroad see it as a reminder of what it means to survive.
The fact that it was used as a strategy in surviving and staying alive in the midst of war by the people has caused it to still has a place in the hearts of many. In fact, sacrifices and supplications are usually made in an ancient shrine located on the upper part of the rock. This offering is made by the Alake of Egba who renders the sacrifice on behalf of the people of Egba and other people who visit the site.
A while back, Legit.ng wrote an article that focused on how Olumo rock was used as a refuge and shelter by people. By the way, it should also be known that several historic events have occurred on that site. A woman aged 131 took to living under the rock and a man also decided that it served as the perfect place to propose to his bae.
NAIJ.com (naija.ng) -> Legit.ng We keep evolving to serve our readers better
Which country would you leave Nigeria for? | Legit TV
Source: Legit.ng
Everything You Need To Know About Olumo Rock
27 July 2017
Leave a comment

History of Olumo Rock
What is the best time to visit olumo rock.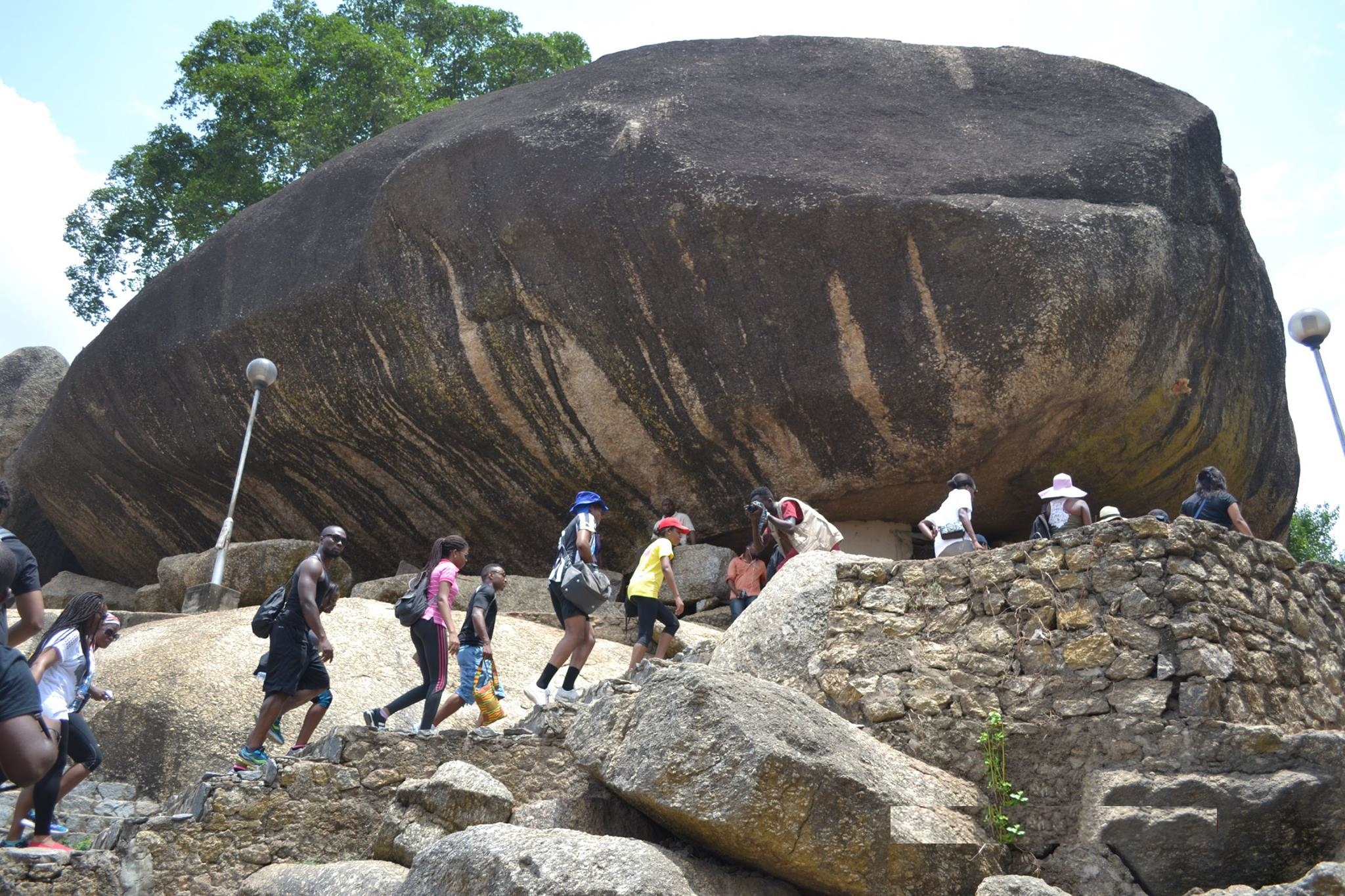 How to get to Olumo Rock
Things to do at olumo rock.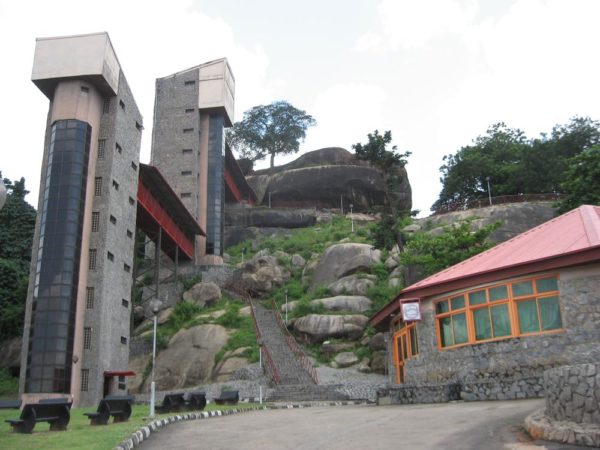 How Much A Visit To Olumo Rock Will Cost

People Who Like Olumo Rock Also Like;
With the nomination of Mr. Abdulrasheed Bawa as the Chairman-designate of the Economic and Financial Crimes Commission (EFCC), 850 police officers seconded to the anti-graft commission may go back to the police force, THISDAY has learnt. THISDAY checks showed that the likelihood of redeploying the police personnel is giving them jitters as many of them are afraid of being taken out of the "lucrative" posting.
Top Stories
God Is Good Motors (GIGM): Price List 2022, Terminal Locations, Online Booking and Contacts
May 11 11:14 AM
Visa Application Service for Nigerians
May 23 08:22 AM
Peace Mass Transit (PMT): Price List 2020, Terminals Locations, Online Booking and Contacts
May 19 11:06 AM
Related Stories
Quick Guide To Lekki Conservation Centre
March 03 10:18 AM
Fun Places To Take Your Kids To On Family Outings in Lagos
March 03 11:13 AM
The Jazzhole: A haven for Music, Literature and Art
March 20 06:54 AM
Best Zoos in Nigeria
March 23 07:49 PM
Top 28 spots to visit in Lagos
March 27 06:11 PM
Reply Comment
Become our vip - be the first to receive updates when we publish. also, get free access to our special offers.
Academia.edu no longer supports Internet Explorer.
To browse Academia.edu and the wider internet faster and more securely, please take a few seconds to upgrade your browser .
Enter the email address you signed up with and we'll email you a reset link.
Olumo Rock and Tourism Development
According to Sowunmi in his article, "Olumo Rock: Egba's Monument of Faith", two things arenotably sacred to the Egba people, first is "Lisabi Agbongbo Akala" who represents their liberation from Oyo empire, second is "Olumo rock", which stands as a "monument of their faith", faith in unity as the source of national strength and stay in the unfailing protection and help of the supreme being who led their ancestors through wars safely to Olumo rock in present day Abeokuta .
Related Papers
International Journal of Advances in Scientific Research and Engineering (ijasre)
rama prasad
The branding technique is based on local identity because artificial narratives are not effective. That is, to be real, branding descriptions must be based on reliable values associated with the location and establish a connection with the genuine local identity. The rationality that differentiates the product, helps the artifact compete with other products. In addition, authenticity can combine a constant reinterpretation (to suit consumer taste) with an idealized evocation of the past to strengthen a brand's popularity. This study looks at what makes Abeokuta urban morphology positive to become branding tools. This study adopted a qualitative research approach because the research is confined within a subjective assessment of attitudes, opinions and behavior of Abeokuta communities. A research ontological position is that Abeokuta morphological features were used as a branding tool for core indigenous communities of Abeokuta. Since Abeokuta is brandable, Abeokuta morphology must be identified and its meaning is known. For this study Nvivo words cloud and place theory was used for analyzes. Desktop data, Focus group discussions, the personal observation were used as data collection techniques and satellite imagery was used for the base map of Abeokuta. This research discovers what robust brands own and what cities need in order to brand themselves productively. What a city needs to possess to be a good brand; it must possess important and unique characteristics that can be easily identified. These are functional as well as non-functional qualities. These include city form, people's understanding of the city, people's conviction in the city, what the city views for, and what kind of people dwell in the city.
Osaze S Osazuwa
This work focus on the impact of tourism to Abeokuta and imeko afon one of Abeokuta sphere of influence. It also deals with the relevance that the various tourism destinations serve to the two mentioned areas. The field study on which this report work was based was carried out in the month of may over a period of five days.
IJSRP Journal
- The question of who are the Ogboni of Egbaland is one of the major controversial issues which in fact call for deliberation. It is in view of the above fact that the author beck to holistically examine whether reference to Ogboni of Egbaland is exclusively restricted to Ologboni Section alone or includes Ologun, Olorogun and Parakoyi Section of Egbaland among others.
Osaze S Osazuwa , Bonkieni O Cornelius
the paper relate the study of Ogun state and focuses on the tourism, urban and market study including the study of the rural areas in Ogun state with particular interest in Abeokuta and Imeko-Afon.
2018 World Tourism Day International Conference: Ondo State Ministry of Culture and Tourism in collaboration with Elizade University, Ilara Mokin
Opemipo A Ijose
Hospitality and Tourism Management Association of Nigeria
Naomi Jones
Emmanuel Nelly Akamagune
Tourism in the world today is the thriving business both for government and private sectors. The importance of tourism as an integral part of a country's source of revenue generation can not undermined. This paper examines tourism in Abeokuta and environ with emphasis on the Socio-economic Impacts, the problems associated with tourists sites chosen for the study and the ways to improve the quality and effectiveness of the tourist sites so that it could be at par with other tourist sites in developed countries.
Chigozie Odum , Thecla Akukwe
Tourism has been noted to be one of the important sectors of the Nigerian economy. Tourism is a highly complex activity which requires tools that aid in an effective decision-making to come to terms with the competing economic, social and environmental demands of sustainable development. Geographic Information System (GIS) is one of such tools. GIS being an information system that is capable of answering questions about where facilities and resources are located represents enormous benefits to the tourism sector of any economy. The power of GIS lies not only in the ability to visualize spatial relationships, but also beyond the space to the holistic view of the world with its many interconnected components and complex relationships. The use of GIS technology could assist the Anambra State government as well as the Nigerian government with better planning of tourism infrastructure, location and dissemination of such infrastructure, production of better quality maps showing tourists sites etc because of the dynamic capability of GIS tools to incorporate changes that occur over time to its database. A GIS database for tourism in Anambra State was created using some selected roads, tourist attractions and facilities with the aid of base maps and GPS. This paper presents the significant role that GIS can play in tourism development in Anambra State if a complete database for tourism in the State is designed and developed. Keywords: GIS, Tourism, Anambra, Nigeria
RELATED PAPERS
ODENIYI O . KAYODE
Sweetie Feranmi
ADEDEJI ADEPEJU
DORCAS AYENI
Yussuf Babatunde
Olumide Metilelu
Bonkieni O Cornelius , Osaze S Osazuwa
Falade Joseph Damilola
Abidemi Babatunde Babalola
Fadipe A Israel, PhD
Lagos Notes and Records
Ayodeji Olukoju
Dare Ojo Omonijo; Michael C. Anyaegbunam; A. F. Chukwuemeka; Victoria Ajibola Adeleke; Olusola B. Okunlola; Ademolu Oluwaseun Adenuga; Elizabeth I. Olowookere; Olusegun Peter Olaoye
Olusegun P Olaoye
International Journal of Advances in Scientific Research and Engineering
Osagie Ibhadode
Abiodun S Oguntimehin (ANIA)
AYOBADE Adebowale
West Africa Review
Mojubaolu Olufunke Okome
Agai Jock Matthew
Jadesola Babatola and Aare Gani Adams Foundation
Jadesola Babatola Ph.D
Ephraim-George Soibi Sharon
Soibi Ephraim-George
Kwara State Polytechnic Ilorin, 2018 international conference
[email protected] BABATUNDE
Ogunlowo Michael
Nigerian Journal of Rural Extension and Development
Dr A.A. ALARAPE
Journal of Hospitality Financial Management
Abiodun Bankole
David Udenyi
African Journal of Hospitality , Tourism & Leisure
Odum Chigozie
Larry Albert
Emudiaga Ebbah
Osun State University
Emmanuel Sobowale
Journal of Economics and Sustainable Development
Albert ABEGUNDE
Johnson M Sesan
Folorunsho Ojuge
Sunday Bamisile
Abdul-Warees Solanke
We're Hiring!
Help Center
Find new research papers in:
Health Sciences
Earth Sciences
Cognitive Science
Mathematics
Computer Science
Academia ©2023
Have a language expert improve your writing
Run a free plagiarism check in 10 minutes, generate accurate citations for free.
Knowledge Base
How to write a narrative essay | Example & tips
How to Write a Narrative Essay | Example & Tips
Published on July 24, 2020 by Jack Caulfield . Revised on July 23, 2023.
A narrative essay tells a story. In most cases, this is a story about a personal experience you had. This type of essay , along with the descriptive essay , allows you to get personal and creative, unlike most academic writing .
Table of contents
What is a narrative essay for, choosing a topic, interactive example of a narrative essay, other interesting articles, frequently asked questions about narrative essays.
When assigned a narrative essay, you might find yourself wondering: Why does my teacher want to hear this story? Topics for narrative essays can range from the important to the trivial. Usually the point is not so much the story itself, but the way you tell it.
A narrative essay is a way of testing your ability to tell a story in a clear and interesting way. You're expected to think about where your story begins and ends, and how to convey it with eye-catching language and a satisfying pace.
These skills are quite different from those needed for formal academic writing. For instance, in a narrative essay the use of the first person ("I") is encouraged, as is the use of figurative language, dialogue, and suspense.
Here's why students love Scribbr's proofreading services
Discover proofreading & editing
Narrative essay assignments vary widely in the amount of direction you're given about your topic. You may be assigned quite a specific topic or choice of topics to work with.
Write a story about your first day of school.
Write a story about your favorite holiday destination.
You may also be given prompts that leave you a much wider choice of topic.
Write about an experience where you learned something about yourself.
Write about an achievement you are proud of. What did you accomplish, and how?
In these cases, you might have to think harder to decide what story you want to tell. The best kind of story for a narrative essay is one you can use to talk about a particular theme or lesson, or that takes a surprising turn somewhere along the way.
For example, a trip where everything went according to plan makes for a less interesting story than one where something unexpected happened that you then had to respond to. Choose an experience that might surprise the reader or teach them something.
Narrative essays in college applications
When applying for college , you might be asked to write a narrative essay that expresses something about your personal qualities.
For example, this application prompt from Common App requires you to respond with a narrative essay.
In this context, choose a story that is not only interesting but also expresses the qualities the prompt is looking for—here, resilience and the ability to learn from failure—and frame the story in a way that emphasizes these qualities.
An example of a short narrative essay, responding to the prompt "Write about an experience where you learned something about yourself," is shown below.
Hover over different parts of the text to see how the structure works.
Since elementary school, I have always favored subjects like science and math over the humanities. My instinct was always to think of these subjects as more solid and serious than classes like English. If there was no right answer, I thought, why bother? But recently I had an experience that taught me my academic interests are more flexible than I had thought: I took my first philosophy class.
Before I entered the classroom, I was skeptical. I waited outside with the other students and wondered what exactly philosophy would involve—I really had no idea. I imagined something pretty abstract: long, stilted conversations pondering the meaning of life. But what I got was something quite different.
A young man in jeans, Mr. Jones—"but you can call me Rob"—was far from the white-haired, buttoned-up old man I had half-expected. And rather than pulling us into pedantic arguments about obscure philosophical points, Rob engaged us on our level. To talk free will, we looked at our own choices. To talk ethics, we looked at dilemmas we had faced ourselves. By the end of class, I'd discovered that questions with no right answer can turn out to be the most interesting ones.
The experience has taught me to look at things a little more "philosophically"—and not just because it was a philosophy class! I learned that if I let go of my preconceptions, I can actually get a lot out of subjects I was previously dismissive of. The class taught me—in more ways than one—to look at things with an open mind.
If you want to know more about AI tools , college essays , or fallacies make sure to check out some of our other articles with explanations and examples or go directly to our tools!
Ad hominem fallacy
Post hoc fallacy
Appeal to authority fallacy
False cause fallacy
Sunk cost fallacy
College essays
Choosing Essay Topic
Write a College Essay
Write a Diversity Essay
College Essay Format & Structure
Comparing and Contrasting in an Essay
 (AI) Tools
Grammar Checker
Paraphrasing Tool
Text Summarizer
AI Detector
Plagiarism Checker
Citation Generator
If you're not given much guidance on what your narrative essay should be about, consider the context and scope of the assignment. What kind of story is relevant, interesting, and possible to tell within the word count?
The best kind of story for a narrative essay is one you can use to reflect on a particular theme or lesson, or that takes a surprising turn somewhere along the way.
Don't worry too much if your topic seems unoriginal. The point of a narrative essay is how you tell the story and the point you make with it, not the subject of the story itself.
Narrative essays are usually assigned as writing exercises at high school or in university composition classes. They may also form part of a university application.
When you are prompted to tell a story about your own life or experiences, a narrative essay is usually the right response.
The key difference is that a narrative essay is designed to tell a complete story, while a descriptive essay is meant to convey an intense description of a particular place, object, or concept.
Narrative and descriptive essays both allow you to write more personally and creatively than other kinds of essays , and similar writing skills can apply to both.
Cite this Scribbr article
If you want to cite this source, you can copy and paste the citation or click the "Cite this Scribbr article" button to automatically add the citation to our free Citation Generator.
Caulfield, J. (2023, July 23). How to Write a Narrative Essay | Example & Tips. Scribbr. Retrieved August 28, 2023, from https://www.scribbr.com/academic-essay/narrative-essay/
Is this article helpful?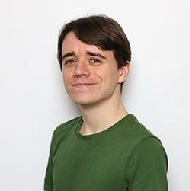 Jack Caulfield
Other students also liked, how to write an expository essay, how to write a descriptive essay | example & tips, how to write your personal statement | strategies & examples.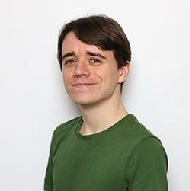 Jack Caulfield (Scribbr Team)
Thanks for reading! Hope you found this article helpful. If anything is still unclear, or if you didn't find what you were looking for here, leave a comment and we'll see if we can help.
Still have questions?
What is your plagiarism score.
EssayBasics.com
Pay For Essay
Write My Essay
Homework Writing Help
Essay Editing Service
Thesis Writing Help
Write My College Essay
Do My Essay
Term Paper Writing Service
Coursework Writing Service
Write My Research Paper
Assignment Writing Help
Essay Writing Help
Call Now! (USA) Login Order now
EssayBasics.com Call Now! (USA) Order now
Writing Guides
A Trip To The Moon (Essay Sample) 2022
Growing up we all had a fantasy of visiting the glowing shiny sphere called the moon. After the first moon landing by NASA and the US in the year 1969 no one ever imagined that it was even possible for mankind to do. I remember one day after I watched a science fiction movie "A Trip To The Moon" I fell asleep on the sofa and the next thing I know, I was on my way to the moon with my friends in my dream. It was the most fun experience I ever had in my life. In this imaginative essay, I will tell you everything about how I felt and saw when I went on a trip to the moon.
Related: Ukraine and Red Cross
Table of Contents
Essay On A Trip To The Moon – 700 Word Long Essay
One day I was sitting in the house thinking of what I should do since I had a day off from work. All I wanted to do was to rest peacefully until the following day. I decided to have a nap in my favorite chair, and soon I fell asleep. The next thing I knew, I was in another world with my friends on a spaceship heading towards the moon. We all were so excited because this was a trip we all had dreamt of. One of my friends said, "Guess what, we are going to the moon today". We were wearing costumes like astronauts while tight seat belts were all around us in our chairs. In this essay, I will describe how I felt traveling toward the moon and back.
While we were trying to reach the moon in my dream, I was thinking of the actual moon landing. NASA and the US took a giant leap in space exploration. NASA launched a space program to win the space race from Russia to get an upper hand in the cold war. American astronaut Neil Armstrong was the first man who landed on the lunar surface in a bullet-shaped capsule. I remember this space mission helped the US establish its technological dominion over the soviet union. No matter what happens everyone will remember Neil Armstrong as the first person to ever lay foot on the moon. I always thought of reaching the moon one day like him which made me more excited as we traveled toward the moon in my dream.
I was the only one taking pictures as I was excited to have fulfilled one of my dreams. Soon everyone was hungry, but we could not eat regular food, we were served with space food that tastes differently. At last, our spaceship landed on the moon. We started walking on the moon one small step at a time to see and explore the surface. Everyone felt safe because we had high-tech sensors and radios installed on the spacesuit. Through these gadgets, we were connected with operators on earth to manage our air pressure and temperature. The operators would also occasionally send some word definitions that I didn't know of.
Related: How to write an Informal Essay
I was excited because I wanted to document everything on the moon and bring them back with me. I tried using my pen, but it could not write so I had to use a pencil. The view of the moon was beautiful, from the stars to the planets and other galaxies that lay in the blackness of space. I captured all the beautiful sights on a high-tech camera. The moon had cliffs with big craters, making it look dangerous. The moon also had some rocks but they were not like the earth rocks, they were really lightweight. During our trip, I was awe-struck when I saw the expansive oceans, the beautiful clouds, and the earth from afar. As we traveled at 18,000 miles per hour and 90 minutes per orbit, the speed was too fast to take any photos.
During our exploration, the spaceship moved about 35 kilometers from where we landed at first. We saw the moon rocks and the soil and tested them in our hands. I took too many photographs using the spacesuit camera. After exploring for 2-3 hours we started to head back to our spaceship to head back home. As we planned our trip back to earth, we also felt sad to leave the moon.
The spaceship traveled at an approximate speed of 35,000 miles per hour. On our way back, our spaceship became red hot because of all the heat and friction it faced. At that speed with fire all around the spaceship, I felt like our space capsule was going to blast any time. As I tried to stand up in the spaceship, I fell hard on my chair and woke up to realize it was just a dream. But it certainly was an excellent one that I will remember for all my life. I stood up from my chair and looked at the moon shining far far away from us and thought to visit it for real.
Related: How to write a Classification Essay
A Trip To The Moon Short Essay 300 Words – My Imaginary Trip To The Moon
We all see the moon and wonder if we could ever get to it. We all agree that we all had a fantasy of visiting the moon someday. I also had one such experience as I visited the moon in my dream. I remember falling asleep on the couch after watching the famous film named " A Trip To The Moon ". The next thing I knew was that I was in a space shuttle with my friends and we were soon going to land on the moon. All of us were so excited and my friends were chanting with joy. One of my friends said to me "It's real we will soon land on the moon, get ready". In this essay, I will share how I felt when I visited the moon in my dream.
While we were traveling to the moon I recalled everything from the movie I saw a while ago. It was the first science fiction film in the early cinema of the early twentieth century. It was the first film that featured space exploration. Georges Melies directed that film and he used stop motion photography to picture space travel. Filmmakers Jules Verne, Robert Houdin, and George Méliès all put in their different perspectives to add special effects in a wide variety of scenes. This film was released in theatres and cinemas, the audience loved the movie plot. One thing they liked a lot was the new camera angles idea that filled this film with life. After watching that movie I was only thinking about a trip to the moon and there I was in my dream.
We were traveling at a very high speed for some time and suddenly everything became smooth. We felt light as a feather and started floating in the air inside the spaceship. After some time we landed on the moon and started exploring the magical surface of the moon. I also lifted the rocks and tried to dog with all the tools that were in my spacesuit. Like astronauts, we were also wearing space suits with advanced gadgets and oxygen supplies. After some time we got back on our ship and started to make our way towards Earth. While returning something hit my head and I suddenly woke up on my couch. I realized it was just a dream and quickly ran out to see the moon. Yes, it was shining bright outside and looked beautiful. On that day I thought of really stepping on the moon someday. With advanced technology nowadays and artificial satellites that orbit like the moon, I think my dream will become a reality.
Are your writing assignments holding you back from visiting a loved one or planning a trip? Allow Essay Basics to help you with all your writing-related work while you hang out with friends and family members.
FAQ About Travelling To The Moon Essay
How to write a trip to the moon essay.
To write a trip to the moon essay starts with an introduction about how you felt initially. In the body tell everything about what you did on the moon and end it with a short conclusion on what you learned.
How To Improve My Imaginative Writing?
To improve your imaginative thinking try to write small stories about things you dream of doing someday. Also, ask other people's thoughts on some imaginative topics and record their feedback.
https://www.imdb.com/title/tt0000417/