105 Best Words To Start A Paragraph
The first words of a paragraph are crucial as they set the tone and inform the reader about the content that follows.
Known as the 'topic' sentence, the first sentence of the paragraph should clearly convey the paragraph's main idea.
This article presents a comprehensive list of the best words to start a paragraph, be it the first, second, third, or concluding paragraph.
Words to Start an Introduction Paragraph
The words you choose for starting an essay should establish the context, importance, or conflict of your topic.
The purpose of an introduction is to provide the reader with a clear understanding of the topic, its significance, and the structure of the ensuing discussion or argument.
Students often struggle to think of ways to start introductions because they may feel overwhelmed by the need to effectively summarize and contextualize their topic, capture the reader's interest, and provide a roadmap for the rest of the paper, all while trying to create a strong first impression.
Choose one of these example words to start an introduction to get yourself started:
The debate surrounding [topic]…
[Topic] has garnered attention due to…
Exploring the complexities of [topic]…
The significance of [topic] lies in…
Over the past decade, [topic] has…
The critical question of [topic]…
As society grapples with [topic]…
The rapidly evolving landscape of [topic]…
A closer examination of [topic] reveals…
The ongoing conversation around [topic]…
Don't Miss my Article: 33 Words to Avoid in an Essay
Words to Start a Body Paragraph
The purpose of a body paragraph in an essay is to develop and support the main argument, presenting evidence, examples, and analysis that contribute to the overall thesis.
Students may struggle to think of ways to start body paragraphs because they need to find appropriate transition words or phrases that seamlessly connect the paragraphs, while also introducing a new idea or evidence that builds on the previous points.
This can be challenging, as students must carefully balance the need for continuity and logical flow with the introduction of fresh perspectives.
Try some of these paragraph starters if you're stuck:
Building upon previous research…
As [source] suggests, [topic]…
Analyzing [topic] through [theory]…
Considering the impact of [policy]…
Delving deeper into [topic]…
Drawing from [author]'s findings…
[Topic] intersects with [related topic]…
Contrary to popular belief, [topic]…
The historical context of [topic]…
Addressing the challenges of [topic]…
Words to Start a Conclusion Paragraph
The conclusion paragraph wraps up your essay and leaves a lasting impression on the reader.
It should convincingly summarize your thesis and main points. For more tips on writing a compelling conclusion, consider the following examples of ways to say "in conclusion":
In summary, [topic] demonstrates…
The evidence overwhelmingly suggests…
Taking all factors into account…
In light of the analysis, [topic]…
Ultimately, [topic] plays a crucial role…
In light of these findings…
Weighing the pros and cons of [topic]…
By synthesizing the key points…
The interplay of factors in [topic]…
[Topic] leaves us with important implications…
Complete List of Transition Words
Above, I've provided 30 different examples of phrases you can copy and paste to get started on your paragraphs.
Let's finish strong with a comprehensive list of transition words you can mix and match to start any paragraph you want:
Secondly, …
In addition, …
Furthermore, …
Moreover, …
On the other hand, …
In contrast, …
Conversely, …
Despite this, …
Nevertheless, …
Although, …
As a result, …
Consequently, …
Therefore, …
Additionally, …
Simultaneously, …
Meanwhile, …
In comparison, …
Comparatively, …
As previously mentioned, …
For instance, …
For example, …
Specifically, …
In particular, …
Significantly, …
Interestingly, …
Surprisingly, …
Importantly, …
According to [source], …
As [source] states, …
As [source] suggests, …
In the context of, …
In light of, …
Taking into consideration, …
Given that, …
Considering the fact that, …
Bearing in mind, …
To illustrate, …
To demonstrate, …
To clarify, …
To put it simply, …
In other words, …
To reiterate, …
As a matter of fact, …
Undoubtedly, …
Unquestionably, …
Without a doubt, …
It is worth noting that, …
One could argue that, …
It is essential to highlight, …
It is important to emphasize, …
It is crucial to mention, …
When examining, …
In terms of, …
With regards to, …
In relation to, …
As a consequence, …
As an illustration, …
As evidence, …
Based on [source], …
Building upon, …
By the same token, …
In the same vein, …
In support of this, …
In line with, …
To further support, …
To substantiate, …
To provide context, …
To put this into perspective, …
Tip: Use Right-Branching Sentences to Start your Paragraphs
Sentences should have the key information front-loaded. This makes them easier to read. So, start your sentence with the key information!
To understand this, you need to understand two contrasting types of sentences:
Left-branching sentences , also known as front-loaded sentences, begin with the main subject and verb, followed by modifiers, additional information, or clauses.
Right-branching sentences , or back-loaded sentences, start with modifiers, introductory phrases, or clauses, leading to the main subject and verb later in the sentence.
In academic writing, left-branching or front-loaded sentences are generally considered easier to read and more authoritative.
This is because they present the core information—the subject and the verb—at the beginning, making it easier for readers to understand the main point of the sentence.
Front-loading also creates a clear and straightforward sentence structure, which is preferred in academic writing for its clarity and conciseness.
Right-branching or back-loaded sentences, with their more complex and sometimes convoluted structure, can be more challenging for readers to follow and may lead to confusion or misinterpretation.
Take these examples where I've highlighted the subject of the sentence in bold. Note that in the right-branching sentences, the topic is front-loaded.
Right Branching: Researchers found a strong correlation between sleep and cognitive function after analyzing the data from various studies.
Left-Branching: After analyzing the data from various studies, a strong correlation between sleep and cognitive function was found by researchers.
The novel was filled with vivid imagery and thought-provoking themes , which captivated the audience from the very first chapter.
Captivating the audience from the very first chapter, the novel was filled with vivid imagery and thought-provoking themes.
The words you choose to start a paragraph are crucial for setting the tone, establishing context, and ensuring a smooth flow throughout your essay.
By carefully selecting the best words for each type of paragraph, you can create a coherent, engaging, and persuasive piece of writing.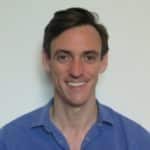 Chris Drew (PhD)
Dr. Chris Drew is the founder of the Helpful Professor. He holds a PhD in education and has published over 20 articles in scholarly journals. He is the former editor of the Journal of Learning Development in Higher Education. [Image Descriptor: Photo of Chris]
Chris Drew (PhD) https://helpfulprofessor.com/author/admin/ 5 Best Laminators for Teachers, Reviewed!
Chris Drew (PhD) https://helpfulprofessor.com/author/admin/ 5 Best College Care Packages for Guys & Girls
Chris Drew (PhD) https://helpfulprofessor.com/author/admin/ 7 Best Microwaves for College Student Dorms
Chris Drew (PhD) https://helpfulprofessor.com/author/admin/ 5 Best Backpacks for Teachers
Leave a Comment Cancel Reply
Your email address will not be published. Required fields are marked *
Have a language expert improve your writing
Run a free plagiarism check in 10 minutes, generate accurate citations for free.
Knowledge Base
How to write an essay introduction | 4 steps & examples
How to Write an Essay Introduction | 4 Steps & Examples
Published on February 4, 2019 by Shona McCombes . Revised on July 23, 2023.
A good introduction paragraph is an essential part of any academic essay . It sets up your argument and tells the reader what to expect.
The main goals of an introduction are to:
Catch your reader's attention.
Give background on your topic.
Present your thesis statement —the central point of your essay.
This introduction example is taken from our interactive essay example on the history of Braille.
The invention of Braille was a major turning point in the history of disability. The writing system of raised dots used by visually impaired people was developed by Louis Braille in nineteenth-century France. In a society that did not value disabled people in general, blindness was particularly stigmatized, and lack of access to reading and writing was a significant barrier to social participation. The idea of tactile reading was not entirely new, but existing methods based on sighted systems were difficult to learn and use. As the first writing system designed for blind people's needs, Braille was a groundbreaking new accessibility tool. It not only provided practical benefits, but also helped change the cultural status of blindness. This essay begins by discussing the situation of blind people in nineteenth-century Europe. It then describes the invention of Braille and the gradual process of its acceptance within blind education. Subsequently, it explores the wide-ranging effects of this invention on blind people's social and cultural lives.
Table of contents
Step 1: hook your reader, step 2: give background information, step 3: present your thesis statement, step 4: map your essay's structure, step 5: check and revise, more examples of essay introductions, other interesting articles, frequently asked questions about the essay introduction.
Your first sentence sets the tone for the whole essay, so spend some time on writing an effective hook.
Avoid long, dense sentences—start with something clear, concise and catchy that will spark your reader's curiosity.
The hook should lead the reader into your essay, giving a sense of the topic you're writing about and why it's interesting. Avoid overly broad claims or plain statements of fact.
Examples: Writing a good hook
Take a look at these examples of weak hooks and learn how to improve them.
Braille was an extremely important invention.
The invention of Braille was a major turning point in the history of disability.
The first sentence is a dry fact; the second sentence is more interesting, making a bold claim about exactly  why the topic is important.
The internet is defined as "a global computer network providing a variety of information and communication facilities."
The spread of the internet has had a world-changing effect, not least on the world of education.
Avoid using a dictionary definition as your hook, especially if it's an obvious term that everyone knows. The improved example here is still broad, but it gives us a much clearer sense of what the essay will be about.
Mary Shelley's  Frankenstein is a famous book from the nineteenth century.
Mary Shelley's Frankenstein is often read as a crude cautionary tale about the dangers of scientific advancement.
Instead of just stating a fact that the reader already knows, the improved hook here tells us about the mainstream interpretation of the book, implying that this essay will offer a different interpretation.
Receive feedback on language, structure, and formatting
Professional editors proofread and edit your paper by focusing on:
Academic style
Vague sentences
Style consistency
See an example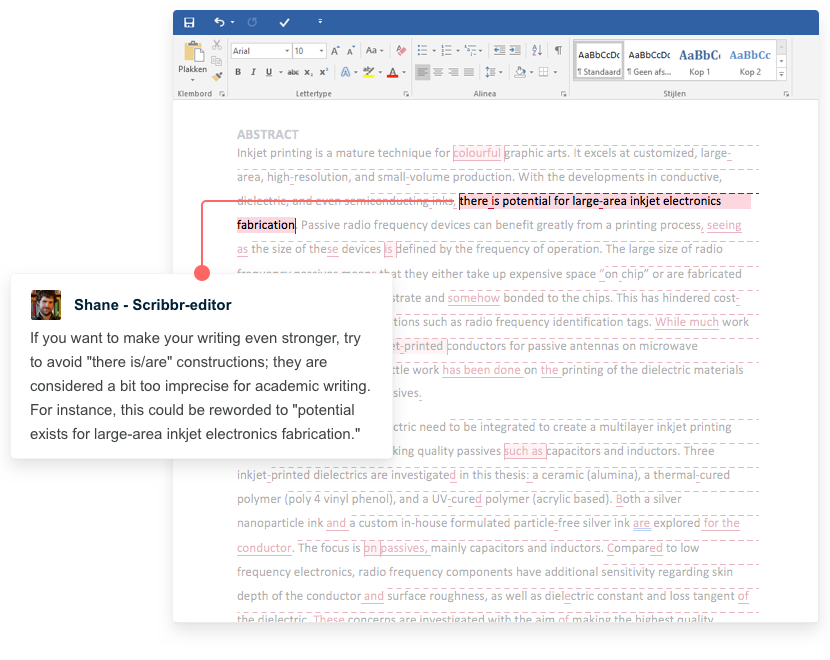 Next, give your reader the context they need to understand your topic and argument. Depending on the subject of your essay, this might include:
Historical, geographical, or social context
An outline of the debate you're addressing
A summary of relevant theories or research about the topic
Definitions of key terms
The information here should be broad but clearly focused and relevant to your argument. Don't give too much detail—you can mention points that you will return to later, but save your evidence and interpretation for the main body of the essay.
How much space you need for background depends on your topic and the scope of your essay. In our Braille example, we take a few sentences to introduce the topic and sketch the social context that the essay will address:
Now it's time to narrow your focus and show exactly what you want to say about the topic. This is your thesis statement —a sentence or two that sums up your overall argument.
This is the most important part of your introduction. A  good thesis isn't just a statement of fact, but a claim that requires evidence and explanation.
The goal is to clearly convey your own position in a debate or your central point about a topic.
Particularly in longer essays, it's helpful to end the introduction by signposting what will be covered in each part. Keep it concise and give your reader a clear sense of the direction your argument will take.
As you research and write, your argument might change focus or direction as you learn more.
For this reason, it's often a good idea to wait until later in the writing process before you write the introduction paragraph—it can even be the very last thing you write.
When you've finished writing the essay body and conclusion , you should return to the introduction and check that it matches the content of the essay.
It's especially important to make sure your thesis statement accurately represents what you do in the essay. If your argument has gone in a different direction than planned, tweak your thesis statement to match what you actually say.
To polish your writing, you can use something like a paraphrasing tool .
You can use the checklist below to make sure your introduction does everything it's supposed to.
Checklist: Essay introduction
My first sentence is engaging and relevant.
I have introduced the topic with necessary background information.
I have defined any important terms.
My thesis statement clearly presents my main point or argument.
Everything in the introduction is relevant to the main body of the essay.
You have a strong introduction - now make sure the rest of your essay is just as good.
Argumentative
Literary analysis
This introduction to an argumentative essay sets up the debate about the internet and education, and then clearly states the position the essay will argue for.
The spread of the internet has had a world-changing effect, not least on the world of education. The use of the internet in academic contexts is on the rise, and its role in learning is hotly debated. For many teachers who did not grow up with this technology, its effects seem alarming and potentially harmful. This concern, while understandable, is misguided. The negatives of internet use are outweighed by its critical benefits for students and educators—as a uniquely comprehensive and accessible information source; a means of exposure to and engagement with different perspectives; and a highly flexible learning environment.
This introduction to a short expository essay leads into the topic (the invention of the printing press) and states the main point the essay will explain (the effect of this invention on European society).
In many ways, the invention of the printing press marked the end of the Middle Ages. The medieval period in Europe is often remembered as a time of intellectual and political stagnation. Prior to the Renaissance, the average person had very limited access to books and was unlikely to be literate. The invention of the printing press in the 15th century allowed for much less restricted circulation of information in Europe, paving the way for the Reformation.
This introduction to a literary analysis essay , about Mary Shelley's Frankenstein , starts by describing a simplistic popular view of the story, and then states how the author will give a more complex analysis of the text's literary devices.
Mary Shelley's Frankenstein is often read as a crude cautionary tale. Arguably the first science fiction novel, its plot can be read as a warning about the dangers of scientific advancement unrestrained by ethical considerations. In this reading, and in popular culture representations of the character as a "mad scientist", Victor Frankenstein represents the callous, arrogant ambition of modern science. However, far from providing a stable image of the character, Shelley uses shifting narrative perspectives to gradually transform our impression of Frankenstein, portraying him in an increasingly negative light as the novel goes on. While he initially appears to be a naive but sympathetic idealist, after the creature's narrative Frankenstein begins to resemble—even in his own telling—the thoughtlessly cruel figure the creature represents him as.
If you want to know more about AI tools , college essays , or fallacies make sure to check out some of our other articles with explanations and examples or go directly to our tools!
Ad hominem fallacy
Post hoc fallacy
Appeal to authority fallacy
False cause fallacy
Sunk cost fallacy
College essays
Choosing Essay Topic
Write a College Essay
Write a Diversity Essay
College Essay Format & Structure
Comparing and Contrasting in an Essay
 (AI) Tools
Grammar Checker
Paraphrasing Tool
Text Summarizer
AI Detector
Plagiarism Checker
Citation Generator
Your essay introduction should include three main things, in this order:
An opening hook to catch the reader's attention.
Relevant background information that the reader needs to know.
A thesis statement that presents your main point or argument.
The length of each part depends on the length and complexity of your essay .
The "hook" is the first sentence of your essay introduction . It should lead the reader into your essay, giving a sense of why it's interesting.
To write a good hook, avoid overly broad statements or long, dense sentences. Try to start with something clear, concise and catchy that will spark your reader's curiosity.
A thesis statement is a sentence that sums up the central point of your paper or essay . Everything else you write should relate to this key idea.
The thesis statement is essential in any academic essay or research paper for two main reasons:
It gives your writing direction and focus.
It gives the reader a concise summary of your main point.
Without a clear thesis statement, an essay can end up rambling and unfocused, leaving your reader unsure of exactly what you want to say.
The structure of an essay is divided into an introduction that presents your topic and thesis statement , a body containing your in-depth analysis and arguments, and a conclusion wrapping up your ideas.
The structure of the body is flexible, but you should always spend some time thinking about how you can organize your essay to best serve your ideas.
Cite this Scribbr article
If you want to cite this source, you can copy and paste the citation or click the "Cite this Scribbr article" button to automatically add the citation to our free Citation Generator.
McCombes, S. (2023, July 23). How to Write an Essay Introduction | 4 Steps & Examples. Scribbr. Retrieved November 17, 2023, from https://www.scribbr.com/academic-essay/introduction/
Is this article helpful?
Shona McCombes
Other students also liked, how to write a thesis statement | 4 steps & examples, academic paragraph structure | step-by-step guide & examples, how to conclude an essay | interactive example, what is your plagiarism score.
Get 50% OFF Yearly and Lifetime Subscriptions this Black Friday
Features for Creative Writers
Features for Work
Features for Higher Education
Features for Teachers
Features for Non-Native Speakers
Learn Blog Grammar Guide Community Academy FAQ
Grammar Guide
Sentence Starters: Ultimate List to Improve Your Essays and Writing

Ashley Shaw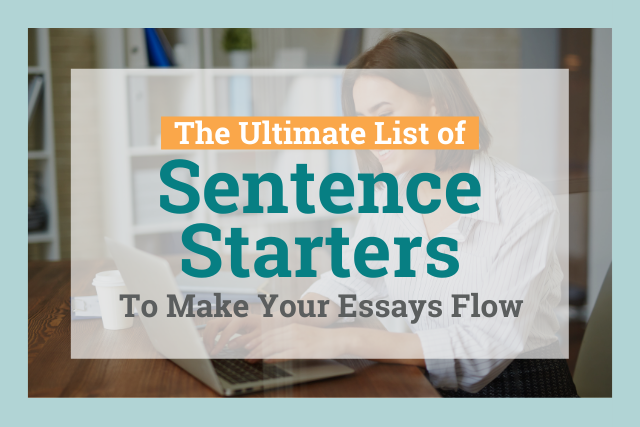 This blog post is going to be about … No. Too boring.
Today, I am going to talk to you about ... No. Too specific.
This is a blog post for all writers ... Nope. Too generic.
Has this ever been you while writing? I get it. Writing a good sentence can be hard, and when you have to string a whole lot of them together, the task can become daunting. So what do you do?
From the first sentence you write to the very last, you want each one to show your style and motivate your reader to keep reading. In this post, we are going to think about how you start your sentences.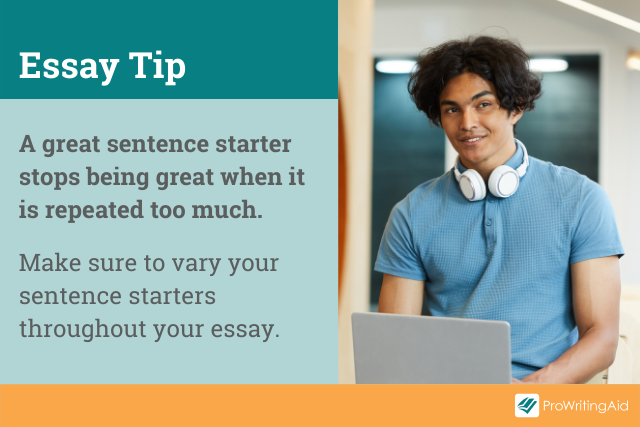 What Is a Good Sentence Starter for an Essay Introduction?
What is a good sentence starter for a body paragraph, 25 useful transitions, can i repeat a sentence starter, how can i rephrase "in conclusion".
The first paragraph of a paper can make or break your grade. It is what gets your audience into the topic and sets the whole stage. Because of this, it is important to get your readers hooked early.
The first sentence of a paper is often called the hook. It shouldn't be anything ordinary. It should have strong language and be a little surprising, with an interesting fact, story, statistic, or quote on the topic.
Because it is designed to pull the reader in and surprise them a little, it is often good to avoid pre-written sentence starter examples when writing your hook. Just get into it here, and worry about the flow later.
Here are some examples:
Spider webs were once used as bandages.
I taught myself to read when I was three. At least, that's the story my parents tell.
Recent studies suggest that the average person lies at least once in every conversation.
"The world is bleeding and humans wield the knife," or so says environmental scientist So Andso.
(P.S. Except for example 1, which is true, I just made all of these up to demonstrate my point. So, please don't quote me on these!)
Once you jump right in with your hook, it is time to start working on ways to move sentences along. Here is where you may need some sentence starter examples.
In your first paragraph, you basically want to connect your hook to your thesis. You'll do this with a few sentences setting up the stage for your topic and the claim you will make about it. To do that, follow the tips found in the next section on body paragraphs and general sentence starter tips.
Many of the tips I am about to discuss can be used anywhere in a paper, but they are especially helpful when writing body paragraphs.
Let's start with one of the most important types of sentence starter in essay writing: transition words.
How Do I Use Transitions in an Essay?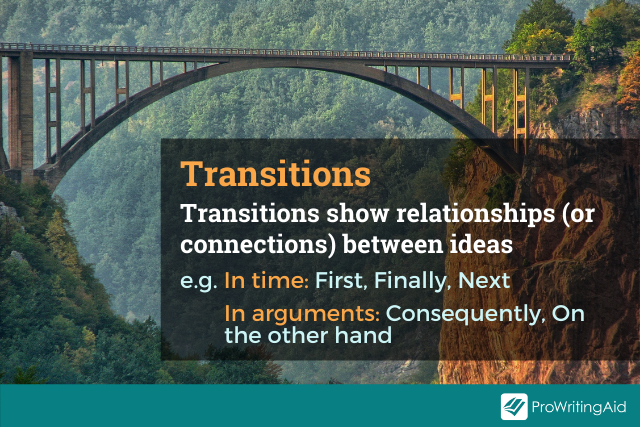 If you want to start writing terrific sentences (and improve your essay structure ), the first thing you should do is start using transition words.
Transition words are those words or phrases that help connect thoughts and ideas. They move one sentence or paragraph into another, and they make things feel less abrupt.
The good thing about transition words is that you probably know a lot of them already and currently use them in your speech. Now, you just need to transition them into your writing. (See what I did there?)
Before we get into examples of what a good transition word is, let's look at a paragraph without any transitions:
I went to the store. I bought bacon and eggs. I saw someone I knew. I said hello. I went to the cashier. They checked me out. I paid. I got my groceries. I went to my car. I returned home.
Yikes! That is some boring writing. It was painful to write, and I am sure it is even worse to read. There are two reasons for this:
I start every sentence with the same word (more on this later)
There are no signposts showing me how the ideas in the paragraph connect.
In an essay, you need to show how each of your ideas relate to each other to build your argument. If you just make a series of statements one after the other, you're not showing your instructor that you actually understand those statements, or your topic.
How do we fix this? Transition words. Roughly 25% of your sentences should start with a transition word. If you can hit that number in your essay, you'll know that you've made meaningful steps towards demonstrating your understanding.
Of course, hitting that number isn't enough—those transitions need to be meaningful. Let's look at the different types of transitions and how you can use them.
What Are Words Like First , Next , and Last Called?
You probably already use some transitions in your essays. For example, if you start a paragraph with firstly , you've used a transition word. But transitions can do so much more!
Here are 25 common transitional words and phrases that you could use in your essay:
Additionally / In Addition
Alternatively / Conversely
As a result of
At this time
Consequently
Contrary to
First(ly), Second(ly), etc.
In contrast
Nonetheless
On the other hand
Particularly / In particular
In other words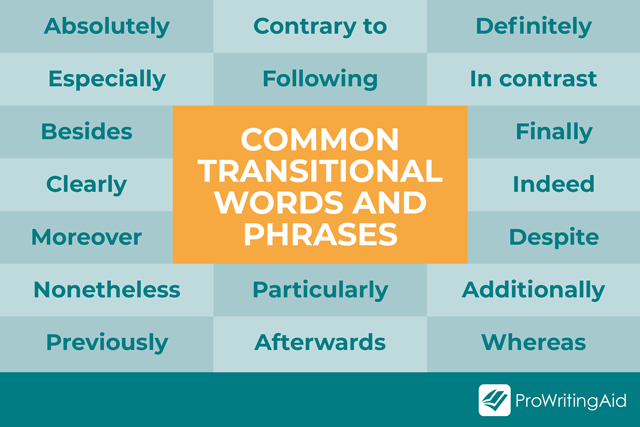 This list isn't exhaustive, but it is a good start.
These words show different types of relationships between ideas. These relationships fall into four main categories: Emphasis , Contrast , Addition , and Order .
What Are Emphasis Transition Words?
These phrases are used when you want to highlight a point. Examples from my above list include clearly , particularly , and indeed . Want to see some more? Follow my bolded transitions: Undoubtedly , you understand now. It should be noted that you don't need to worry.
How Do You Use Addition Transitions?
These words add on to what you just said. These are words like along with , moreover , and also . Here are some more: Not only are you going to be great at transitions after this, but you will also be good at writing sentences. Furthermore , everyone is excited to see what you have to say.
How Can I Use Transitions to Contrast Ideas?
This is the opposite of addition, and you use it when you want to show an alternative view or to compare things. Examples from my list include words like nonetheless , contrary to , and besides .
Here are some more: Unlike people who haven't read this article, you are going to be really prepared to write great sentences. Even so , there is still a lot more about writing to learn.
How Do I Order Ideas in My Essay?
A good first step is using order transition words.
This set of transitions helps mark the passage of time or gives an order to events. From the list, think of things like first and finally . Now for some extras: At this time yesterday , you were worried about starting sentences. Following this , though, you will be an expert.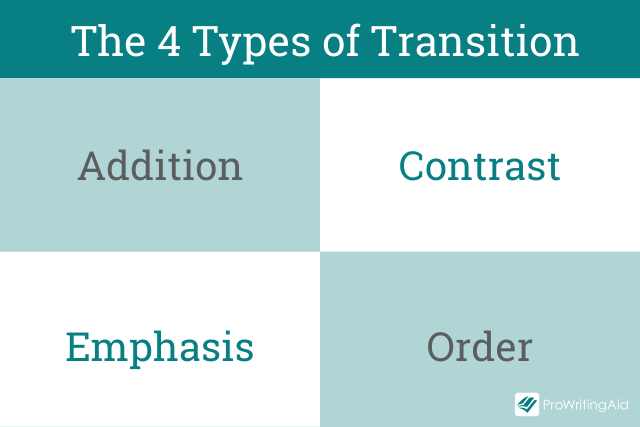 Now that you get the concept of transitions, let's go back to that poorly written paragraph above and add some in to see what happens:
This morning , I went to the store. While I was there, I bought bacon and eggs. Then I saw someone I knew. So I said hello. After that , I went to the cashier. At that time , they checked me out. First , I paid. Next , I got my groceries. Following that , I went to my car. Finally , I returned home.
(Notice the use of commas after most of these transitions!)
This isn't the best paragraph I've ever written. It still needs a lot of work. However, notice what a difference just adding transitions makes. This is something simple but effective you can start doing to make your sentences better today.
If you want to check your transition usage, try ProWritingAid's Transitions report . You'll see how many of each type of transition word you've used so you can pin-point where you might be losing your reader.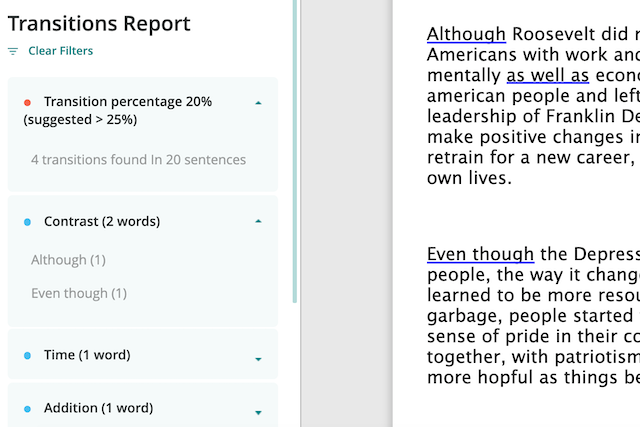 Sign up for a free ProWritingAid account to try it out.
What Are Some Linking Phrases I Can Use in My Essay?
As well as individual words, you can also use short phrases at the beginning of your sentences to transition between ideas. I just did it there— "As well as individual words" shows you how this section of the article is related to the last.
Here are some more phrases like this:
As shown in the example,
As a result of this,
After the meeting,
While this may be true,
Though researchers suggest X,
Before the war began,
Until we answer this question,
Since we cannot assume this to be true,
While some may claim Y,
Because we know that Z is true,
These short phrases are called dependent clauses . See how they all end with a comma? That's because they need you to add more information to make them into complete sentences.
While some may claim that chocolate is bad for you, data from a recent study suggests that it may have untapped health benefits .
Since we cannot assume that test conditions were consistent, it is impossible to reach a solid conclusion via this experiment .
As a result of this, critics disagree as to the symbolism of the yellow car in The Great Gatsby .
The bolded text in each example could stand on its own as a complete sentence. However, if we take away the first part of each sentence, we lose our connection to the other ideas in the essay.
These phrases are called dependent clauses : they depend on you adding another statement to the sentence to complete them. When you use a sentence starter phrase like the ones above in your writing, you signal that the new idea you have introduced completes (or disrupts) the idea before it.
Note: While some very short dependent clauses don't need a comma, most do. Since it is not wrong to use one on even short ones (depending on the style guide being used), it is a good idea to include one every time.
Along with missing transitions and repeating sentence structure, another thing that stops sentences from being great is too much repetition. Keep your sentences sharp and poignant by mixing up word choices to start your sentences.
You might start your sentence with a great word, but then you use that same word 17 sentences in a row. After the first couple, your sentences don't sound as great. So, whether it is varying the transitional phrases you use or just mixing up the sentence openers in general, putting in some variety will only improve your sentences.
ProWritingAid lets you know if you've used the same word repeatedly at the start of your sentences so you can change it.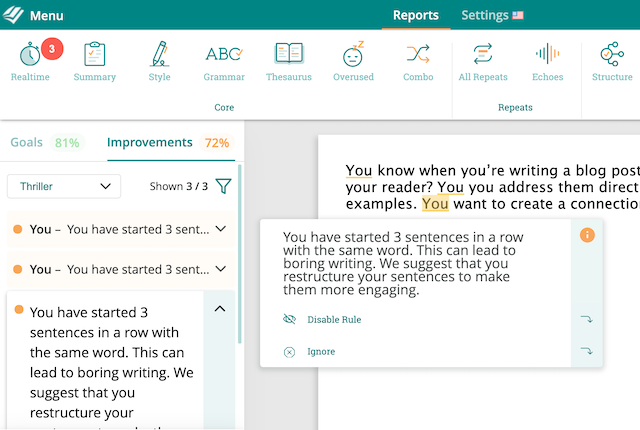 The Repeats Report also shows you all of the repeats in your document. If you've used a sentence starter and then repeated it a couple of paragraphs down, the report will highlight it for you.
Try the Repeats Report with a free ProWritingAid account.
Now that you have your introduction sentences and body sentences taken care of, let's talk a little about conclusion sentences. While you will still use transitions and clauses as in the body, there are some special considerations here.
Your conclusion is what people will remember most after they finish reading your paper. So, you want to make it stand out. Don't just repeat yourself; tell them what they should do with what you just told them!
Use the tips from above, but also remember the following:
Be unique. Not only should you vary the words you use to start different sentences, but you should also think outside of the box. If you use the same conclusion sentence starter everyone else is using, your ideas will blend in too.
Be natural. Some of the best writing out there is writing that sounds natural. This goes for academic writing, too. While you won't use phrases like "at the end of the day" in essay writing, stilted phrases like "in conclusion" can disrupt the flow you've created earlier on.
Here are some alternatives to "in conclusion" you could use in an essay:
To review, ... (best for scientific papers where you need to restate your key points before making your final statement)
As has been shown, ...
In the final analysis, ...
Taking everything into account, ...
On the whole, ...
Generally speaking, ...
If you're looking for more ways to rephrase "in conclusion," take a look at our complete list of synonyms you can use.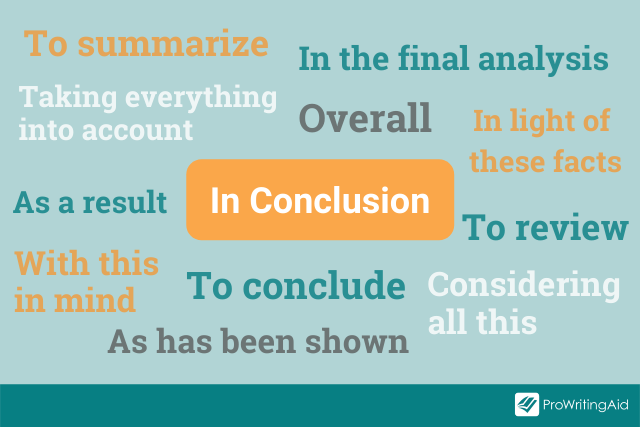 There may not be a set word or words that you can use to make your sentences perfect. However, when you start using these tips, you'll start to see noticeable improvement in your writing.
If you've ever heard people talk about pacing and flow in academic writing, and you have no idea what they mean or how to improve yours, then this is your answer. These tips will help your writing sound more natural, which is how you help your ideas flow.
Take your writing to the next level: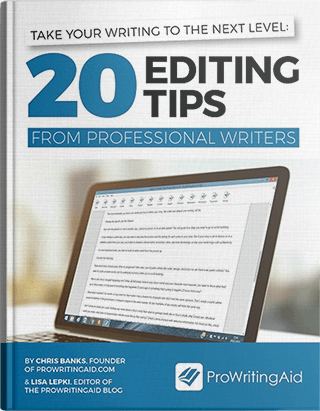 20 Editing Tips from Professional Writers
Whether you are writing a novel, essay, article, or email, good writing is an essential part of communicating your ideas., this guide contains the 20 most important writing tips and techniques from a wide range of professional writers..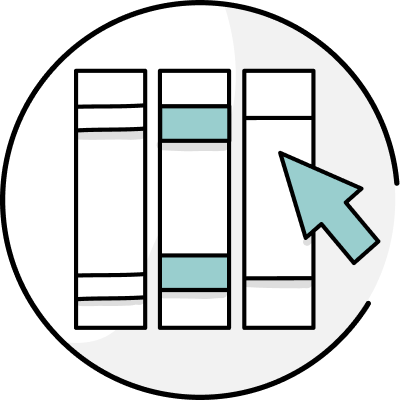 Be confident about grammar
Check every email, essay, or story for grammar mistakes. Fix them before you press send.
Ashley Shaw is a former editor and marketer/current PhD student and teacher. When she isn't studying con artists for her dissertation, she's thinking of new ways to help college students better understand and love the writing process.
Get started with ProWritingAid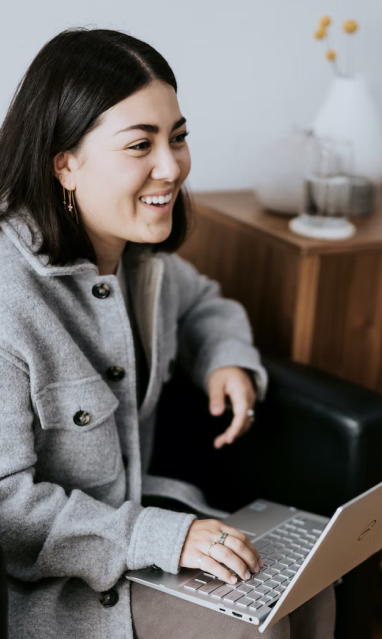 Drop us a line or let's stay in touch via :

40 Useful Words and Phrases for Top-Notch Essays
To be truly brilliant, an essay needs to utilise the right language. You could make a great point, but if it's not intelligently articulated, you almost needn't have bothered.
Developing the language skills to build an argument and to write persuasively is crucial if you're to write outstanding essays every time. In this article, we're going to equip you with the words and phrases you need to write a top-notch essay, along with examples of how to utilise them.
It's by no means an exhaustive list, and there will often be other ways of using the words and phrases we describe that we won't have room to include, but there should be more than enough below to help you make an instant improvement to your essay-writing skills.
This article is suitable for native English speakers and those who are  learning English at Oxford Royale Academy and are just taking their first steps into essay writing.
Learn world-class essay writing and research skills on our Oxford Royale Summer School 2024
General explaining.
Let's start by looking at language for general explanations of complex points.
1. In order to
Usage: "In order to" can be used to introduce an explanation for the purpose of an argument. Example: "In order to understand X, we need first to understand Y."
2. In other words
Usage: Use "in other words" when you want to express something in a different way (more simply), to make it easier to understand, or to emphasise or expand on a point. Example: "Frogs are amphibians. In other words, they live on the land and in the water."
3. To put it another way
Usage: This phrase is another way of saying "in other words", and can be used in particularly complex points, when you feel that an alternative way of wording a problem may help the reader achieve a better understanding of its significance. Example: "Plants rely on photosynthesis. To put it another way, they will die without the sun."
4. That is to say
Usage: "That is" and "that is to say" can be used to add further detail to your explanation, or to be more precise. Example: "Whales are mammals. That is to say, they must breathe air."
5. To that end
Usage: Use "to that end" or "to this end" in a similar way to "in order to" or "so". Example: "Zoologists have long sought to understand how animals communicate with each other. To that end, a new study has been launched that looks at elephant sounds and their possible meanings."
Adding additional information to support a point
Students often make the mistake of using synonyms of "and" each time they want to add further information in support of a point they're making, or to build an argument . Here are some cleverer ways of doing this.
6. Moreover
Usage: Employ "moreover" at the start of a sentence to add extra information in support of a point you're making. Example: "Moreover, the results of a recent piece of research provide compelling evidence in support of…"
7. Furthermore
Usage:This is also generally used at the start of a sentence, to add extra information. Example: "Furthermore, there is evidence to suggest that…"
8. What's more
Usage: This is used in the same way as "moreover" and "furthermore". Example: "What's more, this isn't the only evidence that supports this hypothesis."
9. Likewise
Usage: Use "likewise" when you want to talk about something that agrees with what you've just mentioned. Example: "Scholar A believes X. Likewise, Scholar B argues compellingly in favour of this point of view."
10. Similarly
Usage: Use "similarly" in the same way as "likewise". Example: "Audiences at the time reacted with shock to Beethoven's new work, because it was very different to what they were used to. Similarly, we have a tendency to react with surprise to the unfamiliar."
11. Another key thing to remember
Usage: Use the phrase "another key point to remember" or "another key fact to remember" to introduce additional facts without using the word "also". Example: "As a Romantic, Blake was a proponent of a closer relationship between humans and nature. Another key point to remember is that Blake was writing during the Industrial Revolution, which had a major impact on the world around him."
12. As well as
Usage: Use "as well as" instead of "also" or "and". Example: "Scholar A argued that this was due to X, as well as Y."
13. Not only… but also
Usage: This wording is used to add an extra piece of information, often something that's in some way more surprising or unexpected than the first piece of information. Example: "Not only did Edmund Hillary have the honour of being the first to reach the summit of Everest, but he was also appointed Knight Commander of the Order of the British Empire."
14. Coupled with
Usage: Used when considering two or more arguments at a time. Example: "Coupled with the literary evidence, the statistics paint a compelling view of…"
15. Firstly, secondly, thirdly…
Usage: This can be used to structure an argument, presenting facts clearly one after the other. Example: "There are many points in support of this view. Firstly, X. Secondly, Y. And thirdly, Z.
16. Not to mention/to say nothing of
Usage: "Not to mention" and "to say nothing of" can be used to add extra information with a bit of emphasis. Example: "The war caused unprecedented suffering to millions of people, not to mention its impact on the country's economy."
Words and phrases for demonstrating contrast
When you're developing an argument, you will often need to present contrasting or opposing opinions or evidence – "it could show this, but it could also show this", or "X says this, but Y disagrees". This section covers words you can use instead of the "but" in these examples, to make your writing sound more intelligent and interesting.
17. However
Usage: Use "however" to introduce a point that disagrees with what you've just said. Example: "Scholar A thinks this. However, Scholar B reached a different conclusion."
18. On the other hand
Usage: Usage of this phrase includes introducing a contrasting interpretation of the same piece of evidence, a different piece of evidence that suggests something else, or an opposing opinion. Example: "The historical evidence appears to suggest a clear-cut situation. On the other hand, the archaeological evidence presents a somewhat less straightforward picture of what happened that day."
19. Having said that
Usage: Used in a similar manner to "on the other hand" or "but". Example: "The historians are unanimous in telling us X, an agreement that suggests that this version of events must be an accurate account. Having said that, the archaeology tells a different story."
20. By contrast/in comparison
Usage: Use "by contrast" or "in comparison" when you're comparing and contrasting pieces of evidence. Example: "Scholar A's opinion, then, is based on insufficient evidence. By contrast, Scholar B's opinion seems more plausible."
21. Then again
Usage: Use this to cast doubt on an assertion. Example: "Writer A asserts that this was the reason for what happened. Then again, it's possible that he was being paid to say this."
22. That said
Usage: This is used in the same way as "then again". Example: "The evidence ostensibly appears to point to this conclusion. That said, much of the evidence is unreliable at best."
Usage: Use this when you want to introduce a contrasting idea. Example: "Much of scholarship has focused on this evidence. Yet not everyone agrees that this is the most important aspect of the situation."
Adding a proviso or acknowledging reservations
Sometimes, you may need to acknowledge a shortfalling in a piece of evidence, or add a proviso. Here are some ways of doing so.
24. Despite this
Usage: Use "despite this" or "in spite of this" when you want to outline a point that stands regardless of a shortfalling in the evidence. Example: "The sample size was small, but the results were important despite this."
25. With this in mind
Usage: Use this when you want your reader to consider a point in the knowledge of something else. Example: "We've seen that the methods used in the 19th century study did not always live up to the rigorous standards expected in scientific research today, which makes it difficult to draw definite conclusions. With this in mind, let's look at a more recent study to see how the results compare."
26. Provided that
Usage: This means "on condition that". You can also say "providing that" or just "providing" to mean the same thing. Example: "We may use this as evidence to support our argument, provided that we bear in mind the limitations of the methods used to obtain it."
27. In view of/in light of
Usage: These phrases are used when something has shed light on something else. Example: "In light of the evidence from the 2013 study, we have a better understanding of…"
28. Nonetheless
Usage: This is similar to "despite this". Example: "The study had its limitations, but it was nonetheless groundbreaking for its day."
29. Nevertheless
Usage: This is the same as "nonetheless". Example: "The study was flawed, but it was important nevertheless."
30. Notwithstanding
Usage: This is another way of saying "nonetheless". Example: "Notwithstanding the limitations of the methodology used, it was an important study in the development of how we view the workings of the human mind."
Giving examples
Good essays always back up points with examples, but it's going to get boring if you use the expression "for example" every time. Here are a couple of other ways of saying the same thing.
31. For instance
Example: "Some birds migrate to avoid harsher winter climates. Swallows, for instance, leave the UK in early winter and fly south…"
32. To give an illustration
Example: "To give an illustration of what I mean, let's look at the case of…"
Signifying importance
When you want to demonstrate that a point is particularly important, there are several ways of highlighting it as such.
33. Significantly
Usage: Used to introduce a point that is loaded with meaning that might not be immediately apparent. Example: "Significantly, Tacitus omits to tell us the kind of gossip prevalent in Suetonius' accounts of the same period."
34. Notably
Usage: This can be used to mean "significantly" (as above), and it can also be used interchangeably with "in particular" (the example below demonstrates the first of these ways of using it). Example: "Actual figures are notably absent from Scholar A's analysis."
35. Importantly
Usage: Use "importantly" interchangeably with "significantly". Example: "Importantly, Scholar A was being employed by X when he wrote this work, and was presumably therefore under pressure to portray the situation more favourably than he perhaps might otherwise have done."
Summarising
You've almost made it to the end of the essay, but your work isn't over yet. You need to end by wrapping up everything you've talked about, showing that you've considered the arguments on both sides and reached the most likely conclusion. Here are some words and phrases to help you.
36. In conclusion
Usage: Typically used to introduce the concluding paragraph or sentence of an essay, summarising what you've discussed in a broad overview. Example: "In conclusion, the evidence points almost exclusively to Argument A."
37. Above all
Usage: Used to signify what you believe to be the most significant point, and the main takeaway from the essay. Example: "Above all, it seems pertinent to remember that…"
38. Persuasive
Usage: This is a useful word to use when summarising which argument you find most convincing. Example: "Scholar A's point – that Constanze Mozart was motivated by financial gain – seems to me to be the most persuasive argument for her actions following Mozart's death."
39. Compelling
Usage: Use in the same way as "persuasive" above. Example: "The most compelling argument is presented by Scholar A."
40. All things considered
Usage: This means "taking everything into account". Example: "All things considered, it seems reasonable to assume that…"
How many of these words and phrases will you get into your next essay? And are any of your favourite essay terms missing from our list? Let us know in the comments below, or get in touch here to find out more about courses that can help you with your essays.
At Oxford Royale, we offer a number of  summer school courses for young people who are keen to improve their essay writing skills. Click here to apply for one of our courses today, including law , politics , business , medicine  and engineering .
One response to "40 Useful Words and Phrases for Top-Notch Essays"
Thanks in favor of sharing such a pleasant idea, post is pleasant, thats why i have read it fully
Leave a Reply Cancel reply
Your email address will not be published. Required fields are marked *
Save my name, email, and website in this browser for the next time I comment.
'Whack at Your Reader at Once': Eight Great Opening Lines
Examples of How to Begin an Essay
Writing Essays
Writing Research Papers
English Grammar
Ph.D., Rhetoric and English, University of Georgia
M.A., Modern English and American Literature, University of Leicester
B.A., English, State University of New York
In "The Writing of Essays" (1901), H.G. Wells offers some lively advice on how to begin an essay :
So long as you do not begin with a definition you may begin anyhow. An abrupt beginning is much admired, after the fashion of the clown's entry through the chemist's window. Then whack at your reader at once, hit him over the head with the sausages, brisk him up with the poker, bundle him into the wheelbarrow, and so carry him away with you before he knows where you are. You can do what you like with a reader then, if you only keep him nicely on the move. So long as you are happy your reader will be so too.
Good Opening Lines for Essays
In contrast to the leads seen in Hookers vs. Chasers: How Not to Begin an Essay , here are some opening lines that, in various ways, "whack" the reader at once and encourage us to read on.
I hadn't planned to wash the corpse. But sometimes you just get caught up in the moment. . . . (Reshma Memon Yaqub, "The Washing." The Washington Post Magazine , March 21, 2010)
The peregrine falcon was brought back from the brink of extinction by a ban on DDT, but also by a peregrine falcon mating hat invented by an ornithologist at Cornell University. . . . (David James Duncan, "Cherish This Ecstasy." The Sun , July 2008)
Unrequited love, as Lorenz Hart instructed us, is a bore, but then so are a great many other things: old friends gone somewhat dotty from whom it is too late to disengage, the important social-science-based book of the month, 95 percent of the items on the evening news, discussions about the Internet, arguments against the existence of God, people who overestimate their charm, all talk about wine, New York Times editorials, lengthy lists (like this one), and, not least, oneself. . . . (Joseph Epstein, "Duh, Bor-ing." Commentary , June 2011)
Before the 19th century, when dinosaur bones turned up they were taken as evidence of dragons, ogres, or giant victims of Noah's Flood. After two centuries of paleontological harvest, the evidence seems stranger than any fable, and continues to get stranger. . . . (John Updike, "Extreme Dinosaurs." National Geographic , December 2007)
During menopause, a woman can feel like the only way she can continue to exist for 10 more seconds inside her crawling, burning skin is to walk screaming into the sea--grandly, epically, and terrifyingly, like a 15-foot-tall Greek tragic figure wearing a giant, pop-eyed wooden mask. Or she may remain in the kitchen and begin hurling objects at her family: telephones, coffee cups, plates. . . . (Sandra Tsing Loh, "The Bitch Is Back." The Atlantic , October 2011)
There is a new cell-phone ring tone that can't be heard by most people over the age of twenty, according to an NPR report. The tone is derived from something called the Mosquito, a device invented by a Welsh security firm for the noble purpose of driving hooligans, yobs, scamps, ne'er-do-wells, scapegraces, ruffians, tosspots, and bravos away from places where grownups are attempting to ply an honest trade. . . . (Louis Menand, "Name That Tone." The New Yorker , June 26, 2006)
Only a sentence, casually placed as a footnote in the back of Justin Kaplan's thick 2003 biography of Walt Whitman, but it goes off like a little explosion: "Bram Stoker based the character of Dracula on Walt Whitman." . . . (Mark Doty, "Insatiable." Granta #117, 2011)
I have wonderful friends. In this last year, one took me to Istanbul. One gave me a box of hand-crafted chocolates. Fifteen of them held two rousing, pre-posthumous wakes for me. . . . (Dudley Clendinen, "The Good Short Life." The New York Times Sunday Review , July 9, 2011)
What Makes an Opening Line Effective
What these opening lines have in common is that all have been reprinted (with complete essays attached) in recent editions of The Best American Essays , an annual collection of crackling good reads culled from magazines, journals, and websites.
Unfortunately, not all the essays quite live up to the promise of their openings. And a few superb essays have rather pedestrian introductions . (One resorts to the formula, "In this essay, I want to explore . . ..") But all in all, if you're looking for some artful, thought-provoking, and occasionally humorous lessons in essay writing, open any volume of The Best American Essays .
Hookers vs. Chasers: How Not to Begin an Essay
How to Begin an Essay: 13 Engaging Strategies
Write an Attention-Grabbing Opening Sentence for an Essay
What Are the Different Types and Characteristics of Essays?
Examples of Great Introductory Paragraphs
A Guide to Using Quotations in Essays
The Difference Between an Article and an Essay
50 Great Topics for a Process Analysis Essay
What Is a Compelling Introduction?
Writers on Writing: The Art of Paragraphing
The Title in Composition
How to Write a Great College Application Essay Title
Development in Composition: Building an Essay
Bad Essay Topics for College Admissions
List of Topics for How-to Essays
How to Structure an Essay
By clicking "Accept All Cookies", you agree to the storing of cookies on your device to enhance site navigation, analyze site usage, and assist in our marketing efforts.
ALL ARTICLES
How To Study Effectively
Motivation & Stress
Smarter Study Habits
Memorise Faster
Ace The Exam
Write Better Essays
Easiest AP Classes Ranked
Outsmart Your Exams
Outsmart Your Studies
Recommended Reads
For Your Students: Revision Workshops
For Your Teaching Staff: Memory Science CPD
Our Research: The Revision Census
All Courses & Resources
For School Students and Their Parents
For University Students
For Professionals Taking Exams
Study Smarter Network
Testimonials
How To Start A Paragraph: 200+ Important Words And Phrases
by Kerri-Anne Edinburgh | Aug 3, 2022
There's a lot to get right when you're writing an essay. And a particularly important skill is knowing how to start a paragraph effectively. That first sentence counts!
Luckily for you, we've compiled HEAPS of advice, example phrases and top connective words to help you transition between paragraphs and guide your reader with ease.
So read on for a pick 'n' mix of how to start a paragraph examples!
Paragraphs: the lowdown
So why exactly are paragraphs such an important tool for writing effectively ? Well:
They're an important part of keeping your reader captivated
They help your reader to follow your argument or narrative
And they keep your writing in easily digestible chunks of information!
And an important part of all that is nailing the start of your paragraphs . Honestly!
Start off strong and your reader will know exactly what you're going to do next and how your information interrelates. Top marks here you come – and for the low, low cost of some clever vocab!
Start your paragraphs off weakly however, without setting up effective signposting and transitions , and they'll get lost and ( horror !) might have to re-read your essay to make sense of it. Ugh.
What should your paragraphs contain?
If you're writing an academic essay, there are a lot of popular conventions and guides about what a paragraph should include.
Academic writing guides favour well-developed paragraphs that are unified, coherent, contain a topic sentence, and provide adequate development of your idea. They should be long enough to fully discuss and analyse your idea and evidence.
And remember – you should ALWAYS start a new paragraph for each new idea or point .
You can read more about paragraph break guidelines in our helpful what is a paragraph article! If you're wondering how long your paragraphs should be , check out our guideline article.
Paragraph structure (the PEEL method)
Academic paragraphs often follow a common structure , designed to guide your reader through your argument – although not all the time ! It goes like this:
Start with a "topic sentence"
Give 1-2 sentences of supporting evidence for (or against) your argument
Next, write a sentence analysing this evidence with respect to your argument or topic sentence
Finally, conclude by explaining the significance of this stance, or providing a transition to the next paragraph
(A quick definition: A "topic sentence" introduces the idea your paragraph will focus upon and makes summarising easy. It can occur anywhere but placing it at the start increases readability for your audience. )
One popular acronym for creating well-developed academic paragraphs is PEEL . This stands for Point, Evidence, Explanation, Link . Using this method makes it easy to remember what your paragraph should include.
I.e. your point (the topic sentence), some evidence and analysis of how it supports your point, and a transitional link back to your essay question or forwards to your next paragraph.
NOTE : You shouldn't start all your paragraphs the same way OR start every sentence in your paragraph with the same word – it's distracting and won't earn you good marks from your reader.
Free: Exam Success Cheat Sheet
My Top 6 Strategies To Study Smarter and Ace Your Exams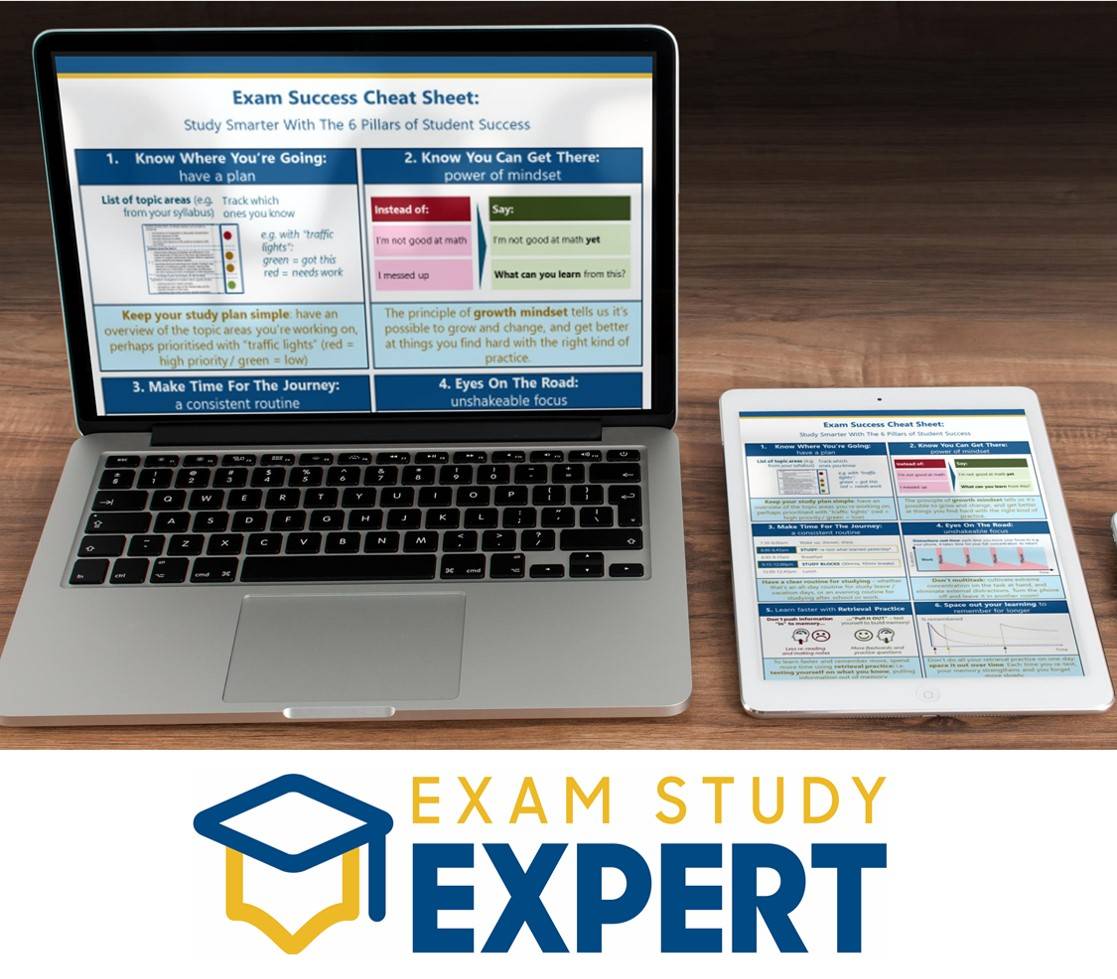 Privacy protected because life's too short for spam. Unsubcribe anytime.
How to create clarity for your readers
Paragraphs are awesome tools for increasing clarity and readability in your writing. They provide visual markers for our eyes and box written content into easily digestible chunks.
But you still need to start them off strongly . Do this job well, and you can seamlessly guide your readers through the narrative or argument of your writing.
The first sentence of your paragraph is an important tool for creating that clarity . You can create links with the surrounding paragraphs and signal the purpose of this paragraph for your reader.
Transitions show the links and relationships between the ideas you're presenting: addition, contrast, sequential, conclusion, emphasis, example/citation
Connective words help you to join together multiple paragraphs in a sequence
Note: there is quite a lot of overlap in vocabulary! Some transitions are also great signposts etc.
Tip : Don't overuse them! These techniques can make your writing sounds more professional and less like spoken language by smoothing over jarring jumps between topics. But using too many will make your writing stilted.
A common term that encompasses these three tools is " sentence starter ". They are typically set apart from the body of your sentence by a comma.
You can learn more about these key skills in our two helpful articles linked above – or explore a range of other writing skills advice, such as how to start an essay , structure an essay , and proofread an essay effectively!
Picking the right tone
It is important that the paragraph-starting phrases and connective words you choose complement the style of your writing and the conventions of the subject you are writing for .
For example, scientific papers usually have much clearer and expected structure and signposting conventions than arts and humanities papers.
If you're unsure, it's best to check some of the sources you've researched for your essay, explore the relevant academic style guide, or get help from a teacher – ask them for some examples!
Getting your grammar right
Grammatical conventions can be a minefield, but they're worth remembering if you want to get top marks!
If you're looking to increase the clarity of your writing and paragraphs, make sure you pick the right spot for your commas and colons .
For example, when you're starting a new paragraph, many of the common signposting words and phrases require a comma. These include: however, therefore, moreover, what's more, firstly, secondly, finally, likewise, for example, in general … (and more!).
These phrases should always be followed by a comma if it's at the start of a sentence, or separated with a comma before and after like this if placed mid-sentence:
However, we cannot say for sure what happened here. We know, for example, that X claims to have lost the icon.
A word about " this " (a tip for really great writing)
As you start writing your paragraphs (and even sentences), you might be tempted to kick off with the word " this" – as in the classic " this shows that … ".
But that's not a great idea.
Why ? Academic essays aim should aim for maximum clarity, and " this " is just vague !
What's important is that the connections that are clear to you , the writer (who is – hopefully – intimately familiar with your argument), are ALSO clear to your reader , who has probably never read your essay before.
Just imagine, your reader might be muttering "this what??" as they read, and then having to re-read the paragraph and the paragraph before to check … which is not ideal for getting good marks.
In complex documents (especially essays and theses) where a lot of information is presented at once, the points you're referencing might be spread across several paragraphs of evidence and argument-building. So, unless your sentence/paragraph-starting "this" follows on immediately from the point it references, it's best to try a different phrase.
And all it really takes is a little signposting and clarification to avoid the vagueness of " this shows that ". Ask yourself " this WHAT shows that? " And just point out what you're referencing – and be obvious !
Here's some examples:
You can also do a similar exercise with " they " and other demonstrative pronouns (that, these, those).
Specifying what your pronouns refer to will great help to increase the clarity of your (topic) sentences . And as an added bonus, your writing will also sound more sophisticated!
What type of paragraph are you starting?
When it comes to essay writing, there's usually an expected structure: introduction, body (evidence and analysis) and conclusion .
With other genres of writing your paragraphs might not conform to such
Consider the structure of your paragraph. What do you want it to do? What is the topic? Do you want to open with your topic sentence?
How to start an introductory paragraph
Nailing the introduction of your essay is simultaneously one of the most important and hardest sections to write . A great introduction should set up your topic and explain why it's significant.
One of the primary goals of an effective introduction is to clearly state your " thesis statement " (what your essay is about, and what you are setting out to achieve with your argument).
A popular (and easy) technique to start an introduction is to begin your first paragraph by immediately stating your thesis statement .
Here's some examples of how to start a paragraph with your thesis statement:
This paper discusses …
In this paper, you will find …
This essay argues that …
This thesis will evaluate …
This article will explore the complex socio-political factors that contributed to the decline of the Roman Empire between the reign of Constantine (312-337AD) and the fall of Rome in 476AD .
However, starting your introductory paragraph effectively is not all about immediately stating your thesis!
So head over to our great article on how to start an essay , for lots of more advice and examples on how to kick off your introductions and capture your reader's attention with style!
How to start a body paragraph
Unless you're writing an introduction or conclusion, you'll be writing a "body paragraph". Body paragraphs make up the majority of your essay, and should include all of your main points, data, evidence, analysis, deductions and arguments.
Each paragraph should have a particular purpose and be centred around one idea . Your body paragraphs might be analytical, evidential, persuasive, descriptive etc.
To help your reader make sense of the body of your essay, it's important to guide them with signposts and transitions. These usually occur at the start of your paragraphs to demonstrate their relationship to preceding information.
However, that means there are LOTS of different techniques for starting your body paragraphs! So for 200+ words and phrases for effectively starting a body paragraph, simply keep reading!
How to start a concluding paragraph
Concluding paragraphs are a little different to other paragraphs because they shouldn't be presenting new evidence or arguments . Instead, you're aiming to draw your arguments together neatly, and tie up loose ends.
You might find them as part of a smaller sub-section within a longer academic dissertation or thesis. Or as part of the conclusion of your essay.
When starting your conclusion it's always a great idea to let your reader know they've arrived by signposting its purpose . This is especially true if your essay doesn't contain any headers!
Here are some examples of how to kick off your concluding paragraph:
In conclusion, this paper has shown that …
In summary, we have found that …
A review of these analyses indicates that …
To conclude, this essay has demonstrated that we must act immediately if we want to halt the drastic dwindling of our global bee population.
How to start a paragraph: 200+ top words and phrases for a winning first sentence
Choosing the best start for your paragraph is all about understanding the purpose of this paragraph within the wider context of the preceding (and following) paragraphs and your essay as a whole.
Where does it fit into the structure of your essay? Is it:
Opening a new topic or theme?
Providing explanations or descriptions?
Continuing a list or sequence?
Providing evidence?
Presenting a different opinion or counter-argument?
Beginning an analysis?
Highlighting consequences?
Drawing a conclusion?
It's important to be direct in how you start each paragraph – especially if you're struggling to get your point across!
The best way to craft a killer first sentence is to be clear on what you want it to do . We've covered 12 options below, packed with vocab and examples to get you started …
And don't forget to consider when you should start a new paragraph , and how long you want your paragraphs to be . Where you place your paragraph breaks will have a big effect on the kind of starting sentence you need !
Finally – remember that the best time to craft effective opening sentences is after you've written your first draft and decided on your paragraph breaks! You should already have all your ideas arranged into a logical order.
Showing structure and presenting concepts
This first type of paragraphs are commonly found throughout your essay, whether you're introducing your ideas, providing evidence and data, or presenting results.
There a lots of useful types of connective words and phrases to help you kick off your paragraphs with clarity:
Most notable are the sequential signposting words , which you can use throughout your essay to guide your reader through the steps of your argument, or a list of related evidence, for example.
If you're looking for something a little more specific, read on for four sets of example academic phrases to use to start a paragraph!
1. Starting or continuing a sequence
One of the most important types of transitional phrases to help you start a paragraph is a sequential transition . These signposting transitions are great for academic arguments because they help you to present your points in order, without the reader getting lost along the way.
Sequential connectives and transitions create order within your narrative by highlighting the temporal relationship between your paragraphs. Think lists of events or evidence , or setting out the steps in your narrative .
You'll often find them in combination with other paragraph-starting phrases ( have a look at the examples below to spot them !)
Why not try out some of these examples to help guide the readers of your essay?
Before considering X, it is important to note that …
Following on from Y, we should also consider …
The first notion to discuss is …
The next point to consider is …
Thirdly, we know that Y is also an important feature of …
As outlined in the previous paragraph, the next steps are to …
Having considered X, it is also necessary to explore Y …
2. Providing evidence, examples or citations
Once you've made your claims or set out your ideas, it's important to properly back them up. You'll probably need to give evidence, quote experts and provide references throughout your essay .
If you've got more than one piece of evidence, it's best to separate them out into individual paragraphs . Sequential signposting can be a helpful tool to help you and your reader keep track of your examples.
If your paragraph is all about giving evidence for a preceding statement, why not start with one of these phrases:
For example, X often …
This stance is clearly illustrated by …
Consider the example of Y, which …
This concept is well supported by …
If you want to quote or paraphrase a source or expert, a great way to start your paragraph is by introducing their views. You can also use phrases like these to help you clearly show their role in your essay:
[Author], in particular, has argued that …
According to [source], Y is heavily influenced by …
[Source] for example, demonstrates the validity of this assertion by …
This [counter-] argument is supported by evidence from X, which shows that …
Always remember to provide references for your sources in the manner most appropriate for your field ( i.e. footnotes, and author-date methods ).
3. Giving emphasis to your point
Not all points and paragraphs in an essay are made equal. It's natural you'll want to highlight ideas and evidence for your reader to make sure they're persuaded by your argument !
So, if you want to give emphasis to what you're about to discuss, be obvious ! In fact, you may need to be more direct than you think:
This detail is significant because …
Undoubtedly, this experience was …
Certainly, there are ramifications for …
The last chapters, in particular, are revealing of X …
4. Acknowledging uncertainty
In academia it's common to find a little uncertainty in your evidence or results, or within the knowledge of your field . That's true whether you're a historian exploring artefacts from Ancient Greece, or a social scientist whose questionnaire results haven't produced a clear answer.
Don't hide from this uncertainty – it's a great way to point ahead to future research that needs to be done. In fact, you might be doing it in your essay!
Why not try one of these examples to highlight the gaps in your academic field or experiment?
Whether X is actually the case remains a matter of debate, as current explorations cannot …
Although not proven, it is commonly understood that X …
Whilst the likelihood of X is debateable …
Given the age of the artifacts, it is impossible to say with accuracy whether Y …
Although we cannot know for sure, the findings above suggest that …
Untangling the causes of X is a complex matter and it is impossible to say for sure whether …
Showing the relationships between your points
As your essay progresses you will need to guide your reader through a succession of points, ideas and arguments by creating a narrative for them to follow. And important part of this task is the use of signposting to demonstrate the relationship between your paragraphs . Do they support each other? Do they present opposite sides of a debate?
Luckily there are lots of agreement , opposition and contextual connectives to help you increase your clarity:
Read on for four more sets of example academic phrases to help you present your ideas!
5. Making a new point
If there's no connection between your new paragraph and the preceding material, you're probably starting a new topic, point or idea.
That means it's less likely ( although not impossible ) that you'll need transitional phrases . However, it's still important to signpost the purpose and position of this new paragraph clearly for your reader.
We know that X …
This section of the essay discusses …
We should now turn to an exploration of Y …
We should begin with an overview of the situation for X …
Before exploring the two sides of the debate, it is important to consider …
You can find some great ideas and examples for starting a new topic in our how to start an essay article. Whilst they're definitely applicable to introductions, these strategies can also work well for kicking off any new idea!
6. Presenting accepted concepts
If you're aiming to take a new stance or question an accepted understanding with your essay, a great way to start a paragraph is by clearly setting out the concepts you want to challenge .
These phrases are also an effective way to establish the context of your essay within your field:
It is commonly believed that …
The accepted interpretation of X is …
Until recently, it was thought that …
Historically, X has been treated as a case of …
Over the past two decades, scholars have approached X as an example of …
The most common interpretation of Y is …
7. Adding similar points
Agreement connectives are an important tool in your arsenal for clearly indicating the continuation or positive relationship between similar ideas or evidence you're presenting.
If you're looking to continue your essay with a similar point, why not try one of these examples:
Another aspect of X is …
Another important point is …
By the same token, Y should be explored with equal retrospection for …
Moreover, an equally significant factor of X is …
We should also consider …
Proponents of Y frequently also suggested that …
8. Demonstrating contrast
In contrast, if you're looking to present a counter-argument, opposite side of a debate, or critique of the ideas, evidence or results in your preceding paragraph(s), you'll need to turn to contradiction and opposition connectives.
These phrases will help you to clearly link your paragraphs whilst setting them in contrast within your narrative:
A contrary explanation is that …
On the other side of this debate, X suggests that …
Given this understanding of X, it is surprising that Y …
On the other hand, critics of X point to …
Despite these criticisms, proponents of X continue to …
Whilst the discussion in the previous paragraph suggests X to be true, it fails to take into consideration Y …
Note : some paragraph-opening sentences can be modified using connective words to show either agreement or contrast! Here are some examples:
It could also be said that X does [not] …
It is [also] important to note that X … OR It is important, however, to note that X …
There is [also/however], a further point to be considered …
Presenting analyses, arguments and results
An important stage of any essay is the analysis – that's when you bring your own arguments to the table, based on your data and results.
Signalling this clearly, therefore, is pretty important! Happily, there are plenty of connective words and phrases that can help you out:
Read on for four sets of example academic phrases to use to start your analysis, results and summary paragraphs!
9. Conducting an analysis and constructing your argument
Once you've set out your evidence or data, it's time to point out the connections within them. Or to analyse how they support the argument you want to make.
With humanities essays it is common to analyse the impact of your evidence as you present it. In contrast, sciences essays often contain a dedicated analysis section after the data has been presented.
You'll probably need several analytical paragraphs to address each of your points. So, a great way to get started is to dive straight in by signposting the connections you want to make in each one:
Each of these arguments make an important contribution to X because …
In order to fully understand Y, we need to analyse the findings from …
Each model of X and Y changed throughout the experiment because …
Exploring this dataset reveals that, in fact, X is not as common as hypothesised …
Notwithstanding such limitations, this data still shows that …
Of central concern to Y, therefore, is the evidence that …
This interpretation of X is …
This critique implies that …
This approach is similar to that of Y, who, as we have seen above, argues that …
The resulting graphs suggest that …
Whilst conducting the survey, it was discovered that …
10. Presenting results
Having completed your analyses of any evidence (and hopefully persuaded your reader of your argument), you may need to present your results. This is especially relevant for essays that examine a specific dataset after a survey or experiment .
If you want to signpost this section of your essay clearly, start your paragraph with a phrase like these:
The arguments presented above show that …
In this last analysis, we can see that X has shown …
As we have seen, the data gathered demonstrates that …
As demonstrated above, our understanding of X primarily stems from …
11. Demonstrating cause and effect
When writing an academic essay you may often need to demonstrate the cause and effect relationship between your evidence or data, and your theories or results . Choosing the right connective phrases can be important for showing this relationship clearly to your reader.
Try one of these phrases to start your paragraph to clearly explain the consequences:
As a consequence, X cannot be said to …
Therefore, we can posit that …
Provided that X is indeed true, it has been shown that Y …
As such, it is necessary to note that …
For this reason, the decision was made to …
The evidence show that the primary cause of X was …
As a result of Y, it was found that …
12. Summarising a topic or analysis
In general, summary paragraphs should not present any new evidence or arguments. Instead, they act as a reminder of the path your essay has taken so far.
Of course, these concluding paragraphs commonly occur at the end of an essay as part of your conclusion. However, they are also used to draw one point or stage of your argument to a close before the next begins .
Within a larger essay or dissertation, these interludes can be useful reminders for your reader as you transition between providing context, giving evidence, suggesting new approaches etc.
It's worth noting that concluding your topic or analysis isn't always the same as presenting results, although there can be some similarities in vocabulary.
Connect your arguments into summaries with clear linking phrases such as:
Altogether, these arguments demonstrate that …
Each of these arguments make an important contribution to our understanding of X …
From this overview of X and Y, we can conclude that …
We can therefore see that …
It was hypothesised that X, however, as we have seen …
Therefore, we can [clearly] see that …
Time to get writing your paragraphs!
And that's it! You should now have a much-improved understanding of how to start a paragraph.
Whether you we're worried about how to start your introductions or conclusions, or were wondering about specific types of body paragraphs, hopefully you've found what you need in the examples above .
If you need more writing advice to help you nail top marks for your essay, we've got a whole series of articles designed to improve your writing skills – perfect ! Have a read for top tips to for capturing easy marks 😊
You can learn:
how to create effective paragraphs
about the ideal length(s) for your paragraphs
how to start an essay AND how to structure an essay
the 70+ top connective words and phrases to improve your writing
how to signpost your essay for top marks
about improving clarity with easy proofreading tricks
Good luck completing your essay!
The Science Of Studying Smart
Download my free exam success cheat sheet: all my #1 must-know strategies to supercharge your learning today.
Your privacy protected. No spam. Unsubscribe any time.
Latest Posts
Maths Mnemonics Showdown: PEMDAS vs BODMAS for Calculation Mastery - 16 Mar 2023
101 Thought-Provoking Journal Prompts for Discovering Yourself - 14 Mar 2023
[2023] Is AP Art History Hard or Easy? Difficulty Rated 'Moderate Difficulty' (Real Student Reviews + Pass Data) - 15 Dec 2022
Submit a Comment Cancel reply
Your email address will not be published. Required fields are marked *
This site uses Akismet to reduce spam. Learn how your comment data is processed .
How To Ace YOUR Exams - The Smart Way
Our signature exam support programme, including on-demand courses on memory , productivity , and more, with Office Hours for personalised support : join today !
Read My Test-Taking Technique Book For More Marks In Exams
Top Picks: Best Study Guides
How To Study Effectively : Ultimate Guide [READER FAVOURITE]
Exam Memorization Secrets
Inspirational Exam Quotes
Finding The Perfect Study Routine
Pomodoro Method : 9-Step Guide
Best Books About Studying
BOOKMARK THIS PAGE
10 Good Paragraph Starters for All Your Writing Needs
It is very important to start a paragraph well. You need to try to summarize what you are about to say whilst also setting the reader up for what's to come.
Mixing up your paragraph starters is quite essential as well. Figuring out how to start a paragraph can also be complicated, though. Everyone from newbie writers to more experienced ones will face difficulty in this regard.
Learning some phrases to start a paragraph can be quite useful. They can help you to diversify your writing. Following the same format, all the time can make your writing a little boring. The correct use of paragraph openers and sentence starters can help you form a coherent narrative in your writing. This is a great way to connect the various ideas you are trying to portray as well.
Types of Paragraph Starters
This sets the stage for your writing. Commonly used in academic and essay writing. The purpose of introductory paragraph starters is to introduce some of the ideas that will be discussed in the essay or paper. An important part of introductory paragraph starters is to help you avoid using "I" in your writing. Academic writing in particular does not view "I" statements favorably. You should opt for more generalized language in your paragraph starters to indicate the objective nature of your research. Here are some examples of introductory essay paragraph starters.
Here are some examples of introductory paragraph starters:
In this essay
Views on (example) are
The central theme of
As you can see, all of these paragraph starters can help you lay out your ideas in an easy-to-read manner. But these are only the very beginnings of your sentences. Continuing and completing the sentence is important too. Here is an example of a complete introduction to a paragraph:
"Views on advances in artificial intelligence range from positive to negative. In this essay, the impact of artificial intelligence is explored."
Your concluding paragraph matters. No matter how good your writing is, if you don't wrap your essay up properly people might not absorb all of the information you have presented. People need a good closing paragraph to contextualize their essay. An abrupt ending can get in the way of that. The purpose of these types of paragraph starters is to transition into the conclusion of your essay or piece of writing.
While your concluding paragraph should tie back to your thesis statement, you should avoid repeating too much of it. Diversifying your concluding statement is useful because repetitive statements can take away from the veracity of your claims. Here are some examples of statements you can use to start a concluding paragraph:
The last sentence of your concluding paragraph should offer users some closure. It should have an air of finality to it. A proper concluding paragraph can help the information sink in. As well as helping readers to think about the ideas and information that you have discussed.
A big part of presenting information is to compare it to something. This can be previously available information. Overarching narratives surrounding your field can be addressed as well. In this case, you will either be displaying similarities or differences. These paragraphs help to connect your essay to the background that you are drawing from. Not everyone will be familiar with this information. So it's important that you use comparative paragraph starters to fill them in. Otherwise, they won't have any information to compare what you are saying to.
Here are some examples of comparative paragraph starters:
In comparison
Nevertheless
On the other hand
Having said that
Creating comparisons is a very effective way of getting your message across. The bulk of your writing will consist of comparative paragraphs. This means that you will need as many comparative paragraph starters as you can find. Refuting or confirming preexisting information is a big part of academic writing and essays.
Simply presenting information will make your writing really dry. Examples can help illustrate what you are talking about. Much of your essay will involve you repeating the same point. This is usually considered a sign of bad writing. But it is unavoidable in academic writing. So you need to use examples to convey your point without getting repetitive. Examples can demonstrate your ideas in real-world scenarios. People need them to draw their own conclusions about what you are trying to say. You don't want them just repeating your words after all. Rather, you would want them to obtain a deeper understanding of your work.
Example paragraph starters might seem easy. A simple "for example" will work. But you have to provide lots of examples in your writing. Using "for example" repeatedly will make your writing seem unprofessional. It also ruins a reader's ability to immerse themselves in your writing.
Here are some alternatives to "for example" that you can use as paragraph starters:
To illustrate
For instance
You can also add exampling statements in the middle of your opening sentence. Here are some examples:
…as shown by
…as can be observed
…which can be seen in
Mixing your statements up can help you provide examples without wearing the reader down. You need to keep offering something new. Otherwise, the reader might lose interest. Diverse exampling statements can keep your readers invested in what you have written. Your main priority should be getting them to the end of your essay after all.
We stated previously that comparative statements will form the bulk of your paragraph starters. This holds true, but adding ideas that you can compare is essential as well. Transitioning from one idea to the next can help create a smooth narrative. So many of your ideas will come in the middle of a paragraph. But you would still need to provide start certain paragraphs off with ideas as well. These examples can help you introduce ideas in your writing:
Here we will discuss
In this paper
To elaborate
Sometimes you would want to refer to an idea halfway through your sentence. This is done in a comparative manner. These paragraph and sentence starters can help you with this:
Over time you will learn to use these statements to connect your ideas. Developing a theme in your essay makes the ideas more pronounced. Make sure that you use these statements carefully.
You should try writing as if you are constructing a timeline. Ideas should be presented sequentially. The sequence can be pieced together slowly through the use of time connective paragraph starters. Presenting an idea or a comparison at the start of a paragraph won't always work. Sometimes you need to remind readers of where they are on the timeline you have constructed. These sentence starters also help provide context regarding the history of your field or discipline.
These paragraph starters are fairly simple. "Firstly", "secondly" and so on can all work well here. You can also use words like "before" and "afterwards" as well as "eventually".
Tips to Help You Write Better Paragraphs
The types of paragraph starters we have provided above will help you improve your writing. But you will also need a few general tips that you can follow. It would be best if you didn't look at these tips as rules. Instead, see them as a general guideline. You can choose which tips you want to implement based on your preferences. As you develop experience you will start to get an idea of what you should use where.
This is a very versatile word. But its versatility often leads to it being overused. There are plenty of alternative words that you can use instead. "That said", "conversely", "although" and "regardless" can all be used to substitute however. This adds some variety to your writing. Comparative paragraphs can become a chore if you have to avoid using "however". But overusing this word will do a lot more harm than good. This is why you should try some of the examples that we have given.
Try Starting With Adverbs
Adverbs are great for connecting your ideas. They often don't do much good in the middle of a sentence. You should try starting your sentences out with them. This helps you avoid some of the pitfalls of starting sentences. Using adverbs as paragraphs starters might make your writing a little informal. So you should be careful about where and when you use them. But sprinkling them in sparingly works really well. Some examples of adverbs are "similarly" and "fortunately. Modifying any adjective and adding verb-like attributes to it will turn it into an adverb.
You can also use these words to transition from one paragraph to the next. Transitory paragraph starters are vital for connecting your ideas. Adverbs are the most effective way to make this transition as smooth as possible.
Avoid Coordinating Conjunctions (Sometimes)
The oldest rule of writing that we all tend to learn in school is to never start a sentence with a coordinating conjunction, let alone a paragraph. Starting a sentence with "but" or "and" can often make your writing seem amateurish.
That said, this rule is not as hard and fast as you might expect. Teachers only teach children to avoid starting sentences with "and" and "but" because this can help children to learn how to write differently from how they speak. It's more of a mindset tool and a training exercise rather than a strict rule that should always be followed.
You can use coordinating conjunctions in certain situations. "But" can be a reasonable replacement for "however" for example. Similarly, you can use "and" as a replacement for "additionally" which is another really overused sentence starter.
There are lots of other coordinating conjunctions as well such as "yet" and "so". These conjunctions are perfectly acceptable to start a sentence with. Most rules surrounding starting sentences with coordinating conjunctions focus on "but" and "and". We have shown you how these words can be used without breaking any writing rules.
Use Dependent Clauses Where Applicable
Dependent clauses can deliver a softer entry into a paragraph. Starting every paragraph with a noun can become tiresome. Clauses like "while" and "as" are perfect for these types of uses. "Because" is a dependent clause that we are often taught not to use. But this is just another example of a childhood rule that's not as important as you might think.
2 thoughts on "10 Good Paragraph Starters for All Your Writing Needs"
This was very helpful. Thank you.
This didn't help, could you maybe add more?
Leave a Comment Cancel Reply
Your email address will not be published. Required fields are marked *
26158766f7f76c0d163cbc4d15ae3f59
Questions about Expos?
Writing Support for Instructors
Anatomy of a Body Paragraph
When you write strong, clear paragraphs, you are guiding your readers through your argument by showing them how your points fit together to support your thesis. The number of paragraphs in your essay should be determined by the number of steps you need to take to build your argument. To write strong paragraphs, try to focus each paragraph on one main point—and begin a new paragraph when you are moving to a new point or example.
A strong paragraph in an academic essay will usually include these three elements:
A topic sentence. The topic sentence does double duty for a paragraph. First, a strong topic sentence makes a claim or states a main idea that is then developed in the rest of the paragraph. Second, the topic sentence signals to readers how the paragraph is connected to the larger argument in your paper. Below is an example of a topic sentence from a paper by Laura Connor '23 that analyzes rhetoric used by Frederic Douglass, Mary Wollstonecraft, and Karl Marx. In her paper, Connor argues that Marx's rhetoric was most effective in driving social change. In his numerous writings, Marx critiques capitalism by identifying its flaws. This topic sentence makes a claim that will then need to be supported with evidence: readers can expect that the sentence will be followed by a discussion of what Marx saw as the flaws in capitalism, which will in turn help them understand Connor's thesis about how these three authors used their rhetoric to effect social change. A topic sentence signals to your readers what idea is most important in that paragraph—and it also helps you know if you've effectively made your point. In this case, Connor has set up the expectation for readers that by the end of the paragraph, they will understand Marx's view of the flaws in capitalism. Imagine that, instead of writing "Marx critiques capitalism by identifying its flaws," Connor had begun that paragraph with a descriptive sentence. For example, she could have written something like this: "Marx wrote a critique of capitalism." While that sentence describes something that happened, it does not give readers information about what will be in the rest of the paragraph—and it would not have helped Connor figure out how to organize the paragraph.
Evidence. Once you've made a claim in your topic sentence, you'll need to help your readers see how you arrived at that claim from the evidence that you examined. That evidence may include quotations or paraphrased material from a source, or it may include data, results, or primary source material. In the paragraph that follows Connor's topic sentence above, she offers several quotations from Marx that demonstrate how he viewed the flaws in capitalism.
Analysis. It's not enough to provide evidence to support a claim. You have to tell your readers what you want them to understand about that evidence. In other words, you have to analyze it. How does this evidence support your claim? In Connor's paragraph, she follows her presentation of evidence with sentences that tell readers what they need to understand about that evidence—specifically that it shows how Marx pointed to the flaws in capitalism without telling his own readers what to think about it, and that this was his strategy. It might be tempting to end your paragraph with either a sentence summarizing everything you've just written or the introduction of a new idea. But in a short paragraph, your readers don't need a summary of all that you've just said. And introducing a new point in the final sentence can confuse readers by leaving them without evidence to support that new point. Instead, try to end your paragraph with a sentence that tells readers something that they can now understand because they've read your paragraph. In Connor's paragraph, the final sentence doesn't summarize all of Marx's specific claims but instead tells readers what to take away from that evidence. After seeing what Marx says about capitalism, Connor explains what the evidence she has just offered suggests about Marx's beliefs.
Below, you'll find Connor's complete paragraph. The topic sentence appears in blue . The evidence appears in green . Connor's analysis of the evidence appears in yellow .  
Example paragraph  
In his numerous writings, Marx critiques capitalism by identifying its flaws. By critiquing the political economy and capitalism, Marx implores his reader to think critically about their position in society and restores awareness in the proletariat class. T o Marx, capitalism is a system characterized by the "exploitation of the many by the few," in which workers accept the exploitation of their labor and receive only harm of "alienation," rather than true benefits ( MER 487). He writes that "labour produces for the rich wonderful things – but for the worker it produces privation. It produces palaces—but for the worker, hovels. It produces beauty—but for the worker, deformity" (MER 73). Marx argues capitalism is a system in which the laborer is repeatedly harmed and estranged from himself, his labor, and other people, while the owner of his labor – the capitalist – receives the benefits ( MER 74). And while industry progresses, the worker "sinks deeper and deeper below the conditions of existence of his own class" ( MER 483). But while Marx critiques the political economy, he does not explicitly say "capitalism is wrong." Rather, his close examination of the system makes its flaws obvious. Only once the working class realizes the flaws of the system, Marx believes, will they - must they - rise up against their bourgeois masters and achieve the necessary and inevitable communist revolution.
Not every paragraph will be structured exactly like this one, of course. But as you draft your own paragraphs, look for all three of these elements: topic sentence, evidence, and analysis.
Tips for Reading an Assignment Prompt
Asking Analytical Questions
Introductions
What Do Introductions Across the Disciplines Have in Common?
Transitions
Tips for Organizing Your Essay
Counterargument
Conclusions
Strategies for Essay Writing: Downloadable PDFs
Brief Guides to Writing in the Disciplines
Quick Links
Schedule an Appointment
English Grammar and Language Tutor
Drop-in hours
Harvard Guide to Using Sources
Departmental Writing Fellows
Writing Advice: The Harvard Writing Tutor Blog
Useful sentence starters for academic writing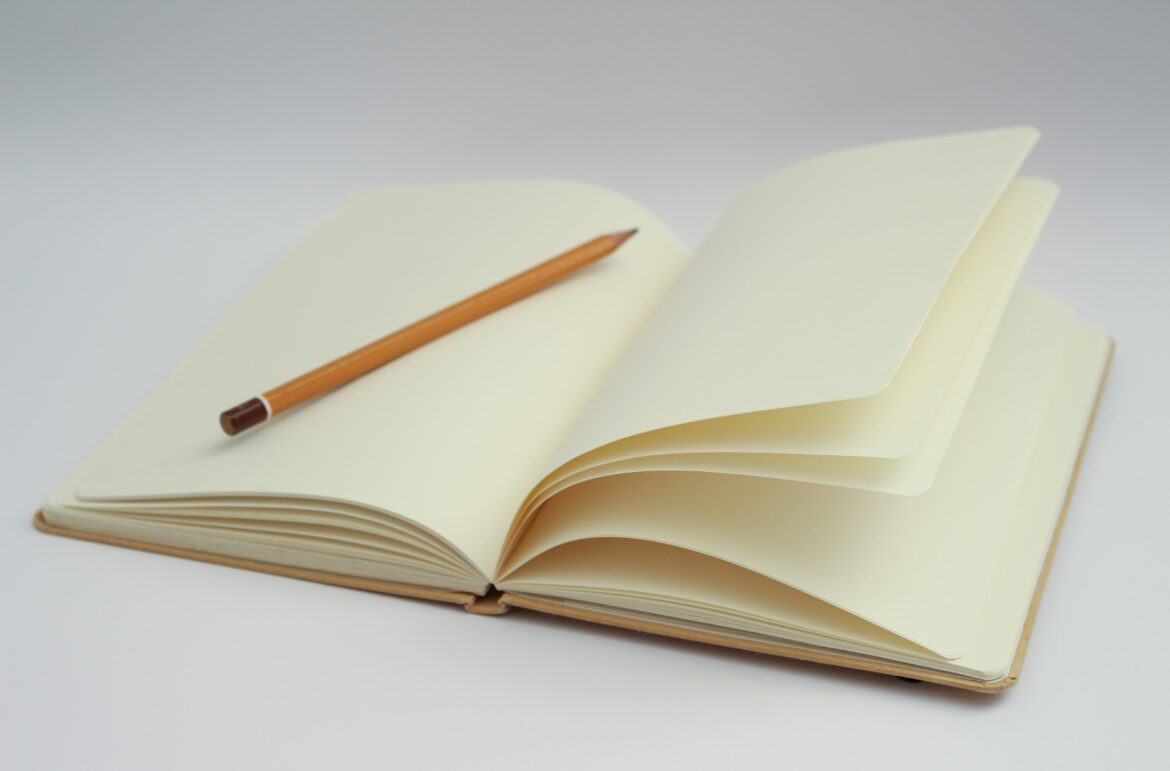 In academic writing, sentence starters play a vital role in organizing your ideas, conveying your arguments effectively, and maintaining a flow throughout your research paper. In this blog post, we will explore various sentence starters that can elevate the quality of your academic writing and provide examples tailored to research-based essays.
Why are sentence starters useful
Sentence starters are particularly helpful in introductions to grab the reader's attention and provide a clear roadmap for the research essay. They can be employed when introducing a new argument or point, creating a smooth transition between paragraphs, or when emphasizing key ideas. Additionally, sentence starters are beneficial in conclusions to summarize key findings, restate the thesis, and leave a lasting impression on the reader.
Moreover, sentence starters are valuable in comparisons to highlight similarities or differences, in sequences or lists to provide a structured flow of ideas, and in elaboration to expand on points or introduce new evidence. They can also be used to express uncertainty or doubt when discussing conflicting perspectives or limitations in the research. Overall, sentence starters add coherence, clarity, and sophistication to academic writing, making it more compelling and engaging for the reader .
Introduction sentence starters for essays
These sentence starters introduce what the paragraph or entire text is about so the readers know what to expect.
Example: This study aims to investigate the correlation between social media usage and mental health among teenagers.
"In recent years, research has shown…"
Example: In recent years, research has shown a growing interest in the potential therapeutic benefits of mindfulness practices.
"The purpose of this research is to…"
Example: The purpose of this research is to examine the impact of climate change on biodiversity in tropical rainforests.
Conclusion sentence starters
These sentence starters are helpful to hint at the reader that you're about to wrap things up so they don't expect any new points or evidence.
"In conclusion, it is evident that…"
Example: In conclusion, it is evident that the implementation of renewable energy sources is crucial for mitigating the effects of global warming.
"Based on the findings, it can be concluded that…"
Example: Based on the findings, it can be concluded that regular exercise contributes to improved cognitive function in older adults.
"Overall, this research sheds light on…"
Example: Overall, this research sheds light on the importance of early intervention programs for children with learning disabilities.
Good sentence starters for comparisons
These sentence starters show that two things are related or alike.
Example: Similarly, both studies observed a significant decrease in cholesterol levels among participants who followed a Mediterranean diet.
Example: In contrast to previous research, this study found no significant relationship between caffeine consumption and sleep disturbances.
Example: Like previous studies, this research also highlights the impact of air pollution on respiratory health.
Good sentence starters for sequences or lists
Sentence starters for sequences are used to begin or relate lists of instructions or explaining a series of events. 
Example: Firstly, the survey gathered demographic information from participants.
Example: Secondly, the data analysis involved statistical techniques to identify patterns and trends.
Example: Finally, the study proposed recommendations for future research in this field.
Good sentence starters for elaboration or adding new points
These sentence starters ease the transition from explaining the larger picture to showing examples of minute details.
Example: Moreover, this research emphasizes the importance of incorporating ethical considerations in clinical trials.
Example: Additionally, previous studies have identified socioeconomic factors as influential determinants of educational attainment.
Example: Furthermore, the research findings highlight the need for more extensive sample sizes to draw generalizable conclusions.
Good sentence starters to show uncertainty or doubt
These sentence starters help in explaining to the reader that there is an upcoming contrasting idea or thought.
" Although the results suggest…"
Example: Although the results suggest a positive correlation, further investigation is warranted to establish a causal relationship.
Example: It is plausible that the observed variations in results could be attributed to differences in sample demographics.
"It remains unclear whether…"
Example: It remains unclear whether the observed changes in behavior are transient or long-lasting.
In conclusion, sentence starters serve as valuable tools in academic writing, enabling you to structure your thoughts, enhance clarity, and guide readers through your research essays. Use them in abundance yet carefully, as they can enhance your quality of writing significantly.
Paperpal is an AI writing assistant that help academics write better, faster with real-time suggestions for in-depth language and grammar correction. Trained on millions of research manuscripts enhanced by professional academic editors, Paperpal delivers human precision at machine speed.
Try it for free or upgrade to Paperpal Prime , which unlocks unlimited access to premium features like academic translation, paraphrasing, contextual synonyms, consistency checks, submission readiness and more. It's like always having a professional academic editor by your side! Go beyond limitations and experience the future of academic writing. Get Paperpal Prime now at just US$12 a month !
Related Reads:
How and when to use active or passive voice in research papers
What is the Oxford comma and when do you use it? 
What is an imperative sentence?
Canceled or cancelled – what do I use? 
Paperpal Surpasses 200,000 Users Globally 
The difference between british english and american english: a quick guide, you may also like, paraphrasing in academic writing: answering top author queries, sentence length: how to improve your research paper..., navigating language precision: complementary vs. complimentary, climatic vs. climactic: difference and examples, language and grammar rules for academic writing, transitive and intransitive verbs in the world of..., led vs. lead: how to differentiate between the..., academic writing for esl students: 7 tips and strategies..., characteristics of academic writing, 'lose' vs. 'loose': difference, meaning and examples.
54 Best Paragraph Starters for Argumentative Essays
Searching for an effective guide for "paragraph starters for an argumentative essay?". Want to have the best one but can't find one? Deadline approaching but short of information? Wondering what to do? Fly away your worries (Stop stressing) because we are here to answer all your queries about how to start an argumentative essay. Read this out!
Unlike a narrative essay and other personal essay type, argumentative essays are comparatively tricky and require special treatment. One has to be very careful about making argumentative essay topics for paragraphs. A single mistake in the starter paragraph for such an essay can make the entire argument worthless. Hence, care must be taken when writing paragraphs for such essays. That is why we are here to help in any way possible.
Let's jump into the writing guide for good body paragraph starters. Or, you can simply call it argumentative essay starters.
Table of Contents
Argumentative essay
An argumentative essay is a form of essay writing in which essay writer for hire states his stance or argument regarding an
Issue,
Event,
Belief, and etc.
The writer states his argument with strong evidence to persuade the audience of the point of view of what the writer holds.
It is almost common now in academic writing that an instructor assigns such essay from tons of domains such as:
You should know that your approach to each of these tasks matter a lot. Speaking of which, starting sentences for an argumentative essay plays an important role in the success of such academic activity . Let's read about the features of such an essay before learn more on the sentence starters for argumentative essay.
Features of argumentative essay
Apart from good argument starters, such essay also has the following features that make word choice even better:
Introduce the topic in a manner to engage the readers
Ensure subjectivity of the point of view while stating it
Add counter-arguments to get the audience in confidence
Provide sufficient evidences to support the proper style of an argument
Now we will discuss some sentence starters for body paragraphs and then we will guide you how to write such kind of essay:
Paragraph starters for argumentative essay
Following is a sample of such phrases:
How to write an Argumentative essay Paragraph starter?
Just follow these steps to learn writing argumentative essay sentence starters:
Choosing a topic
Stating strong thesis
Structuring
Drafting
Let's discuss these in details:
Choosing a topic
Well! Most of the time, an instructor assigns the students with a topic to make the roadway difficult for him. However, if there is an open choice to choose the topic, then choose whatever interests you. This is because when one chooses the topic of their interest, it is always going to contain more information because of the writer's knowledge about the topic either due to personal experience or is involve in daily activities.
One must be careful in stating information about such topics of interest because most of these topics help us to make a claim in argumentative essay and facts. After one has a strong basis for moving on with the topic, it is time to start now.
Stating strong thesis
Before stating a strong thesis statement, one should have the idea of what a thesis statement really is:
"A statement which is usually stated at the end of an introductory paragraph stating the entire summary or central message of the essay."
This sentence is the brain of any essay or a piece of writing. Hence, it is important to structure this sentence in a way to attract the attention of the audience in a way to keep them reading.
State a strong thesis which has the following features:
Reflect the argument the writer is going to talk about
Represent the stance of the writer either in a positive or a negative connotation
Is reflected in the entire essay, especially the topic sentences.
Good research is the key to a successful essay. An essay or an introduction paragraph stands against every counter-argument only if it is written on a well-researched basis. Other forms of essay might not require researching because it requires recalling memories or some other sort of stuff. However, for the essay that we are talking about, good research is very important. Because we are stating an argument, so we should have strong evidence to back up that argument and this requires research.
Use following sources for researching:
Published and unpublished sources
Documentaries
YouTube etc.
Also make sure the following:
"A good reader is a good leader". This is specially the case here. One has to "read" to write good and lead the audience. Read through the sources, have a good idea of the topic, arguments and counter-arguments.
Ensure subjectivity in your thoughts while reading and writing too. This not only state the argument from the perspective of the writer, but also from the perspective of the critics. Stating the views of such people into the writing as well, will make the essay well versed and buffered it.
Ensure uniqueness by looking at the existing pieces of writing on such topics. Cover the issue(s) that the writer has not highlighted so far or get help from the best essay writing service .
When it is felt that enough research has been made, whatever was required, one should move on to the next step but if at any position it is felt that more research is required, one should go for it. The process of research never stops at any stage.
Structuring
After collection of information on the topic, it should be shaped in a proper way. The standard is the introduction, then the body, and finally the conclusion. At least the essay should contain these standards to be called as properly structured.
Drafting and structuring occurs simultaneously. Structuring is when one give structure to the essay while writing and drafting is that writing actually. The written document is a draft. So, draft the essay in a structured manner. It is advisable to rough draft if there is enough time to do so.
Structure of an Argumentative Essay paragraph starter
Following is the structure for such essay:
Introduction
The introduction of the essay is the building block for the rest of the write-up. At the very beginning of the introductory paragraph, a hook should be stated. It is a statement that grab the attention of the audience suddenly.
After the hook, we state a slight background knowledge of the topic to give the readers a know-how of the topic.
Lastly, we state a strong thesis statement to sum up the introductory paragraph. Such statement reflects the entire crux of the essay.
The body paragraph of an argumentative essay contain at least three standard paragraphs, but can vary depending on the argument.
The starting sentence of each paragraph is a topic sentence, which represent the paragraph following it. The rest of the paragraph states the main argument/stance of the writer, with the ending sentence giving idea of the next paragraph.
The second paragraph of such essay contain the topic sentence and the counter-claims to the stance of the writer usually.
The Conclusion
A conclusion summarizes the whole discussion of the essay. It restates the main argument and closes it. We do not state a new argument or idea into the conclusion part to leave the audience with ambiguity. Finally, we close the conclusion paragraph with a clincher, leaving the audience craving more. I hope this guides you a lot; contact our experts if you need any argumentative essay help .
Good paragraph starters for an essay are:
To be exact...
The piece of writing talks about…
This essay revolves around…
To view the essay…
In this piece of writing
To dive into the issue…
To analyze the issue…
Moving into this topic…
A good example of an introduction paragraph is the one with:
A nicely put hook
Sentences stating background knowledge
A strong thesis statement reflecting the whole essay
Good sentence starters are:
Furthermore
In addition to
To start with
First of all
Finally
To begin with
Get Your Custom Essay Writing Solution From Our Professional Essay Writer's
Timely Deliveries
Premium Quality
Unlimited Revisions
Assignment Writing Service
Biography Writing Services
Opinion Essay Writing Service
Cover Letter Writing Service
Critical Analysis Essay
Romeo and Juliet
Admission Essay
Analytical Essay Writing Service
Personal Statement
Research Paper Writing Service
Dream Essay
Annotated Bibliography
Dissertation Writing Services
Contrast Essay
Argumentative Essay
College Essay Writing Service
Application Letter
College Paper
Thesis Statement
We are a team of professional writers providing quality-assured essays, research papers, and assignments. We bring the most affordable services for you with multiple revisions. Get plagiarism-free content with Turnitin pass and on-time delivery. We Create Great Content, Value, & Reliability!
Opinion Essay Writing
Cover letter writing service
College Essay Writing
Our Writers
What Are Good Paragraph Starters for Essays 2022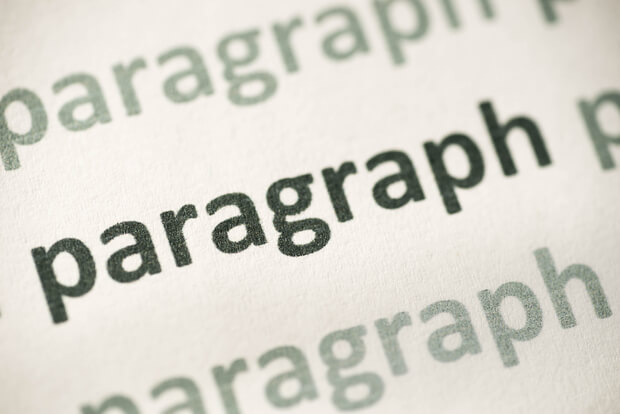 Can you use specific words at the beginning of a paragraph to quickly improve your writing? Of course. Some words or phrases have gained a reputation for being great paragraph starters in academic writing. For essays, paragraph starters are important for connecting and organizing ideas while ensuring a smooth flow of information.
But knowing which ones to use can be tricky even for seasoned writers. Luckily, we have compiled this post to discuss good paragraph starters for essays that will strengthen your writing.
What Is a Good Sentence Starter?
A good sentence starter introduces the rest of the paragraph. It gives a clear idea of what that section will talk about so the reader knows what to expect. A well-written paragraph starter for an essay will have one idea that ties back to the thesis statement. In academic writing, each paragraph discusses a unique main point; hence the sections will move from one idea to another.
Without great starters, the whole essay will be disorganized, making it harder for the professor/teacher to understand the message you intended to communicate. To avoid this, students who have mastered the art of composing excellent essays use sentence starters to connect paragraphs and unify the writing.
So what is a good starter word for a paragraph? Subsequently is a good starter word appropriate for essays that explain a series of events. You don't need to use too many paragraph starters in your paper as it creates confusion and it can look like you are adding filler words. Good paragraph starters work best when used in specific situations such as:
When introducing a new idea in every paragraph
To capture the attention of the reader
To emphasize a particular point
To link ideas in an essay more effectively
When that specific paragraph will have background information on a particular topic If you're having a hard time deciding when to use a great starter, read the last few sentences of a paragraph and the first two sentences of the next paragraph and determine if the ideas flow smoothly and the message is easy to understand. If not, add a paragraph starter.
Examples of Good Paragraph Starters
Not all paragraph starters are equal. Some are appropriate for the first paragraph while others strengthen your writing when used in the conclusion. Therefore, the phrases or words to use to start a paragraph the right way depends on which section of the essay you are writing. Furthermore, the sentence starters to use depend on the type of essay. For example, when writing a compare and contrast essay, some paragraph starters to use are:
Along these lines
In the same way.
Introduction Paragraph Starters
The beginning of an essay sets the mood and lays the foundation for the rest of the paragraphs. Well-chosen starters in the introduction keep the reader engaged and curious about what the next parts of the essay have to say about the topic. Thus paragraph starters eliminate predictability.
How do you begin a paragraph? With a hook which can be in the form of statistics, quote, rhetoric, question surprising facts, or anecdotes. Paragraph starters appropriate for the introduction include:
In this essay
The key aspect discussed in this essay
The central theme
The points emphasized are
What is analyzed
What is presented
Is evaluated
Is explained in this essay
Is briefly outlined
Great paragraph starters for a persuasive paper include: In my opinion, while I agree etc., For an opinion essay, sentence starters are words such as the fact is, without a doubt, regardless of popular opinion, and we can all agree.
Body Paragraph Starters
Good body paragraph starters give credibility to your essay as it eliminates the common subject-verb sentence structure and makes your text look professional. Each main point is discussed in the body section during the writing process. To connect ideas or add new ones to your writing, use paragraph starters.
For example, if you are a science student writing about the steps to be used in a lab experiment, you might decide to use the listicle format where you say first, second, third, etc., but other paragraph starters that also work well in the main body of the essay are:
The following step
Another essential step
If you add a new point, use words such as additionally, furthermore, moreover, also, and just as important to tie ideas together. In comparison, on the other hand, in contrast, complementary to this, similarly, and likewise are some good paragraph starters for a compare and contrast essay. Starters for Giving Evidence
In academic writing, evidence is required to support any claims made and give credibility to the paper. Some great paragraph starters applicable when introducing a source/evidence/example include: based on the findings, as explained by, with regards to, according to and the data indicate. good paragraph starters for adding new ideas to an essay are:
Additionally
Beyond that
On top of that
To elaborate
Another thing
Paragraph starters will differ depending on the essay, so use an opening sentence that fits the audience, intended function, and tone. For example, a good start for an informative essay is facts and quotes, while an anecdote or attention-grabbing statement is appropriate for a narrative or personal essay.
Conclusion Paragraph Starters
When good paragraph starters are used in the conclusion section, they wrap up the whole paper, unify ideas and ensure the message appears clear. It connects the ending to other paragraphs in the essay. Good paragraph starters for a conclusion are:
To summarize
The bottom line
In a nutshell
To sum it up
I have come to a conclusion that
In my opinion
As a final point
Without a doubt
One final idea
It's worth re-examining
While there are numerous ways to start a conclusion, the first sentence of this paragraph must also capture attention and signal the end of the essay. Also, consider which concluding paragraph starter is appropriate for driving the point home for that particular type of essay.
For example, the concluding sentence for a narrative essay should emphasize the moral lesson, while for argumentative writing, it has to state the argument made.
The Bottom Line
Adding paragraph starters for any essay is easy when you know which ones to use and when. So incorporate the ones provided in this post to strengthen your writing or if you still don't know how to, ask for writing help from Acemyhomework .
Place Your Order Now & Ace Your Homework!
Need help with an assignment, essay, or online class?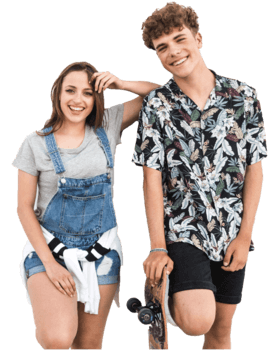 Need help with an assignment , essay, or online class ?
Looking for Easy Words to Use as Good Essay Starters?
Include a good hook sentence that provides a hint of what the essay is about. A good hook sentence keeps readers intrigued to the end.
Understand your subject/ reader: Each generation varies in language. It's good to know your subject well, whether old or young.
Use good words that flow easily. These include: for instance, moreover, equally important, but also, and so forth.
Set an appropriate tone.
Include a thesis statement.
Make sure you grab the attention of the reader such that they'll want more. Reach into their hearts. While doing this may sound easy, it is not, and you may require a lot of efforts so as not to become boring. However, learning these easy tips may change a lot. What is more pleasing, we offer essay writing services . If you feel you have inadequacies in using these tips you can always ask for assistance from us. We are an essay writing company whose job is to solve student's writing problems. We offer different types of essays. Whether expository, narrative, descriptive, analytical, argumentative, persuasive, definition or critical essay is what you need, we have got you covered. Moreover, our writers are experienced and knowledgeable in different areas, including in the appropriate use of starters. They will ensure that your customized piece is interesting and your readers are left fascinated.
Table of Contents
Get to Learn More About Essay Sentence Starters in These Simple Steps
You may have a clue of the contents required to write about your topic of coverage. But do you know how to begin a sentence in each topic to cover? You need to know what essay sentence starters are meant for and how to use them. They include words and phrases that clue in the reader as to why and the meaning of content. They are generally used to:
Welcome your reader's attention.
Add ideas to your writings
Bring in comparison
Emphasize on a topic
These starting words are in the form of:
Rhetorical questions. Use a deeper meaning using questions to intrigue the person reading your content, making sure they are in line with the topic.
Numerals & statistics. These tend to capture the reader's attention. Note that it will not be advisable to guess numbers or select any number of statistics. Make sure that you have done ample research on the topic you are covering to avoid false statements.
Another great starter is the highlight of your article.
Quote, famous people you believe are wise and keep in line with the topic.
Are you still having difficulties with choosing appropriate starters for your essay and are worried that your essay will not be up-to-standard? Put your worries to rest as we have a solution for you. Ask us for assistance. We are always willing to help. Whether you need your essay to be written from scratch or want us to edit your draft, we will offer our assistance.
Learn More About Essay paragraph Starters
It is advisable to start every paragraph with a new word. More precisely, using words that will draw your reader's thinking and how this word reflects the topic is a good vibe to use as essay paragraph starters. With this, you can choose your word perfectly, to bring out the best of your paragraph. For a topic paragraph, you will need some knowledge of your content determining your essays' topic. Every time you are adding a sentence, use words that bring out the similarities. When emphasizing, use words that mean what you are trying to say. When comparing, use, on the other hand, in contrast and any other comparing pack of words. Make sure to use different kinds of words and do not keep on repeating them to capture the one reading fully. Use different variation and choose a tone when writing according to your subject. If you encounter hitches, you can always ask us for help!
Incorporate Effective College Essay Starters in Your Writing
Tired of gazing on a blank screen, empty and not knowing what to write or even where to start? Worry not, here are simplified and straight points as a solution to your worry. Firstly, you need to use effective college essay starters for your academic piece to be exceptional. Additionally, ensure that your paper adheres to the following standards:
Introduction: It is a good idea first to introduce yourself here. Talk more on your personality, outlook on life experiences, passion, hobbies, trying to engage with the one reading, creating a perfect picture of who you are as they read through that essay. The introduction should impress your subject and get him intrigued to read to the very last word in your essay. Your introduction should start with a juicy sentence. To set up this sentence that should grab your reader's attention, point out your ideas for the story, and finally choose a flow of word transition that will reveal your essay. If you still gaze to a blank screen, it is a good idea to try brainstorming ideas with your friends and put down the best ideas from your discussion.
Be creative: Be very creative in your use of words, in your topic, in your ideas and most importantly write something that will keep the reader glued to your essay, an example is trying to jog around the reader's mind with a joke here and there.
Get the best hook for your essay: having in mind that many others have a written essay to be read, learn how to outstand the rest. Engage the person reading inspiring that person to keep reading. Choose an outstanding topic, a very interesting topic that will not only intrigue the reader but also inspire him and even yarn to meeting with you.
Ask a question: Asking a question at the beginning of your essay activates your reader's critical thinking as they hunger for the answer.
These tips will make your essay exceptional and interesting.
What About Argumentative Essay Sentence Starters?
When writing argumentative essays, sentence starters are important. Considering that your entire argumentative essay hovers around your thesis statement, it is important to use appropriate argumentative essay sentence starters. You will need to use a hook to capture the attention of the reader. Your thesis should create a problem that you resolve in the body of the argumentative essay. It can either be a provocative or a rhetorical question, where you can define the thesis and challenge the accepted fact. You should start with a persuasive mechanism for your introduction, mention your research from the beginning as it shows your knowledge from the beginning.
Master what kind of audience is most comfortable with you. Learn to appeal the reader's emotions with an enticing argument while capturing the reader's emotions. For instance. Below is an example of how to start;
Have you ever felt invisible? Unwanted? But still very much vibrant? That's what I felt when we moved, and I had to join my now new school. All eyes were focused on me, and I had to put myself together and tried to fit in if it were not for the armed bullies who wasted not even a fraction of a second to attack.
This is one of the many essay starters examples that begins with a question which strikes the reader to want to read on through the essay to get to know how the writer finally settled and mingled in the new school. Essay conclusion starters are when you are writing down the final thought about your thesis. Make sure that your conclusion must include the information that was discussed in the body. Certain words should be used when concluding, they include:
I am concluding.
As said above,
As a matter of fact
It is important to note that in such cases, essay starters introduction mark the end of the essay.
In most cases, they appear as the last sentence in writing. Important characters to consider when concluding sentences are:
Reviewing main points mentioned in the body
Mentioning the topic sentence again.
Do not add any new ideas or topics
Make sure it elaborates about the topics discussed.
The essay body paragraph starters should also be mentioned in the conclusion as discussed, use words which are capturing with phrases for a new paragraph. Useful linking words are:
As a result
As we have seen
Another factor
Every part of this
For this/that reason
More to that,
Every paragraph ought to have a topic sentence that informs the paragraph's main idea. The following are examples of essay topic sentence starters that can be used:
Differences and similarities exist between….
While …..presents with multiple benefits, some detrimental impacts may also occur.
The causes of ….can be numerous.
I hope that this will help you as you tackle that essay paper and that your reader will not get bored. You should not use them all the time. This can also be used as personal essay starters, although in the body it contains activities, abilities, interests, and personal beliefs because this essay is more of an own testament for publication. Your focus is more on yourself, and you must be more open and flexible. You also need to have a hook just like any other essay. Focus on the reader who needs to be intrigued in your personal life. You need a memorable story that shouldn't be boring. Use flowing words thinking how each word relates to the body.
Now that you have all the information of every starter mentioned above should help you get and intrigue your readers attention, use of great people stories and quoting famous people, knowing how to start an essay and where to get your research from should also stimulate the reader to be on toes and want to get the whole information of what you are writing. If you still aren't sure what starters to use, when, and where to place them don't be stressed up. We are here for you. Just place an order with us, and you'll receive a piece with the most appropriate starters. Our experts have all it takes. They are experienced, competent, and proficient in what they do.
Additionally, we have experts competent in all disciplines, ranging from mathematics, accounting, biological sciences, religion, business studies, human resource, medical sciences, and computer science. Thus, your paper will be written by professionals. Place an order now and get the help you need.
15% OFF Your first order!
Aviable for the first 1000 subscribers, hurry up!
You might also like:
150 Qualitative and Quantitative Nursing Research Topics for Students
Why You Should Read a Data Gathering Procedure Example
What Is Culture and What Are Some Popular Culture Essay Topics?
College Term Paper
Buy Research Papers
English Paper
Free Grammar and Spell Check
Free Plagiarism Checker
Free Online Grammar Checker
Term Paper Editing
Dissertation Conclusion
Dissertation Hypothesis
Dissertation Introduction
Dissertation Methodology
Dissertation Results
Dissertation Abstract
Homework Help
College Term Papers
Science Essay
University Essay
Science Paper
Sample Essay
Process Essay
Problem Statement
Opinion Essay
Informative Essay
Exploratory Essay
Evaluation Essay
Defining Key Terms
Comparative Essay
Classification Essay
Abortion Essay
Papers Example
High School Essay
Graduate Paper
Free Papers
Essay Body Paragraph
Critical Essay
Cause And Effect Essay
Chicago Style Paper

us.MasterPapers.comhelps students cope with college assignments and write papers on a wide range of topics. We deal with academic writing, creative writing, and non-word assignments.
All of papers you get at us.MasterPapers.com are meant for research purposes only. The papers are not supposed to be submitted for academic credit.
Social networks
Online Chat 24/7
Terms & Conditions
Privacy Policy
Cookie Policy
Money-back guarantee