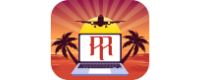 40 Best Essays of All Time (Including Links & Writing Tips)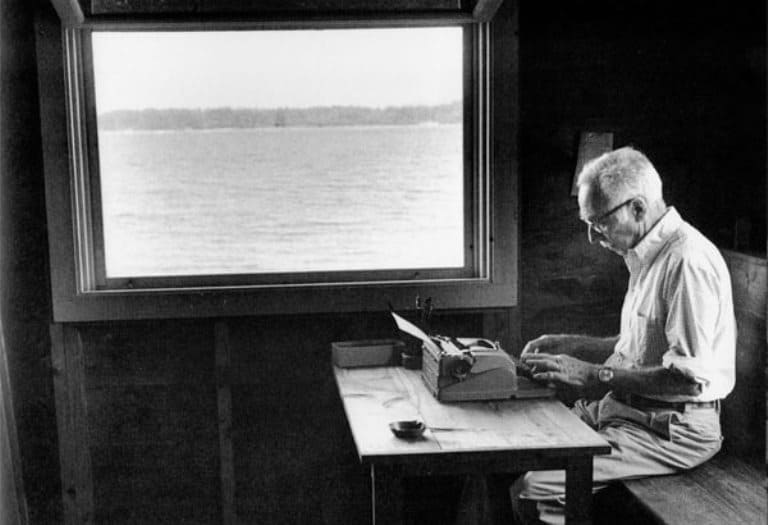 I wanted to improve my writing skills. I thought that reading the forty best essays of all time would bring me closer to my goal.
I had little money (buying forty collections of essays was out of the question) so I've found them online instead. I've hacked through piles of them, and finally, I've found the great ones. Now I want to share the whole list with you (with the addition of my notes about writing). Each item on the list has a direct link to the essay, so please click away and indulge yourself. Also, next to each essay, there's an image of the book that contains the original work.
About this essay list:
Reading essays is like indulging in candy; once you start, it's hard to stop. I sought out essays that were not only well-crafted but also impactful. These pieces genuinely shifted my perspective. Whether you're diving in for enjoyment or to hone your writing, these essays promise to leave an imprint. It's fascinating how an essay can resonate with you, and even if details fade, its essence remains. I haven't ranked them in any way; they're all stellar. Skim through, explore the summaries, and pick up some writing tips along the way. For more essay gems, consider "Best American Essays" by Joyce Carol Oates or "101 Essays That Will Change The Way You Think" curated by Brianna Wiest.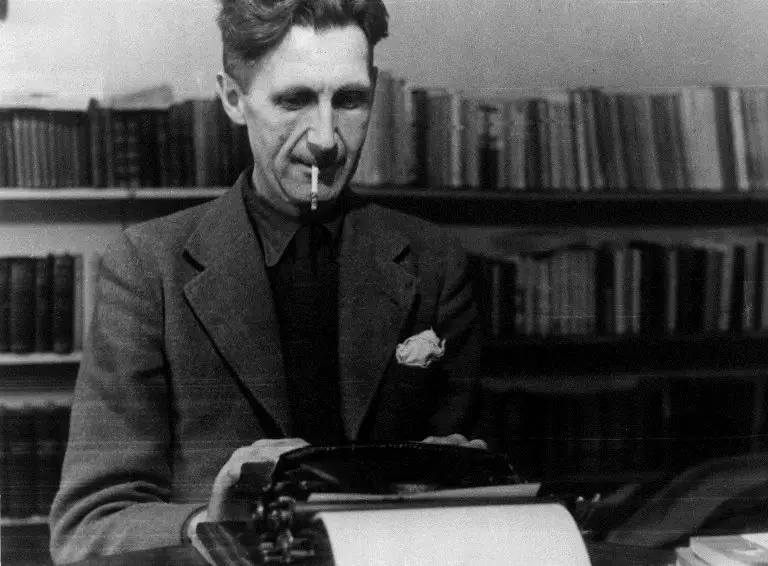 40 Best Essays of All Time (With Links And Writing Tips)
1. david sedaris – laugh, kookaburra.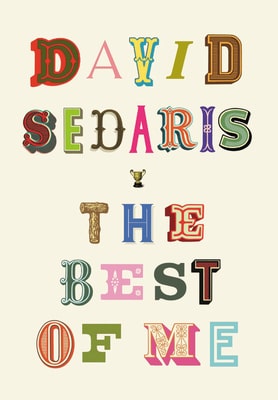 A great family drama takes place against the backdrop of the Australian wilderness. And the Kookaburra laughs… This is one of the top essays of the lot. It's a great mixture of family reminiscences, travel writing, and advice on what's most important in life. You'll also learn an awful lot about the curious culture of the Aussies.
Writing tips from the essay:
Use analogies (you can make it funny or dramatic to achieve a better effect): "Don't be afraid," the waiter said, and he talked to the kookaburra in a soothing, respectful voice, the way you might to a child with a switchblade in his hand".
You can touch a few cognate stories in one piece of writing . Reveal the layers gradually. Intertwine them and arrange for a grand finale where everything is finally clear.
Be on the side of the reader. Become their friend and tell the story naturally, like around the dinner table.
Use short, punchy sentences. Tell only as much as is required to make your point vivid.
Conjure sentences that create actual feelings: "I had on a sweater and a jacket, but they weren't quite enough, and I shivered as we walked toward the body, and saw that it was a . . . what, exactly?"
You may ask a few tough questions in a row to provoke interest and let the reader think.
2. Charles D'Ambrosio – Documents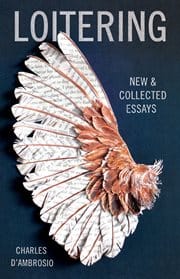 Do you think your life punches you in the face all too often? After reading this essay, you will change your mind. Reading about loss and hardships often makes us sad at first, but then enables us to feel grateful for our lives . D'Ambrosio shares his documents (poems, letters) that had a major impact on his life, and brilliantly shows how not to let go of the past.
The most powerful stories are about your family and the childhood moments that shaped your life.
You don't need to build up tension and pussyfoot around the crux of the matter. Instead, surprise the reader by telling it like it is: "The poem was an allegory about his desire to leave our family." Or: "My father had three sons. I'm the eldest; Danny, the youngest, killed himself sixteen years ago".
You can use real documents and quotes from your family and friends. It makes it so much more personal and relatable.
Don't cringe before the long sentence if you know it's a strong one.
At the end of the essay, you may come back to the first theme to close the circuit.
Using slightly poetic language is acceptable, as long as it improves the story.
3. E. B. White – Once more to the lake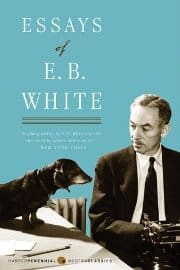 What does it mean to be a father? Can you see your younger self, reflected in your child? This beautiful essay tells the story of the author, his son, and their traditional stay at a placid lake hidden within the forests of Maine. This place of nature is filled with sunshine and childhood memories. It also provides for one of the greatest meditations on nature and the passing of time.
Use sophisticated language, but not at the expense of readability.
Use vivid language to trigger the mirror neurons in the reader's brain: "I took along my son, who had never had any fresh water up his nose and who had seen lily pads only from train windows".
It's important to mention universal feelings that are rarely talked about (it helps to create a bond between two minds): "You remember one thing, and that suddenly reminds you of another thing. I guess I remembered clearest of all the early mornings when the lake was cool and motionless".
Animate the inanimate: "this constant and trustworthy body of water".
Mentioning tales of yore is a good way to add some mystery and timelessness to your piece.
Using double, or even triple "and" in one sentence is fine. It can make the sentence sing.
4. Zadie Smith – Fail Better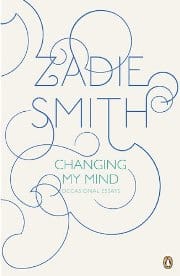 Aspiring writers feel tremendous pressure to perform. The daily quota of words often turns out to be nothing more than gibberish. What then? Also, should the writer please the reader or should she be fully independent? What does it mean to be a writer, anyway? This essay is an attempt to answer these questions, but its contents are not only meant for scribblers. Within it, you'll find some great notes about literary criticism, how we treat art , and the responsibility of the reader.
A perfect novel ? There's no such thing.
The novel always reflects the inner world of the writer. That's why we're fascinated with writers.
Writing is not simply about craftsmanship, but about taking your reader to the unknown lands. In the words of Christopher Hitchens: "Your ideal authors ought to pull you from the foundering of your previous existence, not smilingly guide you into a friendly and peaceable harbor."
Style comes from your unique personality and the perception of the world. It takes time to develop it.
Never try to tell it all. "All" can never be put into language. Take a part of it and tell it the best you can.
Avoid being cliché. Try to infuse new life into your writing .
Writing is about your way of being. It's your game. Paradoxically, if you try to please everyone, your writing will become less appealing. You'll lose the interest of the readers. This rule doesn't apply in the business world where you have to write for a specific person (a target audience).
As a reader, you have responsibilities too. According to the critics, every thirty years, there's just a handful of great novels. Maybe it's true. But there's also an element of personal connection between the reader and the writer. That's why for one person a novel is a marvel, while for the other, nothing special at all. That's why you have to search and find the author who will touch you.
5. Virginia Woolf – Death of the Moth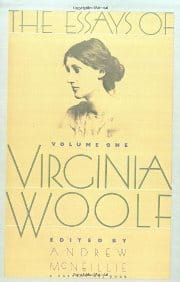 Amid an ordinary day, sitting in a room of her own, Virginia Woolf tells about the epic struggle for survival and the evanescence of life. This short essay is truly powerful. In the beginning, the atmosphere is happy. Life is in full force. And then, suddenly, it fades away. This sense of melancholy would mark the last years of Woolf's life.
The melody of language… A good sentence is like music: "Moths that fly by day are not properly to be called moths; they do not excite that pleasant sense of dark autumn nights and ivy-blossom which the commonest yellow- underwing asleep in the shadow of the curtain never fails to rouse in us".
You can show the grandest in the mundane (for example, the moth at your window and the drama of life and death).
Using simple comparisons makes the style more lucid: "Being intent on other matters I watched these futile attempts for a time without thinking, unconsciously waiting for him to resume his flight, as one waits for a machine, that has stopped momentarily, to start again without considering the reason of its failure".
6. Meghan Daum – My Misspent Youth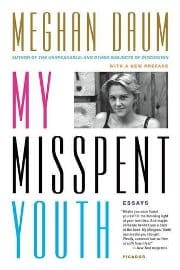 Many of us, at some point or another, dream about living in New York. Meghan Daum's take on the subject differs slightly from what you might expect. There's no glamour, no Broadway shows, and no fancy restaurants. Instead, there's the sullen reality of living in one of the most expensive cities in the world. You'll get all the juicy details about credit cards, overdue payments, and scrambling for survival. It's a word of warning. But it's also a great story about shattered fantasies of living in a big city. Word on the street is: "You ain't promised mañana in the rotten manzana."
You can paint a picture of your former self. What did that person believe in? What kind of world did he or she live in?
"The day that turned your life around" is a good theme you may use in a story. Memories of a special day are filled with emotions. Strong emotions often breed strong writing.
Use cultural references and relevant slang to create a context for your story.
You can tell all the details of the story, even if in some people's eyes you'll look like the dumbest motherfucker that ever lived. It adds to the originality.
Say it in a new way: "In this mindset, the dollars spent, like the mechanics of a machine no one bothers to understand, become an abstraction, an intangible avenue toward self-expression, a mere vehicle of style".
You can mix your personal story with the zeitgeist or the ethos of the time.
7. Roger Ebert – Go Gentle Into That Good Night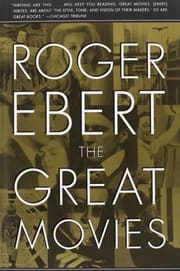 Probably the greatest film critic of all time, Roger Ebert, tells us not to rage against the dying of the light. This essay is full of courage, erudition, and humanism. From it, we learn about what it means to be dying (Hitchens' "Mortality" is another great work on that theme). But there's so much more. It's a great celebration of life too. It's about not giving up, and sticking to your principles until the very end. It brings to mind the famous scene from Dead Poets Society where John Keating (Robin Williams) tells his students: "Carpe, carpe diem, seize the day boys, make your lives extraordinary".
Start with a powerful sentence: "I know it is coming, and I do not fear it, because I believe there is nothing on the other side of death to fear."
Use quotes to prove your point -"'Ask someone how they feel about death', he said, 'and they'll tell you everyone's gonna die'. Ask them, 'In the next 30 seconds?' No, no, no, that's not gonna happen".
Admit the basic truths about reality in a childlike way (especially after pondering quantum physics) – "I believe my wristwatch exists, and even when I am unconscious, it is ticking all the same. You have to start somewhere".
Let other thinkers prove your point. Use quotes and ideas from your favorite authors and friends.
8. George Orwell – Shooting an Elephant
Even after one reading, you'll remember this one for years. The story, set in British Burma, is about shooting an elephant (it's not for the squeamish). It's also the most powerful denunciation of colonialism ever put into writing. Orwell, apparently a free representative of British rule, feels to be nothing more than a puppet succumbing to the whim of the mob.
The first sentence is the most important one: "In Moulmein, in Lower Burma, I was hated by large numbers of people — the only time in my life that I have been important enough for this to happen to me".
You can use just the first paragraph to set the stage for the whole piece of prose.
Use beautiful language that stirs the imagination: "I remember that it was a cloudy, stuffy morning at the beginning of the rains." Or: "I watched him beating his bunch of grass against his knees, with that preoccupied grandmotherly air that elephants have."
If you've ever been to war, you will have a story to tell: "(Never tell me, by the way, that the dead look peaceful. Most of the corpses I have seen looked devilish.)"
Use simple words, and admit the sad truth only you can perceive: "They did not like me, but with the magical rifle in my hands I was momentarily worth watching".
Share words of wisdom to add texture to the writing: "I perceived at this moment that when the white man turns tyrant it is his freedom that he destroys."
I highly recommend reading everything written by Orwell, especially if you're looking for the best essay collections on Amazon or Goodreads.
9. George Orwell – A Hanging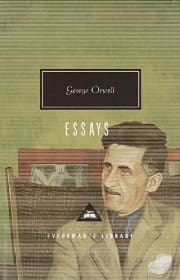 It's just another day in Burma – time to hang a man. Without much ado, Orwell recounts the grim reality of taking another person's life. A man is taken from his cage and in a few minutes, he's going to be hanged. The most horrible thing is the normality of it. It's a powerful story about human nature. Also, there's an extraordinary incident with the dog, but I won't get ahead of myself.
Create brilliant, yet short descriptions of characters: "He was a Hindu, a puny wisp of a man, with a shaven head and vague liquid eyes. He had a thick, sprouting mustache, absurdly too big for his body, rather like the mustache of a comic man on the films".
Understand and share the felt presence of a unique experience: "It is curious, but till that moment I had never realized what it means to destroy a healthy, conscious man".
Make your readers hear the sound that will stay with them forever: "And then when the noose was fixed, the prisoner began crying out on his god. It was a high, reiterated cry of "Ram! Ram! Ram! Ram!"
Make the ending original by refusing the tendency to seek closure or summing it up.
10. Christopher Hitchens – Assassins of The Mind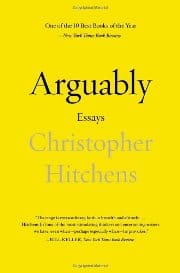 In one of the greatest essays written in defense of free speech, Christopher Hitchens shares many examples of how modern media kneel to the explicit threats of violence posed by Islamic extremists. He recounts the story of his friend, Salman Rushdie, author of Satanic Verses who, for many years, had to watch over his shoulder because of the fatwa of Ayatollah Khomeini. With his usual wit, Hitchens shares various examples of people who died because of their opinions and of editors who refuse to publish anything related to Islam because of fear (and it was written long before the Charlie Hebdo massacre). After reading the essay, you realize that freedom of expression is one of the most precious things we have and that we have to fight for it. I highly recommend all essay collections penned by Hitchens, especially the ones written for Vanity Fair.
Assume that the readers will know the cultural references. When they do, their self-esteem goes up – they are a part of an insider group.
When proving your point, give a variety of real-life examples from eclectic sources. Leave no room for ambiguity or vagueness. Research and overall knowledge are essential here.
Use italics to emphasize a specific word or phrase (here I use the underlining): "We live now in a climate where every publisher and editor and politician has to weigh in advance the possibility of violent Muslim reprisal. In consequence, several things have not happened."
Think about how to make it sound more original: "So there is now a hidden partner in our cultural and academic and publishing and the broadcasting world: a shadowy figure that has, uninvited, drawn up a chair to the table."
11. Christopher Hitchens – The New Commandments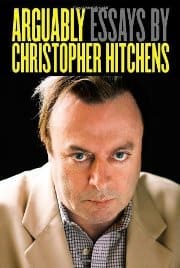 It's high time to shatter the tablets and amend the biblical rules of conduct. Watch, as Christopher Hitchens slays one commandment after the other on moral, as well as historical grounds. For example, did you know that there are many versions of the divine law dictated by God to Moses which you can find in the Bible? Aren't we thus empowered to write our version of a proper moral code? If you approach it with an open mind, this essay may change the way you think about the Bible and religion.
Take the iconoclastic approach. Have a party on the hallowed soil.
Use humor to undermine orthodox ideas (it seems to be the best way to deal with an established authority).
Use sarcasm and irony when appropriate (or not): "Nobody is opposed to a day of rest. The international Communist movement got its start by proclaiming a strike for an eight-hour day on May 1, 1886, against Christian employers who used child labor seven days a week".
Defeat God on legal grounds: "Wise lawmakers know that it is a mistake to promulgate legislation that is impossible to obey".
Be ruthless in the logic of your argument. Provide evidence.
12. Phillip Lopate – Against Joie de Vivre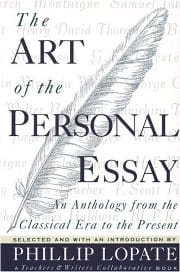 While reading this fantastic essay, this quote from Slavoj Žižek kept coming back to me: "I think that the only life of deep satisfaction is a life of eternal struggle, especially struggle with oneself. If you want to remain happy, just remain stupid. Authentic masters are never happy; happiness is a category of slaves". I can bear the onus of happiness or joie de vivre for some time. But this force enables me to get free and wallow in the sweet feelings of melancholy and nostalgia. By reading this work of Lopate, you'll enter into the world of an intelligent man who finds most social rituals a drag. It's worth exploring.
Go against the grain. Be flamboyant and controversial (if you can handle it).
Treat the paragraph like a group of thoughts on one theme. Next paragraph, next theme.
Use references to other artists to set the context and enrich the prose: "These sunny little canvases with their talented innocence, the third-generation spirit of Montmartre, bore testimony to a love of life so unbending as to leave an impression of rigid narrow-mindedness as extreme as any Savonarola. Their rejection of sorrow was total".
Capture the emotions in life that are universal, yet remain unspoken.
Don't be afraid to share your intimate experiences.
13. Philip Larkin – The Pleasure Principle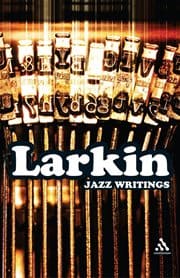 This piece comes from the Required Writing collection of personal essays. Larkin argues that reading in verse should be a source of intimate pleasure – not a medley of unintelligible thoughts that only the author can (or can't?) decipher. It's a sobering take on modern poetry and a great call to action for all those involved in it. Well worth a read.
Write about complicated ideas (such as poetry) simply. You can change how people look at things if you express yourself enough.
Go boldly. The reader wants a bold writer: "We seem to be producing a new kind of bad poetry, not the old kind that tries to move the reader and fails, but one that does not even try".
Play with words and sentence length. Create music: "It is time some of you playboys realized, says the judge, that reading a poem is hard work. Fourteen days in stir. Next case".
Persuade the reader to take action. Here, direct language is the most effective.
14. Sigmund Freud – Thoughts for the Times on War and Death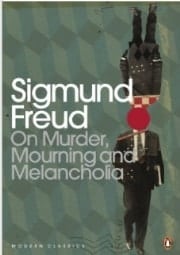 This essay reveals Freud's disillusionment with the whole project of Western civilization. How the peaceful European countries could engage in a war that would eventually cost over 17 million lives? What stirs people to kill each other? Is it their nature, or are they puppets of imperial forces with agendas of their own? From the perspective of time, this work by Freud doesn't seem to be fully accurate. Even so, it's well worth your time.
Commence with long words derived from Latin. Get grandiloquent, make your argument incontrovertible, and leave your audience discombobulated.
Use unending sentences, so that the reader feels confused, yet impressed.
Say it well: "In this way, he enjoyed the blue sea and the grey; the beauty of snow-covered mountains and green meadowlands; the magic of northern forests and the splendor of southern vegetation; the mood evoked by landscapes that recall great historical events, and the silence of untouched nature".
Human nature is a subject that never gets dry.
15. Zadie Smith – Some Notes on Attunement
"You are privy to a great becoming, but you recognize nothing" – Francis Dolarhyde. This one is about the elusiveness of change occurring within you. For Zadie, it was hard to attune to the vibes of Joni Mitchell – especially her Blue album. But eventually, she grew up to appreciate her genius, and all the other things changed as well. This top essay is all about the relationship between humans, and art. We shouldn't like art because we're supposed to. We should like it because it has an instantaneous, emotional effect on us. Although, according to Stansfield (Gary Oldman) in Léon, liking Beethoven is rather mandatory.
Build an expectation of what's coming: "The first time I heard her I didn't hear her at all".
Don't be afraid of repetition if it feels good.
Psychedelic drugs let you appreciate things you never appreciated.
Intertwine a personal journey with philosophical musings.
Show rather than tell: "My friends pitied their eyes. The same look the faithful give you as you hand them back their "literature" and close the door in their faces".
Let the poets speak for you: "That time is past, / And all its aching joys are now no
more, / And all its dizzy raptures".
By voicing your anxieties, you can heal the anxieties of the reader. In that way, you say: "I'm just like you. I'm your friend in this struggle".
Admit your flaws to make your persona more relatable.
16. Annie Dillard – Total Eclipse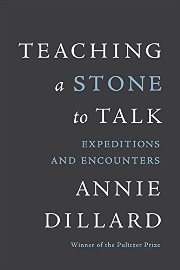 My imagination was always stirred by the scene of the solar eclipse in Pharaoh, by Boleslaw Prus. I wondered about the shock of the disoriented crowd when they saw how their ruler could switch off the light. Getting immersed in this essay by Annie Dillard has a similar effect. It produces amazement and some kind of primeval fear. It's not only the environment that changes; it's your mind and the perception of the world. After the eclipse, nothing is going to be the same again.
Yet again, the power of the first sentence draws you in: "It had been like dying, that sliding down the mountain pass".
Don't miss the extraordinary scene. Then describe it: "Up in the sky, like a crater from some distant cataclysm, was a hollow ring".
Use colloquial language. Write as you talk. Short sentences often win.
Contrast the numinous with the mundane to enthrall the reader.
17. Édouard Levé – When I Look at a Strawberry, I Think of a Tongue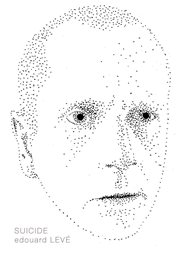 This suicidally beautiful essay will teach you a lot about the appreciation of life and the struggle with mental illness. It's a collection of personal, apparently unrelated thoughts that show us the rich interior of the author. You look at the real-time thoughts of another person, and then recognize the same patterns within yourself… It sounds like a confession of a person who's about to take their life, and it's striking in its originality.
Use the stream-of-consciousness technique and put random thoughts on paper. Then, polish them: "I have attempted suicide once, I've been tempted four times to attempt it".
Place the treasure deep within the story: "When I look at a strawberry, I think of a tongue, when I lick one, of a kiss".
Don't worry about what people might think. The more you expose, the more powerful the writing. Readers also take part in the great drama. They experience universal emotions that mostly stay inside.  You can translate them into writing.
18. Gloria E. Anzaldúa – How to Tame a Wild Tongue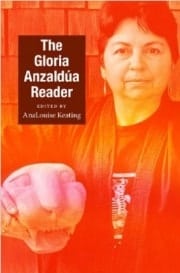 Anzaldúa, who was born in south Texas, had to struggle to find her true identity. She was American, but her culture was grounded in Mexico. In this way, she and her people were not fully respected in either of the countries. This essay is an account of her journey of becoming the ambassador of the Chicano (Mexican-American) culture. It's full of anecdotes, interesting references, and different shades of Spanish. It's a window into a new cultural dimension that you've never experienced before.
If your mother tongue is not English, but you write in English, use some of your unique homeland vocabulary.
You come from a rich cultural heritage. You can share it with people who never heard about it, and are not even looking for it, but it is of immense value to them when they discover it.
Never forget about your identity. It is precious. It is a part of who you are. Even if you migrate, try to preserve it. Use it to your best advantage and become the voice of other people in the same situation.
Tell them what's really on your mind: "So if you want to hurt me, talk badly about my language. Ethnic identity is twin skin to linguistic identity – I am my language".
19. Kurt Vonnegut – Dispatch From A Man Without a Country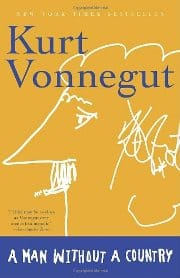 In terms of style, this essay is flawless. It's simple, conversational, humorous, and yet, full of wisdom. And when Vonnegut becomes a teacher and draws an axis of "beginning – end", and, "good fortune – bad fortune" to explain literature, it becomes outright hilarious. It's hard to find an author with such a down-to-earth approach. He doesn't need to get intellectual to prove a point. And the point could be summed up by the quote from Great Expectations – "On the Rampage, Pip, and off the Rampage, Pip – such is Life!"
Start with a curious question: "Do you know what a twerp is?"
Surprise your readers with uncanny analogies: "I am from a family of artists. Here I am, making a living in the arts. It has not been a rebellion. It's as though I had taken over the family Esso station."
Use your natural language without too many special effects. In time, the style will crystalize.
An amusing lesson in writing from Mr. Vonnegut: "Here is a lesson in creative writing. First rule: Do not use semicolons. They are transvestite hermaphrodites representing absolutely nothing. All they do is show you've been to college".
You can put actual images or vignettes between the paragraphs to illustrate something.
20. Mary Ruefle – On Fear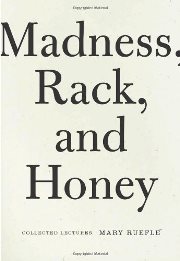 Most psychologists and gurus agree that fear is the greatest enemy of success or any creative activity. It's programmed into our minds to keep us away from imaginary harm. Mary Ruefle takes on this basic human emotion with flair. She explores fear from so many angles (especially in the world of poetry-writing) that at the end of this personal essay, you will look at it, dissect it, untangle it, and hopefully be able to say "f**k you" the next time your brain is trying to stop you.
Research your subject thoroughly. Ask people, have interviews, get expert opinions, and gather as much information as possible. Then scavenge through the fields of data, and pull out the golden bits that will let your prose shine.
Use powerful quotes to add color to your story: "The poet who embarks on the creation of the poem (as I know by experience), begins with the aimless sensation of a hunter about to embark on a night hunt through the remotest of forests. Unaccountable dread stirs in his heart". – Lorca.
Writing advice from the essay: "One of the fears a young writer has is not being able to write as well as he or she wants to, the fear of not being able to sound like X or Y, a favorite author. But out of fear, hopefully, is born a young writer's voice".
21. Susan Sontag – Against Interpretation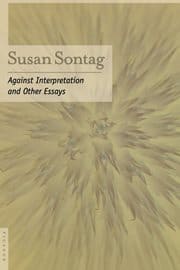 In this highly intellectual essay, Sontag fights for art and its interpretation. It's a great lesson, especially for critics and interpreters who endlessly chew on works that simply defy interpretation. Why don't we just leave the art alone? I always hated it when at school they asked me: "What did the author have in mind when he did X or Y?" Iēsous Pantocrator! Hell if I know! I will judge it through my subjective experience!
Leave the art alone: "Today is such a time, when the project of interpretation is reactionary, stifling. Like the fumes of the automobile and heavy industry which befoul the urban atmosphere, the effusion of interpretations of art today poisons our sensibilities".
When you have something really important to say, style matters less.
There's no use in creating a second meaning or inviting interpretation of our art. Just leave it be and let it speak for itself.
22. Nora Ephron – A Few Words About Breasts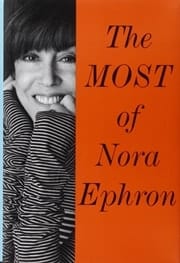 This is a heartwarming, coming-of-age story about a young girl who waits in vain for her breasts to grow. It's simply a humorous and pleasurable read. The size of breasts is a big deal for women. If you're a man, you may peek into the mind of a woman and learn many interesting things. If you're a woman, maybe you'll be able to relate and at last, be at peace with your bosom.
Touch an interesting subject and establish a strong connection with the readers (in that case, women with small breasts). Let your personality shine through the written piece. If you are lighthearted, show it.
Use hyphens to create an impression of real talk: "My house was full of apples and peaches and milk and homemade chocolate chip cookies – which were nice, and good for you, but-not-right-before-dinner-or-you'll-spoil-your-appetite."
Use present tense when you tell a story to add more life to it.
Share the pronounced, memorable traits of characters: "A previous girlfriend named Solange, who was famous throughout Beverly Hills High School for having no pigment in her right eyebrow, had knitted them for him (angora dice)".
23. Carl Sagan – Does Truth Matter – Science, Pseudoscience, and Civilization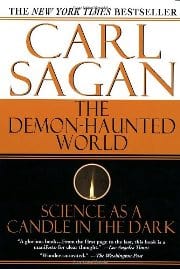 Carl Sagan was one of the greatest proponents of skepticism, and an author of numerous books, including one of my all-time favorites – The Demon-Haunted World . He was also a renowned physicist and the host of the fantastic Cosmos: A Personal Voyage series, which inspired a whole generation to uncover the mysteries of the cosmos. He was also a dedicated weed smoker – clearly ahead of his time. The essay that you're about to read is a crystallization of his views about true science, and why you should check the evidence before believing in UFOs or similar sorts of crap.
Tell people the brutal truth they need to hear. Be the one who spells it out for them.
Give a multitude of examples to prove your point. Giving hard facts helps to establish trust with the readers and show the veracity of your arguments.
Recommend a good book that will change your reader's minds – How We Know What Isn't So: The Fallibility of Human Reason in Everyday Life
24. Paul Graham – How To Do What You Love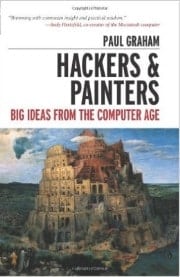 How To Do What You Love should be read by every college student and young adult. The Internet is flooded with a large number of articles and videos that are supposed to tell you what to do with your life. Most of them are worthless, but this one is different. It's sincere, and there's no hidden agenda behind it. There's so much we take for granted – what we study, where we work, what we do in our free time… Surely we have another two hundred years to figure it out, right? Life's too short to be so naïve. Please, read the essay and let it help you gain fulfillment from your work.
Ask simple, yet thought-provoking questions (especially at the beginning of the paragraph) to engage the reader: "How much are you supposed to like what you do?"
Let the readers question their basic assumptions: "Prestige is like a powerful magnet that warps even your beliefs about what you enjoy. It causes you to work not on what you like, but what you'd like to like".
If you're writing for a younger audience, you can act as a mentor. It's beneficial for younger people to read a few words of advice from a person with experience.
25. John Jeremiah Sullivan – Mister Lytle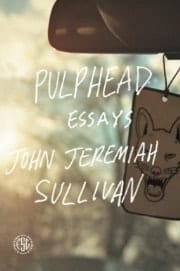 A young, aspiring writer is about to become a nurse of a fading writer – Mister Lytle (Andrew Nelson Lytle), and there will be trouble. This essay by Sullivan is probably my favorite one from the whole list. The amount of beautiful sentences it contains is just overwhelming. But that's just a part of its charm. It also takes you to the Old South which has an incredible atmosphere. It's grim and tawny but you want to stay there for a while.
Short, distinct sentences are often the most powerful ones: "He had a deathbed, in other words. He didn't go suddenly".
Stay consistent with the mood of the story. When reading Mister Lytle you are immersed in that southern, forsaken, gloomy world, and it's a pleasure.
The spectacular language that captures it all: "His French was superb, but his accent in English was best—that extinct mid-Southern, land-grant pioneer speech, with its tinges of the abandoned Celtic urban Northeast ("boned" for burned) and its raw gentility".
This essay is just too good. You have to read it.
26. Joan Didion – On Self Respect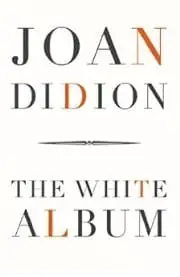 Normally, with that title, you would expect some straightforward advice about how to improve your character and get on with your goddamn life – but not from Joan Didion. From the very beginning, you can feel the depth of her thinking, and the unmistakable style of a true woman who's been hurt. You can learn more from this essay than from whole books about self-improvement . It reminds me of the scene from True Detective, where Frank Semyon tells Ray Velcoro to "own it" after he realizes he killed the wrong man all these years ago. I guess we all have to "own it", recognize our mistakes, and move forward sometimes.
Share your moral advice: "Character — the willingness to accept responsibility for one's own life — is the source from which self-respect springs".
It's worth exploring the subject further from a different angle. It doesn't matter how many people have already written on self-respect or self-reliance – you can still write passionately about it.
Whatever happens, you must take responsibility for it. Brave the storms of discontent.
27. Susan Sontag – Notes on Camp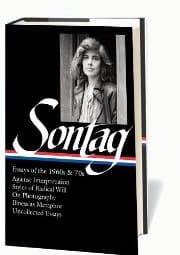 I've never read anything so thorough and lucid about an artistic current. After reading this essay, you will know what camp is. But not only that – you will learn about so many artists you've never heard of. You will follow their traces and go to places where you've never been before. You will vastly increase your appreciation of art. It's interesting how something written as a list could be so amazing. All the listicles we usually see on the web simply cannot compare with it.
Talking about artistic sensibilities is a tough job. When you read the essay, you will see how much research, thought and raw intellect came into it. But that's one of the reasons why people still read it today, even though it was written in 1964.
You can choose an unorthodox way of expression in the medium for which you produce. For example, Notes on Camp is a listicle – one of the most popular content formats on the web. But in the olden days, it was uncommon to see it in print form.
Just think about what is camp: "And third among the great creative sensibilities is Camp: the sensibility of failed seriousness, of the theatricalization of experience. Camp refuses both the harmonies of traditional seriousness and the risks of fully identifying with extreme states of feeling".
28. Ralph Waldo Emerson – Self-Reliance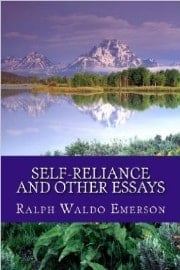 That's the oldest one from the lot. Written in 1841, it still inspires generations of people. It will let you understand what it means to be self-made. It contains some of the most memorable quotes of all time. I don't know why, but this one especially touched me: "Every true man is a cause, a country, and an age; requires infinite spaces and numbers and time fully to accomplish his design, and posterity seems to follow his steps as a train of clients". Now isn't it purely individualistic, American thought? Emerson told me (and he will tell you) to do something amazing with my life. The language it contains is a bit archaic, but that just adds to the weight of the argument. You can consider it to be a meeting with a great philosopher who shaped the ethos of the modern United States.
You can start with a powerful poem that will set the stage for your work.
Be free in your creative flow. Do not wait for the approval of others: "What I must do is all that concerns me, not what the people think. This rule, equally arduous in actual and in intellectual life, may serve for the whole distinction between greatness and meanness".
Use rhetorical questions to strengthen your argument: "I hear a preacher announce for his text and topic the expediency of one of the institutions of his church. Do I not know beforehand that not possibly say a new and spontaneous word?"
29. David Foster Wallace – Consider The Lobster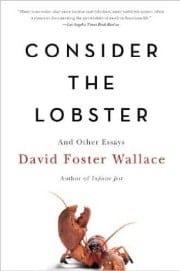 When you want simple field notes about a food festival, you needn't send there the formidable David Foster Wallace. He sees right through the hypocrisy and cruelty behind killing hundreds of thousands of innocent lobsters – by boiling them alive. This essay uncovers some of the worst traits of modern American people. There are no apologies or hedging one's bets. There's just plain truth that stabs you in the eye like a lobster claw. After reading this essay, you may reconsider the whole animal-eating business.
When it's important, say it plainly and stagger the reader: "[Lobsters] survive right up until they're boiled. Most of us have been in supermarkets or restaurants that feature tanks of live lobster, from which you can pick out your supper while it watches you point".
In your writing, put exact quotes of the people you've been interviewing (including slang and grammatical errors). It makes it more vivid, and interesting.
You can use humor in serious situations to make your story grotesque.
Use captions to expound on interesting points of your essay.
30. David Foster Wallace – The Nature of the Fun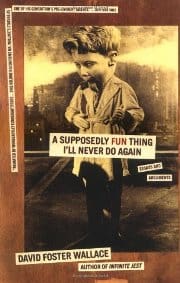 The famous novelist and author of the most powerful commencement speech ever done is going to tell you about the joys and sorrows of writing a work of fiction. It's like taking care of a mutant child that constantly oozes smelly liquids. But you love that child and you want others to love it too. It's a very humorous account of what it means to be an author. If you ever plan to write a novel, you should read that one. And the story about the Chinese farmer is just priceless.
Base your point on a chimerical analogy. Here, the writer's unfinished work is a "hideously damaged infant".
Even in expository writing, you may share an interesting story to keep things lively.
Share your true emotions (even when you think they won't interest anyone). Often, that's exactly what will interest the reader.
Read the whole essay for marvelous advice on writing fiction.
31. Margaret Atwood – Attitude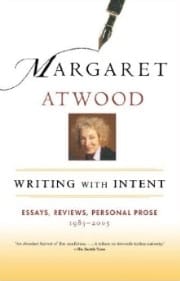 This is not an essay per se, but I included it on the list for the sake of variety. It was delivered as a commencement speech at The University of Toronto, and it's about keeping the right attitude. Soon after leaving university, most graduates have to forget about safety, parties, and travel and start a new life – one filled with a painful routine that will last until they drop. Atwood says that you don't have to accept that. You can choose how you react to everything that happens to you (and you don't have to stay in that dead-end job for the rest of your days).
At times, we are all too eager to persuade, but the strongest persuasion is not forceful. It's subtle. It speaks to the heart. It affects you gradually.
You may be tempted to talk about a subject by first stating what it is not, rather than what it is. Try to avoid that.
Simple advice for writers (and life in general): "When faced with the inevitable, you always have a choice. You may not be able to alter reality, but you can alter your attitude towards it".
32. Jo Ann Beard – The Fourth State of Matter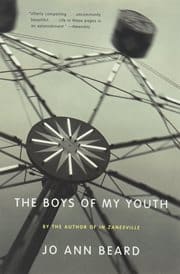 Read that one as soon as possible. It's one of the most masterful and impactful essays you'll ever read. It's like a good horror – a slow build-up, and then your jaw drops to the ground. To summarize the story would be to spoil it, so I recommend that you just dig in and devour this essay in one sitting. It's a perfect example of "show, don't tell" writing, where the actions of characters are enough to create the right effect. No need for flowery adjectives here.
The best story you will tell is going to come from your personal experience.
Use mysteries that will nag the reader. For example, at the beginning of the essay, we learn about the "vanished husband" but there's no explanation. We have to keep reading to get the answer.
Explain it in simple terms: "You've got your solid, your liquid, your gas, and then your plasma". Why complicate?
33. Terence McKenna – Tryptamine Hallucinogens and Consciousness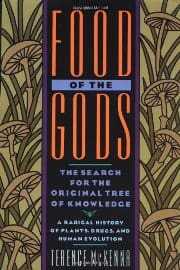 To me, Terence McKenna was one of the most interesting thinkers of the twentieth century. His many lectures (now available on YouTube) attracted millions of people who suspect that consciousness holds secrets yet to be unveiled. McKenna consumed psychedelic drugs for most of his life and it shows (in a positive way). Many people consider him a looney, and a hippie, but he was so much more than that. He dared to go into the abyss of his psyche and come back to tell the tale. He also wrote many books (the most famous being Food Of The Gods ), built a huge botanical garden in Hawaii , lived with shamans, and was a connoisseur of all things enigmatic and obscure. Take a look at this essay, and learn more about the explorations of the subconscious mind.
Become the original thinker, but remember that it may require extraordinary measures: "I call myself an explorer rather than a scientist because the area that I'm looking at contains insufficient data to support even the dream of being a science".
Learn new words every day to make your thoughts lucid.
Come up with the most outlandish ideas to push the envelope of what's possible. Don't take things for granted or become intellectually lazy. Question everything.
34. Eudora Welty – The Little Store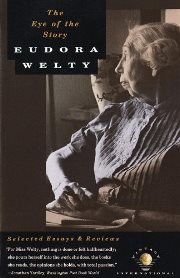 By reading this little-known essay, you will be transported into the world of the old American South. It's a remembrance of trips to the little store in a little town. It's warm and straightforward, and when you read it, you feel like a child once more. All these beautiful memories live inside of us. They lay somewhere deep in our minds, hidden from sight. The work by Eudora Welty is an attempt to uncover some of them and let you get reacquainted with some smells and tastes of the past.
When you're from the South, flaunt it. It's still good old English but sometimes it sounds so foreign. I can hear the Southern accent too: "There were almost tangible smells – licorice recently sucked in a child's cheek, dill-pickle brine that had leaked through a paper sack in a fresh trail across the wooden floor, ammonia-loaded ice that had been hoisted from wet Croker sacks and slammed into the icebox with its sweet butter at the door, and perhaps the smell of still-untrapped mice".
Yet again, never forget your roots.
Childhood stories can be the most powerful ones. You can write about how they shaped you.
35. John McPhee – The Search for Marvin Gardens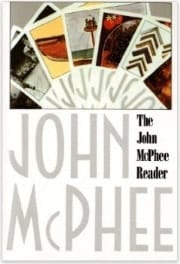 The Search for Marvin Gardens contains many layers of meaning. It's a story about a Monopoly championship, but also, it's the author's search for the lost streets visible on the board of the famous board game. It also presents a historical perspective on the rise and fall of civilizations, and on Atlantic City, which once was a lively place, and then, slowly declined, the streets filled with dirt and broken windows.
There's nothing like irony: "A sign- 'Slow, Children at Play'- has been bent backward by an automobile".
Telling the story in apparently unrelated fragments is sometimes better than telling the whole thing in a logical order.
Creativity is everything. The best writing may come just from connecting two ideas and mixing them to achieve a great effect. Shush! The muse is whispering.
36. Maxine Hong Kingston – No Name Woman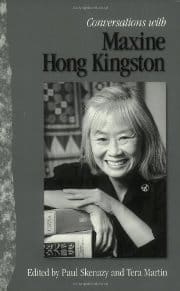 A dead body at the bottom of the well makes for a beautiful literary device. The first line of Orhan Pamuk's novel My Name Is Red delivers it perfectly: "I am nothing but a corpse now, a body at the bottom of a well". There's something creepy about the idea of the well. Just think about the "It puts the lotion in the basket" scene from The Silence of the Lambs. In the first paragraph of Kingston's essay, we learn about a suicide committed by uncommon means of jumping into the well. But this time it's a real story. Who was this woman? Why did she do it? Read the essay.
Mysterious death always gets attention. The macabre details are like daiquiris on a hot day – you savor them – you don't let them spill.
One sentence can speak volumes: "But the rare urge west had fixed upon our family, and so my aunt crossed boundaries not delineated in space".
It's interesting to write about cultural differences – especially if you have the relevant experience. Something normal for us is unthinkable for others. Show this different world.
The subject of sex is never boring.
37. Joan Didion – On Keeping A Notebook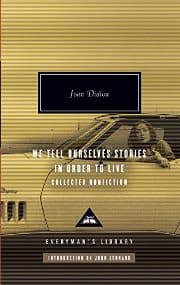 Slouching Towards Bethlehem is one of the most famous collections of essays of all time. In it, you will find a curious piece called On Keeping A Notebook. It's not only a meditation about keeping a journal. It's also Didion's reconciliation with her past self. After reading it, you will seriously reconsider your life's choices and look at your life from a wider perspective.
When you write things down in your journal, be more specific – unless you want to write a deep essay about it years later.
Use the beauty of the language to relate to the past: "I have already lost touch with a couple of people I used to be; one of them, a seventeen-year-old, presents little threat, although it would be of some interest to me to know again what it feels like to sit on a river levee drinking vodka-and-orange-juice and listening to Les Paul and Mary Ford and their echoes sing 'How High the Moon' on the car radio".
Drop some brand names if you want to feel posh.
38. Joan Didion – Goodbye To All That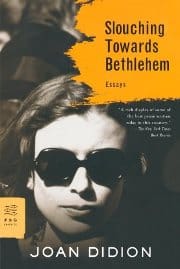 This one touched me because I also lived in New York City for a while. I don't know why, but stories about life in NYC are so often full of charm and this eerie-melancholy-jazz feeling. They are powerful. They go like this: "There was a hard blizzard in NYC. As the sound of sirens faded, Tony descended into the dark world of hustlers and pimps." That's pulp literature but in the context of NYC, it always sounds cool. Anyway, this essay is amazing in too many ways. You just have to read it.
Talk about New York City. They will read it.
Talk about the human experience: "It did occur to me to call the desk and ask that the air conditioner be turned off, I never called, because I did not know how much to tip whoever might come—was anyone ever so young?"
Look back at your life and reexamine it. Draw lessons from it.
39. George Orwell – Reflections on Gandhi
George Orwell could see things as they were. No exaggeration, no romanticism – just facts. He recognized totalitarianism and communism for what they were and shared his worries through books like 1984 and Animal Farm . He took the same sober approach when dealing with saints and sages. Today, we regard Gandhi as one of the greatest political leaders of the twentieth century – and rightfully so. But did you know that when asked about the Jews during World War II, Gandhi said that they should commit collective suicide and that it: "would have aroused the world and the people of Germany to Hitler's violence." He also recommended utter pacifism in 1942, during the Japanese invasion, even though he knew it would cost millions of lives. But overall he was a good guy. Read the essay and broaden your perspective on the Bapu of the Indian Nation.
Share a philosophical thought that stops the reader for a moment: "No doubt alcohol, tobacco, and so forth are things that a saint must avoid, but sainthood is also a thing that human beings must avoid".
Be straightforward in your writing – no mannerisms, no attempts to create 'style', and no invocations of the numinous – unless you feel the mystical vibe.
40. George Orwell – Politics and the English Language
Let Mr. Orwell give you some writing tips. Written in 1946, this essay is still one of the most helpful documents on writing in English. Orwell was probably the first person who exposed the deliberate vagueness of political language. He was very serious about it and I admire his efforts to slay all unclear sentences (including ones written by distinguished professors). But it's good to make it humorous too from time to time. My favorite examples of that would be the immortal Soft Language sketch by George Carlin or the "Romans Go Home" scene from Monty Python's Life of Brian. Overall, it's a great essay filled with examples from many written materials. It's a must-read for any writer.
Listen to the master: "This mixture of vagueness and sheer incompetence is the most marked characteristic of modern English prose." Do something about it.
This essay is all about writing better, so go to the source if you want the goodies.

Other Essays You May Find Interesting
The list that I've prepared is by no means complete. The literary world is full of exciting essays and you'll never know which one is going to change your life. I've found reading essays very rewarding because sometimes, a single one means more than reading a whole book. It's almost like wandering around and peeking into the minds of the greatest writers and thinkers that ever lived. To make this list more comprehensive, below I included more essays you may find interesting.
Oliver Sacks – On Libraries
One of the greatest contributors to the knowledge about the human mind, Oliver Sacks meditates on the value of libraries and his love of books.
Noam Chomsky – The Responsibility of Intellectuals
Chomsky did probably more than anyone else to define the role of the intelligentsia in the modern world . There is a war of ideas over there – good and bad – intellectuals are going to be those who ought to be fighting for the former.
Sam Harris – The Riddle of The Gun
Sam Harris, now a famous philosopher and neuroscientist, takes on the problem of gun control in the United States. His thoughts are clear of prejudice. After reading this, you'll appreciate the value of logical discourse overheated, irrational debate that more often than not has real implications on policy.
Tim Ferriss – Some Practical Thoughts on Suicide
This piece was written as a blog post , but it's worth your time. The author of the NYT bestseller The 4-Hour Workweek shares an emotional story about how he almost killed himself, and what can you do to save yourself or your friends from suicide.
Edward Said – Reflections on Exile
The life of Edward Said was a truly fascinating one. Born in Jerusalem, he lived between Palestine and Egypt and finally settled down in the United States, where he completed his most famous work – Orientalism. In this essay, he shares his thoughts about what it means to be in exile.
Richard Feynman – It's as Simple as One, Two, Three…
Richard Feynman is one of the most interesting minds of the twentieth century. He was a brilliant physicist, but also an undeniably great communicator of science, an artist, and a traveler. By reading this essay, you can observe his thought process when he tries to figure out what affects our perception of time. It's a truly fascinating read.
Rabindranath Tagore – The Religion of The Forest
I like to think about Tagore as my spiritual Friend. His poems are just marvelous. They are like some of the Persian verses that praise love, nature, and the unity of all things. By reading this short essay, you will learn a lot about Indian philosophy and its relation to its Western counterpart.
Richard Dawkins – Letter To His 10-Year-Old Daughter
Every father should be able to articulate his philosophy of life to his children. With this letter that's similar to what you find in the Paris Review essays , the famed atheist and defender of reason, Richard Dawkins, does exactly that. It's beautifully written and stresses the importance of looking at evidence when we're trying to make sense of the world.
Albert Camus – The Minotaur (or, The Stop In Oran)
Each person requires a period of solitude – a period when one's able to gather thoughts and make sense of life. There are many places where you may attempt to find quietude. Albert Camus tells about his favorite one.
Koty Neelis – 21 Incredible Life Lessons From Anthony Bourdain
I included it as the last one because it's not really an essay, but I just had to put it somewhere. In this listicle, you'll find the 21 most original thoughts of the high-profile cook, writer, and TV host, Anthony Bourdain. Some of them are shocking, others are funny, but they're all worth checking out.
Lucius Annaeus Seneca – On the Shortness of Life
It's similar to the Rubaiyat of Omar Khayyam because it praises life. Seneca shares some of his stoic philosophy and tells you not to waste your time on stupidities. Drink! – for once dead you shall never return.
Bertrand Russell – In Praise of Idleness
This old essay is a must-read for modern humans. We are so preoccupied with our work, our phones, and all the media input we drown in our business. Bertrand Russell tells you to chill out a bit – maybe it will do you some good.
James Baldwin – Stranger in the Village
It's an essay on the author's experiences as an African-American in a Swiss village, exploring race, identity, and alienation while highlighting the complexities of racial dynamics and the quest for belonging.
Bonus – More writing tips from two great books
The mission to improve my writing skills took me further than just going through the essays. I've come across some great books on writing too. I highly recommend you read them in their entirety. They're written beautifully and contain lots of useful knowledge. Below you'll find random (but useful) notes that I took from The Sense of Style and On Writing.
The Sense of Style – By Steven Pinker
Style manuals are full of inconsistencies. Following their advice might not be the best idea. They might make your prose boring.
Grammarians from all eras condemn students for not knowing grammar. But it just evolves. It cannot be rigid.
"Nothing worth learning can be taught" – Oscar Wilde. It's hard to learn to write from a manual – you have to read, write, and analyze.
Good writing makes you imagine things and feel them for yourself – use word pictures.
Don't fear using voluptuous words.
Phonesthetics – or how the words sound.
Use parallel language (consistency of tense).
Good writing finishes strong.
Write to someone. Never write for no one in mind. Try to show people your view of the world.
Don't tell everything you are going to say in summary (signposting) – be logical, but be conversational.
Don't be pompous.
Don't use quotation marks where they don't "belong". Be confident about your style.
Don't hedge your claims (research first, and then tell it like it is).
Avoid clichés and meta-concepts (concepts about concepts). Be more straightforward!
Not prevention – but prevents or prevented – don't use dead nouns.
Be more vivid while using your mother tongue – don't use passive where it's not needed. Direct the reader's gaze to something in the world.
The curse of knowledge – the reader doesn't know what you know – beware of that.
Explain technical terms.
Use examples when you explain a difficult term.
If you ever say "I think I understand this" it probably means you don't.
It's better to underestimate the lingo of your readers than to overestimate it.
Functional fixedness – if we know some object (or idea) well, we tend to see it in terms of usage, not just as an object.
Use concrete language instead of an abstraction.
Show your work to people before you publish (get feedback!).
Wait for a few days and then revise, revise, revise. Think about clarity and the sound of sentences. Then show it to someone. Then revise one more time. Then publish (if it's to be serious work).
Look at it from the perspective of other people.
Omit needless words.
Put the heaviest words at the end of the sentence.
It's good to use the passive, but only when appropriate.
Check all text for cohesion. Make sure that the sentences flow gently.
In expository work, go from general to more specific. But in journalism start from the big news and then give more details.
Use the paragraph break to give the reader a moment to take a breath.
Use the verb instead of a noun (make it more active) – not "cancellation", but "canceled". But after you introduce the action, you can refer to it with a noun.
Avoid too many negations.
If you write about why something is so, don't spend too much time writing about why it is not.
On Writing Well – By William Zinsser
Writing is a craft. You need to sit down every day and practice your craft.
You should re-write and polish your prose a lot.
Throw out all the clutter. Don't keep it because you like it. Aim for readability.
Look at the best examples of English literature . There's hardly any needless garbage there.
Use shorter expressions. Don't add extra words that don't bring any value to your work.
Don't use pompous language. Use simple language and say plainly what's going on ("because" equals "because").
The media and politics are full of cluttered prose (because it helps them to cover up for their mistakes).
You can't add style to your work (and especially, don't add fancy words to create an illusion of style). That will look fake. You need to develop a style.
Write in the "I" mode. Write to a friend or just for yourself. Show your personality. There is a person behind the writing.
Choose your words carefully. Use the dictionary to learn different shades of meaning.
Remember about phonology. Make music with words .
The lead is essential. Pull the reader in. Otherwise, your article is dead.
You don't have to make the final judgment on any topic. Just pick the right angle.
Do your research. Not just obvious research, but a deep one.
When it's time to stop, stop. And finish strong. Think about the last sentence. Surprise them.
Use quotations. Ask people. Get them talking.
If you write about travel, it must be significant to the reader. Don't bother with the obvious. Choose your words with special care. Avoid travel clichés at all costs. Don't tell that the sand was white and there were rocks on the beach. Look for the right detail.
If you want to learn how to write about art, travel, science, etc. – read the best examples available. Learn from the masters.
Concentrate on one big idea ("Let's not go peeing down both legs").
"The reader has to feel that the writer is feeling good."
One very helpful question: "What is the piece really about?" (Not just "What the piece is about?")
Now immerse yourself in the world of essays
By reading the essays from the list above, you'll become a better writer , a better reader, but also a better person. An essay is a special form of writing. It is the only literary form that I know of that is an absolute requirement for career or educational advancement. Nowadays, you can use an AI essay writer or an AI essay generator that will get the writing done for you, but if you have personal integrity and strong moral principles, avoid doing this at all costs. For me as a writer, the effect of these authors' masterpieces is often deeply personal. You won't be able to find the beautiful thoughts they contain in any other literary form. I hope you enjoy the read and that it will inspire you to do your writing. This list is only an attempt to share some of the best essays available online. Next up, you may want to check the list of magazines and websites that accept personal essays .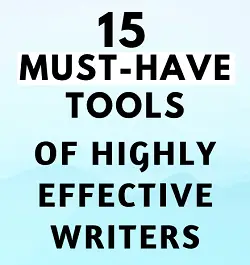 Free resource: Download your free PDF and learn about the top tools used by freelance writers.
Rafal Reyzer
10 Successful Harvard Application Essays | 2021
Our new 2022 version is up now.
Our 2022 edition is sponsored by HS2 Academy—a premier college counseling company that has helped thousands of students gain admission into Ivy League-level universities across the world. Learn more at www.hs2academy.com . Also made possible by The Art of Applying, College Confidential, Crimson Education, Dan Lichterman, Key Education, MR. MBA®, Potomac Admissions, Prep Expert, and Prepory.
AcceptU is the #1 rated college admissions consulting group. With a team composed entirely of former college admissions officers, AcceptU advises families on all aspects of the college planning process, from early profile-building to strategy and essay editing. More than 90% of our past students are admitted to at least one of their top three choices and AcceptU clients achieve 4x higher rates of admission to highly selective colleges. Learn more at www.AcceptU.com and schedule an introductory call with an AcceptU advisor today.
Successful Harvard Essay
I had never seen houses floating down a river. Minutes before there had not even been a river. An immense wall of water was destroying everything in its wake, picking up fishing boats to smash them against buildings. It was the morning of March 11, 2011. Seeing the images of destruction wrought by the earthquake and tsunami in Japan, I felt as if something within myself was also being shaken, for I had just spent two of the happiest summers of my life there.
In the summer of my freshman year, I received the Kikkoman National Scholarship, which allowed me to travel to Japan to stay with a host family in Tokyo for ten weeks. I arrived just as the swine flu panic gripped the world, so I was not allowed to attend high school with my host brother, Yamato. Instead, I took Japanese language, judo, and karate classes and explored the confusing sprawl of the largest city in the world. I spent time with the old men of my neighborhood in the onsen, or hot spring, questioning them about the Japan of their youth. They laughed and told me that if I wanted to see for myself, I should work on a farm.
The next summer I returned to Japan, deciding to heed the old men's advice and volunteer on a farm in Japan's northernmost island, Hokkaido. I spent two weeks working more than fourteen hours a day. I held thirty-pound bags of garlic with one hand while trying to tie them to a rope hanging from the ceiling with the other, but couldn't hold the bags in the air long enough. Other days were spent pulling up endless rows of daikon, or Japanese radish, which left rashes on my arms that itched for weeks. Completely exhausted, I stumbled back to the farmhouse, only to be greeted by the family's young children who were eager to play. I passed out every night in a room too small for me to straighten my legs. One day, I overslept a lunch break by two hours. I awoke mortified, and hurried to the father. After I apologized in the most polite form of Japanese, his face broke into a broad grin. He patted me on the back and said, "You are a good worker, Anthony. There is no need to apologize." This single exchange revealed the true spirit of the Japanese farmer. The family had lived for years in conditions that thoroughly wore me out in only a few days. I had missed two hours of work, yet they were still perpetually thankful to me. In their life of unbelievable hardship, they still found room for compassion.
In their life of unbelievable hardship, they still found room for compassion.
When I had first gone to Tokyo, I had sought the soul of the nation among its skyscrapers and urban hot springs. The next summer I spurned the beaten track in an attempt to discover the true spirit of Japan. While lugging enormously heavy bags of garlic and picking daikon, I found that spirit. The farmers worked harder than anyone I have ever met, but they still made room in their hearts for me. So when the tsunami threatened the people to whom I owed so much, I had to act. Remembering the lesson of compassion I learned from the farm family, I started a fund-raiser in my community called "One Thousand Cranes for Japan." Little more than two weeks later, we had raised over $8,000 and a flock of one thousand cranes was on its way to Japan.
Professional Review by AcceptU
This essay is very clean and straightforward. Anthony wisely uses imagery from a well-known historic event, the 2011 tsunami, to set the scene for his story. He visited Japan for two summers and provides depth about what he learned: In his first summer, he explored Tokyo and studied the language and culture; in his second summer, he lived in rural Japan and worked long hours on a farm.
We like to see how applicants learn, grow or change from the beginning to the end - and Anthony rightfully spends more time describing the hard work and lifestyle of farming and what he learned from this experience.
The beauty of the essay actually lies in its simplicity. Admittedly, it is not a groundbreaking or original essay in the way he tells his story; instead, Anthony comes across as someone who is very interesting, hardworking, intellectually curious, dedicated, humble and likable - all traits that admissions officers are seeking in applicants.
We like to see how applicants learn, grow or change from the beginning to the end - and Anthony rightfully spends more time describing the hard work and lifestyle of farming and what he learned from this experience. Anthony concludes with a reference to his opening paragraph about the tsunami, and impresses the reader with his fundraising to help victims.
It is not necessarily missing, but perhaps a sentence or two could have been added to explain why Anthony was in Japan in the first place. What was his connection to the country, language or culture? Does it tie into an academic interest? If so, that would make his already strong essay even stronger in the eyes of admissions officers.
Sponsored by Bridge to College, a data company that matches students to colleges that are an academic, financial, and social fit. We provide services to students, families, high schools, and colleges to support all of their admissions needs. Visit https://bit.ly/bridge-to-college-successful-essays for more information on the new platform, sign up for updates and consultations, and learn more about what we do.
Find Bridge to College on Social Media: Facebook | Instagram | Twitter | LinkedIn
I entered the surprisingly cool car. Since when is Beijing Line 13 air-conditioned? I'll take it. At four o'clock in the afternoon only about twenty people were in the subway car. "At least it's not crowded," one might have thought. Wrong. The pressure of their eyes on me filled the car and smothered me. "看看!她是外国人!"(Look, look! She's a foreigner!) An old man very loudly whispered to a child curled up in his lap. "Foreigner," he called me. I hate that word, "foreigner." It only explains my exterior. If only they could look inside.…
I want to keep reading because there is something she is saying about her identity--be it performative or actual--that I am curious about.
They would know that I actually speak Chinese—not just speak, but love. They would know that this love was born from my first love of Latin—the language that fostered my admiration of all languages. Latin lives in the words we speak around the world today. And translating this ancient language is like watching a play and performing in it at the same time. Each word is an adventure, and on the journey through Virgil's Aeneid I found that I am more like Aeneas than any living, dead, or fictional hero I know. We share the intrinsic value of loyalty to friends, family, and society. We stand true to our own word, and we uphold others to theirs. Like Aeneas's trek to find a new settlement for his collapsed Troy, with similar perseverance I, too, wander the seas for my own place in the world. Language has helped me do that.
If these subway passengers understood me, they would know that the very reason I sat beside them was because of Latin. Even before Aeneas and his tale, I met Caecilius and Grumio, characters in my first Latin textbook. In translations I learned grammar alongside Rome's rich history. I realized how learning another language could expose me to other worlds and other people—something that has always excited me. I also realized that if I wanted to know more about the world and the people in it, I would have to learn a spoken language. Spanish, despite the seven years of study prior to Latin, did not stick with me. And the throatiness of French was not appealing. But Chinese, more than these other traditional languages, intrigued me. The doors to new worlds it could open seemed endless. Thus I chose Chinese.
If these subway passengers looked inside me, they would find that my knowledge of both Latin and Chinese makes me feel whole. It feels like the world of the past is flowing through me alongside the world of the future. Thanks to Latin, Chinese sticks in my mind like the Velcro on the little boy's shoes in front of me. If this little boy and his family and friends could look inside, they would understand that Latin laid the foundation for my lifelong commitment to languages. Without words, thoughts and actions would be lost in the space between our ears. To them, I am a foreigner, "外国人" literally translated as "out-of-country person." I feel, however, more like an advena, the Latin word for "foreigner," translated as "(one who) comes to (this place)." I came to this place, and I came to this country to stay. Unfortunately, they will not know this until I speak. Then once I speak, the doors will open.
Professional Review by Bridge to College
Your college essay should serve two purposes: allow the reader to gain insights about you that they are not able to do in other parts of your application and provide an example of your writing abilities. To the former, you are hoping to demonstrate five soft skills that most colleges are at least implicitly interested in gleaning, those that indicate your capacity to be a good student at their institution.
Alex arrives at both goals in an interesting way. Without seeing the rest of her application, I can only assume that she is possibly interested in pursuing a major in a language (if she is pursuing a major in an applied math, this essay would be extremely interesting) and she has likely participated in some kind of team sport to demonstrate the soft skill of teamwork. To be honest, as someone who speaks five languages myself and studied Latin in undergrad, I don't necessarily agree with her assessment of the languages. BUT I'm interested. I want to keep reading. She isn't supposed to get everything right in this essay; she's supposed to demonstrate a capacity for learning. And she does that.
I want to keep reading because there is something she is saying about her identity--be it performative or actual--that I am curious about. With our work in college access and admissions, we've only worked in underserved communities, be they students of color or girls interested in STEM or first-generation college students or more. People make an assumption that we are exploiting these identities into sob stories that admissions readers will immediately hang on to. We're not doing that. We are encouraging students to write about something similar to what Alex did—describe how your identity has created a learning opportunity or a moment of resilience or determination. Alex seems like someone who is well resourced: her access to certain text; language curricula and the amount of time she spent studying those languages; even her sentence structure, gives that away. But her openness to adapt with humility is a critical skill that is so necessary to be a great student, and unfortunately a skill that many students miss.
For the second goal, she does a tremendous job of demonstrating her writing abilities. Her sentence structures are varied and there aren't egregious mistakes in grammar and spelling. The last two sentences of the second paragraph sold me on her skill-level and personhood. I also really appreciated that she wasn't shying away from what she has been able to access as far as her schooling. Alex is smart, witty, and well-traveled, and you're going to know it. I love that.
The essay works as an introduction to who she is and her soft skills, as well as a demonstration of her writing abilities.
CEO and Founder of Bridge to College
Elite Educational Institute has been helping students reach their academic goals through test preparation, tutoring, and college consulting services since 1987. Learn more at www.eliteprep.com .
When I was a child, I begged my parents for my very own Brother PT-1400 P-Touch Handheld Label Maker to fulfill all of my labeling needs. Other kids had Nintendos and would spend their free time with Mario and Luigi. While they pummeled their video game controllers furiously, the pads of their thumbs dancing across their joysticks, I would type out labels on my industrial-standard P-Touch with just as much zeal. I labeled everything imaginable, dividing hundreds of pens into Ziploc bags by color, then rubber-banding them by point size. The finishing touch, of course, was always a glossy, three-eighths-inch-wide tag, freshly churned out from my handheld labeler and decisively pasted upon the numerous plastic bags I had successfully compiled.
Labeling became therapeutic for me; organizing my surroundings into specific groups to be labeled provides me with a sense of stability. I may not physically need the shiny color-coded label verifying the contents of a plastic bag as BLUE HIGHLIGHTERS—FAT, to identify them as such, but seeing these classifications so plainly allows me to appreciate the reliability of my categorizations. There are no exceptions when I label the top ledge of my bookshelf as containing works from ACHEBE, CHINUA TO CONRAD, JOSEPH. Each book is either filtered into that category or placed definitively into another one. Yet, such consistency only exists in these inanimate objects.
Thus, the break in my role as a labeler comes when I interact with people. Their lives are too complicated, their personalities too intricate for me to resolutely summarize in a few words or even with the 26.2 feet of laminated adhesive tape compatible with my label maker. I have learned that a thin line exists between labeling and just being judgmental when evaluating individuals. I can hardly superficially characterize others as simply as I do my material possessions because people refuse to be so cleanly separated and compartmentalized. My sister Joyce jokes freely and talks with me for hours about everything from the disturbing popularity of vampires in pop culture to cubic watermelons, yet those who don't know her well usually think of her as timid and introverted. My mother is sometimes my biggest supporter, spouting words of encouragement and, at other instances, my most unrelenting critic. The overlap becomes too indistinct, the contradictions too apparent, even as I attempt to classify those people in the world whom I know best.
For all my love of order when it comes to my room, I don't want myself, or the people with whom I interact, to fit squarely into any one category.
Neither would I want others to be predictable enough for me to label. The real joy in human interaction lies in the excitement of the unknown. Overturning expectations can be necessary to preserving the vitality of relationships. If I were never surprised by the behaviors of those around me, my biggest source of entertainment would vanish. For all my love of order when it comes to my room, I don't want myself, or the people with whom I interact, to fit squarely into any one category. I meticulously follow directions to the millimeter in the chemistry lab but measure ingredients by pinches and dashes in the comfort of my kitchen. I'm a self-proclaimed grammar Nazi, but I'll admit e. e. cummings's irreverence does appeal. I'll chart my television show schedule on Excel, but I would never dream of confronting my chores with as much organization. I even call myself a labeler, but not when it comes to people. As Walt Whitman might put it, "Do I contradict myself? / Very well, then I contradict myself, / (I am large, I contain multitudes.)."
I therefore refrain from the temptation to label—despite it being an act that makes me feel so fulfilled when applied to physical objects—when real people are the subjects. The consequences of premature labeling are too great, the risk of inaccuracy too high because, most of the time, not even the hundreds of alphanumeric digits and symbols available for entry on my P-Touch can effectively describe who an individual really is.
Professional Review by Elite Prep
Amusing yet insightful, perhaps the most outstanding quality of Justine's personal statement lies in the balance she strikes between anecdotal flourish and honest introspection. By integrating occasional humour and witty commentary into an otherwise lyrical and earnest self-reflection, Justine masterfully conveys an unfettered, sincere wisdom and maturity coveted by prestigious universities.
Justine breaks the ice by recalling a moment in her childhood that captures her fervent passion for labelling. When applying to selective academic institutions, idiosyncrasies and peculiar personal habits, however trivial, are always appreciated as indicators of individuality. Justine veers safely away from the temptation of "playing it safe" by exploring her dedication towards organizing all her possessions, a dedication that has followed her into adolescence.
She also writes from a place of raw honesty and emotion by offering the rationale behind her bizarre passion. Justine's reliance on labelling is underpinned by her yearning for a sense of stability and order in a messy world—an unaffected yearning that readers, to varying degrees, can sympathize with.
She also writes from a place of raw honesty and emotion by offering the rationale behind her bizarre passion. Justine's reliance on labelling is underpinned by her yearning for a sense of stability and order in a messy world—an unaffected yearning that readers, to varying degrees, can sympathize with. She recognizes, however, it would be imprudent to navigate all facets of life with an unfaltering drive to compartmentalize everything and everyone she encounters.
In doing so, Justine seamlessly transitions to the latter, more pensive half of her personal statement. She extracts several insights by analyzing how, in staunch contrast with her neatly-organized pencil cases, the world is confusing, and rife with contradictions. Within each individual lies yet another world of complexity—as Justine reflects, people can't be boiled down into "a few words," and it's impossible to capture their character, "even with the 26.2 feet of laminated adhesive tape compatible with [her] label maker."
In concluding, Justine returns back to the premise that started it all, reminding the reader of her take on why compartmentalizing the world would be an ultimately unproductive effort. The most magical part of Justine's personal statement? It reads easily, flows with imagery, and employs a simple concept—her labelling practices—to introduce a larger, thoughtful conversation.
The best compliment I ever received was from my little brother: "My science teacher's unbelievably good at telling stories," he announced. "Nearly as good as you." I thought about that, how I savor a good story the way some people savor last-minute touchdowns.
I learned in biology that I'm composed of 7 × 10 27 atoms, but that number didn't mean anything to me until I read Bill Bryson's A Short History of Nearly Everything. One sentence stayed with me for weeks: "Every atom you possess has almost certainly passed through several stars and been part of millions of organisms on its way to becoming you." It estimates that each human has about 2 billion atoms of Shakespeare hanging around inside—quite a comfort, as I try to write this essay. I thought about every one of my atoms, wondering where they had been and what miracles they had witnessed.
My physical body is a string of atoms, but what of my inner self, my soul, my essence? I've come to the realization that my life has been a string as well, a string of stories.
My physical body is a string of atoms, but what of my inner self, my soul, my essence? I've come to the realization that my life has been a string as well, a string of stories. Every one of us is made of star stuff, forged through fires, and emerging as nicked as the surface of the moon. It frustrated me no end that I couldn't sit down with all the people I met, interrogating them about their lives, identifying every last story that made them who they are.
I remember how magical it was the first time I read a fiction book: Harry Potter and the Sorcerer's Stone. I was duly impressed with Quidditch and the Invisibility Cloak, of course, but I was absolutely spellbound by how much I could learn about Harry. The kippers he had for breakfast, the supplies he bought for Potions—the details everyone skimmed over were remarkable to me. Fiction was a revelation. Here, at last, was a window into another person's string of stories!
Over the years, I've thought long and hard about that immortal question: What superpower would you choose? I considered the usual suspects—invisibility, superhuman strength, flying—but threw them out immediately. My superhero alter ego would be Story Girl. She wouldn't run marathons, but she could walk for miles and miles in other people's shoes. She'd know that all it takes for empathy and understanding is the right story.
Imagine my astonishment when I discovered Radiolab on NPR. Here was my imaginary superpower, embodied in real life! I had been struggling with AP Biology, seeing it as a class full of complicated processes and alien vocabulary. That changed radically when I listened, enthralled, as Radiolab traced the effects of dopamine on love and gambling. This was science, sure, but it was science as I'd never heard it before. It contained conflict and emotion and a narrative; it made me anxious to learn more. It wasn't that I was obtuse for biology; I just hadn't found the stories in it before.
I'm convinced that you can learn anything in the form of a story. The layperson often writes off concepts—entropy, the Maginot Line, anapestic meter—as too foreign to comprehend. But with the right framing, the world suddenly becomes an open book, enticing and ripe for exploration. I want to become a writer to find those stories, much like Jad Abumrad and Robert Krulwich from Radiolab, making intimidating subjects become familiar and inviting for everyone. I want to become Story Girl.
By combining her previous interest with her newfound love for biology, Carrie is able to highlight how her past experiences have assisted her in overcoming novel challenges. This portrays her as a resilient and resourceful problem-solver: traits that colleges value heavily in their students.
Carrie begins her essay with a fondly-remembered compliment from her brother, introducing her most passionate endeavor: storytelling. By recalling anecdotes related to her love of stories, she establishes herself as a deeply inquisitive and creative person; someone whose greatest virtue is their unfettered thirst for knowledge. Curiosity is greatly prized by colleges, and Carrie's inclusion of this particular value encourages admissions officers to keep reading.
Going on to explore the intersections between stories and science, Carrie reveals her past difficulties with AP biology; that is, until she learnt about the amazing stories hidden within the subject. By combining her previous interest with her newfound love for biology, Carrie is able to highlight how her past experiences have assisted her in overcoming novel challenges. This portrays her as a resilient and resourceful problem-solver: traits that colleges value heavily in their students.
Carrie ends her essay with her belief that through stories, everything is possible. She expounds on her future ambitions in regards to storytelling, as well as her desire to make learning both fun and accessible to everyone via the power of stories. By comparing her goals to that of a superhero, Carrie is able to emphasise her enthusiasm for contributing to social change. Most importantly, Carrie's ambitions show how she can contribute to the Harvard community positively, making her a strong applicant.
As an admission essay specialist , Dan Lichterman has been empowering students to find their voice since 2004. He helps students stand out on paper, eliminating the unnecessary so the necessary may speak. Drawing upon his storytelling background, Dan guides applicants to craft authentic essays that leap off the page. He is available for online writing support within the US and internationally. To learn more and schedule a brief complimentary consultation visit danlichterman.com.
I have a fetish for writing.
I'm not talking about crafting prose or verses, or even sentences out of words. But simply constructing letters and characters from strokes of ink gives me immense satisfaction. It's not quite calligraphy, as I don't use calligraphic pens or Chinese writing brushes; I prefer it simple, spontaneous, and subconscious. I often find myself crafting characters in the margins of notebooks with a fifty-cent pencil, or tracing letters out of thin air with anything from chopsticks to fingertips.
"One's handwriting," said the ancient Chinese, "is a painting of one's mind." After all, when I practice my handwriting, I am crafting characters. My character.
The art of handwriting is a relic in the information era. Why write when one can type? Perhaps the Chinese had an answer before the advent of keyboards. "One's handwriting," said the ancient Chinese, "is a painting of one's mind." After all, when I practice my handwriting, I am crafting characters.
My character.
I particularly enjoy meticulously designing a character, stroke by stroke, and eventually building up, letter by letter, to a quote person­alized in my own voice. Every movement of the pen and every drop­let of ink all lead to something profound, as if the arches of every "m" are doorways to revelations. After all, characters are the build­ing blocks of language, and language is the only vehicle through which knowledge unfolds. Thus, in a way, these letters under my pen are themselves representations of knowledge, and the delicate beauty of every letter proves, visually, the intrinsic beauty of know­ing. I suppose handwriting reminds me of my conviction in this vi­sual manner: through learning answers are found, lives enriched, and societies bettered.
Moreover, perhaps this strange passion in polishing every single character of a word delineates my dedication to learning, testifies my zeal for my conviction, and sketches a crucial stroke of my character.
"We--must--know ... " the mathematician David Hilbert's voice echoes in resolute cursive at the tip of my pen, as he, addressing German scientists in 1930, propounds the goal of modern intellectu­als. My pen firmly nods in agreement with Hilbert, while my mind again fumbles for the path to knowledge.
The versatility of handwriting enthralls me. The Chinese devel­oped many styles -- called hands -- of writing. Fittingly, each hand seems to parallel one of my many academic interests. Characters of the Regular Hand (kai shu), a legible script, serve me well during many long hours when I scratch my head and try to prove a mathematical statement rigorously, as the legibility illuminates my logic on paper. Words of the Running Hand (xing shu), a semi-cursive script, are like the passionate words that I speak before a committee of Model United Nations delegates, propounding a decisive course of action: the words, both spoken and written, are swift and coherent but resolute and emphatic. And strokes of the Cursive Hand (cao shu) resemble those sudden artistic sparks when I deliver a line on stage: free spontaneous, but emphatic syllables travel through the lights like rivers of ink flowing on the page.
Yet the fact that the three distinctive hands cooperate so seamlessly, fusing together the glorious culture of writing, is perhaps a fable of learning, a testament that the many talents of the Renaissance Man could all be worthwhile for enriching human society. Such is my methodology: just like I organize my different hands into a neat personal style with my fetish for writing, I can unify my broad interests with my passion for learning.
"...We -- will -- know!" Hilbert finishes his adage, as I frantically slice an exclamation mark as the final stroke of this painting of my mind.
I must know: for knowing, like well-crafted letters, has an inherent beauty and an intrinsic value. I will know: for my versatile interests in academics will flow like my versatile styles of writing.
I must know and I will know: for my fetish for writing is a fetish for learning.
Professional Review by Dan Lichterman
We learn that he expresses his innermost self through an art that has become a relic within the information age. As we peer into his mind, we learn something essential about Jiafeng's character–that he is irrepressibly drawn to the intricate beauty of pure learning.
Jiafeng's essay succeeds by using the metaphor of handwriting, and it's immense physical satisfaction, to showcase the unbounded pleasure of pursuing knowledge. We can visualize spontaneously crafted letters filling his notebooks. We see him trace Chinese characters into air by chopstick and fingertip. We learn that he expresses his innermost self through an art that has become a relic within the information age. As we peer into his mind, we learn something essential about Jiafeng's character–that he is irrepressibly drawn to the intricate beauty of pure learning.
Jiafeng goes on to reveal that his intellectual pursuit has been shaped by not one but three Chinese styles of handwriting, each reflecting a distinct element of his intellectual growth. We see Jiafeng's logic when engaged in mathematical proof, rhetorical flair when speaking before Model United Nations, and improvisational spark when delivering lines on stage. He presents these polymath pursuits as united by writing, indicating to readers that his broad interests are all an expression of the same principle of discovery. By the time readers finish Jiafeng's essay they have no doubts regarding the pleasure he derives from learning–they have experienced him enacting this celebration of thought throughout every line of this well-crafted personal statement.
Crimson Education is the world's most successful US/UK university admissions consultancy. A member of the NACAC and the IACAC, the company counts US News & World Report and Times Higher Education as its partners. Crimson's students work with expert tutors and mentors to gain admission to the Ivy League, Stanford, MIT, Caltech, Duke — as well as Oxford, Cambridge and other world leading institutions in the UK — at 4x the general applicant rate. Crimson's unique model of support sees students work one-on-one with Ivy League and other top school graduates on every aspect of their application, from their academics to their extracurriculars, personal statements and supplemental essays. The company is led by co-founder and CEO Jamie Beaton, who at only 26, has completed an undergraduate dual degree at Harvard, an MBA at Stanford, is an Oxford Rhodes Scholar. In February 2022, Jamie will release his first book: "ACCEPTED! Secrets to Gaining Admission To The World's Top Universities.
"Ella, what did you think of Douglass's view on Christianity?" I gulped. Increasingly powerful palpitations throbbed in my heart as my eyes darted around the classroom – searching for a profound response to Dr. Franklin's question. I took a deep breath while reaching the most genuine answer I could conjure.
"Professor, I don't know."
Dr. Franklin stared at me blankly as he attempted to interpret the thoughts I didn't voice. My lack of familiarity with the assigned text wasn't a consideration that crossed his mind because he was familiar with my past contributions to class discussions. I was a fervent critic of the corrupted culture behind Christianity of the Puritans in Hawthorne's "Young Goodman Brown" and modern evangelicals involved in the puzzling divinity of Donald Trump. He arched his flummoxed brows as he began to open his mouth.
"Professor, what I mean is that I'm not sure whether or not I even have a say on Douglass's statements on Christianity in his Narrative of the Life."
In class, I often separated the culture of Christianity from the religion. To tie these immensely disparate concepts as one and coin it as Christianity would present fallacies that contradict with the Christianity I knew. Lack of tolerance and hostility were products of humans' sinful nature – not the teachings of Christ. People were just using Christianity as an excuse to exalt themselves rather than the holy name of Jesus. These were the "facts."
My greatest realization came when Douglass declared Christian slave-holders as the worst slave-holders he ever met because of their deceptive feign of piety and use of Christianity to justify the oppression of their slaves. I realized that I couldn't bring myself to raise the same argument that I used to convince myself that my Christianity of love was the only true Christianity. To Douglass, Christianity was the opposite. I didn't want to dismiss his story. People use this sacred religion to spread hatred, and to many, this is the only Christianity they know. Their experiences aren't any bit falser than mine.
Christianity isn't the only culture that harbors truth that transcends the "facts." America's less of a perfect amalgamation of different ethnic cultures and more of a society severed by tribal conflicts rooted in the long established political culture of the nation. Issues such as racism, white privilege, and gender disparity are highly salient topics of current political discussion. However, during a time when people can use online platforms with algorithms that provide content they want to see, we fail to acknowledge the truth in other people's experiences and express empathy.
My protective nature drives my desire to connect with different people and build understanding. To do so, however, I step outside my Korean American Southern Baptist paradigm because my experiences do not constitute everyone else's.
As a Korean-American in the South, I am no stranger to intolerance. I remember the countless instances of people mocking my parents for their English pronunciation and my brother's stutter. Because their words were less eloquent, people deemed their thoughts as less valuable as well. I protect my family and translate their words whenever they have a doctor's appointment or need more ketchup at McDonald's. My protective nature drives my desire to connect with different people and build understanding. To do so, however, I step outside my Korean American Southern Baptist paradigm because my experiences do not constitute everyone else's.
Excluded from the Manichaean narrative of this country, I observe the turmoil in our nation through a separate lens - a blessing and a curse. Not only do I find myself awkwardly fixed in a black vs. white America, but I also fail to define my identity sandwiched between Korean and American. In the end, I find myself stuck amongst the conventional labels and binaries that divide America.
"You seem to work harder than most to understand other people's points of view," Dr. Franklin said after I shared these thoughts to the class.
"I find this easier because I spent my childhood assuming that my culture was always the exception," I replied. As an anomaly, accepting different truths is second nature.
Professional Review by Crimson Education
At a time in which the Black Lives Matters movement was sweeping America and racial tension was at a high, Ella was able to offer a powerful and brave perspective: how she feels to be neither Black nor White. The true strength of this essay is its willingness to go where people rarely go in college essays: to race, to politics and to religion.
This is a trait that exists in a powerful independent thinker who could push all kinds of debates forwards - academic ones or otherwise.
Her dedication to her religion is evident - but so is her willingness to question the manipulation of the word 'Christianty' for less than genuine purposes. It requires intellectual bravery to ask the hard questions of your own religion as opposed to succumbing to cognitive dissonance. This is a trait that exists in a powerful independent thinker who could push all kinds of debates forwards - academic ones or otherwise.
Her word choice continues to emphasize bravery and strength. "I protect my family" inserts Ella as the shield between her family and the daily racism they experience in the south because of their accents and heritage. Her humorous quirks show the insidious racism. She even needs to shield her family from the humble request for some more Ketchup at McDonalds! Imagine if one is nervous to ask for some more Ketchup and even such a mundane activity becomes difficult through the friction of racial tension and misunderstanding. This is a powerful way to deliver a sobering commentary on the real state of society through Ellen's lived experiences.
She demonstrates her intellectual prowess in her discussion of somewhat high-brow topics but also grounds herself in the descriptions of her daily acts of kindness.
She connects major societal debates (Trumpism for example) with daily experiences (her translations at the doctor's office) with a gentle but powerful cadence. She demonstrates her intellectual prowess in her discussion of somewhat high-brow topics but also grounds herself in the descriptions of her daily acts of kindness.
Creatively Ella weaves numerous literary devices in and out of her story without them being overbearing. These include alliteration and the juxtaposition of longer sentences with shorter ones to make a point.
Her final dialogue is subtle but booming. "....my culture was the exception". The reader is left genuinely sympathetic for her plight, challenges and bravery as she goes about her daily life.
Ella is a bold independent thinker with a clear social conscience and an ability to wade in the ambiguity and challenge of an imperfect world.
College Confidential is your gateway to real, unfiltered guidance about applying to college and exploring majors and careers. CC is powered by our community of real students, parents, and admissions professionals.
"Paint this vase before you leave today," my teacher directed as she placed foreign brushes and paints in my hands. I looked at her blankly. Where were the charts of colors and books of techniques? Why was her smile so decidedly encouraging? The sudden expectations made no sense.
She smiled. "Don't worry, just paint."
In a daze, I assembled my supplies the way the older students did. I was scared. I knew everything but nothing. And even in those first blissful moments of experimentation, it hurt to realize that my painting was all wrong. The gleam of light. The distorted reflection. A thousand details taunted me with their refusal to melt into the glass. The vase was lifeless at best.
As the draining hours of work wore on, I began wearing reckless holes in my mixing plate. It was my fourth hour here. Why had I not received even a single piece of guidance?
At the peak of my frustration, she finally reentered the studio, yawning with excruciating casualness. I felt myself snap.
"I barely know how to hold a brush," I muttered almost aggressively, "how could I possibly have the technique to paint this?"
She looked at me with a shocked innocence that only heightened the feeling of abandonment. "What do you mean you don't have the technique?"
It was as though she failed to realize I was a complete beginner.
And then suddenly she broke into a pitch of urgent obviousness: "What are you doing! Don't you see those details?? There's orange from the wall and light brown from the floor. There's even dark green from that paint box over there. You have to look at the whole picture," she stole a glance at my face of bewilderment, and, sighing, grabbed my paint,stained hand. "Listen, it's not in here," she implored, shaking my captive limb. "It's here." The intensity with which she looked into my eyes was overwhelming.
I returned the gaze emptily. Never had I been so confused…
But over the years I did begin to see. The shades of red and blue in gray concrete, the tints of Phthalo in summer skies, and winter's Currelean. It was beautiful and illogical. Black was darker with green and red, and white was never white.
I began to study animals. The proportions and fan brush techniques were certainly difficult, but they were the simple part. It was the strategic tints of light and bold color that created life. I would spend hours discovering the exact blue that would make a fish seem on the verge of tears and hours more shaping a deer's ears to speak of serenity instead of danger.
As I run faster into the heart of art and my love for politics and law, I will learn to see the faces behind each page of cold policy text, the amazing innovation sketched in the tattered Constitution, and the progressiveness living in oak-paneled courts.
In return for probing into previously ignored details, my canvas and paints opened the world. I began to appreciate the pink kiss of ever-evolving sunsets and the even suppression of melancholy. When my father came home from a business trip, it was no longer a matter of simple happiness, but of fatigue and gladness' underlying shades. The personalities who had once seemed so annoyingly arrogant now turned soft with their complexities of doubt and inspiration. Each mundane scene is as deep and varied as the paint needed to capture it.
One day, I will learn to paint people. As I run faster into the heart of art and my love for politics and law, I will learn to see the faces behind each page of cold policy text, the amazing innovation sketched in the tattered Constitution, and the progressiveness living in oak-paneled courts.
It won't be too far. I know that in a few years I will see a thousand more colors than I do today. Yet the most beautiful part about art is that there is no end. No matter how deep I penetrate its shimmering realms, the enigmatic caverns of wonder will stay.
Professional Review by College Confidential
My favorite college essays begin with one moment in time and end by tying that moment into a larger truth about the world. In this essay, Elizabeth uses this structure masterfully.
This essay is a great example of a create essay. It's real strength, however, lies in showing how the writer pursues her goal despite frustration and grapples with universal questions.
The essay opens with dialogue, placing the reader right in the middle of the action. She shares only the details that make the scene vivid, like the holes in her mixing plate and her teacher's yawn. She skips backstory and explanations that can bore readers and bog down a short essay. The reader is left feeling as though we are sitting beside her, staring at an empty vase and a set of paints, with no idea how to begin.
The SPARC method of essay writing says that the best college essays show how a student can do one (or more) of these five things: Seize an opportunity, Pursue goals despite obstacles, Ask important questions, take smart Risks, or Create with limited resources. This essay is a great example of a "create" essay. It's real strength, however, lies in showing how the writer pursues her goal despite frustration and grapples with universal questions.
As the essay transitions from the personal to the universal, her experience painting the vase becomes a metaphor for how she sees the world. Not only has painting helped her appreciate the subtle shades of color in the sunset, it has opened her up to understand that nothing in life is black and white. This parallel works especially well as a way to draw the connection between Elizabeth's interest in political science and art.
Written by Joy Bullen, Senior Editor at College Confidential
At KEY we take a long-term, strategic approach centered on each individual student's best interests. Working with our college-bound students beginning in Grade 8, we guide them in establishing a strong foundation of academics to build their unique profiles of co-curricular and extracurricular activities, academic direction, and professional skills. We aspire to give each of our students the best opportunity to thrive within their current education environment and beyond. For a free consultation about our services and more, please visit our website .
When I failed math in my sophomore year of high school, a bitter dispute engulfed my household -- "Nicolas Yan vs. Mathematics." I was the plaintiff, appearing pro se, while my father represented the defendant (inanimate as it was). My brother and sister constituted a rather understaffed jury, and my mother presided over the case as judge.
In a frightening departure from racial stereotype, I charged Mathematics with the capital offences of being "too difficult" and "irrelevant to my aspirations," citing my recent shortcomings in the subject as evi. dence. My father entered a not guilty plea on the defendant's behalf, for he had always harbored hopes that I would follow in his entrepreneurial footsteps -- and who ever heard of a businessman who wasn't an accomplished mathematician? He argued that because I had fallen sick before my examination and had been unable to sit one of the papers, it would be a travesty of justice to blame my "Ungraded" mark on his client. The judge nodded sagely.
With heartrending pathos, I recalled how I had studied A-Level Mathematics with calculus a year before the rest of my cohort, bravely grappling with such perverse concepts as the poisson distribution to no avail. I decried the subject's lack of real-life utility and lamented my inability to reconcile further effort with any plausible success; so that to persist with Mathematics would be a Sisyphean endeavor. Since I had no interest in becoming the entrepreneur that my father envisioned, I petitioned the court for academic refuge in the humanities. The members of the jury exchanged sympathetic glances and put their heads together to deliberate.
Over the next year, however, new evidence that threw the court's initial verdict into question surfaced. Languishing on death row, Mathematics exercised its right to appeal, and so our quasi-court reconvened in the living room.
In hushed tones, they weighed the particulars of the case. Then, my sister announced their unanimous decision with magisterial gravity: "Nicolas shouldn't have to do math if he doesn't want to!" I was ecstatic; my father distraught. With a bang of her metaphorical gavel, the judge sentenced the defendant to "Death by Omission"-- and so I chose my subjects for 11th Grade sans Mathematics. To my father's disappointment, a future in business for me now seemed implausible.
Over the next year, however, new evidence that threw the court's initial verdict into question surfaced. Languishing on death row, Mathematics exercised its right to appeal, and so our quasi-court reconvened in the living room.
My father reiterated his client's innocence, maintaining that Mathematics was neither "irrelevant" nor "too difficult." He proudly recounted how just two months earlier, when my friends had convinced me to join them in creating a business case competition for high school students (clerical note: the loftily-titled New Zealand Secondary Schools Case Competition), I stood in front of the Board of a company and successfully pitched them to sponsor us-- was this not evidence that l could succeed in business? I think I saw a tear roll down his cheek as he implored me to give Mathematics another chance.
I considered the truth of his words. While writing a real-world business case for NZSSCC, l had been struck by how mathematical processes actually made sense when deployed in a practical context, and how numbers could tell a story just as vividly as words can. By reviewing business models and comparing financial projections to actual returns, one can read a company's story and identify areas of potential growth; whether the company then took advantage of these opportunities determined its success. It wasn't that my role in organizing NZSSCC had magically taught me to embrace all things mathematical or commercial -- I was still the same person -- but I recognized that no intellectual constraints prevented me from succeeding in Mathematics; I needed only the courage to seize an opportunity for personal growth.
I stood up and addressed my family: "I'll do it." Then, without waiting for the court's final verdict, I crossed the room to embrace my father: and the rest, as they (seldom) say, was Mathematics.
Professional Review by KEY Education
For some, math concepts such as limits, logarithms, and derivatives can bring about feelings of apprehension or intimidation. So, Nicolas's college essay reflecting on his personal conflict coming to terms with Mathematics offers a relatable, down-to-earth look at how he eventually came to realize and appreciate the importance of this once-dreaded subject. Not only does Nicolas's statement use a unique, engaging approach to hook the reader in, but also he draws various connections from Mathematics to his relationship with his family, to his maturation process, and to his extracurricular involvement. A number of factors helped Nicolas's statement add color to his application file, giving further insight into the person he is.
Nicolas's choice of Mathematics as the focusing lens is effective for a number of reasons. Firstly, it is genuine and approachable. It is not about some grandiose idea, event, or achievement. Rather, it is about a topic to which many students—and people for that matter—can relate. And from this central theme, Nicolas draws insightful linkages to various aspects of his life. At the outset of his essay, Mathematics is presented as the antagonist, or as Nicolas skillfully portrays, the "defendant". However, by the end of his piece, and as a demonstration of his growth, Nicolas has come to a resolution with the former defendant.
Adding to the various connections, Nicolas presents his case, literally, in an engaging manner in the form of a court scene, with Nicolas as the plaintiff charging the defendant, Mathematics, with being too difficult and irrelevant to his life.
Through Nicolas's conflict over Mathematics, we gain a deeper understanding of his relationship with his father and the tension that exists in Nicolas fulfilling his father's wishes of following in his entrepreneurial footsteps. His father's initial attempts at reasoning with him are rebuffed, however Nicolas later acknowledges that he "considered the truth of his words" and eventually embraces his father, signifying their coming to a resolution with their shared understanding of each other. Furthermore, Nicolas connects his evolved understanding of Mathematics to his important organizational role in creating the business-focused New Zealand Secondary Schools Case Competition, acknowledging how "mathematical processes actually made sense when deployed in a practical context, and how numbers could tell a story just as vividly as words can." As he states, "I needed only the courage to seize an opportunity for personal growth," which he ultimately realizes.
Adding to the various connections, Nicolas presents his case, literally, in an engaging manner in the form of a court scene, with Nicolas as the plaintiff charging the defendant, Mathematics, with being too difficult and irrelevant to his life. Bearing in mind word count limitations, what would have been interesting to explore would be deeper insights into each of the connections that Nicolas drew and how he applied these various lessons to other parts of his life.
Nicolas employs a number of characteristics essential for a successful essay: a theme that allows for deeper introspection, an engaging hook or approach, and a number of linkages between his theme and various aspects of his life, providing insight into who he is and how he thinks.
HS2 Academy is a premier college counseling company that has helped thousands of students gain admission into Ivy League-level universities across the world. With a counseling team of passionate educators with over 100 years of combined experience, we pride ourselves in helping high schoolers achieve their college dreams. Since results matter most, entrust your future to the leader in college admissions with a consistent track record of success.
Successful Harvard Essay by Abigail Mack
Abigail gained national attention after reading her application essay on TikTok earlier this year, with over 19.9 million views on the first video. Her essay helped her to recieve a rare likely letter in the most competitive Harvard application cycle in history with a less than 4 percent acceptance rate, and now she uses her platform to help other college hopefuls navigate the application process. Watch her read the beginning of her essay here and check out her other writing tips on her TikTok .
I hate the letter S. Of the 164,777 words with S, I only grapple with one.
I hate the letter "S". Of the 164,777 words with "S", I only grapple with one. To condemn an entire letter because of its use 0.0006% of the time sounds statistically absurd, but that one case changed 100% of my life. I used to have two parents, but now I have one, and the "S" in "parents" isn't going anywhere.
"S" follows me. I can't get through a day without being reminded that while my friends went out to dinner with their parents, I ate with my parent. As I write this essay, there is a blue line under the word "parent" telling me to check my grammar; even Grammarly assumes that I should have parents, but cancer doesn't listen to edit suggestions. I won't claim that my situation is as unique as 1 in 164,777, but it is still an exception to the rule - an outlier. The world isn't meant for this special case.
The world wouldn't abandon "S" because of me, so I tried to abandon "S". I could get away from "S" if I stayed busy; you can't have dinner with your "parent" (thanks again, Grammarly) if you're too busy to have family dinner. Any spare time that I had, I filled. I became known as the "busy kid"- the one that everyone always asks, "How do you have time?" Morning meetings, classes, after school meetings, volleyball practice, dance class, rehearsal in Boston, homework, sleep, repeat. Though my specific schedule has changed over time, the busyness has not. I couldn't fill the loss that "S" left in my life, but I could at least make sure I didn't have to think about it. There were so many things in my life that I couldn't control, so I controlled what I could- my schedule. I never succumbed to the stress of potentially over-committing. I thrived. It became a challenge to juggle it all, but I'd soon find a rhythm. But rhythm wasn't what I wanted. Rhythm may not have an "S", but "S" sure liked to come by when I was idle. So, I added another ball, and another, and another. Soon I noticed that the same "color" balls kept falling into my hands- theater, academics, politics. I began to want to come into contact with these more and more, so I further narrowed the scope of my color wheel and increased the shades of my primary colors.
Life became easier to juggle, but for the first time, I didn't add another ball. I found my rhythm, and I embraced it. I stopped running away from a single "S" and began chasing a double "S"- passion. Passion has given me purpose. I was shackled to "S" as I tried to escape the confines of the traditional familial structure. No matter how far I ran, "S" stayed behind me because I kept looking back. I've finally learned to move forward instead of away, and it is liberating. "S" got me moving, but it hasn't kept me going.
I wish I could end here, triumphant and basking in my new inspiration, but life is more convoluted. Motivation is a double edged sword; it keeps me facing forward, but it also keeps me from having to look back. I want to claim that I showed courage in being able to turn from "S", but I cannot. Motivation is what keeps "S" at bay. I am not perfectly healed, but I am perfect at navigating the best way to heal me. I don't seek out sadness, so "S" must stay on the sidelines, and until I am completely ready, motivation is more than enough for me.
Professional Review by HS2 Academy
There's an honesty here as she reveals to the reader her attempts at filling this void in her life by constantly keeping busy. It's further satisfying to see these attempts at committing to various activities evolve into what she terms a double
Abigail's essay navigates one of the most delicate sorts of topics in college applications: dealing with personal or family tragedy. Perhaps the most common pitfall is to take a tragic event and effuse it with too much pathos and sense of loss that the narrative fails to reveal much about the author's own personality other than the loss itself. In short, a "sob story." However, Abigail's essay adeptly skirts this by utilizing wit and a framing device using the letter "S" to share a profoundly personal journey in a manner that is engaging and thought-provoking.
Rather than focus purely on the loss of one of her parents to cancer, Abigail reflects on her life and the adjustments she has had to make. It is particularly poignant how she expresses the sense that her life with only one remaining parent seems somehow anomalous, that the constant reminders of the completeness in the familial structures of others haunts her.
What also makes this essay all the more intriguing is how we get a glimpse into her internal life as she learns to cope with the loss. There's an honesty here as she reveals to the reader her attempts at filling this void in her life by constantly keeping busy. It's further satisfying to see these attempts at committing to various activities evolve into what she terms a "double S," or "passion," as she discovers things that she has become passionate about. Perhaps this essay could have been strengthened further by giving the reader a sense of what those passions might be, as we're left to speculate based on the activities she had mentioned.
Lastly, we see a sense of realism and maturity in Abigail's closing reflection. It's easy to end an essay like this with a sense of narrative perfection, but she wisely concedes that "life is more convoluted." This poignant revelation gives us a window into her continuing struggles, but we are nonetheless left impressed by her growth and candor in this essay.
collegeMission is an undergraduate admissions consulting firm focused solely on helping applicants craft their best admissions essays to gain acceptance at top academic institutions. collegeMission's elite admissions consultants have assisted thousands of applicants in successfully pursuing their educational dreams. As accomplished writers and graduates of prestigious universities, our consultants are uniquely qualified to guide you through brainstorming, outlining, and writing your college essays so that the admissions committees take notice. To learn more or schedule a free brainstorming session, visit www.collegemission.com or email [email protected].
I learned the definition of cancer at the age of fourteen. I was taking my chapter 7 biology test when I came upon the last question, "What is cancer?", to which I answered: "The abnormal, unrestricted growth of cells." After handing in the test, I moved on to chapter 8, oblivious then to how earth-shattering such a disease could be.
I learned the meaning of cancer two years later. A girl named Kiersten came into my family by way of my oldest brother who had fallen in love with her. I distinctly recall her hair catching the sea breeze as she walked with us along the Jersey shore, a blonde wave in my surrounding family's sea of brunette. Physically, she may have been different, but she redefined what family meant to me. She attended my concerts, went to my award ceremonies, and helped me study for tests. Whenever I needed support, she was there. Little did I know that our roles would be reversed, forever changing my outlook on life.
Kiersten was diagnosed with Stage II Hodgkin's lymphoma at the age of 22. Tears and hair fell alike after each of her 20 rounds of chemotherapy as we feared the worst. It was an unbearable tragedy watching someone so vivacious skirt the line between life and death. Her cancer was later classified as refractory, or resistant to treatment. Frustration and despair flooded my mind as I heard this news. And so I prayed. In what universe did this dynamic make any sense? I prayed to God and to even her cancer itself to just leave her alone. Eventually, Kiersten was able to leave the hospital to stay for six weeks at my home.
But the beauty that resulted from sympathizing as opposed to analyzing and putting aside my own worries and troubles for someone else was an enormous epiphany for me. My problems dissipated into thin air the moment I came home and dropped my books and bags to talk with Kiersten. The more I talked, laughed, smiled, and shared memories with her, the more I began to realize all that she taught me.
My family and I transformed the house into an antimicrobial sanctuary, protecting Kiersten from any outside illness. I watched TV with her, baked cookies for her, and observed her persistence as she regained strength and achieved remission. We beat biology, time, and death, all at the same time, with cookies, TV, and friendship. Yet I was so concerned with helping Kiersten that I had not realized how she helped me during her battle with cancer.
I had been so used to solving my problems intellectually that when it came time to emotionally support someone, I was afraid. I could define cancer, but what do I say to someone with it? There were days where I did not think I could be optimistic in the face of such adversity. But the beauty that resulted from sympathizing as opposed to analyzing and putting aside my own worries and troubles for someone else was an enormous epiphany for me. My problems dissipated into thin air the moment I came home and dropped my books and bags to talk with Kiersten. The more I talked, laughed, smiled, and shared memories with her, the more I began to realize all that she taught me. She influenced me in the fact that she demonstrated the power of loyalty, companionship, and optimism in the face of desperate, life-threatening situations. She showed me the importance of loving to live and living to love. Most of all, she gave me the insight necessary to fully help others not just with intellect and preparation, but with solidarity and compassion. In this way, I became able to help myself and others with not only my brain, but with my heart. And that, in the words of Robert Frost, "has made all the difference."
Professional Review by collegeMission
Nikolas is candid, writing about how he could solve problems intellectually, but struggled to cope emotionally during Kiersten's diagnosis and treatment. Ultimately, he finds his way and gains a deeper perspective on life, and thus shares a story of overcoming and of complex intellectual and emotional growth.
Nikolas uses an unexpected approach in this essay, sharing a story of someone else's struggle, as he highlights change within himself. The emotions and connection that he felt for Kiersten, his older brother's girlfriend, are quite powerful, as is his recognition of his own attempt to navigate his way through the experience. Nikolas is candid, writing about how he could solve problems intellectually, but struggled to cope emotionally during Kiersten's diagnosis and treatment. Ultimately, he finds his way and gains a deeper perspective on life, and thus shares a story of overcoming and of complex intellectual and emotional growth.
Nikolas' use of imagery is terrific. We first see it in the essay when he describes one of his first impressions of Kiersten, with her blonde hair flowing in the wind by the Jersey Shore and how that contrasted with the dark hair of his family. That description then flows as we read the next paragraph, where he talks about the impact of her cancer. "Tears and hair fell alike after each of her 20 rounds of chemotherapy as we feared the worst." Instead of explicitly sharing everyone's heartbreak, through details that heartbreak becomes so very evident.
One missing piece here is an explanation of why Kiersten stayed with Nikolas' family rather than returning home to her own family. Maybe a quick explanation would have helped the reader make sense of her location, and create an even stronger linkage with Nikolas and his family. Additionally, Nikolas might have taken one more step toward the end of the essay to connect this newfound emotion to other parts of his life. The final paragraph feels slightly repetitive, and a compelling route could have been to show how he went on to embrace the idea of "loving to live and living to love." Nonetheless, Nikolas reveals that he is capable of growing through adversity, a character trait that this admissions committee clearly appreciated.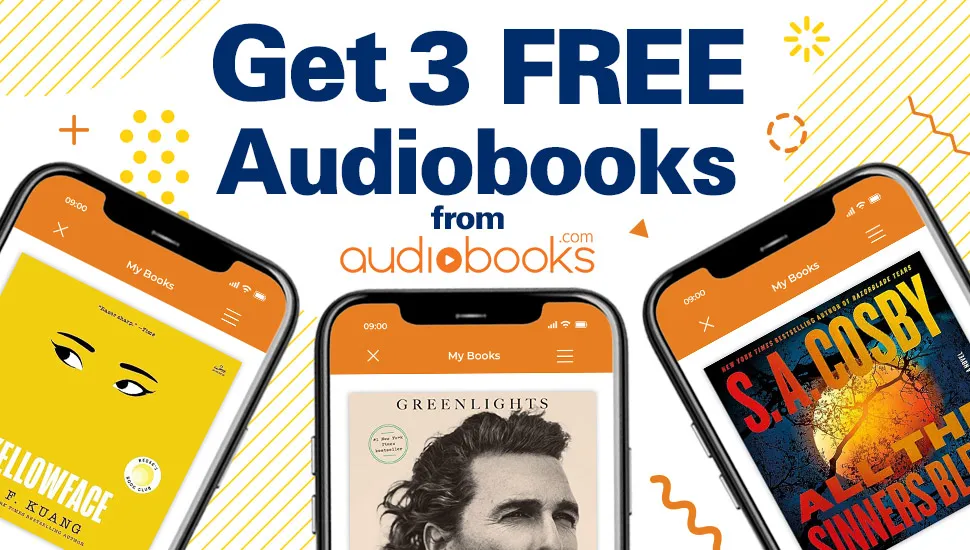 50 Must-Read Contemporary Essay Collections
Liberty Hardy
Liberty Hardy is an unrepentant velocireader, writer, bitey mad lady, and tattoo canvas. Turn-ons include books, books and books. Her favorite exclamation is "Holy cats!" Liberty reads more than should be legal, sleeps very little, frequently writes on her belly with Sharpie markers, and when she dies, she's leaving her body to library science. Until then, she lives with her three cats, Millay, Farrokh, and Zevon, in Maine. She is also right behind you. Just kidding! She's too busy reading. Twitter: @MissLiberty
View All posts by Liberty Hardy
I feel like essay collections don't get enough credit. They're so wonderful! They're like short story collections, but TRUE. It's like going to a truth buffet. You can get information about sooooo many topics, sometimes in one single book! To prove that there are a zillion amazing essay collections out there, I compiled 50 great contemporary essay collections, just from the last 18 months alone. Ranging in topics from food, nature, politics, sex, celebrity, and more, there is something here for everyone!
I've included a brief description from the publisher with each title. Tell us in the comments about which of these you've read or other contemporary essay collections that you love. There are a LOT of them. Yay, books!
Must-Read Contemporary Essay Collections
They can't kill us until they kill us by hanif abdurraqib.
"In an age of confusion, fear, and loss, Hanif Willis-Abdurraqib's is a voice that matters. Whether he's attending a Bruce Springsteen concert the day after visiting Michael Brown's grave, or discussing public displays of affection at a Carly Rae Jepsen show, he writes with a poignancy and magnetism that resonates profoundly."
Would Everybody Please Stop?: Reflections on Life and Other Bad Ideas by Jenny Allen
"Jenny Allen's musings range fluidly from the personal to the philosophical. She writes with the familiarity of someone telling a dinner party anecdote, forgoing decorum for candor and comedy. To read Would Everybody Please Stop? is to experience life with imaginative and incisive humor."
Longthroat Memoirs: Soups, Sex and Nigerian Taste Buds by Yemisi Aribisala
"A sumptuous menu of essays about Nigerian cuisine, lovingly presented by the nation's top epicurean writer. As well as a mouth-watering appraisal of Nigerian food, Longthroat Memoirs is a series of love letters to the Nigerian palate. From the cultural history of soup, to fish as aphrodisiac and the sensual allure of snails, Longthroat Memoirs explores the complexities, the meticulousness, and the tactile joy of Nigerian gastronomy."
Beyond Measure: Essays by Rachel Z. Arndt
" Beyond Measure is a fascinating exploration of the rituals, routines, metrics and expectations through which we attempt to quantify and ascribe value to our lives. With mordant humor and penetrating intellect, Arndt casts her gaze beyond event-driven narratives to the machinery underlying them: judo competitions measured in weigh-ins and wait times; the significance of the elliptical's stationary churn; the rote scripts of dating apps; the stupefying sameness of the daily commute."
Magic Hours by Tom Bissell
"Award-winning essayist Tom Bissell explores the highs and lows of the creative process. He takes us from the set of The Big Bang Theory to the first novel of Ernest Hemingway to the final work of David Foster Wallace; from the films of Werner Herzog to the film of Tommy Wiseau to the editorial meeting in which Paula Fox's work was relaunched into the world. Originally published in magazines such as The Believer , The New Yorker , and Harper's , these essays represent ten years of Bissell's best writing on every aspect of creation—be it Iraq War documentaries or video-game character voices—and will provoke as much thought as they do laughter."
Dead Girls: Essays on Surviving an American Obsession by Alice Bolin
"In this poignant collection, Alice Bolin examines iconic American works from the essays of Joan Didion and James Baldwin to Twin Peaks , Britney Spears, and Serial , illuminating the widespread obsession with women who are abused, killed, and disenfranchised, and whose bodies (dead and alive) are used as props to bolster men's stories. Smart and accessible, thoughtful and heartfelt, Bolin investigates the implications of our cultural fixations, and her own role as a consumer and creator."
Betwixt-and-Between: Essays on the Writing Life by Jenny Boully
"Jenny Boully's essays are ripe with romance and sensual pleasures, drawing connections between the digression, reflection, imagination, and experience that characterizes falling in love as well as the life of a writer. Literary theory, philosophy, and linguistics rub up against memory, dreamscapes, and fancy, making the practice of writing a metaphor for the illusory nature of experience. Betwixt and Between is, in many ways, simply a book about how to live."
Wedding Toasts I'll Never Give by Ada Calhoun
"In Wedding Toasts I'll Never Give , Ada Calhoun presents an unflinching but also loving portrait of her own marriage, opening a long-overdue conversation about the institution as it truly is: not the happy ending of a love story or a relic doomed by high divorce rates, but the beginning of a challenging new chapter of which 'the first twenty years are the hardest.'"
How to Write an Autobiographical Novel: Essays by Alexander Chee
" How to Write an Autobiographical Novel is the author's manifesto on the entangling of life, literature, and politics, and how the lessons learned from a life spent reading and writing fiction have changed him. In these essays, he grows from student to teacher, reader to writer, and reckons with his identities as a son, a gay man, a Korean American, an artist, an activist, a lover, and a friend. He examines some of the most formative experiences of his life and the nation's history, including his father's death, the AIDS crisis, 9/11, the jobs that supported his writing—Tarot-reading, bookselling, cater-waiting for William F. Buckley—the writing of his first novel, Edinburgh , and the election of Donald Trump."
Too Much and Not the Mood: Essays by Durga Chew-Bose
" Too Much and Not the Mood is a beautiful and surprising exploration of what it means to be a first-generation, creative young woman working today. On April 11, 1931, Virginia Woolf ended her entry in A Writer's Diary with the words 'too much and not the mood' to describe her frustration with placating her readers, what she described as the 'cramming in and the cutting out.' She wondered if she had anything at all that was truly worth saying. The attitude of that sentiment inspired Durga Chew-Bose to gather own writing in this lyrical collection of poetic essays that examine personhood and artistic growth. Drawing inspiration from a diverse group of incisive and inquiring female authors, Chew-Bose captures the inner restlessness that keeps her always on the brink of creative expression."
We Were Eight Years in Power: An American Tragedy by Ta-Nehisi Coates
"'We were eight years in power' was the lament of Reconstruction-era black politicians as the American experiment in multiracial democracy ended with the return of white supremacist rule in the South. In this sweeping collection of new and selected essays, Ta-Nehisi Coates explores the tragic echoes of that history in our own time: the unprecedented election of a black president followed by a vicious backlash that fueled the election of the man Coates argues is America's 'first white president.'"
Look Alive Out There: Essays by Sloane Crosley
"In Look Alive Out There, whether it's scaling active volcanoes, crashing shivas, playing herself on Gossip Girl, befriending swingers, or squinting down the barrel of the fertility gun, Crosley continues to rise to the occasion with unmatchable nerve and electric one-liners. And as her subjects become more serious, her essays deliver not just laughs but lasting emotional heft and insight. Crosley has taken up the gauntlets thrown by her predecessors—Dorothy Parker, Nora Ephron, David Sedaris—and crafted something rare, affecting, and true."
Fl â neuse: Women Walk the City in Paris, New York, Tokyo, Venice, and London by Lauren Elkin
"Part cultural meander, part memoir, Flâneuse takes us on a distinctly cosmopolitan jaunt that begins in New York, where Elkin grew up, and transports us to Paris via Venice, Tokyo, and London, all cities in which she's lived. We are shown the paths beaten by such flâneuses as the cross-dressing nineteenth-century novelist George Sand, the Parisian artist Sophie Calle, the wartime correspondent Martha Gellhorn, and the writer Jean Rhys. With tenacity and insight, Elkin creates a mosaic of what urban settings have meant to women, charting through literature, art, history, and film the sometimes exhilarating, sometimes fraught relationship that women have with the metropolis."
Idiophone by Amy Fusselman
"Leaping from ballet to quiltmaking, from the The Nutcracker to an Annie-B Parson interview, Idiophone is a strikingly original meditation on risk-taking and provocation in art and a unabashedly honest, funny, and intimate consideration of art-making in the context of motherhood, and motherhood in the context of addiction. Amy Fusselman's compact, beautifully digressive essay feels both surprising and effortless, fueled by broad-ranging curiosity, and, fundamentally, joy."
Not That Bad: Dispatches from Rape Culture by Roxane Gay
"In this valuable and revealing anthology, cultural critic and bestselling author Roxane Gay collects original and previously published pieces that address what it means to live in a world where women have to measure the harassment, violence, and aggression they face, and where they are 'routinely second-guessed, blown off, discredited, denigrated, besmirched, belittled, patronized, mocked, shamed, gaslit, insulted, bullied' for speaking out."
Sunshine State: Essays by Sarah Gerard
"With the personal insight of The Empathy Exams , the societal exposal of Nickel and Dimed , and the stylistic innovation and intensity of her own break-out debut novel Binary Star , Sarah Gerard's Sunshine State uses the intimately personal to unearth the deep reservoirs of humanity buried in the corners of our world often hardest to face."
The Art of the Wasted Day by Patricia Hampl
" The Art of the Wasted Day is a picaresque travelogue of leisure written from a lifelong enchantment with solitude. Patricia Hampl visits the homes of historic exemplars of ease who made repose a goal, even an art form. She begins with two celebrated eighteenth-century Irish ladies who ran off to live a life of 'retirement' in rural Wales. Her search then leads to Moravia to consider the monk-geneticist, Gregor Mendel, and finally to Bordeaux for Michel Montaigne—the hero of this book—who retreated from court life to sit in his chateau tower and write about whatever passed through his mind, thus inventing the personal essay."
A Really Big Lunch: The Roving Gourmand on Food and Life by Jim Harrison
"Jim Harrison's legendary gourmandise is on full display in A Really Big Lunch . From the titular New Yorker piece about a French lunch that went to thirty-seven courses, to pieces from Brick , Playboy , Kermit Lynch Newsletter, and more on the relationship between hunter and prey, or the obscure language of wine reviews, A Really Big Lunch is shot through with Harrison's pointed aperçus and keen delight in the pleasures of the senses. And between the lines the pieces give glimpses of Harrison's life over the last three decades. A Really Big Lunch is a literary delight that will satisfy every appetite."
Insomniac City: New York, Oliver, and Me by Bill Hayes
"Bill Hayes came to New York City in 2009 with a one-way ticket and only the vaguest idea of how he would get by. But, at forty-eight years old, having spent decades in San Francisco, he craved change. Grieving over the death of his partner, he quickly discovered the profound consolations of the city's incessant rhythms, the sight of the Empire State Building against the night sky, and New Yorkers themselves, kindred souls that Hayes, a lifelong insomniac, encountered on late-night strolls with his camera."
Would You Rather?: A Memoir of Growing Up and Coming Out by Katie Heaney
"Here, for the first time, Katie opens up about realizing at the age of twenty-eight that she is gay. In these poignant, funny essays, she wrestles with her shifting sexuality and identity, and describes what it was like coming out to everyone she knows (and everyone she doesn't). As she revisits her past, looking for any 'clues' that might have predicted this outcome, Katie reveals that life doesn't always move directly from point A to point B—no matter how much we would like it to."
Tonight I'm Someone Else: Essays by Chelsea Hodson
"From graffiti gangs and Grand Theft Auto to sugar daddies, Schopenhauer, and a deadly game of Russian roulette, in these essays, Chelsea Hodson probes her own desires to examine where the physical and the proprietary collide. She asks what our privacy, our intimacy, and our own bodies are worth in the increasingly digital world of liking, linking, and sharing."
We Are Never Meeting in Real Life.: Essays by Samantha Irby
"With We Are Never Meeting in Real Life. , 'bitches gotta eat' blogger and comedian Samantha Irby turns the serio-comic essay into an art form. Whether talking about how her difficult childhood has led to a problem in making 'adult' budgets, explaining why she should be the new Bachelorette—she's '35-ish, but could easily pass for 60-something'—detailing a disastrous pilgrimage-slash-romantic-vacation to Nashville to scatter her estranged father's ashes, sharing awkward sexual encounters, or dispensing advice on how to navigate friendships with former drinking buddies who are now suburban moms—hang in there for the Costco loot—she's as deft at poking fun at the ghosts of her past self as she is at capturing powerful emotional truths."
This Will Be My Undoing: Living at the Intersection of Black, Female, and Feminist in (White) America by Morgan Jerkins
"Doubly disenfranchised by race and gender, often deprived of a place within the mostly white mainstream feminist movement, black women are objectified, silenced, and marginalized with devastating consequences, in ways both obvious and subtle, that are rarely acknowledged in our country's larger discussion about inequality. In This Will Be My Undoing , Jerkins becomes both narrator and subject to expose the social, cultural, and historical story of black female oppression that influences the black community as well as the white, male-dominated world at large."
Everywhere Home: A Life in Essays by Fenton Johnson
"Part retrospective, part memoir, Fenton Johnson's collection Everywhere Home: A Life in Essays explores sexuality, religion, geography, the AIDS crisis, and more. Johnson's wanderings take him from the hills of Kentucky to those of San Francisco, from the streets of Paris to the sidewalks of Calcutta. Along the way, he investigates questions large and small: What's the relationship between artists and museums, illuminated in a New Guinean display of shrunken heads? What's the difference between empiricism and intuition?"
One Day We'll All Be Dead and None of This Will Matter: Essays by Scaachi Koul
"In One Day We'll All Be Dead and None of This Will Matter , Scaachi Koul deploys her razor-sharp humor to share all the fears, outrages, and mortifying moments of her life. She learned from an early age what made her miserable, and for Scaachi anything can be cause for despair. Whether it's a shopping trip gone awry; enduring awkward conversations with her bikini waxer; overcoming her fear of flying while vacationing halfway around the world; dealing with Internet trolls, or navigating the fears and anxieties of her parents. Alongside these personal stories are pointed observations about life as a woman of color: where every aspect of her appearance is open for critique, derision, or outright scorn; where strict gender rules bind in both Western and Indian cultures, leaving little room for a woman not solely focused on marriage and children to have a career (and a life) for herself."
Tell Me How It Ends: An Essay in 40 Questions by Valeria Luiselli and jon lee anderson (translator)
"A damning confrontation between the American dream and the reality of undocumented children seeking a new life in the U.S. Structured around the 40 questions Luiselli translates and asks undocumented Latin American children facing deportation, Tell Me How It Ends (an expansion of her 2016 Freeman's essay of the same name) humanizes these young migrants and highlights the contradiction between the idea of America as a fiction for immigrants and the reality of racism and fear—both here and back home."
All the Lives I Want: Essays About My Best Friends Who Happen to Be Famous Strangers by Alana Massey
"Mixing Didion's affected cool with moments of giddy celebrity worship, Massey examines the lives of the women who reflect our greatest aspirations and darkest fears back onto us. These essays are personal without being confessional and clever in a way that invites readers into the joke. A cultural critique and a finely wrought fan letter, interwoven with stories that are achingly personal, All the Lives I Want is also an exploration of mental illness, the sex industry, and the dangers of loving too hard."
Typewriters, Bombs, Jellyfish: Essays by Tom McCarthy
"Certain points of reference recur with dreamlike insistence—among them the artist Ed Ruscha's Royal Road Test , a photographic documentation of the roadside debris of a Royal typewriter hurled from the window of a traveling car; the great blooms of jellyfish that are filling the oceans and gumming up the machinery of commerce and military domination—and the question throughout is: How can art explode the restraining conventions of so-called realism, whether aesthetic or political, to engage in the active reinvention of the world?"
Nasty Women: Feminism, Resistance, and Revolution in Trump's America by Samhita Mukhopadhyay and Kate Harding
"When 53 percent of white women voted for Donald Trump and 94 percent of black women voted for Hillary Clinton, how can women unite in Trump's America? Nasty Women includes inspiring essays from a diverse group of talented women writers who seek to provide a broad look at how we got here and what we need to do to move forward."
Don't Call Me Princess: Essays on Girls, Women, Sex, and Life by Peggy Orenstein
"Named one of the '40 women who changed the media business in the last 40 years' by Columbia Journalism Review , Peggy Orenstein is one of the most prominent, unflinching feminist voices of our time. Her writing has broken ground and broken silences on topics as wide-ranging as miscarriage, motherhood, breast cancer, princess culture and the importance of girls' sexual pleasure. Her unique blend of investigative reporting, personal revelation and unexpected humor has made her books bestselling classics."
When You Find Out the World Is Against You: And Other Funny Memories About Awful Moments by Kelly Oxford
"Kelly Oxford likes to blow up the internet. Whether it is with the kind of Tweets that lead Rolling Stone to name her one of the Funniest People on Twitter or with pictures of her hilariously adorable family (human and animal) or with something much more serious, like creating the hashtag #NotOkay, where millions of women came together to share their stories of sexual assault, Kelly has a unique, razor-sharp perspective on modern life. As a screen writer, professional sh*t disturber, wife and mother of three, Kelly is about everything but the status quo."
Too Fat, Too Slutty, Too Loud: The Rise and Reign of the Unruly Woman by Anne Helen Petersen
"You know the type: the woman who won't shut up, who's too brazen, too opinionated—too much. She's the unruly woman, and she embodies one of the most provocative and powerful forms of womanhood today. In Too Fat, Too Slutty, Too Loud , Anne Helen Petersen uses the lens of 'unruliness' to explore the ascension of pop culture powerhouses like Lena Dunham, Nicki Minaj, and Kim Kardashian, exploring why the public loves to love (and hate) these controversial figures. With its brisk, incisive analysis, Too Fat, Too Slutty, Too Loud will be a conversation-starting book on what makes and breaks celebrity today."
Well, That Escalated Quickly: Memoirs and Mistakes of an Accidental Activist by Franchesca Ramsey
"In her first book, Ramsey uses her own experiences as an accidental activist to explore the many ways we communicate with each other—from the highs of bridging gaps and making connections to the many pitfalls that accompany talking about race, power, sexuality, and gender in an unpredictable public space…the internet."
Shrewed: A Wry and Closely Observed Look at the Lives of Women and Girls by Elizabeth Renzetti
"Drawing upon Renzetti's decades of reporting on feminist issues, Shrewed is a book about feminism's crossroads. From Hillary Clinton's failed campaign to the quest for equal pay, from the lessons we can learn from old ladies to the future of feminism in a turbulent world, Renzetti takes a pointed, witty look at how far we've come—and how far we have to go."
What Are We Doing Here?: Essays by Marilynne Robinson
"In this new essay collection she trains her incisive mind on our modern political climate and the mysteries of faith. Whether she is investigating how the work of great thinkers about America like Emerson and Tocqueville inform our political consciousness or discussing the way that beauty informs and disciplines daily life, Robinson's peerless prose and boundless humanity are on full display."
Double Bind: Women on Ambition by Robin Romm
"'A work of courage and ferocious honesty' (Diana Abu-Jaber), Double Bind could not come at a more urgent time. Even as major figures from Gloria Steinem to Beyoncé embrace the word 'feminism,' the word 'ambition' remains loaded with ambivalence. Many women see it as synonymous with strident or aggressive, yet most feel compelled to strive and achieve—the seeming contradiction leaving them in a perpetual double bind. Ayana Mathis, Molly Ringwald, Roxane Gay, and a constellation of 'nimble thinkers . . . dismantle this maddening paradox' ( O, The Oprah Magazine ) with candor, wit, and rage. Women who have made landmark achievements in fields as diverse as law, dog sledding, and butchery weigh in, breaking the last feminist taboo once and for all."
The Destiny Thief: Essays on Writing, Writers and Life by Richard Russo
"In these nine essays, Richard Russo provides insight into his life as a writer, teacher, friend, and reader. From a commencement speech he gave at Colby College, to the story of how an oddly placed toilet made him reevaluate the purpose of humor in art and life, to a comprehensive analysis of Mark Twain's value, to his harrowing journey accompanying a dear friend as she pursued gender-reassignment surgery, The Destiny Thief reflects the broad interests and experiences of one of America's most beloved authors. Warm, funny, wise, and poignant, the essays included here traverse Russo's writing life, expanding our understanding of who he is and how his singular, incredibly generous mind works. An utter joy to read, they give deep insight into the creative process from the prospective of one of our greatest writers."
Curry: Eating, Reading, and Race by Naben Ruthnum
"Curry is a dish that doesn't quite exist, but, as this wildly funny and sharp essay points out, a dish that doesn't properly exist can have infinite, equally authentic variations. By grappling with novels, recipes, travelogues, pop culture, and his own upbringing, Naben Ruthnum depicts how the distinctive taste of curry has often become maladroit shorthand for brown identity. With the sardonic wit of Gita Mehta's Karma Cola and the refined, obsessive palette of Bill Buford's Heat , Ruthnum sinks his teeth into the story of how the beloved flavor calcified into an aesthetic genre that limits the imaginations of writers, readers, and eaters."
The River of Consciousness by Oliver Sacks
"Sacks, an Oxford-educated polymath, had a deep familiarity not only with literature and medicine but with botany, animal anatomy, chemistry, the history of science, philosophy, and psychology. The River of Consciousness is one of two books Sacks was working on up to his death, and it reveals his ability to make unexpected connections, his sheer joy in knowledge, and his unceasing, timeless project to understand what makes us human."
All the Women in My Family Sing: Women Write the World: Essays on Equality, Justice, and Freedom (Nothing But the Truth So Help Me God) by Deborah Santana and America Ferrera
" All the Women in My Family Sing is an anthology documenting the experiences of women of color at the dawn of the twenty-first century. It is a vital collection of prose and poetry whose topics range from the pressures of being the vice-president of a Fortune 500 Company, to escaping the killing fields of Cambodia, to the struggles inside immigration, identity, romance, and self-worth. These brief, trenchant essays capture the aspirations and wisdom of women of color as they exercise autonomy, creativity, and dignity and build bridges to heal the brokenness in today's turbulent world."
We Wear the Mask: 15 True Stories of Passing in America by Brando Skyhorse and Lisa Page
"For some, 'passing' means opportunity, access, or safety. Others don't willingly pass but are 'passed' in specific situations by someone else. We Wear the Mask , edited by Brando Skyhorse and Lisa Page , is an illuminating and timely anthology that examines the complex reality of passing in America. Skyhorse, a Mexican American, writes about how his mother passed him as an American Indian before he learned who he really is. Page shares how her white mother didn't tell friends about her black ex-husband or that her children were, in fact, biracial."
Feel Free: Essays by Zadie Smith
"Since she burst spectacularly into view with her debut novel almost two decades ago, Zadie Smith has established herself not just as one of the world's preeminent fiction writers, but also a brilliant and singular essayist. She contributes regularly to The New Yorker and the New York Review of Books on a range of subjects, and each piece of hers is a literary event in its own right."
The Mother of All Questions: Further Reports from the Feminist Revolutions by Rebecca Solnit
"In a timely follow-up to her national bestseller Men Explain Things to Me , Rebecca Solnit offers indispensable commentary on women who refuse to be silenced, misogynistic violence, the fragile masculinity of the literary canon, the gender binary, the recent history of rape jokes, and much more. In characteristic style, Solnit mixes humor, keen analysis, and powerful insight in these essays."
The Wrong Way to Save Your Life: Essays by Megan Stielstra
"Whether she's imagining the implications of open-carry laws on college campuses, recounting the story of going underwater on the mortgage of her first home, or revealing the unexpected pains and joys of marriage and motherhood, Stielstra's work informs, impels, enlightens, and embraces us all. The result is something beautiful—this story, her courage, and, potentially, our own."
Against Memoir: Complaints, Confessions & Criticisms by Michelle Tea
"Delivered with her signature honesty and dark humor, this is Tea's first-ever collection of journalistic writing. As she blurs the line between telling other people's stories and her own, she turns an investigative eye to the genre that's nurtured her entire career—memoir—and considers the price that art demands be paid from life."
A Twenty Minute Silence Followed by Applause by Shawn Wen
"In precise, jewel-like scenes and vignettes, A Twenty Minute Silence Followed by Applause pays homage to the singular genius of a mostly-forgotten art form. Drawing on interviews, archival research, and meticulously observed performances, Wen translates the gestural language of mime into a lyric written portrait by turns whimsical, melancholic, and haunting."
Acid West: Essays by Joshua Wheeler
"The radical evolution of American identity, from cowboys to drone warriors to space explorers, is a story rooted in southern New Mexico. Acid West illuminates this history, clawing at the bounds of genre to reveal a place that is, for better or worse, home. By turns intimate, absurd, and frightening, Acid West is an enlightening deep-dive into a prophetic desert at the bottom of America."
Sexographies by Gabriela Wiener and Lucy Greaves And jennifer adcock (Translators)
"In fierce and sumptuous first-person accounts, renowned Peruvian journalist Gabriela Wiener records infiltrating the most dangerous Peruvian prison, participating in sexual exchanges in swingers clubs, traveling the dark paths of the Bois de Boulogne in Paris in the company of transvestites and prostitutes, undergoing a complicated process of egg donation, and participating in a ritual of ayahuasca ingestion in the Amazon jungle—all while taking us on inward journeys that explore immigration, maternity, fear of death, ugliness, and threesomes. Fortunately, our eagle-eyed voyeur emerges from her narrative forays unscathed and ready to take on the kinks, obsessions, and messiness of our lives. Sexographies is an eye-opening, kamikaze journey across the contours of the human body and mind."
The Nature Fix: Why Nature Makes Us Happier, Healthier, and More Creative by Florence Williams
"From forest trails in Korea, to islands in Finland, to eucalyptus groves in California, Florence Williams investigates the science behind nature's positive effects on the brain. Delving into brand-new research, she uncovers the powers of the natural world to improve health, promote reflection and innovation, and strengthen our relationships. As our modern lives shift dramatically indoors, these ideas—and the answers they yield—are more urgent than ever."
Can You Tolerate This?: Essays by Ashleigh Young
" Can You Tolerate This? presents a vivid self-portrait of an introspective yet widely curious young woman, the colorful, isolated community in which she comes of age, and the uneasy tensions—between safety and risk, love and solitude, the catharsis of grief and the ecstasy of creation—that define our lives."
What are your favorite contemporary essay collections?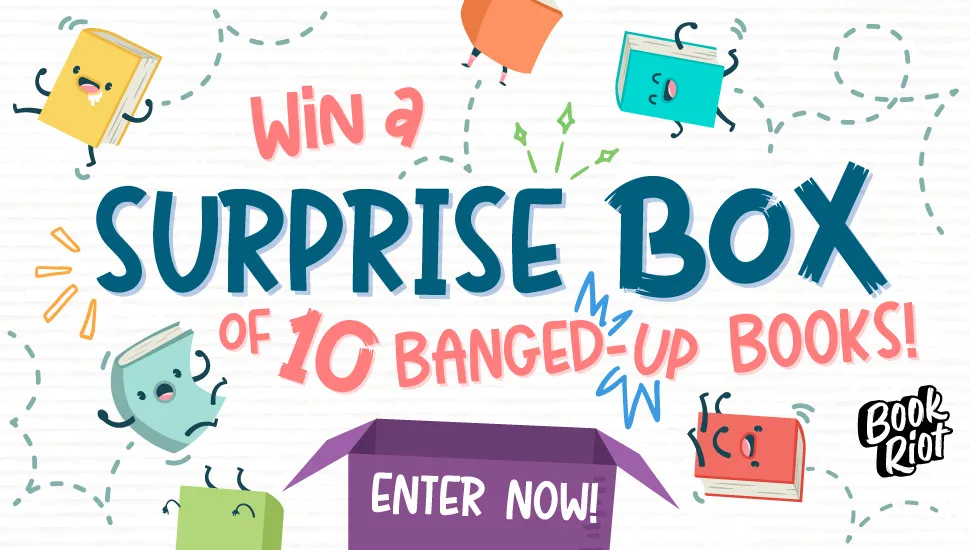 You Might Also Like
Craft and Criticism
Fiction and Poetry
News and Culture
Lit Hub Radio
Reading Lists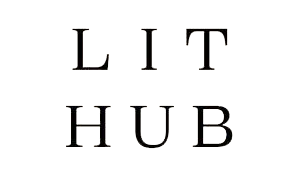 Literary Criticism
Craft and Advice
In Conversation
On Translation
Short Story
From the Novel
The Virtual Book Channel
Film and TV
Art and Photography
Bookstores and Libraries
Freeman's
Behind the Mic
Beyond the Page
The Cosmic Library
Emergence Magazine
Fiction/Non/Fiction
First Draft: A Dialogue on Writing
Just the Right Book
Literary Disco
The Literary Life with Mitchell Kaplan
The Maris Review
New Books Network
Otherppl with Brad Listi
So Many Damn Books
Tor Presents: Voyage Into Genre
Windham-Campbell Prizes Podcast
The Best of the Decade
Best Reviewed Books
BookMarks Daily Giveaway
The Daily Thrill
CrimeReads Daily Giveaway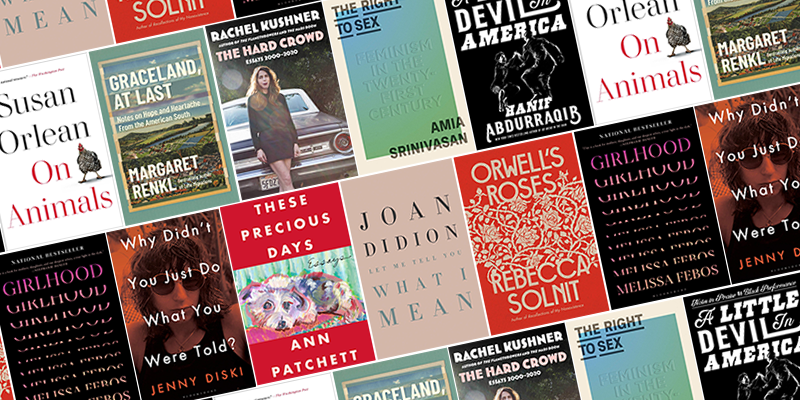 The Best Reviewed Essay Collections of 2021
Featuring joan didion, rachel kushner, hanif abdurraqib, ann patchett, jenny diski, and more.

Well, friends, another grim and grueling plague year is drawing to a close, and that can mean only one thing: it's time to put on our Book Marks stats hats and tabulate the best reviewed books of the past twelve months.
Yes, using reviews drawn from more than 150 publications, over the next two weeks we'll be revealing the most critically-acclaimed books of 2021, in the categories of (deep breath): Memoir and Biography ; Sci-Fi, Fantasy, and Horror ; Short Story Collections ; Essay Collections; Poetry; Mystery and Crime; Graphic Literature; Literature in Translation; General Fiction; and General Nonfiction.
Today's installment: Essay Collections .
Brought to you by Book Marks , Lit Hub's "Rotten Tomatoes for books."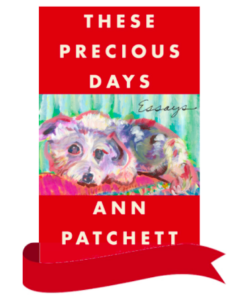 1. These Precious Days by Ann Patchett (Harper)
21 Rave • 3 Positive • 1 Mixed Read Ann Patchett on creating the work space you need, here
"… excellent … Patchett has a talent for friendship and celebrates many of those friends here. She writes with pure love for her mother, and with humor and some good-natured exasperation at Karl, who is such a great character he warrants a book of his own. Patchett's account of his feigned offer to buy a woman's newly adopted baby when she expresses unwarranted doubts is priceless … The days that Patchett refers to are precious indeed, but her writing is anything but. She describes deftly, with a line or a look, and I considered the absence of paragraphs freighted with adjectives to be a mercy. I don't care about the hue of the sky or the shade of the couch. That's not writing; it's decorating. Or hiding. Patchett's heart, smarts and 40 years of craft create an economy that delivers her perfectly understated stories emotionally whole. Her writing style is most gloriously her own."
–Alex Witchel ( The New York Times Book Review )
2. Let Me Tell You What I Mean by Joan Didion (Knopf)
14 Rave • 12 Positive • 6 Mixed Read an excerpt from Let Me Tell You What I Mean here
"In five decades' worth of essays, reportage and criticism, Didion has documented the charade implicit in how things are, in a first-person, observational style that is not sacrosanct but common-sensical. Seeing as a way of extrapolating hypocrisy, disingenuousness and doubt, she'll notice the hydrangeas are plastic and mention it once, in passing, sorting the scene. Her gaze, like a sentry on the page, permanently trained on what is being disguised … The essays in Let Me Tell You What I Mean are at once funny and touching, roving and no-nonsense. They are about humiliation and about notions of rightness … Didion's pen is like a periscope onto the creative mind—and, as this collection demonstrates, it always has been. These essays offer a direct line to what's in the offing."
–Durga Chew-Bose ( The New York Times Book Review )
3. Orwell's Roses by Rebecca Solnit (Viking)
12 Rave • 13 Positive • 1 Mixed Read an excerpt from Orwell's Roses here
"… on its simplest level, a tribute by one fine essayist of the political left to another of an earlier generation. But as with any of Solnit's books, such a description would be reductive: the great pleasure of reading her is spending time with her mind, its digressions and juxtapositions, its unexpected connections. Only a few contemporary writers have the ability to start almost anywhere and lead the reader on paths that, while apparently meandering, compel unfailingly and feel, by the end, cosmically connected … Somehow, Solnit's references to Ross Gay, Michael Pollan, Ursula K. Le Guin, and Peter Coyote (to name but a few) feel perfectly at home in the narrative; just as later chapters about an eighteenth-century portrait by Sir Joshua Reynolds and a visit to the heart of the Colombian rose-growing industry seem inevitable and indispensable … The book provides a captivating account of Orwell as gardener, lover, parent, and endlessly curious thinker … And, movingly, she takes the time to find the traces of Orwell the gardener and lover of beauty in his political novels, and in his insistence on the value and pleasure of things ."
–Claire Messud ( Harper's )
4. Girlhood by Melissa Febos (Bloomsbury)
16 Rave • 5 Positive • 1 Mixed Read an excerpt from Girlhood here
"Every once in a while, a book comes along that feels so definitive, so necessary, that not only do you want to tell everyone to read it now, but you also find yourself wanting to go back in time and tell your younger self that you will one day get to read something that will make your life make sense. Melissa Febos's fierce nonfiction collection, Girlhood , might just be that book. Febos is one of our most passionate and profound essayists … Girlhood …offers us exquisite, ferocious language for embracing self-pleasure and self-love. It's a book that women will wish they had when they were younger, and that they'll rejoice in having now … Febos is a balletic memoirist whose capacious gaze can take in so many seemingly disparate things and unfurl them in a graceful, cohesive way … Intellectual and erotic, engaging and empowering[.]"
–Michelle Hart ( Oprah Daily )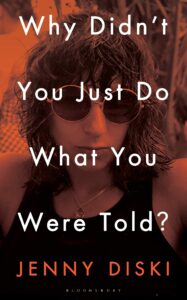 5. Why Didn't You Just Do What You Were Told by Jenny Diski (Bloomsbury)
14 Rave • 7 Positive
"[Diski's] reputation as an original, witty and cant-free thinker on the way we live now should be given a significant boost. Her prose is elegant and amused, as if to counter her native melancholia and includes frequent dips into memorable images … Like the ideal artist Henry James conjured up, on whom nothing is lost, Diski notices everything that comes her way … She is discerning about serious topics (madness and death) as well as less fraught material, such as fashion … in truth Diski's first-person voice is like no other, selectively intimate but not overbearingly egotistic, like, say, Norman Mailer's. It bears some resemblance to Joan Didion's, if Didion were less skittish and insistently stylish and generated more warmth. What they have in common is their innate skepticism and the way they ask questions that wouldn't occur to anyone else … Suffice it to say that our culture, enmeshed as it is in carefully arranged snapshots of real life, needs Jenny Diski, who, by her own admission, 'never owned a camera, never taken one on holiday.'" It is all but impossible not to warm up to a writer who observes herself so keenly … I, in turn, wish there were more people around who thought like Diski. The world would be a more generous, less shallow and infinitely more intriguing place."
–Daphne Merkin ( The New York Times Book Review )
6. The Hard Crowd: Essays 2000-2020 by Rachel Kushner (Scribner)
12 Rave • 7 Positive Listen to an interview with Rachel Kushner here
"Whether she's writing about Jeff Koons, prison abolition or a Palestinian refugee camp in Jerusalem, [Kushner's] interested in appearances, and in the deeper currents a surface detail might betray … Her writing is magnetised by outlaw sensibility, hard lives lived at a slant, art made in conditions of ferment and unrest, though she rarely serves a platter that isn't style-mag ready … She makes a pretty convincing case for a political dimension to Jeff Koons's vacuities and mirrored surfaces, engages repeatedly with the Italian avant garde and writes best of all about an artist friend whose death undoes a spell of nihilism … It's not just that Kushner is looking back on the distant city of youth; more that she's the sole survivor of a wild crowd done down by prison, drugs, untimely death … What she remembers is a whole world, but does the act of immortalising it in language also drain it of its power,'neon, in pink, red, and warm white, bleeding into the fog'? She's mining a rich seam of specificity, her writing charged by the dangers she ran up against. And then there's the frank pleasure of her sentences, often shorn of definite articles or odd words, so they rev and bucket along … That New Journalism style, live hard and keep your eyes open, has long since given way to the millennial cult of the personal essay, with its performance of pain, its earnest display of wounds received and lessons learned. But Kushner brings it all flooding back. Even if I'm skeptical of its dazzle, I'm glad to taste something this sharp, this smart."
–Olivia Laing ( The Guardian )
7. The Right to Sex: Feminism in the Twenty-First Century by Amia Srinivasan (FSG)
12 Rave • 7 Positive • 5 Mixed • 1 Pan
"[A] quietly dazzling new essay collection … This is, needless to say, fraught terrain, and Srinivasan treads it with determination and skill … These essays are works of both criticism and imagination. Srinivasan refuses to resort to straw men; she will lay out even the most specious argument clearly and carefully, demonstrating its emotional power, even if her ultimate intention is to dismantle it … This, then, is a book that explicitly addresses intersectionality, even if Srinivasan is dissatisfied with the common—and reductive—understanding of the term … Srinivasan has written a compassionate book. She has also written a challenging one … Srinivasan proposes the kind of education enacted in this brilliant, rigorous book. She coaxes our imaginations out of the well-worn grooves of the existing order."
–Jennifer Szalai ( The New York Times )
8. A Little Devil in America by Hanif Abdurraqib (Random House)
13 Rave • 4 Positive Listen to an interview with Hanif Abdurraqib here
"[A] wide, deep, and discerning inquest into the Beauty of Blackness as enacted on stages and screens, in unanimity and discord, on public airwaves and in intimate spaces … has brought to pop criticism and cultural history not just a poet's lyricism and imagery but also a scholar's rigor, a novelist's sense of character and place, and a punk-rocker's impulse to dislodge conventional wisdom from its moorings until something shakes loose and is exposed to audiences too lethargic to think or even react differently … Abdurraqib cherishes this power to enlarge oneself within or beyond real or imagined restrictions … Abdurraqib reminds readers of the massive viewing audience's shock and awe over seeing one of the world's biggest pop icons appearing midfield at this least radical of American rituals … Something about the seemingly insatiable hunger Abdurraqib shows for cultural transaction, paradoxical mischief, and Beauty in Blackness tells me he'll get to such matters soon enough."
–Gene Seymour ( Bookforum )
9. On Animals by Susan Orlean (Avid Reader Press)
11 Rave • 6 Positive • 1 Mixed Listen to an interview with Susan Orlean here
"I very much enjoyed Orlean's perspective in these original, perceptive, and clever essays showcasing the sometimes strange, sometimes sick, sometimes tender relationships between people and animals … whether Orlean is writing about one couple's quest to find their lost dog, the lives of working donkeys of the Fez medina in Morocco, or a man who rescues lions (and happily allows even full grown males to gently chew his head), her pages are crammed with quirky characters, telling details, and flabbergasting facts … Readers will find these pages full of astonishments … Orlean excels as a reporter…Such thorough reporting made me long for updates on some of these stories … But even this criticism only testifies to the delight of each of the urbane and vivid stories in this collection. Even though Orlean claims the animals she writes about remain enigmas, she makes us care about their fates. Readers will continue to think about these dogs and donkeys, tigers and lions, chickens and pigeons long after we close the book's covers. I hope most of them are still well."
–Sy Montgomery ( The Boston Globe )
10. Graceland, at Last: Notes on Hope and Heartache from the American South  by Margaret Renkl (Milkweed Editions)
9 Rave • 5 Positive Read Margaret Renkl on finding ideas everywhere, here
"Renkl's sense of joyful belonging to the South, a region too often dismissed on both coasts in crude stereotypes and bad jokes, co-exists with her intense desire for Southerners who face prejudice or poverty finally to be embraced and supported … Renkl at her most tender and most fierce … Renkl's gift, just as it was in her first book Late Migrations , is to make fascinating for others what is closest to her heart … Any initial sense of emotional whiplash faded as as I proceeded across the six sections and realized that the book is largely organized around one concept, that of fair and loving treatment for all—regardless of race, class, sex, gender or species … What rises in me after reading her essays is Lewis' famous urging to get in good trouble to make the world fairer and better. Many people in the South are doing just that—and through her beautiful writing, Renkl is among them."
–Barbara J. King ( NPR )
Our System:
RAVE = 5 points • POSITIVE = 3 points • MIXED = 1 point • PAN = -5 points
Share on Facebook (Opens in new window)
Click to share on Twitter (Opens in new window)
Click to share on Google+ (Opens in new window)
Click to share on LinkedIn (Opens in new window)
Click to share on Reddit (Opens in new window)
Click to share on Tumblr (Opens in new window)
Click to share on Pinterest (Opens in new window)
Click to share on Pocket (Opens in new window)

Previous Article
Next article, to the lithub daily, popular posts.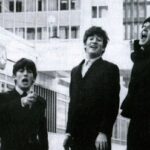 Follow us on Twitter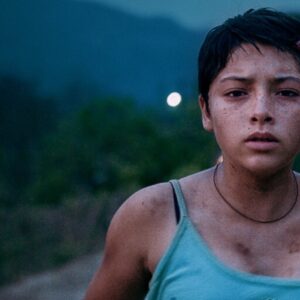 Prayers for the Stolen: How Two Artists Portray the Violence of Human Trafficking in Mexico
Literary Hub
Created by Grove Atlantic and Electric Literature
Sign Up For Our Newsletters
How to Pitch Lit Hub
Advertisers: Contact Us
Privacy Policy
SUGGESTED TOPICS
The Magazine
Newsletters
Managing Yourself
Managing Teams
Work-life Balance
The Big Idea
Data & Visuals
Reading Lists
Case Selections
HBR Learning
Topic Feeds
Account Settings
Email Preferences
How to Write a Personal Essay for Your College Application
What does it take to land in the "accept" (instead of "reject") pile?
How can you write an essay that helps advance you in the eyes of the admissions officers and makes a real impression? Here are some tips to get you started.
Start early.  Do not leave it until the last minute. Give yourself time when you don't have other homework or extracurriculars hanging over your head to work on the essay.
Keep the focus narrow.  Your essay does not have to cover a massive, earth-shattering event. Some people in their teens haven't experienced a major life event. Some people have. Either way, it's okay.
Be yourself.  Whether writing about a painful experience or a more simple experience, use the narrative to be vulnerable and honest about who you are. Use words you would normally use. Trust your voice and the fact that your story is interesting enough in that no one else has lived it.
Be creative.  "Show, don't tell," and that applies here — to an extent. The best essays typically do both. You can help your reader see and feel what you are describing by using some figurative language throughout your piece.
Make a point. As you finish your final body paragraphs ask yourself "So what?" This will help you hone in on how to end your essay in a way that elevates it into a story about an insight or discovery you made about yourself, rather than just being about an experience you had.
Where your work meets your life. See more from Ascend here .
We've all heard about the dreaded "college essay," the bane of every high school senior's existence. This daunting element of the college application is something that can create angst for even the most accomplished students.
AA Amy Allen is a writer, educator, and lifelong learner. Her freelance writing business,  All of the Write Words , focuses on providing high school students with one-on-one feedback to guide them through the college application process and with crafting a thoughtful personal essay. A dedicated poet, Amy's work has also been published in several journals including  Pine Row Press ,  Months to Years,  and  Atlanta Review .
Partner Center

Choose Your Test
Sat / act prep online guides and tips, 53 stellar college essay topics to inspire you.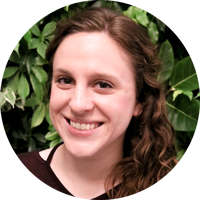 College Essays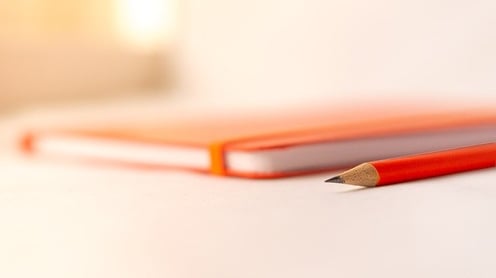 Most colleges and universities in the United States require applicants to submit at least one essay as part of their application. But trying to figure out what college essay topics you should choose is a tricky process. There are so many potential things you could write about!
In this guide, we go over the essential qualities that make for a great college essay topic and give you 50+ college essay topics you can use for your own statement . In addition, we provide you with helpful tips for turning your college essay topic into a stellar college essay.
What Qualities Make for a Good College Essay Topic?
Regardless of what you write about in your personal statement for college , there are key features that will always make for a stand-out college essay topic.
#1: It's Specific
First off, good college essay topics are extremely specific : you should know all the pertinent facts that have to do with the topic and be able to see how the entire essay comes together.
Specificity is essential because it'll not only make your essay stand out from other statements, but it'll also recreate the experience for admissions officers through its realism, detail, and raw power. You want to tell a story after all, and specificity is the way to do so. Nobody wants to read a vague, bland, or boring story — not even admissions officers!
For example, an OK topic would be your experience volunteering at a cat shelter over the summer. But a better, more specific college essay topic would be how you deeply connected with an elderly cat there named Marty, and how your bond with him made you realize that you want to work with animals in the future.
Remember that specificity in your topic is what will make your essay unique and memorable . It truly is the key to making a strong statement (pun intended)!
#2: It Shows Who You Are
In addition to being specific, good college essay topics reveal to admissions officers who you are: your passions and interests, what is important to you, your best (or possibly even worst) qualities, what drives you, and so on.
The personal statement is critical because it gives schools more insight into who you are as a person and not just who you are as a student in terms of grades and classes.
By coming up with a real, honest topic, you'll leave an unforgettable mark on admissions officers.
#3: It's Meaningful to You
The very best college essay topics are those that hold deep meaning to their writers and have truly influenced them in some significant way.
For instance, maybe you plan to write about the first time you played Skyrim to explain how this video game revealed to you the potentially limitless worlds you could create, thereby furthering your interest in game design.
Even if the topic seems trivial, it's OK to use it — just as long as you can effectively go into detail about why this experience or idea had such an impact on you .
Don't give in to the temptation to choose a topic that sounds impressive but doesn't actually hold any deep meaning for you. Admissions officers will see right through this!
Similarly, don't try to exaggerate some event or experience from your life if it's not all that important to you or didn't have a substantial influence on your sense of self.
#4: It's Unique
College essay topics that are unique are also typically the most memorable, and if there's anything you want to be during the college application process, it's that! Admissions officers have to sift through thousands of applications, and the essay is one of the only parts that allows them to really get a sense of who you are and what you value in life.
If your essay is trite or boring, it won't leave much of an impression , and your application will likely get immediately tossed to the side with little chance of seeing admission.
But if your essay topic is very original and different, you're more likely to earn that coveted second glance at your application.
What does being unique mean exactly, though? Many students assume that they must choose an extremely rare or crazy experience to talk about in their essays —but that's not necessarily what I mean by "unique." Good college essay topics can be unusual and different, yes, but they can also be unique takes on more mundane or common activities and experiences .
For instance, say you want to write an essay about the first time you went snowboarding. Instead of just describing the details of the experience and how you felt during it, you could juxtapose your emotions with a creative and humorous perspective from the snowboard itself. Or you could compare your first attempt at snowboarding with your most recent experience in a snowboarding competition. The possibilities are endless!
#5: It Clearly Answers the Question
Finally, good college essay topics will clearly and fully answer the question(s) in the prompt.
You might fail to directly answer a prompt by misinterpreting what it's asking you to do, or by answering only part of it (e.g., answering just one out of three questions).
Therefore, make sure you take the time to come up with an essay topic that is in direct response to every question in the prompt .
Take this Coalition Application prompt as an example:
What is the hardest part of being a teenager now? What's the best part? What advice would you give a younger sibling or friend (assuming they would listen to you)?
For this prompt, you'd need to answer all three questions (though it's totally fine to focus more on one or two of them) to write a compelling and appropriate essay.
This is why we recommend reading and rereading the essay prompt ; you should know exactly what it's asking you to do, well before you start brainstorming possible college application essay topics.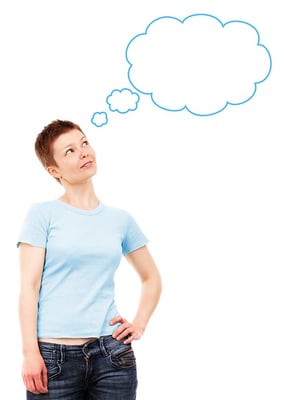 53 College Essay Topics to Get Your Brain Moving
In this section, we give you a list of 53 examples of college essay topics. Use these as jumping-off points to help you get started on your college essay and to ensure that you're on track to coming up with a relevant and effective topic.
All college application essay topics below are categorized by essay prompt type. We've identified six general types of college essay prompts:
Why This College?
Change and personal growth, passions, interests, and goals, overcoming a challenge, diversity and community, solving a problem.
Note that these prompt types could overlap with one another, so you're not necessarily limited to just one college essay topic in a single personal statement.
How a particular major or program will help you achieve your academic or professional goals
A memorable and positive interaction you had with a professor or student at the school
Something good that happened to you while visiting the campus or while on a campus tour
A certain class you want to take or a certain professor you're excited to work with
Some piece of on-campus equipment or facility that you're looking forward to using
Your plans to start a club at the school, possibly to raise awareness of a major issue
A study abroad or other unique program that you can't wait to participate in
How and where you plan to volunteer in the community around the school
An incredible teacher you studied under and the positive impact they had on you
How you went from really liking something, such as a particular movie star or TV show, to not liking it at all (or vice versa)
How yours or someone else's (change in) socioeconomic status made you more aware of poverty
A time someone said something to you that made you realize you were wrong
How your opinion on a controversial topic, such as gay marriage or DACA, has shifted over time
A documentary that made you aware of a particular social, economic, or political issue going on in the country or world
Advice you would give to your younger self about friendship, motivation, school, etc.
The steps you took in order to kick a bad or self-sabotaging habit
A juxtaposition of the first and most recent time you did something, such as dance onstage
A book you read that you credit with sparking your love of literature and/or writing
A school assignment or project that introduced you to your chosen major
A glimpse of your everyday routine and how your biggest hobby or interest fits into it
The career and (positive) impact you envision yourself having as a college graduate
A teacher or mentor who encouraged you to pursue a specific interest you had
How moving around a lot helped you develop a love of international exchange or learning languages
A special skill or talent you've had since you were young and that relates to your chosen major in some way, such as designing buildings with LEGO bricks
Where you see yourself in 10 or 20 years
Your biggest accomplishment so far relating to your passion (e.g., winning a gold medal for your invention at a national science competition)
A time you lost a game or competition that was really important to you
How you dealt with the loss or death of someone close to you
A time you did poorly in a class that you expected to do well in
How moving to a new school impacted your self-esteem and social life
A chronic illness you battled or are still battling
Your healing process after having your heart broken for the first time
A time you caved under peer pressure and the steps you took so that it won't happen again
How you almost gave up on learning a foreign language but stuck with it
Why you decided to become a vegetarian or vegan, and how you navigate living with a meat-eating family
What you did to overcome a particular anxiety or phobia you had (e.g., stage fright)
A history of a failed experiment you did over and over, and how you finally found a way to make it work successfully
Someone within your community whom you aspire to emulate
A family tradition you used to be embarrassed about but are now proud of
Your experience with learning English upon moving to the United States
A close friend in the LGBTQ+ community who supported you when you came out
A time you were discriminated against, how you reacted, and what you would do differently if faced with the same situation again
How you navigate your identity as a multiracial, multiethnic, and/or multilingual person
A project or volunteer effort you led to help or improve your community
A particular celebrity or role model who inspired you to come out as LGBTQ+
Your biggest challenge (and how you plan to tackle it) as a female in a male-dominated field
How you used to discriminate against your own community, and what made you change your mind and eventually take pride in who you are and/or where you come from
A program you implemented at your school in response to a known problem, such as a lack of recycling cans in the cafeteria
A time you stepped in to mediate an argument or fight between two people
An app or other tool you developed to make people's lives easier in some way
A time you proposed a solution that worked to an ongoing problem at school, an internship, or a part-time job
The steps you took to identify and fix an error in coding for a website or program
An important social or political issue that you would fix if you had the means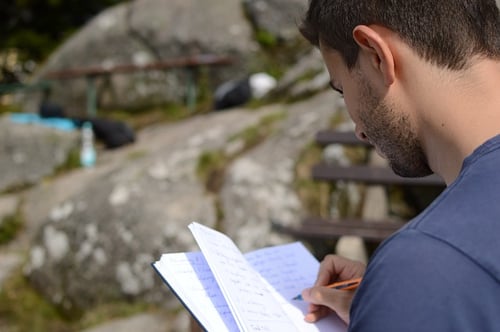 How to Build a College Essay in 6 Easy Steps
Once you've decided on a college essay topic you want to use, it's time to buckle down and start fleshing out your essay. These six steps will help you transform a simple college essay topic into a full-fledged personal statement.
Step 1: Write Down All the Details
Once you've chosen a general topic to write about, get out a piece of paper and get to work on creating a list of all the key details you could include in your essay . These could be things such as the following:
Emotions you felt at the time
Names, places, and/or numbers
Dialogue, or what you or someone else said
A specific anecdote, example, or experience
Descriptions of how things looked, felt, or seemed
If you can only come up with a few details, then it's probably best to revisit the list of college essay topics above and choose a different one that you can write more extensively on.
Good college essay topics are typically those that:
You remember well (so nothing that happened when you were really young)
You're excited to write about
You're not embarrassed or uncomfortable to share with others
You believe will make you positively stand out from other applicants
Step 2: Figure Out Your Focus and Approach
Once you have all your major details laid out, start to figure out how you could arrange them in a way that makes sense and will be most effective.
It's important here to really narrow your focus: you don't need to (and shouldn't!) discuss every single aspect of your trip to visit family in Indonesia when you were 16. Rather, zero in on a particular anecdote or experience and explain why and how it impacted you.
Alternatively, you could write about multiple experiences while weaving them together with a clear, meaningful theme or concept , such as how your math teacher helped you overcome your struggle with geometry over the course of an entire school year. In this case, you could mention a few specific times she tutored you and most strongly supported you in your studies.
There's no one right way to approach your college essay, so play around to see what approaches might work well for the topic you've chosen.
If you're really unsure about how to approach your essay, think about what part of your topic was or is most meaningful and memorable to you, and go from there.
Step 3: Structure Your Narrative
Beginning: Don't just spout off a ton of background information here—you want to hook your reader, so try to start in the middle of the action , such as with a meaningful conversation you had or a strong emotion you felt. It could also be a single anecdote if you plan to center your essay around a specific theme or idea.
Middle: Here's where you start to flesh out what you've established in the opening. Provide more details about the experience (if a single anecdote) or delve into the various times your theme or idea became most important to you. Use imagery and sensory details to put the reader in your shoes.
End: It's time to bring it all together. Finish describing the anecdote or theme your essay centers around and explain how it relates to you now , what you've learned or gained from it, and how it has influenced your goals.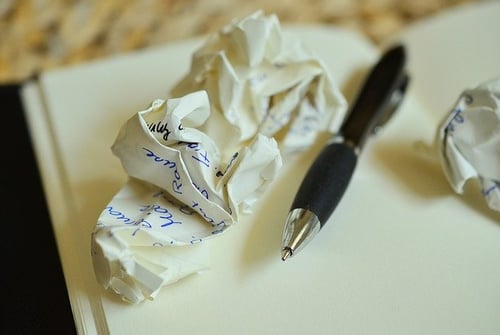 Step 4: Write a Rough Draft
By now you should have all your major details and an outline for your essay written down; these two things will make it easy for you to convert your notes into a rough draft.
At this stage of the writing process, don't worry too much about vocabulary or grammar and just focus on getting out all your ideas so that they form the general shape of an essay . It's OK if you're a little over the essay's word limit — as you edit, you'll most likely make some cuts to irrelevant and ineffective parts anyway.
If at any point you get stuck and have no idea what to write, revisit steps 1-3 to see whether there are any important details or ideas you might be omitting or not elaborating on enough to get your overall point across to admissions officers.
Step 5: Edit, Revise, and Proofread
Sections that are too wordy and don't say anything important
Irrelevant details that don't enhance your essay or the point you're trying to make
Parts that seem to drag or that feel incredibly boring or redundant
Areas that are vague and unclear and would benefit from more detail
Phrases or sections that are awkwardly placed and should be moved around
Areas that feel unconvincing, inauthentic, or exaggerated
Start paying closer attention to your word choice/vocabulary and grammar at this time, too. It's perfectly normal to edit and revise your college essay several times before asking for feedback, so keep working with it until you feel it's pretty close to its final iteration.
This step will likely take the longest amount of time — at least several weeks, if not months — so really put effort into fixing up your essay. Once you're satisfied, do a final proofread to ensure that it's technically correct.
Step 6: Get Feedback and Tweak as Needed
After you've overhauled your rough draft and made it into a near-final draft, give your essay to somebody you trust , such as a teacher or parent, and have them look it over for technical errors and offer you feedback on its content and overall structure.
Use this feedback to make any last-minute changes or edits. If necessary, repeat steps 5 and 6. You want to be extra sure that your essay is perfect before you submit it to colleges!
Recap: From College Essay Topics to Great College Essays
Many different kinds of college application essay topics can get you into a great college. But this doesn't make it any easier to choose the best topic for you .
In general, the best college essay topics have the following qualities :
They're specific
They show who you are
They're meaningful to you
They're unique
They clearly answer the question
If you ever need help coming up with an idea of what to write for your essay, just refer to the list of 53 examples of college essay topics above to get your brain juices flowing.
Once you've got an essay topic picked out, follow these six steps for turning your topic into an unforgettable personal statement :
Write down all the details
Figure out your focus and approach
Structure your narrative
Write a rough draft
Edit, revise, and proofread
Get feedback and tweak as needed
And with that, I wish you the best of luck on your college essays!
What's Next?
Writing a college essay is no simple task. Get expert college essay tips with our guides on how to come up with great college essay ideas and how to write a college essay, step by step .
You can also check out this huge list of college essay prompts to get a feel for what types of questions you'll be expected to answer on your applications.
Want to see examples of college essays that absolutely rocked? You're in luck because we've got a collection of 100+ real college essay examples right here on our blog!

Want to write the perfect college application essay? Get professional help from PrepScholar.
Your dedicated PrepScholar Admissions counselor will craft your perfect college essay, from the ground up. We'll learn your background and interests, brainstorm essay topics, and walk you through the essay drafting process, step-by-step. At the end, you'll have a unique essay that you'll proudly submit to your top choice colleges.
Don't leave your college application to chance. Find out more about PrepScholar Admissions now :
Hannah received her MA in Japanese Studies from the University of Michigan and holds a bachelor's degree from the University of Southern California. From 2013 to 2015, she taught English in Japan via the JET Program. She is passionate about education, writing, and travel.
Student and Parent Forum
Our new student and parent forum, at ExpertHub.PrepScholar.com , allow you to interact with your peers and the PrepScholar staff. See how other students and parents are navigating high school, college, and the college admissions process. Ask questions; get answers.
Ask a Question Below
Have any questions about this article or other topics? Ask below and we'll reply!
Improve With Our Famous Guides
The 5 Strategies You Must Be Using to Improve 160+ SAT Points
How to Get a Perfect 1600, by a Perfect Scorer
Series: How to Get 800 on Each SAT Section:
Score 800 on SAT Math
Score 800 on SAT Reading
Score 800 on SAT Writing
Series: How to Get to 600 on Each SAT Section:
Score 600 on SAT Math
Score 600 on SAT Reading
Score 600 on SAT Writing
Free Complete Official SAT Practice Tests
What SAT Target Score Should You Be Aiming For?
15 Strategies to Improve Your SAT Essay
The 5 Strategies You Must Be Using to Improve 4+ ACT Points
How to Get a Perfect 36 ACT, by a Perfect Scorer
Series: How to Get 36 on Each ACT Section:
36 on ACT English
36 on ACT Math
36 on ACT Reading
36 on ACT Science
Series: How to Get to 24 on Each ACT Section:
24 on ACT English
24 on ACT Math
24 on ACT Reading
24 on ACT Science
What ACT target score should you be aiming for?
ACT Vocabulary You Must Know
ACT Writing: 15 Tips to Raise Your Essay Score
How to Get Into Harvard and the Ivy League
How to Get a Perfect 4.0 GPA
How to Write an Amazing College Essay
What Exactly Are Colleges Looking For?
Is the ACT easier than the SAT? A Comprehensive Guide
Should you retake your SAT or ACT?
When should you take the SAT or ACT?
Stay Informed
Get the latest articles and test prep tips!
Looking for Graduate School Test Prep?
Check out our top-rated graduate blogs here:
GRE Online Prep Blog
GMAT Online Prep Blog
TOEFL Online Prep Blog
Holly R. "I am absolutely overjoyed and cannot thank you enough for helping me!"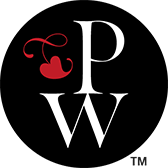 click here to read it now
Read this week's magazine

The Top 10 Essays Since 1950
Robert Atwan, the founder of The Best American Essays series, picks the 10 best essays of the postwar period. Links to the essays are provided when available.
Fortunately, when I worked with Joyce Carol Oates on The Best American Essays of the Century (that's the last century, by the way), we weren't restricted to ten selections. So to make my list of the top ten essays since 1950 less impossible, I decided to exclude all the great examples of New Journalism--Tom Wolfe, Gay Talese, Michael Herr, and many others can be reserved for another list. I also decided to include only American writers, so such outstanding English-language essayists as Chris Arthur and Tim Robinson are missing, though they have appeared in The Best American Essays series. And I selected essays , not essayists . A list of the top ten essayists since 1950 would feature some different writers.
To my mind, the best essays are deeply personal (that doesn't necessarily mean autobiographical) and deeply engaged with issues and ideas. And the best essays show that the name of the genre is also a verb, so they demonstrate a mind in process--reflecting, trying-out, essaying.
James Baldwin, "Notes of a Native Son" (originally appeared in Harper's , 1955)
"I had never thought of myself as an essayist," wrote James Baldwin, who was finishing his novel Giovanni's Room while he worked on what would become one of the great American essays. Against a violent historical background, Baldwin recalls his deeply troubled relationship with his father and explores his growing awareness of himself as a black American. Some today may question the relevance of the essay in our brave new "post-racial" world, though Baldwin considered the essay still relevant in 1984 and, had he lived to see it, the election of Barak Obama may not have changed his mind. However you view the racial politics, the prose is undeniably hypnotic, beautifully modulated and yet full of urgency. Langston Hughes nailed it when he described Baldwin's "illuminating intensity." The essay was collected in Notes of a Native Son courageously (at the time) published by Beacon Press in 1955.
Norman Mailer, "The White Negro" (originally appeared in Dissent , 1957)
An essay that packed an enormous wallop at the time may make some of us cringe today with its hyperbolic dialectics and hyperventilated metaphysics. But Mailer's attempt to define the "hipster"–in what reads in part like a prose version of Ginsberg's "Howl"–is suddenly relevant again, as new essays keep appearing with a similar definitional purpose, though no one would mistake Mailer's hipster ("a philosophical psychopath") for the ones we now find in Mailer's old Brooklyn neighborhoods. Odd, how terms can bounce back into life with an entirely different set of connotations. What might Mailer call the new hipsters? Squares?
Read the essay here .
Susan Sontag, "Notes on 'Camp'" (originally appeared in Partisan Review , 1964)
Like Mailer's "White Negro," Sontag's groundbreaking essay was an ambitious attempt to define a modern sensibility, in this case "camp," a word that was then almost exclusively associated with the gay world. I was familiar with it as an undergraduate, hearing it used often by a set of friends, department store window decorators in Manhattan. Before I heard Sontag—thirty-one, glamorous, dressed entirely in black-- read the essay on publication at a Partisan Review gathering, I had simply interpreted "campy" as an exaggerated style or over-the-top behavior. But after Sontag unpacked the concept, with the help of Oscar Wilde, I began to see the cultural world in a different light. "The whole point of camp," she writes, "is to dethrone the serious." Her essay, collected in Against Interpretation (1966), is not in itself an example of camp.
John McPhee, "The Search for Marvin Gardens" (originally appeared in The New Yorker , 1972)
"Go. I roll the dice—a six and a two. Through the air I move my token, the flatiron, to Vermont Avenue, where dog packs range." And so we move, in this brilliantly conceived essay, from a series of Monopoly games to a decaying Atlantic City, the once renowned resort town that inspired America's most popular board game. As the games progress and as properties are rapidly snapped up, McPhee juxtaposes the well-known sites on the board—Atlantic Avenue, Park Place—with actual visits to their crumbling locations. He goes to jail, not just in the game but in fact, portraying what life has now become in a city that in better days was a Boardwalk Empire. At essay's end, he finds the elusive Marvin Gardens. The essay was collected in Pieces of the Frame (1975).
Read the essay here (subscription required).
Joan Didion, "The White Album" (originally appeared in New West , 1979)
Huey Newton, Eldridge Cleaver, and the Black Panthers, a recording session with Jim Morrison and the Doors, the San Francisco State riots, the Manson murders—all of these, and much more, figure prominently in Didion's brilliant mosaic distillation (or phantasmagoric album) of California life in the late 1960s. Yet despite a cast of characters larger than most Hollywood epics, "The White Album" is a highly personal essay, right down to Didion's report of her psychiatric tests as an outpatient in a Santa Monica hospital in the summer of 1968. "We tell ourselves stories in order to live," the essay famously begins, and as it progresses nervously through cuts and flashes of reportage, with transcripts, interviews, and testimonies, we realize that all of our stories are questionable, "the imposition of a narrative line upon disparate images." Portions of the essay appeared in installments in 1968-69 but it wasn't until 1979 that Didion published the complete essay in New West magazine; it then became the lead essay of her book, The White Album (1979).
Annie Dillard, "Total Eclipse" (originally appeared in Antaeus , 1982)
In her introduction to The Best American Essays 1988 , Annie Dillard claims that "The essay can do everything a poem can do, and everything a short story can do—everything but fake it." Her essay "Total Eclipse" easily makes her case for the imaginative power of a genre that is still undervalued as a branch of imaginative literature. "Total Eclipse" has it all—the climactic intensity of short fiction, the interwoven imagery of poetry, and the meditative dynamics of the personal essay: "This was the universe about which we have read so much and never before felt: the universe as a clockwork of loose spheres flung at stupefying, unauthorized speeds." The essay, which first appeared in Antaeus in 1982 was collected in Teaching a Stone to Talk (1982), a slim volume that ranks among the best essay collections of the past fifty years.
Phillip Lopate, "Against Joie de Vivre" (originally appeared in Ploughshares , 1986)
This is an essay that made me glad I'd started The Best American Essays the year before. I'd been looking for essays that grew out of a vibrant Montaignean spirit—personal essays that were witty, conversational, reflective, confessional, and yet always about something worth discussing. And here was exactly what I'd been looking for. I might have found such writing several decades earlier but in the 80s it was relatively rare; Lopate had found a creative way to insert the old familiar essay into the contemporary world: "Over the years," Lopate begins, "I have developed a distaste for the spectacle of joie de vivre , the knack of knowing how to live." He goes on to dissect in comic yet astute detail the rituals of the modern dinner party. The essay was selected by Gay Talese for The Best American Essays 1987 and collected in Against Joie de Vivre in 1989 .
Edward Hoagland, "Heaven and Nature" (originally appeared in Harper's, 1988)
"The best essayist of my generation," is how John Updike described Edward Hoagland, who must be one of the most prolific essayists of our time as well. "Essays," Hoagland wrote, "are how we speak to one another in print—caroming thoughts not merely in order to convey a certain packet of information, but with a special edge or bounce of personal character in a kind of public letter." I could easily have selected many other Hoagland essays for this list (such as "The Courage of Turtles"), but I'm especially fond of "Heaven and Nature," which shows Hoagland at his best, balancing the public and private, the well-crafted general observation with the clinching vivid example. The essay, selected by Geoffrey Wolff for The Best American Essays 1989 and collected in Heart's Desire (1988), is an unforgettable meditation not so much on suicide as on how we remarkably manage to stay alive.
Jo Ann Beard, "The Fourth State of Matter" (originally appeared in The New Yorker , 1996)
A question for nonfiction writing students: When writing a true story based on actual events, how does the narrator create dramatic tension when most readers can be expected to know what happens in the end? To see how skillfully this can be done turn to Jo Ann Beard's astonishing personal story about a graduate student's murderous rampage on the University of Iowa campus in 1991. "Plasma is the fourth state of matter," writes Beard, who worked in the U of I's physics department at the time of the incident, "You've got your solid, your liquid, your gas, and there's your plasma. In outer space there's the plasmasphere and the plasmapause." Besides plasma, in this emotion-packed essay you will find entangled in all the tension a lovable, dying collie, invasive squirrels, an estranged husband, the seriously disturbed gunman, and his victims, one of them among the author's dearest friends. Selected by Ian Frazier for The Best American Essays 1997 , the essay was collected in Beard's award-winning volume, The Boys of My Youth (1998).
David Foster Wallace, "Consider the Lobster" (originally appeared in Gourmet , 2004)
They may at first look like magazine articles—those factually-driven, expansive pieces on the Illinois State Fair, a luxury cruise ship, the adult video awards, or John McCain's 2000 presidential campaign—but once you uncover the disguise and get inside them you are in the midst of essayistic genius. One of David Foster Wallace's shortest and most essayistic is his "coverage" of the annual Maine Lobster Festival, "Consider the Lobster." The Festival becomes much more than an occasion to observe "the World's Largest Lobster Cooker" in action as Wallace poses an uncomfortable question to readers of the upscale food magazine: "Is it all right to boil a sentient creature alive just for our gustatory pleasure?" Don't gloss over the footnotes. Susan Orlean selected the essay for The Best American Essays 2004 and Wallace collected it in Consider the Lobster and Other Essays (2005).
Read the essay here . (Note: the electronic version from Gourmet magazine's archives differs from the essay that appears in The Best American Essays and in his book, Consider the Lobster. )
I wish I could include twenty more essays but these ten in themselves comprise a wonderful and wide-ranging mini-anthology, one that showcases some of the most outstanding literary voices of our time. Readers who'd like to see more of the best essays since 1950 should take a look at The Best American Essays of the Century (2000).
You are a subscriber but you have not yet set up your account for premium online access. Contact customer service (see details below) to add your preferred email address and password to your account.
You forgot your password and you need to retrieve it. Click here to retrieve reset your password.
Make Lists, Not War
The meta-lists website, best essays of all time – ranked.
A reader suggested I create a meta-list of the best essays of all time, so I did.  I found over 12 best essays lists and several essay anthologies and combined the essays into one meta-list.  The meta-list below includes every essay that was on at least two of the original source lists. They are organized by rank, that is, with the essays on the most lists at the top. To see the same list organized chronologically, go HERE .
Note 1:  Some of the essays are actually chapters from books.  In such cases, I have identified the source book.
Note 2: Some of the essays are book-length, such as Virginia Woolf's A Room of One's Own .  One book listed as an essay by two listers – Fernando Pessoa's The Book of Disquiet – is also regularly categorized as a work of fiction.
On 11 lists James Baldwin – Notes of a Native Son (1955)
On 6 lists George Orwell – Shooting an Elephant (1936) E.B. White – Once More to the Lake (1941) Joan Didion – Goodbye To All That (1968)
On 5 lists Joan Didion – On Keeping A Notebook (1968) Annie Dillard – Total Eclipse (1982) Jo Ann Beard – The Fourth State of Matter (1996) David Foster Wallace – A Supposedly Fun Thing I Will Never Do Again (1996)
On 4 lists William Hazlitt – On the Pleasure of Hating (1823) Ralph Waldo Emerson – Self-Reliance (1841) Virginia Woolf – A Room of One's Own (1928) Virginia Woolf – The Death of a Moth (1942) George Orwell – Such, Such Were the Joys (1952) Joan Didion – In Bed (1968) Amy Tan – Mother Tongue (1991) David Foster Wallace – Consider The Lobster (2005)
On 3 lists Jonathan Swift – A Modest Proposal  (1729) Virginia Woolf – Street Haunting: A London Adventure (1930) John McPhee – The Search for Marvin Gardens (1972) Joan Didion – The White Album (1968-1978) Eudora Welty – The Little Store (1978) Phillip Lopate – Against Joie de Vivre (1989)
On 2 lists Sei Shonagon – Hateful Things (from The Pillow Book ) (1002) Yoshida Kenko – Essays in Idleness (1332) Michel de Montaigne – On Some Verses of Virgil (1580) Robert Burton – Anatomy of Melancholy (1621) John Milton – Areopagitica  (1644) William Hazlitt – On Going a Journey (1822) Charles Lamb – The Superannuated Man (1823) Henry David Thoreau – Civil Disobedience (1849) Henry David Thoreau – Where I Lived, and What I Lived For (from  Walden ) (1854) Henry David Thoreau – Economy (from  Walden ) (1854) Henry David Thoreau – Walking (1861) Robert Louis Stevenson – The Lantern-Bearers (1888) Zora Neale Hurston – How It Feels to Be Colored Me (1928) George Orwell – A Hanging (1931) Junichiro Tanizaki – In Praise of Shadows (1933) Fernando Pessoa – The Book of Disquiet (1935) James Agee and Walker Evans – Let Us Now Praise Famous Men (1941) Simone Weil – On Human Personality (1943) M.F.K. Fisher – The Flaw (1943) Vladimir Nabokov – Speak, Memory (1951, revised 1966) Mary McCarthy – Artists in Uniform: A Story (1953) E.B. White – Goodbye to Forty-Eighth Street (1957) Martin Luther King, Jr. – Letter from Birmingham Jail (1963) Joseph Mitchell – Joe Gould's Secret (1964) Susan Sontag – Against Interpretation (1966) Edward Hoagland – The Courage of Turtles (1970) Annie Dillard – Seeing (from  Pilgrim at Tinker Creek ) (1974) Maxine Hong Kingston – No Name Woman (from The Woman Warrior ) (1976) Roland Barthes – Camera Lucida: Reflections on Photography (1982) Annie Dillard – Living Like Weasels (1982) Gloria E. Anzaldúa – How to Tame a Wild Tongue (1987) Italo Calvino – Exactitude (1988) Richard Rodriguez – Late Victorians (1990) David Wojnarowicz – Being Queer in America: A Journal of Disintegration (1991) Seymour Krim – To My Brothers & Sisters in the Failure Business (1991) Anne Carson – The Anthropology of Water (1995) Susan Sontag – Regarding the Pain of Others (2003) Etel Adnan – In the Heart of the Heart of Another Country (2005) Paul LaFarge – Destroy All Monsters (2006) Brian Doyle – Joyas Voladoras (2012)
Share this:
Celebrating 150 years of Harvard Summer School. Learn about our history.
12 Strategies to Writing the Perfect College Essay
College admission committees sift through thousands of college essays each year. Here's how to make yours stand out.
Pamela Reynolds
When it comes to deciding who they will admit into their programs, colleges consider many criteria, including high school grades, extracurricular activities, and ACT and SAT scores. But in recent years, more colleges are no longer considering test scores.
Instead, many (including Harvard through 2026) are opting for "test-blind" admission policies that give more weight to other elements in a college application. This policy change is seen as fairer to students who don't have the means or access to testing, or who suffer from test anxiety.
So, what does this mean for you?
Simply that your college essay, traditionally a requirement of any college application, is more important than ever.
A college essay is your unique opportunity to introduce yourself to admissions committees who must comb through thousands of applications each year. It is your chance to stand out as someone worthy of a seat in that classroom.
A well-written and thoughtful essay—reflecting who you are and what you believe—can go a long way to separating your application from the slew of forgettable ones that admissions officers read. Indeed, officers may rely on them even more now that many colleges are not considering test scores.
Below we'll discuss a few strategies you can use to help your essay stand out from the pack. We'll touch on how to start your essay, what you should write for your college essay, and elements that make for a great college essay.
Be Authentic
More than any other consideration, you should choose a topic or point of view that is consistent with who you truly are.
Readers can sense when writers are inauthentic.
Inauthenticity could mean the use of overly flowery language that no one would ever use in conversation, or it could mean choosing an inconsequential topic that reveals very little about who you are.
Use your own voice, sense of humor, and a natural way of speaking.
Whatever subject you choose, make sure it's something that's genuinely important to you and not a subject you've chosen just to impress. You can write about a specific experience, hobby, or personality quirk that illustrates your strengths, but also feel free to write about your weaknesses.
Honesty about traits, situations, or a childhood background that you are working to improve may resonate with the reader more strongly than a glib victory speech.
Grab the Reader From the Start
You'll be competing with so many other applicants for an admission officer's attention.
Therefore, start your essay with an opening sentence or paragraph that immediately seizes the imagination. This might be a bold statement, a thoughtful quote, a question you pose, or a descriptive scene.
Starting your essay in a powerful way with a clear thesis statement can often help you along in the writing process. If your task is to tell a good story, a bold beginning can be a natural prelude to getting there, serving as a roadmap, engaging the reader from the start, and presenting the purpose of your writing.
Focus on Deeper Themes
Some essay writers think they will impress committees by loading an essay with facts, figures, and descriptions of activities, like wins in sports or descriptions of volunteer work. But that's not the point.
College admissions officers are interested in learning more about who you are as a person and what makes you tick.
They want to know what has brought you to this stage in life. They want to read about realizations you may have come to through adversity as well as your successes, not just about how many games you won while on the soccer team or how many people you served at a soup kitchen.
Let the reader know how winning the soccer game helped you develop as a person, friend, family member, or leader. Make a connection with your soup kitchen volunteerism and how it may have inspired your educational journey and future aspirations. What did you discover about yourself?
Show Don't Tell
As you expand on whatever theme you've decided to explore in your essay, remember to show, don't tell.
The most engaging writing "shows" by setting scenes and providing anecdotes, rather than just providing a list of accomplishments and activities.
Reciting a list of activities is also boring. An admissions officer will want to know about the arc of your emotional journey too.
Try Doing Something Different
If you want your essay to stand out, think about approaching your subject from an entirely new perspective. While many students might choose to write about their wins, for instance, what if you wrote an essay about what you learned from all your losses?
If you are an especially talented writer, you might play with the element of surprise by crafting an essay that leaves the response to a question to the very last sentence.
You may want to stay away from well-worn themes entirely, like a sports-related obstacle or success, volunteer stories, immigration stories, moving, a summary of personal achievements or overcoming obstacles.
However, such themes are popular for a reason. They represent the totality of most people's lives coming out of high school. Therefore, it may be less important to stay away from these topics than to take a fresh approach.
Explore Harvard Summer School's College Programs for High School Students
Write With the Reader in Mind
Writing for the reader means building a clear and logical argument in which one thought flows naturally from another.
Use transitions between paragraphs.
Think about any information you may have left out that the reader may need to know. Are there ideas you have included that do not help illustrate your theme?
Be sure you can answer questions such as: Does what you have written make sense? Is the essay organized? Does the opening grab the reader? Is there a strong ending? Have you given enough background information? Is it wordy?
Write Several Drafts
Set your essay aside for a few days and come back to it after you've had some time to forget what you've written. Often, you'll discover you have a whole new perspective that enhances your ability to make revisions.
Start writing months before your essay is due to give yourself enough time to write multiple drafts. A good time to start could be as early as the summer before your senior year when homework and extracurricular activities take up less time.
Read It Aloud
Writer's tip : Reading your essay aloud can instantly uncover passages that sound clumsy, long-winded, or false.
Don't Repeat
If you've mentioned an activity, story, or anecdote in some other part of your application, don't repeat it again in your essay.
Your essay should tell college admissions officers something new. Whatever you write in your essay should be in philosophical alignment with the rest of your application.
Also, be sure you've answered whatever question or prompt may have been posed to you at the outset.
Ask Others to Read Your Essay
Be sure the people you ask to read your essay represent different demographic groups—a teacher, a parent, even a younger sister or brother.
Ask each reader what they took from the essay and listen closely to what they have to say. If anyone expresses confusion, revise until the confusion is cleared up.
Pay Attention to Form
Although there are often no strict word limits for college essays, most essays are shorter rather than longer. Common App, which students can use to submit to multiple colleges, suggests that essays stay at about 650 words.
"While we won't as a rule stop reading after 650 words, we cannot promise that an overly wordy essay will hold our attention for as long as you'd hoped it would," the Common App website states.
In reviewing other technical aspects of your essay, be sure that the font is readable, that the margins are properly spaced, that any dialogue is set off properly, and that there is enough spacing at the top. Your essay should look clean and inviting to readers.
End Your Essay With a "Kicker"
In journalism, a kicker is the last punchy line, paragraph, or section that brings everything together.
It provides a lasting impression that leaves the reader satisfied and impressed by the points you have artfully woven throughout your piece.
So, here's our kicker: Be concise and coherent, engage in honest self-reflection, and include vivid details and anecdotes that deftly illustrate your point.
While writing a fantastic essay may not guarantee you get selected, it can tip the balance in your favor if admissions officers are considering a candidate with a similar GPA and background.
Write, revise, revise again, and good luck!
Experience life on a college campus. Spend your summer at Harvard.
Explore Harvard Summer School's College Programs for High School Students.
About the Author
Pamela Reynolds is a Boston-area feature writer and editor whose work appears in numerous publications. She is the author of "Revamp: A Memoir of Travel and Obsessive Renovation."
How Involved Should Parents and Guardians Be in High School Student College Applications and Admissions?
There are several ways parents can lend support to their children during the college application process. Here's how to get the ball rolling.
Harvard Division of Continuing Education
The Division of Continuing Education (DCE) at Harvard University is dedicated to bringing rigorous academics and innovative teaching capabilities to those seeking to improve their lives through education. We make Harvard education accessible to lifelong learners from high school to retirement.

Have a language expert improve your writing
Check your paper for plagiarism in 10 minutes, generate your apa citations for free.
Knowledge Base
College essay
Choosing Your College Essay Topic | Ideas & Examples
Choosing Your College Essay Topic | Ideas & Examples
Published on October 25, 2021 by Kirsten Courault . Revised on July 3, 2023.
A strong essay topic sets you up to write a unique, memorable college application essay . Your topic should be personal, original, and specific. Take time to brainstorm the right topic for you.
Table of contents
What makes a good topic, brainstorming questions to get started, discover the best topic for you, how to make a common topic compelling, frequently asked questions about college application essays, other interesting articles.
Here are some guidelines for a good essay topic:
It's focused on you and your experience
It shares something different from the rest of your application
It's specific and original (not many students could write a similar essay)
It affords the opportunity to share your positive stories and qualities
In most cases, avoid topics that
Reflect poorly on your character and behavior
Deal with a challenge or traumatic experience without a lesson learned or positive outlook
Prevent plagiarism. Run a free check.
Spend time reflecting on and writing out answers to the following questions. After doing this exercise, you should be able to identify a few strong topics for your college essay.
Writing about yourself can be difficult. If you're struggling to identify your topic, try these two strategies.
Start with your qualities
After identifying your positive qualities or values, brainstorm stories that demonstrate these qualities.
Start with a story
If you already have some memorable stories in mind that you'd like to write about, think about which qualities and values you can demonstrate with those stories.
Talk it through
To make sure you choose the right topic, ask for advice from trusted friends or family members who know you well. They can help you brainstorm ideas and remember stories, and they can give you feedback on your potential essay topics.
You can also work with a guidance counselor, teacher, or other mentor to discuss which ideas are most promising. If you plan ahead , you can even workshop multiple draft essays to see which topic works best.
If you do choose a common topic, ensure you have the following to craft a unique essay:
Surprising or unexpected story arcs
Interesting insight or connections
An advanced writing style
Here are a few examples of how to craft strong essays from cliché topics.
Here's a checklist you can use to confirm that your college essay topic is right for you.
College essay topic checklist
My topic is focused on me, not on someone else.
My topic shares something different from the rest of my application.
My topic is specific and original (not many students could write a similar essay).
My topic reflects positively on my character and behavior.
If I chose to write about a traumatic or challenging experience, my essay will focus on how I overcame it or gained insight.
If I chose a common topic, my essay will have a surprising story arc, interesting insight, and/or an advanced writing style.
Good topic!
It looks like your topic is a good choice. It's specific, it avoids clichés, and it reflects positively on you.
There are no foolproof college essay topics —whatever your topic, the key is to write about it effectively. However, a good topic
Is meaningful, specific, and personal to you
Focuses on you and your experiences
Reveals something beyond your test scores, grades, and extracurriculars
Is creative and original
Yes—admissions officers don't expect everyone to have a totally unique college essay topic . But you must differentiate your essay from others by having a surprising story arc, an interesting insight, and/or an advanced writing style .
To decide on a good college essay topic , spend time thoughtfully answering brainstorming questions. If you still have trouble identifying topics, try the following two strategies:
Identify your qualities → Brainstorm stories that demonstrate these qualities
Identify memorable stories → Connect your qualities to these stories
You can also ask family, friends, or mentors to help you brainstorm topics, give feedback on your potential essay topics, or recall key stories that showcase your qualities.
Most topics are acceptable for college essays if you can use them to demonstrate personal growth or a lesson learned. However, there are a few difficult topics for college essays that should be avoided. Avoid topics that are:
Overly personal (e.g. graphic details of illness or injury, romantic or sexual relationships)
Not personal enough (e.g. broad solutions to world problems, inspiring people or things)
Too negative (e.g. an in-depth look at your flaws, put-downs of others, criticizing the need for a college essay)
Too boring (e.g. a resume of your academic achievements and extracurriculars)
Inappropriate for a college essay (e.g. illegal activities, offensive humor, false accounts of yourself, bragging about privilege)
Here's a brief list of college essay topics that may be considered cliché:
Extracurriculars, especially sports
Role models
Dealing with a personal tragedy or death in the family
Struggling with new life situations (immigrant stories, moving homes, parents' divorce)
Becoming a better person after community service, traveling, or summer camp
Overcoming a difficult class
Using a common object as an extended metaphor
It's easier to write a standout essay with a unique topic. However, it's possible to make a common topic compelling with interesting story arcs, uncommon connections, and an advanced writing style.
If you want to know more about academic writing , effective communication , or parts of speech , make sure to check out some of our other articles with explanations and examples.
Academic writing
Writing process
Transition words
Passive voice
Paraphrasing
 Communication
How to end an email
Ms, mrs, miss
How to start an email
I hope this email finds you well
Hope you are doing well
 Parts of speech
Personal pronouns
Conjunctions
Cite this Scribbr article
If you want to cite this source, you can copy and paste the citation or click the "Cite this Scribbr article" button to automatically add the citation to our free Citation Generator.
Courault, K. (2023, July 03). Choosing Your College Essay Topic | Ideas & Examples. Scribbr. Retrieved November 3, 2023, from https://www.scribbr.com/college-essay/essay-topic/
Is this article helpful?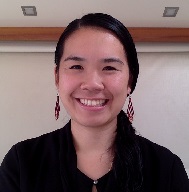 Kirsten Courault
Other students also liked, college essay format & structure | example outlines, what do colleges look for in an essay | examples & tips, how to make your college essay stand out | tips & examples.
10 Essays To Read Again in 2023
A list of our staff's favorite essays from the past year.
Hello, New Lines readers,
We hope you're enjoying a much-needed holiday break. We have a lot in store for 2023, particularly the launch of our print edition. In the meantime, as has become tradition, we wanted to share with you a list of our staff's favorite essays from the past year. We hope you'll find something of interest in this eclectic collection of stories.
Wishing you a Happy New Year from the New Lines team!
The Day My Wartime Cat Went Missing, by Rasha Elass
Riada asimovic akyol, strategic initiatives editor.
Many of my close friends tell me that, despite my irrational fear of cats, I'd be a perfect "cat person," once I dared to confront those fears. I've acknowledged the joy and glow in their eyes, when my friends speak of their pets. I've observed such bonds curiously and in a more mindful way in the last few years, especially after becoming a mother, responsible for someone else's life.
The essay "The Day My Wartime Cat Went Missing" was published early in 2022, and was an instant classic. Our Editorial Director, Rasha Elass, writes masterfully about her adventures with adopted cats Pumpkin and Gremlin, whom she first met in Abu Dhabi. She beautifully depicts how they survived a tough war, and the different challenges they've been through in the Middle East and the United States. She shares her genuine love and nurturing care, as well as her dread at the possibility of losing them, whether in peacetime or war.
The essay is a gorgeous reminder of the bonds that matter. Check it out for yourself.
How I Survived a Syrian Gulag, by Jaber Baker
Rasha al aqeedi, middle east deputy editor.
The terms "dictatorship," "fascism," "authoritarianism" and "totalitarianism" are thrown around today to describe various ruling systems in the world to such an extent that they have lost their actual meaning. Inconveniences such as losing access to a social media platform are compared to the conditions that led to the Holocaust, while wearing a pandemic-imposed mask is akin to living in a gulag.
The Syrian author Jaber Baker takes us on a dark journey through his time in an actual gulag run by Bashar al-Assad's Baath Party. For me personally, the essay is a masterclass in storytelling and struck more chords and triggered more memories of my childhood and adolescence in Saddam Hussein's Iraq than I wish it had. The true experiences and traumas of dictatorship face the threat of being drowned out by the noises of victimhood culture. While no one has a monopoly on trauma, Syrians have the right to tell the stories of their torture and suffering. It is a reminder that not all injustices are created equal.
The Last of the Bougainvillea Years, by Zeina Hashem Beck
Erin clare brown, north africa editor.
When faced with an impending move to Paris from Dubai in search of more stability for her family, poet Zeina Hashem Beck is suddenly filled with the pangs of loss — not for the Emirates, where she'd lived since 2006, but for her home in Lebanon. She explores this abstract sense of displacement and longing in her gorgeously crafted essay, written in a pitch-perfect prose that carries the music of poetry through her attempts to sort her belongings, prepare her children, and reassure herself that the displacement is the right call. Through it all Hashem Beck mourns the impending loss of her bougainvillea vines, whose clouds of pink blossoms and wicked thorns come to symbolize in turns her beloved hometown, her Mediterranean identity and in ways, the author herself.
It's a beautiful meditation on loss and longing, displacement and belonging that reminds us that when we are the right amount of thirsty, we blossom.
What Ukraine Means for Lithuanians Haunted by Soviet Past, by Inga Rudzinskaite-Colman
Amie ferris-rotman, global news editor.
When reading this essay, one feels that an entire generation of Eastern Europeans is speaking, in a single, defiant voice, suddenly with renewed urgency. The globe is so focused on Russia's horrific assault on Ukraine, and the grim atrocities the Russian military commits practically every day, that we often forget, or perhaps do not realize, the impact the war has on Moscow's previous victims. In this essay, the analyst Inga Rudzinskaite-Colman, who was born and raised in Vilnius, dives into complicated issues like collective trauma and self-identity. She tells us, in poignant detail, how she and her fellow countrymen and women strived for decades to disassociate themselves from Russia and their Soviet past. But belonging to the Western "club" has also meant uncomfortable compromises, like being "Russiasplained" to. Read this beautifully written essay to peer into the new realities facing the Baltics, Poland and other countries once in Russia's orbit, who are now finding themselves united by survival.
Rushdie Is India's Forgotten Child of Midnight, by Pratik Kanjilal
Surbhi gupta, south asia editor.
Earlier this year, when Salman Rushdie was attacked before his talk in western New York, his supposed safe haven, much of the discussion in the media and reports in the news cycle focused on the politics of that infamous fatwa by the Ayatollah Khomeini calling for the writer's death and its repercussions on the Muslim world. Yet, despite the fact Rushdie has roots in India and the subcontinent has been a constant source of inspiration for his writing, I could find no essay that delved into this relationship and work with South Asia — before this one.
While many were focused on the backlash against Rushdie's novel, "The Satanic Verses," the South Asian connection in the story was being overlooked. The first protests against the book happened not in Iran but in Pakistan, and this prompted the Indian government to ban its import from the U.K. It was, indeed, in a review in an Indian magazine that the Ayatollah is said to have first learned of the book. That's why I loved this essay by Pratik Kanjilal, a veteran journalist and books editor in India, who has followed Rushdie's journey closely through the years and was the best person to write it. He packs a lot into this essay: He writes about Rushdie, critiques his work, discusses what his Booker Prize wins meant for English writing in India, his relationship with India and Pakistan, and the irony of the attack, coinciding as it did with the 75th Independence Day celebrations in India.
Faith and Vengeance: the Islamic State's War in Afghanistan, by Fazelminallah Qazizai and Chris Sands
Tam hussein, associate editor.
This piece tells the story of the rise of the Islamic State of Khorasan Province (ISKP), and its fall and rebirth, told through the character of Abu Omar Khorasani, "the most feared and despised prisoner in Directorate 40." It takes you on a journey from the Afghan Jihad in the 1980s all the way to the present. I love deep dives and investigations. This particular piece is very original and will no doubt populate the citations of many books on the topic for years to come. To produce an essay of such quality requires a supportive editorial team and journalists willing to follow the story all the way. For me, that is embodied in this investigation. When I read it, I can almost see the legwork and local knowledge put in by Fazelminallah Qazizai. I see the crisp writing style of Qazizai's co-author Chris Sands, the beautiful artwork of Joanna Andreasson and the background work that the editorial team puts in months before publication. And so it's not just an enjoyable and interesting read, it's what our managing editor Ola Salem says the best essays are — a work of art.
When Uganda Expelled Its Asian Population in 1972, Britain Tried to Exclude Them, by Saima Nasar
Kwangu liwewe, africa editor.
When I read this essay, it reminded me of the writer Chimamanda Ngozi Adichie's The Danger of a Single Story. For five decades, the narrative about the expulsion of Uganda's Asians has been that they went to Britain, were welcomed there and lived as refugees, then successfully assimilated into society and have contributed to all spheres of British life.
This essay puts the spotlight on how the narrative changed from unwanted Asian immigrants to one of a humanitarian response, when the plight of Asians became international news and Britain feared a backlash. The writer Saima Nasar lifts the lid on this narrative and tells the story of how, in actual fact, the Asians were British passport holders and were initially not welcome in Britain.
Nasar writes, "While Ugandan Asians have no doubt shaped Britain's economic, political and socio-cultural landscapes, it is important to avoid celebratory narratives that overlook histories of struggle and discrimination."
It is an important essay that challenges society to re-examine historical narratives.
A Film Critic Reflects on the Artistic Journeys and Vision of the Late French Director Jean-Luc Godard, by Jonathan Rosenbaum
Danny postel, politics editor.
When I saw the news on Sept. 13 that the legendary filmmaker Jean-Luc Godard had died, I immediately called Jonathan Rosenbaum, the longtime film critic for my local alt-weekly newspaper, the Chicago Reader, and the author of multiple books on world cinema. Rosenbaum had written extensively about Godard's films over the years and had interviewed the grand poobah of French cinema's New Wave movement on more than one occasion. I was thrilled that Rosenbaum agreed to write for us, despite being unfamiliar with New Lines (he later informed me that Sight and Sound, the magazine of the British Film Institute, also asked him to write something on Godard but we got to him first).
In the essay, he discusses several of Godard's films — "Breathless" (1960), "Alphaville" (1965), "Tout Va Bien" (1972), "Every Man for Himself" (1980), "Passion" (1982), "Nouvelle Vague" (1990) and "Histoire(s) du Cinéma," an eight-part experimental video series made between 1988 and 1998 — but it's far from a survey of the late director's filmography. Instead, it's a deeply personal meditation on his poetic vision and colossal global influence, and on the relationship between art and commercial success and failure. "Marketplace value has little or nothing to do with the love of art," Rosenbaum writes, and "there's no way of gauging the latter via the former, especially insofar as the intensity of the love and the qualities of the audience experiencing and expressing it aren't even remotely quantifiable." Godard once said to Rosenbaum: "I like to think of myself as an airplane, not an airport." Reflecting on that quip, Rosenbaum writes that "vehicles that take us places, and the destinations of those who make them don't have to be the same as the destinations of those who climb into those vehicles."
Between Two Rivers, Between Two Myths, by Sophus Helle
Lydia wilson, culture editor.
I wanted to choose a history essay for two reasons: It's one of the genres that we do particularly well and, second, this type of long-form history is not given much space in other outlets. Our history essays are always deep-dive explorations of stories from the past from experts on the subject, showing us something new about the world, whether a new perspective on a familiar topic or a previously hidden gem.
"Between Two Rivers," by the Mesopotamian scholar Sophus Helle, exemplifies what we're trying to do. It is based on deep expertise, exploring the identities of societies going back millennia in the territory now called Iraq. Helle looks at the labels these cultures gave themselves and were given by later invaders or historians. But it does not only tell the story of the historical material. Crucially, it explains why these facts, controversies and debates about old identities are relevant today, and the obfuscation of the past realities on the ground in Iraq does not serve its present inhabitants. History matters, and this essay brings that home.
An Exile Returns to Find Syria Changed Forever, by Nizar Kinaan
Faisal al yafai, international editor.
It's been a year of war — as too many of the past few years have been — this time dominated in Europe by Russia's invasion of Ukraine. At the magazine, we've certainly published a lot about the Ukraine war, but we've also kept a close eye on other conflicts.
This essay by Nizar Kinaan, a pseudonym for obvious reasons, is one of those, revisiting the still-simmering Syrian conflict. The author returned to the coastal city of Latakia after years away and found a city, and country, drastically changed by the war. We called the essay "No Country for Young Men" because of the profound changes in gender roles wrought by the war.
"'Where are the young men?' I asked my friends in the cafe bar we were drinking in. 'They are dead, in the army or they left like I should have done.'"
"The taboos against women working in certain specific jobs have definitely been broken," wrote Kinaan, quoting a Syrian woman who said, "I am not saying all taboos have been completely shattered … but things have definitely shifted. Now women can work in most jobs, stay out late, and be a little bit more independent."
Many will applaud that change, but the reasons that brought it about have destabilized the entire society. This is what makes Kinaan's encounter with Latakia so interesting; he doesn't judge what has happened by any moral standard except that of Syria itself. He doesn't applaud changes in isolation without understanding what it took to make them change.
Sign up to our mailing list to receive our stories in your inbox .
Lebanon's Trauma and the Myth of Resilience  — with Dalal Mawad
The gaza war is traumatizing a whole new generation on both sides, hamas attacks on israel from lebanon stoke fears of a repeat of history, 'el conde' explores pinochet's undying legacy, how crossing the texas-mexico border in the 1980s led to a trans-atlantic musical awakening, a new generation of omani artists is making waves, sign up to our newsletter.
Will be used in accordance with our Privacy Policy
Online Degree Explore Bachelor's & Master's degrees
MasterTrack™ Earn credit towards a Master's degree
University Certificates Advance your career with graduate-level learning
Top Courses
Join for Free
19 College Essay Topics and Prompts
Not sure what to write for your college essay? We've got you covered with a number of topics and prompts to help shape your unique story.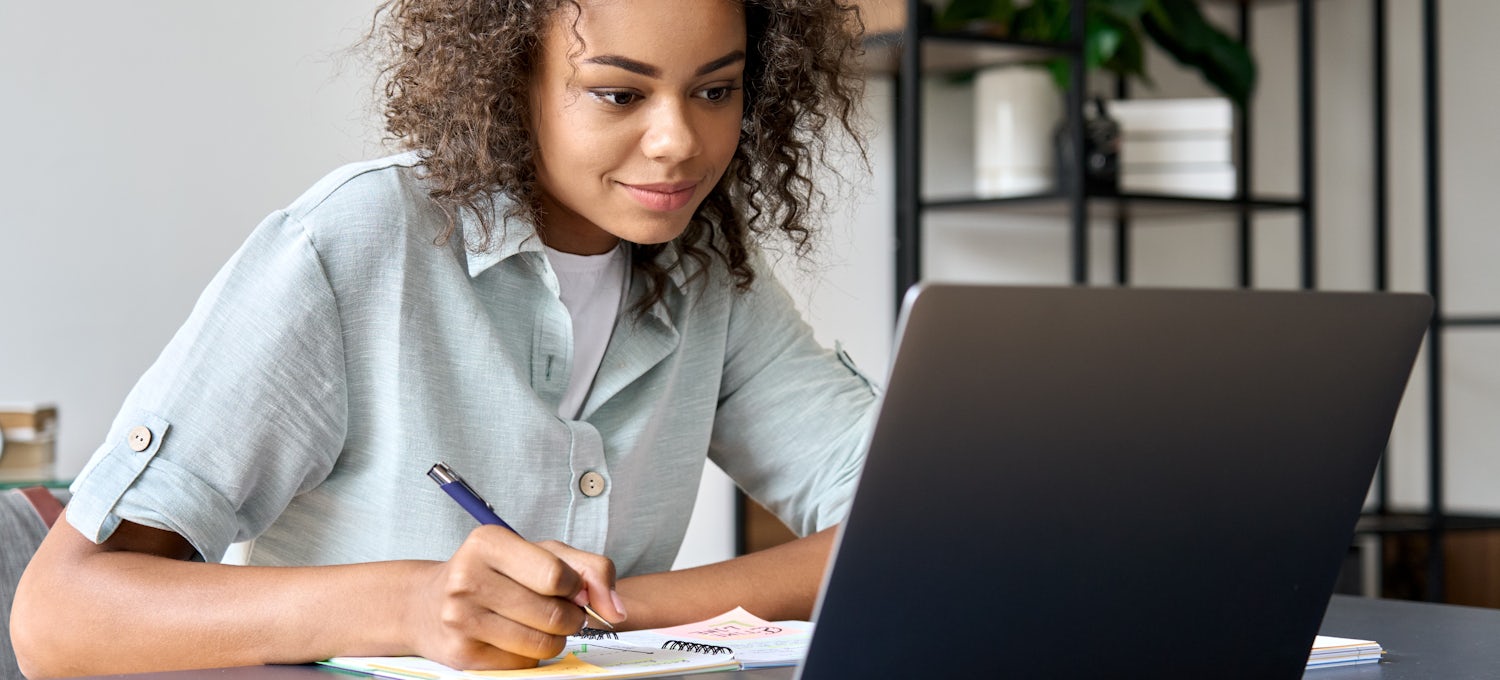 As part of your college application materials, you'll likely be asked to submit a college essay. These tend to be between 250 and 650 words , and are a unique opportunity to showcase your personality. Admissions panels are typically looking for students who will positively represent the school as a whole. In the end, your goal is to show them that you and the college are a good match. 
When drafting your college essay, you may be expected to answer a prompt or come up with a topic on your own. In this article, we've rounded up several ideas to get you thinking—and writing.
19 college essay topics
Each school sets different requirements around the college essay, so it's important to review the expectations around every application you intend to submit. Some give you creative freedom, while others expect you to respond to a pre-developed prompt. Either way, a strong college essay conveys to the admissions team who you are, why you want to attend that particular school, and what matters to you. It's a way to personalize an application that often focuses on quantitative data, such as GPA and SAT scores.
If you're given the creative freedom to write about whatever you want, consider a college essay topic that allows you to be honest and original. We've compiled the following ideas to help you brainstorm:
What's an important issue you care about? How have you gotten involved?
Have you changed your mind about something in recent years? What was it and why?
What's a situation that caused you to grow?
Explain a time when you failed. What did you learn from that moment?
Share a surprising pastime or hobby and what interested you about it.
What extracurricular activity are you involved in that speaks to your personality?
Detail a meaningful volunteer experience.
Dive into a meaningful travel experience.
Who do you most admire and why?
If you have a unique background, share a bit about it. How did you get where you are?
What's the best advice you've ever received?
Was there ever a time when you had to stand up for something—or someone?
What's something you might change about the world to make it better?
What do you hope to accomplish by attending college?
Is there something you want to do after graduating college?
Have you ever made or created something? Talk about it.
Do you have a big idea that could potentially impact your community?
What is most valuable to you? Dive into your values and share an example.
What are you most passionate about? Why?
Pre-developed college essay prompts
Some colleges and universities will give you a series of prompts to choose from. These will vary from school to school, and can either be questions or statements. Here are a few examples of both.
Sample question prompts:
What excites your intellectual curiosity?
How has your upbringing shaped the person you are today?
Reflect on a time when you questioned or challenged a belief or idea. What prompted your thinking? What was the outcome?
Sample statement prompts:
Talk about an unusual circumstance in your life
Share how you hope to use your college education
Discuss a list of books you have read in the last year
Common App essay prompts
Common App is an online platform designed to simplify the college application process. Over 900 colleges use Common App, making it possible for you to fill out one application that's then submitted to multiple schools.
If you choose to complete the Common App, you'll have a choice of several distinctive prompts that change every academic year. Here's a sample of the 2022-2023 essay prompts [ 1 ]:
Some students have a background, identity, interest, or talent that is so meaningful they believe their application would be incomplete without it. If this sounds like you, then please share your story.
The lessons we take from obstacles we encounter can be fundamental to later success. Recount a time when you faced a challenge, setback, or failure. How did it affect you, and what did you learn from the experience?
Reflect on something that someone has done for you that has made you happy or thankful in a surprising way. How has this gratitude affected or motivated you?
Stick to the prompt.
No matter what type of prompt you receive, it's your job to stick to it. The admissions team has a lot of essays to read, so you'll have a better chance of standing out if you develop a cohesive response that stays on topic.
Start by identifying the prompt's main topic, then spend some time brainstorming to find the idea that resonates most with you. For many people, it's the topic that makes them feel some sort of emotion or reminds them of an entertaining story. Understanding what you're being asked to write about should make staying on topic throughout the entire composition easier.
5 additional college essay tips
Once you decide what you'd like to write, follow the tips below to craft a standout essay. You can also find more advice about college essays in our article College Essay Format: Writing and Editing Tips .
1. Be considerate with humor.
Showing off your sense of humor lets your personality show through your words and can make reading the essay more entertaining. Try including a few sentences that you think will bring a smile to the reader's face, or use adjectives to insert some colorful comedy.
2. Offer insight.
Beyond recounting an event, experience, or memory, a great essay shows insight aka an ability to highlight meaningful takeaways. For example, if you choose to write about your unique hobby, try to discuss what you've learned from that pastime—or how you've grown as a result of it.
3. Add details
Great essays also invite the reader to connect with the story on an emotional level. With that in mind, it can help to recount a specific memory rather than answer a prompt without those colorful details. More than discussing something on a surface level—or vaguely—you want to provide enough particulars to keep your readers engaged. For example, if you choose to write about the best advice you ever received, set the scene and take the reader back to that moment.
4. Have an editor.
Your essay should ideally be error-free. Ask a trusted friend or family member to review your essay and suggest edits. An editor can help you catch grammatical errors or points out ways to better develop your response.
Avoid passing your paper along to too many people, though, so you don't lose your own voice amid all of the edits and suggestions. The admissions team wants to get to know you through your writing and not your sister or best friend who edited your paper.
5. Revise your essay.
Your first draft is just that: a draft. Give yourself plenty of time to read and revise your first pass and make sure you fully developed your response, stayed on topic, and shared your personality.
When revising your essay, you may find it helpful to read it aloud so you hear the words as you're saying them. Some people prefer to print a copy on paper and write notes by hand. Both options give your brain a new way to process the information to catch details you may miss if you keep everything in your head and on the computer.
Watch to find out why the essay many admission counselor's favorite part of the application:
Next steps: Apply with confidence
Earn your bachelor's degree online from prestigious global universities on Coursera. Many even offer performance-based admission, meaning you can complete a course or two online and earn admittance with a passing score.
Article sources
Common App. " First-year essay prompts , https://www.commonapp.org/apply/essay-prompts." Accessed February 8, 2023.
This content has been made available for informational purposes only. Learners are advised to conduct additional research to ensure that courses and other credentials pursued meet their personal, professional, and financial goals.
Develop career skills and credentials to stand out
Build in demand career skills with experts from leading companies and universities
Choose from over 8000 courses, hands-on projects, and certificate programs
Learn on your terms with flexible schedules and on-demand courses
Essay Topics – List of 500+ Essay Writing Topics and Ideas
List of 500+ Essay Writing Topics and Ideas
Essay topics in English can be difficult to come up with. While writing essays , many college and high school students face writer's block and have a hard time to think about topics and ideas for an essay. In this article, we will list out many good essay topics from different categories like argumentative essays, essays on technology, environment essays for students from 5th, 6th, 7th, 8th grades. Following list of essay topics are for all – from kids to college students. We have the largest collection of essays. An essay is nothing but a piece of content which is written from the perception of writer or author. Essays are similar to a story, pamphlet, thesis, etc. The best thing about Essay is you can use any type of language – formal or informal. It can biography, the autobiography of anyone. Following is a great list of 100 essay topics. We will be adding 400 more soon!
But Before that you may wanna read some awesome Essay Writing Tips here .
Get the Huge list of 100+ Speech Topics here
Argumentative Essay Topics
Should plastic be banned?
Pollution due to Urbanization
Education should be free
Should Students get limited access to the Internet?
Selling Tobacco should be banned
Smoking in public places should be banned
Facebook should be banned
Students should not be allowed to play PUBG
Essay Topics on Technology
Wonder Of Science
Mobile Phone
Essay Topics on Festivals on Events
Independence Day (15 August)
Teachers Day
Summer Vacation
Children's Day
Swachh Bharat Abhiyan
Janmashtami
Republic Day
Essay Topics on Education
Education Essay
Importance of Education
Contribution of Technology in Education
Essay Topics on Famous Leaders
Mahatma Gandhi
APJ Abdul Kalam
Jawaharlal Nehru
Swami Vivekananda
Mother Teresa
Rabindranath Tagore
Sardar Vallabhbhai Patel
Subhash Chandra Bose
Abraham Lincoln
Martin Luther King
Lal Bahadur Shashtri
Essay Topics on Animals and Birds
Essays Topics About Yourself
My Best Friend
My Favourite Teacher
My Aim In Life
My Favourite Game – Badminton
My Favourite Game – Essay
My Favourite Book
My Ambition
How I Spent My Summer Vacation
India of My Dreams
My School Life
I Love My Family
My Favourite Subject
My Favourite Game Badminton
My Father My Hero
My School Library
My Favourite Author
My plans for summer vacation
Essay Topics Based on Environment and Nature
Global Warming
Environment
Air Pollution
Environmental Pollution
Water Pollution
Rainy Season
Climate Change
Importance Of Trees
Winter Season
Deforestation
Natural Disasters
Save Environment
Summer Season
Trees Our Best Friend Essay In English
Essay Topics Based on Proverbs
Health Is Wealth
A Stitch in Time Saves Nine
An Apple a Day Keeps Doctor Away
Where there is a will, there is way
Time and Tide wait for none
Toppr provides free study materials like NCERT Solutions for Students, Previous 10 Years of Question Papers, 1000+ hours of video lectures for free. Download Toppr app for Android and iOS or signup for free.
Essay Topics for Students from 6th, 7th, 8th Grade
Noise Pollution
Environment Pollution
Women Empowerment
Time and Tide Wait for none
Science and Technology
Importance of Sports
Sports and Games
Time Management
Cleanliness is next to Godliness
Cleanliness
Rome was not Built in a Day
Unemployment
Clean India
Cow Essay In English
Describe Yourself
Festivals Of India
Ganesh Chaturthi
Healthy Food
Importance Of Water
Plastic Pollution
Value of Time
Honesty is the Best Policy
Gandhi Jayanti
Human Rights
Knowledge Is Power
Same Sex Marriage
Childhood Memories
Cyber Crime
Kalpana Chawla
Punctuality
Rani Lakshmi Bai
Spring Season
Unity In Diversity
Artificial Intelligence
Online Shopping
Indian Culture
Healthy Lifestyle
Indian Education System
Disaster Management
Environmental Issues
Freedom Fighters
Grandparents
Save Fuel For Better Environment
Importance Of Newspaper
Lal Bahadur Shastri
Raksha Bandhan
World Environment Day
Narendra Modi
What Is Religion
Charity Begins at Home
A Journey by Train
Ideal student
Save Water Save Earth
Indian Farmer
Safety of Women in India
Sarvepalli Radhakrishnan
Capital Punishment
College Life
Natural Resources
Peer Pressure
Nature Vs Nurture
Romeo And Juliet
Generation Gap
Makar Sankranti
Constitution of India
Girl Education
Importance of Family
Importance of Independence Day
Brain Drain
A Friend In Need Is A Friend Indeed
Action Speaks Louder Than Words
All That Glitters Is Not Gold
Bhagat Singh
Demonetization
Agriculture
Importance of Discipline
Population Explosion
Poverty in India
Uses Of Mobile Phones
Water Scarcity
Train Journey
Land Pollution
Environment Protection
Indian Army
Uses of Internet
All that Glitters is not Gold
Balanced Diet
Blood Donation
Digital India
Dussehra Essay
Energy Conservation
National Integration
Railway Station
Sachin Tendulkar
Health And Hygiene
Importance Of Forest
Indira Gandhi
Laughter Is The Best Medicine
Career Goals
Mental Health
Save Water Save Life
International Yoga Day
Winter Vacation
Soil Pollution
Every Cloud Has A Silver Lining
Indian Culture And Tradition
Unity Is Strength
Unity is Diversity
Wildlife Conservation
Cruelty To Animals
Nelson Mandela
Of Mice And Men
Organ Donation
Life in a Big City
Democracy in India
Waste Management
Biodiversity
Afforestation
Female Foeticide
Harmful Effects Of Junk Food
Rain Water Harvesting
Save Electricity
Social Media
Social Networking Sites
Sound Pollution
Procrastination
Life in an Indian Village
Life in Big City
Population Growth
World Population Day
Greenhouse Effect
Statue of Unity
Traffic Jam
Beti Bachao Beti Padhao
Importance of Good Manners
Good Manners
Cyber Security
Green Revolution
Health And Fitness
Incredible India
Make In India
Surgical Strike
Triple Talaq
A Good Friend
Importance of Friends in our Life
Should Plastic be Banned
Nationalism
Traffic Rules
Effects of Global Warming
Fundamental Rights
Solar System
National Constitution Day
Good Mother
Importance of Trees in our Life
City Life Vs Village Life
Importance of Communication
Conservation of Nature
Man vs. Machine
Indian Economy
Mothers Love
Importance of National Integration
Black Money
Greenhouse effect
Untouchability
Self Discipline
Global Terrorism
Conservation of Biodiversity
Newspaper and Its Uses
World Health Day
Conservation of Natural Resources
A Picnic with Family
Indian Heritage
Status of Women in India
Child is Father of the Man
Reading is Good Habit
Plastic Bag
Terrorism in India
Library and Its Uses
Life on Mars
Urbanization
Pollution Due to Diwali
National Flag of India
Vocational Education
Importance of Tree Plantation
Summer Camp
Vehicle Pollution
Women Education in India
Seasons in India
Freedom of the Press
Caste System
Environment and Human Health
Mountain Climbing
Depletion of Natural Resources
Ishwar Chandra Vidyasagar
Health Education
Effects of Deforestation
Life after School
Starvation in India
Jan Dhan Yojana
Impact of Privatization
Election Commission of India
Election and Democracy
Prevention of Global Warming
Impact of Cinema in Life
Subhas Chandra Bose
Dowry System
Ganesh Chaturthi Festival
Role of Science in Making India
Impact of Global Warming on Oceans
Pollution due to Festivals
Ambedkar Jayanti
Ek Bharat Shreshtha Bharat
Family Planning in India
Democracy vs Dictatorship
National Festivals of India
Sri Aurobindo
Casteism in India
Organ trafficking
Consequences of Global Warming
Role of Human Activities in Global Warming
Issues and Problems faced by Women in India
Role of Judiciary in the Country Today
Sugamya Bharat Abhiyan
PUBG Mobile Game Addiction
Role of Youths in Nation Building
Value of Oxygen and Water in Life/Earth
Farmer Suicides in India
Start-up India
Pollution Due to Firecrackers
Life of Soldiers
Child Labour
Save Girl Child
Morning Walk
My School Fete
Essay on Financial Literacy
Essay On Sustainable Development
Essay On Punjab
Essay On Travel
My Home Essay
Child Marriage Essay
Importance Of English Language Essay
Essay On Mass Media
Essay On Horse
Essay On Police
Essay On Eid
Essay On Solar Energy
Animal Essay
Essay On Mango
Gender Discrimination Essay
Essay On Advertisement
My First Day At School Essay
My Neighborhood Essay
True Friendship Essay
Work Is Worship Essay
Essay On Self Confidence
Essay On Superstition
Essay On Bangalore
Sex Vs Gender Essay
Essay On Social Issues
Time Is Money Essay
Essay About Grandmothers
Essay On Hard Work
First Day Of School Essay
Flowers Essay
My Favorite Food Essay
Essay on Birds
Essay on Humanity
Essay on Sun
Essay on Kargil War
Every Cloud Has a Silver Lining Essay
Francis Bacon Essays
Importance of Cleanliness Essay
My Sister Essay
Self Introduction Essay
Solar Energy Essay
Sports Day Essa
Value Of Education Essay
Essay On Isro
Essay On Balance Is Beneficial
Essay On Reservation In India
Essay On Water Management
Essay On Smoking
Essay On Stress Management
Essay On William Shakespeare
Essay on Apple
Essay On Albert Einstein
Essay On Feminism
Essay On Kindness
Essay On Domestic Violence
Essay on English as a Global Language
Essay On Co-Education
Importance Of Exercise Essay
Overpopulation Essay
Smartphone Essay
Essay on River
Essay on Cyclone
Essay On Facebook
Essay On Science In Everyday Life
Essay On Women Rights
Essay On Right To Education
Essay on Quotes
Essay On Peace
Essay On Drawing
Essay On Bicycle
Essay On Sexual Harassment
Essay On Hospital
Essay On Srinivasa Ramanujan
Essay On Golden Temple
Essay On Art
Essay On Ruskin Bond
Essay On Moon
Birthday Essay
Dont Judge A Book By Its Cover Essay
Draught Essay
Gratitude Essay
Indian Politics Essay
Who am I Essay
Essay on Positive Thinking
Essay on Dance
Essay on Navratri
Essay on Onam
Essay on New Education Policy 2020
Esasy on Thank you Coronavirus Helpers
Essay on Coronavirus and Coronavirus Symptoms
Essay on Baseball
Essay on coronavirus vaccine
Fitness beats pandemic essay
Essay on coronavirus tips
Essay on coronavirus prevention
Essay on coronavirus treatment
Essay on essay on trees
Essay on television
Gender inequality essay
Water conservation essay
Essay on Gurpurab
Essay on Types of sports
Essay on road safety
Essay on my favourite season
My pet essay
Student life essay
Essay on Railway station
Essay on earth
Essay on knowledge is power
Essay on favourite personality
Essay on memorable day of my life
My parents essay
Our country essay
Picnic essay
Travelling essay
Letter Writing
It So Happened Summary
Honey Dew Chapter Summaries
The Alien Hand
Malu Bhalu Summary
Sing a Song of People Summary
The Little Bully Summary
Nobody's Friend Summary
Class Discussion Summary
Crying Summary in English
Which class are you in?
Download the App
We use cookies to enhance our website for you. Proceed if you agree to this policy or learn more about it.
Open-Access Sample Essay Database & Student Papers The Best Way to Ignite Your Inspiration
free samples in our database
Browse our free directory of academic paper samples to dig up great topic ideas, perfect content structuring examples, and actionable insights on proper formatting.
Can't find the right essay? Let us write it!
Some patterns of squiggles have the insurrectionary potential to move hearts and minds. They slow down the sand trickle in an hourglass and almost certainly wield power to shape reality. But you already know what a great student essay paper can do. Yes, crafting it is not that simple as one could imagine. Yet, let us show you that getting it written flawlessly is a matter of your wish.
We hope that after familiarizing yourself with the best essay writing samples created by our professional writers, you will learn to craft brisk and lucid academic prose. We also expect you to start appreciating the efficiency of semicolons and the versatility of em dashes. And, above all, we want you to develop a strong affection for an apt turn of phrase.
As each presented free example essay would, hopefully, demonstrate, good writing is a perky boat piercing briny ocean of the subject. As such, the vessel's tonnage (read meaning-carrying capacity) should be commensurate with the demands of the waters it traverses. It also helps if your boat can float. Study sample essays in our online free essays database to build a sturdy literary vessel that can weather the gales of professorial criticism.
Popular Samples
Creativity-provoking examples of essay, reports, speeches, and other papers by professional writers.
Most college students are not equipped with the skills necessary to project three-dimensional meaning onto a two-dimensional canvass of paper. And, unfortunately, they are not provided with more than a benevolent injunction: go and write. But how effective is this diktat? If you ever wriggled in front of a blank page, you know that its usefulness borders on zero. Even if you don't struggle with writing, it does not necessarily mean you live up to your literary potential. Do your readers hold their breath when poring over your essay? No? Well, they could. If, of course, you learn how to attack them with a series of short, punchy sentences that are simple enough to get past their guard. Your readers would hold their breath until the last full stop if you also treat them to long, meaty sentences that have enough substance to nourish their hunger for quality. You got to learn how to do it. Here you can do that for free by learning from the best!
A decent sample of essay writing could teach you that good content should be neither thunderously pretentious nor placidly banal. A mind shamelessly aggrandizing and frolicking on a page is rarely palatable; the same applies to muffled intelligence. It's all about balance. A top-notch academic essay example could also inspire you to let your literary style shape the message. Your own voice should be clear, distinctive, and, above all, heard through the fuzz of text.
Other Pages
Equals Creative Writings 2
Waldau Essays 1
M Butterfly Essays 5
The Lightning Thief Essays 1
Leveling Essays 5
2001 A Space Odyssey Essays 1
Free Essay About Noble Vs Slave Morality
Essay On Social Issue
Free Essay About Modern Europe Of The 20th Century
Expertly Crafted Report On Child Welfare Working With Children And Their Families
Social Exclusion In Business And Society Twitters Exclusion Of African American Employees Case Study
Good Essay Example or Proper Personal Statement Is a Powerful Learning Tool
These best of breed essays we have collected here are to be used for inspirational and educational purposes only. You are encouraged to study them closely to distill invaluable lessons, which can be applied to your writing. However, you are not allowed to copy an example of an essay and pass it as your own, which would be a flagrant violation of expected student behavior and may result in severe penalties. Similarly, abstain from replicating basic ideas you will find in our free essay samples. It is your fervor for a subject that should drive your hand across a page, not someone else's thoughts. That's being said, have the most exciting and fruitful educational journey!
What Users Often Ask About Our Academic Paper & Essay Examples
Do you offer samples of essays only, or other types of papers are also available, are all of the presented academic paper and essay examples free to use, how many college paper and essay samples do you have in your directory, can i submit a good essay sample, research paper, report, or thesis i've found as my own work, how can i order writing sample examples according to my requirements, are all of the presented free writing examples crafted by professional writers.
If your papers do not yet evince the level of skill you strive for, use our collection of perfect writing examples. Still struggling? Hire a professional writer.
Get your papers done by pros!
ORDER A PAPER
Password recovery email has been sent to [email protected]
Use your new password to log in
You are not register!
By clicking Register, you agree to our Terms of Service and that you have read our Privacy Policy .
Now you can download documents directly to your device!
Check your email! An email with your password has already been sent to you! Now you can download documents directly to your device.
or Use the QR code to Save this Paper to Your Phone
The sample is NOT original!
Short on a deadline?
Don't waste time. Get help with 11% off using code - GETWOWED
No, thanks! I'm fine with missing my deadline
Writing in the Disciplines
These colleges typically make the writing process a priority at all levels of instruction and across the curriculum. Students are encouraged to produce and refine various forms of writing for different audiences in different disciplines. In spring and summer 2023, we invited college presidents, chief academic officers, deans of students and deans of admissions from more than 1,500 schools to nominate up to 15 institutions with stellar examples of writing in the disciplines. Colleges and universities that received 10 or more nominations are ranked here. Read the methodology »
To unlock full rankings, SAT/ACT scores and more, sign up for the U.S. News College Compass !
Brown University
Providence, RI
#1 in Writing in the Disciplines
#9 in National Universities  (tie)
At Brown University, undergraduate students are responsible for designing their own academic study with more than 80 concentration programs to choose from. Another unique offering at this private, Ivy League institution in Providence, Rhode Island, is the Program in Liberal Medical Education, which grants both a bachelor's degree and medical degree in eight years.
(fall 2022)
SAT, GPA and More
Columbia University
New York, NY
#2 in Writing in the Disciplines
#12 in National Universities  (tie)
Columbia University has three undergraduate schools: Columbia College, The Fu Foundation School of Engineering and Applied Sciences (SEAS), and the School of General Studies. This Ivy League, private school guarantees students housing for all four years on campus in Manhattan's Morningside Heights neighborhood in New York City.
Duke University
#3 in Writing in the Disciplines  (tie)
#7 in National Universities  (tie)
Located in Durham, North Carolina, Duke University is a private institution that has liberal arts and engineering programs for undergraduates. The Duke Blue Devils sports teams have a fierce rivalry with the University of North Carolina—Chapel Hill Tar Heels and are best known for their outstanding men's basketball program.
Princeton University
Princeton, NJ
#1 in National Universities
The ivy-covered campus of Princeton University, a private institution, is located in the quiet town of Princeton, New Jersey. Princeton was the first university to offer a "no loan" policy to financially needy students, giving grants instead of loans to accepted students who need help paying tuition.
University of Iowa
Iowa City, IA
#5 in Writing in the Disciplines  (tie)
#93 in National Universities  (tie)
The University of Iowa offers top-notch academic programming in more than 100 areas. Students looking to hone their leadership skills have many options, too: They can enroll in the LeaderShape Institute, a six-day getaway workshop; or participate in one of the many programs offered through the Center for Student Involvement & Leadership, including arts and entertainment, and multicultural programs. Freshmen do not have to live on campus, but about 95 percent choose to do so. Campus life may pose a challenge to tobacco users, as Iowa is a smoke-free campus. Students have more than 500 clubs and organizations from which to choose, and close to 10 percent of students go Greek as members of the school's more than 50 fraternities and sororities. Sports are another big focus of campus life; even in the competitive NCAA Division I Big Ten Conference, the Iowa Hawkeyes are notorious players. Four blocks from campus is Iowa City, a Midwestern metropolis that has been recognized among the nation's best for its scenery, greenery and sustainable energy efforts.
(out-of-state)
Yale University
New Haven, CT
#5 in National Universities
Yale University, located in New Haven, Connecticut, offers a small college life with the resources of a major research institution. Yale students are divided into 14 residential colleges that foster a supportive environment for living, learning and socializing.
Cornell University
#7 in Writing in the Disciplines
Cornell University, a private school in Ithaca, New York, has 14 colleges and schools. Each admits its own students, though every graduate receives a degree from Cornell University. The university has more than 1,000 student organizations on campus.
Carleton College
Northfield, MN
#8 in Writing in the Disciplines
#9 in National Liberal Arts Colleges  (tie)
Carleton College is a private school in the historic river town of Northfield, Minnesota. Carls, as its students are known, have about 35 majors to choose from and more than 170 organizations to check out.
Swarthmore College
Swarthmore, PA
#9 in Writing in the Disciplines
#4 in National Liberal Arts Colleges  (tie)
About 10 miles outside of Philadelphia is Swarthmore College, a private liberal arts institution that also offers a unique engineering degree program. Because Swarthmore is part of the Tri-College Consortium, students can also take courses at nearby Bryn Mawr College and Haverford College.
Amherst College
Amherst, MA
#10 in Writing in the Disciplines  (tie)
#2 in National Liberal Arts Colleges
Amherst College, a private school in Amherst, Massachusetts, is known for its rigorous academic climate. Because Amherst is a member of the Five Colleges consortium, students can also take courses at Smith College, Mount Holyoke College, Hampshire College and the University of Massachusetts—Amherst.
Buy and sell your books at the best price
Top 100 best-selling books 2023.
The world of books keeps growing and bringing in new writers, types of stories, and writing styles each year. This constant change means there are always fresh and interesting stories for people who love to read. Whether you like classic books , exciting mysteries , sweet love stories , deep science fiction , informative non-fiction, or books in a specific category, there are many books for you to enjoy.
In this blog, we've collected a list of the top 100 best booksellers in 2023 so that you're sure to find something that piques your bookish interest. So, grab your reading glasses (if you have any) and get ready to explore the literary wonders of 2023!
Note: Prices, Amazon Sales Rank, and GoodReads Rating in the table are on the day of blog post publication.
The books on our list are loved by lots of people who love to read. They've taken readers on exciting adventures and made them think about important stuff. This list shows how amazing authors from all over the world are. These great books have had a big impact, and hopefully, people will love them for a long time.
If you really like to read a lot or just read sometimes, the top 100 books of 2023 have something for you. We hope you have a great time reading them, and they help you discover new and exciting stories, learn new things, and make you love books even more.
We also recommend to check out the top 100 book bestsellers for 2022 .
Alison Bailey
Alison is a recent college graduate. Since college, she's especially been interested in creating interesting stories and exploring different topics to write about. Writing for BookScouter gives her incredible pleasure and satisfaction. Alison considers content creation as an addictive hobby she puts her whole soul into. She's also passionate about traveling, reading fiction, stretching, and playing the piano. The greatest stress-reliever for Alison is to pet her cat named Cupcake and listen to his soothing purring.
You may also like
Top 100 Books Searched in 2011
10 Most Searched Sociology Books on BookScouter in 2023
10 Most Searched History Books on BookScouter in 2023
Copy and paste this code to display the image on your site

Learning Home

Not Now! Will rate later
100 Essay Topics for 2023
Essay Topics
India to be the world's third largest economy by 2028
Impact of increasing inflation on global economy
How important is flow of money for the economy?
Need of the Hour is to Maximise Possibilities of Agriculture in India
Inequality can be Reduced by the Power of the Market rather than the Government
FDI in Defence sector
RBI's strategies to tackle inflation in Economy
Non-Performing Assets and their impact on economy
The New Era of MSMEs
Global Recession and shapes of Economy
India becoming a leader in Renewable Energy
Are Mergers the only solution to revive debt ridden banks?
One Nation One Ration Card : Need and Impact
Crypto-currency and issues related to it
Growing trends of Privatisation
Fugitive Economic Offenders and the need to bring them back
Higher Education versus skill acquisition
Entrance exams versus Qualifying exams - what is the relevance of entrance exams for admissions to UG and PG courses in India?
Online schooling, can it be the future of education?
New Education Policy: A Progressive Policy with Diverse Challenges
Labour Law Reforms
HRD Ministry is now Education Ministry: Just a change of name or more?
COVID-19: Biodiversity Conservation– Our Solutions are in Nature
Hyper-globalism is threat to human prosperity
Net Zero Carbon Emission
Shifting of Earth's Geo-Magnetic field and its impact
Money Laundering and Illegal Wildlife trade
Ban on plastic: Environment vs. Economy
Seed Bombs: Solution to Man-Animal Conflict
Growing Pollution in Rivers
Organic Farming in India
Growing Intolerance in the world
Goodwill is the only asset that competition cannot undersell or destroy
Is defection becoming the new norm in Indian politics?
New India @75
Scrapping of section 377 - progressive addition to Human rights protection
Pro poor policies of Modi Government
Controversies surrounding the Present-day NDA government in India
Relevance of the Supreme court's decision to decriminalize the crime of adultery laid under section 497 of IPC
India China border issues – how can India maintain balance between conflict & trade relations?
Too much Democracy is Detrimental to Development
India needs aggressive and pragmatic neighbourhood policy
Today India Needs 'Harmony in Diversity', Not Unity in Diversity
Atmanirbharbharat
India and SDGs
India's Neighbourhood Policy
India's Participation in Central Asian Region
India's claim to UNSC permanent membership
Presidential vs Parliamentary form of government- which one India should go for?
India's deepening malnutrition
India as the World's fifth largest economy
One nation one election
What is CAATSA and its implications on India?
Growing left wing politics in India
GST growth indicates India's growth
Compatibility of the Contempt of Court with International Standards
Decisive Interview, GD & Essay prep
100 Most Important Essay Topics for 2021
Essay Writing for B-schools
Top 100 Abstract Topics
Essay Writing: Stepwise Approach
Essay Writing: Grammar and Style
Common Mistakes in Essay Writing
Precis Writing
Actual Essay/ WAT topics
Top Factual Essay Topics
Essay Writing: Brainstorming Techniques
Essay Writing: Sentence Structure
Essay Writing: Do's and Don'ts
Group Discussions
Personality
Past Experiences
Most Popular Articles - PS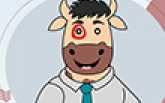 Essay Writing/Written Ability Test (WAT) for B-schools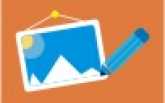 Case & Situation based Essay Topics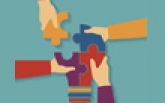 Argumentative Essays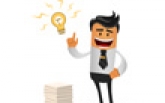 Do's and Don'ts of Essay Writing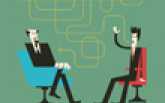 Opinion Essays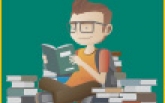 Descriptive Essays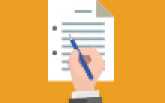 Narrative Essays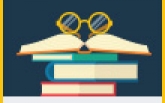 Autobiographical Essay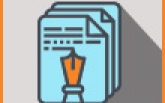 Expository essay
Download our app.
Learn on-the-go
Unlimited Prep Resources
Better Learning Experience
Personalized Guidance
Get More Out of Your Exam Preparation - Try Our App!
Pop culture
Writing tips
Daily Crossword
Word Puzzle
Word Finder
Word of the Day
Synonym of the Day
Word of the Year
Language stories
All featured
Gender and sexuality
All pop culture
Grammar Coach ™
Writing hub
Grammar essentials
Commonly confused
All writing tips
synonyms for essay
dissertation
composition
disquisition
explication
See also synonyms for: essayed essays
antonyms for essay
Most relevant
Roget's 21st Century Thesaurus, Third Edition Copyright © 2013 by the Philip Lief Group.
How to use essay in a sentence
As several of my colleagues commented, the result is good enough that it could pass for an essay written by a first-year undergraduate, and even get a pretty decent grade.
GPT-3 also raises concerns about the future of essay writing in the education system.
This little essay helps focus on self-knowledge in what you're best at, and how you should prioritize your time.
As Steven Feldstein argues in the opening essay , technonationalism plays a part in the strengthening of other autocracies too.
He's written a collection of essays on civil engineering life titled Bridginess, and to this day he and Lauren go on "bridge dates," where they enjoy a meal and admire the view of a nearby span.
I think a certain kind of compelling essay has a piece of that.
The current attack on the Jews," he wrote in a 1937 essay , "targets not just this people of 15 million but mankind as such.
The impulse to interpret seems to me what makes personal essay writing compelling.
To be honest, I think a lot of good essay writing comes out of that.
Someone recently sent me an old Joan Didion essay on self-respect that appeared in Vogue.
There is more of the uplifted forefinger and the reiterated point than I should have allowed myself in an essay .
Consequently he was able to turn in a clear essay upon the subject, which, upon examination, the king found to be free from error.
It is no part of the present essay to attempt to detail the particulars of a code of social legislation.
But angels and ministers of grace defend us from ministers of religion who essay art criticism!
It is fit that the imagination, which is free to go through all things, should essay such excursions.
Choose the synonym for platform
Words Related To essay
concentrate
contemplate
set one's sights on
concentrating
contemplating
endeavoring
setting one's sights on
concentrates
contemplates
sets one's sights on
think piece
do level best
exert oneself
give a fling
give a whirl
give best shot
give it a go
give it a try
give old college try
go the limit
have a crack
have a go at
make a run at
shoot the works
take a stab at
take best shot
try one's hand at
doing level best
exerting oneself
experimenting
giving a fling
giving a whirl
giving best shot
giving it a go
giving it a try
giving old college trying
going the limit
having a crack
having a go at
making a run at
shooting the works
taking a stab at
taking best shot
trying one's hand at
undertaking
Synonyms For
Antonyms For
Related Words
College of Law
Iowa law announcements.
This page will be used to share announcements for the College of Law community. If you have an announcement to add to the page, please contact [email protected] .
Announcements by Department
Admissions office, courses and curriculum.
For fall 2023 information, please check out Exam Information on the Current Students page. 
Financial Aid
Max by accesslex®.
1L Students – Financial Foundations
2L Students – Crafting Your Legal Career
3L Students – Life After Law School
And don't forget to attend any MAX personal finance webinars that look interesting to you for additional entries. Good luck in the upcoming drawing!
Outside Scholarship Opportunities
The $10,000 Mark T. Banner Scholarship
This scholarship is part of The Richard Linn American Inn of Court's commitment to fostering the development of intellectual property lawyers of high ethics, civility and professionalism, and especially those from diverse backgrounds.
The recipient of the scholarship receives $10,000 to be applied to their legal education. This scholarship is available to law students who have entered into a JD program at an ABA-accredited law school in the United States and who will continue in that program through at least the Fall 2024 semester. For more information about the criteria, see their website:   https://www.linninn.org/Pages/scholarship.shtml
Applications need to be submitted by  December 1, 2023 . The application is available on the Linn Inn of Court's website at  https://www.linninn.org/Pages/scholarship.shtml
Human Resources
Field placement program.
The Field Placement Program offers students the opportunity to earn 6-14 credits (experiential) by working in nonprofit organizations, government offices, judicial chambers, and certain corporate counsel offices.  During the school year, students must complete at least 14 hours per week of field work during the semester and participate in a field placement seminar course.  The law school has pre-arranged field placements with various partners in Iowa; students may also apply for legal internships away from the law school. Local, pre-approved placements are currently on 12Twenty and more are coming. First round deadlines were Tuesday, October 24, 2023, but placements will continue to accept applications on a rolling basis .  Students must secure and enroll in the Field Placement Program by January 3 .  Before submitting applications, make an appointment ( https://calendly.com/jttai ) and meet with Prof. June Tai to discuss your goals, interests, and proposed class schedule.  Prof. Tai reviews and approves all placements prior to enrollment and enrollment is done by the Registrar (not by the student through MyUI).
Student Organizations
🍳  submit your recipe for the law school collaborative cookbook 🍜.
Submission Deadline: November 15
Send Recipes To: [email protected]
Interested or Have Questions? Reach out to any of the listed organizations.
Student Resources
Academic success.
Tuesday Talk About It:  Tuesday, November 7 , at 12:35 p.m. The topic is Tackling an Essay Exam for a Touchdown.   Lunch this week is Z'Marik's. Click here to RSVP to guarantee there will be enough lunch for everyone:   https://tinyurl.com/NovTuesTalk  
Writing Workshop: You might be thinking about how to finish your final memo assignment. We're here to help! We are sponsoring a writing workshop on November 8 from 6-9 p.m. in the Student Lounge. Come for the camaraderie; short, fun, legal writing presentations; dinner; and to have your questions answered.  Fun!  
Writing Center
Food Pantry at Iowa
The Food Pantry at Iowa (located in the Iowa Memorial Union) provides free, nutritious food and basic necessities for University of Iowa students, graduate and professional students, postdocs, staff, and faculty. Food accessibility and affordability is important for college students to survive, maintain a healthy lifestyle, and to concentrate in classes.  See our FAQs .
​​​​​​​Holiday Food Pantry Hours:
The 35 Best Comedies of All Time, Ranked
From City Lights and Duck Soup to Borat and Bridesmaids, this is Collider's ranking of the best, funniest comedy movies ever made.
Read update
The best comedy movies of all time are evergreen. Transcending their era, they remain charming for decades after their release. From The Producers to Dr. Strangelove , these movies helped shape the genre into what it is today – and still make for a side-splitting good time.
Making a comedy movie with enduring appeal is no small feat. Humor is so context-dependent that most comedies age poorly. After a few years, the jokes no longer land and the references are outdated. Characters that were funny to one generation are cringy to the next. However, there are nevertheless some comedies that defy this trend. They remain hilarious and engaging years - or even decades - after their release.
The best comedy movies of all-time range from silent character studies to slapstick blockbusters, genre parodies to political satire. They're united by runaway creativity and the sheer unbridled joy of a good laugh. They're sure to keep audiences chuckling, giggling, and guffawing for a long time to come.
Updated on October 23, 2023, by Luc Haasbroek:
35 'in bruges'.
Martin McDonagh reached new dramatic heights with The Banshees of Inisherin , but In Bruges remains his funniest project. This unpredictable morality tale about two hit men hunkered down in a picaresque Belgian city is equal parts bleak and hilarious, elevated by transcendent performances from Colin Farrell , Brendan Gleeson , and Ralph Fiennes .
Like Tarantino before him, McDonagh imbues crime tropes with his own unique perspective . The narrative is tautly constructed: every piece of dialogue has its place, and even seemingly throwaway lines end up being prophetic or ironic. The script gives the lead actors endless material to play with, and their delight in their roles is clear to see.
Watch on Prime Video
34 'The Jerk'
The Jerk was the movie that established Steve Martin , then known primarily as a standup comic, as a lead actor. He plays Navin R. Johnson, a white man who was adopted and raised by Black sharecroppers in Mississippi. The sheltered, naive Navin embarks on a journey of self-discovery. He has a series of misadventures, going from rags to riches and back again.
The movie is essentially a vehicle for Martin's jokes, and his energy and comedic timing are phenomenal . (His performance even earned Stanley Kubrick 's stamp of approval ). In particular, he's a maestro at playing dumb: when it comes to being stupid, Martin is a genius.
33 'A Night at the Opera'
The Marx Brothers were a filmmaker sibling duo and comedy troupe that got their start on the stage in the early 20th century, before transitioning to film during the advent of talkies. Their grandest comedic statement may be A Night at the Opera . It sees the brothers infiltrating the highbrow opera scene to help a young aspiring singer, Rosa ( Kitty Carlisle ), achieve her dreams and thwart her enemies.
The movie features ample wordplay, physical comedy, and musical numbers , alongside elaborate set pieces like the famous stateroom scene. Notably, the brothers show off a more sympathetic side to their anarchic personas here – though they never let up on the jokes.
Watch on TCM
32 'Heathers'
Veronica Sawyer ( Winona Ryder ) is a high school student who is tired of the elitist and cruel clique led by three girls, all named Heather. She teams up with her rebellious new boyfriend, J.D. ( Christian Slater ), in a twisted plot to rid the school of its oppressive social order. However, J.D.'s plans escalate to full-blown murder, leading to all manner of mayhem.
In contrast to most of the sunny, optimistic teen comedies of the '80s, Heathers is acerbic and satirical, taking shots at high school hierarchy and teenage alienation . It was a flop on release but has since become a cult film. Even today it still feels surprisingly modern, in part due to the inventive dialogue written by Daniel Waters .
31 'Office Space'
Office Space is Mike Judge 's send-up of corporate culture and the drudgery of the modern workplace. It stars Ron Livingston as Peter Gibbons, a software engineer who despises his mundane job at a soulless tech company. Frustrated with his micromanaging boss, Bill Lumbergh ( Gary Cole ), and the mind-numbing routine of cubicle life, Peter decides to take a stand, albeit in a very unconventional way, helped along by some hypnosis.
The dialogue is frequently uproarious, Stephen Root's supporting performance as the meek Milton Waddams is terrific , and the commentary on modern work cuts deep. As a result, many of Office Space 's scenes have become Internet memes . If Hollywood could make more comedies like this, that'd be great.
Watch on Max
30 'The Producers'
Washed-up Broadway producer Max Bialystock ( Zero Mostel ) hatches a scheme to become rich by producing a surefire Broadway flop called "Springtime for Hitler." With help from his timid accountant Leo Bloom ( Gene Wilder ), he hires the worst director and actors in town and sets the stage for disaster. However, their plans take an unexpected turn when the play becomes a roaring success - leaving Max and Leo in a state of utter chaos.
The Producers received mixed reviews on release, with some critics finding it to be in bad taste. However, that's actually a testament to Mel Brooks's boldness and willingness to explore controversial topics. With its sharp wit and slapstick humor, the film ranks among the best show business parodies of the 1960s .
29 'Hot Fuzz' (2007)
Edgar Wright 's entire Cornetto Trilogy is fantastic, but Hot Fuzz fires on all cylinders. Elite cop Nicholas Angel ( Simon Pegg ) is transferred to the sleepy town of Sandford, where he and his bumbling partner Danny Butterman ( Nick Frost ) begin investigating a string of mysterious deaths.
The script is hilarious, but it's the visual gags that elevate the movie. Wright is peerless among his generation when it comes to visual humor. He uses smash cuts, dynamic camera moves, and masterful framing to deliver some of the movie's funniest moments. Is it a masterpiece? Yarp.
28 'Monty Python's Life of Brian'
"Always look on the bright side of life." More than any other film, Life of Brian demonstrates Monty Python 's skill at poking fun at the most serious of topics. It revolves around Brian Cohen of Nazareth ( Graham Chapman ), a man born on the same day as Jesus in the apartment next door. Mistaken for the Messiah on several occasions, Brian reluctantly gets caught up in a series of absurd events.
It's a fantastic satire of religious dogmatism , packed with big-brain references to religion, politics, and literature. There are so many iconic moments in the endlessly quotable movie , like "What did the Romans ever do for us?", the stoning scene, "This bloke won't haggle!" and, of course, Biggus Dickus.
Watch on Netflix
27 'The Big Lebowski'(1998)
Directed by the Coen brothers , The Big Lebowski is a quirky crime-comedy that centers around Jeffrey "The Dude" Lebowski ( Jeff Bridges ), an easygoing slacker and avid bowler. When two thugs mistake him for a millionaire also named Jeffrey Lebowski, they urinate on his rug and set off a chain of bizarre events. The Dude seeks restitution from the wealthy Lebowski, inadvertently becoming entangled in various wacky plots.
Surreal, silly, and endlessly quotable , The Big Lebowski quickly earned a cult following. The highlights are the eccentric performances: John Goodman , Steve Buscemi , and John Turturro have never been better. "Nobody f**ks with the Jesus!"
26 'Modern Times'
Modern Times , written and directed by Charlie Chaplin , is a silent comedy that explores the struggles of the working class during the industrial era. Chaplin stars as a nameless factory overwhelmed by modern life, leading to a nervous breakdown. After recovering, he meets a young homeless woman ( Paulette Goddard ), and together, they strive to build a life.
It's particularly famous for the scene where Chaplin struggles to keep up with the assembly line, and is sucked into the gears. The film is a great blend of physical comedy and thoughtful themes , hinting at the more pointed films like The Great Dictator that would follow.
25 'Planes, Trains and Automobiles'
Steve Martin and John Candy were at the height of their powers when they teamed up for the John Hughes classic about two unlikely travel companions forced to endure a wild journey back home for Thanksgiving, Planes, Trains and Automobiles . Martin plays Neal Page, a businessman eager to get home to his family, while Candy is Del Griffith, a bumbling shower curtain ring salesman who inadvertently becomes Neal's travel partner.
With their vastly different personalities, the duo's misadventures across planes, trains, and automobiles make for a side-splitting comedy with a ton of heart . The stellar performances by Martin and Candy have earned it a place among the most beloved road trip movies .
24 'Anchorman: The Legend of Ron Burgundy'
"Great Odin's raven!" Will Ferrell has played a number of iconic characters throughout his career, but none can top Ron Burgundy, a pompous and chauvinistic '70s news anchor. The film follows Ron's ego-driven journey as he competes with his colleagues, navigates his complicated relationship with his female co-anchor, and ultimately finds himself in a battle for his career.
He's joined by an ensemble cast made up of several comedy heavy-hitters like Christina Applegate , Paul Rudd , David Koechner , and Steve Carell . Director Adam McKay would go on to explore the darker side of politics and finance with movies like The Big Short and Vice , but with his debut feature he was still very much focused on producing the biggest laughs possible - and he more than succeeds.
Watch on Paramount+
23 'This is Spinal Tap'
Among the most influential mockumentaries ever , This Is Spinal Tap stars Christopher Guest , Michael McKean , and Harry Shearer as members of a fictional heavy metal band. The film follows the band on their ill-fated tour of the United States, in the process satirizing the music industry and celebrity culture.
It breezes by at just 82 minutes long, but crams an unbelievable amount of jokes into its lean runtime, from the band stuffing vegetables down their trousers to the disastrous mini-Stonehenge. Its devotees include Edgar Wright who called it a "solid gold classic" .
22 'Groundhog Day'
Bill Murray is Phil Connors, a cynical weatherman who finds himself stuck in a time loop, reliving the same day over and over again. As he struggles to break the cycle, Phil goes through a series of emotions, from frustration and despair to acceptance and personal growth. Murray showcases his talent for both comedy and drama, hinting at the depth he would bring to future roles like Lost in Translation .
The film's clever writing and unique premise have influenced countless other films , to the point that time-loop movies have become a subgenre unto themselves. Groundhog Day also put the town of Punxsutawney, Pennsylvania on the map. Before the film, its annual Groundhog Day festival drew hundreds of attendees. Now, it's ten of thousands.
21 'Clueless'
Amy Heckerling directed this teen comedy featuring Alicia Silverstone as Cher Horowitz, a popular and fashionable high school student in Beverly Hills. Cher navigates the ups and downs of teenage life, including crushes, friendships, and the transition to adulthood.
Heckerling said she was inspired by Jane Austen 's novel Emma , but relocated the story to the "hyper-pastel fantasy place" of Beverley Hills. The result is one of the most fun coming-of-age stories of the '90s , perfectly capturing that decade's fashion and slang like a moment frozen in time.
20 'Dumb and Dumber'
"So you're telling me there's a chance." Jim Carrey and Jeff Daniels deliver among their most committed performances here as Lloyd Christmas and Harry Dunne, two well-meaning but incredibly dim-witted friends who embark on a road trip to return a suitcase full of money to its rightful owner.
There are plenty of hilarious moments that have since become iconic. Roger Ebert said that the dead parakeet joke , especially, "made me laugh so loudly I embarrassed myself. I just couldn't stop." Sure, Dumb and Dumber is a little crude and, yes, the jokes don't always land, but when it works, it works , with Carrey and Daniels bouncing off each other to produce an infectious energy .
19 'Ferris Bueller's Day Off'
Another John Hughes classic, Ferris Bueller's Day Off stars Matthew Broderick as a charismatic high school student who decides to skip school and spend the day in Chicago with his best friend, Cameron Frye ( Alan Ruck , now known for playing Connor on Succession ), and his girlfriend, Sloane Peterson ( Mia Sara ). They embark on a wild adventure, dodging school officials, stealing a Ferrari, and enjoying all the city has to offer.
The lead actors are all in top form , and John Hughes regular, Edie McClurg , also delivers a great supporting performance. Fundamentally, the film is about the joy of youth , and more than any other popular '80s comedy movie , it has become emblematic of its decade .
18 'The Graduate'
Benjamin Braddock ( Dustin Hoffman ) is a recent college graduate struggling to find his place in the world. He begins an affair with Mrs. Robinson ( Anne Bancroft ), a family friend and wife of his father's business partner. However, things become complicated when Benjamin falls in love with Mrs. Robinson's daughter, Elaine ( Katharine Ross ).
Hoffman delivers a nuanced performance as Benjamin , capturing the character's confusion, disillusionment, and desire for independence; the '60s generation in microcosm. However, the standout performance goes to Bancroft, who is enchanting and complex. The cinematography, soundtrack, themes of generational conflict, and the search for identity have made The Graduate a New Hollywood classic. What's perhaps most impressive about the movie is how fresh and modern it still feels , more than 50 years after its release.
Watch on Tubi
17 'Raising Arizona'
The Coen brothers' debut feature Blood Simple established them as talents to watch, but they took things to an entirely different level with their sophomore project. Raising Arizona is easily the most wildly creative comedy of the '80s , bursting with larger-than-life characters and stylized direction.
Nicolas Cage has an over-the-top performance as H.I. McDunnough, a hapless ex-convict who falls in love with a police officer named Ed ( Holly Hunter ). The two of them struggle with infertility and ultimately decide to kidnap one of a set of quintuplets born to a wealthy family. Chaos ensues as they attempt to raise the child as their own, with hilarious and often surreal results.
Watch on Hulu
16 'Coming to America'
Comedy legends Eddie Murphy and John Landis reunited for this flick about Prince Akeem, the heir to the throne of the fictional African country of Zamunda, who travels to America with his best friend and servant Semmi ( Arsenio Hall ), in search of true love and adventure. They settle in Queens, New York, and attempt to blend in with the locals while searching for a suitable bride for the prince. Along the way, they encounter a wide array of colorful characters, from a fast-talking barber to a soulful singer.
Murphy is consistently hilarious , imbuing his character with just the right mix of charm, humor, and innocence. The result is a wacky blend of satire, romance, and fish-out-of-water comedy that ranks among Landis' most entertaining work.